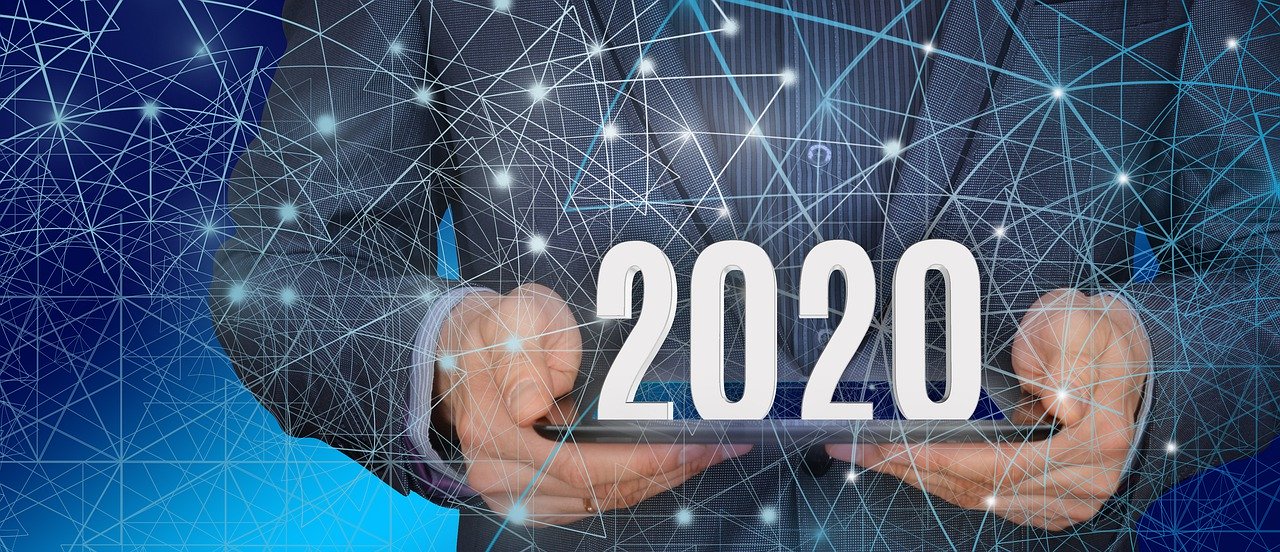 Well, hello … 2020! 
It's a new year and a new decade … and it's a TERRIFIC time to talk about the top trends in real estate investing. 
Many factors are affecting the path real estate is heading down this year … demographics, economics, technology, politics, energy, and interest rates. 
So sit back and take note … these are the top trends in real estate in 2020. 
In this episode of The Real Estate Guys™ show, hear from:
Your trending host,

Robert Helms
His trendy co-host, Russell Gray
---
Listen
---
Subscribe
Broadcasting since 1997 with over 300 episodes on iTunes!
---
Review
When you give us a positive review on iTunes you help us continue to bring you high caliber guests and attract new listeners. It's easy and takes just a minute! (Don't know how? Follow these instructions).
Thanks!
---
Trends in single family homes
Today we're going to focus on some of the top trends that experts are predicting for 2020 in real estate. 
Real estate markets are diverse and always changing. On the demand side, the way that people interact and use real estate is essentially the same … but nuances change and create opportunities for investors. 
On the supply side … we have whatever we have built at this moment and the plans that developers and builders have to put more inventory into the ground. 
When it comes to real estate, you're always looking at supply and demand and the flow of people and money. 
Let's start with Realtor.com and its housing market predictions for 2020. Remember that these predictions have to do with single family homes. 
The National Association of Realtors is calling a 4.8 percent growth in home prices and a 1.8 percent decrease in existing home sales. 
That's a modest growth in price and less sales for a variety of reasons. 
If we stopped right there, you might say that it doesn't sound like a great real estate market to be in … BUT we're not stopping there. 
To us, these predictions mean that most of the opportunities are going to come in niches .. and we'll dive into that later. 
But keeping with the big picture, nobody is predicting a huge rise in interest rates … they'll probably stay consistent. And overall, mortgage rates will remain low. 
That's good for a couple of reasons. 
Obviously, to acquire property with leverage, you'd like to see a low interest rate. And if you already have a property with higher interest rates, your properties have better profiles today. 
The National Association of Realtors (NAR) also ranks markets that they see as having a potential increase in growth … both in sales and in price. 
The number one market that they chose only has 0.3 percent growth in sales projected … but 8.1 percent projected in price growth. 
That market is Boise, Idaho. 
Other markets that made the top 10 include Tucson, Arizona; Columbia, South Carolina; Colorado Springs, Colorado; and Memphis, Tennessee. 
Along with growing markets, the NAR predicts which markets will decline in both sales prices and number of sales. 
Those markets include Chicago, Dallas, Las Vegas, Miami, and San Francisco. 
The NAR said that the offset of the decrease in demand in some areas is that there will be new housing starts. 
In fact, according to Fannie Mae's economic and strategic research group, new home starts will jump from a 1 percent increase in 2019 to nearly 10 percent in 2020. 
Niches that make sense
One trend that we have been talking about for some time is senior housing. 
The demographics are undeniable … look at how powerful the baby boomer generation is moving through all phases of their economic life … and now they're entering their senior season. 
Anything related to seniors is going to probably be pretty solid for the next couple of decades. 
You hit a season of life where you need some special assistance and accommodations. 
There are lots of places to play … from the 55 and older communities to assisted living and residential assisted living to skilled nursing and memory care facilities. 
There is demand here that will be exceeding supply … and you don't have to be a rocket scientist to recognize the signs. 
The next niche has some overlap when it comes to seniors … and that's multifamily.
Multifamily has been huge in terms of demand for many years, and that's been both good and bad … the bad part is that we've had a lot of money chasing a particular set of increasing assets. 
There has been a demand for multifamily on the tenant side and on the investor side … and on the investor side, the demand has meant a decrease in return. 
For 2020, we anticipate growth to be in the niches within multifamily .. like 55 and over apartment campuses or millennials looking for micro apartments. 
Micro apartments are small apartments that cater to younger tenants … usually fairly affordable … in city centers with unique amenities like shared workspaces. 
Another great trend … and one of our favorite niches … is resort property. 
This is a wide niche … but we tend to like the higher end as opposed to spring break on the cheap. 
It's hard to go out and buy a 400 room hotel … but there are other ways that people are investing in resort properties. 
Some will allow you to own an individual unit that operates as part of a big resort or a hotel. There's also the segment of vacation rentals in condos or single family homes. 
Not your cup of tea? Maybe take a look at agriculture instead. 
There are so many opportunities to come alongside successful operators in this space and invest offshore. 
The great thing about agriculture is that the underlying industry is probably not going anywhere … every human and animal needs to eat. 
The population is growing … and we are going to need more food. 
Take care with trends
Looking for real estate investment trends can reveal great opportunities. 
The only caveat … and this is true of any property that is use or trend specific … is that if that trend or use changes, it can be hard to repurpose. 
Anytime you are investing in a trend, you want to make sure it's a trend that has some longevity to it. 
And remember that anytime a niche gets hot … it gets CROWDED. So, the earlier you adopt it, the better. 
For on 2020 real estate trends … listen in to the full episode!
More From The Real Estate Guys™…
The Real Estate Guys™ radio show and podcast provides real estate investing news, education, training, and resources to help real estate investors succeed.
---
Love the show?  Tell the world!  When you promote the show, you help us attract more great guests for 

your

 listening pleasure!
Most people think of tax season as January 1 to April 15.
After all, that's when most people close the books on the previous year, issue and collect tax documents, prep returns, and settle up with the taxing authorities.
But for a host of real estate investors and entrepreneurs, the REAL tax season is right NOW.
It's a HUGE opportunity to dramatically improve your bottom line. And it just got BETTER …
States Fail to Overturn SALT Deduction Caps in Court
Forbes, 10/1/2019
Yes, that's a wonky headline that may not convey intelligible information … much less exciting opportunity for the casual reader.
But before you wander away bored, invest a few minutes to dig a little deeper …
For those unfamiliar, the recent Trump tax overhaul put a cap on the amount of State And Local Taxes (hence, the acronym SALT) that a taxpayer could deduct from their federal income tax bill.
There's some political disagreement about whether this is good or bad, or what the motivations might be … but the bottom line is it's the current law, and for now the courts are upholding it.
So what does it mean?
In short, high-income earners in high-tax states are now bearing the full weight of their tax bills at the federal, state, and local level.
High-income earners in high-tax states are paying MORE taxes.
As you might imagine, they're not happy about it. So while a few states banded together to fight the law in court, Main Street folks are fighting with their feet …
Americans abandoning New York, New Jersey, other high-tax states
Fox Business News, 4/25/19
But according to our friendly neighborhood tax strategist Tom Wheelwright CPA… this is largely unnecessary.
After all, your state tax liability is primarily derived from your federal taxable income anyway.
So the secret to reducing your federal tax is less about deducting state tax than it is about reducing or eliminating your federal tax liability altogether … by carefully following the instructions provided in the tax law.
And just in case you think that's unpatriotic and you'll starve your deserving federal government from much needed revenue, consider this amazing admission …
"The necessity … to tax … to maintain … solvency is true for state and local governments, but not true for national government.
Two changes … have substantially altered the position of the national state with respect to financing its current requirements.
The first … is … the … central banks. The second is the elimination … of the convertibility of the currency into gold."
This remarkably candid admission is a quote excerpted from an article titled, Taxes for Revenue Are Obsolete, which contains the transcript of a speech made by then-Chairman of the New York Federal Reserve, Beardsley Ruml.
But if taxes aren't needed for revenue because the Fed can print as much money it wants … what ARE taxes for?
Chairman Ruml says …
"Federal taxes can be made to serve … these purposes ….
… to express public policy in the distribution of wealth and income …
… to express public policy in subsidizing or penalizing various industries and economic groups …"
So when Tom Wheelwright says the purpose of the tax code is to coerce you into doing what the government wants you to do, he's not just making it up.
The good news is the government wants you to be an entrepreneur and investor.
They want you to start businesses and make investments in real estate and energy.
When you do, they reward you with huge tax breaks.
So much so, that when you do it right, you can eliminate virtually all your federal (and therefore state) income taxes.
And THIS is the time of year alert investors are making smart moves to capture those tax benefits before the end of the year.
Of course, as a savvy real estate investor you probably already know all about the tax benefits of real estate.
You might even be aware of how to use energy investments or a solo 401(k) to create big write-offs fast.
But MANY high-income earners don't.
This creates a BIG opportunity for syndicators to put together tax advantaged deals to help high-taxed earners reduce their tax bills.
And if you happen to be one of those highly taxed high-income earners, before you back up the moving van, take a closer look at the tax law …
… not as an obstacle, but as a road map to reorganize your affairs to reduce or eliminate your taxes.
When you do, you'll realize owning a business and investing in real estate are two of the smartest moves you can make.
Until next time … good investing!
More From The Real Estate Guys™…
The Real Estate Guys™ radio show and podcast provides real estate investing news, education, training, and resources to help real estate investors succeed.
---
Love the show?  Tell the world!  When you promote the show, you help us attract more great guests for 

your

 listening pleasure!
Last week the Fed pumped over $200 billion of freshly printed cash into the repo market.
Since then, the Fed's upped the ante to $400 billion … and counting.
For those young or asleep during the 2008 financial crisis …
… back then, the Fed provided an infusion of $85 billion per month to keep the wheels on the financial system bus.
Today, they're pumping in nearly that much PER DAY.
That's MIND-BOGGLING.
They're trying to keep interest rates DOWN to their target. Of course, interest rates matter to real estate investors. We typically like them low.
But this isn't about real estate. It's more about banks who hold debt (both mortgages and bonds) on their balance sheets.
As we explained last time, when interest rates rise, bond values fall …
… and a leveraged financial system with bonds as collateral is EXTREMELY vulnerable to collapse if values drop and margin calls trigger panic selling.
The Fed seems willing to print as many dollars as necessary to stop it.
And that brings us to an important question …
If the Fed can simply conjure $400 billion out of thin air in just a week … is it really money?
This matters to everyone working and investing to make or save money.
For help, we draw on lessons learned from our good friend and multi-time Investor Summit at Sea™ faculty member, G. Edward Griffin.
Ed's best known as the author of The Creature from Jekyll Island. If you haven't read it yet, you probably should. It's a controversial, but important exposé on the Fed.
In his presentation in Future of Money and Wealth, Ed does a masterful job explaining what money is … and isn't.
In short, money is a store of energy.
Think about it …
When you work … or hire or rent to people who do … the energy expended produces value in the form of a product or service someone is willing to trade for.
When you trade product for product, it's called barter. But it's hard to wander around town with your cow in tow looking to trade for a pair of shoes.
So money acts as both a store of value and a medium of exchange.
The value of the energy expended to create the product is now denominated in money which the worker, business owner, or investor can trade for the fruits of other people's labor.
This exchange of value is economic activity.
Money in motion is called currency. It's a medium of transporting energy. Just like electricity.
When each person in the circuit receives money, they expect it has retained its (purchasing) power or value.
When it doesn't, people stop trusting it, and the circuit breaks. Like any power outage, everything stops.
So … economic activity is based on the expenditure and flow of energy.
This is MUCH more so in the modern age … where machines are essential to the production and distribution of both goods and information.
Energy is a BIG deal.
This is something our very smart friend, Chris Martenson of Peak Prosperity, is continually reminding us of.
Here's where all this comes together for real estate investing …
New dollars conjured out of thin air can dilute the value of all previously existing dollars.
It's like having 100% real fruit juice flowing through a drink dispenser.
If someone pours in a bunch of water that didn't go through the energy consuming biological process of becoming real fruit juice in a plant…
… the water is just a calorie free (i.e., no value) fluid which DILUTES the real fruit juice in the dispenser.
Monetary dilution is called inflation.
Legendary economist John Maynard Keynes describes it this way …
"By a continuing process of inflation, government can confiscate, secretly and unobserved, an important part of the wealth of their citizens."
Inflation waters down real wealth.
Fortunately, real estate is arguably the BEST vehicle for Main Street investors to both hedge and profit from inflation.
That's because leverage (the mortgage) let's you magnify inflation's effect so your cash-on-cash ROI and equity growth can outpace inflation.
Plus, with the right real estate leverage, there's no margin call. Meanwhile, the rental income services the debt.
Even better, the income is relatively stable … rooted in the tenant's wages and lease terms. Those aren't day-traded, so they don't fluctuate like paper asset prices.
Effectively, you harness the energy of the tenant's labor to create resilient wealth for yourself. And you're doing it in a fair exchange of value.
Of course, the rental income is only as viable as the tenant's income.
This brings us back to energy …
Robert Kiyosaki and Ken McElroy taught us the value of investing in energy … and markets where energy is a major industry.
First, energy jobs are linked to where the energy is. You might move a factory to China, but not an oil field. This means local employment for your tenants.
Your tenants might not work directly in the energy business, but rather for those secondary and tertiary industries which support it. But the money comes from the production of energy.
Further, energy consumers are all over the world, making the flow of money into the local job market much more stable than less diverse regional businesses.
It's the same reason we like agriculture.
While machines consume oil, people consume food. Both are sources of essential energy used to create products and provide services.
So when it comes to real estate, energy, and food … the basis of the investment is something real and essential with a permanent demand.
Though less sexy and speculative, we're guessing the need for energy and food is more enduring than interactive exercise cycling.
Real estate, energy and agricultural products, are all real … no matter what currency you denominate them in.
And the closer you get to real value, the more resilient your wealth is if paper fails.
Right now, paper is showing signs of weakness. But like a dying star, sometimes there's a bright burst just before implosion.
Remember, Venezuela's stock market sky-rocketed just before the Bolivar collapsed.
Those who had real assets prospered. Those who didn't … didn't.
Are we saying stocks and the dollar are about to implode? Not at all. But they could. Perhaps slowly at first, and then suddenly.
If they do and you're not prepared … it's bad. It you're prepared and they don't … not so sad. If they do and you're prepared … it could be GREAT.
Real assets, such as well-structured and located income property …
… or commodities like oil, gold, and agricultural products (and the real estate which produces them) …
… are all likely to fare better in an economic shock than paper derivatives whose primary function is as trading chip in the Wall Street casinos.
So consider what money is and isn't … the role of energy in economic activity … and how you can build a resilient portfolio based on a foundation of real assets.
"The time to repair the roof is when the sun is shining."
John F. Kennedy
Until next time … good investing!
More From The Real Estate Guys™…
The Real Estate Guys™ radio show and podcast provides real estate investing news, education, training, and resources to help real estate investors succeed.
---
Love the show?  Tell the world!  When you promote the show, you help us attract more great guests for 

your

 listening pleasure!
We're still just a little more than a week removed from a mind-blowing 9-day mind-meld with brilliant thought leaders, niche experts, and seasoned investors and entrepreneurs …
… so we've been busy catching up on the news and looking at the world through our freshly expanded paradigms.
There are two things bouncing around our brains we think are important, but few real estate investors are paying attention to …
Gold and oil.
Sure, both these "commodities" fit well with real estate in a strategic real asset portfolio.  And if you're not sure how all that works, you can start with these past podcasts about gold and oil.
But bigger picture, both gold and oil probably drive more of geo-politics than most casual observers realize … and both are quasi-proxies for the dollar.
In other words, when you understand what's happening with gold and oil, you have insights into the future of the dollar … and some of the things governments are doing to either defend dollar dominance … or break free from it.
Of course, if you earn, invest, borrow, or denominate wealth in dollars, the future of the dollar should be of great interest to you … even if you think of the dollar as being as permanent and reliable as air (it's not).
As real estate investors, our primary interests (besides occupancy and cash flow) are demographics, migration trends, local economic strength, interest rates, taxes, and the supply and demand dynamics in our local market.
But all of that sits on the foundation of a functional financial system with two primary components … credit and currency.  Gold and oil provide insight into both.
Oil is important at both the macro and the micro level.
In the macro, it takes energy to drive economic activity.  When energy's expensive, it drives up the costs of everything and is a drag on economic activity.
At the micro level, high dollar-denominated oil prices drive up the cost of living for your dollar-denominated tenants.
But for metros where oil is big business, oil also means local jobs.  Remember, Texas and its robust energy sector were the primary driving force for U.S. job creation coming out of the 2008 recession.
Investors who realized this (like our pal Kenny McElroy) strategically invested in those markets while most people were hiding under the sheets.
So whether or not you're interested in oil as a direct investment, paying attention to the oil business can be a great way to pick markets likely to hold up well if oil prices rise.
Oil also has a potential impact on credit markets and interest rates.  Billions of dollars of debt has been created to fund shale oil production.
If oil prices drop, it both undermines the ability of regional oil economies to grow … but also for those employers to service their debt.
In the macro, if a big chunk of the debt goes rotten, credit markets could tighten.  Think about what happened in 2008 when sub-prime mortgage debt went bad.
So again, whether you're an oil investor or not, the oil industry has a direct impact on your real estate investing.
Watching oil helps you see what's coming sooner … so you have time to position yourself to capture opportunity and mitigate risk.
Of course, the good news and bad news about real estate is it moves slowly.
So while you have plenty of time to be proactive IF you're paying attention, it's really hard to act fast if you're not.  That's why we pay attention.
What about gold?
On the macro level, gold is a good gauge of how the world feels about U.S. Treasuries and the dollar.
When things get choppy in stocks, paper investors worldwide tend to flee into Treasuries for safety.  After all, Treasuries are backed up by the Fed's printing press.
Of course, what does the Fed print?  U.S. dollars.
But to quote Watto from Star Wars – The Phantom Menace … 
"Republic credits are no good here.  I need something more … real."
That is, when investors worldwide are looking for safety … and they don't trust the paper … they go into gold.
So what does that mean to real estate investors?
Remember, mortgage rates and availability derive from healthy bond markets … most notably, U.S. Treasuries.
The 2008 Great Financial Crisis had its genesis in a broken bond market … mortgage-backed-securities.  When those went bad, frightened investors worldwide piled into Treasuries … and rates fell.
But what happens if investors worldwide don't trust Treasuries?
You don't have to wonder.  China came out in 2009 and scolded Uncle Sam about the size of the deficit and all the dollar printing doing on.
Why did it bother them? Because they own TRILLIONS in U.S. bonds.  They don't want to get paid back in diluted dollars.
But Uncle Sam's debt, deficits, and printing have BALLOONED since then.
So it's no surprise that China … along with Russia and several other countries … have been diligently accumulating and repatriating gold.
They're getting out of dollars and Treasuries to do it.  And who can blame them?
Paper money has an atrocious long-term record as a store of wealth …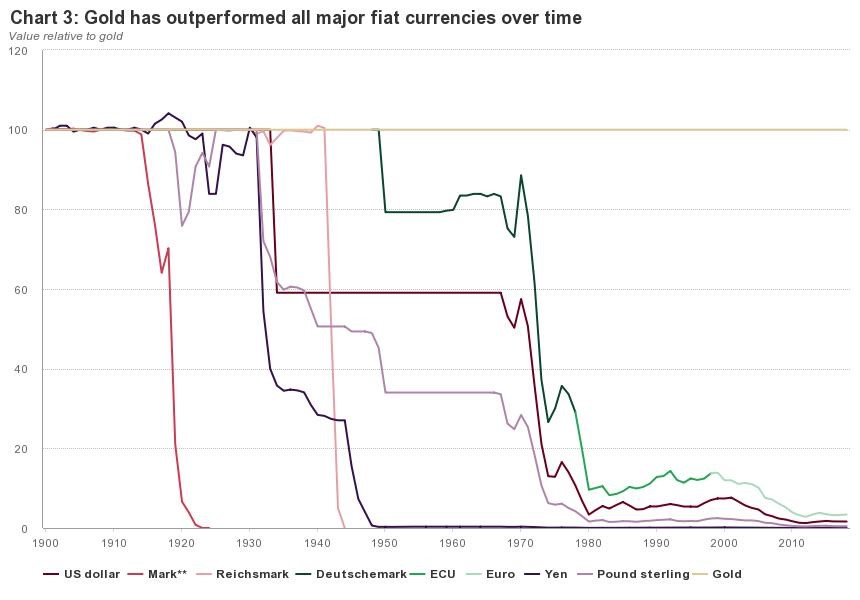 Source:  World Gold Council 
Consider this when you think about where you're storing YOUR long-term liquid wealth.
Meanwhile, there's just a little more to the developing story of gold … and the story behind the story.  It's a little complicated, but interesting and noteworthy.
After the 2008 crisis, the world's bankers got together in Basel, Switzerland to come up with voluntary rules to prevent another financial crisis.  The agreement is called the Basel Accord.
A provision in the agreement, known as Basel III (the agreement's rolled out in phases) allows financial institutions to consider gold "Tier 1" capital.  So adding gold is supposed to make banks more liquid and stable.
This is a bit of a promotion for gold.  Some observers think this means demand for gold will increase, but we're not smart enough to have an opinion on that.
But there are a couple of things we are thinking about …
Perhaps most obviously, international bankers apparently consider gold more valuable than simply a "barbarous relic" with no place in a modern monetary system.
Keep that in mind when you hear people criticize the placement of gold in a portfolio. If gold can make a bank more stable and liquid, can't it do the same for you?
To be clear, we're not fans of gold as an investment.  It's just an alternative to cash … a way to store long-term liquidity while hedging against a declining dollar and bank counter-party risk.
But the more interesting aspect of gold's now elevated role in bolstering the banking system is why it's necessary in the first place.
Is it because the banking system is still fragile and in need of support?  Is it because the world needs more leverage to expand … and so more collateral to lever?  Why not just use Treasuries?
We don't know yet.  But we'll be checking in with our big-brained gold experts to see what they think.
Meanwhile, we encourage you to think outside both the real estate and mainstream financial media boxes.  It seems like oil and gold might be trying to tell us something.
Are you listening?
Until next time … good investing!
More From The Real Estate Guys™…
The Real Estate Guys™ radio show and podcast provides real estate investing news, education, training, and resources to help real estate investors succeed.
---
Love the show?  Tell the world!  When you promote the show, you help us attract more great guests for 

your

 listening pleasure!
While most Americans are fixated on the brouhaha surrounding the government shutdown, we're thinking about something even MORE slimy …
Oil.
Long time followers know we've been watching oil for quite a while … and for a variety of reasons over and above the amazing tax breaks.
Oil and energy have a substantial impact on the economy, inflation, geo-politics … even the health of the financial system. 
We've observed that as oil prices rise and fall, the specific area of their impact shifts.   There are important clues and opportunities to be gleaned from watching these dynamics.
When oil prices rise, it's a drag on economic growth and can also be a sign of inflation.   It's no secret President Trump wants to lower cost inputs to help fuel economic growth.
The Trump formula is lower taxes, lower oil, lower interest rates, a weaker dollar, and less regulation.  Labor is the only input he wants to see rise.
You may agree or disagree, but that's what Trump wants.  Of course, there are some conflicting goals in the Trump recipe …
Specifically, low interest rates and a weaker dollar generally mean rising prices (inflation) … and oil is one of the first places it shows up.
Also, more economic activity leads to more energy consumption, which means higher demand … and rising prices.
So … the only way to keep oil prices low in an environment like this is to increase oil production to where supply overwhelms both higher demand and a weaker dollar … and pushes oil prices down anyway.
Perhaps obviously,  a domestic agenda which needs lower energy costs will affect U.S. relations with oil rich nations.
We think Trump's stance towards Saudi Arabia … in spite of denials … makes it clear low oil prices are a high priority for the White House.
It's consistent with what Trump told us when we asked him about his vision for housing and real estate.  He said, "Jobs".
Remember, oil and energy were the largest drivers of job growth in the United States coming out of the 2008 financial crisis.
Many real estate investors who recognized this trend and got involved in Texas real estate in 2009 …and  have done very well over the last 10 years.
We think that party's probably not even close to over.
One less obvious, but very important connection between oil and real estate is in the financial system … specifically, the debt markets.
As we've discussed several times over the years, LOTS of loans were made to oil companies when oil prices were over $100 per barrel.
But when interest rates rise and oil prices fall … it's the worst of both worlds for heavily indebted domestic oil producers.
MANY billions of oil-related debt has the potential to go bad … and crater the financial system just like bad mortgage debt did in 2008.
And when credit markets seize for whatever reason, liberal users of debt, such as real estate investors … are directly affected.
We don't think it will happen.
First, there's too much upward pressure on oil prices.
Second, as we're about to discuss, there's BIG motivation to stimulate domestic production … which provides a lot of cash flow to service debt.
Of course, we could be wrong … as Ben Bernanke was about the dangers of sub-prime … so real estate investors should pay attention to oil.
Using the gas pump as an indicator, you probably already know oil prices have been a little soft.
Of course, businesses and consumers (including your tenants) LOVE this because it makes everything more affordable.
U.S. car manufacturers love it because it means they can sell more gas guzzling SUVs and trucks.
But bigger picture … oil and energy are major cost inputs on virtually all products.
After all, it takes energy to manufacture and transport everything.
And many products are made from petroleum derivatives, such as plastic, roof shingles, and asphalt.
So even though energy is left out of the "core inflation" index, the effects of changes to oil pricing are still reflected in it.
And so partly due to subdued oil prices, concerns about excessive inflation have been muted … even in the midst of a red-hot economy.
Obviously, sellers of oil would prefer higher prices. 
But you can only charge what the market will bear … which is a factor of supply, demand, and capacity to pay.
It's also important to note that energy, like real estate and food, isn't a discretionary purchase.
People MUST have energy to survive and thrive.  Therefore, demand for energy is ever-present.
So when it comes to oil … the thing to watch is supply and capacity to pay.
Breaking out capacity to pay from the traditional supply and demand model is something we started doing a long time ago … because there's no effective demand without it.
Just because you want something, doesn't mean you can afford it.  Think of it like debt-to-income ratios and interest rates in real estate.
Just because someone makes an offer on a house (demand), if they can't quality for the loan (capacity to pay), there's no sale.
And when mortgage rates rise, but wages don't, the dynamic negatively impacts qualifying ratios … thereby decreasing capacity to pay and ultimately, effective demand.
That's why observers often expect rising interest rates to lead to decreased housing demand.
It's similar with oil.
When oil prices rise and wages don't, then lack of  "real" wage growth (incomes outpacing inflation) makes it hard for the market to bear price increases.
That's why the recent blowout jobs report was notable.
Not only were lots of jobs created, but wages grew at the best rate since 2008.
That means capacity to pay improved.
As you may recall, Saudi Arabia (the leader of the middle-eastern oil cartel OPEC and one of the largest oil producers in the world) INCREASED production …
… which meant MORE supply and LOWER prices (and thanks from President Trump).
But just recently, Saudi Arabia reversed course, calling for a target price of $80 per barrel … and a REDUCTION in production to make it happen.
Now before your A.D.D. kicks in … remember, this ALL has ramifications for real estate investors …
The point is there's some real pressure on oil prices to rise … and a lot of motivation by President Trump to take steps to push prices down.
We think BOTH will happen and lead to interesting opportunities for real estate investors … in spite of the pressure higher oil prices puts on your paycheck-to-paycheck tenants.
If you invest in oil for the tax breaks and oil prices go up … there's big potential for a double dip … tax breaks and profits.
Nice.  You can use both for your next down payment.
Higher oil prices reduce the risk of oil debt imploding credit markets.  Healthy credit markets are essential to vibrant real estate markets.
If oil prices rise on the international stage, we'd bet President Trump will do whatever he can to further stimulate domestic production to counteract it.
And that means more U.S. jobs and robust regional economies … with increased demand for real estate to in those areas.
All this to say, we think it's smart to pay attention to oil … as an investment, as an economic gauge, and as a treasure map to potentially hot markets.
Oil will be a big topic of discussion on our upcoming Investor Summit at Sea™.
Until next time … good investing!
More From The Real Estate Guys™…
The Real Estate Guys™ radio show and podcast provides real estate investing news, education, training, and resources to help real estate investors succeed.
---
Love the show?  Tell the world!  When you promote the show, you help us attract more great guests for 

your

 listening pleasure!
"You can't handle the truth!" 
 – Jack Nicholson in A Few Good Men
Neither optimists or pessimists can handle the truth.Optimists refuse to acknowledge the part of reality that's negative …
… while pessimists can't see the ever-present opportunities hidden behind the problems.
While we'd rather be optimistic than pessimistic, maybe it's better to be BOTH."The test of a first-rate intelligence is the ability to hold two opposed ideas in mind at the same time and still retain the ability to function." 
 – F. Scott Fitzgerald 
Here are some thoughts about risk and opportunity from legendary real estate investor Sam Zell …
"People love focusing on the upside.  That's where the fun is.  What amazes me is how superficially they consider the downside."  
"For me, the calculation in making a deal starts with the downside.  If I can identify that, then I understand the risk I'm taking.   Can I bear the cost?  Can I survive it?" 
You can only take calculated risks if you look carefully at both the upside AND the downside.
Today, the entire global financial system is largely based on "full faith and credit" … primarily in the United States dollar.
And there's a gigantic investment industry that's built on perpetual optimism …and a belief non-stop debt-fueled growth FOREVER is actually possible.
Even worse, the entire financial system's fundamental structure literally REQUIRES perpetual growth to avoid implosion.
That's why central banks and governments are COMMITTED to debt and inflation … at almost ANY cost.
But as Simon Black points out in Future of Money and Wealth …
History is CLEAR.  Empires and world reserve currencies don't last forever.
And irredeemable paper currencies and out-of-control debt ALWAYS end badly … at least for the unaware and unprepared.
Optimists can't see this.  So they take HUGE risks they don't even know exist.
Pessimists can't act.  So they miss out on the HUGE opportunities that are the flip-side of the very problems they obsess over.
Robert Kiyosaki stresses the importance of being REALISTS …
… standing on the edge of the coin, seeing BOTH sides … and then being decisive and confident to ACT in pursuit of opportunities while being keenly aware of the risks. 
We created the Future of Money and Wealth to gather a diverse collection of speakers and panelists together … to examine the good, the bad, and the ugly …
… so YOU can have more context and information to make better investing decisions. 
Chris Martenson opens our eyes to the physical limitations of long-term perpetual exponential growth which depends on unlimited supplies of clearly LIMITED resources.
Of course, as these critical resources dwindle, they'll become very expensive as too much demand competes for too little supply.
When you see nation's fighting over scarce resources, it's a sign of the times.
But of course, there's OPPORTUNITY hidden inside of crisis.
And to seize the opportunity, you must understand it … or it just sits there like a hidden treasure under your feet.
But it's not just recognizing trends.  It's also TIMING.  And being a lot early is much better than being even just a little late.
To beat the crowd, you can't wait for the crowd to affirm you. 
To get timing right, it's important YOU know what the signs are.
What does it mean when Russia dumps Treasuries and buys gold?  What caused Bitcoin to sky-rocket in 2017?  Why are there bail-in provisions in U.S. banking laws?
Peter Schiff saw fundamental problems in the financial system back in 2006 … and screamed from the rooftops that the financial system couldn't support the then red-hot economy.
Few listened … then WHAM!  In 2008, the weakness of the financial SYSTEM was exposed … and MANY people were CRUSHED.
Peter insists the REAL crash is still yet to occur … and everything that made the financial SYSTEM weak in 2006 is MUCH WORSE today.
Yet small business and consumer OPTIMISM is at all-time highs.  The ECONOMY appears to be BOOMING … again.  And Peter's still screaming out his warnings.
The Fed is RAISING interest rates to cool things down.  But history says EVERY SINGLE TIME the Fed embarks on a rate raising campaign it ends in RECESSION.
In Future of Money and Wealth, Fannie Mae chief economist Doug Duncan reveals when he thinks the next recession is coming … and WHY.  We listen to Doug because he's got a really good track record.
The 2008 crisis exposed real estate investors to the REALITY that what happens on Wall Street, at the Fed, and in the global economy … can all rain down HARD on Main Street. 
Ignoring it doesn't make it go away.  And you'll die of old age waiting for the storm clouds to blow away.
There will ALWAYS be risk.  There will always be OPPORTUNITY. 
It's not the external circumstances which dictate what YOU get.
It's really up to YOU … and your ability, like Sam Zell, to see both opportunity and risk, so you can aggressively reach for opportunity while carefully navigating risks.
Education, perspective, information, and thoughtful consideration are all part of the formula.
That's why we created the Future of Money and Wealth video series.
Future of Money and Wealth features TWENTY videos … over fourteen hours of expert presentations and panels …
… covering the dollar, oil, gold, real estate, crypto-currencies, economics, geo-politics, the new tax law …
… PLUS specific strategies to protect and GROW wealth in the face of potentially foundation-shaking changes to the financial system.
Just ONE great idea can make or save you a fortune. 
Future of Money and Wealth might just be one of the best investments you'll ever make.
To order immediate access to Future of Money and Wealth … 
More From The Real Estate Guys™…
The Real Estate Guys™ radio show and podcast provides real estate investing news, education, training, and resources to help real estate investors succeed.
Regular followers know we're news hawks.  We scour the headlines for clues about opportunities and threats facing real estate investors.
We look at the good, the bad, the ugly … and consider things at the micro, macro, geo-political, and systemic level.
Even though we watch a broad range of real estate niches … we tend to look at the world through the eyes of a syndicator.
We think raising private capital to invest in real estate is the single BEST opportunity for real estate investors … and one of the best business opportunities in ANY industry.
So it didn't surprise us when the following headline popped up on page one ofYahoo Finance, the most visited financial website on the internet …
Closed-End Real Estate Funds Are Performing Well
"The real estate market is booming … Not surprisingly … funds that focus on real estate have been posting good numbers …"
A "closed-end fund" just means a fund which raises a specified amount of money, then closes to new investors.
This is different than a typical "open-end fund" like a mutual fund which continually accepts new investors.
Our point today is … 
Mainstream headlines are informing the market real estate is a winner …
…and that individual investors can access real estate through funds … versus taking on the personal hassles of tenants, toilets, and termites.
Of course, the aforementioned article is talking about publicly traded funds, which come with a host of risks most Main Street investors are unaware of.
But if YOU are thinking of investing in real estate through a publicly traded fund, OR …
… if you're talking to Main Street investors about investing in YOUR real estateprivate placement (syndication) …
… then you'll find it VERY helpful to understand the risks in public funds.
Publicly-traded real estate funds can be used as gambling chips in Wall Street casinos … just like any publicly traded stock.
This means speculators (gamblers) can short-sell, trade on margin, and use options … all of which add volatility to the share price.
So even if the underlying asset is as stable as the rock of Gibraltar … the share price can bounce all over the place as it's traded in the casinos.
Of course, if you're a long-term buy-and-hold paper-asset investor, maybe that doesn't matter to you … just don't watch the share prices or you might get nauseous.
But MUCH less understood is the counter-party risk every paper-asset investor faces because of the way paper-asset trading is facilitated.
In short, counter-party risk is the exposure you have when an asset on your balance sheet (a stock, bank account, a bond) which is simultaneously someone else's liability.
In other words, they own the the asset and OWE it to you.  YOU own an IOU.
If the counter-party fails to perform or deliver … you LOSE.
Most people understand the concept of counter-party risk … but many don't understand all the places they're actually exposed to it.
And it's a LOT more than you might think.
In the case of publicly-traded securities, like closed-end real estate funds, you're NOT the registered owner … your broker is.
You get "beneficial ownership" through what is effectively an IOU from your broker to you.  The fund doesn't even know you exist.
Of course, this is all fine as long as the financial system supporting all this is sound.  But in a crisis, if the broker fails, you might end up a loser.
It's not unlike what happened in the 2008 financial crisis …
In short, individual mortgages … which are great assets to own … were pooled into securities and made into gambling chips in the Wall Street casinos.
Because the "beneficial ownership" of the mortgages changed hands so quickly, it was all facilitated through a system called Mortgage Electronic Registration Systems (MERS).
When the financial system nearly collapsed in 2008, the flaws of MERS were exposed … as the legal documentation required to affirm clean title to the asset wasn't properly maintained.
Some of the beneficial owners of the mortgages couldn't prove legal ownership and lost when property owners challenged foreclosure in courts. Huge mess.
So there's a BIG difference between "beneficial ownership" and actual ownership.  And the difference isn't exposed until it matters.
Sometimes that's ugly for investors.
The GREAT news for you and your investors is … it's NOT necessary to play in the Wall Street casinos to get into a real estate fund.
In fact, we'd argue it's better if you don't.
If you're following The Real Estate Guys™, you're probably already a fan of real estate and may already be a successful individual property investor.
Maybe you're considering, or have already started, putting together groups of investors to syndicate bigger deals.
Or maybe you're tired of being an active investor … and now you're looking to stay in real estate, but as a passive investor in another investor's deal.
In any case, it's important to understand the BIG differences between public and private real estate fund investing.
As an investor in a private offering, you directly own the entity which directly owns the asset.  There's no counter-party who owes you the shares. YOU own them.
We think when you delve into the differences, you'll agree private offerings are arguably a MUCH better way to go.
Of course, if you're interested in starting your OWN real estate investment fund, the timing couldn't be much better.
Headlines are telling the marketplace real estate funds are performing well.
And when you explain the important differences between public and private funds, we're guessing you'll get more than your fair share of investors interested in investing with YOU.
Main Street investing in Main Street … outside of the Wall Street casinos.  We like it.
Until next time … good investing!
---
More From The Real Estate Guys™…
The Real Estate Guys™ radio show and podcast provides real estate investing news, education, training, and resources to help real estate investors succeed.
A common adage is "treat your investing as a business".  
Good advice!  And at first blush, you might think it means …
Figuring out your mission, vision, values …
Establishing clearly defined goals and objectives …
Developing strategies, tactics, processes, policies and procedures …
Recruiting, training, and leading a team …
Setting up communication and accountability rhythms, and processes for evaluating progress and making adjustments
All true.  But it's also very important to pay attention to the economic environment you're operating in.
A popular business planning tool is SWOT analysis … which stands for Strengths, Weaknesses, Opportunities, Threats.
SWOT helps you make better decisions about where to focus time, attention, and resources.
Most amateur investors focus only on opportunity.  They look for it.  They chase it.  They stretch their limits reaching for it.
And sometimes they end up in dangerous deals by not leveraging their strengths, acknowledging their weaknesses, or recognizing external threats.
In Am I Being Too Subtle?, multi-billionaire real estate investor Sam Zell says a big part of his success is the ability to understand the DOWNSIDE … and still proceed.
Most people ignore threats because they're a downer.  It FEELS better to focus on sunshine.  It's just not smart.
Risk is gloomy.  It doesn't sell seminars, books, or video-courses.  And it can chase away an audience.
So investors are under-served by most gurus, media, and pundits because few talk candidly about threats.
Yet it can SAVE YOUR FINANCIAL LIFE.  So we do it anyway.
Besides, the flip-side of most risk is opportunity.  So when you frame looking at threats as searching for opportunities, it's not so bad.
Part of SWOT is about assessing the environment you're operating in.
We divide investing environments into four categories … Micro, Macro, Geo-Political, and Systemic.
Micro factors include …
The property, parties to the transaction; financing, etc.
The neighborhood, local economy; local laws, taxes, customs, etc.
The local team … property manager, on-site staff, etc.
Micro factors are where most investors start and finish … because micro factors are easiest to see and handle along the shortest path to getting the deal done.
Macro factors include …
Interest rates and factors which drive them
Policies affecting job creation, living costs, real wages, consumer and business confidence
Economic factors affecting energy, materials and commodities costs, currency strength, etc.
Sure … this is some heady stuff …
And if you're only going to play small and VERY conservatively, maybe not worth all the effort to watch and interpret macro factors.
Then again … many small investors got killed when the Tax Reform Act of 1987 changed the tax treatment of rental properties.
They probably wish they'd been more aware and prepared.  When things are changing, a "wait and see" approach can be painful.
But if you plan to play big … and especially if you're going to raise money from private investors … you'll definitely want to invest in your macro education.
Remember … the 2008 crisis which crushed many unprepared investors started at the macro level … before crashing down on the micro level.
Most micro-players (including us), didn't see the storm forming at the macro level until the monsoon hit.  Bad scene.
So … how much advance notice do YOU want when something major is lurking on the horizon?  More is probably better.
Geo-Political factors include …
International treaties (trade, land-use, etc.)
Most people hear about geo-political factors in the news all the time … but don't consider or understand their impact on Main Street micro-investing.
Systemic factors include …
The financial system … currency, banking, bond market, etc.
The environment … energy, climate, water, etc.
We think systemic factors just might be the BIGGEST threat most investors aren't paying any attention to.
Yes, it's a lot to consider.  And maybe you doubt it really matters to your daily real estate investing.
That's what we thought … before 2008.
Then we found out the VERY hard way these things DO affect Main Street investing … so thinking about them isn't just for wonky paper asset pundits.
Let's look at some recent headlines … how they might affect our Main Street investing … and let's just focus on oil …
Is The Oil Industry Repeating A Critical Error – Oilprice.com 7/14/18
 " … Wall Street has been subsidizing the consumption of oil on Main Street."
"… the punishing price decline in oil from 2014 to 2016 … resulted in deep cuts in exploration and development throughout the industry …"
"… there isn't an oil price … both low enough to avoid economic stagnation …  yet high enough … to prevent a decline in the overall rate of production worldwide."
Let's break it down …
Energy is essential to economic activity.  No energy, no growth. Restricted energy, restricted growth.  Expensive energy, expensive growth.  You get the idea.
Energy is a key input into the cost of EVERYTHING.  When subsidies mask rising costs, economic numbers look better than they really are.
Remember …  a strong economy is NOT the same thing as a strong financial system.
Investors make mistakes when they deploy capital based on false readings or temporary circumstances.
Remember what happened to real estate investors who flocked to North Dakota because of the oil boom … a boom only possible because of high oil prices.
When oil prices crashed, so did the North Dakota real estate boom.  Investors only watching micro-factors … and even macro-factors … didn't see it coming.
Whether it was Saudi Arabia attacking U.S. frackers … or the U.S. directing an economic assault on Russia's oil revenue … oil prices fell because of what was happening at the geo-political level.
So today, knowing oil prices affect economic growth, consider these recent headlines …
It takes cheap energy to grow an economy fast.  And with the Fed raising interest rates, Trump's using tax cuts and cheap energy to goose the economy.
He's got to out-run ballooning deficits and rising interest costs.  Cheap energy … even if only temporary … buys some time.
But cheap energy doesn't fund the exploration necessary to replace oil being consumed.  Very few people on financial TV talk about this.
That's why we hang out with brainiac Chris Martenson.  He's a fun guy … a positive guy … but he's a realist.  It's sobering.  Brutal facts can be that way.
At some point, supply and demand take over and prices rise … slowing or reversing economic growth, driving up costs, and probably bankrupting marginal businesses.
Many billions in oil industry debt could go bad.  Remember when sub-prime mortgage debt went bad?
The financial system today is rife with counter-party risk, so bad debt can spread like wildfire through credit markets.
We're not saying it's going to happen, but we're watching.  If something starts to break, we want to see it sooner rather than later.
Of course, we're also watching oil, like gold, for its role in currency wars.  We remain convinced the dollar will be a major story in the next ten years… or less.
A little spooky.  But pulling the sheets over our heads doesn't make it go away.
The good news is there are smart people watching all this … and thinking deeply about what it all means.
That's why we get together with them regularly on our Investor Summit at Sea and the New Orleans Investment Conference.
These are voices mainstream sunshine-sellers don't promote.  It's bad for ratings.
But we put together nearly 14 hours of presentations and panels with all the big brains from our Future of Money and Wealth conference …
So if you missed the live event, you can still see and hear what everyone has to say. Click here to learn more.
Smart business people and investors practice SWOT… and invest in growing their education and network … so they can make better, faster investing decisions … in ANY economic environment.
Until next time … good investing!
---
More From The Real Estate Guys™…
The Real Estate Guys™ radio show and podcast provides real estate investing news, education, training, and resources to help real estate investors succeed.
One of the primary purposes of easy money ("quantitative easing" or QE) is to inflate asset prices, bloat balance sheets, and create a wealth effect.
The formula is simple.  Print gobs of money, buy bonds to drop interest rates, and flood the markets with liquidity.
Corporations borrow cheap money to buyback stocks … pushing stock prices up and triggering big bonuses for execs.
Corporate raiders borrow cheap money leveraging operating cash flow into leveraged buyouts … triggering mega-mergers and acquisitions … and fat fees.
Real estate investors borrow cheap money … leveraging rental income into big mortgages … bidding up prices, creating lots of equity, and compressing cap rates.
Even everyday homeowners get in on the action … borrowing cheap money and leveraging their paychecks into big mortgages … pushing up prices and creating lots of equity.
And some of the equity boom in real estate comes from folks moving some of their stock equity into fancier houses.
Of course, from a portfolio management perspective, it's probably not a bad idea to reposition fickle, volatile paper equity into boring, stable real estate equity.
For those with real estate equity in bubbly markets, it's probably a good idea to consider repositioning some of that equity into less bubbly real estate markets.
After all, if quantitative easing was about inflating asset prices … what's the likely outcome of quantitative tightening?
Right now, the Federal Reserve is raising rates and shrinking its balance sheet … which is the OPPOSITE of what they did to inflate asset prices.
So it's reasonable to be concerned about the equity on your balance sheet.  If the prices of your stocks and real estate fall, so does your equity.
This all begs the big question … how can you protect your equity from bursting bubbles?
Aside from selling everything and sitting in cash … which has its own risks … one strategy is to simply reposition equity into assets which are less affected by leverage.
It's why Jim Rickards (Currency Wars, Death of Money, Road to Ruin) recommends allocating a portion of your balance sheet into real assets, including gold and unleveraged real estate.
Of course, these strategies are easy to talk about.  But in the real world, it takes some work to actually implement them.  And it starts with education.
But you've read this far, so you've already begun the process.  Good job!
We get into much greater detail in the Future of Money and Wealth video series.
In fact, in module 13 of 20, there's a detailed strategy (too big to explain here) for repositioning equity for wealth preservation, privacy, and increased cash flow … and some other VERY cool benefits.
But there's more to protecting equity than simply understanding a strategy.
If you're going to move equity from highly-leveraged stock or real estate markets into less-leveraged real estate markets, you'll need to find and learn those markets.
One of our favorite un-leveraged real estate markets is Belize.
There's a long list of reasons why we like a very specific market in Belize, including the fact it's not leveraged … yet.
That's because getting wealth into non-leveraged real estate markets insulates your equity if credit markets seize up like they did in 2008.
Just look back on what happened in Texas in the financial crisis that temporarily wiped out lots of equity for a several painful years …
Sure, you could get loans in Texas … but Texas law restricted some of the more aggressive lending.  So less air got into Texas values.
That's a big reason why the Texas markets didn't bubble as much as other markets, which made it boring pre-crash … but VERY attractive post-crash.
Well, Belize was even MORE stable than Texas going through the crisis … and that was before Belize had as much global exposure and demand to prop it up as it has today.
We thought Belize made sense heading into back then and we like it even better today.  That's why we continue to share it with people through our discovery trips.
It's not for everybody, but we think everyone would be wise to take a closer look.
Last year, Hilton Hotels decided to plant a flag in Belize.  Marriott just announced earlier this year.  Big players like this little market for a reason.
When you see big brands making moves into a market, it's a leading indicator of market strength.
And when you have a chance to get in a market BEFORE leverage arrives, you have a good chance of catching a big equity wave.
Of course, if the leverage never happens … you simply have a chunk of your wealth parked in a stable market with some VERY desirable lifestyle perks.
So whether you do it in your own account or with partners through syndication, Belize is a market to consider right now … and you can learn all about it on our next fun-filled discovery trip to beautiful Belize.
Until next time … good investing!
---
More From The Real Estate Guys™…
The Real Estate Guys™ radio show and podcast provides real estate investing news, education, training, and resources to help real estate investors succeed.
In case you missed it, President Trump just announced his proposed budget. 
Two items caught our attention.
First, there are big cuts to social programs.  With 43 million people on food stamps and many of those being renters, there's an obvious ramification for landlords.
As we said back in 2015, "…if the government subsidy goes away or is reduced…or if interest rates on your tenants' consumer credit goes up…then it becomes even harder for them to pay you rent."
Hopefully, it's both an obvious conclusion and one you've seen coming.  It hasn't happened yet, but it's inevitable because of the math behind the problems. 
So be cautious about a portfolio overly dependent on government subsidies.
But something else popped up which is perhaps less obvious … and more exciting.
President Trump proposes selling off half of the U.S. strategic oil reserve to raise cash to pay down the national debt.
We're not here to say whether that's a good or bad idea.  We're not that smart. 
Besides, our orange Trump phone isn't ringing, so the White House hasn't asked our opinion anyway.
But when things are happening which have direct economic ramifications, we're interested in how they might affect real estate investors.
It's a bit of a rabbit trail.  But because oil is an impactful component of economic activity, we think it's worth the effort. 
To start, the immediate benefit of selling the reserves is reducing interest expense.  This is especially beneficial when interest rates are rising … or threaten to.
Of course, money saved on interest can be redirected into paying down more debt … OR,  it could be used for investing into income producing activities and infrastructure.
Now we're not inside Donald Trump's head, but we are real estate guys. 
So we wouldn't be surprised to see the president direct more money into income producing activities and infrastructure. After all, that's how real estate guys think … we don't spend, we invest.
Of course, this begs the question … what kind of activities and infrastructure are most likely to get attention, and what kind of jobs will they produce … and where?
Real estate investors want to get to popular places and product types BEFORE they become popular.
So putting on our orange comb-over thinking cap, we think the-real-estate-guy-in-chief wants to create domestic manufacturing jobs.  It's just a wild guess … based on what he overtly says he wants to do.
But the challenge for a domestic manufacturing agenda … as our good friend Peter Schiff points out … is the factories and supply chains needed to support it have long gone to China to take advantage of cheap labor and lax environmental laws.
So while a viable long-range strategy might be to create a more factory-friendly environment in the United States … the U.S. needs good, solid middle-class jobs NOW … or as close to now as possible.
So what kind of industry would be ideal for creating U.S. based jobs fast?
It would need to be something that could ONLY be done in the U.S., so there's no temptation to take the jobs off-shore. 
And ideally, it would be for a product with both domestic and global demand.  
After all, a nation can't get rich selling to itself.  It needs to export.
Of course, demand would need to be big enough to make a real contribution to economic activity. 
And it would also need to be a product with supply and distribution chains which either already exist or could be ramped up quickly.
Hmmm … we think it all points to energy.
After all, the U.S. has huge oil and natural gas deposits.  So the jobs to harvest, process and distribute them would all have to be created right in the United States.
And even though global demand for energy ebbs and flows, the long-term need for energy grows steadily along with global population and economic activity.
Remember, it was the energy sector which dominated the post-2008 U.S. job growth.  Many real estate investors rode that wave … especially in Texas.
Price wars with Saudi Arabia curtailed that growth, but with the Saudi's still hurting over the last oil price war, maybe they won't want to get into another.
And if the U.S. oil strategic reserve "savings account" is low, Uncle Sam's in a better position to step in and provide some extra demand if prices need a boost.
So if a Trump Administration is pushing a pro-energy agenda, it checks a lot of boxes, even though it may miff staunch environmentalists.
Again, we're not advocating one way or the other. 
We're just observing and speculating about what might be happening, how it might play out, and how real estate investors might find opportunity.
So we went digging in our news feed for any interesting developments in the world of energy. 
Here's something we found a little off the beaten path … 
First Ever U.S. LNG Cargo Set Sail For Northwest Europe
LNG is Liquified Natural Gas.  And it's headed to Europe … one of Russia's biggest customers.  Interesting.
But more interesting is this quote from the OilPrice.com article, referring to a report by the U.S. Energy Information Administration (EIA) …
"According to the EIA, the U.S. is set to become a net exporter of natural gas on an average annual basis by 2018, due to declining pipeline imports, growing pipeline exports, and increasing LNG exports.
By 2021, four LNG export facilities that are currently under construction are set to be completed."
Okay.  So this is probably a bazillion dollar business emanating from somewhere … where lots of people will need to do lots of work to make it all happen.  Jobs!
This took us on a hunt to find additional information about WHERE this LNG was coming from … because maybe those real estate markets are about to experience growth.
We found the EIA's Annual Energy Outlook for 2017.  Actually, it was easy to find … because the OilPrice.com article linked to it.  Yeah, we're sleuths.
The EIA report is 64 pages long with charts, graphs and maps.  On page 46, one map shows which U.S. regions they project to "lead growth in tight oil production."
On page 60, there's similar information about natural gas.
Now, we're not saying these are treasure maps telling you where to invest in real estate. 
But it is a starting point for an investigation into where future job growth might occur … through natural economic forces, geo-politics, and a new U.S. administration eager to stimulate domestic production job creation.
But don't just stop there.  Consider also the supply chain.
It takes big, heavy, expensive equipment and infrastructure to harvest, process, store and ship energy. 
These suppliers and sub-contractors might not necessarily be tightly geographically linked to the natural resources.  So look for them not by geography, but by working your way through the supply and distribution chains.
Because while energy production might create a surge of "primary" industry jobs, primary industry growth often gives rise to "secondary" (supply and distribution chain) jobs … sometimes in other areas.
Could this be the beginning of a resurgence of job growth in rust belt states? 
We don't know.  But that's another box President Trump would like to check, so it's a development worth watching.
Until next time … good investing!

---
More From The Real Estate Guys™…
The Real Estate Guys™ radio show and podcast provides real estate investing news, education, training and resources to help real estate investors succeed.