In uncertain times, we all need a little wisdom to guide us to the right path.
So today, we bring you the words of the wise.
Property prices are continuing to inch upward in many markets. And the stock market is starting to tumble down. How should investors navigate the turmoil?
Listen in to hear from some of the smartest folks we know on their predictions for what the future holds … and their best tips for staying smart and focused in the midst of the storm.
In this episode of The Real Estate Guys™ show you'll hear from:
Your expert host, 

Robert Helms

His amateur co-host, 

Russell Gray
Brien Lundin

, author of the Gold Newsletter

Economist

Peter Schiff
Chris Martenson

and

Adam Taggart

,

authors of

Prosper!

Rich Dad Poor Dad

author

Robert Kiyosaki
---
Listen
---
Subscribe
Broadcasting since 1997 with over 300 episodes on iTunes!
---
Review
When you give us a positive review on iTunes you help us continue to bring you high caliber guests and attract new listeners. It's easy and takes just a minute! (Don't know how? Follow these instructions).
Thanks!
---
Brien Lundin on metals and money supply
Brien Lundin is our go-to expert on precious metals. He writes the Gold Newsletter and directs the New Orleans Investment Conference.
His predictions about the metals market have been spot on. We asked him how he keeps his thumb on the pulse. The short answer? "Experience," says Brien.
Three decades of reading, researching, and making connections have given Brien enough information to come to the conclusion that, "Metals have settled into a fairly reliable long-term pattern."
In fact, he says the future for metals is as close to inevitable as possible in the investing world.
High debt in the U.S. and other countries means their currencies will be depreciated, at least to some extent, and that means higher gold prices in the long term, says Brien.
With a predicted three or four rate hikes coming from the Fed in the next year, Brien predicts we'll continue to have a weaker dollar for several years.
Why should real estate investors be interested in metals? Alternative investments like precious metals allow you to divorce yourself from the levers the government pulls to adjust the economy, says Brien.
Confused about the options? "Roll up your sleeves," and dive in, says Brien.
Brien also had some words of advice … "Look around you to get the best investment advice."
One way to do that? Attend the New Orleans Investment Conference. The conference is packed with people looking to learn. Off-mic conversations are part of the package!
Peter Schiff on the global economy and Puerto Rico
"It's easier than people think to predict the future. The hard part is predicting the 'when,'" says Peter.
Economists have been predicting a dollar crisis for a while, and Peter thinks we are in the beginning of that crisis … "The dollar is dropping like a stone against the Chinese yuan," he says.
Why? According to Peter, it's payback for monetary policy mistakes from the Fed that led to the major economic crises of the past few decades, including the dot-com bubble and the housing bubble.
"As the dollar is falling, prices are rising," says Peter. Oil prices are up. Bond yields are rising, and that means interest rates are rising too. Peter predicts the combination of rising prices and high interest rates will be too much for the market to bear.
Crisis is coming, he says.
"What's going to kill us is the government's cure," Peter adds. After the real estate bubble collapsed, the government attempted to pump up the market by slashing interest rates … and succeeding in completely re-inflating the bubble. That bubble will make the crisis worse, he says.
Peter has started his own investment fund through Euro Pacific Capital. He aims to help investors diversify out of the U.S. dollar.
Gold stocks have moved up, says Peter. "We are really poised now for major gain."
And what about Puerto Rico? If you've been listening to the show, you'll know Peter not only invests in Puerto Rico, but lives there too.
"It's green again," says Peter. There are some problems due to service providers who have left the island. But overall, "People think it's worse than it is," he says.
In fact, Peter thinks there's more opportunity in Puerto Rico than before Hurricane Maria. Abandoned properties and foreclosures could be the perfect opportunity for investors to step in.
Chris Martenson and Adam Taggart on social capital and the Summit at Sea™
Chris Martenson and Adam Taggart, co-authors of the invaluable book Prosper!, chatted with us about some tangible steps to help YOU prosper.
Key among them is social capital.
"What are your strengths and weaknesses?" asks Adam. "Find people who have complementary skills and can fill in your weaknesses."
"No one can really have a handle on everything," Chris adds. In our rapidly changing world, he says it's wonderful when you can recognize people as kindred spirits … and learn from many points of view.
One way to get around some kindred spirits is to attend our annual Investor Summit at Sea™. In fact, all of the guests in this episode will attend the Summit.
It's more about context than content, Chris and Adam agree … and we're sure the context of the Summit will be the environment of your investor dreams.
Robert Kiyosaki on humility and getting around smart folks
Robert Kiyosaki doesn't believe in school. "The trouble with going to school is that you have to be an expert by yourself, and that keeps you small," he says.
More important than money or school smarts? "A very smart team" that operates on the basis of mutual respect and trust.
Robert recommends hanging around people who DON'T think they're the smartest people in the room. Humility is a great tool, he says.
"All coins have three sides. Most people think there's only one side … theirs," says Robert. "It's impossible for a coin to only have one side. Intelligence equals standing on the edge and looking at both sides."
Like F. Scott Fitzgerald once said, "The test of a first-rate intelligence is the ability to hold two opposed ideas in mind at the same time and still retain the ability to function."
Robert recommends getting around other investors so you can get around a variety of ideas. He recommends the Summit … and you'll be able to meet him if you come!
Plus, Robert's wife Kim Kiyosaki will hold a special ladies-only session at the Summit. Robert encourages female investors and partners of investors to attend and learn about why they don't need a man to get ahead.
Meet and mingle with smart people
No one knows where the future is headed with certainty … but there's one thing all our smart investor friends are certain about, and that's the importance of getting around the right people and assembling your team.
Want to reach out? The Investor Summit at Sea™ is the perfect first step.
Unable to attend the entire Summit? Consider joining us on land for the first two days. We're holding a brand-new event, a conference we're calling The Future of Money and Wealth.
Hoping to see you there!
---
More From The Real Estate Guys™…
The Real Estate Guys™ radio show and podcast provides real estate investing news, education, training and resources to help real estate investors succeed.
Once a year our producers let us out of the studio to hang out on a cruise ship with an enthusiastic contingent of listeners…and some of the biggest brains in investing and economics.  And we always have a GREAT time!
Our tradition is to record a radio show in front of a live studio audience and ask many of our faculty members to share their reflections on the week.
We're always humbled and honored that so many incredibly successful people donate over a week of their very busy lives to inspire and educate our fun-loving collection of investors from all over the globe.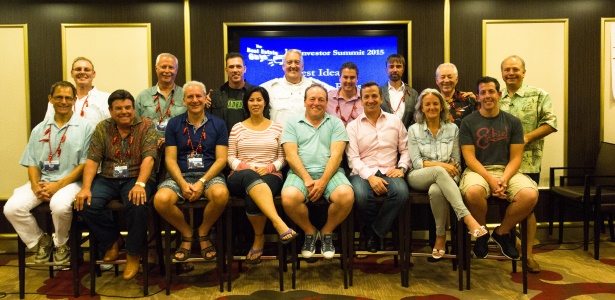 Behind the microphones from a luxurious cruise ship somewhere in the Caribbean Ocean:
Your captain of conversation, host Robert Helms
His first mate, co-host Russell Gray
The founders of Rich Dad, best-selling authors and avid investors, Robert & Kim Kiyosaki
The inspirational and legendary master of salesmanship, Tom Hopkins
World class real estate investor and best-selling author, Ken McElroy
Financial pundit, best-selling author and multi-million dollar fund manager, Peter Schiff
International real estate developer, Beth Clifford
Social entrepreneurs and Rich Dad Advisors, Josh and Lisa Lannon
International entrepreneur, David Sewell
Asset protection and estate planning attorney, Jeffrey Verdon
Financial strategist Patrick Donohoe
Oil and gas investing expert, Paul Mauceli
Private placement attorney and asset protection strategist, Mauricio Rauld
Strategic metal investing expert, Knut Andersen
The Godfather of Real Estate, Bob Helms
Whenever we have a chance to to get around uber successful investors and entrepreneurs, we notice an interesting and encouraging paradox…
First, they're not really bigger than life.
Even though they are doing amazing things…that many of us only dream about…they're just people…like everyone else.
In fact, if you didn't know they were so accomplished in their respective fields, you probably wouldn't even realize they're special.
So it isn't something inherently superior about these people that makes them successful.  In other words, if THEY can do it…you can too!
THAT'S encouraging.
Next, they tend to be curious, respectful and genuine.  They aren't at all the greedy, egotistical, deceptive manipulators TV and movies portray as the stereo-typical ruthless rich person.
That's inspiring.  You can be rich… and still be a decent human being.
So once you're no longer afraid of becoming rich…and yes, MANY people are subconsciously afraid of success…perhaps because of the negative brainwashing about what successful people are and aren't…
The next thing to do is learn and adopt the attitudes and activities which successful use to achieve above and beyond the average person.
So how do you learn to think like a multi-millionaire?
We think one of the best ways is to invest as much time as you can in listening to, talking with, watching and working with as many high achievers as you possibly can.
Everything The Real Estate Guys do is about creating those opportunities for our listeners…whether it's the broadcasts,  our recommended reading or any of the many live events we wither produce or promote.
In this episode, you get to hear how these high achieving faculty members process the Summit at Sea experience.
But listen carefully…because often the best lessons are subtly woven in to what often sound like casual off-hand comments.
Remember, the difference between where you are today and where you want to be in 10 years are the thoughts you think, people you meet and the actions you take.
But it all starts with your thoughts.  So be sure you invest some time every day putting good ideas into your mind.
To secure YOUR place on the next amazing Summit at Sea…click here now.
Listen Now: 
The Real Estate Guys™ radio show and podcast provides real estate investing news, education, training and resources that help real estate investors succeed.
If you really care about your money, chances are you've watched more than your fair share of financial shows.  If so, you've probably seen or heard Peter Schiff.  He's a hard guy to ignore…not that you'd want to.  We know we'd be better off had we been listening to him back in 2006 when he accurately predicted the financial collapse.  Watch the video here.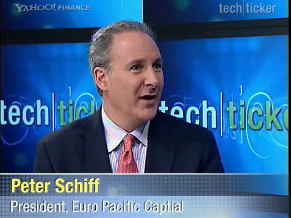 So it's probably obvious why WE would want Peter Schiff on board our 2013 Investor Summit at Sea™.  We want to spend quality time with him, hear what he thinks about the fiscal cliff, the debt ceiling, quantitative easing ( we call it "queasing", because it makes us queasy), the Fed, and Keynesian versus Austrian economics, and more.  We're also anxious to learn more about what Peter calls The Real Crash (the title of his recent best-selling book), which is the collapse of the dollar and government debt.
Scary?  Maybe.  But closing our eyes, or switching the channel on the remote won't make these issues go away.  So like it or not, we are ready to learn from a guy we think has unquestionably earned the right to have an opinion worthy of our consideration. And maybe, we'll learn some important strategies to protect ourselves and actually make great profits while everyone else is hitting the panic button (or the snooze button).
But why would Peter Schiff invest a week of his life to come hang out with us (and you, if you decide to join us)?  After all, we're not paying him.
Peter told us he looks at the Summit as a rare opportunity to give more than a keynote speech to a large crowd or a short soundbite on a TV show.  And even though he has a radio program, we know from experience that radio is a one way conversation.  The Summit is about connecting with people face to face without cameras and microphones.
For Peter, just as Robert Kiyosaki told us about the 2012 Summit that he attended, the Investor Summit at Sea is a chance to spend quality time with a relatively small group of serious investors and a diverse faculty in a fun, semi-private and focused environment.  Plus, our event brings together a slightly different mix of speakers than Peter usually shares the stage with, which means new conversational dynamics and strategic relationships, both for him and everyone else.
If you've ever heard Donald Trump talk about how he avoided financial ruin and re-built his empire, you know how important building face to face relationships can be.   As Trump explains it, he was $900 million in debt and on the verge of ruin, when almost on a whim, he decided to attend a dinner party that he didn't really feel like going to.
It turns out that he ended up sitting next to one of the bankers scheduled to foreclose (first thing on Monday!) on an important property , but after a personal conversation, Trump made a deal that played a pivotal role in saving the property and Trump's future.  What's scary, Trump says, is how close he came to not going.
The important lesson?  No one is going to come to your home and hand you or a solution on an opportunity.  The good news is that everything and everyone you need is out there somewhere.  You're mission, should you choose to accept it, is to go out and find the resources and relationships you need to achieve your dreams.  If you're reading this, you've already shown yourself to be someone who is out looking.  Good job!
We've been hosting these Summits for 10 years now.  We never know who's going to be there, what will be going on in the world at the time we sail, or what the faculty will have to say about anything.  But we do know that good things ALWAYS happen when we get people together for a week in the right environment.
Will getting to know Peter Schiff change your life?  We don't know.  But we invite you to come and find out…maybe some good Schiff will happen to you! 

Click here now

to learn more.
When the mortgage-backed securities (MBS) market collapsed in 2008, real estate owners – both homeowners and investors (and radio talk show hosts) – got hit hard. Banks failed, loans became scarce, buyers disappeared, and people everywhere (including tenants) lost their jobs.  Very ugly.
Lesson: pay attention to macro (big picture) economics.  So now we do.
In the aftermath, we went looking for people who'd called the disaster ahead of time and for the right reasons.  Then we started stalking them, so we'd be first in line to hear the next prediction.  When we went to the Las Vegas Money Show to interview economist Mark Skousen, we ran into one of these guys.  So grabbed an empty meeting room, set up the microphones and persuaded him to sit down to share his big brain with us – and you.
Coming to you from Caesar's Palace Hotel in Las Vegas, Nevada:
Your talkimus maximus host, Robert Helms
Your talenti minimus co-host, Russell Gray
Special guest, money manager, author, economic and financial pundit and biggimus brainimus, Peter Schiff
In case you don't know Peter Schiff, he is the President of Euro Pacific Capital investment brokerage.  He's a former candidate for the U.S. Senate, a prolific author,
and an outspoken financial commentator.  Just for laffers, set aside 10 minutes and watch this montage of pre-meltdown TV appearances by Peter as he argues with a host of "experts" about the problems Schiff saw approaching.
Now some people don't like Schiff's politics.  Whatever.  We aren't a political show.  We want to learn how to be better investors.  And we sure wish we would have been paying more attention to Peter Schiff back then.
In his 2006 book, Crash Proof, Peter detailed why he thought the U.S. mortgage markets would collapse.  In his 2011, "I told you so" update, Crash Proof 2.0, Peter revisits the original text with the benefit of hindsight.  It's one of our favorite books and is on The Real Estate Guys Recommended Reading list in our bookstore.
In this interview, Peter talks about his new book, The Real Crash – America's Coming Bankruptcy.  Scary title! And we thought the whole Mayan calendar thing was spooky.
Peter explains to us that while the mortgage meltdown was horrific, it was really only the tremor before the big earthquake.  What's yet to come is the real crash (hence the catchy book name) which will be caused by the collapse of the mother of all bubbles: U.S. Treasuries and the U.S. dollar.
Of course, the implications for real estate investors should be obvious.  Mortgage interest rates pivot off of Treasury yields.  When the value of Treasuries go down, interest rates go up.  The bigger the collapse, the higher rates go.
Now if the Fed decides to prop up Treasuries by purchasing bonds using their "magic checkbook" (for more on this, check out our multi-part blog on The Great Debt Ceiling Debate), called "Quantitative Easing", which is essentially printing money.  The outcome?  Inflation.  Maybe even hyper-inflation.
Of course, in all of this doom and gloom, there are tremendous opportunities.  And Schiff doesn't leave us feeling completely freaked out and helpless. In fact, he actually has many ideas about what you and the country can do to mitigate the inevitable pain created by an unsound monetary system.
During the week we spent with Robert Kiyosaki on our last Investor Summit at Sea™, he told us he thinks there's an 80% chance of hyper-inflation.  The solution?  Use mortgages on income producing real estate to short the dollar.  That is, borrow dollars today that are worth more than dollars 10 years from now.  Then pay the loan back with tomorrow's cheaper dollars.
Now, if interest rates rise, and inflation hits, then real estate prices and rents will go up, more people will need to rent, new housing will be too expensive to build, and your mortgage will be easier to pay off with devalued dollars.  However, it's important to remember that even though people will be being paid more dollars (in an inflationary environment, wages go up too), prices will also be going up – and probably faster than wages.  So people who are savings and don't own real assets will actually get poorer in terms of purchasing power.  That's why we like low cost, positive cash flow real estate markets.  Positive cash flow means we can control the property long term no matter where values go in the short term.  Low cost markets are more likely to see an increase in demand as people lose purchasing power.
Now Peter Schiff is a stock guy, but some of the things he says can apply directly to real estate.  First, he likes dividend paying stocks.  The real estate equivalent is rental real estate.  He likes bargain stocks.  The real estate equivalent is affordable markets.  He likes shorting the dollar.  As we just discussed, mortgages are a great way to short the dollar – as long as the tenants are paying them!  Lastly, he likes diversifying in non-U.S. assets.  Of course, we've been fans of investing in real estate outside the U.S. for the last several years.  One of our favorite markets is nearby, English speaking and really beautiful (that's a bonus) Belize.
So even though Peter's a stock guy and we're real estate guys, we actually have a lot in common.  So much so, we decided to invite him to join us as a guest faculty member for our 2013 Investor Summit at Sea™.  At this point, it's supposed to be a surprise, but since you've read this far, we thought we'd reward you with a sneak peek.  Thanks for being a fan!
For now, we encourage you to listen to this episode and make some Schiff happen to you!
Listen now:
Want more? Sign up for The Real Estate Guys™ free newsletter!
Don't miss an episode of The Real Estate Guys™ radio show!  Subscribe to the free podcast!
Stay connected with The Real Estate Guys™ on Facebook!
The Real Estate Guys™ radio show and podcast provides real estate investing news, education, training and resources that help real estate investors succeed.