What's a reasonable return on investment in today's market? As you might expect, the answer is, "It depends!"  Every investor must accept risk in order to attain reward.  Even doing nothing is a risk with its own reward.  The obvious goal is to achieve maximum reward with minimum risk.  Duh.  But what are the risks and how do you assess them?  What are the potential returns?  What's about the not-so-obvious risks?  And what's reasonable to expect in today's economy? Tough questions!
Balancing in our chairs behind The Real Estate Guys™ golden microphones (actually, they're black with smelly foam that prevents our P's from popping too profusely), to talk through all of these perplexities are:
Your Host and mental gymnast, Robert Helms
Co-host and floor tumbler, Russell Gray
Chief spotter, the Godfather of Real Estate, Bob Helms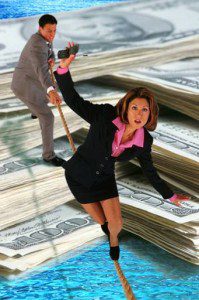 Real estate investing is as much an art as it is a science. There are so many different markets, sub-markets, product types and deal structures to choose from.  Beyond that, there are variations in economic conditions, seller motivations, tax laws, interest rates and on and on and on.  The types of returns which can be attained in a real estate investment range from bankruptcy (on the VERY negative side) to infinite returns (profit on nothing invested). We like the latter better, don't you?
Recognizing that real estate investing is "non-traditional" when compared to the conventional approach of "work hard, pay taxes, live below your means and buy stocks, bond and mutual funds for the long haul" – we talk about the ranges of returns which are reasonable to expect when investing in certain kinds of real estate.  We also talk about how certain deal structures can really improve your ROI.
Another topic of discussion is the risks of investing versus those of NOT investing.  There is an adage which says that the more risk you take, the more return you should demand.  We agree with that one. Of course, it presupposes that you understand the risks and can factor them into your decisions.
There is another adage which says that higher returns mean more risk.  NOT NECESSARILY!  There are actually deal structures which REDUCE risk while INCREASING return.  So of course, we talk about those things because they are among our favorite benefits of real estate investing!
After this broadcast, we slipped off our leotards (sorry, bad visual) and headed for the showers (worse visual!), pleased with our performance.  Now we're waiting for the judges (that's you) to put up our scores.  We only ask that not take into consideration what we look like in our leotards.  And, that you remember to take us to the gym because, as you probably already know after the leotard visual, we REALLY need the workout!
Listen Now
Don't miss a show!  Subscribe to the Free Podcast
Want More?  Sign Up for The Real Estate Guys™ Free Newsletter!
The AP headline this morning says "Stock Market Slumps as Home Construction Slows".  Oh no!  We can hear the pitter patter of mutual fund investors' feet running to their computers to check the damage to their 401k.
Funny, but when we look at our computer, we see interest rates on 30 year fixed mortgages back under 5%.  Even jumbos are under 6%!  Meanwhile, gold, oil, car prices and CPI (Consumer Price Index) are all up.  (Hint: those are signs of inflation).
When you put all that in the blender, what do you get?  Well, it depends on what color glasses you're wearing. (Too many metaphors? Sorry.)
Here's the deal plain and simple: In the US, home and apartment construction is not growing as fast as the population.  Rents are not falling as fast as prices.  Interest rates are ridiculously low.  Toss in gobs of people unemployed, which means they're missing payments and wrecking their credit.  They won't be able to buy a home for awhile, so if they can't keep the one they have, they will be renting.
So what do we have?
• A growing population and influx of people going from homeowner to renter means more demand for residential rentals.
• Less new apartments and homes coming on line mean less supply.
• More competition for fewer rental units means upward pressure on rents, in spite of a weak job market.  Why?  Because people need a place to live.  Next to food, it's pretty high on most people's priority list.
• Low interest rates means if you or your investment partners are credit worthy, you can get great (i.e., low) long term interest rates on loans just before what many believe will be an inflationary cycle.  Inflation means anyone in debt will win as the value of the dollar falls.  This is why China is a little miffed at Uncle Sam.   China holds a lot (if you think a trillion is a lot) of US debt and are concerned about a falling dollar.
• Low interest rates also mean lower payments.  Lower payments make it easier to get a property to cash flow without 80% down.  To quote from that fabulous book Equity Happens, "Cash flow controls mortgages. Mortgages control properties. Properties will make you wealthy over time."  This is true with or without inflation (i.e., appreciation), because you are using the tenant's money to pay off the loan.   No other investment lets you do that.
Additional opportunities exist for the extra ambitious.  We call it finding and forcing equity.  How?  With less new units coming on line and many banks and overextended owners letting their properties fall into disrepair, there are opportunities to buy someone else's problem cheap.   Then, fix it up, rent it out and wait.  If things go your way, you may be able to refinance to get your original investment out – and now you're in for free.  Kiyosaki calls this "infinite return".  We like it.
Of course, it's not all rosy.  Unemployment is still a concern.   And financing (especially refinancing) is harder to qualify for.  But, if it were easy, then everyone would do it and there wouldn't be opportunity.  Hey, wait a minute.  It's easy to buy mutual funds, isn't it?  And everyone does it, don't they?  Hmmmmm…..
Want More?  Sign Up for The Real Estate Guys Free Newsletter!
Did you know that Backstage Pass Members get audio blogs? Save your tired eyes and make your ears do the work!  Become a Backstage Pass Member today!