There's a lot of talk in the media about tariffs, taxes, and trade … what does all of that really mean for real estate investors?
As a real estate investor, you need to understand what is going on economically. What's happening at an international level can trickle down to your local playing field.
To help you navigate the news, we brought in our good friend Peter Schiff. Peter is an author, stock broker, and financial commentator … and he has some strong ideas to share.
Learn to more successfully sail the economic sea and weather financial storms.
In this episode of The Real Estate Guys™ show, hear from:
Your financial seafaring host,

Robert Helms

His economically seasick co-host,

Russell Gray

Author, stock broker, and financial commentator,

Peter Schiff
---
Listen
---
Subscribe
Broadcasting since 1997 with over 300 episodes on iTunes!
---
Review
When you give us a positive review on iTunes you help us continue to bring you high caliber guests and attract new listeners. It's easy and takes just a minute! (Don't know how? Follow these instructions).
Thanks!
---
Tariffs and the big picture
If you're the type of investor who reads the headlines … and you should be … then you've probably seen lots of talk about tariffs, taxes, and trade.
But most investors don't understand what these headlines mean for their money.
What's the deal with these three big "Ts" … What are they? How do they work? And why do they impact your business?
As a real estate investor, you've got to understand the economic and financial sea that you swim in.
You need a basic understanding of all things economic.
Tariffs … in particular … are a great place to start.
Before 1913, the United States didn't have an income tax. Instead, we funded our federal government through tariffs.
A tariff is a tax on people that want to sell in our markets … and today, President Trump is using tariffs as leverage in negotiations to level the international playing field.
You may agree or disagree with these politics … but whatever your personal opinions, you still need to know what such action really means for you.
Any kind of tax or tariff affects how much things cost in our economy … and it can also affect where jobs are created … which affects where people live.
By instituting tariffs, the federal government hopes to bring more manufacturing jobs back to the United States … potentially resurrecting manufacturing ghost towns.
Real estate investors need to look out at the horizon and see the bigger picture. You want to be riding the wave … not chasing the trend.
That's why we asked our good friend Peter Schiff to share his knowledge and experience with us.
The US-China trade relationship
Peter says a great place to start increasing your understanding of the current economy is to look at the US relationship with China.
According to Peter, China does TWO big things for the US … they supply us with real goods, and they lend us money.
We get everything from China. It's all manufactured products that make our lives better.
People go to Walmart and buy cheap stuff … and where is it coming from? China, of course.
China is also the biggest buyer of US bonds … which means they are our lender. They are lending us money that we would otherwise not have.
While the federal government talks about losing $500 billion a year to China, Peter thinks the US is still getting the better end of the deal.
China supplies us with real goods … and in exchange the US gives them a stack of paper that is arguably worth less every day that they hang on to it.
So, if the US places tariffs on China and enters a trade war, who is worse off in the end?
Peter says the Chinese will still have all their stuff … and we'll just have a stack of paper.
The US government hopes that by instituting tariffs, companies will make their products in the US instead. Peter says that is easier said than done.
Pulling together the infrastructure, raw goods, and man power to manufacture these products in the US could take years … and it will cost businesses more money … not to mention a major shortage of goods in the meantime.
Peter explains that switching the US back over to a more manufacturing-based economy would require tremendous changes … and most likely result in a huge depression until the new economic flow was established.
"When we were a big manufacturer in the past, we had limited government, lower taxes, fewer regulations, a lot of savings, and a skilled workforce. We don't have that stuff now," Peter says.
Peter does mention that the US is probably going to have to make some of these changes eventually … but proposed tariffs and trade wars would accelerate the timeline in a painful way.
And the United States doesn't realize how painful it will be.
If tariffs make it harder for the Chinese to sell stuff to America … they'll sell it domestically instead.
As the Americans get poorer … the Chinese would be getting richer.
Right now, the Chinese labor, and we get the fruits. Suddenly, they would get both.
And what about our intellectual property?
"They're going to keep ripping off our intellectual property because we can't stop it, but now they're not going to be giving us this big subsidy by loaning us money and supplying us with goods," Peter says.
Preparing for a drop in the dollar with gold
Another notable headline today … the Chinese and Russian governments are buying gold and putting it away.
Peter says that the Chinese and Russian governments recognize that the dollar's day as the reserve currency are numbered.
Nobody knows when the dollar's time will be up … but if it loses its role as the primary reserve asset for central banks, what will take its place?
Right now, what gives a currency value are the foreign reserves … we've got this huge pile of US dollars that gives currency value.
Before central banks used other currencies as their reserves, everybody used gold. That's what backed up your paper.
Originally, the transition from the gold standard to the dollar standard happened because the dollar was as good as gold.
US Federal Reserve notes were obligations of the Federal Reserve to pay. So, foreign central banks held Federal Reserve notes, which were redeemable on demand in gold.
Then, in 1971 the US said it would not give other countries gold for these reserves. The value of the dollar went down … and the value of gold went up.
All the central banks kept holding the dollar as a reserve even though it wasn't backed by gold anymore.
Peter says that the US has borrowed so much money … and printed so much money … that it is heading for a currency crisis.
"In that environment, central banks are going to have to show that their currency is backed by something," Peter says.
Some banks are buying more of other currencies … like the euro or the yen … but if people lose confidence in the dollar, the same could go for other currencies.
"I think that central banks are thinking they better have actual money in gold, because in the future, gold could be a much more important component of their reserves," Peter says.
And if the price of gold continues to rise, the appreciation alone is going to increase the percentage of their reserves that are in gold.
Preparing yourself for the future
So what's an investor to do?
Peter recommends getting out of US stocks in general … and bonds are way over-priced right now.
"If you've been fortunate enough to have invested in US stocks and seen a big gain, you need to cash in. Take that gain before the market takes it away from you," Peter says.
That doesn't mean you shouldn't own stocks … Peter says it just means to think about moving out of dollar-dominated US stocks.
Consider taking a look at foreign stocks … emerging markets and developed markets are looking really good right now.
These stocks are international and derive their revenues outside of the US. If the dollar crashes … these stocks will rise in proportion to that decline.
Peter also believes that investors should have some sort of gold in their portfolio. It's a good way to get diversified.
There's no sure way to know what will happen in the future. We can only do our due diligence and make an educated guess.
Remember that not every strategy works for every investor. Find what works best for you. Always talk to an expert that understands your financial needs and situation.
---
More From The Real Estate Guys™…
The Real Estate Guys™ radio show and podcast provides real estate investing news, education, training, and resources to help real estate investors succeed.
---
Love the show?  Tell the world!  When you promote the show, you help us attract more great guests for 

your

 listening pleasure!
As we're winding down 2018, it's time to rub our crystal balls and peer into the new year … and we see …. 
Taxes.
For most high-earners, taxes are their biggest expense.  And almost everyone who has to pay taxes would prefer not to … or at least pay less.
So while there are MANY trends and developments real estate investors should pay attention to in the new year …
… the biggest story may well end up being how market participants respond to their growing understanding of the revised tax code.
Thanks to tax strategy advocates like Tom Wheelwright, many people ALREADY investing in real estate are cashing in on the amazing tax benefits the new law gives to real estate investors.
But as investors of all stripes close the books on 2018 and start looking for tax breaks in the new year, we're guessing many will discover real estate for the very first time.
Meanwhile, it's quite possible stock investors will trade in their "buy the dip" strategy for "drop the falling knife" … and look for other, less volatile places to invest the proceeds.
While YOU may not be interested in the stock market, its recent tribulations are noteworthy because it may portend a shift of capital from Wall Street stocks to Main Street real estate.
And if you're a syndicator talking with prospective investors, you should really have more than just a cursory understanding of what puts downward pressure on stocks.
After all, some of the jittery money still stuck in stocks just might be inclined to move your way … if you're able to explain the case for real estate.
Besides tariffs and rising interest rates, there are two factors putting pressure on stocks but aren't discussed much on mainstream financial news.
First, as interest rates rise, it's less profitable for corporations to borrow heavily to buy back their own stocks.
Besides, many have already gorged themselves on cheap money while taking corporate debt to record levels.  This alone is causing some concern.
And if rates resume their climb, debt service will begin to take a toll on corporate earnings as interest expenses rise. 
There's a second factor sucking the wind out of the corporate buyback sail …
The big tax break offered to corporations enticing them to bring their offshore money back to America has already worked most of its magic.
And a lot of the money ended up in stock buybacks.
But with the dual air pumps of cheap debt and repatriated offshore funds both losing pressure, stock buybacks are slowing … letting air out of the stock bubble.
Remember, asset values (prices) are largely based on "air pressure".  There always needs to be more money coming in to keep prices elevated.
On the other hand, income producing assets … like rental properties … derive their value from income.  And because those incomes are relatively steady, so are the prices.
That's why jilted stock investors often migrate into real estate. 
Sure, they like flirting with the hot stocks when the punch bowl is full.  But when the bowl runs dry, many investors choose to go home to old faithful … real estate. 
And when you add in the new tax breaks, old faithful got a face lift … and is even MORE attractive.
But it gets better …
The world is really starting to buzz about Opportunity Zones. 
O-zones promise huge tax breaks … and much of it is likely to provide long-term benefit to real estate in those designated areas.
Of course, like anything new, it takes time for folks to figure it out, to get in position, and make their moves.
That's the advantage of being small.  You can study fast and out-hustle the big money to get into position. 
Then when big money finally shows up, you get to ride a wave.
So when we look at the upcoming year, we think the impact of the tax laws will continue to magnify a movement of money into real estate.
And even if the overall economy slows, it's our guess real estate will continue to attract its unfair share of investor interest.
Now we're starting to understand why Tom Wheelwright and Robert Kiyosaki get so excited about taxes, real estate, and infinite returns.
Until next time … good investing!
More From The Real Estate Guys™…
The Real Estate Guys™ radio show and podcast provides real estate investing news, education, training, and resources to help real estate investors succeed.
---
Love the show?  Tell the world!  When you promote the show, you help us attract more great guests for 

your

 listening pleasure!
It's hard to watch the financial news these days and not get the feeling the fragility in the financial system we've been concerned about … is starting to show.
We grew up in California and learned as kids how to react to an earthquake …
Get away from glass and hide under the shelter of a desk or doorway … because stuff was probably going to start falling.
Fragile things shatter in an earthquake.  They can't handle the pressure.  The key to safety is to get to the sturdiest parts of the structure until the shaking subsides.
Of course, when it's clear and bright … the windows are the most fun.  You can bask in the sunshine of hope and opportunity.
But when the foundation is shaking, it's time to find shelter … FAST.
You've probably noticed stock prices slipping.  Even the fabled FAANGs (Facebook, Amazon, Apple, Netflix, Google) are ALL now in bear markets.
So what?  After all, we're real estate investors.  What do we care about stocks?
We don't.  At least not directly.  But all these markets are like gauges on our financial dashboard … and when they start flashing red, it's wise to investigate.
This is a newsletter, not a seminar, but let's see what we can reason together in the next few minutes about what's shaking in the financial world … and where it might be headed.
The first place to look is the most important financial market there is … bonds.
Of course, real estate investors should watch the bond market for clues about the direction of interest rates.
But while interest rates are interesting … credit markets are what REALLY matter.
That's because credit markets both create and price the currency which fuels everything else. 
Credit markets are like the big reactor core in the Star Wars Debt Death Star.  They're both the fuel source and the weak spot at the same time.
To take the metaphor a conspiratorial step further … credit markets are also the source of the Emperor's power.
And as Peter Schiff persistently points out … when the original Debt Star blew up in 2008, the Emperor wasted no time in building a bigger, deadlier version.
The obvious implication is the next explosion could be a LOT bigger.
Now in a plain vanilla stock market dip, some (usually innocuous) event spooks highly-leveraged paper traders.  They sprint to the exits … and stock prices fall.
But then they calm down and the next day they're back out there snapping up bargains.  This "buy-the-dip" strategy has been the name of the game for several years.
But the longer-term downtrend suggests something is different this time.  Perhaps worries the Debt Star is running out of power?
The Bitcoin crowd has been chanting "buy the dip" also … but here too, it seems the Farce is strong … and the downtrend has more gravitational pull than past dips.
Clearly, nervous stock investors aren't piling into Bitcoin for safety.
Of course, the usual safe space for snowflake stock investors to hide is bonds.
But if gobs of money were pouring into bonds … interest rates would be falling.
While rates have certainly moderated the last few weeks from their upward trend, it's hardly a serious decline.
So … nothing happening now has us disagreeing with our recent conversation with David Stockman on the direction of rates.
And we certainly would NOT be using short-term debt on tight-cap properties hoping to re-fi to lower rates in a year or two!  If that's your plan … be careful.
Then there's oil.  You've probably heard the price has fallen.  We're guessing your tenants like it at the pump.  Businesses too.
Obviously, energy costs … just like interest and taxes … RAISE the costs of operating a business, a household, and an economy.
President Trump's a business guy.  So to no surprise he prefers ALL three lower … so more profit gets to the bottom line.
But oil … like gold … is MUCH more than just a commodity. 
Both have significant connections to the future of the U.S. dollar … and all three are powerful tools in geo-politics.
Just last year, we pointed out China's noteworthy moves with both oil and gold.
And just because things are moving slowly, doesn't mean they aren't moving.
All that to say … we've been paying close attention to this for several years … and it seems to us things are picking up speed.
We keep them on our radar … and yours … for TWO reasons …
First … major financial events often seem to show up suddenly and shock the world … but they usually had a long and obvious (in hindsight) build up.
We've learned to look further out so we have more time to re-position.  After all, the blessing and curse of real estate is it moves slowly.
So real estate investors are wise to pay attention to early warning indicators … and then rearrange portfolios to both mitigate risk and capture opportunities.
Second … when economic and financial earthquakes first tremble … it's smart to seek shelter under sturdy structures.
For that reason, we think it's likely to see MORE money moving into real estate in search of stability (and tax breaks).
But just because real estate is stable doesn't mean YOUR portfolio is.
As we learned in 2008, bad portfolio structure crumbles when hit with tremors from a Debt Star explosion.
However, when those market forces clean out weak portfolios, there are bargains galore … for those who are ready, willing, and able to take advantage.
Ironically, consumers are tapping home equity like it's 2007.  We're guessing holiday shopping will be solid.  But it won't make those borrowers wealthier.
Savvy investors are grabbing equity too … and using it both to purchase strong cash flows … and to hold in reserve.
It's always good to have some cash if market tides turn.
YOUR mission is to be among the aware and prepared … and NOT among the unaware and unprepared.  It could be a good time to increase liquidity.
Are we saying another crash is coming?  No.  But we can't say it's not.
Right now, there are tremors.
So while you're thinking about your goals for next year … including how to invest your educational time and money …
… we encourage you to make getting better educated, better connected, and better structured a top priority … so IF things turn quickly …
… YOU can sit safely inside your reinforced portfolio chomping on popcorn and watching the fireworks.
And if the fireworks turn out to be a dud … you're really no worse off for being prepared.
Until next time … good investing!
More From The Real Estate Guys™…
The Real Estate Guys™ radio show and podcast provides real estate investing news, education, training, and resources to help real estate investors succeed.
---
Love the show?  Tell the world!  When you promote the show, you help us attract more great guests for 

your

 listening pleasure!
It's the time of year to get together and have a good time celebrating the holidays.  Sometimes this involves indulging in some intoxicating activities.
Those who want to enjoy themselves know their limits … and prudently rely upon a sober person to get them safely home.
Naturally, we're talking about investing.
Just take a look at just a few of the many recent intoxicating headlines …
It's important to remember … investing vehicles are supposed to get us to our financial destination SAFELY.
Crashes are DANGEROUS … which is why sobriety is advised.
Of course, in a room full of intoxicated partiers, a sober person can come off as a party-pooper … and NO ONE likes a party-pooper.
So let's see if we can serve up some investing eggnog and with a dash of optimism … and no nasty hangover or risking a life-threatening crash.
First, let's take a quick dive into the aforementioned headlines …
Housing
Home-builders are REALLY confident … presumably because they believe conditions are ripe for them to buy land, materials, and labor … turn them all into homes which they can sell at a profit.
That's because home prices are UP … unlike those dark days in the wake of the recession when existing homes were selling below replacement cost … making it nearly impossible for home builders to build profitably.
Stocks
The U.S. stock market … and most global stock markets … have been rocketing higher.
In fact, the U.S. stock market has taken out all-time highs … over SEVENTY times in 2017 … an all-time record.
All this amid rabid share buybacks by corporations flush with cheap cash from low interest rates… and now from tax breaks which appear inevitable in the new tax bill.
Of course, when corporations take stock OFF the market (reduce supply), while demand surges as bullish investors are piling in … prices rise.  Go stocks!
And speaking of rising prices …
Bitcoin
Of course, the meteoric rise of Bitcoin is THE asset price boom story of the year … perhaps of our lifetime.  It's gotten to where accidental Bitcoin multi-millionaires are even starting hedge-funds.
Are we jealous?  Maybe just a lot.  But we're not sure missing the Bitcoin boom makes us stupid … any more than Bitcoin billionaires are suddenly investing geniuses.
"Stupid is as stupid does." – Forrest Gump
Pre-2008, we knew a lot of people who thought they were real estate investing geniuses because real estate was going up fast everywhere.
They'd put $20,000 down and buy a little house, and a year later it was worth $100,000 more.  There's NOTHING wrong with that.
BUT … it's a mistake to think you're an investing genius because you bought a bubble asset at the right time.
Of course, if you're not smart enough to get out before the bubble deflates, it can take all gains … and your investing "genius" … with it.  We know.
"I may be drunk, Miss … but in the morning, I will be sober … and you will still be ugly." – Winston Churchill
Rising asset prices are FUN.  Easy equity is intoxicating.  Who doesn't like to see the spread between assets and liabilities grow?
But asset price parties can turn ugly fast if you're not careful, which brings us to the point of today's musing …
In good times and bad, always remember what REAL investing and wealth are …
… and no matter how intoxicated with bubble wealth you are, be sure you get home safely.
How?
To our way of thinking, the purpose of investing is to accumulate units of real value and the productivity of others.
Wealth is measured by how many useful items you own … like buildings, trees, crops, barrels of oil, ounces of strategic or precious metals, etc.
These are things people MUST have in order to live, work, or make things of value.
When you have more units of real value, and more people sending you a portion of their productivity, you are WEALTHY.
And when you pick items of real value which also reduce exposure to counter-party risk, your wealth is even safer.
Intoxicated investors look at their balance sheet and celebrate their net worth … perhaps even borrowing heavily to spend on consumption.
In fact, this is EXACTLY what the government and banks WANT you to do.
Sober investors look at their balance sheet as merely a tool for building their CASH FLOW statement.  Spending comes out of the productivity of the asset … not it's equity.
This is no small differentiation … because what you do with equity defines you as an investor.
The investor who buys low, sells high, skims some spending money, then pushes the stack back in and rolls the dice again, needs to keep playing the game … or the cash flow stops.
You can be a full-time investor, but you're still on the treadmill.
The investor who buys low, then uses equity gains to acquire streams of positive cash flow will eventually become free from the need to personally produce to eat.
Robert Kiyosaki calls this "out of the rat race" … and it's an enviable place to be.
The world is awash in paper (balance sheet) equity right now … in stocks, real estate, and now cryptos.  None of them are bad.  Equity is awesome!
But the market giveth equity … and the market taketh equity away.
We think it's smart to take equity off the table before Mean Mr. Market takes it first … and then use your new equity to acquire productivity … cash flow.
It's even better when you can pair equity with cheap long-term debt, so you can own MORE units of real value (properties) and income (tenants).
Of course, the right real estate is an ideal vehicle to acquire an income producing asset with cheap long term debt.
If prices decline, the income provides a basis of value and control.  And if prices take off, your bigger collection of assets will create even more equity faster.
If you haven't already, now's a good time for a portfolio sobriety check.  It doesn't mean the party's over … but it just might make it a bit safer.
Happy holiday and until next time … good investing!
---
More From The Real Estate Guys™…
The Real Estate Guys™ radio show and podcast provides real estate investing news, education, training, and resources to help real estate investors succeed.
"Those who do not remember the past are condemned to repeat it."
   – George Santayana

This is one of our favorite quotes.  It's simple yet powerful wisdom … useful for individuals, businesses, governments … and certainly for investors!
We could take this theme in a thousand different directions, but this CNBC headline caught our attention this week …
Here's how an obscure tax change sank Puerto Rico's economy
With tax reform in today's financial headlines … and our memories of what happened to real estate after the 1986 tax reform …
… we think it's a good time to consider the impact of tax policy on the economy, jobs, and real estate.
As for Puerto Rico … it's a huge mess after Hurricane Maria.  Lots of infrastructure and real estate have been destroyed.
Of course, the financial mess in Puerto Rico was in the news long before Maria showed up.  The natural disaster just made the financial disaster a whole lot worse.
Let's dig in and look for lessons for real estate investors …
The CNBC article points out, "Even before a devastating hurricane … the government was struggling with an economy in shambles …"
And, "That fiscal mess has its roots in the repeal of a controversial corporate tax break that helped spark an exodus from the island that sent its economy into reverse."
Yikes.  Will people and businesses really move just because of some "tiny" tax law?
Yes.  Yes, they will.  It turns out taxes (and avoiding them) are kind of a big deal to people and businesses.
In this case, a tax break, "enacted in 1976, allowed U.S. manufacturing companies to avoid corporate income taxes on profits made in U.S. territories, including Puerto Rico. Manufacturers … flocked to the island."
This lead to an economic and employment boom in Puerto Rico.
Of course, when politicians see money they just can't help themselves.  The Puerto Rican politicians started spending, and borrowing to spend even more.
Meanwhile, back in the U.S., the CNBC article says …
"But by the early 1990s, the provision faced growing opposition from critics who attacked the tax break as a form of corporate welfare."
So in 1996, a ten-year phasing out of the tax break began and "plant closures and job losses followed."
Which bring us to tax policy and real estate investors …
The law had nothing to do with real estate or investors … but then again, it had EVERYTHING to do with real estate investing …
… because real estate investments are highly dependent on JOBS.
And whether you think it's fair or not, corporations make decisions about where to do business (or not) based partially on tax policy.
In this case, tax breaks attracted corporations to set up shop and were good for jobs and real estate.  The removal of those breaks had the opposite effect.
Of course, the law in question was passed and repealed at the federal level.  It wasn't under Puerto Rico's control.
But Puerto Rico got the lesson.
So in 2012, Puerto Rico passed Act 20 and 22 … effectively becoming an attractive tax haven for both businesses and individuals.
We first heard about this from Summit at Sea™ faculty member Peter Schiff … who moved his asset management company and himself to Puerto Rico to save taxes.
He's not the only one.  We have several other friends who've done the same thing.
Right now, the tax law still exists … though much of Puerto Rico doesn't.
We think there's probably a way to combine those two circumstances to create an opportunity for real estate investors.
Of course, back in the U.S., tax reform is in the air again …and corporate tax breaks are in the mix.
Will corporate tax breaks bring businesses to the U.S. and create an employment boom? If so, where?  And will the breaks be permanent or temporary?
It's too soon to tell, but it's something we'll be watching closely.
Meanwhile, there's another lesson from the Puerto Rico story …
We know a tax break brought in a tide of corporate investment, and the removal of the tax break decades later took the tide back out.
But there was a lot of opportunity in between.
Of course, to catch a wave, you need to be watching the horizon.  And when you see the wave forming, you need to paddle quickly into position.
In Puerto Rico, as in Florida, Houston, and the several Caribbean islands all decimated in varying degrees by the back to back hurricanes …
… there's going to be a big tide of capital flowing in to repair everything.
And because of the scope of the problems, the season of rebuilding could last quite a while.
Recently, we talked with our boots-on-the-ground turnkey property provider in Orlando, and he says he sees a lot of opportunity in his market right now …
Problem properties are popping up with pricing that leaves some meat on the bone for investors.
That's good news … not just for investors, but for the community at large … because investment capital is needed to help with the recovery process.
The same is true in Houston, Puerto Rico and other areas ravaged by the storms.
Of course, conditions in each market are different.  Orlando is in far better shape than Houston which is far better shape than Puerto Rico.
All that to say there are different levels of distress, bargains, risk and reward in each market.
Unfortunately for the average individual part-time investor, the gap between seeing opportunity and being able to take advantage can be too big to bridge.
For most U.S. citizens, their "investment" into these disaster zones will be a de facto donation through their taxes, as federal relief funds pour into each area.
Of course, many kind-hearted individuals will make modest personal donations, which is admirable.
But to get LARGE amounts of private capital into each area to help rebuild, it's going to take an investment opportunity.
And we think private syndicators have a role to play.
Motivated real estate entrepreneurs with skills and availability have an opportunity to start a private investment fund to aggegate private capital and make profitable investments in each of these areas.
Busy qualified investors who don't have the time or skills, but see the opportunity, can make an investment in these private funds and earn a profit while helping heal ravaged markets.
This is the kind of capitalism that makes a positive difference in the world …  people helping themselves by helping others.
Or as our good friend Gene Guarino often says, "Do well, by doing good."
Until next time … good investing!
---
 More From The Real Estate Guys™…
The Real Estate Guys™ radio show and podcast provides real estate investing news, education, training and resources to help real estate investors succeed.
Imagine you're the proud owner of a modest 50-year old, four-bedroom, two-bath home … less than 2,000 square feet.
You put it on the market and it sells FAST … for $728,000 MORE than the asking price!!!
That's not the sales price … just the premium OVER what you listed it for!
You might think this happened in that mythical marketplace … Fantasyland … but according this report, it just happened in Sunnyvale, California.
This average home was listed at $1,688,000 … which is RIDICULOUS in and of itself … but the actual sales price was a WHOPPING $2,470,000!!!
WOW.  Equity happened BIG TIME for that lucky owner!
But HOW?  And more importantly, what does it mean … and is there a way to get in on the action?
Let's break it down …
First, equity is always about the right mix of supply, demand, and capacity to pay.
When there's too little of something that lots of people can afford to pay more for … prices get bid UP.
In this case, the San Francisco Bay Area has next-to-no capacity to increase the supply of homes.
There's an ocean, a bay, mountains, a green belt … and most of the available land has already been developed … or can't be.Next, there's a robust tech industry, great weather, and other attractions bringing an influx of immigrants from around the country and around the world.
Next, there's a robust tech industry, great weather, and other attractions bringing an influx of immigrants from around the country and around the world.
So there's lots of demand for housing relative to supply.But … $2.4 million for a run-of-the-mill house in an average neighborhood … bid up to $728,000 over asking price???
But … $2.4 million for a run-of-the-mill house in an average neighborhood … bid up to $728,000 over asking price???
That's ALL about "capacity to pay" … and not from cheap mortgages.
No home lender is going to finance a mortgage on a home for $728,000 above asking price … no matter HOW great your credit score is.
So this huge overbid didn't happen because some high-tech earner levered a fat paycheck into a fatter mortgage payment into an obese mortgage.
Without knowing the details of the transaction, we think it's a safe bet this was a CASH purchase.  But that doesn't mean cheap debt wasn't involved.
Here's how the Fed, tech, the stock market, and real estate all intersect …
It's no secret the stock market has been on an epic bull run for quite some time.  It's a bubble that just keeps inflating.
Inside the stock bubble are the FAANGs …  Facebook, Amazon, Apple, Netflix, Google … the tech sector.
These have been the horses pulling the stock market higher and higher.
Another part of the story is the long-term crazy low interest rates provided by the Fed.
Big corporations (like the FAANGS) then borrow cheap money to buy back their stocks … pushing up stock prices (and executive bonuses).
Of course, if you're a compulsive-obsessive financial news watcher like we are, we're not telling you anything you don't already know … but stick with us …
Because what many people outside the tech industry aren't aware of is a very common compensation incentive tech companies offer employees … called stock options.
Simply stated, a tech worker takes a slightly lesser salary, which aids cash flow for a start-up, while accepting options to purchase the company's stock at a future date at a fixed price.
The employee is now motivated to work hard and stay long to drive the company to profitability … and a higher stock price.
When those options eventually vest, they're what options traders call "in the money".
In some cases, it's a LOT of money.
Long-term Silicon Valley residents are accustomed to spurts of fast real estate equity caused when a booming stock market creates tech stock-option millionaires … and fuels bidding wars for scarce housing.
Of course, you don't have to be in the tech industry or have stock options to be the beneficiary of explosive real estate equity.
You just need to be in the right market.
After all, what do you think the home next door to this $2.47 million property is now worth?
Of course, all this is intellectually interesting … but is there real world opportunity here for real estate investors?
We think so.
Way back in 2012, Forbes put out a list of top tech cities.  Among them were Seattle, Washington DC, and San Jose.
Today, with the benefit of hindsight, we know those markets have all seen substantial appreciation.
But there were other markets on the list, which didn't have the same pop. So simply being a tech town isn't enough.
Take a look at the list, then go back to our initial set of required conditions … low supply, high demand, strong capacity to pay.
Not all those places have a supply problem.  It's tight supply, high demand caused by population growth, and capacity to pay … a lot … through high pay and stock options.
Here's a 2017 list of top tech hubs for you to peruse.  You'll see some familiar names at the top of the list.
But here's something to think about …
Several top-of-list cities have become so expensive, tech companies are looking for new, more affordable places to move.
So cities lower on the list could be the beneficiaries of migrating and expanding companies.
Your mission (and ours) is to identify those "goldilocks" markets where the conditions are "just right" …
The market needs to be affordable today … and make sense on a cash flow basis, because if the rest doesn't happen, we need to be able to hold the property long term and grow equity the old fashioned way.
The market needs some limitation to supply expansion, which will manifest in bidding wars, as tech wealth provides capacity to pay beyond easy mortgages.
There needs to be a solid combination of established tech companies and start-ups.
That's where competition for talent forces small companies to offer options, which the bigger companies then need to respond to.
There are a few markets on this list that we have our eyes on … and some we've already developed relationships with.  So stay tuned for updates.
Meanwhile, do your own homework.  As much as we love cash flow, sometimes a big shot of equity can just brighten your whole day … and portfolio.
Until next time … good investing!
---
 More From The Real Estate Guys™…
The Real Estate Guys™ radio show and podcast provides real estate investing news, education, training and resources to help real estate investors succeed.
Like waves on the beach or the rising and setting of the sun … the ebb and flow of the infamous "business cycle" is something every entrepreneur and investor must navigate.
The marketplace is fluid and dynamic.  There are no lane lines or guard rails.
More importantly, there is no singular cycle because there is no singular market.  As Jim Rickards says … it's a complex system.
At our last Investor Summit at Sea™, Fannie Mae's chief economist Doug Duncan warned the current economic expansion is one of the longest on record.
The odds, Duncan says, are high another recession is around the corner.
And as we've noted before, 10 of the last 13 times the Fed embarked on a rate raising program … the result was recession.  So …
Should real estate investors wait for the next recession to add to their portfolio?
The answer is … it depends.
That's because it's probably not smart to apply a one-size-fits-all simple strategy to an investing question about a complex system.
And even trying to "narrow" the question down to "real estate" is still complex.
After all, "real estate" covers a lot of ground (sorry, couldn't help it) … in terms of geographic markets, property types, teams, available financing, and specific deal terms.
Common sense says if you look at enough deals, you'll probably find a good one … in any cycle … because every real estate deal is unique.
So macro conditions are interesting for deciding which markets to shop in, but less so for deciding whether or not you want to find a deal.
Because if you won't even look because you're waiting for a macro-sale, you might miss a micro-sale… and find yourself sitting out much longer than you planned.
Remember, you can't profit on property you don't own.
Markets get hot for a reason …
When a real estate market gets hot, it's because buyers are bullish about the future.  Sometimes they're wrong, but often they're right.
Local real estate markets are driven by local factors … the local economy, local tax and business policies; local infrastructure, weather, amenities and population trends.
When LOCAL factors are positive, LOCAL real estate prices and rents rise.  Sometimes in sync.
But sometimes, prices get ahead of rents.  Cap rates (rent ratios) fall.  Investors are willing to pay more for the same income in that market … for a reason.
And in a recession, the problem can actually get worse.  In other words, it's not unusual in hard times for quality markets to become even MORE expensive.
That's because when clouds form … or it starts raining … money seeks shelter in quality.
So strong markets and property types often attract MORE capital in uncertain times … thereby raising the price to acquire safe haven assets.
As we discussed last time, Americans and foreigners have already shown a strong preference for U.S. real estate … housing in particular … even as stock markets are raging to record highs.
Royal flushes are rare …
When a macro-event comes and slaps down the national or global economy, sometimes great markets get caught in the downdraft.
This happened in 2008 and it created some of the best buying opportunities since the real estate bust of 1989.  For those who were in position when it happened and acted, it was awesome.
But think about that.
If you missed buying the bargains coming out of 1989 and sat out waiting for the next real estate recession, you'd have been on the sidelines for nearly two decades.
Meanwhile, lots of people made lots of money in real estate … without getting the bargain of the century on every deal.
Pigs get fed.  Hogs get slaughtered … or starve.
This variation on an old investing adage still rings true in today's investing climate.
The idea is there's danger in getting greedy.  It's about being overexposed to a market top, and taking on a lot of downside risk trying to squeeze out a little more upside gain.
But it's also true about waiting … and waiting … and waiting … for the BIG correction, so you can swoop in and gobble up distressed assets for pennies on the dollar.
Remember … you can also strike out by standing at the plate waiting for the perfect pitch.  It's usually better to swing.
What are YOU waiting for?  
A PIG is a Passive Income Generator … like rental real estate.  It's the kind of asset which actually attracts capital in a recession.
That's because when asset prices are uncertain, income is reassuring.  And as prices of stocks, bonds, commodities, and currencies go up and down like a roller coaster …
… working-class people ride the merry-go-round of getting up and going to work every day to pay their rent.
And if they don't, you can replace them with someone who will … IF you're in a market and product type with solid supply and demand dynamics.
To be there, you may have to pay a premium for quality.  The deal still needs to make sense, but it doesn't have to be cheap to be a bargain.
"Bargain" is a relative term … and price is only ONE component.  There's more to value and desirability than just price.  Few people want the cheapest brain surgeon.
So long as the market, team, property, and deal make sense … meaning you've got staying power to ride out a recession if it comes …
… then you can sail through the business cycle riding a PIG.  It's not sexy.  But it's better than starving or getting slaughtered.  You can score a lot of points with base hits.
Until next time … good investing!
---
 More From The Real Estate Guys™…
The Real Estate Guys™ radio show and podcast provides real estate investing news, education, training and resources to help real estate investors succeed.
Real estate investing can be lonely.  Very few financial conferences or commentators even talk about real estate … much less endorse it as a wealth building vehicle.
So real estate investors huddle together in obscure corners of the financial community … quietly making money and muttering about the trials and tribulations of tenants, toilets and 1031 tax-deferred exchanges.
But recently, mainstream financial headlines seem to be painting a rosier picture of real estate …
Several news outlets published articles referencing this Bankrate.com article and survey which says Americans prefer real estate over cash, stocks, gold and bonds …
The article says …

"… for the third consecutive year real estate is the favorite way to invest money not needed for at least a decade …"
"… home prices have gone gangbusters recently, climbing back above their record pre-crisis levels … according to CoreLogic."
Click Bait and Switch
But then the balance of the article is essentially dedicated to telling readers why the survey respondents are wrong for preferring real estate over stocks …

"Still, 'it's a rather poor investment,' says [a] RBC Wealth Management financial advisor.  'It's highly illiquid, and markets aren't always rational.'"

"One study … found that housing only returned 1.3 percent per year after inflation from 1900 to 2011, while stocks tended to perform more than four times better."

As you might guess, RBC Wealth Management deals in paper assets.

Their trite critiques of investment real estate reveal a lack of understanding at best … and a dishonest bias at worst.

Let's break it down.  Because whether you're raising private capital to invest in real estate …

… or just trying to convince your spouse or in-laws real estate is a viable alternative to stocks, bonds and mutual funds …

… it's important to be able to rebut the financial fake news bias against real estate.

Liquidity – LOL
The flip side of liquidity is volatility.  When traders can move in and out of an asset quickly, it makes the asset price volatile.  So liquidity isn't automatically a good thing.
The survey asked about money "not needed for at least a decade" … so liquidity isn't what investors are looking for when they buy real estate.
Besides … to say housing is "illiquid" is inaccurate. 
"Illiquid" means "not easily converted into cash" and "of a market with few participants and a low volume of activity". 
Sure, you can't day trade houses … but we see that as a plus.  It keeps prices more stable.
And when you can usually sell a house at a fair market price in about two months, that's hardly "illiquid".   Drop the price, and you'll sell it faster.
Market Rationality – ROFL
A paper asset promoter saying real estate "markets aren't always rational" … are you KIDDING???  That seems a LOT like the pot calling the kettle black. 
Way back in the 90's before the dot-com stock crash, Alan Greenspan famously accused stock market participants of "irrational exuberance".
Of course, a few years later the stock market crashed … and scared investors flocked TO real estate in the early 2000's.
With the stock market at nose-bleed levels today, we're guessing that's why people are preferring real estate over stocks again.
Only Returned 1.3 Percent – LMAO
The idea that "housing only returned 1.3 percent per year after inflation" is so off the mark it borders on absurd.
The argument is the PRICE of a home in 1900, adjusted for inflation to 2011, only grew on an annual basis of 1.3 percent …
… and that during that same period, stocks grew by "about four times that."
This argument assumes the only financial benefit of real estate ownership is price appreciation, which is a false premise.
We won't bore you with all the math, but you should grab a calculator and do it all so you can quickly blow-up this ridiculous idea that stocks beat real estate over the long haul.
Here it is in simple terms …
Leverage
When you put 25 percent down, you own property at 4:1 leverage.  So 1.3 percent appreciation is a 5.2 percent equity growth rate.

Right there, you're even with "about four times that".  But wait!  There's more …

Cash Flow 
Also missing from the comparison of stocks versus real estate is the rental income.  
Even if you're before tax positive cash flow is only two percent, with 4:1 leverage, your cash-on-cash rate is 8 percent. 
Amortization
A 30-year fully amortized loan at 5 percent reduces the loan balance (i.e., builds up equity) at a rate of over 2.6 percent per year.
Add 4:1 leverage, and you're growing equity at over 13% per year.  Now you're destroying stocks.
We'll skip tax benefits, which make it even BETTER, and let you tally the total. Any ONE of the three beats "four times that" all by itself.  Together … it's a wipe out.
People Aren't Stupid
Main Street investors have common sense … and at this stage of the information age, they're able to research and fact check quickly.
They know stock prices are being propped up by cheap money and corporate buybacks … and with the Fed raising interest rates, the party might be ending soon.

The Bankrate.com survey reinforced what our anecdotal conversations tell us … Main Street investors are nervous about the stock market. 
Their preference for cash over stocks for a ten year hold says a lot.  Main Street is looking for safety and surety.
And Main Street investors like real estate.  They understand real estate.  They TRUST real estate.

But it's not just Americans seeking financial safety in real estate.  Foreign buyers just purchased a record amount of U.S. houses.
Real estate is where people park money for long term wealth development and preservation.
Go with the Flow …
Even though home ownership in the U.S. remains at decade lows, it's actually a boon for real estate investors.  Less homeowners means more renters.
For flippers and syndicators, real estate is highly regarded and in demand.  Money wants to be in real estate … so there's a big opportunity helping it get there.
And while anything can happen, it seems the appeal of real estate isn't abating any time soon.
Until next time … good investing!
---
 More From The Real Estate Guys™…
The Real Estate Guys™ radio show and podcast provides real estate investing news, education, training and resources to help real estate investors succeed.
Put on your thinking cap.  This one's going to use some brainpower.  But if your investment plans involve money and the future, it's probably worth the effort.
During our 2017 Investor Summit at Sea™, Chris Martenson warned that a financial system dependent on perpetual growth is unsustainable in a world of finite resources.
We'll forego discussing "finite resources", though there's probably a lot of opportunity there.  The New Orleans Investment Conference is a great place to learn more.
For now, let's consider "a financial system dependent on perpetual growth" … one of the most important, yet least understood, concepts about the eco-system we all operate in.
It's simple, yet confusing.  Here it is in two sentences …
When dollars are borrowed into existence, the only way to service the debt is to issue more debt.  If the debt is paid off, the economy ends.
Imagine playing Monopoly and each player starts with $1,500.  With four players, the "economy" of the game is $6,000.  This "start" money comes from the banker.
New money is introduced two ways:
When a player passes Go and collects $200 from the banker … or when a player mortgages a property by borrowing from the banker.
Notice all the money to play comes from the banker.
So let's MODIFY the game ever-so-slightly …
Let's have the banker LOAN the start and payday money to each player at 10% interest per turn.
We still have four players starting with $1,500 each for an "economy" of $6,000.  But at the end of the first round, each player now owes the bank $150 of interest.
(We'll forget about the additional payday loans … it just complicates the math and isn't necessary to make the point)
But borrowing money into circulation creates three (hopefully) obvious problems …
First, there's only $6,000 in circulation.  With total debt of $6,000 borrowed plus $600 of interest owed, it's now IMPOSSIBLE to pay off the debt using only the money in the game so far.
And if the only way players get NEW money is borrowing, this creates a cycle of perpetually expanding debt.
Second, if each player paid ONLY the interest out of their $1,500 start money, after ten turns, they'll have no money left at all.  But they still owe the original $1,500!
So you MUST GROW your asset base by more than the interest expense or you're consumed by the debt.
Third, if all players try to free themselves from debt, they would take ALL the money in the game and give it to the banker, the game would end, and each player would still be in debt.
In this system, it's physically impossible to extinguish the debt without extinguishing the economy and ending the game. 
Naturally, to keep the game going, the banker continually extends credit to the players.
It's basically the way the global money system works and why people way smarter than us say it's unsustainable.
It's also like a Venus fly trap because any attempt to reduce overall systemic debt is deflationary, making existing debt even more burdensome.
Deflation means borrowers pay debt down with dollars worth more than those they originally borrowed.
Worse, any assets borrowed against have dropped in value.
Think of 2008 when the credit bubble deflated.  Property values fell, while the outstanding debt remained fixed.  Property owners were "underwater" (negative equity).
Meanwhile, the dollar was STRONG.  It took a whole lot LESS dollars to buy anything.
Everything was on sale and cash was king.  Lots of people got rich buying things with cash when others couldn't borrow to buy.
Deflation is awesome when you're sitting on cash.
You'd think lenders are happy to be paid back with better dollars.  And they are … IF they actually get paid.
But underwater borrowers often decide to default on the loan so they can keep their dollars.
So bankers HATE deflation.  No wonder the system they set up in 1913 demands perpetual expansion of debt and prices.
In fact, the Federal Reserve overtly targets 2% per year INFLATION:
"… inflation at the rate of 2 percent … is most consistent over the longer run with the Federal Reserve's statutory mandate."
Here's the problem with perpetually expanding debt … it weakens an economy.
Sure, it drives inflation, but inflation weakens consumption.  When things cost more, people buy less.
Debt also requires interest.  Even at minimal rates, HUGE balances require big payments.
Interest on public and private debt take money away from production and consumption … causing both to shrink.  Just not at the beginning.
When first injected into an economy, debt gooses activity and provides a temporary high.
And as in our modified Monopoly game, once deployed, more NEW money is required just to keep the interest from consuming the economy. There's a point where new injections produce diminishing returns.
Whew!  Thanks for staying with us.  Tape an aspirin to your forehead.
With that backdrop, consider this headline from Investor's Business Daily
Here's Why China's Latest Growth Scare Should Worry You – May 30, 2017
"Credit has been growing twice as fast as nominal GDP for years. The diminishing returns suggest that many loans are going to unprofitable ventures. They also signal that sustainable economic growth is far less than current growth rates. Such a rapid deceleration from the world's No. 2 economy would sap demand and prices for raw materials such as copper, exacerbate overcapacity issues and act as a drag on an already-sluggish worldwide economy."
Uh oh.  "Diminishing returns" and "deceleration" in the face of rapid credit growth.
When a junkie can't get high, they either increase the dosage to the point of toxicity … or they wean themselves from the drug.
"China is getting serious about weaning its economy off torrid credit growth, and data and financial markets already are showing early withdrawal symptoms."
Hmmm… sounds like they're leaning towards weaning.  We like the addiction metaphor.
China and the United States are the two biggest economies.  What either does affects the world.
Right now, headlines say China is slowing its use of debt, which in turns slows its economic growth, with a ripple effect on other economies.
Meanwhile, the Trump Administration is talking bigly about reducing the deficit and debt. Will he do it? Can he do it?
Who knows? But if the global economic system sustains itself on ever-increasing debt. and the two biggest borrowers are going on debt diets … who's willing and able to take on a bigger share of global debt?
And if no one does, then what happens to asset values?  Is deflation on the horizon?
Last question … then you can take a nap …
Would the Fed and other central banks allow deflation … or do they roll out QE4ever (quantitative easing) in an attempt to stop it?
Meanwhile, now seems like a good time to consider repositioning equity from properties and stocks with high asset values into properties with sober valuations and strong cash-flows.
After all, stocks and even real estate values might be a roller-coaster ride, but rents are more of a merry-go-round. Boring, but a nice place to hide when feeling queasy.
Until next time … good investing!
---
More From The Real Estate Guys™…
The Real Estate Guys™ radio show and podcast provides real estate investing news, education, training and resources to help real estate investors succeed.
In a recent article published by CNBC, famed economist Robert Shiller (yes, that Robert Shiller of the oft-referenced Case-Shiller index) is quoted as saying he thinks stocks are a better investment than real estate over a lifetime.
REALLY???
That's like kicking a sleeping dog.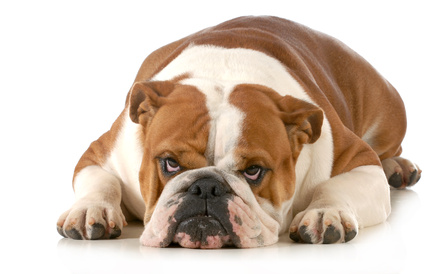 So we got up off the couch and decided to do a show on this topic.
Some might say we're shills for real estate…but we'll find out who's a bigger shiller here.
In the broadcast doghouse for this episode of The Real Estate Guys™ radio show:
Your big dog host, Robert Helms
His little dog co-host, Russell Gray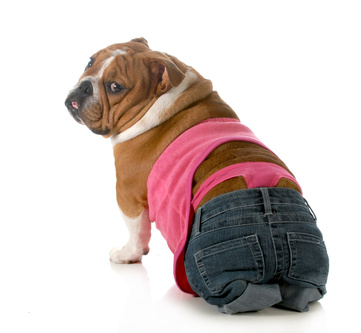 So we're hanging out in our broadcast briefs perusing the news for interesting subject matter…and we see an article by CNBC headlined, "Where to put your cash? A house or a stock?"
Hmmm…that sounds interesting…
The article opens up saying that even though the stock market is at record highs, the government is pushing home ownership to build wealth…and using easy credit to help all those poor, unqualified borrowers.
The author immediately questions the premise by reminding readers of the "catastrophic housing crash of the last decade"…while completely failing to mention the accompanying catastrophic crash of the stock market…but more on that in a moment…
Then the author invokes Nobel Prize-winning economist Robert Shiller who is quoted as saying, "It would be perhaps smarter, if wealth accumulation is your goal, to rent and put money in the stock market, which has historically show much higher returns than the housing market."
Seriously? Okay, now our hackles are up…
So we keep reading…and discover those comments were made at a Standard & Poor's conference.  Last time we looked, S&P is mostly about stocks and Wall Street.
Of course, we do a little speaking from time to time, so we know when you're in someone else's house, it's smart to say nice things. We don't begrudge Mr. Shiller for playing to his audience.
Side note: a few days later, CNBC put out a video where Shiller says, "Go back to buying houses."  Wow, that was fast. But we know the stock market moves quickly. 😉
Back to our current article…
So the CNBC author says, "Shiller notes that the comparison between stock returns and home value returns is rough, given that stocks pay cash dividends and housing pays 'in kind', in the form of housing services; that is, you get to live in the house."
That VERY important point is quickly set aside in the next paragraph, which compares ONLY the capital gains of the broad stock market since 1890…yes EIGHTEEN NINETY…and Shiller's own secret recipe (that's how you win a Nobel Prize) of the "real" U.S. home price index.
There's SO much here…we're starting to pant.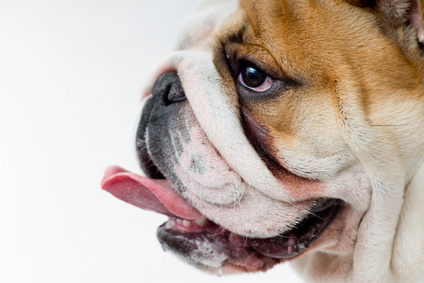 The bottom line says Shiller according to the CNBC article…is that the net real capital gains (presumably after being adjusted for inflation) are "smaller than one might expect" (we get that a lot…)
Really? How small?
The article quotes Shiller as saying for stocks it's about 2.03 percent per year. And houses…only a paltry 33 basis points (about 1/3 of 1%).
Confused? If buying stocks and real estate sucks so badly, why would ANYONE do it?
The perhaps obvious answer is that NOT doing it sucks WORSE.
Think about it. The dollar has lost about 98% of it's value since the Fed was created in 1913. If you simply stacked up paper dollars, you'd be at a negative 98%. So plus 2%…or even plus 1/3% sounds pretty good by comparison.
So now that we know investing…even spending… is better than cash under the mattress, we're back to comparing stocks and real estate.
The CNBC article points out that "A house can offer greater returns if the owner chooses to rent it out and not to live in it." Duh. Welcome to our world.
This highlights a bigger point, which is that when you're reading a mainstream financial media article on real estate, they almost always are talking about the house you live in.
To the CNBC author's credit, she mentions that "Shiller adds homes should not be seen as an investment vehicle, like a stock, but as a consumption good, like a car."
We agree. But, isn't the entire premise of the article a comparison of the investing in stocks versus real estate? You might want to lead with that next time…
Still, this is a VERY USEFUL exercise for anyone enticed by this record high stock market...and every real estate investor being chastised by their stock investing friends. And ESPECIALLY useful for any real estate entrepreneur who's out raising money to syndicate real estate deals.
After all, we're all hearing about how great the stock market is doing. In fact, here's an amazing chart from the CNBC article: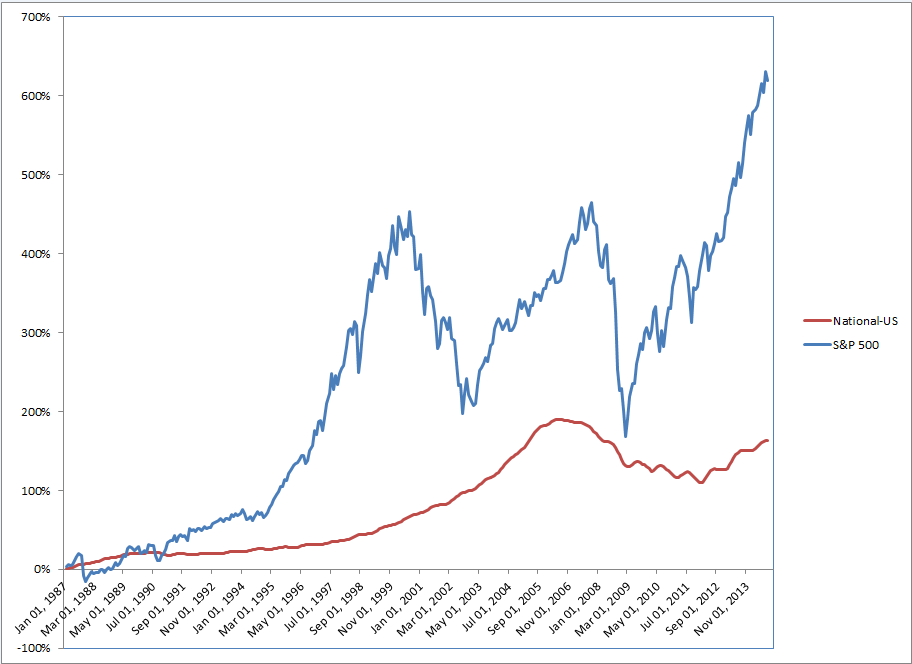 This shows how the stock market (blue) is crushing housing (red).
Aren't you impressed?
Do you see the real estate bubble of 2003-2007 and the "catastrophic crash" in 2008? (Pay no attention to those GIGANTIC blue line ups and downs…but since you are…what does the pattern say might be next for stocks???)
The CNBC article concludes with this:
"The happy compromise [between taking the risk of leaving equity in a house whose value might drop and putting the equity to "better" use by investing in the stock market]…would be to keep less equity in your home though a long-term, low-down payment mortgage; or…through an interest only loan, and keep more cash at the ready for investing in the stock market. It's a riskier choice, given the current volatility in home prices, but it may be the best way to build wealth."
So NOW we're on the floor laughing out loud…
Open your eyes. You can now look at the blue line in the chart.
Who's calling who volatile???
First, before we go ballistic…we must say we LOVE the idea of getting idle equity out of a property to shelter it from that ever-fickle Mr. Market.
And because mortgage interest rates are SO low…you don't have to be Warren Buffet to out-earn the cost of borrowing…especially when you consider that the interest is tax-deductible.
But stocks? We don't think so. That chart makes us dizzy…
So we need to do some math. We figure if you've read this far, you must be a SERIOUS reader, so you can probably handle it.
We'll only do enough to help you understand why there's NO CONTEST when it comes to risk-adjusted returns in real estate versus the stock market.
Ready?  Take a cleansing breath…and…here we go…
First, let's just say that Shiller is right and the real average annual value increase (capital gain) on housing is 33 basis points per year. We could argue, but he's a Noble Prize winner. We're a couple of schmoes with microphones.
What his comments and the CNBC article don't take into consideration is financing…or better stated…leverage.
So if you were to put 20% down, you'd control five 20% parts of an asset (the property) which is 100% of it. That is, your "capital stack" is 20% cash from you (down payment) and 80% cash from the bank (the loan).
But YOU get 100% of the 33 basis points appreciation. At 5:1 leverage (you have only 20% cash in), YOUR appreciation rate on your cash is 5 x .33 or 1.65%. Nothing to run naked through the streets bragging about, but 5 times better than 33 basis points and a WHOLE lot closer to the 2.03% that Shiller says is the stock market's history.
Now let's stop right there.
Go back and look at the roller coaster blue line in the chart. Do you notice that the last low was lower than the prior low? Do you see that the high before this one, was higher than the high before that one? Any guesses on where the next low might be?
Now look at the red line. Looks like a smoother ride.
Would you be willing to give up 38 basis points (that's the difference between 2.03% and 1.65%) to avoid having your stomach come out your ears?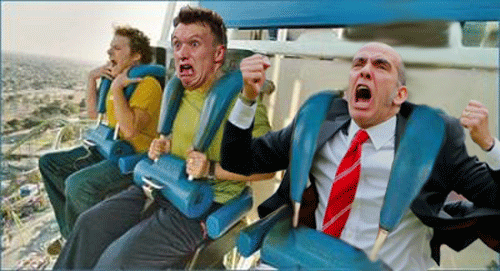 But we're not done…
Remember that 80% loan? Well, this is a RENTAL property.
That means you have tenants who are paying enough every month to cover ALL the expenses, including the mortgage (and professional property management…because who wants to manage a property?), and a little bit more. If that's not the case, then you shouldn't own the property.
Assuming your loan rate is 5% fully amortized for 30 years, the very first loan payment includes a pay down of principal (that increases your net worth on your balance sheet because it reduces your liability…we call it amortized equity) is $96.12 and it goes UP each month from there.
So month 1 is the LOWEST profit rate of the entire 30 years. Make sense?
Math time!
$96.12 x 12 = $1153.44 minimum annual equity build up from amortization
$1153 on a $20,000 cash invested (remember, you only put 20% down) is a growth rate of 5.76% annualized. Add that to your 1.65% of new equity (previous calculation) and you're up to 7.41%.
See? It's starting to look better. And it smokes the actual return of the stock market (according to Shiller) and still doesn't take into account tax breaks or positive cash flow from rents.
So just for fun…can you think of anything you'd rather be doing right now???…let's add in some net operating income.
Suppose this rental property only provided a modest positive cash flow of about $70 a month net spendable after ALL expenses…including maintenance, turnover, vacancy and set-asides…plus property taxes, insurance, property management, etc.
Is that reasonable?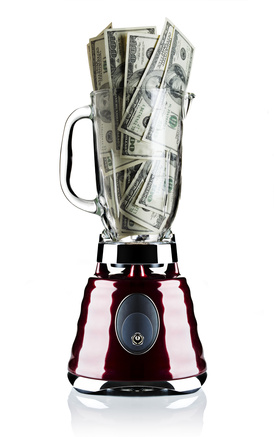 We think so…and here's the math (don't worry, it's simple!)…
If this $100,000 property is renting for $1000 a month (our 1% rule…and there's lots of those out there right now) and you budget 50% for all non-mortgage expenses and set-asides, you have $500 a month left for debt-service.
An $80,000 loan at 5% fully-amortized over 30 years gives you a payment of $430.
$1000 rental income less $500 for expenses = $500… less $430 for mortgage = $70.
See?
But $70 x 12 = $840
And $840 return on $20,000 down payment is a 4.7% cash on cash.
So when you put it all in your financial blender and hit puree…your 4.7% cash on cash together with your 5.76% amortized equity and your 1.65% from Shiller's 33 basis points at 5:1 leverage, you have a total return of 8.11 %.   That sounds a LOT better than 2.03%.
Wow. Now we need a nap.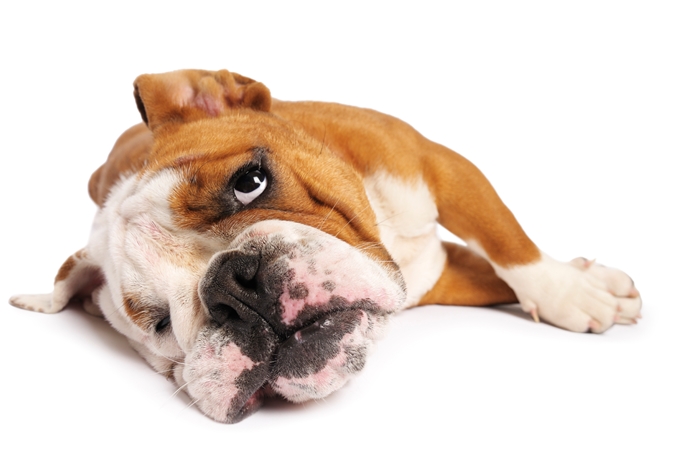 But take a listen as we take on the challenge of stocks versus real estate. We debate. You decide. Then we can all go have a pint.
Listen Now:
The Real Estate Guys™ radio show and podcast provides real estate investing news, education, training and resources that help real estate investors succeed.