Shhh … do you hear it?  It's the margin calling …
"Margin" is a term we hear all the time but can be a little confusing … because it means different things depending on the context.
But margin comes up often in financial conversations because it's an important concept … and worth taking a look at.
In stock trading, margin is debt secured by the stocks you're buying.  It's like the way real estate investors use mortgages to acquire property.
Typical margin leverage with stocks is fifty percent.  So you put in half and borrow the rest.  If the stock goes up, you get to keep ALL the gain … just like real estate.
BUT … if the stock goes DOWN … you get a "margin call" … which means you need to bring in cash to restore the loan-to-value ratio.  No fun.
We're sure glad that doesn't happen in real estate!
The term "margin" has another important meaning.  It's the "edge" or "fringe" … things that are farthest from the center of the target.
So when you think about your personal budget, you have things at the core … food, clothing, shelter, medical care, etc.
Out at the far edges … the margin … are highly discretionary, non-essential expenditures.  These are things you can easily live without, but you enjoy when you're flush.
These are the first things to get cut when you're squeezed.
Households, corporations, even governments all have "core" expenses and activities … and "marginal" expenses and activities.
Again, when prosperity recedes … things at the margin fall off the target.
Our point in all this is you can learn a lot about the direction of the economy simply by watching what happens at the margin.
Make sense?
That's why this headline caught our attention …
Rising Home Prices Push Borrowers Deeper Into Debt
– Wall Street Journal, April 10, 2018
" … higher mortgage rates make homeownership out of reach for many,
pressuring lenders to ease credit standards."
" … rising debt levels are a symptom of a market in which home prices are rising sharply in relation to incomes, driven in part by ahistoric lack of supply that is forcing prices higher."
Hmmm … some of that doesn't make sense to us.  But before we go there, consider this headline …
Home builder confidence slides for fourth straight month
– MarketWatch, April 16, 2018
"The 69 reading is still quite strong. In the go-go days of the housing bubble, between 2004 and 2005, sentiment averaged 68. Still, the fact that confidence is declining so steadily is notable. When NAHB's index started to fall in late 2005, it was one of the signals that foreshadowed the coming housing bust."
" … builders are keeping the pace of construction slow and steady. And they're worried about their costs."
And then there's this one …
US home building rose slightly in March, led by apartments
– Associated Press via ABC News, April 17, 2018
"… driven by a big 16 percent gain in apartment buildings. Single-family home construction slipped 3.7 percent."
"There is a severe shortage of existing homes, which has pushed up
prices in cities around the country … That's lifting demand for new homes."
Again, a few things here that don't make sense to us.  And we could probably write a book just on the excerpts from these three news articles.
But let's see if we can unpack all this briefly …
First, rising mortgage rates and prices are causing people at the margin of prospective home-ownership to remain tenants. Not great for them, but not bad for landlords.
Usually when prices rise based on DEMAND, builders ramp UP production to profit by selling into the increased demand.
So it seems to us home-builder confidence should be growing.  But it's not.
That makes us think the number of people who can afford to buy isn't growing either … it's shrinking.
That's because when prices rise faster than incomes, the ability to borrow eventually peaks.  Falling interest rates can delay the problem by getting more mortgage for the same payment.
But now that rates are rising, it seems people at the margin are getting pushed off the back of the affordability bus.
That may also explain why apartment building is growing, but single-family home building is declining.
It may also explain why Freddie Mac is lowering lending standards.
They can't create jobs or increase incomes, but they can make it easier to borrow in spite of rising rates … and they are.
Freddie's making it easier for first-time home buyers to get in and push up the market from the bottom.  It's like the air inlet in an inflatable jump house.
The concern is when lower lending standards act as the air pump trying to compensate for higher interest rates and insufficient income … how long can the debt inflation go before it tapers off … or worse?
Don't get us wrong.  We LOVE passive equity.  It's fun to buy a property and just watch the equity grow.
But the market giveth and the market taketh away … unless you're smart enough to get your equity off the table with cheap long-term debt while both are still available.
As John F. Kennedy said, "The best time to repair the roof is when the sun is shining."
The sun is shining on real estate right now.  Enjoy it. But be sure you're preparing your portfolio for stormy weather.
It's probably smart to have some cash on hand … to be prepared for credit markets to tighten unexpectedly … and to lock in long-term rates where you can.
It's also wise to pay close attention to cash-flow and avoid dependence on market factors to increase rents or values.
Make sure your deals pencil TODAY … based primarily on things you can reasonably control.
Sure, you might have to walk on some marginal deals … even though they'd be "winners" as long as the tide is high and the sun is shining.
But if the tide goes out and the storm comes, then marginal boats sink.  And if they're tethered to your best boats, they ALL sink.
Now if you just can't resist taking a chance on a marginal deal … consider structuring it so it can't take down the rest of your portfolio if things don't go as planned.
Until next time … good investing!
---
More From The Real Estate Guys™…
The Real Estate Guys™ radio show and podcast provides real estate investing news, education, training, and resources to help real estate investors succeed.
We're just two weeks removed from our incredible Future of Money and Wealth conference … an it was an EYE-OPENER.
(If you missed it, you'll be glad to know we video-taped the ENTIRE event and it's in postproduction right now.   Click here to pre-order at a really great price.)
Meanwhile, now that we're getting back to our normal routine, we noticed some real estate related news that looked interesting …
Home prices surge to a near four-year high, Case-Shiller shows 
– MarketWatch, April 24, 2018
"Rather than moderating, as many economists expected, home prices are accelerating.  The 6.8 percent annual gain … was the strongest since mid-2014."
" … finally broke above the peak it last touched in 2006."
Hmmm …. is that good?
It kind of feels good.  Then again …
Subprime mortgages make a comeback—with a new name and soaring demand
–CNBC, April 12, 2018
"The subprime mortgage industry vanished after the Great Recession but is now being reinvented as the nonprime market."
A rose by any other name?
"allow … borrowers to have FICO credit scores as low as 500 … can take out loans of up to $1.5 million … can also do cash-out refinances … up to $500,000. Recent credit events, like a foreclosure, bankruptcy or a history of late payments are acceptable."
" … will also securitize them for sale to investors."
Uh oh.  We're having flashbacks …
"Big banks are also getting in the game, both investing in the securities and funding the lenders …"
Like "too big to jail fail" banks?
"It's large financial institutions. A lot of people with private capital sitting on the sidelines …" 
Okay.  Let's take a deep breath and try to figure out what's really happening, and how it might impact all us lowly Main Street real estate investors …
First, does this mean another grandiose sub-prime implosion that drags the global economy into yet another Greater Recession?
Not sure we'd bet on that happening again.  At least not the same way.
Peter Schiff tells us he thinks the real crash will be the dollar.  He thinks when the debt markets implode, central banks will destroy the dollar in a vain attempt to reflate asset prices and save banks.
Wow.  That's pretty apocalyptic.  But hey, it's Peter Schiff.
James Rickards thinks the stage has been set to replace the dollar on the world stage with the IMF's SDR.  Not sure what that means?  Read Currency Wars and The Death of Money.
But no one we've talked to think it's all going to happen in a day. It's a process.  And if you're paying attention, you can see it coming and take pre-emptive action.
Of course, that's a big topic and too much to dissect in this missive.  That's why we hosted Future of Money and Wealth … and video-taped the whole thing.
Some of what we learned is that as the dollar begins to fail, dollar denominated bonds would fall out of favor.  After all, who wants to loan "strong" dollars today and get paid back late with weaker dollars?
Foreigners buy fewer U.S. longer-dated Treasuries at auction 
– Reuters, April 23, 2018
Well, THAT'S interesting.
Less bidders on bonds usually means interest rates rise …
Mortgages, other loans get pricier as 10-year Treasury rate tops 3% 
– USA Today, April 24, 2018
Okay, that's getting closer to home … literally.
But usually when the world isn't buying bonds (and yields rise) … the money goes into stocks and stocks go UP.  But they went DOWN.
Hmmmm…. it seems the paper players of the world aren't wild about bonds or stocks.
Since stock investors aren't piling into bonds for safety, where are they going?
Could be cash … for now.  That would explain the aforementioned, "… a lot of people with private capital sitting on the sidelines."
We can't claim to be paper asset experts … far from it.  But it seems to us if there's cash on the sidelines, the issue isn't liquidity as we've heard some say.
And if there's plenty of cash … and plenty of stocks and bonds to buy … then maybe the issue isn't liquidity or inventory, but quality.
Think about Detroit real estate at it's worst.  There was PLENTY of properties.  And they were cheap.
You could buy a whole house for $2500.
But few did.  In fact, they bull-dozed lots of properties because on one wanted them.
The problem wasn't price or availability, it was quality … or lack thereof.  No sale.
So MAYBE paper asset investors are a little afraid of stocks and bonds right now.  Maybe they're starting to look for more real alternatives.
That's what happened at the turn of the century.  Stock and bond investors poured into real estate and mortgages.  From their perspective, they're safe.
Real estate is like that loyal, sometimes boring best friend in high school.  When things are free and easy, you hang out with your party pals … but when life gets hard, it's that old faithful best buddy you lean on.
There's a LOT of debt in the world right now.  More than ever before.  Much of it created in the last 10 years … providing the jet fuel for some pretty powerful paper pricing runs.
Of course, some of the cheap money has also made its way into real estate.  So real estate's been good too.
But it's quite possible the party is coming to an end.  Rising rates and declining stock prices could be warning signs.
And yes, a slowdown will probably impact real estate PRICES … especially for homes, which get overbid in good times.
However, incomes and rents are often less affected by downturns, making income producing properties much more stable in slowdowns.
And if you're smart enough to lock in low cost long term financing, you've got a real competitive edge in a rising interest rate environment.
Meanwhile, if history is any indicator, when the paper party ends … it usually means an increased interest in real assets … especially real estate.
At least for now, it seems to us the volatility caused by rising interest rates is a MUCH bigger deal to the paper crowd than for real estate investors.
BUT … even Main Street investors should be paying attention to Treasuries, interest rates, the dollar, gold, and energy.  They'll provide early warnings for bigger concerns real estate investors should be aware of.
Until next time … good investing!
---
More From The Real Estate Guys™…
The Real Estate Guys™ radio show and podcast provides real estate investing news, education, training, and resources to help real estate investors succeed.
Oil matters to real estate investors.  And not just for the obvious impact on the price of gasoline and your tenants' budgets.
It's MUCH bigger than that.  Let's take a look…
On November 13th we saw this headline:
This caught our attention because we've been watching oil for many reasons.
First, we like the idea of investing in passive income generated by essential commodities like food and energy.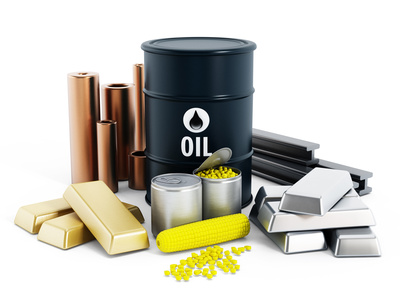 It's a way to diversify income away from wages.  We wrote about that in our special report on oil.
Oil, like gold, is one way to both monitor inflation and hedge against it.  As the dollar gets weaker, oil rises in dollar terms because it takes more dollars to buy the same oil.
Of course, inflation hasn't hit dollar denominated oil or gold yet, but that doesn't mean it won't.  And if the long term trend of the dollar is down, then a temporarily strong dollar could be a buying opportunity for things like oil and gold.
In the case of gold, Russia, China and India are gobbling up most of the world's production.  Americans are buying record amounts.  Yet the price drops…in spite of low interest rates and trillions of dollars of QE.
Weird.  We thought prices went UP when demand grows faster than supply…and especially when the currency supply increases too.  Hmmm….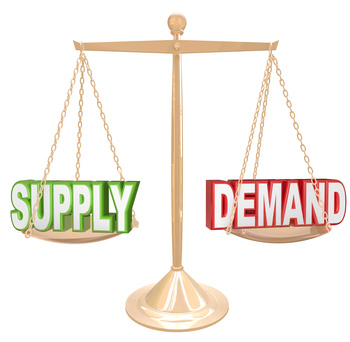 In the case of oil, some argue the price collapse was the result of a huge and sudden surge of supply against a sudden decrease in demand.
Odd that no one saw that coming when there are plenty of smart people bird dogging both production and consumption.
But maybe there's something else affecting oil? Let's take a look at why oil prices are down.
Like the dollar, oil has developed into a useful weapon in geo-political conflicts.
It's been reported the Saudi's are using the price of oil against Russia and U.S. frackers.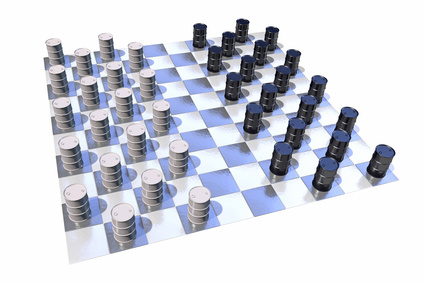 Collateral damage are countries like Venezuela, who are heavy oil exporters too.  In fact, it looks like low oil prices are forcing Venzuela to sell its gold to raise cash to pay its bills.
Wow.  That's great timing.  Just when supplies of gold were shrinking relative to demand…a bunch of gold is coming to market.
But U.S. real estate markets depending on the fracking business…like North Dakota…aren't as lucky.
That's why we didn't get too excited about North Dakota's real estate boom.  Too much of a one trick pony.  More diversified markets like Dallas and even Houston are probably better bets.
Sure, they feel the pinch of a depressed oil industry, but there are other strong economic drivers to prop those markets up.
BUT…there's a part of the oil story which has the potential to affect real estate investors EVERYWHERE.
That's why THIS Business Insider headline caught our attention:
ANY time we see the word "default" in this hyper-leveraged daisy-chained world, we pay attention.
That's because financial markets are FULL of debt derivatives.  These are the things Warren Buffet described as financial weapons of mass destruction.
Simply defined, a derivative is a debt instrument secured by a debt instrument… secured by a debt instrument secured by a debt instrument …through MANY layers…until finally you get to someone real…who actually owes the original debt.
Remember how back in 2008, Joe Lunchbucket's sub-prime mortgage set off a chain reaction of derivatives implosions?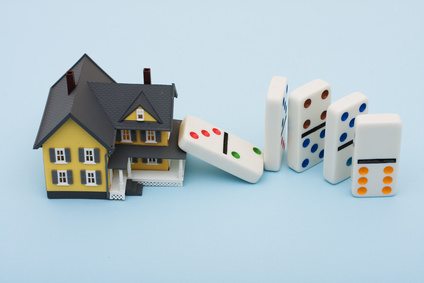 The entire house of cards was erected on the fundamental belief U.S. real estate prices were so solid they could support the weight of trillions of dollars of derivatives.
After all, hyper-leverage is highly profitable…as long as prices hold up.
Of course, when prices pull back, leverage is a double-edged sword…which can create HUGE losses.
Yet even when sub-prime mortgages started to blow up, markets were told not to worry.
Check out these now infamous assurances from former Fed chair Ben Bernanke: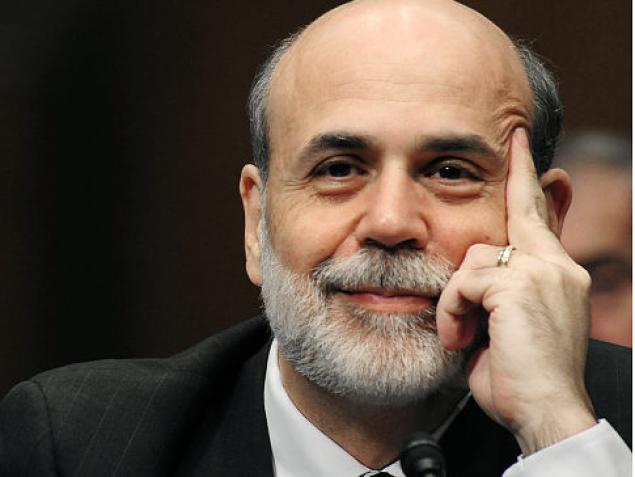 "Given the fundamental factors in place that should support the demand for housing, we believe the effect of the troubles in the subprime sector on the broader housing market will likely be limited, and we do not expect significant spillovers from the subprime market to the rest of the economy or to the financial system," said Bernanke, according to a text of his remarks posted on the Federal Reserve web site.
Source: http://www.builderonline.com/money/mortgage-finance/bernanke-subprime-fallout-wont-spread_o 
No surprise the Fed has taken down the page with the speech transcript the article originally referred to.
Could it be that oil companies are the new Joe Lunchbucket?
After all, no one expected the Saudi's would launch an all-out price war against Russia and U.S. frackers.
But they did.
And now, according to this Business Insider article based on the work of a JP Morgan analyst…
"…one in seven loans to oil and gas companies are edging toward default."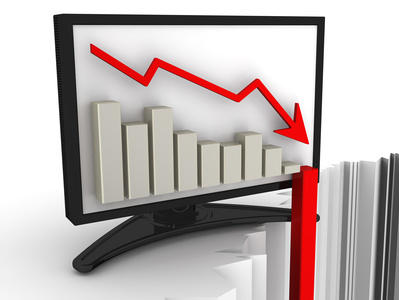 And…
"It is likely to get worse still for banks. The SNC review was done in the second quarter, and there have been further credit rating downgrades, defaults, and oil-price drops since then."
That's just peachy.
A month prior, Business Insider published another article based on comments by Deutsche Bank…
DEUTSCHE BANK: A wave of defaults may be just around the corner
"The credit markets have been showing signs of contagion, as Chinese growth concerns and slumping commodity prices lead to widespread selling.  That has Deutsche Bank wondering if there is likely to be a wave of companies failing to pay interest on their bonds."
These are the same questions which were raised about Greece and Puerto Rico when they were defaulting on their debt.
You may recall, we weren't overly concerned about those.
After all, everyone KNEW those guys were broke…so we didn't think the Wall Street gamblers were reckless enough to lever up on them.
But like the U.S. real estate market, we're concerned Wall Street might have been more confident in oil companies.
After all, what could go wrong with oil?
Here's the point (and thanks for sticking with us to the end)…
Real estate values – and especially housing – are VERY influenced by credit markets.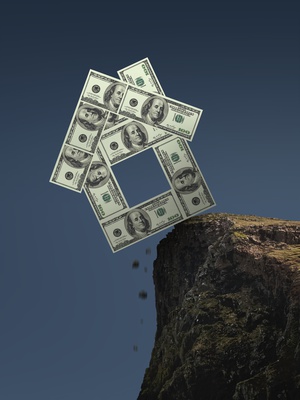 When credit gets tight, values fall.  When credit is loose, values rise.
Real estate investors and homeowners have been watching equity happen since 2009 as credit markets loosened.
But if something comes along…like oil bond defaults…credit markets might seize up again.
Of course, this is no big deal if you're prepared. In fact, it's a great time to go bargain shopping.  Lots of people made a lot of money buying in the wake of the 2008 crisis.
But if you're illiquid with thin equity and tight cash flow on your properties, you might end up trapped with no capacity to take advantage of the sale.
We're not saying oil bond defaults will be the new sub-prime that triggers a crisis.  But they could. And, it always helps to understand the bigger picture as to why oil prices are down.
So if you can see the writing on the wall…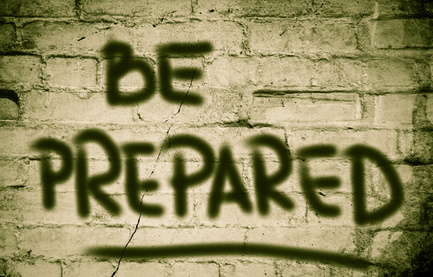 Better to be prepared and have it not happen…than to have it happen and not be prepared.
We'll continue to watch this situation…and suggest you do the same.
Ahhh…real estate investing used to be so simple.  But no more.
Today, it's wise to pay attention to the broader financial markets and industries which have the potential to severely impact interest rates, employment and credit markets.
And if you want to compress your learning curve, we invite you to invest a week to sharpen your understanding of economics, investing and real asset portfolio strategies aboard our 14th annual Investor Summit at Sea.  Click here now to learn more.
Until next time, good investing!