We're back again to tackle the questions we missed in our last Ask The Guys episode. We love these episodes and the opportunity we get to talk through some of YOUR real-world investing opportunities and challenges.
We hear from listeners dealing with tenant damage and security deposits, 1031 tax-deferred exchanges, nontraditional lending ideas and TONS more.
First, the ground rules.
We talk about ideas and information. When you're dealing with real money in the real world, you want to consult a professional. We don't offer legal, investment, or tax advice.
In this episode of The Real Estate Guys™ show you'll hear from:
Your problem-solving host, 

Robert Helms

His trouble-making co-host, 

Russell Gray
---
Listen
---
Subscribe
Broadcasting since 1997 with over 300 episodes on iTunes!
---
Review
When you give us a positive review on iTunes you help us continue to bring you high caliber guests and attract new listeners. It's easy and takes just a minute! (Don't know how? Follow these instructions).
Thanks!
---
Question: How soon can I move in after a cash offer, and how low can I go under the asking price?
Joseph in Tacoma, Washington, asked this question. The important concept to understand here is price versus terms.
Whether or not you offer cash or take out a loan, the outcome is essentially the same for the seller. What cash offers is a quicker payout with certainty.
But, this isn't attractive to every seller. In some cases, a quick closing isn't what a buyer wants at all, so the promise of quick cash won't be an incentive.
When you're negotiating with cash, make sure what you're offering lines up with the seller's priorities. A cash offer doesn't automatically mean a 20 percent discount.
Question: I rehabbed a rental property in Detroit, and now I'm ready to sell. My tenant wants to purchase the property, but she has limited cash on hand. How can I find a lender to do the deal?
Wilbert in South Field, Michigan, brings us this question. He wants to sell the home for $38,000, but the appraisal came back at $20,000. That price gap, as well as the location has made it difficult to find a traditional lender.
The first problem is that many banks won't do a loan for less than $50,000. If the lender is going to go to all the trouble to do the paperwork for a percentage of the loan amount, then the loan amount needs to be enough to get their attention.
Here are a couple alternatives for Wilbert to consider:
Find a private lender.

This might mean a higher interest rate for the buyer. But, that higher interest rate will be more likely to attract a lender.

Be the private lender.

Rather than finding an outside investor, work a deal with the tenant to have them pay the loan to you instead. If they pay off the mortgage, you've still had that steady stream of income. If not, you'll get the property back to rent or sell to someone else.

Find a different buyer.

If finding a private lender isn't possible, consider finding a different buyer who is able to get financing or purchase the home for the price you want to sell.
Question: When a tenant in our out-of-state rental moved out, they caused a lot of damage. Why don't tenants take care of their rentals better, and why are they surprised when they don't get their deposit back?
Renters view their home differently than an owner. How else do you explain that it feels like no renter owns a vacuum cleaner?
Damage to property is part of doing business as a landlord. But, Lauren in Charleston, South Carolina, did a lot of things right. They documented all the damage with photos before the tenant moved out, had a third-party realtor do a final walkthrough with the tenant, and got estimates from contractors to repair the damage.
Here are a few other things you can do to deal with damage:
A picture is worth a thousand words.

Take photos of the property BEFORE the new tenant moves in and get their initials on the photos. Then, when they're ready to move out, you can use those photos to justify the cost of any damage.

Open up a pet policy.

Many landlords are hesitant to allow pets in a rental. But, with a hefty pet deposit and even a little higher rent, you can come out on top.

Get a read on your renters.

As you screen applicants, be perceptive. We've also known people who will meet with potential renters at their current residence to see how they treat their current space. This may not be possible for everyone, but get creative and thoughtful about how you screen new renters.
At the end of the day, renters are more likely to treat a rental home with less care than you do. Damage and repairs are a cost of doing business, so make sure you build that into your budget.
Question: I want to sell my rental home in California, and I'm interested in the 1031 tax-deferred exchange to buy a new property in Texas. I'm confused by the IRS form and want to know if this will eliminate my taxes in California?
Cindy in Fort Worth, Texas, is definitely an A student!
First of all, we want to be clear that with this kind of complicated tax question, you need expert opinion and advice. A 1031 tax exchange intermediary will be well worth the cost and can answer all your questions.
The intent of the 1031 tax-deferred exchange is that if you sell a property and then purchase another property, you can defer the tax. As you buy and sell properties, you can continue to defer the tax, but there isn't a way to eliminate the tax completely.
Finally, try not to let the tax tail wag the investment dog.
Real estate offers many great tax benefits, which is one of the reasons we love it! But, when you're dealing with real money and the IRS, you need a team of experts to guide you.
Life is short, and you don't want to spend your valuable time reading an IRS form.
Question: How can I learn more and get coaching on real estate syndication?
Addie in Seattle, Washington, brings us a question that is near and dear to our hearts!
We recommend our Secrets of Successful Syndication seminar as your first step. Whether you want to be a syndicator and learn how to leverage money with a group of investors or invest passively in real estate, this is an event you'll learn a lot from.
In this seminar, we're teaching the strategies that have been a part of our investments for years.
We do have a coaching program, but you can only learn about it at the seminar during an OPTIONAL session after the two days are done.
If you want to register for the event and see if syndication is right for you, we'd love to have you!
Question: My wife and I have a real estate investment company with 23 doors under rent. We've found traditional lenders to be slow and cumbersome and want to simplify our lending process. How can we do this?
John and Karen in Troy, Ohio, are having trouble scaling their business because of lenders. They write that they'd be willing to pay a higher interest rate to make the process easier and more streamlined.
For traditional banks, the process is often necessarily slow. They need to do due diligence to make sure the investment is a good one.
Private capital is easier and faster, but it comes at a higher price. This can be done through syndication or networking to find interested investors. Make sure you're well advised and working with big deals, and you're well on your way.
We'd also suggest that with the rollback of some of the Dodd-Frank provisions, some of the restrictions on community lending have eased. If you haven't checked in with your community lender recently, it's worth getting to know them. They'll get to know you and your entire portfolio of properties and could be a valuable resource.
Question: I wasn't able to attend your events for the Future of Money and Wealth in Florida. But I'd sure love to get access to that information. How do I do that?
A listener in Hawaii wants to learn from the incredibly faculty we brought in to talk about how to keep up with the changing times in the economy.
This was a one-off event, and it was an incredible gathering of some of the best minds in a variety of subjects all focused on how to protect your wealth.
We recorded the event with a professional video crew and now have 20 different panel discussions and presentations available to watch.
You can visit the Future of Money and Wealth website to learn more or send us an email to future [at] realestateguysradio [dot] com. We'll get you all the details on how to access these videos.
Question: My schedule seems to be always booked up by the time I hear about the Belize discover trips. Do you know the future trip dates for later in the year?
Tim in Silverton, Oregon, like many of us, has a busy schedule and needs to plan ahead!
To find out events as soon as possible and to get them on your calendar, get on our advanced notice list. Head to the events tab on our website. If you find an event there, and the date doesn't work out, get on the advanced notice list and you'll get an email letting you know about future dates.
Our next Belize discovery trip will be August 24-27, and registration is open now! We hope to see you there.
Question: What is the definition of a performing asset?
Matthew in Nacomin, Florida, asks us the shortest question in our inbox!
Simply put, a performing asset is something that puts money in your pocket. The more cash flow, the more equity. If you have something on your balance sheet that doesn't put money in your pocket, it's not a performing asset.
When you consider an asset you can go for a fat cow, a performing asset that will come at a premium but continue to deliver, or a skinny cow, a non-performing asset that needs some work to get it performing again.
---
More From The Real Estate Guys™…
The Real Estate Guys™ radio show and podcast provides real estate investing news, education, training and resources to help real estate investors succeed.
Something BIG is happening for real estate … and while it's not a surprise, it's a development every real estate investor should be aware of.
Here's some context …
First, remember real estate investing is essentially a business of managing debt, equity, and cashflow.  
That's YOUR job.  You can get your property managers and team to handle most everything else.
Equity (the difference between the value and the debt) comes from savings (down payment), the market (value increase), or amortization (pay down of loan).
Cashflow is a function of rental income, operating expenses, debt service, and taxes.
Debt is like the air in a jump house.  When it's flowing in, it props everything up.  When it stops, everything deflates pretty fast.
That's why real estate investors (should) pay close attention to debt markets.
The 2008 financial crisis devastated the supply chain of debt into real estate. Mortgage companies failed in droves. We know. We owned one.
Real estate went from too-easy-to-finance to nearly impossible.  Lack of lending crashed real estate prices and created a big mess.  The air came out.
It's why we became such outspoken advocates for syndication.  There was (and still is) a huge need and opportunity to aggregate capital for real estate.
Banks and Wall Street had been the primary channels for capital aggregation and distribution.  But they were broken.  Main Street needed to be empowered.
The government agreed.
So in 2012, the JOBS Act passed. And since September 2013, regulations are in place which make raising private capital MUCH easier.  We like it.
But while the JOBS Act helps investors raise EQUITY …
… earlier legislation (the Dodd-Frank Wall Street Reform and Consumer Protection Act) actually impedes lending … especially at the local level.
But now that's changing … and it's an EXCITING development!
You may have seen this headline …
Trump signs bipartisan bill rolling back some Dodd-Frank bank regulations – Los Angeles Times, 5/24/18
" … with the key support of some Senate Democrats, the legislation focuses relief on small and medium-sized banks …"
 "'This is a great day for Main Street in rural America, and a big testament to what's possible when members of Congress put partisanship aside and work together to help our communities grow and thrive,' [Sen. Heidi Heitkamp (D-N.D.)] said in a statement after the signing." 
"Community banks, which enjoy broad support among Republicans and Democrats, will be freed from Dodd-Frank's mortgage rules if they make fewer than 500 mortgages a year."
Even in today's highly charged political environment, this bipartisan effort shows Main Street real estate is very important to politicians.
The Dodd-Frank rollback aims to improve the flow of money into real estate, which is awesome for real estate investors.
Of course, just because politicians aim at something, doesn't mean they hit it.  Politicians are notoriously bad shots.
So what do LENDERS think of the Dodd-Frank rollback?
Local bankers say reforms to Dodd-Frank are welcome – Herald-Whig, 6/5/18
"Mark Field, president and chairman of Liberty Bank, said most of the benefits from the recent reforms … involve mortgages."
"… allows banks to give automatic qualified mortgage status to customers they know if the banks are using their own money for loans."
"'Character and knowing people counts for something again,' Field said."
This is GREAT news … and although time will tell (after all, this is very recent) … we think it will open up capital flows into real estate.
Of course, as we've said before, we think more money will be finding its way into real estate lending.  It's both inevitable and reassuring.
For individual investors and syndicators alike, this new playing field promises to open up new sources of lending … and terms.
Because even though lending has loosened since the depths of the recession …
… it's remained tight for borrowers and projects that didn't fit into the tightly-regulated box created by Dodd-Frank.
Not to get too far in the weeds, but the 2008 credit crisis had its roots in Wall Street's casino mentality.
In its zeal to create more poker chips, Wall Street cast aside sound lending practices because they could bury the risk in complex securities and sell them to unsuspecting investors.
Wall Street didn't really care if loans went bad … because they wouldn't be holding them when it happened.
So Dodd-Frank created strict rules attempting to prevent the bad behavior of Wall Street and big banks.  (Good luck with that.)
We could go on … but the point is that Dodd-Frank took professional judgment out of lending … from EVERYONE … including community banks, credit unions, and other portfolio lenders (those who hold loans instead of flip them).
Even though the financial crisis had its roots in Wall Street, not Main Street … Dodd-Frank took many Main Street lenders off-line.
The Dodd-Frank rollback intends to take the shackles off local lenders.
There's a HUGE difference dealing with a local lender on a PERSONAL basis … one who's going to hold the loan … and can consider the many factors which don't fit into some bureaucratic one-size-fits-all checklist.
And while we need to do more research, a side-benefit for syndicators may be that setting up lending funds might get easier too.
In any case, now that local lending laws are loosening, let's take a look at moves you can make to take advantage of the changes …
Build relationships with community bankers.  If you've only been investing since 2008, this is a funding source you've probably ignored.  It's time to fix that.
Open accounts with community banks in markets where you invest. Establish a personal relationship with the bankers.  It's a VERY different experience than doing business with a too-big-to-jail bank.  You'll like it.
Use professional selling skills to find out what the banker's goals and objectives are.  What makes the relationship a win for the banker?
Present yourself as the IDEAL client for the banker.  Do some deals … even if you don't really need the money.  SHOW the banker you're a person of character and capability.  Build TRUST.
It's even BETTER if you're a syndicator because you can bring bigger deposits, bigger loans, more transaction volume, and maybe even more referrals.
In fact, one of the secrets of successful syndication is having your individual investors make deposits in the community bank you're borrowing from.
Go with the flow …
When the rules change, so does the flow of money.  Sometimes it works against you.  Sometimes it works FOR you.
And while there are certainly some long term economic trends every investor … real estate or otherwise … should be concerned about …
… this is a development which should have real estate investors smiling.
We think these updates to Dodd-Frank will work FOR real estate investors … at least those careful to pay attention and take effective action.
Of course, you've read all the way to the bottom, so you're already ahead of the game.
Until next time … good investing!
---
More From The Real Estate Guys™…
The Real Estate Guys™ radio show and podcast provides real estate investing news, education, training, and resources to help real estate investors succeed.
It's one of our favorite segments … answering YOUR real-world questions about real estate investing.
In this batch of mail, we run through where to start with syndication and investing to how to think about self-directed retirement funds and everything in between.
As a reminder, our show is about offering ideas and information, but we are not legal or tax professionals and do not give advice. Always see a pro for advice on your specific situation.
In this episode of The Real Estate Guys™ show you'll hear from:
Your problem-solving host, 

Robert Helms

His unraveling co-host, 

Russell Gray
---
Listen
---
Subscribe
Broadcasting since 1997 with over 300 episodes on iTunes!
---
Review
When you give us a positive review on iTunes you help us continue to bring you high caliber guests and attract new listeners. It's easy and takes just a minute! (Don't know how? Follow these instructions).
Thanks!
---
Question: I'm a real estate agent and would like to start investing for myself. How do I get started?
Kristen in Seattle, Washington, brought us this wonderful question. First of all, hats off to you for wanting to be your own best client!
Starting with the right education is so important and so is developing your network. You might consider joining an investment club, but you could also think even bigger and start your own!
Starting a syndication or investment club can be very successful if you surround yourself with the right people and experts. Here's a few people you'll probably want to include:
✓  A CPA to help with understanding tax benefits
✓  A mortgage broker to extract excess equity
✓  Other real estate agents … especially those with investment knowledge
You can convert your pursuit of education into a profitable business. Start by going to events with meetups and investment clubs. Remember, it's not just the presenters who have a great story. It's also the people in the seats. Make lasting connections with other attendees, and bring them into your network.
Question: Which materials … books and blogs should I read for getting educated in investing?
Our best advice to Luca in Croatia, who submitted this question, is to not just read a book … STUDY a book. Prepare your mindset to start thinking like an entrepreneur.
What does this mean? Find a group of people who are interested in investing, and get together and discuss a book.
You'll learn by listening to what others have to say AND teaching different concepts. Repeat the process of learn, study, teach, and use these discussion groups to build your network.
Recruit people who are further along in the investment process than you to learn from them. You want to discover not only the technical aspects of what they do, but also how they think. Explore their mindset and examine how it makes them successful.
Question: I want to self-direct my retirement funds after I leave my job. How can I use this money to invest in real estate?
This question comes from Jason in Stokesdale, North Carolina. Some aspects of this type of investing can get a little tricky, so remember to always seek advice from a tax and legal professional.
For money that's in a 401k from an employer, you might have access to what's called an in-service withdrawal. You might also consider taking out a loan on your 401k.
As with any investment, make sure that the numbers add up, especially since there are important tax considerations to make when you're investing borrowed money. This is also where a CPA will come in handy.
The vast majority of custodians do not allow for traditional investing and don't charge a lot in fees and maintenance charges because they make a piece of what you're investing in. Non-traditional custodians may charge more fees upfront because they do not make a piece of anything you invest in, but they can offer more flexibility in what you invest in.
If you want to know more on this topic, we have a couple reports that might be helpful on Qualified Retirement Plans (QRP) and Individual Retirement Accounts (IRA). You can get both of those by emailing QRP (at) realestateguysradio (dot) com AND IRA (at) realestateguysradio (dot) com.
Question: For those who don't like all the work of real estate investing, how do you find a trusted syndicator?
Roy in Bridgewater, New Jersey, and Patrick in San Diego, California had similar questions about passive investing through a syndicator. They both want to break into the bigger real estate deals, but are worried about putting their money into the wrong hands. Syndication is a powerful tool that we're big fans of here on the podcast, but vetting your syndicator is key!
First, look up all the info you can on your sponsor and know who you're dealing with. Ask them upfront if there's anything important you should know about them or their business, and then, go searching.
Referrals are a good way to get to know your sponsor. Careful Google searching (watch out for false information on the internet!) and looking up professional licenses and potential trouble with regulators are also essential before doing a deal.
Also, make sure their attorneys and legal documentation all checks out.
As we've said many times before … develop a relationship with the sponsor. Take the time to get to know them and the types of deals they do to make sure it's a good match.
We'd love to talk to you more about syndication at our Secrets of Successful Syndication event on September 13-14. Register now!
Question: I have a commercial property near the end of its lease. Should I sell it or keep the passive income?
Colleen in Savannah, Georgia, has had a triple-net (commercial) property for 13 years, but the lease will be up in 4 years. She enjoys the passive income from the property, but wants to know if it might be time to let it go.
We discussed the advantages of commercial property in detail with Tom Wilson in our Profitable Niches series, and the longer leases and steady income are definitely big pluses!
Lease negotiation can happen before a lease is up, so that's an option to make the deal sweeter for a potential buyer. But, here are a couple questions we would ask to determine if selling is the right choice:
✓  Knowing what you know now, would you buy it?
✓  If you did sell it, what would you do with the money?
Ultimately, the decision to sell or keep the property is up to you, but evaluating the lease with fresh eyes is a good way to keep your investments in line with your goals!
Question: How can I make some of my assets more liquid to prepare for an economic downturn?
Marty in Richmond, Virginia, has some real estate investment experience, but he's concerned about a possible negative turn in the economy and how to protect some of his assets he's received after selling a property.
We discussed the state of the economy and how to protect and grow wealth at great length in our video series: The Future of Money & Wealth. Take a look at that seminar for valuable insights from incredible experts.
To answer the question, if you think the market is going to downturn, you'll want to play your investments differently. There are pros and cons for stock market investment and even bank investment, and they all carry different risks.
If you want something that is liquid and fairly stable in relation to the dollar, you could consider a couple options like currencies, precious metals like gold, or putting your money in the bank or a safe.
Some other creative strategies are looking into a private mortgage or note or even paying cash outright for a property. As long as you're able to cover property taxes, having a property in a stable market is a good way to keep cash flowing in a down market. Even in a poor economy, people need a place to live.
Question: How many times a year is your syndication class given?
This was an easy one from Floyd in Las Vegas, Nevada. We do our Secrets of Successful Syndication podcast twice a year. The next one is coming up in September, and we'd love to see you there!
---
More From The Real Estate Guys™…
The Real Estate Guys™ radio show and podcast provides real estate investing news, education, training and resources to help real estate investors succeed.
Hard to believe it's nearly 10 years since Fannie Mae and Freddie Mac collapsed and were taken over by Uncle Sam.
Time flies when you're getting rich.
It's been a GREAT run for residential real estate investors … especially apartment investors.  Free money in the punch bowl can really juice up a profit party.
But after 10 years of equity happening to real estate bull market riders … it's a good time to think about where we are, where things are headed, and what to do next.
And looking forward comes in two parts:  external and internal.
The external is the world of variables outside your control.  Like driving down the freeway, there are lots of other drivers whose actions affect YOUR safety and progress.
But the key to your success isn't what's going externally. It's how YOU navigate those external circumstances … based on what's going on inside of you.
It's about financial and emotional intelligence.
Because what you think and believe affects what you do … and what YOU do has the greatest impact on the results YOU experience.
One of the biggest dangers of riding a wave of easy money into gobs of equity is thinking you're an investing genius.
We know … because it's happened to us … and we see it happen all the time.
It's much harder to be humble, curious, teachable and innovative when you already think you're smart.
It's important to know the difference between luck and skill.
True financial genius is being able to make money when everything externally is falling apart … like a pro race car driver deftly navigating a multi-car melee at 180 miles an hour.
That's REAL skill.  Anyone can rocket down an open road.
Fannie Mae's chief economist Doug Duncan told the audience at Future of Money and Wealth he thinks recession is likely in the not-too-distant future.
And Doug made those comments after reminding everyone his last year's Summit predictions were all essentially spot on.
So based on both his pedigree and track record, Doug's qualified to have an opinion.  And we're listening.
"The time to repair the roof is when the sun is shining." 
– John F. Kennedy
The sun's been shining on real estate investors for ten years now.  Maybe you're one of the many who've made tons of money.  We hope that trend continues.
But as our friend Brad "The Apartment King" Sumrok reminds us … it's time to approach today's market with a little more sobriety.
Money and margins are both getting tighter.
This means paying better attention to detail, increasing your financial education, and being careful not to rationalize marginal investments to bet on positive externals.
In other words, beware of being a bubble market genius … and thinking what worked in a bull market will work when things change.
Better to work on sharpening your skills at finding and creating value.
Of course, real estate is FULL of pockets of opportunity … the polar opposite of a commodity or asset class where everything's the same and moves together.
Real estate's quirkiness befuddles Wall Street investors … but thrills Main Street investors.
A case in point are apartments …
On the one hand, lots of brand new inventory is coming on the market … and it's putting pressure on landlords to offer profit reducing concessions.
On the other hand, more affordable existing stock is attracting lots of interest… from both tenants and investors.
So "housing" isn't hot or cold.  And neither are "apartments".  Real estate defies that kind of simplistic description.
Of course, it takes financial education to recognize the difference between momentum and value.
It also takes time, effort, and relationships to actually find the markets, team and properties to invest in.
For most people, that's way too much trouble.  They'd rather sit in their crib with their trading app … or turn their financial future over to a paper asset advisor.
That's all peachy until rates rise, recession hits, and paper prices plunge.
History … and Doug Duncan … says the inevitable bear market is getting closer.
Of course, as we've previously commented … when paper investors get nervous, one of their favorite places to seek safety with return is real estate.
So for active and aspiring syndicators … it really doesn't get any better than right now.
Think about it …
MILLIONS of baby-boomers are retiring.  They need to invest for INCOME.
And they're sitting on stock market equity, home equity, and retirement accounts …
… holding many TRILLIONS of wealth needing to (literally) find a home withreliable income and inflation protection.
Their paper asset providers will try to meet the need, but their toolbox isn't properly stocked.  They can't do private real estate.
But as boomers struggle at squeezing spendable money out of sideways or stagnant stock markets, they'll look towards dividends and interest.  Cash flow.
The challenge with dividend stocks is … in a volatile market, investors face capital loss on share prices.  Worse, dividends can be cancelled.
Compare this to rental real estate, which produces far MORE reliable income than dividends with LESS price volatility.  And no one is cancelling the rent.
So dividend stock investors would LOVE income property … IF it just wasn't so darned hard to find, buy, and manage.
What about bonds and bank accounts for income?  (Try not to laugh out loud)
Remember, a deposit is a LIABILITY to a bank.  When you deposit money in the bank, the bank needs to create an offsetting ASSET … a loan.
But the Fed has stuffed banks full of reserves … and there aren't enough good borrowers to lend to.
Banks don't need to offer higher interest to attract deposits.  So they don't.
As for bonds …
Yes, it's true bond yields are edging up, which means bond holders earn a little more income … but at a what price?
Rising bond yields also mean falling bond values.  So bond buyers are understandably very nervous about capital loss on their bonds.
WORSE …, bonds carry the added risk of default or "counter-party risk."
A bond default is TOTAL loss. Yikes.
Real estate to the rescue …
The relative safety and performance of income property or income producing mortgages secured by real estate is extremely attractive right now.
The biggest problem for passive paper investors is real estate is hard to buy, messy to manage, and takes more financial education than just knowing how to click around an online trading app.
And THAT is the BIG opportunity for skilled real estate investors to go bigger faster with syndication.
Whether you decide to explore the opportunities in syndication or not … it's important to stay curious, alert and proactive.
Most real estate investors we know are preparing for the next recession … because that's when true financial genius pays the biggest rewards.
Until next time … good investing!
---
More From The Real Estate Guys™…
The Real Estate Guys™ radio show and podcast provides real estate investing news, education, training, and resources to help real estate investors succeed.
8 Critical Steps to Practicing Safe Syndication
You want to get into syndication … but you know securities law can be tricky. You want to get everything right, down to the details. Good news … you're already on the right path!
Safe syndication starts with careful research and a series of specific steps that will help YOU safeguard your assets and your investors' money.
In this detailed guide, Mauricio Rauld offers a set of eight important steps investors need to take to protect their investment.
Wondering where to start? Mauricio clearly lays out important legal steps like setting up your business, meeting with your advisor, and figuring out tricky securities exemptions. Dig into essential questions you need to ask to draft a complete business plan, and become acquainted with important legal requirements.
Plus, dive into special bonus information that covers how you can stay compliant in the digital world!
Serious about syndication? Then get serious about covering your legal bases.
Before you set up an appointment with a legal advisor, check out this helpful guide to the most common legal requirements in the world of syndicating and securities.
Simply fill out the form below to receive your complimentary copy of 8 Critical Steps to Practicing Safe Syndication! We wish you happy … and safe … syndicating!
The Silver Tsunami is coming. That's right. It's no secret Baby Boomers are retiring and entering a new phase of life, and looking for an alternative to traditional assisted living facilities.  
In the third episode in our Profitable Niches series, we explore the world of residential assisted living homes.
We chat with leading national expert and President of Residential Assisted Living (RAL) Academy, Gene Guarino, about this compelling investment opportunity, and four of his students who are successfully investing in this space.    
In this episode of The Real Estate Guys™ show you'll hear from:
Your happy-to-assist host, 

Robert Helms

His in-need-of-assistance co-host, 

Russell Gray

RAL Academy President

Gene Guarino

A few of Gene's star students,

Sherry Ellingson and Rocky McKay, Loe Hornbuckle, and CJ Matthews
---
Listen
---
Subscribe
Broadcasting since 1997 with over 300 episodes on iTunes!
---
Review
When you give us a positive review on iTunes you help us continue to bring you high caliber guests and attract new listeners. It's easy and takes just a minute! (Don't know how? Follow these instructions).
Thanks!
---
An explosive demographic with specific needs
So much of real estate is about understanding specific demographics and their needs. All around the world, and especially in the United States, there is a massive population that has created business opportunities through every season of their lives … baby boomers.
Baby boomers are retiring in droves, and they aren't too far away from not being able to live independently anymore. Unlike generations before them, boomers (in general) are adamant about not living in an institution or hospital. They want to live in a home and have a social life.
That's what makes residential assisted living homes such a fascinating investment niche. This specific demographic and a unique financial model means more CASH FLOW than a typical single-family home investment.
Gene Guarino is the leading expert in this investment niche. As president of the Residential Assisted Living (RAL) Academy, he teaches investors everything they need to know to get started.
"It all starts with education. Get educated first. If you don't, you'll most likely go out, make mistakes, and bang your head against the wall," Gene says.
We're all about education for effective action. So, we sat down with a few of Gene's star students to learn about their experiences and what advice they have for other investors.
Building your brand from the ground up
Sherry Ellingson and Rocky McKay are business partners who attended Gene's class several years ago.
"We kept hearing about senior living," Sherry says. "We both have parents who are going to be entering into this category before long, and after taking a look at some of the current options in our area we thought, 'You know, we could do this a little bit better.'"
Rocky and Sherry first acquired an existing assisted living facility that needed some updating. The property is 10 beds with jack-and-jill baths and lots of places for residents to be able to visit with friends and family. The goal is to have residents feel at home and have a happy, safe place to make their own.
How do they attract tenants? Case workers from hospitals and rehab centers refer potential residents and their families to placement agents who find out what they are looking for in an assisted living facility.
Then, the agents take them on tours and show refer them to various home options. That's why a good reputation is so important.
"The reputation of a home is attached to the owner, so your focus should really be on creating your own reputation and brand from the ground up," Sherry says.
"The demand for a good home is extremely high, and as we provide such an essential service for our residents, it feels like we are doing the right thing," Rocky adds.
For investors just starting in the niche, Sherry and Rocky recommend looking for an existing home and remodeling it into a residential assisted living home. They also suggest having a fixed rent rate with everything included so families can set their budget and not worry about hidden fees.
And don't forget that there is benefit in adding more properties. More residents means the ability to buy supplies in bulk and save even more money on operation costs. Sherry and Rocky hope to have a couple hundred operating homes in the next several years.
Raising capital and expanding your network
After going through the RAL Academy course, Loe Hornbuckle found his passion. Since then, he has opened 40 beds in residential assisted living homes and is in the process of developing an 80-bed facility made up of five homes on six acres as a planned community.
"I look at residential assisted living as a tool to keep people out of nursing homes or institutional environments that may not be right for them," Loe says. "There are a lot of people who are placed inappropriately in those settings."
Even though he was passionate about the type of investment he was making, Loe says he still had a lot to learn when it came to raising capital.
"The first time I raised capital, I put out my business plan, and at the end of the first day my wife found me in the fetal position on the floor. It was harder than I thought it would be," Loe says.
Proper education changed this for Loe. He learned you have to build a network to effectively raise capital. He suggests that RAL investors attend events and conferences so they can meet the many people out there who are willing to help them along the way.
"Your network is everything. When you build your network, you have the power to step into good business like residential assisted living," Loe says.
Syndication and working smarter
As a self-proclaimed real estate addict, CJ Matthews was looking for an investment with good cash flow and without a huge amount of ongoing work. After hearing Gene speak on RAL homes, she knew she had found the perfect niche.
"With residential assisted living, you do the work to set everything up, and then you become the business owner. At that point, someone else can actually run the day-to-day business for you," CJ says.
The biggest advice CJ offers to potential RAL investors is to learn about and apply effective syndication.
"Before learning to syndicate, going out and asking for money felt risky or scary to me, but after I attended the Secrets of Syndication seminar, I knew what I needed to do," CJ says.
When it comes to working with partners, CJ recommends choosing people who have skill sets you don't. That way you can work synergistically and accelerate your success. And don't forget this particular investment niche requires a special touch.
"This space isn't for everyone. You need to love real estate, love making money, love putting in work on the front end, and most importantly have a heart. If you aren't willing to care about these people and making the last years of their lives happy, then this may not be the investment for you," CJ says.
Interested in learning more about investing in residential assisted living? Listen in to the show to hear more from Gene and his students. You can also email us at ALF@realestateguysradio.com, and don't forget that Gene will be cruising with us on our Investor Summit at Sea™. We'd love to see you there!
Listen to other episodes in our Profitable Niches series (like Stacking up Profits with Self Storage or Making Money with Mobile Homes) to step off the beaten path and learn more about other lucrative, but as-yet unexploited asset classes.
---
More From The Real Estate Guys™…
The Real Estate Guys™ radio show and podcast provides real estate investing news, education, training and resources to help real estate investors succeed.
2018 Apartment Market Forecast
Predict what U.S. Apartment Markets will look like in 2018 … Then position yourself for success!
Brad is a successful investor in his own right and the teacher of the popular Rat Race 2 Retirement program, a course that helps investors build wealth through apartment investing.  
In this webinar, Brad brings his characteristic optimism and extensive experience and knowledge to the topic of apartment investing.  His webinar shares:  
How you can leverage others' time, money, and experience to create wealth

 

Program results for Sumrok students in 2017 (they're impressive)

 

A recipe for double-digit returns … in just 16 years

 

Brad's formula for what makes a good market

 

And, the piece de resistance … Brad's 2018 Apartment Market Forecast 

 
Interested in what 2018 holds?  Simply fill out the form below to listen in for how the state of the U.S. economy will influence apartment markets in 2018 … and which markets are best for investors …
We're taking a break from our relentless preparation for the upcoming Future of Money and Wealth conference to focus on one our favorite subjects …
Equity.
According to a recent report by CoreLogic, last year's increase in America's home equity wealth was the largest in four years.
In 2017, the national CoreLogic Home Price Index rose by more than six percent, the largest annual increase since 2013.
We call this "passive equity" because the market just handed it to homeowners simply for buying and holding their property over that time.
Good job.
Of course, national averages are interesting, but not useful for practical investing.  Real estate is local right down to the neighborhood and property … and no two are exactly the same.
Think of it this way …
If you have one foot in a bucket of snow at 20 degrees and another in a bucket of 170 degree steaming hot water, on average you're enjoying a nice soak in a warm bath …
… but in the real world, you're scalding one foot while you get frostbite on the other.  National averages have limited utility.
Fortunately, CoreLogic provides a nifty color-coded map which compares equity growth at the state level: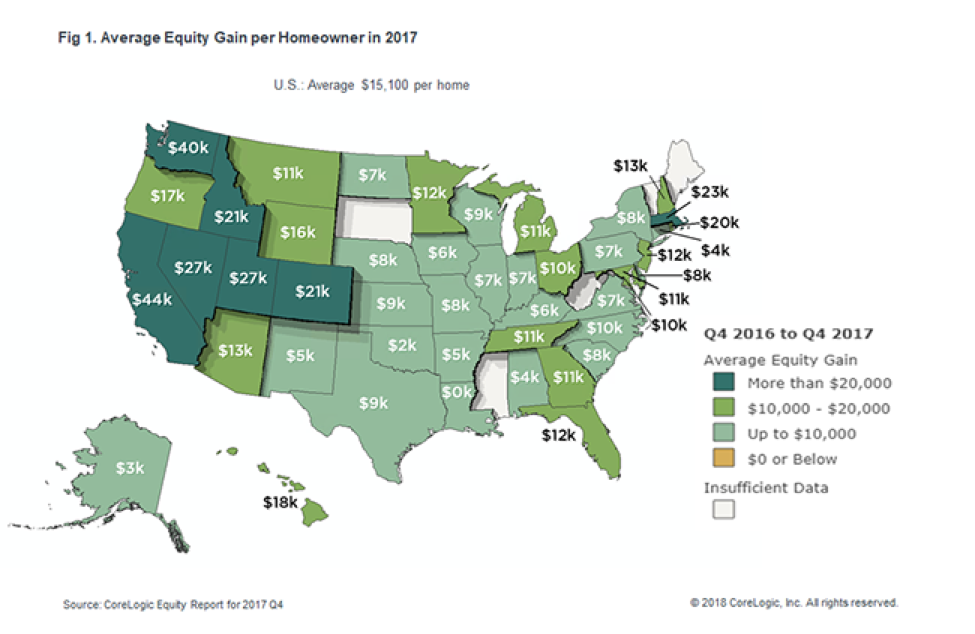 Unsurprisingly, coastal states with strong technology business … California and Washington … lead the pack for equity growth.
But we're guessing closer analysis would show equity rich markets are expensive relative to rents, so income investors can't just go to dark green and buy.
So how's an investor to use this kind of data?
Here are some ideas for your consideration …
First, you can do a deeper dive into the states with strong equity growth, and look for common factors.  Right away, we saw coastal and tech.
But that's just a start.
Look at supply and demand, nominal and real incomes, job growth, population growth, and migration patterns.
Then talk to street level people who live and work in those markets.  Find out what they're seeing right now.
Once you have your mind around what makes equity happen in one market, you can look for similar conditions in other "emerging" markets.
Then (hopefully) you can make your move and get in early … while the rent ratios still make sense … and ride a wave up.
Of course, if you're a typical busy person with a small portfolio, that's a lot of work relative to the size of the investment … especially if you plan to travel to check out markets, build teams, and inspect properties.
Plus, you might not even like doing all that, even if you had the time and a big enough portfolio to justify it.
That's why we're HUGE fans of syndication.
Syndication is where a syndicator aggregates funds from a group of investors through a private placement, and then does all the busy work of running the deal … for a fee and a piece of the action.
As long as there's enough profit in the deals to split equitably, it's a win-win.
The "passive" investors win because they gain access to opportunities they wouldn't otherwise have.  They effectively leverage the effort, expertise, and relationships of the syndicator.
The syndicator wins because the passive investors' capital facilitates economies of scale and access to bigger deals the syndicator might not have on his own.
And for both parties, two major sources of investable capital are paper assets in brokerage and retirement accounts, and equity in existing properties that can be re-positioned.
For example, real estate equity in an "appreciated" state might be accessed through a cash-out mortgage for about 5 percent interest at today's rates.
The loan proceeds can be used to acquire property in an "emerging growth" state that cash-flows at maybe 10 percent cash-on-cash.
The property-owner gets a positive spread on the equity, picks up some valuable tax-breaks, and has additional "top-line" real estate income streams which can grow over time.  Same equity, but more future opportunity.
As for stock market equity …
If history is any indicator, the recent turmoil in the paper asset markets is likely to create even more interest in real estate.
That's because speculating on asset prices, whether it's stocks or crypto-currencies, is a lot of fun when they're spiking.
But when the tide turns on speculation … and it always does … real estate's reputation as a reliable wealth builder is once again revealed and appreciated.
In fact, the CoreLogic article affirms the stability of real estate:
"… since 1970 home-equity wealth has been one-third less variable than corporate equity values …" 
And another recently released report from The National Bureau of Economic Research, The Rate of Return of Everything, 1870-2015, says …
"… returns in housing markets tend to be smoother than those in stock markets …"
"… housing has been as a good a long-run investment as equities, and possibly better."
"… equities do not outperform housing in simple risk-adjusted terms."
 "Housing provides a higher return per unit of risk …" 
"… housing returns … are more stable … housing portfolios have had comparable real returns to … equity portfolios, but with only half the volatility."
The report concludes (remember, to them, "equity" means stocks) …
"… the most surprising result of our study is that long term returns on housing and equity look remarkably similar.  Yet while returns are comparable, residential real estate is less volatile …" 
"Returns are comparable", BUT… they didn't include leverage …
"… the estimates … constitute only un-levered housing returns …"
When you add in 4:1 leverage (25 percent down), you take a 6 percent real estate equity growth rate to 24 percent!
Of course, we're probably preaching to the choir.  But think about this …
Maybe YOU already know real estate is a powerful, predictable, and demonstrably more stable wealth-building vehicle than stocks over the long haul.
But paper asset investors have been riding an easy money wave up to record-levels … and now stock markets are starting to get REALLY jittery.
What once was a fun ride is now becoming scary.  And  if you're a syndicator, this is MUSIC to your ears.
That's because paper asset investors are probably looking at their brokerage accounts and retirement plans, and are growing much more open to getting involved in real estate when it's presented properly.
And if you're a Main Street real estate investor limited by only your own funds, maybe it's time to consider leveraging your skills to get in on the syndication action.
We think syndication is arguably the best opportunity in real estate today.
We realize there are some people who think real estate might slow down because of rising interest rates. But history disagrees.
Rising rates just makes it hard for home buyers.  And when it's harder to buy, more people rent for longer, which is good for landlords.
Look what happened when the mortgage markets imploded in 2008 …
… no one could get a mortgage, millions had to rent, and even though there was a financial crisis … rents went up and up and up.
So all this stock market volatility is actually a gift to real estate investors.
Until next time … good investing!
---
More From The Real Estate Guys™…
The Real Estate Guys™ radio show and podcast provides real estate investing news, education, training, and resources to help real estate investors succeed.
Low-hassle affordable housing + land banking + triple-net leases = what? There's only one answer to this real estate investing equation, and that's mobile home parks.
In the second episode in our Profitable Niches series, we venture into the land of mobile home park investing.
We chat with super syndicator Andrew Lanoie about why he ventured into this niche and what benefits investors can find in the mobile home space.
In this episode of The Real Estate Guys™ show you'll hear from:
Your mobile host, 

Robert Helms

His unmovable co-host, 

Russell Gray
Experienced syndicator, Andrew Lanoie
---
Listen
---
Subscribe
Broadcasting since 1997 with over 300 episodes on iTunes!
---
Review
When you give us a positive review on iTunes you help us continue to bring you high caliber guests and attract new listeners. It's easy and takes just a minute! (Don't know how? Follow these instructions).
Thanks!
---
An expert investor in a unique space
Do we know what's going on in the mobile home space? We've got some general knowledge … enough to form some hypotheses.
But to test our hypotheses, we turned to Andrew Lanoie, principal partner at Park Place Communities. He's been in the mobile home space for the last five years.
Why mobile homes? Two reasons:
Increasing demand for affordable housing in the marketplace.

Adequate supply of mobile home properties for sale, often by owners suffering from lazy landlord syndrome … which means many properties also have a value-add opportunity.
These two reasons are the main factors Andrew has made a place for himself in the mobile home space.
He started out in single-family homes but realized things weren't penciling out after several years in the space. Andrew then tried multi-family properties … same problem.
Prices were escalating while returns were decreasing. So, Andrew started looking at different asset classes, eventually arriving on mobile home parks.
Today, he looks for distressed assets where he can buy low and add value.
Are mobile homes actually "mobile"? Not really. Ninety percent of mobile homes stay in place for the entire life of the home. Most residents sell their homes and buy new ones instead of paying pricy moving fees.
Why are mobile homes in demand? This class of affordable housing offers a lot of square footage for each resident's dollar.
Think about it … the standard double-wide mobile home is equivalent to a 3-bedroom, 2-bath apartment. For $500-600 a month, that's a lot of bang for a renter's buck.
Plus, residents don't have to share walls.
Pros of mobile home investing, and where to step cautiously
There are many benefits for investors, too. For example, Andrew says one big difference between a multi-family property and a mobile home community is the expense ratio.
"The expense ratio is reduced in mobile home communities because you only have to deal with below-the-ground issues." That's because generally, residents own the mobile home they live in, while investors only own the ground beneath their feet.
Owners' biggest costs will be infrastructure costs, like sewers, water systems, roads, and electrical setups. Another cost is the cost of vacancies, although buyers can bring that down by renovating and reselling non-performing homes.
One area for upside is rent increases, although investors should be very careful in this space. In the affordable housing sphere, "You cannot just gauge rents up," says Andrew.
However, investors can make slow and steady rent increases … as long as they are making other improvements to increase the value of the property to residents.
How does tenant-landlord law work? In most cases, residents are paying a pad rent plus an additional lease amount if they don't own the mobile home outright. If a mobile home owner can't pay their pad rent, operators can essentially put a lien on the mobile home.
"It's usually a 90-day process to get someone out," notes Andrew. In many cases, operators can make a deal with residents before it gets to that point. But if necessary, it is relatively easy to expel a non-paying and uncommunicative tenant.
While there are many benefits to buying a mobile home community, Andrew recommends caution as an overarching strategy when purchasing. Deferred maintenance and other issues crop up often in older properties, so buyers should do thorough due diligence before buying.
Another thing to consider is the path of progress. Some mobile home properties increase in value as cities grow around them. "I wouldn't plan on that as an exit strategy, though," warns Andrew.
One tough aspect of mobile home investing is that commercial lenders are almost always unwilling to offer loans for this investment class when occupancy rates are low. Investors interested in distressed assets will have to find alternate financing sources.
One option? Syndication. This is the model Andrew uses to buy and operate mobile home investments. Keep reading to learn about his strategy!
A peek at Andrew Lanoie's prolific syndication portfolio
With his team at Park Place Communities (PPC), Andrew has almost 1100 operating units in 15 communities spread throughout 8 different states.
"We get the most traction in the Midwest and Southeast," says Andrew.
Many of his investments aren't in major metros … but towns can't be one-trick ponies, either. He's looking for markets with multiple employers and diverse, stable populations.
An essential part of running this kind of operation is building a stellar team. Andrew has people on the ground in every state to search for and buy new properties.
Because this asset class is often difficult to operate and there isn't a property management company that could fill all PPC's needs in every state, Andrew and his team have built out their own management team.
They've also formed a construction company to renovate homes at new sites. For Andrew, renovations are the "low-hanging fruit" when adding value.
PPC also works with manufacturers when a lot needs new mobile homes … the cost of which investors can potentially recoup when they sell to residents. These homes do not need to be paid for with cash, but can be mortgaged, freeing up money for the investor.
Once the construction crew is done and units are in place, the marketing department takes over to find residents. Once residents are found, they're sent to PPC's lender, who looks for a history of on-time rent payments and an ability to pay the rent going forward.
One other essential relationship is with brokers. Andrew and his team have built great relationships with brokers, which allow them to access off-market deals and pocket listings.
Andrew's operation has a TON of moving pieces … which allows the PPC team to leverage efficiencies for maximum return.
For the average mom-and-pop real estate investor, running an operation like Andrew's is out of the question. That's why PPC syndicates deals … so investors can access a high-cap-rate investment passively.
Another pro to this investment class? It grows slowly and steadily … even during downturns.
We asked Andrew what potential investors need to know. His number-one piece of advice is to do your due diligence before jumping into a deal.
Interested in learning more about investing in the mobile home space? Listen in to the show to get access to Andrew's curated report on mobile home park investing. He's compiled a detailed overview of why he and his team are bullish on affordable housing and mobile home communities … and why you should be too.
We encourage you to do your own research and learn more … and keep listening to the Profitable Niches series to step off the beaten path and learn more about other lucrative, but as-yet unexploited asset classes.
---
More From The Real Estate Guys™…
The Real Estate Guys™ radio show and podcast provides real estate investing news, education, training and resources to help real estate investors succeed.
We've been around long enough to see a lot of things come and go … politicians, economic theory … business, social, and investing fads … movements of all kinds …
And the world continues to spin … people work and consume … innovators create … businesses produce … and life goes on.
That's because there's one thing underpinning all of it …
People.
And as long as there are people, there will be an economy … and opportunities to grow and produce wealth by serving their needs.
Sure, when times are tough, it's harder.  Not every business or industry survives. And it's never a level playing field, so get over it.
The rewards go to the people who are best informed, best connected, and most willing to trust their own judgment and act when others hesitate.
One of the keys to success is anticipating what large sub-groups of people are going to want and need … and getting in position early to meet those needs.
Some uber-smart people like Steve Jobs have a nearly superhuman ability to anticipate future needs, create cutting edge products, and literally invent entirely new industries.
We're nowhere near that smart.
That's why we're just real estate guys and not tech guys.  We're more like Forrest Gump than Steve Jobs, Mark Zuckerberg, or Jeff Bezos.
But the right real estate is the perfect wealth building vehicle for average people like us.  It's much more common sense than genius vision.
And real estate investing is primarily based on a very basic understanding of demographics … with a dash or two of economics.
Anyone with even a cursory interest in economics has heard of the baby boomers.  This is the ginormous group of people born between 1946 and 1964.
As the boomers moved through the cycles of life, the businesses which served their needs also BOOMED.  And it's not over yet.
But as you can tell from their birthdates, the boomers are a little long in the tooth.  It's no longer rock n' roll, muscle cars, starter-homes, or mini-vans.
Today, boomers are driving wealth management, healthcare, and leisure industries, to name a few.
So naturally, there's a lot of opportunity in understanding the boomer demographic … and positioning yourself to profit from meeting their current and coming needs.
So here are some ideas for investors who want to ride what's left of the boomer wave for the next couple of decades … 
Senior Housing
Obviously, people need places to live.  But as people age, their needs for housing change.  And even in the senior housing niche, there are different sub-sectors to consider.
Long-time listeners know one of our favorite sub-niches in senior housing is residential assisted living.  It's a space that's gaining attention, but still has a LOT of opportunity ahead.
In fact, we're excited to see commercial real estate consulting firm Jones, Lang and LaSalle (JLL) just launched a semi-annual report on senior housing.
They're responding to growing investor interest in this asset class.
One of the conclusions of their inaugural survey is "the most desirable sub-sector is … independent and assisted living …"
One of our favorite features of this niche is it's not a fad or discretionary expense.  No matter what happens, people will make caring for the elderly a top priority … which means cash flowing your way.
Thanks to our good friend (and Summit at Sea™ faculty member) Gene Guarino for introducing us to this exciting and profitable niche.
Vacation and Leisure
To no surprise, each year at our annual goal setting workshop we find many people have dreams of traveling and vacationing in their retirement.
Boomers are no different … except they're retiring right NOW.  AARP's 2018 Travel Trends report says …
"The percentage of boomers saying they travel to relax and rejuvenate jumped from 38% to 49%."
"Forty-seven percent plan to travel domestically and internationally.  Top choices for going abroad: the Caribbean/Latin America and Europe."
"Sixty-two percent of boomers stay in hotels or motels … over staying in private homes … they prefer the amenities, like concierge and room service, offered at a hotel."
Perhaps obviously, resort properties are another effective way to earn rents from affluent tenants … and a great way to have renters pay for YOUR vacation home.
Best of all, because the tenants aren't in long-term leases, you can enjoy your beautiful property when it isn't rented out.  You've probably never thought that about your C-class apartment building. 😉
Of course, you need to get the market right, especially when talking about Latin America and the Caribbean.
It's no secret we've been … and continue to be … enamored of Belize, and the island of Ambergris Caye in particular.
There are lots of reasons why we love Belize, which we discuss on our field trips, but important factors in picking any resort property market are …
supply and demand dynamic
price to rental income ratios
friendliness to foreign ownership (if non-domestic)
great property management
ease of access (plane flights)
safety
When you get the market and property right, resort property is a really fun and profitable niche.
Syndication
Another of our favorite topics is syndication … for good reason.
More than $30 TRILLION in wealth controlled by boomers.  And there's a HUGE opportunity to help them manage it.
And one of the the biggest need for boomers is to protect their wealth while generating income to live on.
But even with recent increases in interest rates, yields on bank deposits are pathetically low.
And in a rising rate world, bonds can be tricky … because each increase in rates tomorrow means the bonds you buy today lose principal value.
The obvious answer is income property.
The yields are better.  Real estate hedges against inflation. Even prudent use of debt creates very attractive equity growth rates.
The problem is real estate investing is work most boomers don't want to do.  But that's where YOU can help … and create a profitable business for yourself
Demographics Trumps Politics and Financial Engineering
While there are certainly some VERY significant dynamics occurring which may dramatically impact the future of money and wealth (things you should absolutely be paying attention to) …
Ultimately, the basic needs and desires of people drive economic activity and opportunity much more profoundly than anything politicians and bankers do.
The bottom line is we think investors who own properties and businesses which serve basic human needs will be best positioned to survive and thrive in virtually any economic environment.
Until next time … good investing!
---
More From The Real Estate Guys™…
The Real Estate Guys™ radio show and podcast provides real estate investing news, education, training, and resources to help real estate investors succeed.