8 Critical Steps to Practicing Safe Syndication
You want to get into syndication … but you know securities law can be tricky. You want to get everything right, down to the details. Good news … you're already on the right path!
Safe syndication starts with careful research and a series of specific steps that will help YOU safeguard your assets and your investors' money.
In this detailed guide, Mauricio Rauld offers a set of eight important steps investors need to take to protect their investment.
Wondering where to start? Mauricio clearly lays out important legal steps like setting up your business, meeting with your advisor, and figuring out tricky securities exemptions. Dig into essential questions you need to ask to draft a complete business plan, and become acquainted with important legal requirements.
Plus, dive into special bonus information that covers how you can stay compliant in the digital world!
Serious about syndication? Then get serious about covering your legal bases.
Before you set up an appointment with a legal advisor, check out this helpful guide to the most common legal requirements in the world of syndicating and securities.
Simply fill out the form below to receive your complimentary copy of 8 Critical Steps to Practicing Safe Syndication! We wish you happy … and safe … syndicating!
The Silver Tsunami is coming. That's right. It's no secret Baby Boomers are retiring and entering a new phase of life, and looking for an alternative to traditional assisted living facilities.  
In the third episode in our Profitable Niches series, we explore the world of residential assisted living homes.
We chat with leading national expert and President of Residential Assisted Living (RAL) Academy, Gene Guarino, about this compelling investment opportunity, and four of his students who are successfully investing in this space.    
In this episode of The Real Estate Guys™ show you'll hear from:
Your happy-to-assist host, 

Robert Helms

His in-need-of-assistance co-host, 

Russell Gray

RAL Academy President

Gene Guarino

A few of Gene's star students,

Sherry Ellingson and Rocky McKay, Loe Hornbuckle, and CJ Matthews
---
Listen
---
Subscribe
Broadcasting since 1997 with over 300 episodes on iTunes!
---
Review
When you give us a positive review on iTunes you help us continue to bring you high caliber guests and attract new listeners. It's easy and takes just a minute! (Don't know how? Follow these instructions).
Thanks!
---
An explosive demographic with specific needs
So much of real estate is about understanding specific demographics and their needs. All around the world, and especially in the United States, there is a massive population that has created business opportunities through every season of their lives … baby boomers.
Baby boomers are retiring in droves, and they aren't too far away from not being able to live independently anymore. Unlike generations before them, boomers (in general) are adamant about not living in an institution or hospital. They want to live in a home and have a social life.
That's what makes residential assisted living homes such a fascinating investment niche. This specific demographic and a unique financial model means more CASH FLOW than a typical single-family home investment.
Gene Guarino is the leading expert in this investment niche. As president of the Residential Assisted Living (RAL) Academy, he teaches investors everything they need to know to get started.
"It all starts with education. Get educated first. If you don't, you'll most likely go out, make mistakes, and bang your head against the wall," Gene says.
We're all about education for effective action. So, we sat down with a few of Gene's star students to learn about their experiences and what advice they have for other investors.
Building your brand from the ground up
Sherry Ellingson and Rocky McKay are business partners who attended Gene's class several years ago.
"We kept hearing about senior living," Sherry says. "We both have parents who are going to be entering into this category before long, and after taking a look at some of the current options in our area we thought, 'You know, we could do this a little bit better.'"
Rocky and Sherry first acquired an existing assisted living facility that needed some updating. The property is 10 beds with jack-and-jill baths and lots of places for residents to be able to visit with friends and family. The goal is to have residents feel at home and have a happy, safe place to make their own.
How do they attract tenants? Case workers from hospitals and rehab centers refer potential residents and their families to placement agents who find out what they are looking for in an assisted living facility.
Then, the agents take them on tours and show refer them to various home options. That's why a good reputation is so important.
"The reputation of a home is attached to the owner, so your focus should really be on creating your own reputation and brand from the ground up," Sherry says.
"The demand for a good home is extremely high, and as we provide such an essential service for our residents, it feels like we are doing the right thing," Rocky adds.
For investors just starting in the niche, Sherry and Rocky recommend looking for an existing home and remodeling it into a residential assisted living home. They also suggest having a fixed rent rate with everything included so families can set their budget and not worry about hidden fees.
And don't forget that there is benefit in adding more properties. More residents means the ability to buy supplies in bulk and save even more money on operation costs. Sherry and Rocky hope to have a couple hundred operating homes in the next several years.
Raising capital and expanding your network
After going through the RAL Academy course, Loe Hornbuckle found his passion. Since then, he has opened 40 beds in residential assisted living homes and is in the process of developing an 80-bed facility made up of five homes on six acres as a planned community.
"I look at residential assisted living as a tool to keep people out of nursing homes or institutional environments that may not be right for them," Loe says. "There are a lot of people who are placed inappropriately in those settings."
Even though he was passionate about the type of investment he was making, Loe says he still had a lot to learn when it came to raising capital.
"The first time I raised capital, I put out my business plan, and at the end of the first day my wife found me in the fetal position on the floor. It was harder than I thought it would be," Loe says.
Proper education changed this for Loe. He learned you have to build a network to effectively raise capital. He suggests that RAL investors attend events and conferences so they can meet the many people out there who are willing to help them along the way.
"Your network is everything. When you build your network, you have the power to step into good business like residential assisted living," Loe says.
Syndication and working smarter
As a self-proclaimed real estate addict, CJ Matthews was looking for an investment with good cash flow and without a huge amount of ongoing work. After hearing Gene speak on RAL homes, she knew she had found the perfect niche.
"With residential assisted living, you do the work to set everything up, and then you become the business owner. At that point, someone else can actually run the day-to-day business for you," CJ says.
The biggest advice CJ offers to potential RAL investors is to learn about and apply effective syndication.
"Before learning to syndicate, going out and asking for money felt risky or scary to me, but after I attended the Secrets of Syndication seminar, I knew what I needed to do," CJ says.
When it comes to working with partners, CJ recommends choosing people who have skill sets you don't. That way you can work synergistically and accelerate your success. And don't forget this particular investment niche requires a special touch.
"This space isn't for everyone. You need to love real estate, love making money, love putting in work on the front end, and most importantly have a heart. If you aren't willing to care about these people and making the last years of their lives happy, then this may not be the investment for you," CJ says.
Interested in learning more about investing in residential assisted living? Listen in to the show to hear more from Gene and his students. You can also email us at ALF@realestateguysradio.com, and don't forget that Gene will be cruising with us on our Investor Summit at Sea™. We'd love to see you there!
Listen to other episodes in our Profitable Niches series (like Stacking up Profits with Self Storage or Making Money with Mobile Homes) to step off the beaten path and learn more about other lucrative, but as-yet unexploited asset classes.
---
More From The Real Estate Guys™…
The Real Estate Guys™ radio show and podcast provides real estate investing news, education, training and resources to help real estate investors succeed.
2018 Apartment Market Forecast
Predict what U.S. Apartment Markets will look like in 2018 … Then position yourself for success!
Brad is a successful investor in his own right and the teacher of the popular Rat Race 2 Retirement program, a course that helps investors build wealth through apartment investing.  
In this webinar, Brad brings his characteristic optimism and extensive experience and knowledge to the topic of apartment investing.  His webinar shares:  
How you can leverage others' time, money, and experience to create wealth

 

Program results for Sumrok students in 2017 (they're impressive)

 

A recipe for double-digit returns … in just 16 years

 

Brad's formula for what makes a good market

 

And, the piece de resistance … Brad's 2018 Apartment Market Forecast 

 
Interested in what 2018 holds?  Simply fill out the form below to listen in for how the state of the U.S. economy will influence apartment markets in 2018 … and which markets are best for investors …
We're taking a break from our relentless preparation for the upcoming Future of Money and Wealth conference to focus on one our favorite subjects …
Equity.
According to a recent report by CoreLogic, last year's increase in America's home equity wealth was the largest in four years.
In 2017, the national CoreLogic Home Price Index rose by more than six percent, the largest annual increase since 2013.
We call this "passive equity" because the market just handed it to homeowners simply for buying and holding their property over that time.
Good job.
Of course, national averages are interesting, but not useful for practical investing.  Real estate is local right down to the neighborhood and property … and no two are exactly the same.
Think of it this way …
If you have one foot in a bucket of snow at 20 degrees and another in a bucket of 170 degree steaming hot water, on average you're enjoying a nice soak in a warm bath …
… but in the real world, you're scalding one foot while you get frostbite on the other.  National averages have limited utility.
Fortunately, CoreLogic provides a nifty color-coded map which compares equity growth at the state level: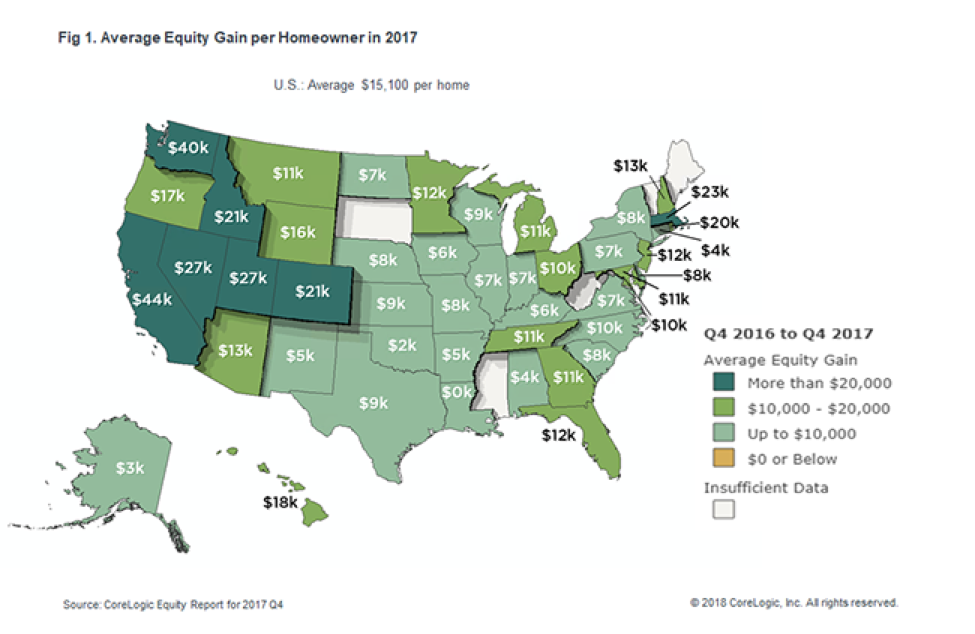 Unsurprisingly, coastal states with strong technology business … California and Washington … lead the pack for equity growth.
But we're guessing closer analysis would show equity rich markets are expensive relative to rents, so income investors can't just go to dark green and buy.
So how's an investor to use this kind of data?
Here are some ideas for your consideration …
First, you can do a deeper dive into the states with strong equity growth, and look for common factors.  Right away, we saw coastal and tech.
But that's just a start.
Look at supply and demand, nominal and real incomes, job growth, population growth, and migration patterns.
Then talk to street level people who live and work in those markets.  Find out what they're seeing right now.
Once you have your mind around what makes equity happen in one market, you can look for similar conditions in other "emerging" markets.
Then (hopefully) you can make your move and get in early … while the rent ratios still make sense … and ride a wave up.
Of course, if you're a typical busy person with a small portfolio, that's a lot of work relative to the size of the investment … especially if you plan to travel to check out markets, build teams, and inspect properties.
Plus, you might not even like doing all that, even if you had the time and a big enough portfolio to justify it.
That's why we're HUGE fans of syndication.
Syndication is where a syndicator aggregates funds from a group of investors through a private placement, and then does all the busy work of running the deal … for a fee and a piece of the action.
As long as there's enough profit in the deals to split equitably, it's a win-win.
The "passive" investors win because they gain access to opportunities they wouldn't otherwise have.  They effectively leverage the effort, expertise, and relationships of the syndicator.
The syndicator wins because the passive investors' capital facilitates economies of scale and access to bigger deals the syndicator might not have on his own.
And for both parties, two major sources of investable capital are paper assets in brokerage and retirement accounts, and equity in existing properties that can be re-positioned.
For example, real estate equity in an "appreciated" state might be accessed through a cash-out mortgage for about 5 percent interest at today's rates.
The loan proceeds can be used to acquire property in an "emerging growth" state that cash-flows at maybe 10 percent cash-on-cash.
The property-owner gets a positive spread on the equity, picks up some valuable tax-breaks, and has additional "top-line" real estate income streams which can grow over time.  Same equity, but more future opportunity.
As for stock market equity …
If history is any indicator, the recent turmoil in the paper asset markets is likely to create even more interest in real estate.
That's because speculating on asset prices, whether it's stocks or crypto-currencies, is a lot of fun when they're spiking.
But when the tide turns on speculation … and it always does … real estate's reputation as a reliable wealth builder is once again revealed and appreciated.
In fact, the CoreLogic article affirms the stability of real estate:
"… since 1970 home-equity wealth has been one-third less variable than corporate equity values …" 
And another recently released report from The National Bureau of Economic Research, The Rate of Return of Everything, 1870-2015, says …
"… returns in housing markets tend to be smoother than those in stock markets …"
"… housing has been as a good a long-run investment as equities, and possibly better."
"… equities do not outperform housing in simple risk-adjusted terms."
 "Housing provides a higher return per unit of risk …" 
"… housing returns … are more stable … housing portfolios have had comparable real returns to … equity portfolios, but with only half the volatility."
The report concludes (remember, to them, "equity" means stocks) …
"… the most surprising result of our study is that long term returns on housing and equity look remarkably similar.  Yet while returns are comparable, residential real estate is less volatile …" 
"Returns are comparable", BUT… they didn't include leverage …
"… the estimates … constitute only un-levered housing returns …"
When you add in 4:1 leverage (25 percent down), you take a 6 percent real estate equity growth rate to 24 percent!
Of course, we're probably preaching to the choir.  But think about this …
Maybe YOU already know real estate is a powerful, predictable, and demonstrably more stable wealth-building vehicle than stocks over the long haul.
But paper asset investors have been riding an easy money wave up to record-levels … and now stock markets are starting to get REALLY jittery.
What once was a fun ride is now becoming scary.  And  if you're a syndicator, this is MUSIC to your ears.
That's because paper asset investors are probably looking at their brokerage accounts and retirement plans, and are growing much more open to getting involved in real estate when it's presented properly.
And if you're a Main Street real estate investor limited by only your own funds, maybe it's time to consider leveraging your skills to get in on the syndication action.
We think syndication is arguably the best opportunity in real estate today.
We realize there are some people who think real estate might slow down because of rising interest rates. But history disagrees.
Rising rates just makes it hard for home buyers.  And when it's harder to buy, more people rent for longer, which is good for landlords.
Look what happened when the mortgage markets imploded in 2008 …
… no one could get a mortgage, millions had to rent, and even though there was a financial crisis … rents went up and up and up.
So all this stock market volatility is actually a gift to real estate investors.
Until next time … good investing!
---
More From The Real Estate Guys™…
The Real Estate Guys™ radio show and podcast provides real estate investing news, education, training, and resources to help real estate investors succeed.
Low-hassle affordable housing + land banking + triple-net leases = what? There's only one answer to this real estate investing equation, and that's mobile home parks.
In the second episode in our Profitable Niches series, we venture into the land of mobile home park investing.
We chat with super syndicator Andrew Lanoie about why he ventured into this niche and what benefits investors can find in the mobile home space.
In this episode of The Real Estate Guys™ show you'll hear from:
Your mobile host, 

Robert Helms

His unmovable co-host, 

Russell Gray
Experienced syndicator, Andrew Lanoie
---
Listen
---
Subscribe
Broadcasting since 1997 with over 300 episodes on iTunes!
---
Review
When you give us a positive review on iTunes you help us continue to bring you high caliber guests and attract new listeners. It's easy and takes just a minute! (Don't know how? Follow these instructions).
Thanks!
---
An expert investor in a unique space
Do we know what's going on in the mobile home space? We've got some general knowledge … enough to form some hypotheses.
But to test our hypotheses, we turned to Andrew Lanoie, principal partner at Park Place Communities. He's been in the mobile home space for the last five years.
Why mobile homes? Two reasons:
Increasing demand for affordable housing in the marketplace.

Adequate supply of mobile home properties for sale, often by owners suffering from lazy landlord syndrome … which means many properties also have a value-add opportunity.
These two reasons are the main factors Andrew has made a place for himself in the mobile home space.
He started out in single-family homes but realized things weren't penciling out after several years in the space. Andrew then tried multi-family properties … same problem.
Prices were escalating while returns were decreasing. So, Andrew started looking at different asset classes, eventually arriving on mobile home parks.
Today, he looks for distressed assets where he can buy low and add value.
Are mobile homes actually "mobile"? Not really. Ninety percent of mobile homes stay in place for the entire life of the home. Most residents sell their homes and buy new ones instead of paying pricy moving fees.
Why are mobile homes in demand? This class of affordable housing offers a lot of square footage for each resident's dollar.
Think about it … the standard double-wide mobile home is equivalent to a 3-bedroom, 2-bath apartment. For $500-600 a month, that's a lot of bang for a renter's buck.
Plus, residents don't have to share walls.
Pros of mobile home investing, and where to step cautiously
There are many benefits for investors, too. For example, Andrew says one big difference between a multi-family property and a mobile home community is the expense ratio.
"The expense ratio is reduced in mobile home communities because you only have to deal with below-the-ground issues." That's because generally, residents own the mobile home they live in, while investors only own the ground beneath their feet.
Owners' biggest costs will be infrastructure costs, like sewers, water systems, roads, and electrical setups. Another cost is the cost of vacancies, although buyers can bring that down by renovating and reselling non-performing homes.
One area for upside is rent increases, although investors should be very careful in this space. In the affordable housing sphere, "You cannot just gauge rents up," says Andrew.
However, investors can make slow and steady rent increases … as long as they are making other improvements to increase the value of the property to residents.
How does tenant-landlord law work? In most cases, residents are paying a pad rent plus an additional lease amount if they don't own the mobile home outright. If a mobile home owner can't pay their pad rent, operators can essentially put a lien on the mobile home.
"It's usually a 90-day process to get someone out," notes Andrew. In many cases, operators can make a deal with residents before it gets to that point. But if necessary, it is relatively easy to expel a non-paying and uncommunicative tenant.
While there are many benefits to buying a mobile home community, Andrew recommends caution as an overarching strategy when purchasing. Deferred maintenance and other issues crop up often in older properties, so buyers should do thorough due diligence before buying.
Another thing to consider is the path of progress. Some mobile home properties increase in value as cities grow around them. "I wouldn't plan on that as an exit strategy, though," warns Andrew.
One tough aspect of mobile home investing is that commercial lenders are almost always unwilling to offer loans for this investment class when occupancy rates are low. Investors interested in distressed assets will have to find alternate financing sources.
One option? Syndication. This is the model Andrew uses to buy and operate mobile home investments. Keep reading to learn about his strategy!
A peek at Andrew Lanoie's prolific syndication portfolio
With his team at Park Place Communities (PPC), Andrew has almost 1100 operating units in 15 communities spread throughout 8 different states.
"We get the most traction in the Midwest and Southeast," says Andrew.
Many of his investments aren't in major metros … but towns can't be one-trick ponies, either. He's looking for markets with multiple employers and diverse, stable populations.
An essential part of running this kind of operation is building a stellar team. Andrew has people on the ground in every state to search for and buy new properties.
Because this asset class is often difficult to operate and there isn't a property management company that could fill all PPC's needs in every state, Andrew and his team have built out their own management team.
They've also formed a construction company to renovate homes at new sites. For Andrew, renovations are the "low-hanging fruit" when adding value.
PPC also works with manufacturers when a lot needs new mobile homes … the cost of which investors can potentially recoup when they sell to residents. These homes do not need to be paid for with cash, but can be mortgaged, freeing up money for the investor.
Once the construction crew is done and units are in place, the marketing department takes over to find residents. Once residents are found, they're sent to PPC's lender, who looks for a history of on-time rent payments and an ability to pay the rent going forward.
One other essential relationship is with brokers. Andrew and his team have built great relationships with brokers, which allow them to access off-market deals and pocket listings.
Andrew's operation has a TON of moving pieces … which allows the PPC team to leverage efficiencies for maximum return.
For the average mom-and-pop real estate investor, running an operation like Andrew's is out of the question. That's why PPC syndicates deals … so investors can access a high-cap-rate investment passively.
Another pro to this investment class? It grows slowly and steadily … even during downturns.
We asked Andrew what potential investors need to know. His number-one piece of advice is to do your due diligence before jumping into a deal.
Interested in learning more about investing in the mobile home space? Listen in to the show to get access to Andrew's curated report on mobile home park investing. He's compiled a detailed overview of why he and his team are bullish on affordable housing and mobile home communities … and why you should be too.
We encourage you to do your own research and learn more … and keep listening to the Profitable Niches series to step off the beaten path and learn more about other lucrative, but as-yet unexploited asset classes.
---
More From The Real Estate Guys™…
The Real Estate Guys™ radio show and podcast provides real estate investing news, education, training and resources to help real estate investors succeed.
We've been around long enough to see a lot of things come and go … politicians, economic theory … business, social, and investing fads … movements of all kinds …
And the world continues to spin … people work and consume … innovators create … businesses produce … and life goes on.
That's because there's one thing underpinning all of it …
People.
And as long as there are people, there will be an economy … and opportunities to grow and produce wealth by serving their needs.
Sure, when times are tough, it's harder.  Not every business or industry survives. And it's never a level playing field, so get over it.
The rewards go to the people who are best informed, best connected, and most willing to trust their own judgment and act when others hesitate.
One of the keys to success is anticipating what large sub-groups of people are going to want and need … and getting in position early to meet those needs.
Some uber-smart people like Steve Jobs have a nearly superhuman ability to anticipate future needs, create cutting edge products, and literally invent entirely new industries.
We're nowhere near that smart.
That's why we're just real estate guys and not tech guys.  We're more like Forrest Gump than Steve Jobs, Mark Zuckerberg, or Jeff Bezos.
But the right real estate is the perfect wealth building vehicle for average people like us.  It's much more common sense than genius vision.
And real estate investing is primarily based on a very basic understanding of demographics … with a dash or two of economics.
Anyone with even a cursory interest in economics has heard of the baby boomers.  This is the ginormous group of people born between 1946 and 1964.
As the boomers moved through the cycles of life, the businesses which served their needs also BOOMED.  And it's not over yet.
But as you can tell from their birthdates, the boomers are a little long in the tooth.  It's no longer rock n' roll, muscle cars, starter-homes, or mini-vans.
Today, boomers are driving wealth management, healthcare, and leisure industries, to name a few.
So naturally, there's a lot of opportunity in understanding the boomer demographic … and positioning yourself to profit from meeting their current and coming needs.
So here are some ideas for investors who want to ride what's left of the boomer wave for the next couple of decades … 
Senior Housing
Obviously, people need places to live.  But as people age, their needs for housing change.  And even in the senior housing niche, there are different sub-sectors to consider.
Long-time listeners know one of our favorite sub-niches in senior housing is residential assisted living.  It's a space that's gaining attention, but still has a LOT of opportunity ahead.
In fact, we're excited to see commercial real estate consulting firm Jones, Lang and LaSalle (JLL) just launched a semi-annual report on senior housing.
They're responding to growing investor interest in this asset class.
One of the conclusions of their inaugural survey is "the most desirable sub-sector is … independent and assisted living …"
One of our favorite features of this niche is it's not a fad or discretionary expense.  No matter what happens, people will make caring for the elderly a top priority … which means cash flowing your way.
Thanks to our good friend (and Summit at Sea™ faculty member) Gene Guarino for introducing us to this exciting and profitable niche.
Vacation and Leisure
To no surprise, each year at our annual goal setting workshop we find many people have dreams of traveling and vacationing in their retirement.
Boomers are no different … except they're retiring right NOW.  AARP's 2018 Travel Trends report says …
"The percentage of boomers saying they travel to relax and rejuvenate jumped from 38% to 49%."
"Forty-seven percent plan to travel domestically and internationally.  Top choices for going abroad: the Caribbean/Latin America and Europe."
"Sixty-two percent of boomers stay in hotels or motels … over staying in private homes … they prefer the amenities, like concierge and room service, offered at a hotel."
Perhaps obviously, resort properties are another effective way to earn rents from affluent tenants … and a great way to have renters pay for YOUR vacation home.
Best of all, because the tenants aren't in long-term leases, you can enjoy your beautiful property when it isn't rented out.  You've probably never thought that about your C-class apartment building. 😉
Of course, you need to get the market right, especially when talking about Latin America and the Caribbean.
It's no secret we've been … and continue to be … enamored of Belize, and the island of Ambergris Caye in particular.
There are lots of reasons why we love Belize, which we discuss on our field trips, but important factors in picking any resort property market are …
supply and demand dynamic
price to rental income ratios
friendliness to foreign ownership (if non-domestic)
great property management
ease of access (plane flights)
safety
When you get the market and property right, resort property is a really fun and profitable niche.
Syndication
Another of our favorite topics is syndication … for good reason.
More than $30 TRILLION in wealth controlled by boomers.  And there's a HUGE opportunity to help them manage it.
And one of the the biggest need for boomers is to protect their wealth while generating income to live on.
But even with recent increases in interest rates, yields on bank deposits are pathetically low.
And in a rising rate world, bonds can be tricky … because each increase in rates tomorrow means the bonds you buy today lose principal value.
The obvious answer is income property.
The yields are better.  Real estate hedges against inflation. Even prudent use of debt creates very attractive equity growth rates.
The problem is real estate investing is work most boomers don't want to do.  But that's where YOU can help … and create a profitable business for yourself
Demographics Trumps Politics and Financial Engineering
While there are certainly some VERY significant dynamics occurring which may dramatically impact the future of money and wealth (things you should absolutely be paying attention to) …
Ultimately, the basic needs and desires of people drive economic activity and opportunity much more profoundly than anything politicians and bankers do.
The bottom line is we think investors who own properties and businesses which serve basic human needs will be best positioned to survive and thrive in virtually any economic environment.
Until next time … good investing!
---
More From The Real Estate Guys™…
The Real Estate Guys™ radio show and podcast provides real estate investing news, education, training, and resources to help real estate investors succeed.
An essential part of being a real estate investor is finding the perfect combination of market and product type. But markets, product types, and even financing are CONSTANTLY shifting.
How can you read the tea leaves and see what's in store?
Today, we offer some help in the form of Brad Sumrok. Brad has been investing for 16 years. These days, he also spends a significant amount of time teaching investors how to get into the multi-family space.
In this episode, we discuss choice gems from Brad's annual Apartment Market Forecast. We'll also look at what makes a good market and how YOU can get started … or move upwards … in multi-family investing.
In this episode of The Real Estate Guys™ show you'll hear from:
Your princely host, 

Robert Helms

His jester of a co-host, 

Russell Gray

The apartment king,

Brad Sumrok
---
Listen
---
Subscribe
Broadcasting since 1997 with over 300 episodes on iTunes!
---
Review
When you give us a positive review on iTunes you help us continue to bring you high caliber guests and attract new listeners. It's easy and takes just a minute! (Don't know how? Follow these instructions).
Thanks!
---
Three factors of the perfect market
Let's begin with some background.
Sixteen years ago, Brad made his first real estate investment. He didn't start out with single-family homes … No, Brad's first investment was a 32-unit apartment building.
Today, Brad teaches beginning and potential investors how they too can make a mark in the multi-family space with his popular Rat Race 2 Retirement courses.
Last year, his students purchased 37 apartment buildings in 14 different markets!
Along with his results-producing educational program, Brad produces a yearly Apartment Market Forecast … a data-driven report that looks at which markets in the U.S. are hot for apartment investors … and which are not.
The forecast can be divided into two main parts … old markets that still hold water, and new markets that hold opportunity for multi-family investors.
Brad gave us the run-down of his most important factors for investors.
"When I look at investing, I look at three things," he says. "The deal, the market, and the management team."
We asked him to dive into what makes a good market … and why.
Brad said he does tend to like big primary markets in general because of their diverse economies. But he avoids some large markets like Los Angeles, San Francisco, Seattle, and Boston because of laws that are unfavorable to landlords.
For Brad, landlord-friendly laws and strong economies are two major keys to an ideal market.
Brad says investors can find good deals in the suburbs within an hour of many major markets. While city centers may be too hot right now, surrounding areas have a bit less competition.
Besides landlord-friendly laws, Brad says there are two other major factors investors need to consider … asset appreciation and rent growth.
Together, these factors can help investors choose the perfect market.
Some markets, like Cleveland, Kansas City, and Detroit, have higher than average cap rates but negative population and job growth.
Investors want to look for a market that boasts positive scores in all three areas. Some of Brad's top picks for asset appreciation, rent growth, and landlord friendliness are Dallas, Tampa, Jacksonville, Orlando, and Phoenix.
Many investors worry that even in excellent markets, competition has heated up too much and they've missed the party.
To that, Brad says, "If you invest in your education and surround yourself with a good team, the odds are in your favor to make profitable investments."
Investors need to understand that all ships rise … and sink … with the tide.
In good times, rents and occupancy will be high. And in bad times, apartments are a safe haven because there is always a need for housing.
Choosing and financing properties
What kind of properties does Brad advise his students to invest in?
The answer is simple … B- and C-class assets.
The reason? In central urban cores, there is too much supply and not enough demand, resulting in high vacancies and low yields.
Outside the city core, investors can still buy for less than they can build. And if you choose your market smartly, job and population growth will guarantee a demand for affordable housing.
Brad says he generally advises investors to plan to hold on to a property for at least five years.
And in terms of loans, he notes it's essential to have predictability in financing. He works with students to help them obtain 10-12 year fixed-rate loans with an 80 percent loan to value.
It can be hard to find that type of financing in smaller markets and for smaller properties.
But it gets easier, says Brad, when investors realize they don't need to fork up all the money by themselves.
That's where syndication comes in.
To earn more and work less, turn to syndication
Without syndication, many investors run out of money.
Syndication not only allows investors to do bigger deals … it also offers economies of scale.
Larger properties with at least 60 units allow investors to hire a management company with the right level of cost to benefit.
At that size, management costs usually end up at about 5 percent of income, and possibly less if you have more units.
Plus, you get more data, more support, and more resources … for a smaller percentage of your revenue.
It's part of what Brad calls "the magic of apartments." Management costs for single-family homes, by comparison, usually run about 8-10 percent of your gross income.
Why not a 40-unit apartment? Forty units is enough to pay for a full-time person … without fully utilizing their time or efforts. But 60 is just about perfect.
Another benefit of buying big is that you DON'T have to do everything yourself. When you do a syndicated deal with other investors, your main responsibilities shift from the nitty-gritty details to regular communication with your management company about big-picture trends and issues.
The premise of multi-family investing is really the same as single-family … but financing, managing, tenant-landlord laws, inspections, and other factors are a bit different.
All that is learnable, however. To get educated, start by checking out Brad's webinar. He'll discuss why apartment investing is great for building passive streams of income, how YOU can get started, and what his top market picks are for 2018.
Investors evolve with education
In Brad's own words, "Anyone can do it." He told us there will always be competition, but even in today's economy, there are still so many markets that make sense.
"Investors just have to step up to the plate and take a swing," Brad says.
Just as you evolve as an investor, so do markets evolve … slowly, over time. Sometimes the shift happens so slowly … or so suddenly … that investors don't see it coming.
That's why folks like Brad are so important. He knows the apartment market space incredibly well, stays up to date … and is always willing to share his knowledge with other investors.
And although not every investor takes the same path to wealth that Brad did, there's something EVERY investor can learn from Brad's recommendations and suggestions for what makes a good market and a high-return investment.
As real estate investors, we have to take educating ourselves seriously. Whether that starts with a podcast, article, webinar, in-person event, or a training seminar like Brad's, education is the one thing that can help YOU become an effective, efficient investor.
---
More From The Real Estate Guys™…
The Real Estate Guys™ radio show and podcast provides real estate investing news, education, training and resources to help real estate investors succeed.
In this episode, we'll be discussing the age-old question … what's the next step for investors who've run out of capital but want to keep growing?
Our answer? Syndication.
Syndication allows investors to move their focus away from earning and saving money toward raising money.
And if you'd rather not spend your time doing deals, syndication is a great option for putting your cash to work … while you do what you love.
But we'll be honest … syndication is a lot of work.
You need to build an investing plan, understand your market, vet your investors, and know what could go wrong … and right … with a deal.
You need to understand not only the business side of each deal, but the legal side.
That's why we invited an experienced securities attorney to chat with us about the ins and outs of syndicating.
In this episode of The Real Estate Guys™ show you'll hear from:
Your secure host, 

Robert Helms

His insecure co-host, 

Russell Gray

Securities attorney, 

Mauricio Rauld
---
Listen
---
Subscribe
Broadcasting since 1997 with over 300 episodes on iTunes!
---
Review
When you give us a positive review on iTunes you help us continue to bring you high caliber guests and attract new listeners. It's easy and takes just a minute! (Don't know how? Follow these instructions).
Thanks!
---
What is syndication? What is a security?
Mauricio Rauld is the founder and CEO of Premier Law Group. A long-time acquaintance of ours, he's worked with us to vet many syndication deals.
We've watched Mauricio evolve into an experienced securities attorney, and we trust him to answer all our syndication-related questions.
Let's start with the basics.
First, what is syndication? Any time you are pooling resources … usually money or capital … to do a deal, you're involved in syndication.
Next, when does securities law come in? If you're the one running the deal, the minute you take a check from someone, your transactions fall under the realm of the securities law.
The structure of the deal doesn't matter … you could write out a profit-share agreement or simply shake hands with your investors, and you'd STILL be dealing with a security.
We asked Mauricio what investors need to be aware of when it comes to securities law and the Securities Exchange Commission (SEC).
He said that when dealing with a security syndicators have three choices:
Register the security with the SEC.

Find an exemption so you don't have to register.

Avoid the two options above and go the illegal route.
Needless to say, we don't recommend the third option!
Most investors are able to choose the second path because the SEC offers multiple exemptions. To get your mind around the major exemptions, Mauricio recommends working with an experienced securities attorney.
An attorney will help you catch any mistakes … before you're head-deep in a deal and it's too late to fix your errors.
Like the saying goes, an ounce of prevention is worth a pound of cure.
If you're going into a syndicated deal as an investor, there are some preventive steps YOU can take as well. Mauricio names two main steps:
Do your due diligence when it comes to the deal sponsor. Check their track record and make sure they have some successful deals under their belt.

Review the sponsor's documentation and paperwork. Missing items can be a huge red flag, Mauricio says. A sponsor who doesn't give you the appropriate disclosure documents is cutting corners.
Syndicators need to draft and publish a private placement memorandum before doing a deal. This document essentially names all the ways a private investor could lose their money.
Private placement memos are specific to each individual deal. To draft one, syndicators need to work with an attorney, who will evaluate all the ways a deal could go wrong.
This documentation is critical whether you're the syndicator or the investor.
If you're the syndicator, make sure your lawyer sits down with you and gets specific details about the deal so they can list every possible risk in the memo.
If you're an investor, it's wise to review this document and the deal itself with your lawyer so you are aware of possible risks before you put your dollars in.
How should syndicated deals be structured?
There are two parts to syndicating a deal.
First you have to raise money, find the deal, and make sure you're in compliance with securities law … and then you have to figure out what you're actually doing with the money you earn.
We asked Mauricio to talk about how syndicators can structure syndicated deals.
He said that first, syndicators have to look at whether they're structuring a deal for equity or for debt. Syndicators should also look to see what their investor pool is looking for.
And syndicators should keep in mind that a deal may be structured differently while there's cashflow versus after the property is refinanced or sold.
When it comes to structuring your deal, Mauricio reminds syndicators to ALWAYS disclose, disclose, disclose. Any way you or your spouse are compensated needs to be disclosed to the SEC.
This is where a securities attorney comes in handy, says Mauricio. If you're a syndicator, a good specialized attorney will spend the time up front to understand your deal and help you structure it … while making sure you disclose the proper info.
Now on to specific deal structures.
The most basic deal structure is to split the profits between syndicator and the investor pool.
The standard split is 80-20 … 80 percent for investors and 20 percent for the syndicator. But that percentage is malleable depending on the deal itself.
Another option is a "preferred return." This means a certain percentage of the original amount invested is set aside for the investor … say, 7 percent, for example. The investor gets all the profits up to that percentage, and the syndicator gets anything beyond that.
You can also do a "waterfall." This means setting up different tiers … up to a certain amount, the profit is split 60-40, and then after that, 70-30, and so on.
Whichever deal structure you choose, there are two basic guidelines you should follow, says Mauricio:
Keep it simple.

A waterfall structure with 10 different tiers is more work for you and more complicated for investors to understand.

Keep it fair.

Evaluate the deal structure based on how much work you're putting in versus how much capital investors are contributing.
One of our favorite things about syndication is that there are basically unlimited options for the type and structure of deals you do!
Interested in building a syndication business but not sure where to start? Mauricio recommends starting by farming for potential investors so you have an investor pool to pick from when you're ready to do a deal.
He also recommends making sure your entity and asset protection structure is in place. This can be done BEFORE you find your deal.
Want more information? Click here to check out Mauricio's exclusive webinar, Practicing Safe Syndications. And consider attending our Secrets of Successful Syndication Seminar, where Mauricio is a staple speaker annually.
We wish you safe syndicating!
---
More From The Real Estate Guys™…
The Real Estate Guys™ radio show and podcast provides real estate investing news, education, training and resources to help real estate investors succeed.
For Valentine's Day we thought we'd muse on why the right real estate is easy to love.
Of course, the operative word is "right" … as in Mr. or Miss "Right" …
… because anyone who's been in a bad relationship knows it's hard to have the right relationship with the wrong person.
And the same is true with real estate.
Right now, stock investors are realizing their investment vehicle of choice is a little bi-polar.  When it's good, it's great.  But when it's not … watch out below!
As we've already noted, we view the volatile stock market as a wonderful gift.
And while we don't want to judge anyone else's relationship … for us, it refreshes our love affair with the right real estate.
So let's take a look at some clues in the news about where we might find the right real estate.
Retail vs Industrial vs Multi-Family
As is often the case, the flip-side of a problem is an opportunity.  In the case of the allegedly Amazon fueled retail apocalypse, the flip-side winner is industrial.
In fact, this NREI Online article reports on their survey of commercial real estate investors … and some interesting points are raised …
" … the industrial sector is giving multi-family a run for its money."
" … whether it comes to occupancy rates, rents or even cap rates, sentiment has improved …"
"A majority [of respondents] think [the expansion cycle] will last more than a year …"
Now if you're not a commercial property investor (yet) … there's still useful insights here for you too.
For residential real estate investors … both single- and multi-family … it's smart to pay attention to the flow of industrial and office investment.
After all, your residential tenants need places to work.
So when you see capital flowing into industrial and office properties, it can be a good sign for local area employment.
The survey also found …
"… a majority of respondents (64 percent) said warehouse / distribution facilities in traditional locations would be most in demand going forward."
And quoting one of the respondents …
"E-commerce has resulted in changes to product shipment from distribution centers, as opposed to from retailers."
These surveys are interesting because they represent fairly current viewpoints of marketplace actors.  These aren't economists, researchers, or academics.
The respondents are the people with the checkbooks … who are deciding whether and where they'll invest … or not.
So it's one thing to listen to experts speculate on what decision-makers will do … and another to hear directly from market participants.
It's just another of the MANY reasons why we attend live conferences where we can have "man in the market" conversations …
… often with people who have no marketing agenda … and are willing talk candidly about what they're doing and why.  Those conversations are gold.
While far from scientific, it's a great way to get a sense of a market, sector, or demographic … and affirm whether or not some pundit's prediction has any real-world validity. 
Shift Happens
As e-commerce changes how retail businesses operate, their landlords feel the pain too.
But as the retail business shifts from walk-in to delivery service … while challenging for mall operators,  it means a big boom for distribution …
.. .and the markets, properties, and jobs that make distribution happen.
We've been longtime fans of distribution towns like Memphis and Dallas for this reason.
Other great things about distribution include the creation of working class jobs (great for tenants),  in relatively affordable areas (better ROI on properties).
And those jobs are impossible to offshore because the work needs to be done near the consumers.
Of course, we hope President Trump's pledge to bring manufacturing back to the United States works out "bigly".
So we're watching for the revival of rust-belt markets.  If we see commercial money move in, then residential is probably not too far behind.
But until manufacturing brings the front-end jobs back to the U.S., distribution is the other end of the supply chain.
After all, when all the stuff made in China and Mexico arrives in the United States, it needs to be distributed to the local consumers.
Commercial Investing … Not Just for the Rich
If you've ever gone shopping for a warehouse, big apartment complex, or mobile home park, you probably noticed they're a little pricey.
But you don't need to feel left out.
The secret to going bigger is syndication.  It's a way to take your real estate investing hobby and turn it into a full-time enterprise … with a lot of upside.
It's not as complicated as it seems because you can even hire the experts and mentors you need in whatever niche you choose.
We've seen many mom-and-pop investors build big multi-million-dollar portfolios simply by sharing their deals with private investors.
Of course, the other side of the opportunity is to be one of those "silent partners" in a syndicated deal.
So we created the Investor Registry to help private investors find the kind of opportunities they're interested in.
Looking for Mr. (or Miss) Good Deal
Only the older folks will have any idea what that means … but everyone who's ever date to find a good match knows it can be a minefield.
And yet, almost everyone does it anyway.
We realize the urge to invest isn't as compelling as … well, you know …
But the point is there's some work to do to find the investment markets, sectors, and opportunities best for you.  No one can do it for you … and it won't happen by itself.
But like true love … when you find it, it's awesome and totally worth the effort.
Until next time … good investing!
---
More From The Real Estate Guys™…
The Real Estate Guys™ radio show and podcast provides real estate investing news, education, training, and resources to help real estate investors succeed.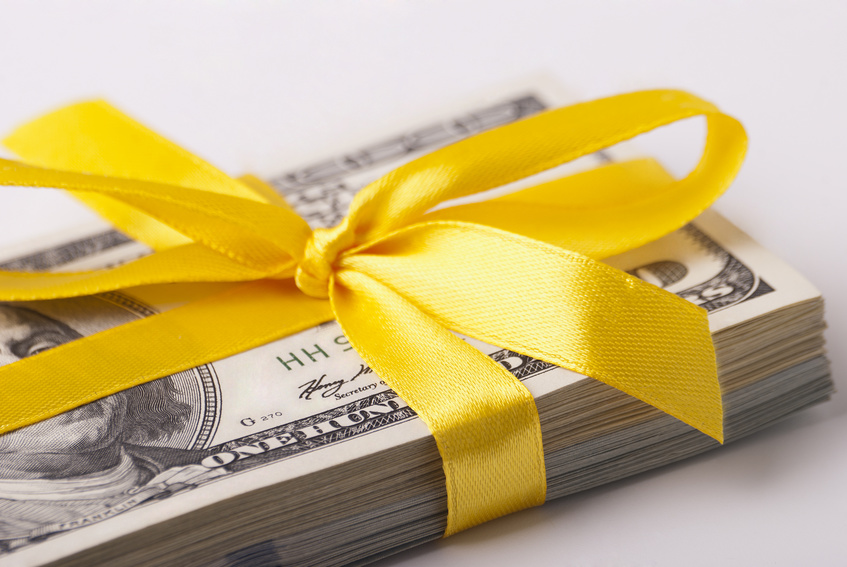 Stock Market Volatility Creates Opportunity for Real Estate Investment Syndication
We all want life on our terms.  The perfect opportunity at just the right time … where we don't have to think, work, or go out of our way to hit it big.
Be honest.  If you didn't get in (and out) of Bitcoin at the right time, aren't you just a LITTLE jealous of those who did?  We are.
But even many of those Bitcoin millionaires have taken it on their crypto-chin since the easy money train went off the rails.
The market giveth and the market taketh away.
Tom Brady said it best after the Super Bowl …
"Losing sucks.  But if you want to win, you have to play the game."
… and risk losing.  Of course, we're pretty sure Tom didn't lose too much.  And if you're playing the right game, even losers can come out okay.
That's what we love about real estate.
Sure, it's not as exciting as the roller-coaster rides of speculative exchange traded assets like cryptos, stocks, bonds, and ETFs.  But you can still make BIG money with real estate playing a very conservative game.
Right now, the market is reminding lots of paper- and digital-asset speculators that big ups often come with big downs.  So people with lots of money in those markets are realizing safer havens are pretty attractive when the tide turns.
And that's a GIFT TO YOU …
Because when you know how to make (or find) boring, reliable, stable, dependable returns … of 8-20% … with a time-tested asset like real estate … YOU are a HOT commodity.
We've been saying for years this is a GREAT time to become a real estate syndicator.  And it just keeps getting better.  There are TRILLIONS of dollars invested in paper assets through brokerage and retirement accounts … and folks who've been in those markets a while are sitting on some fat gains … BUT they're nervous … and rightfully so.
Some have already moved to cash to play it "safe" … and because they don't know what else to do.  But the dollar's been weak, and although interest rates are rising, inflation is rising faster … so the net gain on parked cash is negative.  That's a losing deal.
Enter YOUR big opportunity … syndication.
When stocks tanked in the dot-com bust, billions went into real estate for safety with yield and a hedge against inflation. 
Sure, real estate got a black eye in 2008 … even though it was a credit market problem and not a real estate problem.  But smart people realized the fundamental need for real estate didn't end with the financial crisis … and many smart investors scooped up bargain properties, just as rental demand increased because of the financial crisis.
Real estate investors have made a lot of money over the last ten years … just like stock investors.  But right now, stock investors are being reminded of the volatility of the stock market and the relative stability of real estate.
Give Nervous Stock Investor the Gift of Real Estate Syndication
Stock investors are RIPE for offers to invest in real estate.
And when you learn the secrets of successful syndication, YOU can attract many millions of dollars from frightened stock investors into the safer haven of real estate.  Best of all, syndication allows you to become wealthier helping wealthy people grow and protect their wealth.  It's an epic win-win.
Often in business and investing the best play is simply to take what the market's giving you.  Right now, it seems to us the opportunity to raise money for real estate deals just got even better.
---
More From The Real Estate Guys™…
The Real Estate Guys™ radio show and podcast provides real estate investing news, education, training, and resources to help real estate investors succeed.