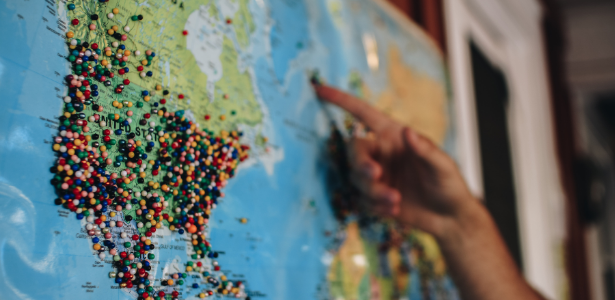 In an age of macro-economic turmoil and stress, the risk of the tide going OUT is far greater than the odds of a rising tide lifting all boats.
So as Warren Buffett famously quipped …
"Only when the tide goes out do you discover who's been swimming naked."
And of course, if that happens to be you … it's often expensive and embarrassing to have your shortcomings exposed.
Anyone paying attention right now expects the tide to go out any time now. In fact, many pundits are shocked the Fed has been able to prop things up this long.
So for strategic real estate investors, market selection matters more now than ever. You can't count on a rising tide in all markets.
People and prosperity will start to flow away from some markets and flood into others. We're already starting to see this polarization.
Get it wrong, and there you are in your financial birthday suit with water around your ankles.
Get it right, and your portfolio of "average" properties has you floating in equity and cash flow amidst a flood of demand with capacity to pay.
Long time followers know when we say "markets" we're referring not just to geographies, but also product niches and demographics.
So it's places, products and people.
And when times get tough … which is what's clearly on the weather report …
… the question is: where will people and businesses go, and what kind of real estate will they need?
If you only invest in your own area, this might seem simple.
After all, you know the lay of the land well. You talk to people. You have your thumb on the pulse of the local market.
But if you don't happen to live in a great investing market … and the local economy or cash flows don't make sense … then you need to look for clues about markets that might make sense.
For example, Visual Capitalist just put out a nifty 3D map they call …
The U.S. Cities With the Highest Economic Output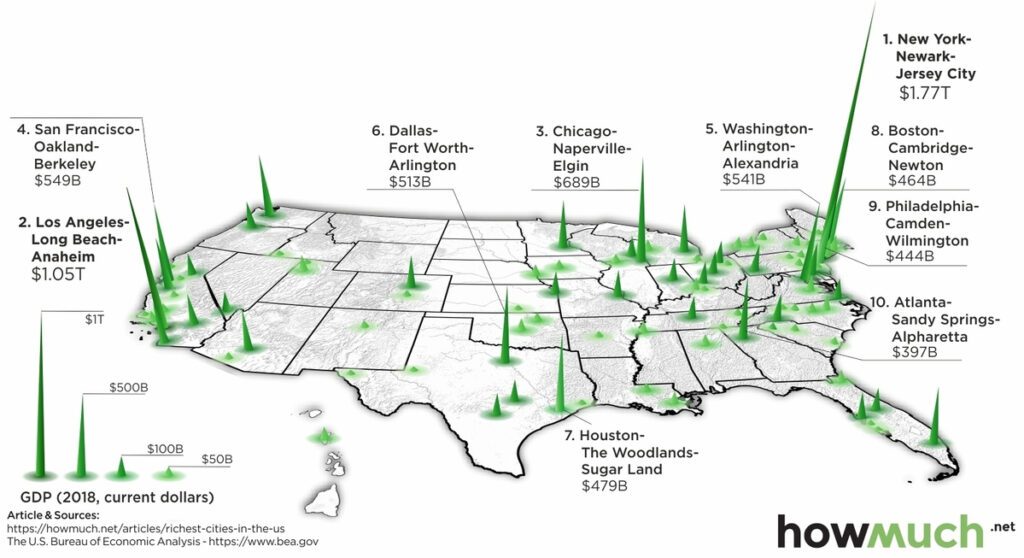 Of course, these aren't really cities … they're metros.
But it's a great top-down start for homing in on a local geography in which to search for teams and opportunities.
However, this is only a start. There are several other factors to consider when delving into markets … but strong economic activity is a biggie.
So before you jump on a plane and tour the nation, dig a little deeper.
If you're a residential rental property investor … single or multi-unit … there are several markets you'd probably eliminate from consideration, simply based on their hostility towards landlords.
Losers in this category would be California, Illinois and New York. In fact, of these ten, probably all but Texas and Georgia would get crossed off our short list.
Of course, while the macro-financial strength of a metro is a solid sea and can float a lot of boats …
… trends in the economy and employment also matter quite a bit too.
Remember … the Titanic was a big, powerful ship. Even after it started leaking it still seemed very robust. Many thought it could leak without sinking.
Of course, those passengers who didn't understand what was happening or didn't take it seriously were slow to make it to the lifeboats.
By the time the slow-movers were looking for safety, the best spots were all taken. It didn't end well for them.
Keep this in mind when deciding how to navigate this current crisis.
Another important thing to remember when shopping for real estate markets, jobs and population matter … a lot.
LinkUp.com puts out a lot of great (and expensive) data … but sometimes you get free samples that are useful.
In this case, they did a study of Changes in New Job Openings for a one-month period and created this very cool state-by-state graphic …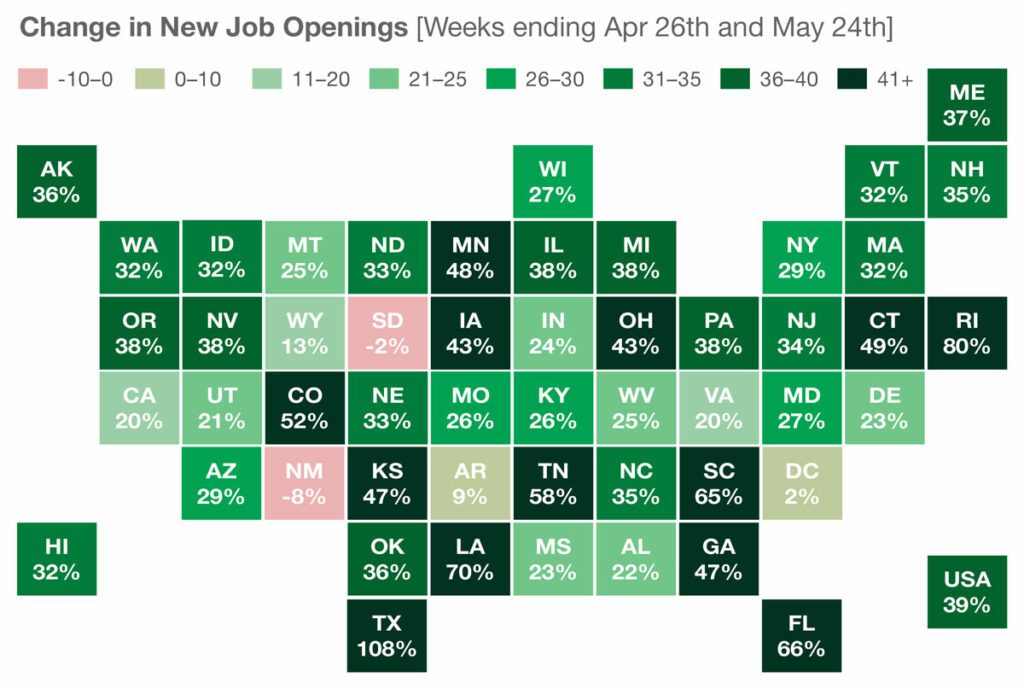 This adds a little color to the analysis … literally. 😉
Our audience knows some of our favorite markets for the last several years are in Florida, Georgia, Tennessee and Texas.
These numbers don't surprise us because these are business-friendly, landlord-friendly, relatively affordable markets.
Of course, this is just a snapshot … but it's another clue about where to search for resilient opportunity.
Another fun resource is Zumper.
They have a semi-interactive tool which visually shows internet search volume for where renters are interested in moving to.
Seems like that would be good to know.
Here's an interesting chart they recently put out …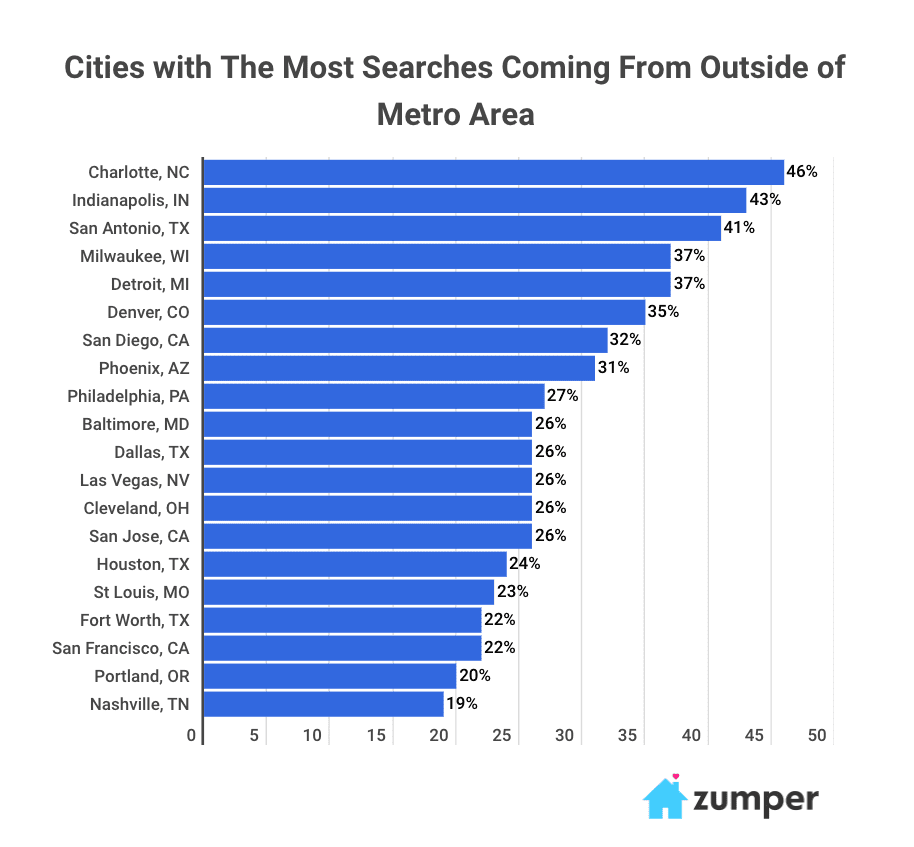 As you can see, there are some new markets to consider adding to the research bin to see how they stack up in terms of strength in economy, jobs, and landlord friendliness.
While we love top-down data … we like to compare and contrast it to "thumb on the pulse" feedback from people who know the market intimately.
For example, we can see from this data that Indianapolis is attracting a lot of interest. We just don't know WHY.
But we learned from talking with our Boots On The Ground correspondents, Indianapolis has been the beneficiary of people fleeing Illinois.
Our point is that as we continue to navigate this COVID-19 induced cascading crisis … people ALWAYS need certain types of real estate … and residential is always at the top of the list … no matter what's happening.
People and businesses will move to pursue or preserve quality of life and opportunity … which is about income, expenses, amenities, and climate (weather and business).
In good times and bad, there will always be winners and losers.
Investors who win are more strategic, informed, well-advised and supported, and therefore more aware, prepared, brave and bold … and move smartly and decisively as trends emerge.
To paraphrase Charles Dickens … these are the best of times and the worst of times … and history proves both are ever-present.
So it's not the circumstances which make times good or bad. Success depends on how well each individual responds to whatever is happening.
The good news and the bad news is … each of our individual destinies remains largely our own responsibility.
If that thrills you, then you've probably got skills and a great team … and are looking forward to the impending economic white waters.
If it freaks you out, then it's probably time to work on your training, tribe and team as a top priority.
The great news is it's never been easier to find great ideas, information, people and resources. Those all lead to great opportunities.
Thanks for being a part of our tribe … and for reading our stuff. We like it when you reply, give us feedback, comment on our videos. Especially while we're still in semi-lockdown.
We look forward to getting back into visiting with our audience at live events … but until then, we'll see you on the radio, podcast, social media and YouTube.
We're stepping up our content creation now because talking heads on mainstream financial media don't understand real estate investing.
They don't talk about real estate investing because it doesn't promote or protect Wall Street … and real estate is not an asset class or commodity.
But because properties CANNOT be used as chips in the casinos, they're much more stable in stormy seas. We think that's going to become VERY attractive.
The right real estate in the right markets controlled with the right financing and managed by the right team is about as good as it gets for building resilient wealth in tumultuous times.
Keep this in mind while watching the storms … and as you focus on the fundamentals, your odds for success go way up.
Until next time … good investing!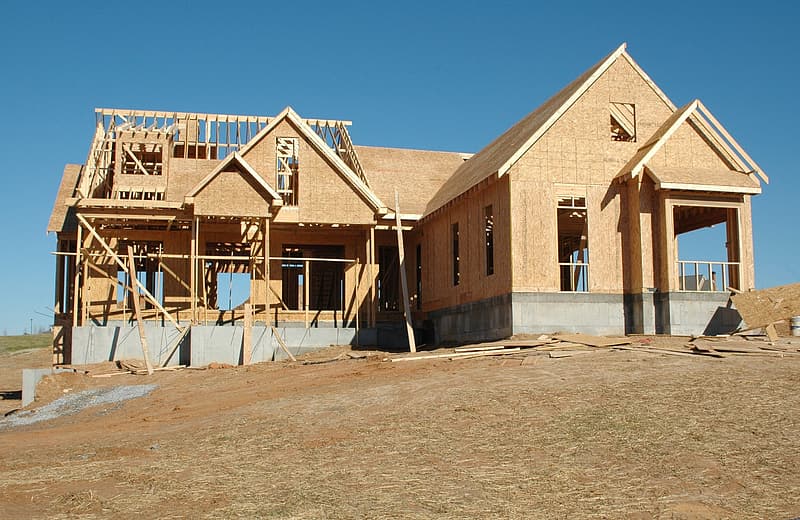 What do you do when a housing shortage meets a shortage of home buyers? 
It's real estate investors to the rescue! Developers are finding big opportunities building homes to cater to the needs of landlords. 
We're talking with two developers who are taking the hot concept of build-to-rent to new heights. 
In this episode of The Real Estate Guys™ show, hear from:
Your informative host,

Robert Helms

His inquisitive co-host,

Russell Gray

CEO of Sage Oak Assisted Living,

Loe Hornbuckle

Loe's partner and construction developer,

Austin Good
---
Listen
---
Subscribe
Broadcasting since 1997 with over 300 episodes on iTunes!
---
Review
When you give us a positive review on iTunes you help us continue to bring you high caliber guests and attract new listeners. It's easy and takes just a minute! (Don't know how? Follow these instructions).
Thanks!
---
A new approach to rental property 
We're talking about a niche that is getting hotter and hotter by the minute. It's something that lots of people can participate in … build-to-rent. 
Traditionally, builders have been buying land, building, and then selling what they built. 
But more and more, there is the idea of building the end product not for someone to buy and use … but for someone to rent. 
Most renters are looking at older properties … single family houses, apartments, townhouses … all already up and running and built for owner occupants. 
They may not be ideal as a rental for either the tenant or the landlord, but they work fine. Now, these properties are being built with the tenant specifically in mind instead.
We read a lot about the millennials and their debt load and inability to purchase houses. That means more people renting their homes and a giant demographic of young people that need a place to live. 
On the flip side, you've got a lot of interest in real estate as an asset class for the first time … so there is opportunity. 
Big benefits in build-to-rent projects
We're talking to two men who have found the secret sauce in build-to-rent properties … Loe Hornbuckle and Austin Good. 
Austin started out as a real estate agent and quickly began flipping single family rental properties. But when inventory started to tighten he thought, "Maybe we should just go in, buy land, develop it, and build to rent."
Doing so meant you could control the entire process a lot better and easier. "And as we did that, we found a lot of demand from investors," Austin says. 
Some of the benefits of the build-to-rent scene is that investors are usually ready to close right away. You don't have to wait things out depending on the market as much as a traditional developer. 
Physically, there are ways to optimize properties with renters in mind as well. 
"The biggest differences come down to durability of certain goods. We've gotten rid of carpet altogether in all of our deals because LVT flooring is more durable for a rental market," Austin says. 
Austin also says that they design the homes with the investor's exit strategy in mind. 
Right now, these properties will be used as rentals … but in 10 years the investor may want to sell to an owner occupant. It all depends on how the market changes. 
On that note, build-to-rent as a niche is fairly recession resistant. 
"These types of properties are a Class-A product that can rent for a Class-B price. You also don't have to compete in the amenities space like apartment buildings," Loe says. 
Currently, Austin and Loe build a combination of duplexes and townhomes … so people treat them as single family residences and don't expect all the extras of an apartment complex. 
The other big pull for this niche, Loe says, are the tax advantages. 
When you sell a product, you're being taxed. But build-to-rent has the advantage of the government realizing you are building affordable, clean, safe housing, so it offers many breaks and cuts to help you out. 
Then, you have the low turnover rate to consider. The two biggest expenses in renting are turnover and vacancy. If you can minimize those things … you're in great shape. 
The tenants that come into build-to-rent properties treat them like they are their own, and they become attached and stick around. 
A big appeal of these build-to-rent properties right now is that they give the tenant the chance to rent something that is brand new or only a year or two old. 
Compared to living in a 25-year-old property … new is very appealing. 
In short, build-to-rent is a long-term asset with multiple exit strategies and multiple uses. 
Syndication in build-to-rent
Efficiencies are important when you're undertaking a large project … and that's exactly what Loe and Austin are doing. 
Their current project in Denton, Texas, has almost 90 units … which offers opportunities for a streamlined workflow and other efficiencies that mean more profit for builders and a better deal for investors. 
They also have a unique approach to ownership. Instead of selling individual units, they are collectively owning them. 
Many of Loe and Austin's current projects are in Opportunity Zones. One aspect of investing in these areas is you have to hold the property for 10 years to get the maximum tax benefit. 
For many investors, investing in an opportunity zone is solely for the tax benefit … and with build-to-rent style investments, there are many additional bonuses for passive investors that want to get involved. 
Passive investors can see the tax advantage and return they want and are willing to hold the property for an extended amount of time. 
That's why Loe and Austin focus on real estate syndication. Individual owners are foregone in favor of a leasing agent and maintenance staff that oversee the project. 
To learn more about syndicating in the build-to-rent niche … listen in to the full episode!
More From The Real Estate Guys™…
The Real Estate Guys™ radio show and podcast provides real estate investing news, education, training, and resources to help real estate investors succeed.
---
Love the show?  Tell the world!  When you promote the show, you help us attract more great guests for 

your

 listening pleasure!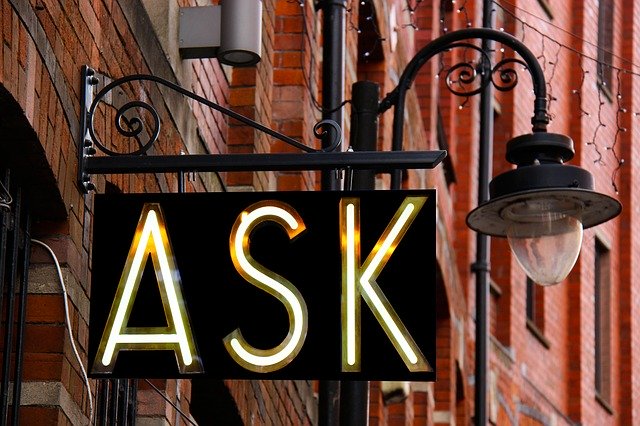 That's right. It's another episode of our favorite topics from our favorites guests … YOU!
It's time for another segment of Ask The Guys … and we're ready to tackle the tough questions. 
We're touching on 401ks, purging portfolios of problem properties, and how to prepare for what many believe is an inevitable bust. 
And … there's more!
The best way to learn is from each other. 
Remember … we aren't tax advisors or legal professionals. We give ideas and information … NOT advice. 
In this episode of The Real Estate Guys™ show, hear from:
Your succeed-or-bust host,

Robert Helms
His bust-a-gut co-host, Russell Gray
---
Listen
---
Subscribe
Broadcasting since 1997 with over 300 episodes on iTunes!
---
Review
When you give us a positive review on iTunes you help us continue to bring you high caliber guests and attract new listeners. It's easy and takes just a minute! (Don't know how? Follow these instructions).
Thanks!
---
401k sitting idle
Our first question is from Lenedia in Forney, Texas. She says she has about $16,000 left in an old 401k plan that's just sitting idle. 
She wants to invest this money in real estate or in another niche that would give her a profit within a year … but she wants to know our advice for a first time investor. 
Well, we don't give advice … but we are happy to share ideas. 
The duration of the investment is always an important factor. When you're looking for a return in a short period of time … it limits the things you can invest in. 
When you're using retirement savings … there are some rules and some risks. 
The best thing you can do as a first time investor is get educated. Invest in investment. The good news is that it doesn't cost that much. 
In this particular case, you'll want to learn about 401k plans and how they dictate what you can invest in. 
Maybe you're at a point in your life where it's time to start taking distributions from retirement. In that case, you may make different choices about where you invest the money. 
One of the big advantages of retirement account investing is that it isn't subject to the same taxation.
But again … the most important thing you can do is educate yourself on all the options before you make a decision. 
What to do with non-performing properties
Christopher in Anchorage, Alaska, started purchasing multi family real estate in 2013. Currently, he's sitting on two unfinished, non-performing properties.
Christopher says he either needs to find a buyer that wants to finish the properties … or an investor willing to front the funds so they can be finished and flipped for a cash out. 
What have we seen in these types of situations?
The real essence of the question is, "How do you get rid of a property you don't want?"
Anytime you're looking at an investment decision, you're looking at its current condition. Whatever it is … it's worth something in its current state. 
That worth is your baseline. Then, you look at what the potential of the property is … and what it is going to take to bridge the gap between where it is and its potential. 
If you can bridge that gap and make a profit … it may be an opportunity … but it still might not be the opportunity for YOU. 
Have other investors in your life come and look at the property and the market and ask them what they think the opportunity may be. They may see an opportunity that you don't … or they may want to take it on themselves. 
Either way, it's time to take a look at how the properties got this way to begin with. Why did this project croak on your watch?
Use it as a learning opportunity … and if you decide to take on the project yourself, you'll need to be able to explain what happened to other investors. 
When you take the property to market … you may just decide it is best to take a loss on it and move on. Nobody gets through this business clean. 
Extra billions and the bust 
Jason in Merrick, New York, wants to know if we see the recent creation of billions of dollars pumped into the banking system having an impact on real estate. 
In the U.S. and many other countries, there is what we would term quantitative easing … printing money and creating billions of dollars out of thin air. 
Of course, there are ramifications. And there are a couple of things to think about. 
Lots of this capital gets into the system, and it doesn't get back out again. That's how it stays contained. 
People have access to the capital through whatever means bid up the assets that are in demand. 
That being said, there's a lot of motivation on a lot of people's parts to prop up real estate … because bankers make loans against real estate.
If those loans go bad … if real estate prices drop … the voters that live in those homes get angry at politicians. 
Some politicians are very motivated … that's why you see a lot of effort to create subsidized financings and easing lending guidelines. 
All that to say that historically, more money being pumped into the system is good for real estate in the long term. 
Sometimes, it does create major disruptions in the credit markets. When that happens, credit markets dry up like they did in 2008 … and that has a negative impact on real estate prices.  
But, if you're a cash flow investor and you're controlling your real estate with prudent cash flows and long term structured debt that isn't going to be called … you can ride that wave out. 
If prices were to crash again, we think it would be fair to expect that the powers that be will do exactly what they did last time … funnel lots of money into real estate until they can re-inflate. 
So, there are a lot of maybes and what ifs … but generally, real estate is the winner when there is more money floating around in the system. 
More Ask The Guys
Listen to the full episode for more questions and answers. 
Have a real estate investing question? Let us know!  Your question could be featured in our next Ask The Guys episode.
More From The Real Estate Guys™…
The Real Estate Guys™ radio show and podcast provides real estate investing news, education, training, and resources to help real estate investors succeed.
---
Love the show?  Tell the world!  When you promote the show, you help us attract more great guests for 

your

 listening pleasure!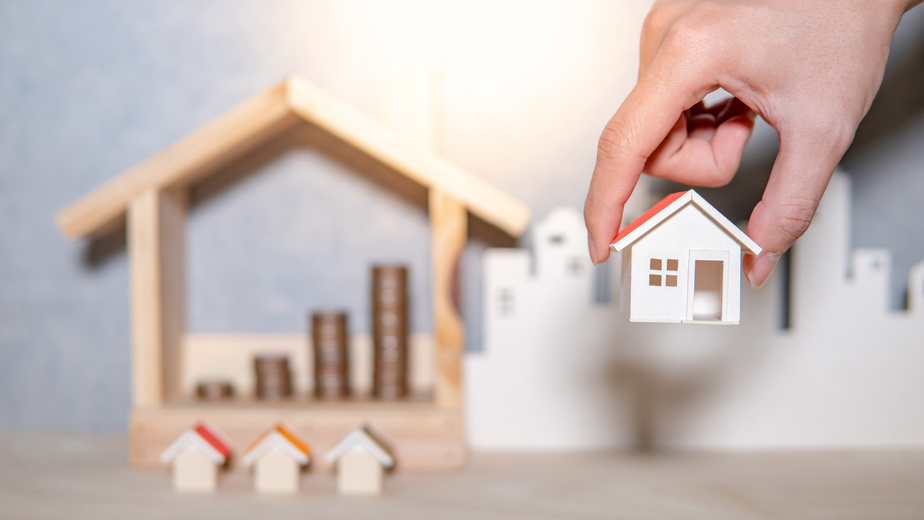 Everyone loves a hot market! But hot markets have their disadvantages. 
When markets heat up … prices go up … and yields go down. 
But that doesn't mean investors are stuck. 
There are things you can do to adapt and keep cash flow up … without having to change markets. 
We sat down to chat with our good friend John Larson to find out how he has made the most of one of the hottest markets in the last ten years. 
In this episode of The Real Estate Guys™ show, hear from:
Your heating up host,

Robert Helms

His hot-head co-host,

Russell Gray 
Managing Partner of American Real Estate Investments, John Larson
---
Listen
---
Subscribe
Broadcasting since 1997 with over 300 episodes on iTunes!
---
Review
When you give us a positive review on iTunes you help us continue to bring you high caliber guests and attract new listeners. It's easy and takes just a minute! (Don't know how? Follow these instructions).
Thanks!
---
Adapting in a hot market
Dallas, Texas, has been a hot spot for real estate investors for the last decade. But .. like any market … the tide is starting to turn. 
After 2008, the rules of the market changed. 
Dallas stood out because it had not one … not two … but multiple drivers. 
It had population. It had education. It had transportation. It had a business-friendly environment, low income tax, medical finance, tech distribution … it was the whole package. 
It ended up being the best real estate market of the past ten years … and it's not over yet … but yields have changed a lot. 
So, what's an investor to do?
As Managing Partner of American Real Estate Investments, John Larson has had to adapt to the changing Dallas market. 
Many people knew John and his team as the Turnkey Single Family people in Dallas … but his company has had to change what they do while maintaining the big picture of WHY they did it. 
Debt syndication and using your retirement to make money now
John says that the Dallas market is hotter than ever … but in 2017, the cap rates on the single family homes started to get compressed. 
"You can only push rents up so far," John says. "The values of homes kept going up because of the demand, so property went up as well."
John says his investors came to him primarily for cash flow. They were looking for passive income. 
So, John needed to find some new ways to provide that cash flow that investors came for in the first place. 
The first project they took on was debt syndication … partnering with a developer and syndicating funds on the debt side. 
"We came in as lenders to buy the lot and get the construction completed and get those units leased as office space," John says. 
A debt investor is someone that wants to have predictable income flow again, and it's not as risky as other ventures … with the opportunity for BIG returns. 
At some point, you have to graduate from single family houses and move to the next level, like multifamily or office space. 
John says there are great deals to be found … but you have to do a little nosing around. 
And you can't beat the opportunity for passive investing. 
With debt syndication, investors can be very hands-off and get as high a return as possible. 
Especially for the investor who is looking to lend money from their IRA or 401k, debt syndication is a great passive experience for them and a great way to maximize their retirement accounts. 
Many people don't understand that they can put their retirement dollars to work … but as soon as you can self direct your retirement funds … you've opened up a whole world of alternative investments. 
Because of the nature of a retirement account, you can't have a current benefit. It is really for tomorrow, not for today … so passive investments just make sense. 
These are solid deals in solid marketplaces … but people have a hard time getting their minds around why someone would want to use debt. 
In good deals, the asset pays back so quickly that there's not a lot of risk on either side. 
It really just depends on how your personal investment philosophy fits in. 
Keep your money working 
If someone is looking to put their money to work in a debt syndication type of deal, the big question is … how long is this deal going to take?
John says that the longest term he has done so far was with a new construction project … that was 18 months. 
The average term for a deal is usually about one year. 
"We want to get you money back within a year and have another deal lined up for you so you can keep your money working," John says. 
Keeping your money working … that's the key to finding high yields in a hot market. 
Learn more about the Dallas market and how John and his team are finding new ways to create cash flow without changing markets by listening in to the full episode. 
---
More From The Real Estate Guys™…
The Real Estate Guys™ radio show and podcast provides real estate investing news, education, training, and resources to help real estate investors succeed.
---
Love the show?  Tell the world!  When you promote the show, you help us attract more great guests for 

your

 listening pleasure!
As major markets grow and mature, residents and businesses start to feel the financial pinch … and follow their wallets to greener pastures.
Savvy investors recognize trending, emerging markets and migrate there in search of value.
It's all about monitoring where people are moving … and moving faster.
Listen in as we visit with a multi-market investor to find out why and where he is looking for opportunities.
In this episode of The Real Estate Guys™ show you'll hear from:
Your moving-up host, 

Robert Helms

His moving-over co-host, 

Russell Gray

Fourplex Investment Group consultant, 

Steve Olson
---
Listen
---
Subscribe
Broadcasting since 1997 with over 300 episodes on iTunes!
---
Review
When you give us a positive review on iTunes you help us continue to bring you high caliber guests and attract new listeners. It's easy and takes just a minute! (Don't know how? Follow these instructions).
Thanks!
---
Metros on the move
One of the most crucial tasks for a real estate investor is finding a market that matches their real estate philosophy.
As an investor, you must think about the personality and culture of your portfolio … then find a location that offers opportunities for growth and cash flow.
On your own, you can do high-level research on rent prices, population growth, job creation, and infrastructure … but you need a team on the ground to succeed.
A local team is in touch with the minute details of a market. They can point you to the specific areas of a metro that are best for your investment.
We rely on people on the ground to help us understand what markets our listeners should have on their radars. Steve Olson is one of those people.
As a consultant for Fourplex Investment Group, Steve oversees several up-and-coming markets … and he is here to introduce us to three metros attracting attention now.
Salt Lake City, Utah
There are a lot of exciting things happening in this rocky mountain metro.
The greater Salt Lake City area encompasses a lot of cities … each with unique investment opportunities and cultures.
This long, skinny metro follows the mountains of the Wasatch front … and houses a little over 2 million people.
A high birth rate paired with large numbers of people migrating from other states is a testament to the metro's family-friendly and business-friendly culture.
With mountains on both sides, the area is a hot spot for skiing and other winter sports. In the summer, hiking and biking are popular attractions.
From a real estate perspective, Salt Lake has been a stable market for some time now … but it's growing faster and faster.
Two key areas that draw investment attention are Silicon Slopes and the Northwest Quadrant.
Silicon Slopes is home to towns like Lehi, American Fork, and Draper. The nickname refers to the large number of tech companies that have set up shop there.
Organizations like Adobe, Ancestry.com, and even the National Security Agency (NSA) have built major hubs in the area.
With a rapid influx of new residents, there have been some growing pains for the tech towns … but infrastructure is catching up and new construction is BOOMING.
The Northwest Quadrant is what Steve calls "an interesting opportunity." Being surrounded by mountains leaves only so much space for new growth.
"For many years, you would just consider it a barren wasteland," Steve says, "but now it is the only direction to go."
The Northwest Quadrant is near the Great Salt Lake and the Salt Lake City International Airport.
"If you want land in any kind of quantity that's affordable, that's the direction you have to go," Steve says.
Businesses recognize this and are embracing the blank slate. Amazon recently built a new shipping facility in the area, and so did UPS.
Thousands of new jobs mean new residents … and those residents are looking for affordable places to live.
The two main cities in the Northwest Quadrant are West Valley City and Magna.
In the past 15 years, only ONE new apartment complex has been built in those cities … and it is operating at 97 percent occupancy.
Steve says the location has lots of potential. Tenants can enjoy new, clean, affordable places to live and get to downtown Salt Lake City in 15 minutes.
"You're going to look at that area in 5 to 10 years and not even recognize it," Steve says.
Houston, Texas
Houston, Texas, is a go-to market for many investors … but a recently completed toll road is opening new parts of the area for investment opportunity.
After Hurricane Harvey, the fate of the Houston metro housing market was uncertain. But just four weeks after the storm, home sales had rebounded and seen the greatest rental activity of all time.
More and more growth is flowing into the northwest part of the Houston metro. For many tenants, Cypress, Texas, is the destination.
This suburb has become one of Houston's largest communities and recently ranked 50th in the top 100 highest-income urban areas in the country.
The oil and gas industry have a major presence in the area, as well as the healthcare, aviation, and distribution sectors.
With a diverse, expanding economy, Cypress is on track for significant job and population growth … a great sign for real estate!
Boise, Idaho
You don't normally hear a ton about this market because it isn't a giant metro. As of 2018, about 700,000 people call Boise, Idaho, home.
But Steve says if you dig into the stats, you'll feel very confident in its potential. People who are tired of metros like Portland and Seattle are going to Boise.
"Boise is more business friendly, but you're still in the Pacific Northwest," Steve says.
Quality of life in the area is marked by access to plenty of outdoor activities like biking, rock climbing, water sports, and skiing.
The metro is notable for its population and job growth … triple the national average … and is landlord-friendly. And who could forget the low taxes?
New residents are moving into suburbs like Nampa and Meridian and targeting new construction.
Find your niche and your market
No matter where you invest, there are many ways to put your money to work for you … and these markets are no exception.
The approach Steve takes with Fourplex Investment Group is a particularly unique niche.
By building brand-new apartment buildings on empty land, Steve and his team can meet rising space needs and offer great incentives and returns for investors.
That means instead of buying the 40-year-old fourplex down the street, you can buy four units in a 100-unit, brand-new apartment complex.
And you're not at the mercy of apartment or commercial financing!
Whatever your investment approach and chosen market, remember that it is all about finding an opportunity that matches YOUR philosophy and works for YOU.
---
More From The Real Estate Guys™…
The Real Estate Guys™ radio show and podcast provides real estate investing news, education, training, and resources to help real estate investors succeed.
---
Love the show?  Tell the world!  When you promote the show, you help us attract more great guests for 

your

 listening pleasure!
Cypress, TX Market Report
Everything's bigger in Texas … including investment opportunities. High occupancy rates, rising rents, and a growing economy … welcome to Cypress!
Head north of Houston and stumble into a suburban paradise.
Cypress, Texas, is the area's largest suburban community. Amid thick-forested areas and ranch land are single and multifamily properties filled to the brim with high-income tenants.
Reliable renters and rising rental rates make Cypress an excellent opportunity.
In this special report, the team at Fourplex Investment Group shares the most relevant data on the Cypress market. Discover:
Why the market is shifting to

high-density multifamily

properties

Data on occupancy rates and rent increase predictions

Information on economic and infrastructure growth

And more!
See whether Cypress is the right market for your next investment! Get started by filling out the form below to access the Cypress Market Report.
We're back again to tackle the questions we missed in our last Ask The Guys episode. We love these episodes and the opportunity we get to talk through some of YOUR real-world investing opportunities and challenges.
We hear from listeners dealing with tenant damage and security deposits, 1031 tax-deferred exchanges, nontraditional lending ideas and TONS more.
First, the ground rules.
We talk about ideas and information. When you're dealing with real money in the real world, you want to consult a professional. We don't offer legal, investment, or tax advice.
In this episode of The Real Estate Guys™ show you'll hear from:
Your problem-solving host, 

Robert Helms

His trouble-making co-host, 

Russell Gray
---
Listen
---
Subscribe
Broadcasting since 1997 with over 300 episodes on iTunes!
---
Review
When you give us a positive review on iTunes you help us continue to bring you high caliber guests and attract new listeners. It's easy and takes just a minute! (Don't know how? Follow these instructions).
Thanks!
---
Question: How soon can I move in after a cash offer, and how low can I go under the asking price?
Joseph in Tacoma, Washington, asked this question. The important concept to understand here is price versus terms.
Whether or not you offer cash or take out a loan, the outcome is essentially the same for the seller. What cash offers is a quicker payout with certainty.
But, this isn't attractive to every seller. In some cases, a quick closing isn't what a buyer wants at all, so the promise of quick cash won't be an incentive.
When you're negotiating with cash, make sure what you're offering lines up with the seller's priorities. A cash offer doesn't automatically mean a 20 percent discount.
Question: I rehabbed a rental property in Detroit, and now I'm ready to sell. My tenant wants to purchase the property, but she has limited cash on hand. How can I find a lender to do the deal?
Wilbert in South Field, Michigan, brings us this question. He wants to sell the home for $38,000, but the appraisal came back at $20,000. That price gap, as well as the location has made it difficult to find a traditional lender.
The first problem is that many banks won't do a loan for less than $50,000. If the lender is going to go to all the trouble to do the paperwork for a percentage of the loan amount, then the loan amount needs to be enough to get their attention.
Here are a couple alternatives for Wilbert to consider:
Find a private lender.

This might mean a higher interest rate for the buyer. But, that higher interest rate will be more likely to attract a lender.

Be the private lender.

Rather than finding an outside investor, work a deal with the tenant to have them pay the loan to you instead. If they pay off the mortgage, you've still had that steady stream of income. If not, you'll get the property back to rent or sell to someone else.

Find a different buyer.

If finding a private lender isn't possible, consider finding a different buyer who is able to get financing or purchase the home for the price you want to sell.
Question: When a tenant in our out-of-state rental moved out, they caused a lot of damage. Why don't tenants take care of their rentals better, and why are they surprised when they don't get their deposit back?
Renters view their home differently than an owner. How else do you explain that it feels like no renter owns a vacuum cleaner?
Damage to property is part of doing business as a landlord. But, Lauren in Charleston, South Carolina, did a lot of things right. They documented all the damage with photos before the tenant moved out, had a third-party realtor do a final walkthrough with the tenant, and got estimates from contractors to repair the damage.
Here are a few other things you can do to deal with damage:
A picture is worth a thousand words.

Take photos of the property BEFORE the new tenant moves in and get their initials on the photos. Then, when they're ready to move out, you can use those photos to justify the cost of any damage.

Open up a pet policy.

Many landlords are hesitant to allow pets in a rental. But, with a hefty pet deposit and even a little higher rent, you can come out on top.

Get a read on your renters.

As you screen applicants, be perceptive. We've also known people who will meet with potential renters at their current residence to see how they treat their current space. This may not be possible for everyone, but get creative and thoughtful about how you screen new renters.
At the end of the day, renters are more likely to treat a rental home with less care than you do. Damage and repairs are a cost of doing business, so make sure you build that into your budget.
Question: I want to sell my rental home in California, and I'm interested in the 1031 tax-deferred exchange to buy a new property in Texas. I'm confused by the IRS form and want to know if this will eliminate my taxes in California?
Cindy in Fort Worth, Texas, is definitely an A student!
First of all, we want to be clear that with this kind of complicated tax question, you need expert opinion and advice. A 1031 tax exchange intermediary will be well worth the cost and can answer all your questions.
The intent of the 1031 tax-deferred exchange is that if you sell a property and then purchase another property, you can defer the tax. As you buy and sell properties, you can continue to defer the tax, but there isn't a way to eliminate the tax completely.
Finally, try not to let the tax tail wag the investment dog.
Real estate offers many great tax benefits, which is one of the reasons we love it! But, when you're dealing with real money and the IRS, you need a team of experts to guide you.
Life is short, and you don't want to spend your valuable time reading an IRS form.
Question: How can I learn more and get coaching on real estate syndication?
Addie in Seattle, Washington, brings us a question that is near and dear to our hearts!
We recommend our Secrets of Successful Syndication seminar as your first step. Whether you want to be a syndicator and learn how to leverage money with a group of investors or invest passively in real estate, this is an event you'll learn a lot from.
In this seminar, we're teaching the strategies that have been a part of our investments for years.
We do have a coaching program, but you can only learn about it at the seminar during an OPTIONAL session after the two days are done.
If you want to register for the event and see if syndication is right for you, we'd love to have you!
Question: My wife and I have a real estate investment company with 23 doors under rent. We've found traditional lenders to be slow and cumbersome and want to simplify our lending process. How can we do this?
John and Karen in Troy, Ohio, are having trouble scaling their business because of lenders. They write that they'd be willing to pay a higher interest rate to make the process easier and more streamlined.
For traditional banks, the process is often necessarily slow. They need to do due diligence to make sure the investment is a good one.
Private capital is easier and faster, but it comes at a higher price. This can be done through syndication or networking to find interested investors. Make sure you're well advised and working with big deals, and you're well on your way.
We'd also suggest that with the rollback of some of the Dodd-Frank provisions, some of the restrictions on community lending have eased. If you haven't checked in with your community lender recently, it's worth getting to know them. They'll get to know you and your entire portfolio of properties and could be a valuable resource.
Question: I wasn't able to attend your events for the Future of Money and Wealth in Florida. But I'd sure love to get access to that information. How do I do that?
A listener in Hawaii wants to learn from the incredibly faculty we brought in to talk about how to keep up with the changing times in the economy.
This was a one-off event, and it was an incredible gathering of some of the best minds in a variety of subjects all focused on how to protect your wealth.
We recorded the event with a professional video crew and now have 20 different panel discussions and presentations available to watch.
You can visit the Future of Money and Wealth website to learn more or send us an email to future [at] realestateguysradio [dot] com. We'll get you all the details on how to access these videos.
Question: My schedule seems to be always booked up by the time I hear about the Belize discover trips. Do you know the future trip dates for later in the year?
Tim in Silverton, Oregon, like many of us, has a busy schedule and needs to plan ahead!
To find out events as soon as possible and to get them on your calendar, get on our advanced notice list. Head to the events tab on our website. If you find an event there, and the date doesn't work out, get on the advanced notice list and you'll get an email letting you know about future dates.
Our next Belize discovery trip will be August 24-27, and registration is open now! We hope to see you there.
Question: What is the definition of a performing asset?
Matthew in Nacomin, Florida, asks us the shortest question in our inbox!
Simply put, a performing asset is something that puts money in your pocket. The more cash flow, the more equity. If you have something on your balance sheet that doesn't put money in your pocket, it's not a performing asset.
When you consider an asset you can go for a fat cow, a performing asset that will come at a premium but continue to deliver, or a skinny cow, a non-performing asset that needs some work to get it performing again.
---
More From The Real Estate Guys™…
The Real Estate Guys™ radio show and podcast provides real estate investing news, education, training and resources to help real estate investors succeed.
We're sure you've noticed the upheaval certain areas of the U.S. … it's been hard to miss.
Hurricane Harvey and Hurricane Irma have swept Texas, Florida, and the Caribbean, leaving a path of destruction in their wake.
Every natural disaster brings a certain amount of tragedy, and our sympathies go out to those who are hurting from the storms.
But we're heartened to see communities coming together in the aftermath to help heal damage … and we think real estate investors can play a role in building communities that are even stronger than before the storms.
Listen in to this episode of The Real Estate Guys™ show to hear us brainstorm ideas about how investors can help … and how they can prepare for future disasters.
You'll hear from:
Your disaster-pro host, 

Robert Helms

His disaster-prone co-host, 

Russell Gray
---
Listen
---
Subscribe
Broadcasting since 1997 with over 300 episodes on iTunes!
---
Review
When you give us a positive review on iTunes you help us continue to bring you high caliber guests and attract new listeners. It's easy and takes just a minute! (Don't know how? Follow these instructions).
Thanks!
---
Finding opportunities in the midst of tragedy
Perhaps it makes you uncomfortable to think of profiting while people are suffering.
That's okay. In fact, it's more than okay … it means you have the right intentions.
But bringing your skills on to the scene after disaster has struck isn't simply opportunistic.
By getting involved, you're solving problems and adding value. This is the sunny side of capitalism.
You can make a fair profit … and make a difference too. Just make sure you're doing the right thing for the right reason.
Remember … the flip side of every problem is an opportunity.
In the aftermath of a disaster, there are myriad opportunities.
Investors can renovate flooded and damaged houses. Some houses will be lost causes until an investor decides to step in and put some capital to work.
But the opportunities don't stop there.
Out of necessity, huge disasters involve a large displacement of people. Investors can create new housing situations for displaced people.
And disasters also effect the local economy. Jobs are affected, causing a ripple effect for entire communities … including landlords whose tenants' jobs are affected.
Finding ways to revitalize local communities and create jobs can minimize damage and create huge amounts of good.
Smart choices at opportune times
Getting involved simply because there is an opportunity isn't always the smartest choice. Make sure you're getting involved because it makes sense and it's the right choice for YOU.
Investors have to know that after a major disruption, banks, government agencies, and other financial institutions may create incentives to sweeten the deal and get people involved.
After Hurricane Katrina, the Louisiana government created a "go zone" with adjusted depreciation rates.
These incentives can make investing in disaster-struck areas a smart idea … but we'd warn you to never let the tax tail wag the investment dog.
It's easy to get caught up in a temporary disruption and make a long-term commitment without realizing that circumstances may revert to what they were pre-incentives.
With that said, Houston is a favorable market … it's landlord friendly, with many major industries creating jobs.
Most of the things that make Houston make sense haven't changed. And if you want to invest there, there's no better time than now.
It may be smart to be the first to make a move … while everyone else is still panicking.
Putting money to work by investing
Let's look at properties that fall into distress.
Maybe the owners got stuck in a bad situation. Investors can step in pre-foreclosure, buy the home, rehab the property, and put it back into service.
You're doing good by helping the owners before they're foreclosed on, and you're making the neighborhood a better place … all in one fell swoop.
You're making a difference on the micro scale. The same idea works on the macro scale … when disaster strikes a whole community instead of a single person.
Disaster-struck cities will have blighted areas. Many may have been functionally obsolete even before the storm.
Now is the time to redevelop and rebuild … to create great neighborhoods where none existed before.
It wouldn't surprise us to see entire neighborhoods change composition if real estate investors have the good sense to identify trends and get in on investment opportunities early.
A smart syndication opportunity
Perhaps you want to help pick up the pieces … but you're not sure where to find the capital.
Incentives can help. You may also want to consider community banks, who will be eager to get investors on the scene as early as possible.
There's lots of capital out there. Not all of it has to come from banks, though … syndication is another great option.
Running syndication deals in disaster-struck areas gives people a great opportunity to put a chunk of cash to work. Instead of donating a small amount and getting nothing back, investors can see their money do good … and also make a decent profit.
Entrepreneurs look for a market problem and figure out a way to solve it … profitably.
Look for ways to solve problems instead of despairing about everything that's gone wrong.
Preparing for the next disaster
A big part of dealing with disasters … perhaps the biggest … is being psychologically and financially ready to step in when the next opportunity comes along.
Always be prepared. If you own properties, make sure you have the proper insurance in place.
Never risk 100% of your net worth. Always ask whether you're taking too much risk before jumping in to a deal.
If you want to be a first responder next time disaster strikes, it's smart to have a source of capital ready to deploy when the right opportunity comes up.
If you know you won't have enough capital on your own but think you're the right person to syndicate a deal for other investors, build your network before the right opportunity comes along.
Build your brand and your credibility. That way, you're not running around looking for people to invest when the time is right.
Just like the Boy Scouts, we'd encourage you to always be prepared.
Make sure you're aware of all possible downsides. Don't go in looking for the upside first.
Beware of trick ponies. In the words of Warren Buffet, "Rule No. 1: Never lose money. Rule No. 2: Don't forget rule No. 1."
That doesn't mean you should be afraid to jump in when the time is right … absolutely move while the situation's still hot, but make sure you're making a smart, calculated risk.
And don't bet the farm on a single deal or market.
---
More From The Real Estate Guys™…
The Real Estate Guys™ radio show and podcast provides real estate investing news, education, training and resources to help real estate investors succeed.
Recent reports from the U.S. Census Bureau declared that the U.S. middle class is getting squeezed.  Shocker.  Thank you, Captain Obvious. We were hoping the disappearing middle referred to our beer bellies, but no such luck. 😉
Of course, our good friend Robert Kiyosaki has been saying for years that the rich will get richer, the poor will get poorer and the middle class will get squeezed.  So if you've been paying attention, the report from the Census Bureau isn't a surprise.
The big question is:  what are you going to do about it?
If you're in the middle class and you're feeling the squeeze, it may be time to make the leap from employee to entrepreneur.  Yes, it's hard work.  But so is being poor.  If you're reading a blog like this, you're probably already committed to being successful, so we won't waste time preaching to the choir.
So let's talk about what a disappearing U.S. middle class means to you as a real estate investor.
In the Clues in the News segments of our Mentoring Club meetings, one of the things we watch for is what "the big dogs" are doing when faced with market shifts. And it isn't just real estate investors we watch.  It can be fund managers or corporations.  We can learn from anyone who's watching the economy and managing cash, cash flow, debt and equity.
We saw an article in the Wall Street Journal, As Middle Class Shrinks, P&G Marketing Aims High and Low, that talked about how big corporations are shifting to an "hourglass" marketing strategy.  (When it comes to hourglasses and figures, we understand getting excited…but marketing?  We must be getting old.)
You can read the article yourself, but the point here is that big corporations are making major adjustments to their businesses to adapt to a disappearing U.S. middle class.  Similarly, is there anything a real estate investor should be doing to adjust to the new American reality?
Here are some things to consider:
People will move to where there are jobs.  Duh.  The million dollar question is where in America are their jobs?  If you've been watching the Presidential debates, you've been hearing about all the jobs in Texas.  Dumb luck or great leadership, it's no surprise that more people and businesses are moving to Texas than moving out.
People and businesses will move to where it's cheaper.  State income taxes take a big bite out of most budgets, so look for good investment areas in a no tax (there's only seven) or low tax state.  Two of our favorites right now are Tennessee and Texas.  Businesses also look for low cost land, a big labor pool (population), and nearby educational institutions.
People will move down before they move away.  They have families and friends and don't want to leave them.  As the affluent fall down the food chain,  prices will likely soften in the affluent areas, while demand will increase for lower priced properties near those affluent areas.  Watch what's happening in whatever markets you're investing in.  Talk to property managers, real estate agents, local resident (it's amazing what you can learn in a coffee shop!) and the Chamber of Commerce.  Which sub-markets are people and businesses moving away from and to?  As in all investing, the trend is your friend.
Pick markets carefully with "geographically linked" economies.  That is, industries that must be located in the region and can't be easily moved, if at all.  It's also important that those industries be permanent (you don't want to buy all the houses next to video cassette manufacturing plant).
Two great examples of permanent and geographically linked industries are commodities (like oil, gas, lumber, etc.) and distribution.  It might be easy to move a widget manufacturing plant to China or Mexico, but you can't move mining or farming offshore.  Those jobs have to stay in the area – and those commodities are always in demand.
Similarly, moving boxes from point A to point B is a logistical operation.  Even if the U.S. is poor, there will still be 300+ million people who need food, clothes, household products, etc.  All that stuff might be made in China or Mexico, but it's moving through the U.S., so those distribution jobs are linked to the real estate.  And it's not just location, but huge and expensive infrastructure like airports, roads and railways.  Two cities that come to mind are Dallas and Memphis.
Now if the U.S. shakes off the doldrums and comes roaring back to economic life, any market that's sound in a tough economy will only be more sound in a great economy.  Either way, you win. 🙂
The presidential campaign rhetoric is kicking into high gear.  Texas Governor Rick Perry says he's a job creation whiz.  His detractors say it's just dumb luck because he happens to govern a state with oil and gas under the ground.  But no one is denying there are more jobs happening in Texas than any other state.
Meanwhile, no one is talking about Jack Dalrymple.
Who???
Jack Dalrymple. He's the governor of the state with the lowest unemployment rate in the USA.  And he's the Governor of North Dakota.
North Dakota? Really??  Do you even know where North Dakota is? (Hint: It's just above South Dakota, if that helps.)
According to a recent article by the Associated Press, "Booming oil, agriculture and manufacturing industries have helped the state keep the lowest unemployment rate since November 2008."
Wow.  Oil, agriculture and manufacturing is the magic formula.  Who knew?
So what's the lesson for real estate investors?
Well, if you believe like we do, that the best tenants are those with jobs, then paying attention to what, where and why job are happening is obviously important.
In this case, North Dakota's experience is affirming what we've already come to realize:  markets with industries that are strongly linked to the geography are less likely to move off shore.  Oil and agriculture fit that bill.
So when you're researching prospective markets to buy rental property, pay close attention to which businesses are "primary" (pulling money in from outside the area) and how "linked" they are to the geography.  And of course, those businesses need to provide the kind of jobs that renters need.  Match your property choices and price points to what the employees of the local businesses can best afford.
If that all sounds like common sense, that's because it is.  But as the legendary football coach Vince Lombardi always reminded his championship teams, winning is matter of mastering the fundamentals.