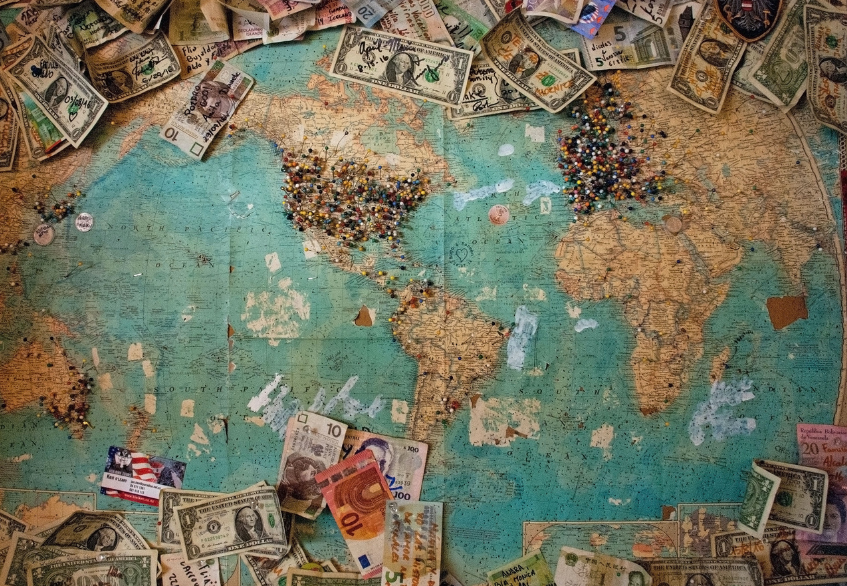 In 1995, a New Zealand one-hit-wonder musical group called OMC released their chart-topping song How Bizarre.
When you think about everything going on in the world today … "bizarre" seems to be an apt description.
Here's a verse you might almost believe had prophetic hidden meaning when written over a quarter-century ago …
"Ringmaster steps out and says 'The elephants left town'
People jump and jive and the clowns have stuck around
TV news and cameras, there's choppers in the sky
Marines, police, reporters ask where, for and why
Pele yells, "We're outta here," Zina says, "Right on"
Making moves and starting grooves before they knew we were gone
Jumped into the Chevy and headed for big lights
Wanna know the rest? Hey, buy the rights
How bizarre. How bizarre, how bizarre."
We'll leave it to you to decide if or how all that translates to today … but there's something about elephants, clowns, TV news, police, and reporters that seem to fit.
Marines anyone? We'll see.
But in the category of "Making moves and starting grooves before they knew were gone" …
Oracle Moves Headquarters to Texas, Joining Valley Exodus
– Bloomberg, 12/11/20
Of course, the "Valley" they're talking about is Silicon Valley.
"Oracle Corp., a Silicon Valley stalwart, has moved its headquarters to Texas, becoming the latest technology company to leave its home state in the face of California's higher taxes, steeper cost of living and a broader shift to remote work."
Rumor has it Oracle is headed to Austin.
Meanwhile, the ORIGINAL Silicon Valley tech company Hewlett-Packard has announced it's moving to Houston, Texas.
And another notable company to join the "exodus" from California to Texas …
Tesla's Elon Musk Joins Exodus From Bay Area; Moves From Silicon Valley To Texas
– CBS KPIX TV, 12/8/20
"Musk told The Wall Street Journal in an interview Tuesday that he has moved to Texas, saying that California has taken innovators for granted."
If you're not sure what Elon means, read Atlas Shrugged.
" … [Musk] didn't say where he had moved in Texas, but it's likely to be close to Austin, where Tesla is building a new factory."
So no surprise to see this headline from Housing Wire …
Austin now a magnet for tech workers wanting to buy homes
– Housing Wire, 12/14/20
" …more affordable living and no state income tax."
Of course, all this is expected by strategic real estate investors who've been paying attention. However, there's even MORE to the story savvy investors should consider.
But before we go there …
On the topic of "making moves," as of this writing there are only two weeks left to make smart moves to capture HUGE tax savings by December 31.
So as much you may be focused on your holiday shopping, just imagine how much more generous you can be if you grab a big tax break by year-end.
We have three great tax-saving ideas for you to consider when it comes to year-end tax moves … and we've made videos with experts to explain …
Tax Breaks for Investors in Automated Teller Machines
Creating Big Tax Breaks with Qualified Retirement Plans
Big Tax Deductions on Ordinary Income with Oil and Gas
These are all from our Tax Talk playlist on our YouTube channel.
It's true, tax talk may not be as much fun to watch as football or political theater, but we're guessing it's a whole lot more profitable.
Now back to our muse on how businesses, people, and money move in bizarre times … and how alert investors can make moves to capitalize.
How Free Money Flows to Main Street Real Estate …
Real estate … especially housing … is in the group of "assets" which tend to "inflate" when the Fed prints money.
While most get the concept, few understand the mechanics of how money gets from the Fed's printing press to Main Street.
Because this is a newsletter and not a textbook, we'll keep it simple … and we'll do our best to relate it back to Main Street investing.
Big picture, there are trillions of dollars of mortgages held by banks, government sponsored enterprises (Fannie, Freddie) … and of course, Wall Street.
If rates rise or real estate values fall, all of these favored insiders take a hit.
So our bet is the Fed will print whatever it takes to buy up mortgage-backed securities and keep free money flowing into the real estate jump house.
Of course, they're also fighting a largely locked down economy. Loans go bad when people can't pay.
However, now that the political theater is winding down, look for things to unplug and lots more direct stimulus finding its way to Main Street.
But there's another way free money makes its way to Main Street … and it's one we saw first-hand in our Silicon Valley days.
This is when stock market money gentrifies high-tech markets.
If you're not familiar, gentrification is essentially when rich people move into an area, bid prices up, and push the locals out.
In the irrational exuberance of the 90s dotcom boom in Silicon Valley, tech workers with stock options became stock market millionaires … and quickly bid real estate up to nosebleed levels.
Non-tech workers were priced out of the prime areas … into markets 1- to 2-hour commute away, simply to be able to afford a home.
Of course, when this happens, the "rent to price" ratio makes no sense. So true cash flow real estate investors are also priced out.
But if you catch it early and can lock in long-term financing with rents that cover, you can catch a big time equity wave.
Here's the point …
Bizarre market conditions exist. Nothing makes sense when money is all but free. Small businesses are being crushed, yet the stock market is booming.
Tech companies are a conduit of Wall Street money to Main Street that many investors don't follow.
Most investors primarily think of mortgages and interest rates when watching for boosts to purchasing power and prices.
But stock options are purchasing power too.
Tech companies are fleeing California. Where they land will be affected, not just by the increased demand, but by the increased capacity to pay.
Look at what happened to housing prices in Seattle as Microsoft and Amazon grew. Insane housing prices are legendary in Silicon Valley.
Austin, Salt Lake City, and other cities where tech has a growing foothold may likely see this Wall Street fueled gentrification.
It's happening in Phoenix too. Equity rich Californians are bidding up prices and pushing locals to the outer edges of the metro.
The core markets might already be out of reach for investors.
But outlying areas may catch a bid as displaced locals are forced to move to more affordable local areas … both renters and buyers.
Remember, change can be chaotic. But change creates opportunities. There will always be winners and losers in the SAME markets at the SAME time.
It's not the circumstances which decide your destiny.
It's knowledge, information, relationships, and a propensity to take action which make the difference.
Stay alert and resourceful. Good and bad times ahead.
Until next time … good investing!