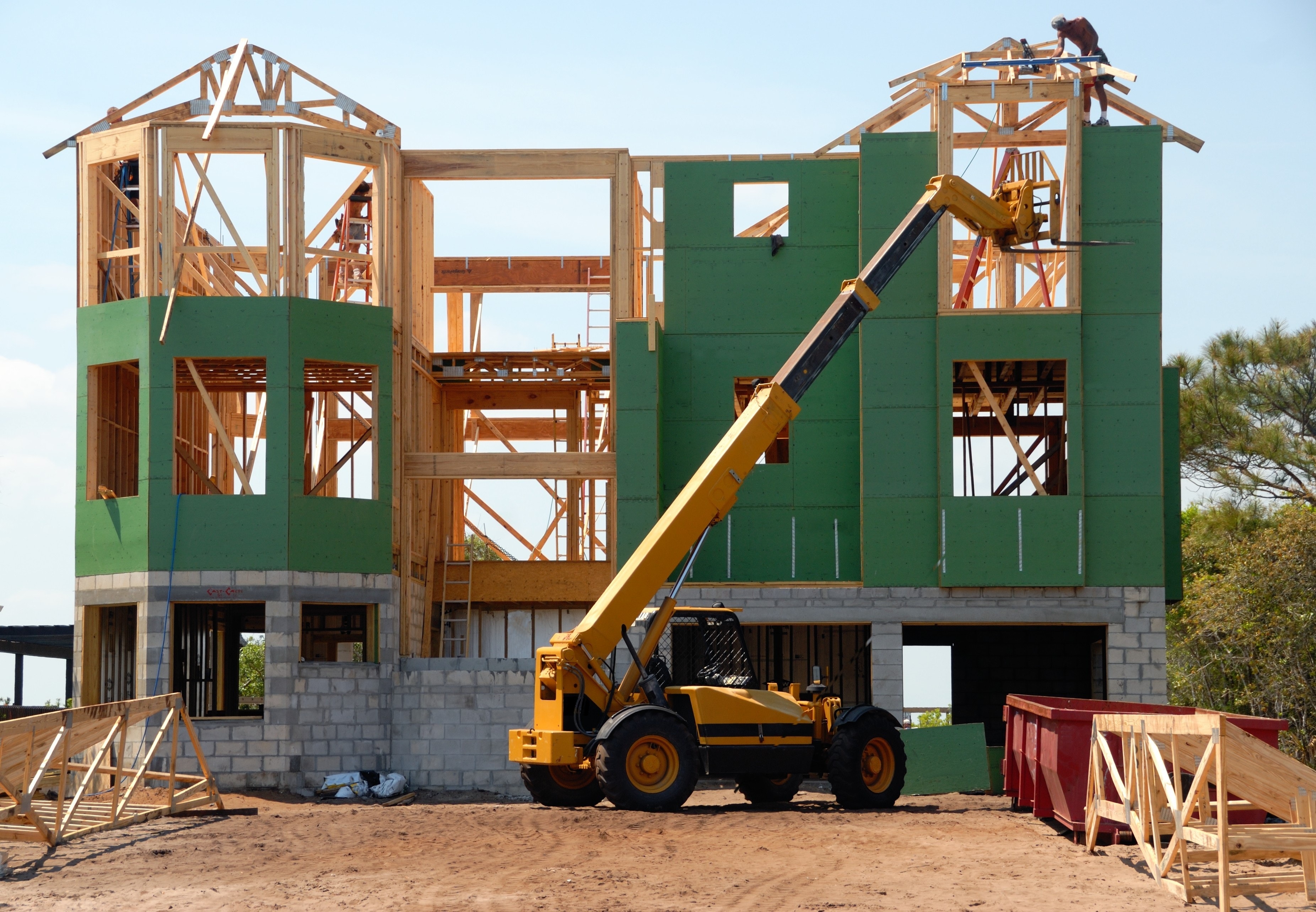 Vacancy is the enemy of real estate investment. But no fear!
You can invest in a property with zero deferred maintenance and a whole lot of attraction to tenants. 
Smart builders are helping real estate investors dramatically reduce the risk of vacancy and expensive repairs. 
Listen in as we chat with a man who is creating build to rent properties in some of the best rental markets in the United States … and see what opportunities await investors like YOU.  
In this episode of The Real Estate Guys™ show, hear from:
Your helpful host,

Robert Helms

His deferring co-host,

Russell Gray
From Fourplex Investment Group, Steve Olson
---
Listen
---
Subscribe
Broadcasting since 1997 with over 300 episodes on iTunes!
---
Review
When you give us a positive review on iTunes you help us continue to bring you high caliber guests and attract new listeners. It's easy and takes just a minute! (Don't know how? Follow these instructions).
Thanks!
---
Discover build to rent
Today we're going to talk about an interesting niche within real estate. 
More and more, we're seeing builders who don't build property to sell to an owner occupant … they're selling to investors instead. 
It's called build to rent. 
With millennials fighting student debt and not forming households or buying property as soon in their life, it's a great time to get into the rental game. 
We've dabbled in this niche ourselves … though it wasn't firmly established at the time. 
We'd catch a builder in a phase of development and say, "What if we came in and bought the rest of your inventory?"
It was a real win-win. The developer no longer had to question which properties would sell … and investors could get inventory that they otherwise wouldn't. 
The tenants benefitted too. They got to move into these brand new, beautiful properties. 
As the niche has grown, it has only become better. 
Now, you have builders building with the landlord and the tenant in mind … which means you can do some value engineering that maybe you wouldn't do if you were selling to owner occupants. 
All of this means bringing product at a more competitive price … which means a better ROI. 
Our guest today is Steve Olson of Fourplex Investment Group (FIG). FIG builds brand new fourplexes in a variety of markets … ready for investors to swoop in and swoop up profits. 
Creating a valuable niche
The days of buying a home for less than it costs to build are gone. In many cases, developers, builders, and investors are finding that it's more economically viable to just build new. 
If you want to be in the investment property business … you've got to find somewhere to get inventory … and you have to look at shifts in the marketplace. 
Two major demographic shifts are happening. 
One, baby boomers are looking for something more convenient … a managed community with some amenities to it. 
Two, millennials are more likely to rent than to buy … homeownership is getting more expensive, and many of them have a distaste for it. 
So, people want to live in these build to rent properties … you just have to pick the right markets. 
"More importantly, I think, you need to pick the right sub-markets within those solid markets. You've got to get to know the neighborhoods," Steve says. 
And when you are building to rent, you've got to be able to look out at the horizon and be confident that there will be tenants in the area in 18 months … or more … however long it takes to get property standing. 
Steve and the team at FIG build brand new fourplex units … beautiful homes that are attached and have parking. 
They are an upscale rental … built in communities that allow them to offer amenities and services. 
"The idea is that we have to balance two worlds. We have a bunch of different investors but the feeling of a cohesive community. We do this by creating uniform standards through an HOA," Steve says. 
As far as the tenant knows, they're in a townhome complex or apartment complex. They have amenities. There is a property manager they report to … the same experience across the board. 
HOAs aren't always popular … but that's usually because homeowners are too busy to be bothered to come to meetings and be involved. 
Investors aren't like that. 
Owners that are investors are very interested in the long-term health and viability of the complex. 
This type of investment is especially suited for someone who thinks a little more long term. The average investor doesn't come in, buy a fourplex, and flip it to another guy in a year. 
With FIG's approach, there is a certain amount of value engineering that can take place. 
"We deliver units cheaper than almost anybody I know of, but you have to strike a balance so you aren't paying for it down the line," Steve says. 
For example, Steve and his team have started using as a standard luxury vinyl tile floor … it's meant to take a beating. 
"It looks good, like wood, but you can drag a couch across it. The dog can run around on it, and it's still going to last a long time," Steve says. 
But everything else is meaningless if you don't talk about markets. 
The right markets for fourplex investment
A market is where we find tenants … so Steve and the team at FIG are very conscious of the markets they choose to build in. 
"Strategically, we're looking for population growth. We're looking for employment. You can get past a lot of things if you have those two things," Steve says. 
FIG started in Utah in the Salt Lake City metro. Then, they expanded into markets in the Houston metro and into Boise, Idaho. 
Boise has tons of growth with jobs coming in from the Northwest and other less business-friendly states … and the vacancy is really low across the board. 
The team is also moving into the Phoenix metro area. 
For more information on this investment niche, listen in to the full episode!
More From The Real Estate Guys™…
The Real Estate Guys™ radio show and podcast provides real estate investing news, education, training, and resources to help real estate investors succeed.
---
Love the show?  Tell the world!  When you promote the show, you help us attract more great guests for 

your

 listening pleasure!
As major markets grow and mature, residents and businesses start to feel the financial pinch … and follow their wallets to greener pastures.
Savvy investors recognize trending, emerging markets and migrate there in search of value.
It's all about monitoring where people are moving … and moving faster.
Listen in as we visit with a multi-market investor to find out why and where he is looking for opportunities.
In this episode of The Real Estate Guys™ show you'll hear from:
Your moving-up host, 

Robert Helms

His moving-over co-host, 

Russell Gray

Fourplex Investment Group consultant, 

Steve Olson
---
Listen
---
Subscribe
Broadcasting since 1997 with over 300 episodes on iTunes!
---
Review
When you give us a positive review on iTunes you help us continue to bring you high caliber guests and attract new listeners. It's easy and takes just a minute! (Don't know how? Follow these instructions).
Thanks!
---
Metros on the move
One of the most crucial tasks for a real estate investor is finding a market that matches their real estate philosophy.
As an investor, you must think about the personality and culture of your portfolio … then find a location that offers opportunities for growth and cash flow.
On your own, you can do high-level research on rent prices, population growth, job creation, and infrastructure … but you need a team on the ground to succeed.
A local team is in touch with the minute details of a market. They can point you to the specific areas of a metro that are best for your investment.
We rely on people on the ground to help us understand what markets our listeners should have on their radars. Steve Olson is one of those people.
As a consultant for Fourplex Investment Group, Steve oversees several up-and-coming markets … and he is here to introduce us to three metros attracting attention now.
Salt Lake City, Utah
There are a lot of exciting things happening in this rocky mountain metro.
The greater Salt Lake City area encompasses a lot of cities … each with unique investment opportunities and cultures.
This long, skinny metro follows the mountains of the Wasatch front … and houses a little over 2 million people.
A high birth rate paired with large numbers of people migrating from other states is a testament to the metro's family-friendly and business-friendly culture.
With mountains on both sides, the area is a hot spot for skiing and other winter sports. In the summer, hiking and biking are popular attractions.
From a real estate perspective, Salt Lake has been a stable market for some time now … but it's growing faster and faster.
Two key areas that draw investment attention are Silicon Slopes and the Northwest Quadrant.
Silicon Slopes is home to towns like Lehi, American Fork, and Draper. The nickname refers to the large number of tech companies that have set up shop there.
Organizations like Adobe, Ancestry.com, and even the National Security Agency (NSA) have built major hubs in the area.
With a rapid influx of new residents, there have been some growing pains for the tech towns … but infrastructure is catching up and new construction is BOOMING.
The Northwest Quadrant is what Steve calls "an interesting opportunity." Being surrounded by mountains leaves only so much space for new growth.
"For many years, you would just consider it a barren wasteland," Steve says, "but now it is the only direction to go."
The Northwest Quadrant is near the Great Salt Lake and the Salt Lake City International Airport.
"If you want land in any kind of quantity that's affordable, that's the direction you have to go," Steve says.
Businesses recognize this and are embracing the blank slate. Amazon recently built a new shipping facility in the area, and so did UPS.
Thousands of new jobs mean new residents … and those residents are looking for affordable places to live.
The two main cities in the Northwest Quadrant are West Valley City and Magna.
In the past 15 years, only ONE new apartment complex has been built in those cities … and it is operating at 97 percent occupancy.
Steve says the location has lots of potential. Tenants can enjoy new, clean, affordable places to live and get to downtown Salt Lake City in 15 minutes.
"You're going to look at that area in 5 to 10 years and not even recognize it," Steve says.
Houston, Texas
Houston, Texas, is a go-to market for many investors … but a recently completed toll road is opening new parts of the area for investment opportunity.
After Hurricane Harvey, the fate of the Houston metro housing market was uncertain. But just four weeks after the storm, home sales had rebounded and seen the greatest rental activity of all time.
More and more growth is flowing into the northwest part of the Houston metro. For many tenants, Cypress, Texas, is the destination.
This suburb has become one of Houston's largest communities and recently ranked 50th in the top 100 highest-income urban areas in the country.
The oil and gas industry have a major presence in the area, as well as the healthcare, aviation, and distribution sectors.
With a diverse, expanding economy, Cypress is on track for significant job and population growth … a great sign for real estate!
Boise, Idaho
You don't normally hear a ton about this market because it isn't a giant metro. As of 2018, about 700,000 people call Boise, Idaho, home.
But Steve says if you dig into the stats, you'll feel very confident in its potential. People who are tired of metros like Portland and Seattle are going to Boise.
"Boise is more business friendly, but you're still in the Pacific Northwest," Steve says.
Quality of life in the area is marked by access to plenty of outdoor activities like biking, rock climbing, water sports, and skiing.
The metro is notable for its population and job growth … triple the national average … and is landlord-friendly. And who could forget the low taxes?
New residents are moving into suburbs like Nampa and Meridian and targeting new construction.
Find your niche and your market
No matter where you invest, there are many ways to put your money to work for you … and these markets are no exception.
The approach Steve takes with Fourplex Investment Group is a particularly unique niche.
By building brand-new apartment buildings on empty land, Steve and his team can meet rising space needs and offer great incentives and returns for investors.
That means instead of buying the 40-year-old fourplex down the street, you can buy four units in a 100-unit, brand-new apartment complex.
And you're not at the mercy of apartment or commercial financing!
Whatever your investment approach and chosen market, remember that it is all about finding an opportunity that matches YOUR philosophy and works for YOU.
---
More From The Real Estate Guys™…
The Real Estate Guys™ radio show and podcast provides real estate investing news, education, training, and resources to help real estate investors succeed.
---
Love the show?  Tell the world!  When you promote the show, you help us attract more great guests for 

your

 listening pleasure!
Salt Lake City

The Beehive State is BOOMING. Get in on a record-breaking growth cycle and reap high returns in this stable market.

When pioneers first settled in the Salt Lake Valley they were greeted by a wide expanse of empty desert … but today, the Beehive State is BOOMING in every way.
Utah has claimed the title of fastest-growing population in the country from 2010 through 2018 and has steadily high birth rates.
The state has also consistently had the fastest growing labor force of any state since January 2010. Rapid business growth in the corridor south of the Great Salt Lake has brought thousands of workers to the state.
More workers mean more consumer spending … and more need for real estate.
The potential for long-term, reliable tenants is high. Utah's workforce is more educated on average than the rest of the United States.
Salt Lake City is a Rocky Mountain hub for travel, entertainment, and business.
A $3.6 billion first phase of construction on a new Salt Lake City International Airport opens in late 2020. When construction is completed, the airport will be an updated and enlarged transportation hub with state-of-the-art facilities.
From Salt Lake City, individuals have easy access to Utah's 14 world class ski resorts and five national parks.
Music lovers can enjoy Broadway shows at the Eccles Theater or visit Abravanel Hall, the home of the Utah Symphony. Sports fans can catch a Utah Jazz game at Vivint Smart Home Arena.
Shoppers find retail escape by visiting the hundreds of storefronts that make up City Creek Center and The Gateway.
With generous tax incentives, many major corporations call the Salt Lake Valley home … and more are moving in every day.
Salt Lake City's financial district hosts Wells Fargo Bank, American Express, Goldman Sachs and Co., and Fidelity Brokerage Services.
The Silicon Slopes tech movement is expanding, with global tech companies like Adobe, EMC, Micron, Intel, Facebook, and Microsoft operating from Salt Lake City headquarters.
With Amazon and UPS moving thousands of workers to the Salt Lake area, housing is in demand … and that demand is growing every day.
Take advantage of record-breaking growth and reap in Rocky Mountain-sized returns.
Discover whether Salt Lake City, Utah is right for your next real estate investment. Get started with our selection of helpful resources …
Radio Shows
Reports and Articles
Market Field Trips & Property Tours
Boots-on-the-Ground Teams
Clues in The News
Magna, UT Market Report
Find the next big boom town in the Beehive state. Make your mark in Magna, Utah!
Utah is a market defined by consistent and rapid growth … the population is exploding and jobs are popping up at a record-breaking pace.
New tenants are flooding the towns in the valleys south of the Great Salt Lake … and Magna, Utah, is particularly magnetic.
Magna is tucked right in the middle of a growing industrial space. It's down the road from the expanding Salt Lake City International Airport, new UPS and Amazon centers, and all the amenities of Salt Lake City.
Plus, take advantage of new tax breaks for real estate investors by investing in this SLC suburb … Magna is one of Utah's Opportunity Zones.
In this special report, the team at Fourplex Investment Group shares the most relevant data on the Magna market. Find out:
Growth trends and predictions for the Salt Lake City area

Future building projects and investment opportunities

Stats on economic and business expansion

And more!
Discover whether Magna is the market for you! Get started by filling out the form below to access the Magna Market Report.