Last week the Fed pumped over $200 billion of freshly printed cash into the repo market.
Since then, the Fed's upped the ante to $400 billion … and counting.
For those young or asleep during the 2008 financial crisis …
… back then, the Fed provided an infusion of $85 billion per month to keep the wheels on the financial system bus.
Today, they're pumping in nearly that much PER DAY.
That's MIND-BOGGLING.
They're trying to keep interest rates DOWN to their target. Of course, interest rates matter to real estate investors. We typically like them low.
But this isn't about real estate. It's more about banks who hold debt (both mortgages and bonds) on their balance sheets.
As we explained last time, when interest rates rise, bond values fall …
… and a leveraged financial system with bonds as collateral is EXTREMELY vulnerable to collapse if values drop and margin calls trigger panic selling.
The Fed seems willing to print as many dollars as necessary to stop it.
And that brings us to an important question …
If the Fed can simply conjure $400 billion out of thin air in just a week … is it really money?
This matters to everyone working and investing to make or save money.
For help, we draw on lessons learned from our good friend and multi-time Investor Summit at Sea™ faculty member, G. Edward Griffin.
Ed's best known as the author of The Creature from Jekyll Island. If you haven't read it yet, you probably should. It's a controversial, but important exposé on the Fed.
In his presentation in Future of Money and Wealth, Ed does a masterful job explaining what money is … and isn't.
In short, money is a store of energy.
Think about it …
When you work … or hire or rent to people who do … the energy expended produces value in the form of a product or service someone is willing to trade for.
When you trade product for product, it's called barter. But it's hard to wander around town with your cow in tow looking to trade for a pair of shoes.
So money acts as both a store of value and a medium of exchange.
The value of the energy expended to create the product is now denominated in money which the worker, business owner, or investor can trade for the fruits of other people's labor.
This exchange of value is economic activity.
Money in motion is called currency. It's a medium of transporting energy. Just like electricity.
When each person in the circuit receives money, they expect it has retained its (purchasing) power or value.
When it doesn't, people stop trusting it, and the circuit breaks. Like any power outage, everything stops.
So … economic activity is based on the expenditure and flow of energy.
This is MUCH more so in the modern age … where machines are essential to the production and distribution of both goods and information.
Energy is a BIG deal.
This is something our very smart friend, Chris Martenson of Peak Prosperity, is continually reminding us of.
Here's where all this comes together for real estate investing …
New dollars conjured out of thin air can dilute the value of all previously existing dollars.
It's like having 100% real fruit juice flowing through a drink dispenser.
If someone pours in a bunch of water that didn't go through the energy consuming biological process of becoming real fruit juice in a plant…
… the water is just a calorie free (i.e., no value) fluid which DILUTES the real fruit juice in the dispenser.
Monetary dilution is called inflation.
Legendary economist John Maynard Keynes describes it this way …
"By a continuing process of inflation, government can confiscate, secretly and unobserved, an important part of the wealth of their citizens."
Inflation waters down real wealth.
Fortunately, real estate is arguably the BEST vehicle for Main Street investors to both hedge and profit from inflation.
That's because leverage (the mortgage) let's you magnify inflation's effect so your cash-on-cash ROI and equity growth can outpace inflation.
Plus, with the right real estate leverage, there's no margin call. Meanwhile, the rental income services the debt.
Even better, the income is relatively stable … rooted in the tenant's wages and lease terms. Those aren't day-traded, so they don't fluctuate like paper asset prices.
Effectively, you harness the energy of the tenant's labor to create resilient wealth for yourself. And you're doing it in a fair exchange of value.
Of course, the rental income is only as viable as the tenant's income.
This brings us back to energy …
Robert Kiyosaki and Ken McElroy taught us the value of investing in energy … and markets where energy is a major industry.
First, energy jobs are linked to where the energy is. You might move a factory to China, but not an oil field. This means local employment for your tenants.
Your tenants might not work directly in the energy business, but rather for those secondary and tertiary industries which support it. But the money comes from the production of energy.
Further, energy consumers are all over the world, making the flow of money into the local job market much more stable than less diverse regional businesses.
It's the same reason we like agriculture.
While machines consume oil, people consume food. Both are sources of essential energy used to create products and provide services.
So when it comes to real estate, energy, and food … the basis of the investment is something real and essential with a permanent demand.
Though less sexy and speculative, we're guessing the need for energy and food is more enduring than interactive exercise cycling.
Real estate, energy and agricultural products, are all real … no matter what currency you denominate them in.
And the closer you get to real value, the more resilient your wealth is if paper fails.
Right now, paper is showing signs of weakness. But like a dying star, sometimes there's a bright burst just before implosion.
Remember, Venezuela's stock market sky-rocketed just before the Bolivar collapsed.
Those who had real assets prospered. Those who didn't … didn't.
Are we saying stocks and the dollar are about to implode? Not at all. But they could. Perhaps slowly at first, and then suddenly.
If they do and you're not prepared … it's bad. It you're prepared and they don't … not so sad. If they do and you're prepared … it could be GREAT.
Real assets, such as well-structured and located income property …
… or commodities like oil, gold, and agricultural products (and the real estate which produces them) …
… are all likely to fare better in an economic shock than paper derivatives whose primary function is as trading chip in the Wall Street casinos.
So consider what money is and isn't … the role of energy in economic activity … and how you can build a resilient portfolio based on a foundation of real assets.
"The time to repair the roof is when the sun is shining."
John F. Kennedy
Until next time … good investing!
More From The Real Estate Guys™…
The Real Estate Guys™ radio show and podcast provides real estate investing news, education, training, and resources to help real estate investors succeed.
---
Love the show?  Tell the world!  When you promote the show, you help us attract more great guests for 

your

 listening pleasure!
It's been a busy week of alarming financial news!
Of course, events that rattle financial markets sometimes barely register to real estate investors. That's because rents and property values aren't directly involved in the high-frequency trading casinos of Wall Street.
So while paper traders frantically scramble to avoid losses or skim profits from currency flowing through the machinery …
… real estate investors calmly cash rent checks and wonder what all the fuss is about.
However, as seasoned investors discovered in 2008 …
… Wall Street's woes sometimes spill over and become Main Street blues … primarily through the linkage between bond markets and mortgages.
So even though the Saudi oil almost-crisis garnered a lot of attention …
… something BIG happened in an obscure corner of the financial system which has alert observers concerned …
Repo Market Chaos Signals Fed May Be Losing Control of Rates
Bloomberg, 9/16/19
Repo Squeeze Threatens to Spill Over Into Funding Markets
Bloomberg, 9/17/19
And no, this isn't about people losing their cars or homes. It's about a systemically important part of the financial system.
Before you tune out, remember …
… when you see words like "chaos" and "losing control" and "spill over" in the context of interest rates and funding markets … it's probably worth digging into.
When credit markets seize up, asset prices collapse. While this is troublesome for Main Street … it's DEVASTATING to the financial system.
And when the financial system breaks down, it affects EVERYONE … even smug real estate investors who might think they're immune.
So grab a snack and let's explore what's happening …
Wall Street operates on obscene amounts of collateralized leverage. Real estate investors use leverage too, but there's an important distinction.
There are no margin calls on real estate. So when property values collapse temporarily for whatever reason, positive cash flow let's you ride out the storm.
Not so in bond markets. When the value of a bond that's pledged as collateral falls, the borrower faces a margin call.
This means the borrower needs cash FAST. This is a risk of the game they play.
But when traders are confident they have ready access to cash at predictable and reasonable prices, they stay very active in the market.
This is important because healthy markets require an abundance of assets, cash, buyers, sellers, and TRUST to keep things moving.
When any one falters, markets slow down … or STOP … credit markets can freeze, economic activity stalls, and it hits real estate investors too.
The head Wizard at the Fed says not to worry … just like they said about the sub-prime problem back in 2007.
Fool us once, shame on you. Fool us twice, shame on us.
But we're far from expert on the repo market, so we encourage you to read up on what it is and why everyone's talking about it.
Meanwhile, we'll hit the high notes to get you started …
In short, the repo market is where short term borrowing happens. It's like a pawn shop where market participants hock bonds to raise some cash.
But when repo rates spike like this …
Source: Bloomberg
… it means there's not enough cash to go around.
Cash is like oxygen. You can live for a while without food (profit) or water (revenue) … but when you're out of cash, it's game over.
No wonder Wall Street freaked out …
'This Is Crazy!': Wall Street Scurries to Protect Itself in Repo Surge
Bloomberg, 9/17/19
Of course, we don't really care if Wall Street takes it on the chin.
But when craziness on Wall Street has the potential to spill over to Main Street, we pay attention.
In this case, the situation is dire enough the Fed stepped in with $53 billion of emergency cash … in ONE day.
This is the first time since the 2008 financial crisis the Fed's needed to do this.
The next day they added another $75 billion.
Then the Fed announced another rate cut … and hinted at more rate cuts … and suggested a willingness to print more money.
Then the VERY next day …yet ANOTHER $75 billion.
$53 billion here. $75 billion there. Pretty soon you're talking serious money … in this case about $200 billion in THREE days … and quite possibly a serious problem.
So what? What does any of this mean to real estate investors?
Maybe not much. Maybe a lot. We certainly hope the Wizards behind the curtain pull the right levers the right way at the right times.
But if this is a pre-cursor to The Real Crash Peter Schiff is concerned about, things could become more complicated than "just" a 2008-like collapse of asset prices.
As we chronicle in the Real Asset Investing Report and the Future of Money and Wealth video series, the world's faith in the Fed and dollar were shaken after 2008.
Meanwhile, negative interest rates on nearly $17 trillion in global debt is a symptom of a huge bond bubble today.
Here's why …
Just as rental property cap rates fall when investors bid prices up … so do bond yields fall when investors bid bond prices up.
And just like when over-zealous real estate speculators bid property prices up to negative cash flow … so over-zealous bond speculators have bid bond prices up to negative yields.
Negative yields are a symptom of a speculative bubble.
These unsustainable scenarios typically end badly when there's no greater fool left to bid the price up further.
And then, when the market goes "no bid" … prices collapse. Bad scene.
Remember, bonds are the foundation of the credit market and financial system.
This repo problem is like finding a big crack in the foundation of your favorite property.
The bigger concern is the size of the building sitting on the faulty foundation … and how much it might take to patch the crack.
So here's the inspection report …
Global debt is around $250 TRILLION. These are bonds … many of which are pledged as collateral for loans … creating an almost incomprehensible amount of derivatives.
Worse, many of those pledged bonds are subject to margin calls.
This is a HIGHLY unstable situation and operates largely on trust.
Think about what happens if bond prices fall …
Borrowers who pledged bonds are upside down and need to raise cash fast.
When they get to the market, they find there aren't enough dollars to go around. Cash starved sellers start discounting to attract buyers … causing rates to rise.
Again, it's just like trying to sell an apartment building in a slow market. As you lower the price, the cap rate (yield) goes UP.
As yields rise, bond values everywhere fall … triggering more margin calls, more demands for cash, more desperate sellers … and a dismal downward death spiral.
And then it spreads …
As the demand for cash grows, anything not nailed down is offered for sale … often at a steep discount to compete for a limited supply of dollars.
This is contagion … falling prices spreading like wildfire across daisy-chained balance sheets.
Yikes. (Of course, if you have cash, it's a shopping spree)
Enter the Fed's printing press to save the day. But this ONLY works long-term if the market TRUSTS the Fed and their printed product.
In 2008, the world worried as the Fed took its balance sheet from $800 billion to $4.5 trillion. And that was just to paper over the now relatively small sub-prime mortgage mess.
It worked (temporarily) partly because the world didn't have much choice. Dollars were the only game in town.
Today is much different than 2008. The world is wiser. Alternatives to the U.S. dollar and financial system exist or are being developed.
And the SIZE of the potential implosion is MUCH bigger than 2008.
Meanwhile, the Fed has already returned to lowering rates … and now is injecting substantial amounts of fresh cash into the system.
The question is … can the Fed print enough dollars to paper over a serious bond implosion … and if they do, will the world still trust the U.S. dollar?
Perhaps this is why central banks have been loading up on gold.
Coming back down to Main Street …
Whether the repo market is a canary in the coal mine signaling looming danger … or just a friendly wake up call to stay aware and prepared for something else later …
… there are some practical steps Main Street real estate investors can take to build a little more resilience into their portfolios.
First is education. The more you understand about how things work and how to recognize warning signs, the sooner you'll see shifts so you grab opportunity and dodge problems.
It's why we constantly encourage you to study, attend conferences, and get into meaningful conversations with experienced investors.
Next, it's important to pay attention.
Most of what's happening is widely publicized. But things are easy to miss when events don't seem directly relevant to your Main Street life. They often are.
From a practical portfolio management perspective, it's probably a great time to lock in low rate long-term financing, cash out some equity and retain a good level of liquidity.
When prices collapse, cash is king … and credit doesn't count.
Be attentive to cash flows in current and future deals.
Invest in keeping your best tenants and team members happy. Look for ways to tighten up expenses and improve operations. Cash flow is staying power.
Focus on affordable markets and product niches supported by resilient economic, geographic, and demographic drivers.
Real estate is not a commodity or asset class. Certain markets and niches will outperform others. Be strategic.
Most of all, stay focused on the principles of sound fundamental investing. Be careful of having too much at risk on speculative plays.
As we've said before, an economy can be strong based on activity, but fragile based on systemic integrity.
If the system breaks down, then economic activity slows … sometimes dramatically … and if you're only geared for sunshine, the storm can wash your wealth away quickly.
Until next time … good investing!
More From The Real Estate Guys™…
The Real Estate Guys™ radio show and podcast provides real estate investing news, education, training, and resources to help real estate investors succeed.
---
Love the show?  Tell the world!  When you promote the show, you help us attract more great guests for 

your

 listening pleasure!
As the political cycle ramps up, housing affordability might get some attention. And it's more complex than you might think.
Obviously, housing policies have the potential to affect YOUR real estate investing … so it's smart to pay attention.
Of course, there's always risk in talking politics. Everyone has heroes and talking points. Sometimes it's hard to take the filters off and consider all perspectives.
Fortunately, we're not here to promote or protest a policy or a politician. Life's too short for that.
Instead, our focus is on what people in power are thinking and doing … and how it affects our strategic investing.
In case you missed it, President Trump recently signed an Executive Order to take on the lack of affordable housing.
According to the announcement, the EO establishes a White House Council tasked with "tearing down red tape in order to build more affordable housing."
This ONE sentence reveals much about how the President views the problem … and reflects his background in real estate.
So let's put our red or blue foam fingers down and consider the landscape the way it's being planted by the powers that be … and how things might change if a new sheriff comes to town.
Components of Affordability
Housing affordability is a relationship between incomes and mortgage payments or rents. It's not about price as much as it is the gap between income and housing expense.
It's no secret housing prices and rents have been rising faster than real wages.
And the longer this goes on, the more people get pushed off the back of the affordability bus.
Ironically, it's often the attempts at creating affordability which inadvertently makes things unaffordable. Will that happen this time?
Past national policy efforts focused on increasing the availability of financing, while many local efforts include legislating lower rents.
History shows easy financing actually makes housing more expensive … just like student loans made college more expensive.
This confounds typical politicians.
But it's simple. Financing increases purchasing power … and newly empowered buyers bid prices up. Of course, sellers are happy to oblige.
Consider what happened to housing after the Clinton Administration lowered government lending standards in late 1999 …
Looser lending combined with the Fed's then unusually low interest rates (trying to reflate stocks after the dotcom bust and 9/11 attacks) …
… drove real estate prices up, up, up in the early 2000s.
Everything was great until derivatives of those sub-prime mortgages imploded the bond market and crashed not only real estate prices, but the global economy.
So again … easy money doesn't make things affordable. It inflates price bubbles which eventually collapse. Not a great plan.
Interestingly, President Trump is badgering the Fed to drop rates.
He says lower rates are necessary to keep the U.S. competitive in international trade … and to lower the interest expense of ballooning federal debt.
Some claim Trump's trying to prop up the stock market heading into the election cycle, which is probably true.
In any case, based on this EO, Trump's push for lower rates doesn't appear to be intended to drive housing prices UP.
Of course, that doesn't necessarily mean he wants to drive prices down either.
After all, there are many constituencies with vested interests in keeping values stable or growing.
Banks depend on property values to secure the mortgages they make.
Local governments depend on high values for property tax calculations.
And of course, property owners (who also happen to be voters), use high property values to feel rich or to tap into for additional purchasing power.
On the other hand, there are a growing number of disenfranchised voters who struggle with rising rents and are watching the dream of home ownership become more elusive.
When we asked then-candidate Donald Trump what a healthy housing market looked like in a Trump Administration, he simply said, "Jobs".
Fast forward to today, and we know President Trump has been trying to re-organize the economy to produce more higher paying jobs.
Of course, the jury's still out on whether he'll succeed. But that's the plan. And if he is successful, it will help close the housing affordability gap.
Of course, rising wages are useless if housing prices continue to outpace them … which brings us back to this affordable housing executive order.
When we put all this in a blender and hit puree, it seems to us crashing housing prices can't be the goal.
Instead, we suspect the purpose of increasing supply is to moderate excessive price growth … while giving incomes a chance to catch up.
So on the housing supply side, President Trump's Executive Order presumes to stimulate development by REDUCING regulation.
This is an unusual tactic for a politician. Politicians of both stripes are infamous for MORE government, not less.
Maybe Trump is still thinking like a real estate developer.
In any case, we visited the National Association of Home Builders website to see what active home builders think of the Trump approach.
They describe Trump's EO as "a victory for NAHB" because "it cites the need to cut costly regulations that are hampering the production of more affordable housing…"
According to NAHB, regulations add SIGNIFICANT costs to development …
"… regulations account for nearly 25% of the price of building a single-family home and more than 30% of the cost of a typical multifamily development."
Think about that. These are YUGE numbers. 😉
Of course, the odds of reducing regulations and their costs to absolute zero are … absolutely zero. There'll always be some regulation.
But even if regulatory costs are substantially reduced, there are other factors to consider (we told you it was complex) …
Components of Cost
When bringing a real estate development to market costs include land, material, capital, labor, taxes, energy, and regulation.
Once built, you can tack on marketing, sales, and costs of operation until the product is sold or leased up. So, regulation is just one of many pieces of the equation.
Watching President Trump operate, it seems he attempts to manipulate components of cost as you'd expect from a typical real estate developer … making trade-offs to get things done in time and on budget.
The Opportunity Zones program is an attempt to move economic activity to where land is less expensive.
As mentioned, he's aggressively calling for lower costs of capital (interest rates).
And the already passed Trump tax reform is delivering tremendous tax incentives for real estate investors.
As for energy, Trump opened up domestic oil production while pushing for lower oil prices.
And with his recent EO, Trump is going after costly regulation in the home building sector.
All that checks a lot of boxes.
Of course, there's the issue of tariffs … which (at least temporarily) are adding to the cost of building materials.
(There's much we could say on the touchy topic of tariffs … but we'll save it for another day.)
Meanwhile, we're chomping popcorn watching this play out … and trying to decipher what it means for Main Street real estate investors.
Here's our bottom-line (so far) …
While interest and energy costs are macro-factors which affect the broad market, a reduction in federal regulation makes a smaller dent.
That's because regulation is both a federal and regional phenomenon.
Our guess is markets with more local regulations will continue to attract less investment than those with less. Conversely, markets with less regulation will attract more.
This push to stimulate development is an obvious opportunity for real estate developers.
Meanwhile, we're not staying up at night worrying about a supply glut collapsing housing prices any time soon.
If housing prices fall, it'll probably be because credit markets collapse again.
For that reason, we continue to think it's a good time to liquefy equity, lock in long term cheap financing, and tighten up operational expenses.
If prices do happen to fall … for whatever reason … as long as you have resilient cash flow and low fixed-rate financing you can ride out a storm as an owner.
And with some dry powder, a collapse isn't a crisis for you … it's an opportunity as a buyer.
Of course, you can stand at the plate all day waiting for the perfect pitch. Meanwhile, the market might continue to boom.
You can't profit on a property you don't own.
So even though there's arguably some frailty in the financial system, it's an ever-present threat you need to learn to live with and prepare for.
But as long as deals you're doing today are structured to weather a storm, you're probably better off collecting base hits than taking strikes.
Until next time … good investing!
More From The Real Estate Guys™…
The Real Estate Guys™ radio show and podcast provides real estate investing news, education, training, and resources to help real estate investors succeed.
---
Love the show?  Tell the world!  When you promote the show, you help us attract more great guests for 

your

 listening pleasure!
The ghosts of the Great Financial Crisis of 2008 still linger (as they should) in the minds and hearts of seasoned real estate investors …
… even though it's been a an equity party for the last 10 years.
Of course, no one wants to hear it might be ending. Then again, every new beginning comes from another beginning's end.
And as we recently noted, a bend in the road isn't the end of the road … unless you fail to make the turn.
Right now, it seems like the global financial system is flashing caution lights all over the place.
Consider these recent headlines …
U.S. Treasury bond curve inverts for first time since 2007 in recession warning – Reuters, 8/14/19
Ex-Fed boss Greenspan says 'there is no barrier' to Treasury yields falling below zero – MarketWatch, 8/14/19
China Prepares Its "Nuclear Option" In Trade War – OilPrice.com, 8/13/19
Some real estate investors see these headlines … and yawn. Probably a mistake.
Experienced real estate investors and their mortgage professionals know mortgage rates pivot off the 10-year Treasury yield.
And because mortgages are the most powerful tool in a real estate investor's toolbox and interest one of the biggest expenses, interest rates matter.
Regular listeners know we like fixed rates now because the risk of rates rising is greater than the benefit of them falling further.
It doesn't mean they will. There's a LOT of effort to keep them down.
In fact, just a year ago, 10-year Treasury yields were nearly 3.5 percent and today it's half that. But at just over 1.5 percent, how much lower can they go?
You'd be surprised.
After all, the venerable Alan Greenspan himself is publicly raising the possibility Treasury yields could fall below zero.
How is that even possible?
Who makes a loan (buy a bond) not just for free (no interest income), but knowing they'll get paid back LESS than the principal amount?
You might think no one in their right mind would do that, yet …
Negative-Yielding Debt Hits Record $14 Trillion as Fed Cuts
Bloomberg, August 1, 2019
And in Denmark, home-buyers can get a 10-year mortgages at NEGATIVE .5 percent interest …
More good news for homeowners: Mortgages below 0% at fixed interest rates
(Unless you're fluent in Danish, you'll need to run this one through Google translate)
Home-buyers are being PAID to borrow.
So you can add negative interest rates to the list of items under "this time it's different" … because this has never happened before.
What does it mean?
We're still working on figuring that out. but we think it's a clear sign something is broken … or least seriously different.
One of our favorite Brainiac economic commentators and an unconventional thinker is Keith Weiner at Monetary-Metals.
In a recent essay, Keith argues that based on the Net-Present-Value calculation, when interest rates hit zero, the value of assets become infinite.
We're not sure we agree, because the limiting factor is the ability to debt service … even if all you're doing is repaying principal.
But we do agree the result of cheap money is equity growth.
And this creates a HUGE and unique opportunity for income property investors.
That's because when you get a mortgage to buy an income property, you're also purchasing the income to pay down the loan.
Of course, this doesn't mean it's a risk-free ride.
If you lose your self-control and pay more for the property than the property's income can service, you've transitioned from investor to speculator.
Now you're banking on the equity growth in the property to compensate you for the negative cash flow … a subsidy that must come from someplace else.
This structure is most likely to occur with 1-4 unit residential properties because those lenders will let you supplement the property's income with your own.
A word to the wise …
Unless you have a very specific, high probability plan to raise rents post-purchase …
… be VERY careful about buying a negative cash-flow property in an uber-low interest rate environment.
It's doubtful lower rates will come along to reduce your interest expense and boost cash flow.
Of course, most commercial lenders won't make a negative cash-flow loan, so if you're playing at the pro level, you're less likely to step on that landmine.
But the aforementioned headlines have some even MORE CONCERNING things to consider …
First, yield-curve inversion has preceded the last five recessions.
Fortunately, those recessions don't usually show up for about year and a half.
So if you pay attention today, there's no reason to be blind-sided in two years. Hopefully, you've got time to prepare. But the clock is ticking.
Recessions mean softer employment and less Main Street prosperity.
Remember, when things are tight, people and businesses tend to move where the cost of living and tax burdens are lower.
Keep this in mind when picking markets, property types, and price points.
It's always good to have some people above you on the food chain, who will move down and bolster demand in your niche during tough times.
Of course, that's just your run-of-the-mill market-cycle awareness. Nonetheless, it's always good to remember the basics.
But what if the system breaks down? What if the "this time it's different" items tell a different story?
We've been watching this for quite a while.
We first spoke about it at the New Orleans Investment Conference six years ago.
We got into more detail on it at our Future of Money and Wealth conference. Of course, we've been writing about it regularly.
Now we're talking about it even more because mainstream financial media is finally taking notice. Maybe we're not crazy.
So even though we just wrote about it last week, when you hear about "nuclear options" in a trade war between the two biggest economies, would you rather hear the warnings multiple times … or risk missing it altogether?
And what if the Fed is really lowering interest rates to preemptively buffer the impact of China pushing the nuclear button? Will it be enough?
There's a lot of hype about "the best economy ever" … and perhaps statistically it's true.
But if interest rates spike suddenly, all that "best ever" talk goes away, along with trillions in equity … and it's a whole new ball game.
Our pal Peter Schiff thinks the Fed will create trillions of dollars in a desperate attempt to reflate asset prices and keep rates down.
Gold is suggesting foreign central banks are preparing for trouble.
Those aware and prepared will make fortunes. Those unaware and unprepared will likely take a hit … or worse.
It's not the circumstances that are good or bad. It's how well you're prepared and how quickly you respond when things start moving quickly.
The warning lights are flashing. Better to be prepared and not have a problem, than to have a problem and not be prepared.
Now is the time to expand your education, understanding, and network … and fortify your portfolio, just in case.
Until next time … good investing!
More From The Real Estate Guys™…
The Real Estate Guys™ radio show and podcast provides real estate investing news, education, training, and resources to help real estate investors succeed.
---
Love the show?  Tell the world!  When you promote the show, you help us attract more great guests for 

your

 listening pleasure!
A long, long time ago in a world without video games, we played a boardgame called Mousetrap. Since a picture's worth a thousand words …
To see it in action, click here.
As you can see, Mousetrap is a pretty elaborate set up where an initial action sets off a chain reaction of subsequent actions …
… until finally the unsuspecting mouse is caught in a descending trap.
Credit markets are a lot like Mousetrap …
… and the further back you can see through the chain of events, the more likely you are to see what's coming … and avoid getting trapped out of position.
The Great Financial Crisis of 2008 taught us how dangerous it is to keep our noses myopically to the real estate investing grindstone … falsely aloof and insulated from the turmoil of credit and currency markets.
When the trap fell, we were caught … illiquid and upside down … with not enough time to react.
So we've learned to pay careful attention to the machinations of the markets. And right now, there are a lot of moving parts.
Depending on how long you've been watching, some of the action may seem disconnected and even irrelevant to your daily real estate investing.
Be careful.
Gold, oil, trade, tariffs, currency, and bonds are far more intertwined than most folks realize … and they all conspire together to impact credit markets and interest rates.
And last time we looked, credit markets and interest rates are very important to serious real estate investors.
By now, you're probably aware the Fed dropped interest rates for the first time in 11 years.
Granted, it wasn't much … only 25 basis points (.25%).
But the stock market didn't like it. And neither did President Trump, who was unabashed in his displeasure with the Jerome Powell led Fed.
So that's one piece of the puzzle.
You've also probably heard that the U.S. and China have been engaged in an economic pissing contest for quite some time.
Here again, President Trump is displeased with China's trade policy with the U.S. and he's been using tariffs to goad them to the negotiating table.
But the last round of talks didn't end well, so Trump slapped more tariffs on the Chinese exports to the United States.
Once again, the stock market didn't like it much.
Let's take a time out here to remind ourselves that when money flees the stock market, it usually ends up in bonds. As demand for bonds goes UP, interest rates go DOWN.
Then, as interest rates do down, investors go back to stocks in pursuit of yield, and everything reverses. It's an ebb and flow of funds which creates a degree of equilibrium.
Or at least that's how it usually works …
Sometimes, when investors don't like either stocks or bonds, they buy other things for safety … including gold and real estate.
This is a far more interesting development and something we discussed at length in a recent commentary.
But that was before China allegedly punched back at Uncle Sam's latest tariffs by allowing their currency to fall below the politically significant 7:1 ratio to the dollar.
Now before your eyes glaze over, it's not as complicated as it seems. And as we're about to point out, it has more of an impact on your real estate investing than you may realize.
When China allows its yuan to weaken relative to the dollar, it takes more yuan to buy a dollar. More significantly, it means dollars will buy more Chinese goods.
In other words, it makes Chinese goods cheaper for Americans … effectively negating the punitive impact of U.S. tariffs. It's like blocking the punch.
The Trump Administration wasn't happy about China's "block" and, for first time since the Clinton Administration, decided to brand the Chinese as "currency manipulators".
Without getting into the weeds, it means the conflict is escalating … and the two heavyweight economies are turning a gentleman's disagreement into a street fight.
With the two economies highly intertwined with each other … and very influential around the globe … this altercation has the potential to impact virtually everyone world-wide … including Main Street real estate investors.
Of course, we've been talking about this since 2013 when the clues in the news made it clear the dollar is under attack by China (and Russia).
We're not telling you this to brag. We're simply saying these are events which many people have seen coming … and have been preparing for.
And it's not over by a long shot.
So if want a broader context for what you see reported in the daily news, you might want to check out our Real Asset Investing report and our Future of Money and Wealth video series.
And if you're not sure why all this matters to a lowly Main Street real estate investor, consider this headline …
China could unleash this weapon on the financial markets to wallop the US – Yahoo Finance, August 6, 2019
"They [China] could start selling Treasuries which is what they use to benchmark the yuan to the dollar and that would be the doomsday scenario."
(By the way, Russia's already done it, but they're small fry compared to China.)
"While China has reduced its holdings of Treasuries in recent years,
any amount of pronounced dumping could send U.S. interest rates skyrocketing."
Remember, this is Mouse Trap …
Think about what "skyrocketing" interest rates would mean to an economy bloated with record levels of consumer, corporate, municipal, and federal debt.
As we discussed exactly one year ago, America's debt could be an Achilles heel China could attack by dropping the interest rate bomb.
Back then, this was considered an extreme view … highly unlikely because dumping that many Treasuries at once could cost China billions.
But China's been stocking up on gold … perhaps as a hedge against collapsing the dollar?
And when you consider the cost of "war" … even a trillion dollar loss is less than what the U.S. has spent in the Middle East.
So it's not too far-fetched to think China might consider the loss just the cost of winning the trade war.
Let's bring it back down to Main Street …
We're not saying interest rates will skyrocket. But they could. There's a lot more room to rise than decline.
And if China is playing a different game than Uncle Sam thinks, they may make a move few expect.
Is your portfolio fortified to withstand a sudden spike in interest rates?
"The time to repair the roof is while the sun is shining." – John F. Kennedy
Think about it. Pay attention. Inspect the roof … and make repairs.
Until next time … good investing!
More From The Real Estate Guys™…
The Real Estate Guys™ radio show and podcast provides real estate investing news, education, training, and resources to help real estate investors succeed.
---
Love the show?  Tell the world!  When you promote the show, you help us attract more great guests for 

your

 listening pleasure!
As of this writing, we're not sure what the Fed will do with interest rates, though it's widely expected they'll cut.
So as much as we'd like to talk about what it means to real estate investors, we'll wait to see what happens.
And even though mainstream financial media are finally paying attention to gold and the future of the dollar … these are topics we've been covering for some time.
But if you're new to all this, consider gorging on our past blog posts …
… and be sure to download the Real Asset Investing report …
… and for the uber-inquisitive, check out the Future of Money and Wealth video series.
After all, this is your financial future … and there's a LOT going on.
In fact, today there's a somewhat esoteric and anecdotal sign the world might be on the precipice of its next major financial earthquake.
But before you go full-fetal, this isn't doom and gloom. We're too happy-go-lucky for that.
It's more an adaptation of a principle from Jim Collins' classic business book, Good to Great …
Confront the brutal clues.
Of course, the original phrase is "Confront the brutal facts." But as great as data is, sometimes data shows up too late to help.
So, while facts may confirm or deny a conclusion … clues provide awareness and advance warning.
But just like with facts, you must be willing to go where the clues lead.
In this case, we're just going to look at one clue which has a history of presaging a crack up boom.
For those unfamiliar, a crack up boom is the asset price flare up and flame out that occurs at the end of an excessive and unsustainable credit expansion.
In other words, before everything goes down, they go UP … in spectacular fashion.
Here's a chart of the housing boom that eventually busted in 2008 …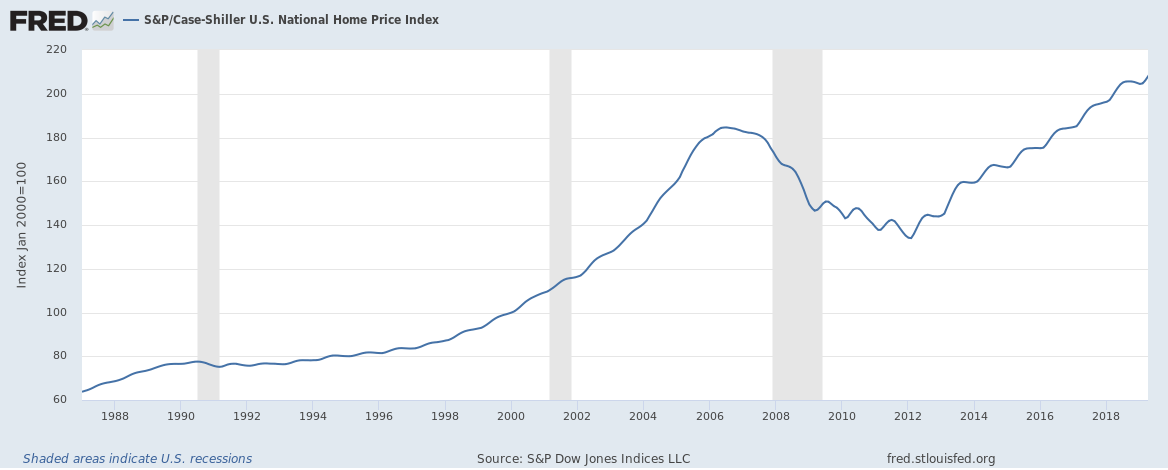 See the bubble that peaked in 2007? It's hard to miss … in hindsight. It's hard to see when you're in the middle of it.
Peter Schiff saw it in 2005 and published his book, Crash Proof, in 2006 to warn everyone. Few listened. Some mocked.
In 2008 it became painfully obvious to everyone.
Of course, for true real estate investors … those busy accumulating tenants and focusing on the long-term collection of rental income …
… asset prices are only interesting when you buy, refinance, or sell.
As long as you stay in control of when you buy, refinance, or sell … you can largely ride out the bust which often occurs on the back end of a boom.
And if you're paying attention, you use boom time as prime time to prep … and the bust as the best time to buy.
Today it's safe to say, just based on asset prices alone, we're probably closer to a bust than another big boom.
But the current run-up could still have more room to boom. As we said, it's hard to tell when you're in the middle of it.
Shrinking cap rates are one of the most followed metrics for measuring a boom.
Cap rates compress when investors are willing to pay more for the same income. That is, they pay more (bid up the asset price) for the same income.
But when the Fed says low-interest rates are the new normal, maybe it means so are low cap rates.
It's one of MANY ways Fed policy ripples through the economy … even real estate.
But there's another sign that's hard to see unless you're an industry insider, and while not scientific or statistical, it still makes a compelling argument the end is nearing …
Lending guidelines.
Think about it … booms are fueled by credit. It's like the explosive fuel which propels rising asset prices.
The only way to keep the boom going is to continually expand credit.
But any responsible head of household knows you can't expand credit indefinitely … and certainly not in excess of your capacity to debt service.
At some point, the best borrowers are tapped out. So to keep the party going, lenders need to let more people in. That means lowering their standards.
We still have a "backstage pass" to the mortgage industry and see insider communications about lenders and loan programs.
When this subject line popped up in our inbox, we took notice …
24 Months of Bank Statements NO LONGER REQUIRED
To a mortgage industry outsider that seems like a lame subject line. But to a mortgage broker trying to find loans for marginal borrowers, it's seductive.
It suggests less stringent lending criteria. Easier money.
Sure, the rates are certainly higher than prime money. But with all interest rates so low, they're probably still pretty good.
And these are loans with down payments as low as 10% for borrowers just 2 years out of foreclosure or short-sale. Hardly a low risk borrower.
Usually, lenders want to see TWO years of tax returns and a P&L for self-employed borrowers. They're looking for proof of real and durable income.
Not these guys. Just deposits from the last 12 months banks statements. And they'll count 100% of the deposits as income, and won't look at withdrawals.
So a borrower could just recycle money through an account to show "income" based solely on deposits.
The lender is making it STUPID EASY for marginal borrowers to qualify.
All of this begs two questions:
First, why would a lender do this?
And second, why would a borrower fabricate income to leverage into a house they may not be able to afford?
We think it's because they both expect the house to go UP in value and the lender is growing increasingly desperate to put money to work at a decent yield.
Pursuit of yield is the the same reason money is flowing into junk bonds.
And if the Fed drops rates as expected, it's likely even more money will move to marginal borrowers in search of yield.
Today, MANY things could ignite the debt bomb the way sub-prime did in 2008. Consumer, corporate, and government debt are at all-time highs.
Paradoxically, lower interest rates take pressure off marginal borrowers … while adding to their ranks.
It's hard to perfectly time the boom-bust cycle.
But careful attention to cash-flow protects you … whether structuring a new purchase or refinance. It means you can ride out the storm.
Meanwhile, it's smart to prepare … from liquefying equity to building your credit profile to building a network of prospective investors …
… so if the bust happens, you have resources ready to "clean up" in a way that's positive for both you and the market.
No one knows for sure what's around the corner … but there are signs flashing "opportunity" or "hazard".
Both are present, but what happens to you depends on whether you're aware and prepared … or not.
Until next time … good investing!
More From The Real Estate Guys™…
The Real Estate Guys™ radio show and podcast provides real estate investing news, education, training, and resources to help real estate investors succeed.
---
Love the show?  Tell the world!  When you promote the show, you help us attract more great guests for 

your

 listening pleasure!

The economy may be strong …
but what about the financial system supporting it?
Discover the opportunities hidden inside a FRAGILE financial system … and how to HEDGE against inflation, deflation, and even stagflation.
Featuring voice largely shunned by mainstream media, the Future of Money and Wealth reveals …
The REAL trade war no one's talking about … and how Russia and China are making major moves to take down a major U.S. stronghold …
Which assets are in bubbles now … and specific strategies to fortify your balance sheet … before it's too late …
The shocking truth about oil … it's direct impact on YOUR wealth … and how to profit from what's about to happen …
Who the new tax law REALLY helps … and how YOU can use it to grow more wealth faster (it's NOT an IRA) …
PLUS … candid conversations about crypto-currencies … wealth privacy strategies … contingency planning … and MUCH MORE!
Just ONE good idea can make or save you a FORTUNE …
Future of Money and Wealth brings you a HUGE collection of experts, thought-leaders, and real-world investors … who ALL volunteered their time to share their best ideas, warnings, and strategies with over 400 people in the live audience …
---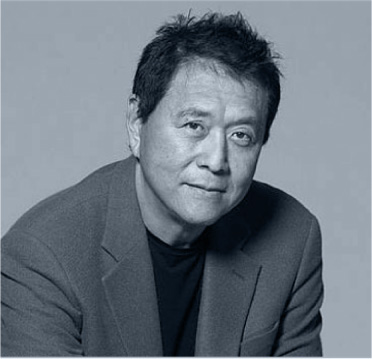 Robert Kiyosaki
Famous for being the greatest-selling personal finance author in history (Rich Dad Poor Dad series), Robert is a mega-millionaire investor in real estate, precious metals, and oil. He's also an avid student of money, economics, investing, and the financial system. He was one of the few pundits publicly warning the world about the 2008 financial crisis.
---
Doug Duncan
Doug is SVP and chief economist for Fannie Mae, which is perhaps the most dominant force in U.S. residential lending.
Doug is responsible for strategic research, including how Fannie Mae's activities affect housing. He's been named one of Bloomberg / Business Week's 50 Most Powerful People in Real Estate.
---
Peter Schiff
Peter's also a multi-millionaire investor, money manager, and outspoken financial pundit.
A best-selling author in his own right (Crash Proof 2.0 and The Real Crash), like Robert Kiyosaki, Peter was on record vociferously alerting people in 2006 about the impending financial crisis.
---
Chris Martenson
An economic researcher and futurist, Chris is an expert in the relationship between energy, the environment, and economics. Rising to prominence with his groundbreaking video series, The Crash Course, Chris is a best-selling author (Prosper!) and hosts a popular podcast featuring interviews with a variety of thought leaders and experts.
---
Simon Black
A former Army intelligence officer turned international entrepreneur and investor, Simon's a worldwide traveler, an avid student of political and financial history, and has developed an eclectic portfolio of investments and business ventures all over the globe.
Simon's diverse experience and global perspectives make his presentations both practical and enlightening.
---
Tom Wheelwright
Tom's a high energy tax and wealth strategist, a best-selling author, an entrepreneur … and is Robert Kiyosaki's personal CPA.
Tom's extremely well-versed in the new U.S. tax law and shares how investors can use it to build substantial wealth and permanently reduce taxes.
---
Kim Kiyosaki
Kim is a high-powered real estate investor, entrepreneur, and best-selling author of Rich Woman. She's co-founder of the Rich Dad company and a popular speaker on the topics of investing,

entrepreneurship, and empowering women.
Kim co-hosts the Rich Dad radio show, and is an avid student of investing, economics, and personal development.
---
G. Edward Griffin
Ed is a renowned investigative journalist and best known for his epic and controversial book, The Creature from Jekyll Island – A Second Look at the Federal Reserve.
Ed has a deep and historical understanding of money, currency,

central banking … and a knack

for explaining all of it in an easy to understand way.
---
Brien Lundin
For nearly four decades, Brien's been an active student, investor, commentator, and newsletter publisher in the precious metals industry.
As producer of the longest running investing conference in the world, Brien's one of the most informed, connected, and intelligent experts on money, precious metals, mining, investing, and economics.
---
Future of Money and Wealth is brought to you by The Real Estate Guys™ Radio Show
Broadcasting on conventional radio since 1997, The Real Estate Guys™ radio show is an investment talk program focusing on real estate as the core of a real asset portfolio.
After being among the many real estate investors caught completely unaware and unprepared for what happened in 2008 …
… hosts Robert Helms and Russell Gray are on a mission to bring the brightest and best real asset investing experts together to share insights, ideas, and strategies for building and preserving real, sustainable wealth.
The Real Estate Guys™ co-host Russell Gray explains why …

What YOU DON'T KNOW you don't know can COST YOU BIG …
Sound dramatic? Maybe. But consider this …
Wealth Wiped Out Without Warning
In 1929, 1987, 2000 and 2008 … millions of people were financially DEVASTATED by market disruptions they didn't even see coming.
Meanwhile, in those very same markets … informed and prepared investors not only survived … they THRIVED.
What's the difference?
Be Careful Who You Listen To
Successful investors didn't buy the hype from Wall Street, financial media, and politicians who downplay dangers … just so they can earn fees, placate advertisers, and win votes.
Remember this classic assurance?

"Importantly, we see no serious broader spillover to banks or thrift institutions from the problems in the subprime market."
Federal Reserve Chairman Ben Bernanke on May 17, 2007



Oops. Of course, just a year later the financial system melted down … triggering the GREATEST FINANCIAL CRISIS since the Depression.
But successful investors back then understood history. They looked at the financial system underneath the "strong" economy … and saw reasons to be alarmed.
They paid attention to the people and signs others were ignoring …
… so they could be proactive to get in position to prosper while there's still time.
TODAY, there are record levels of consumer, corporate, and government debt …
… and rising interest rates are already triggering loan defaults … to levels not seen since the 2008 crisis.
Stocks indexes are setting bubble highs … and market volatility suggests traders are ready to run for the exits … crashing prices … at the first sign of recession.
And that's just some of the more obvious challenges facing Main Street investors.
But there's GOOD news …
Many successful investors prospered through past market disruptions and YOU can too.
By finding new ideas, strategies, and the right experts you're better able to see what's coming sooner …
… so you can be proactive preparing YOUR business and portfolio to both survive and THRIVE through the next crisis.
Future of Money and Wealth brings YOU important insights from many top experts … so YOU can be more aware and prepared.
Eavesdrop on the Experts …
Imagine being a fly on the wall while some of the biggest brains in economics and investing share expert insights and discuss the most pressing issues facing investors today ..
You don't have to imagine … because the Future of Money and Wealth is all on videotape and ready for YOU to watch from the comfort of your own home or office!
Just ONE good idea can make or save you a FORTUNE …
Explore the future of money and wealth with people well-qualified to have an opinion …
Speakers include Rich Dad Poor Dad author Robert Kiyosaki and outspoken financial pundit and money manager Peter Schiff.
Both men are famous for LOUDLY warning the 2008 crash was coming … in spite of being mocked by mainstream financial media.
Back then the economy was STRONG … but the financial system was FRAGILE. And while many "experts" couldn't see it … Kiyosaki and Schiff did.
And while Federal Reserve chair Ben Bernanke was DEAD WRONG … Robert Kiyosaki and Peter Schiff were RIGHT.
Today Robert Kiyosaki and Peter Schiff are concerned again. And this time they're not alone.
Fannie Mae (yes, THAT Fannie Mae … the one making most of the mortgages in the U.S.) chief economist Doug Duncan points out that most of his predictions from last year turned out to be eerily accurate …
… and then reveals when he thinks the NEXT recession will strike (it's not that far away)
And that's just one of TWENTY powerful expert presentations and panels recorded at the Future of Money and Wealth conference.
Other important topics include …
Where real estate is likely headed … and which niches are best positioned for profit
Why oil and gas are likely headed higher … and the important impact on the economy and opportunity for investors
The fascinating rise of block-chain technology … and how crypto-currencies are changing the future of money and wealth
… PLUS a shocking revelation about the RAGING currency war between the U.S. and the tag team of Russia and China.
Far Away But TOO Close to Home …
You'll discover there's a WHOLE LOT MORE to the sparring between Uncle Sam and Russia and China than the mainstream media lets on.
And while it may seem like it's far away from YOUR income and investments … it's NOT.
If you earn, save, or measure your wealth in dollars …
… you REALLY need to understand the Future of Money and Wealth.
Nearly 400 people in the live audience at the Future of Money and Wealth conference were blown away. They called it "life-changing", "eye-opening", and "invaluable".
But don't take our word for it … watch for yourself …
Here's the GREAT NEWS …
We videotaped the ENTIRE event … all TWENTY presentations and panels …
… nearly fourteen compelling hours of essential education …
… and we've organized them all into one powerful online video series.
Now YOU can hear directly about the Future of Money and Wealth from Robert Kiyosaki, Peter Schiff, Doug Duncan, Chris Martenson, Tom Wheelwright, Brien Lundin, Simon Black, G. Edward Griffin … and MANY other top experts.
You may not know who all these people are right now … but you'll be REALLY glad to hear from them.
Their wisdom is impacting the lives of many millions of people all around the world … and it can help you too.
Real World Investors React …
It's one thing to hear and understand what's happening in geo-politics and macro-economics. It's another to decide what to DO about it at the micro-level.
So we included lots of practical insights from a great collection of niche experts, including …
---
Adam Taggart
Adam started his career as investment banker and saw first hand how broken Wall Street is. Later, he helped a company go from start up to acquisition in Silicon Valley. Today, Adam and his partner Chris Martenson develop and share ideas to help people prosper even when the world is full of uncertainty.
---
Kathy Fettke
Kathy's a highly successful real estate investor, syndicator, and investment club leader.
She's also a frequently featured expert real estate pundit in media and at conferences.
---
Gene Guarino
Gene's a recognized leader in the residential assisted living facilities investing space. He's a trained, but not practicing Certified Financial Planner. Gene saw opportunity in solving one of the major problems facing an aging demographic … and grabbed it.
---
Beth Clifford
Armed with a formal education in classical economics and graduating with honors, Beth cut her business teeth on the streets of Wall Street.
Today she's CEO of a groundbreaking offshore real estate development and construction company.
---
Brad Sumrok
Brad freed himself from the corporate grind in less than 5 years by investing in apartment buildings.
The 2008 financial crisis crushed many homeowners … and made many apartment investors multi-millionaires. Brad not only built a portfolio that survived the crash … he thrived through it.
---

David Sewell
David is a Canadian-born international agricultural investor and entrepreneur operating in Latin America.
With an MBA in Corporate Finance and an extensive background in real estate, securities, syndication, and international business … there's not much David hasn't seen.
---
Damion Lupo
Damion is a modern-day financial renaissance man with expertise in real estate investing, precious metals, and crypto-currencies. He specializes in strategies using alternative assets and sheltering wealth from predators and taxes through qualified retirement plans.
---
Patrick Donohoe
Patrick is a financial strategist and an expert in the unique use of life insurance contracts for enhanced cash management and private banking.
He has a degree in economics, hosts his own financial podcast, and is an avid student of economics, investing, and financial history.
---
Dana Samuelson
Dana has been in the precious metals business for decades.
He owns and operates a long-established precious metals and numismatic coin dealership, and is past-President of the Professional Numismatic Guild.
---
It's said to truly understand a subject, you need to study it from multiple perspectives.
Wealth that took a lifetime to accumulate can be lost or severely diminished in a financial crisis.
To survive and thrive when a financial system collapses or resets takes understanding, awareness and preparation. Future of Money and Wealth is an affordable, fun, and easy way to get started!
A tremendous value …



This program cost MANY thousands of dollars to produce. With travel, hotel and registration … every person at the taping paid thousands.
And the information in this video series is EASILY worth thousands of dollars … because just ONE great idea can make or save you a FORTUNE.
So we could charge a LOT more for this program … and it would be totally worth it.
And of course, we need to charge SOMETHING to cover costs … AND more importantly, so you have enough skin in the game that you'll actually watch it all.
But as you'll see … it's important to get this vital information out to as many people as possible. So we're making it a no-brainer …
Get ALL 20 videos … 14 hours of compelling content …

for only $497

(regularly $1997)
PLUS a SPECIAL BONUS when you act today … the Strategic Real Asset Investing webinar.

HUGE value … great price … powerful, life-changing information. But ONLY if you watch it!
Remember … what you don't know that you don't know could cost you a fortune … just ask all the people blind-sided by the last financial crisis.
"An investment in education pays the best dividend."
– Benjamin Franklin
Good advice. No wonder Ben's on the $100 bill.
Now it's decision time …

You've read this far for a reason.
You're concerned about the future … YOUR future … but while it's easy to be interested, it takes an investment of time, money and effort to actually get educated and busy implementing.
But if you think that's a burden …
Consider the price of NOT being informed and prepared …

And even if "this time it's different" (famous last words) …
.. and there's never going to be another financial crisis … sunshine and unicorns for as far as the eye can see …
Which is worse … to be prepared and not have a crisis … or to have a crisis and not be prepared?
Remember, the course you don't watch can't help.
Whatever you have, you've worked hard for.
And remember … the flip side of a crisis is opportunity, so it's not gloomy … there's a lot to look forward to and plan for.
For the informed and prepared … the future is bright. But for those who aren't … not so much.
With the stakes this high, it's time to …



To your prepared and prosperous future,
Robert Helms and Russell Gray
Hosts
The Real Estate Guys™ Radio Show
Producers of Future of Money and Wealth
P.S. Think about how much financial education you got in school. Most people get NONE … and so they're easily herded into a system designed to feed the banks interest, the government taxes, and Wall Street commissions and fees.
Worse, without context … it's nearly impossible to recognize major problems forming … while bankers, politicians, and financial media claim all is well.
Future of Money and Wealth will shock and enlighten you … and help you prepare yourself and your portfolio to PROSPER through what many experts believe is an inevitable economic re-set.
You're a click away from changing your future …
Get ALL 20 videos … 14 hours of compelling content … for

only $497

(regularly $1997)
PLUS a SPECIAL BONUS when you act today … the Strategic Real Asset Investing webinar.
Just ONE good idea can make or save you a FORTUNE …