On March 26th, the Chinese launch their yuan-denominated oil contracts.
Is that a big deal? 
Some people think so.  Some say it's just another incremental step towards a gradual shift in global economic power.  Some say it means nothing.
Most people have no idea it's happening … and even if they do, have no idea if it has any impact on them.
But think about this …
If you pay attention and nothing happens, you'll probably learn some things about the eco-system you invest in.  That's not a big win, but it's not a big lose.
But what if you don't pay attention and something big happens? 
That's what happened to all the people who downplayed sub-prime mortgage problems in 2007.  
So stick with us for a few minutes and we'll share our reasons for thinking this is development worth paying attention to … 
… even if you're a nose-to-the-grindstone real estate investor who doesn't care what happens in stocks, bonds, currencies, or commodities.
In this case, we're talking about oil … and in that regard, China's kind of a big deal.  After all, China has surpassed the U.S. as the world's largest importer of oil.  
That means China is the most important customer to countries who sell oil … including Russia, Saudi Arabia, Venezuela, Iraq, and Iran.  
Hmmm … Funny how the U.S. doesn't get along with most of those folks, but that's probably just a coincidence, so put your tinfoil hat away.
The point is … China has leverage with major oil producers to pressure them to do business in yuan … and not U.S. dollars.
THAT'S why some say this latest development is important.
It starts back in August 1971 when President Richard Nixon shocked the world by defaulting on the gold-backing of the U.S. dollar.
That's right.  Up until 1971, foreign holders of U.S. dollars could turn them into Uncle Sam and take home cold, hard gold.
The problem is the U.S. printed too many dollars and foreigners (being prodded by France) got worried … and started trading dollars in for gold.
And as demand for the dollar dropped, so did its value.
So then it took more dollars to buy the same things (inflation).  Gold went from $42 to $850, oil quadrupled, and consumer prices were rising double-digits.
It wasn't as bad Venezuela today, but bad enough that Nixon prohibited private businesses from increasing prices or giving pay raises. 
Yes, that really happened in the land of the free.  It's important to remember … governments do crazy things when they're desperate.
Here's where oil comes into the picture … 
To re-create global demand for dollars after they were no longer as good as gold, Uncle Sam made a deal with Saudi Arabia. 
At the time, the U.S. was the world's No. 1 producer of oil.  Saudi Arabia was No. 2 and the de facto leader of OPEC, the Middle Eastern oil cartel founded in 1960.
In exchange for military support from the U.S., Saudi Arabia agreed to sell oil in dollars.  The other OPEC members tagged along. 
So now, if Germany, for example, wanted to buy oil from Saudi Arabia, they had to buy dollars first.  Even though the U.S. had nothing to do with the deal.
This created immediate global demand for dollars and the "petro-dollar" system was born … replacing the Bretton Woods "gold–dollar" system that Nixon defaulted on.
Many financial historians believe this was the single most important move the U.S. made to save the dollar.
Of course, other tactics were used, including jacking up interest rates and opening trade relations with China. But the petro-dollar system was (and is) a big deal and the focus of today's discussion.
Oil's not well with the dollar … 
Since the mid-70s, the petro-dollar system has been central to creating global demand for the dollar.  And the U.S. has been pretty protective of it.
But China's been systematically cutting into that action. And the yuan-denominated oil contract is the latest, and perhaps most substantial step.
Of course, we're just a couple real estate radio talk show hosts, so don't take our word for it.  Here's just a few of the MANY news reports …
China has grand ambitions to dethrone the dollar – CNBC October 24, 2017
China's launch of 'petro-yuan' in two months sounds death knell for dollar's dominance – RT, October 25, 2017
China Will Launch Yuan-Based Oil Futures Contract, Set to Shake Up Global Market – Fox Business News, December 20, 2017
China Set To Launch Yuan-Prices Oil Futures Next Month – Oilprice.com, February 9, 2018
Yes, we know many pundits and officials contend it's no big deal.  But that doesn't mean they're right.
Funny today.  But not so funny if you were on the wrong end of the joke.
It's good to have a Plan B … 
The dollar's been falling for over 100 years, so it's not the downward trend that freaks people out.  You can get rich simply by leveraging real assets with long term debt as the dollar falls.  That's real estate investing economics 101.
The bigger concern is a sudden move, like when Nixon defaulted on the gold-backing.  Or when the subprime crisis suddenly seized up the entire financial system.
That's like having a fire at your home or business.  It's best to have a plan in place BEFORE the crisis … or you're likely to panic, run in circles, and end up hurt.
We've got Robert Kiyosaki, Peter Schiff, Doug Duncan (chief economist for Fannie Mae), Chris Martenson, Brien Lundin, G. Edward Griffin, and MANY others …
We're going to talk tax reform, the dollar, oil, gold, crypto, banking, and of course, real estate.   
And most importantly … what an investor can do to prepare to avoid losses and reap big profits … and how to know what moves to make as things unfold. 
The future of money and wealth is changing … whether you're paying attention or not.   But if you read this far, now you know.  
The big question is what to do next … 
There's still time to join us in Fort Lauderdale April 6-7.  They might just be two of most important days of your year.
---
More From The Real Estate Guys™…
The Real Estate Guys™ radio show and podcast provides real estate investing news, education, training, and resources to help real estate investors succeed.
What is the Fed? Friend or foe? Love it or hate it, the Federal Reserve of the United States is arguably the most powerful financial force on earth. 
Fed policies affect interest rates, prices and credit…not just in the United States, but around the world. Ben Bernanke and Ron Paul have two very different answers to the question, "what is the Fed?".
Former Fed chair Ben Bernanke has been touring the country promoting his memoir The Courage to Act.  Co-host Russell Gray stopped by a San Francisco Commonwealth Club meeting where Bernanke was speaking…just to hear what Big Ben had to say for himself.
Meanwhile, host Robert Helms sat in on a Simon Black Sovereign Man conference featuring long-time Fed critic, ex-congressman and multi-time Presidential candidate Ron Paul.
Then we sat down with the microphones and chatted about what we heard and how it relates to real estate investors.
---
The Real Estate Guys™ radio show and podcast provides real estate investing news, education, training and resources that help real estate investors succeed.
---
In the studio to reflect on the very valid, but polar opposite views of Ben Bernanke and Ron Paul on the Federal Reserve…
Your very valid host, Robert Helms
His in-need-of-validation co-host, Russell Gray
Long time listeners know we aren't raving fans of the Federal Reserve system.  So we confess that right up front. We're a bit biased when it comes to answering the question, "what is the Fed"?
With that said, we're huge believers in "getting a 360" when it comes to studying any topic…and especially one as important as the Fed.  In fact, in our Recommended Reading bookstore, we feature several books on what is the Fed.
Some, like G. Edward Griffin's iconic Creature from Jekyll Island, view the Fed as a nefarious creation of elite collectivists intent on world domination.  Scary stuff, if true.
Others, like David Wessel's In Fed We Trust, heap kudos on the Fed…and Ben Bernanke in particular…for saving the global financial system with bold action in 2008.
Obviously Mr. Bernanke concurs…as he named his memoirs, The Courage to Act.
What is the Fed?
That's a loaded question in itself.  The standing joke is that the Federal Reserve Bank is not federal (i.e., it's not a governmental agency, but rather a private company), is not a bank, and it has no reserves.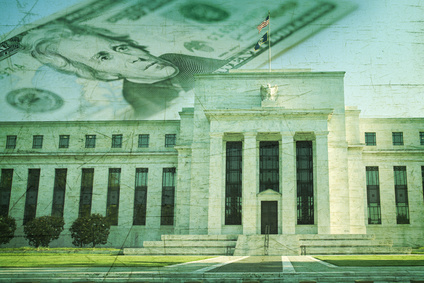 But for sake of this discussion, suffice it to say that the Federal Reserve Bank is the United States' central bank.
The Fed issues the currency (those green pieces of paper with pictures of famous dead politicians on them)…called Federal Reserve Notes (FRNs).  You probably refer to them as "dollars", but that's technically incorrect.
Of course, that opens up a HUGE can of worms about the difference between currency (FRNs) and money (dollars – which used to be specific amount of silver and gold).  But we won't go there….at least not today.
So as you can see, right out of the gate … "what is the Fed?" is complicated topic.  But it's one worth studying when you consider what Henry Ford (the guy who created the Ford Motor Company) said…
"It is perhaps well enough that the people of the nation do not know or understand our banking and monetary system, for if they did I believe there would be a revolution before tomorrow morning." – Henry Ford
Why would he say that?
Well, since Mr. Ford is no longer with us, we can only speculate.  But the gist of the comment is plainly understood.
Obviously, he felt the citizens would not be happy if they knew how money and banking worked.
And that's exactly what Ron Paul thinks.
Ron Paul has been an outspoken critic of the Federal Reserve for the four decades he served in Congress.
He wants the Fed audited.  He wants the Fed more transparent.  He wants the Fed accountable.
Ron Paul wants the Fed ABOLISHED.
Yet other people are convinced the Fed is an essential part of the U.S. financial system.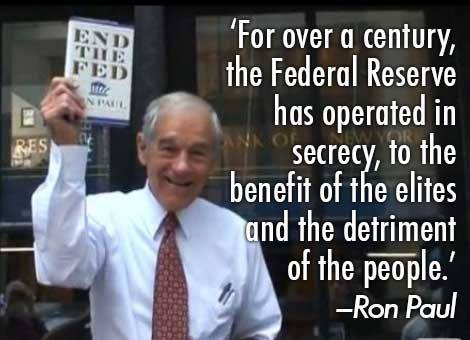 The Fed is the Bank to the Banks
If you've ever seen the movies It's a Wonderful Life or Mary Poppins, you've seen a run on the bank.
This is when depositors come wanting their money back, but the bank doesn't have it.
That's because the banking system business model is fundamentally flawed.  A bank borrows short by paying you interest…at least they used to…on your demand deposits.  The means you can pull the money out any time you want…as in "short" notice.  They, they lend long…like a 5 year car loan or a 30 year mortgage.
So the amount of actual cash on hand is very low compared to potential demands on cash (withdrawals).  The number is something less than 5%.
No wonder they run out of money!
The idea of a Central Bank (like the Fed), is to give the banks somewhere to go when they run out of money.  It's like a payday loan for banks.
So when a bank doesn't have enough money to satisfy customer withdrawals, they can go to the Fed and borrow.  Later, when they get some money in from new deposits or loan payments, they can pay it back.
Obviously, we're WAY over-simplifying this.  But that's the basic model.
The Fed Creates the Currency Out of Thin Air
So where does the Fed get the money to lend?
It prints it.
Bet you wish YOU could do that.  But you can't.  So don't try.  It won't end well.
When Panic Strikes…
When the 2008 Financial Crisis struck, financial markets froze up.  It's a long convoluted story, and if you're super interested, then you're a sickie like Russ, and you'll enjoy plowing through ALL of the books in the Banking and Economics section of the bookstore.
The short of it is that major banks, insurance companies and investment houses all ran out of money…at the same time.
How could that happen?
Leverage.
Wall Street created trillions of dollars of faux financial assets called "derivatives".  Basically it's debt secured by debt secured by debt secured by debt.  Get it?
Even though there were BILLIONS of dollars in the financial system, they were holding up MANY TRILLIONS of dollars of debt.
And when the sub-crime…oops…sub-prime…crisis hit, some of that debt went bad.
Normally, that's not a big deal.  Which is probably why Ben Bernanke assured the world the sub-prime contagion wouldn't spread.
Famous last words.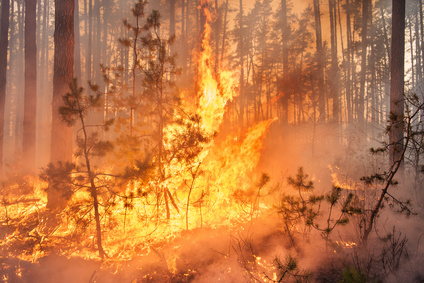 In fact, it spread like wild fire.
That's because when the sub-prime debt went bad, it set off a daisy chain reaction of ALL the derivatives (debt secured by debt secured by debt secured by debt…secured by sub-prime mortgages).
And each layer had a margin call.  So when the sub-prime loan went bad, the value dropped relative the derivatives backed by it, so the bank that pledged it as collateral got a margin call.
That means they need to put up cash.  Except they didn't have enough.
So they tried to sell some of the derivatives they had to raise cash.  But no one wanted to buy them.  Seems the word on the Street was the paper (debt) was bad.
Now, in a "no bid" environment, prices were in free fall.  Margin calls were everywhere.  More and more derivatives were hitting the market with no bid…leading to more margin calls, defaults and widespread panic.
Ben Bernanke to the Rescue
It's a big long story…but the short of it is this:  Ben Bernanke printed over $4 trillion dollars and started buying up all the bad debt.
The Fed put a "bid" under the market to stop the margin calls.
Then they made huge emergency loans to private businesses.  Like the $80 billion loan that saved AIG Insurance.
They allowed Goldman Sachs and other investment banks they liked (then Secretary of the Treasury Henry Paulson was the former CEO of Goldman Sachs) to become deposit banks so the FDIC fund could be raided…oops…used to save them.
Lehman Brothers wasn't smart enough to get their CEO into Treasury, so Lehman went bust.
So Ben Bernanke had the courage to act.  And according to people like David Wessel, Richard Duncan and Bernanke himself…Ben's bold action saved the financial system.
Good job.
Who Broke the Financial System?
Ron Paul, Peter Schiff and other critics of the Federal Reserve System claim that the entire problem was originally caused by Federal Reserve activity in the years and decades leading up to the financial crisis.
You can (and should) read more about that in Peter Schiff's books, Crash Proof 2.0 and The Real Crash.
Who Cares?
Hopefully, when it comes to understanding, "what is the Fed", YOU do.  After all, the Fed's decisions impact every aspect of the economy including interest rates, employment, wages, cost of materials, availability of credit and more.  All those things directly affect you, your tenants, the value of your savings, and the price of your properties.
But we make distinction between politics and investing.
We have an opinion about how things SHOULD be.  Sadly for us, things aren't that way.  You may have your own opinion and you may agree or disagree with us.
That's okay. It's what makes the world go around.
But when it comes to investing, whether we like the Fed or not, and whether or not we agree with the Fed, politicians or each other…what matters is making sure we understand what is the Fed and what's happening so we can try to anticipate likely outcomes and position our portfolios to roll with the flow.
Will there be inflation or deflation?  Will interest rates rise or fall?  Will employment improve or weaken?  And on and on and on…
The Elephant in the Room
So just like being locked in a room with a huge elephant which could EASILY CRUSH YOU…
So, what is the Fed? It doesn't matter if you think the Fed is evil and is trying to destroy you…or if the Fed is just a big, lumbering oaf…
If you're on the wrong end of it, you get CRUSHED.
So pay attention to the Fed.  Try to see if from all angles.  And when it moves, make your adjustments to make sure you're safely positioned.
---
Listen Now: 
The Real Estate Guys™ radio show and podcast provides real estate investing news, education, training and resources that help real estate investors succeed.
Whatever you may think about the Federal Reserve or its motives and contributions, one thing is certain:  The Federal Reserve has a profound impact on the supply and cost of capital.  This alone makes paying attention to the Fed an important part of any investor's routine market vigilance – and real estate investors are no exception.
While attending Freedom Fest in Las Vegas, we caught up with a 2012 Summit at Sea™ faculty member who was one of several keynote speakers – along with Steve Forbes, Peter Schiff , Robert Kiyosaki, Andrew "Judge" Napolitano and Mark Victor Hansen.
Coming to you from Las Vegas, Nevada:
Your straight dealing host, Robert Helms
Your royally flushed co-host, Russell Gray
Special guest and best selling author of The Creature from Jekyll Island, G. Edward Griffin
This is G. Edward Griffin's second appearance on The Real Estate Guys™ radio show.  Last October, as part of our Halloween theme, we traveled to Southern California to interview Mr. Griffin – and didn't quite know what to expect.  After all, his signature book, The Creature from Jekyll Island – A Second Look at the Federal Reserve, is somewhat controversial to say the least.
But after spending a week on our 2012 Summit at Sea™ with both G. Edward Griffin and Robert Kiyosaki discussing the Fed, banking, investing and real estate, we were excited to reunite with both of them at Freedom Fest.
We took advantage of the opportunity to sit down with Mr. Griffin one more time, in the wake of several Freedom Fest speakers (including Robert Kiyosaki, Peter Schiff and yours truly) talking about the Fed and its impact on real estate.
Whether or not you subscribe to the notion that the Fed is a nefarious cartel of international banks bent on world domination, or a misguided but very powerful 4th branch of the U.S. government; or a necessary, effective and benevolent steward of the U.S. dollar – no one seems to disagree that when then Fed expands the money supply (quantitative easing), that new currency flows through the economy and ultimately has an affect on all types of asset classes, including real estate.
Therefore, we ask Mr. Griffin to give us a short review of the history and mechanics of the Fed.  Since he literally wrote the book on the subject, he's one of the best qualified people we've met to help us with this essential understanding.
While Ed's position is that the Fed is a problem (hard for us to disagree), we also know that for every yin (negative) there's a yang (positive), so (parents, cover your children's eyes) we enjoy pulling out our yang (the force is strong with us) and discussing the opportunities that the Fed's shenanigans create for real estate investors.
It's a topic we've covered before, but as we listen to Peter Schiff and other financial pundits turn up the warnings of a falling dollar, we can't help but smile.  After all, there is no better financial vehicle with which to short the dollar than a low interest 30 year fixed rate mortgage on an income producing property in the right market.  In fact, that was the topic of our presentation at Freedom Fest.
It's one thing to walk around talking about market cycles and how what goes up must come down and vice-versa.  It's another thing to understand the mechanics of money from the Fed to Wall Street to Main Street so you can see the wave coming and ride it.  And it starts with understanding the Federal Reserve Banking System.
So listen and learn as we discuss banking, monetary policy and real estate with G. Edward Griffin.
LISTEN NOW:

Want more? Sign up for The Real Estate Guys™ free newsletter
Don't miss an episode of The Real Estate Guys™ radio show! Subscribe to the free podcast!
Stay connected with The Real Estate Guys™ on Facebook!
The Real Estate Guys™ radio show and podcast provides real estate investing news, education, training and resources that help real estate investors succeed.
As Halloween approaches, we wanted to pick a spooky topic to kick off the week.  We'll follow it up next with our annual edition of Halloween Horror Stories, so stay tuned!
For this episode, our topic is The Creature from Jekyll Island.  For the uninitiated, this is the title of the epic and iconic expose on the Federal Reserve by award winning documentary filmmaker G. Edward Griffin.  And while it isn't quite as entertaining as Rocky Horror Picture Show, it certainly has its own cult of rabid fans.  However, like Rocky, Creature probably has more than it's fair share of closet followers.
So when our good friend Robert Kiyosaki (who is no stranger himself to controversy) not only promoted, but endorsed The Creature from Jekyll Island, we thought we'd use the power of our press passes to get a face to face interview with the author.
Lurking around the microphones for a frightening discussion about the Federal Reserve:
The mad scientist of radio magic, host Robert Helms
His humpbacked henchman, co-host Russell Gray
Documentary filmmaker, prolific author and outspoken critic of The Fed, G. Edward Griffin
Anthony J. D'Angelo says, "Your mind is like a parachute.  It only works when it's open."  How true!  But this doesn't mean that you should blindly accept everything you hear.  However, it certainly encourages exposure to various points of view for further contemplation.  In fact, that's just how Griffin expanded some simple research for a speech on inflation into a seven year research project and one of the best known critiques of the Federal Reserve ever penned.
The Federal Reserve Bank is arguably the most powerful, non-governmental institution on the planet.
What's that?  You thought that "Federal" meant it was part of the government like the Treasury department?  Not so.  And that fact in and of itself isn't even considered to be all that controversial!  It's widely acknowledged, even by Fed supporters like David Wessel, author of the New York Times bestseller In Fed We Trust, that the Fed is NOT an official part of the U.S. government.
So what's the big deal about the Fed and why should a real estate investor pay attention?
First. the Fed controls the money supply of the (for now) world's largest economy.  It has a profound impact on interest rates and inflation – two topics which all real estate investors hold near and dear.  Plus, the Fed has tremendous authority over ALL banks in the USA, even the little commercial ones in the flat middle states.  And if all that power wasn't enough, because the U.S. dollar serves as the reserve currency of the world, the Fed and its policies also profoundly affect global trade and currency exchange rates.
Yeah, the Fed's a pretty big deal.
It's no wonder then, that as the 2012 elections approach and so much emphasis is on the economy, that the topic of the Federal Reserve has made its way into the mainstream of presidential debates.
Ron Paul wants to End the Fed (the title of his book).  Rick Perry has publicly denounced the Fed's activities as "treasonous" and the last time we looked, "treason" was a pretty egregious crime.  Although politicians are often guilty of putting their feet in their mouths, we're guessing that wasn't a comment Perry made lightly.
Meanwhile, Herman Cain actually has a stint as a Chairman of the Kansas City Fed on his resume!  What's an investor to think?
To top all of this off, love him or hate him, all the major polls show that President Obama's odds for re-election are not good.  So it's quite possible one of the aforementioned GOP candidates will end up in the White House.
Now we aren't here to say who should or shouldn't be in the White House, or even if the Fed is good or bad.  As you might guess, we have our own opinions.  But since you're investing YOUR money and not ours, then the opinion you should be most interested in is your OWN.  Hopefully, you are forming it carefully!
To help you formulate an informed opinion on the Fed (and anything else we can think of that may affect job creation, the value of real estate, interest rates on mortgages, taxes paid on profits, etc), we will continue to scour the universe for news, information, perspectives and ideas to share with you.
After reading The Creature from Jekyll Island, we found it to be both well-researched and documented, as well as thorough and extremely thought provoking.  And after sitting down with the author for several hours both on and off mic, we found him to be a whole lot less scary than some of his critics portray him.  In fact, in many ways, it was refreshing to talk to someone who was willing to go where the evidence led him – even if it was to a highly controversial conclusion.
So listen in to our discussion with Mr. G. Edward Griffin, then form your own opinion.  And we encourage you to continue your education on the Fed by devouring some of the other books in our Recommended Reading list on the topics of Banking & Politics.  Happy Trick or Treating!
Listen Now:

The Real Estate Guys™ radio show and podcast provides real estate investing news, education, training and resources to helps real estate investors succeed. Visit us on Facebook!