There's a lot of talk in the media about tariffs, taxes, and trade … what does all of that really mean for real estate investors?
As a real estate investor, you need to understand what is going on economically. What's happening at an international level can trickle down to your local playing field.
To help you navigate the news, we brought in our good friend Peter Schiff. Peter is an author, stock broker, and financial commentator … and he has some strong ideas to share.
Learn to more successfully sail the economic sea and weather financial storms.
In this episode of The Real Estate Guys™ show, hear from:
Your financial seafaring host,

Robert Helms

His economically seasick co-host,

Russell Gray

Author, stock broker, and financial commentator,

Peter Schiff
---
Listen
---
Subscribe
Broadcasting since 1997 with over 300 episodes on iTunes!
---
Review
When you give us a positive review on iTunes you help us continue to bring you high caliber guests and attract new listeners. It's easy and takes just a minute! (Don't know how? Follow these instructions).
Thanks!
---
Tariffs and the big picture
If you're the type of investor who reads the headlines … and you should be … then you've probably seen lots of talk about tariffs, taxes, and trade.
But most investors don't understand what these headlines mean for their money.
What's the deal with these three big "Ts" … What are they? How do they work? And why do they impact your business?
As a real estate investor, you've got to understand the economic and financial sea that you swim in.
You need a basic understanding of all things economic.
Tariffs … in particular … are a great place to start.
Before 1913, the United States didn't have an income tax. Instead, we funded our federal government through tariffs.
A tariff is a tax on people that want to sell in our markets … and today, President Trump is using tariffs as leverage in negotiations to level the international playing field.
You may agree or disagree with these politics … but whatever your personal opinions, you still need to know what such action really means for you.
Any kind of tax or tariff affects how much things cost in our economy … and it can also affect where jobs are created … which affects where people live.
By instituting tariffs, the federal government hopes to bring more manufacturing jobs back to the United States … potentially resurrecting manufacturing ghost towns.
Real estate investors need to look out at the horizon and see the bigger picture. You want to be riding the wave … not chasing the trend.
That's why we asked our good friend Peter Schiff to share his knowledge and experience with us.
The US-China trade relationship
Peter says a great place to start increasing your understanding of the current economy is to look at the US relationship with China.
According to Peter, China does TWO big things for the US … they supply us with real goods, and they lend us money.
We get everything from China. It's all manufactured products that make our lives better.
People go to Walmart and buy cheap stuff … and where is it coming from? China, of course.
China is also the biggest buyer of US bonds … which means they are our lender. They are lending us money that we would otherwise not have.
While the federal government talks about losing $500 billion a year to China, Peter thinks the US is still getting the better end of the deal.
China supplies us with real goods … and in exchange the US gives them a stack of paper that is arguably worth less every day that they hang on to it.
So, if the US places tariffs on China and enters a trade war, who is worse off in the end?
Peter says the Chinese will still have all their stuff … and we'll just have a stack of paper.
The US government hopes that by instituting tariffs, companies will make their products in the US instead. Peter says that is easier said than done.
Pulling together the infrastructure, raw goods, and man power to manufacture these products in the US could take years … and it will cost businesses more money … not to mention a major shortage of goods in the meantime.
Peter explains that switching the US back over to a more manufacturing-based economy would require tremendous changes … and most likely result in a huge depression until the new economic flow was established.
"When we were a big manufacturer in the past, we had limited government, lower taxes, fewer regulations, a lot of savings, and a skilled workforce. We don't have that stuff now," Peter says.
Peter does mention that the US is probably going to have to make some of these changes eventually … but proposed tariffs and trade wars would accelerate the timeline in a painful way.
And the United States doesn't realize how painful it will be.
If tariffs make it harder for the Chinese to sell stuff to America … they'll sell it domestically instead.
As the Americans get poorer … the Chinese would be getting richer.
Right now, the Chinese labor, and we get the fruits. Suddenly, they would get both.
And what about our intellectual property?
"They're going to keep ripping off our intellectual property because we can't stop it, but now they're not going to be giving us this big subsidy by loaning us money and supplying us with goods," Peter says.
Preparing for a drop in the dollar with gold
Another notable headline today … the Chinese and Russian governments are buying gold and putting it away.
Peter says that the Chinese and Russian governments recognize that the dollar's day as the reserve currency are numbered.
Nobody knows when the dollar's time will be up … but if it loses its role as the primary reserve asset for central banks, what will take its place?
Right now, what gives a currency value are the foreign reserves … we've got this huge pile of US dollars that gives currency value.
Before central banks used other currencies as their reserves, everybody used gold. That's what backed up your paper.
Originally, the transition from the gold standard to the dollar standard happened because the dollar was as good as gold.
US Federal Reserve notes were obligations of the Federal Reserve to pay. So, foreign central banks held Federal Reserve notes, which were redeemable on demand in gold.
Then, in 1971 the US said it would not give other countries gold for these reserves. The value of the dollar went down … and the value of gold went up.
All the central banks kept holding the dollar as a reserve even though it wasn't backed by gold anymore.
Peter says that the US has borrowed so much money … and printed so much money … that it is heading for a currency crisis.
"In that environment, central banks are going to have to show that their currency is backed by something," Peter says.
Some banks are buying more of other currencies … like the euro or the yen … but if people lose confidence in the dollar, the same could go for other currencies.
"I think that central banks are thinking they better have actual money in gold, because in the future, gold could be a much more important component of their reserves," Peter says.
And if the price of gold continues to rise, the appreciation alone is going to increase the percentage of their reserves that are in gold.
Preparing yourself for the future
So what's an investor to do?
Peter recommends getting out of US stocks in general … and bonds are way over-priced right now.
"If you've been fortunate enough to have invested in US stocks and seen a big gain, you need to cash in. Take that gain before the market takes it away from you," Peter says.
That doesn't mean you shouldn't own stocks … Peter says it just means to think about moving out of dollar-dominated US stocks.
Consider taking a look at foreign stocks … emerging markets and developed markets are looking really good right now.
These stocks are international and derive their revenues outside of the US. If the dollar crashes … these stocks will rise in proportion to that decline.
Peter also believes that investors should have some sort of gold in their portfolio. It's a good way to get diversified.
There's no sure way to know what will happen in the future. We can only do our due diligence and make an educated guess.
Remember that not every strategy works for every investor. Find what works best for you. Always talk to an expert that understands your financial needs and situation.
---
More From The Real Estate Guys™…
The Real Estate Guys™ radio show and podcast provides real estate investing news, education, training, and resources to help real estate investors succeed.
---
Love the show?  Tell the world!  When you promote the show, you help us attract more great guests for 

your

 listening pleasure!
We're just back from another incredible Investor Summit at Sea™ … and it was EPIC!
With 234 people, 2018 was our biggest ever … and many have already reserved their place for next year.  Click here to get YOUR name on the Advance Notice List.
We kicked off the 2018 Summit with a two-day land conference based on our theme, The Future of Money and Wealth.  Our speakers hit it out of the park!
Fortunately, we videotaped the whole thing.  Watch for more details … or if you already know you want it, click here to pre-order the entire two-day series.
Meanwhile, it seems the world continued to spin while we were gone.  So as much fun as it might be to keep cogitating on currency, bonds, gold, oil and interest rates …
… we decided to dig into our real estate news feed and see what's happening with our favorite investment sector.
But a funny thing happened …
A couple of related headlines jumped out as particularly interesting after a week of contemplating the future of money and wealth.
First …
CRE Valuations Are Trending Down – NREI Online, April 6, 2018
For the uninitiated, CRE is short for Commercial Real Estate.  And when the industry talks CRE, it includes large multi-family.
But even if you're a Mom & Pop single-family home investor, you can still learn a lot from following CRE trends.
So this first article opens with …
"… real estate investors can expect that property prices will trend downward in the near future …"
"'Value appreciation has practically stopped …"'
"However, there are variations among sectors.  Industrial … has seen rising values … malls have seen big losses …"
"Cap rates have been inching up … for all sectors except industrial …"
After two days at Future of Money and Wealth, then another seven days at the Investor Summit at Sea™, these comments make a whole lot more sense to us.
First, interest rates are rising.  But the impact on real estate is much deeper than just mortgages getting more expensive.  If only it were that simple.
So without getting lost in the weeds, consider the impact of rising rates on the overall economy …
With record levels of consumer, corporate, and government debt … rising rates put a pinch on budgets at every level.
This means it's harder for consumers to spend more, for businesses to sell more, and for landlords to raise rents on those consumers and businesses.
And when you realize income property values are driven by income, it's easy to understand why stagnant rent growth means stagnant equity growth.
But this article also reminds us why we LOVE real estate … "there are variations among sectors" … so while retail (malls) are losing value, industrial is gaining.
We discussed this trend in our February 14 newsletter, so we won't revisit it here.  The point is …. when things shift, pain and profit are NOT equally distributed throughout the economy.
So if you're alert and proactive, you can get in front of an opportunity … or out of the way of a problem … faster than investors on cruise control.
Meanwhile, while rising cap rates can come from income rising faster than prices, most of the time it's from prices falling.
(Again … no investor left behind … cap rate is income divided by price.  Just grab a calculator and play with numbers until you understand. It's an essential investor skill.)
So why might cap rates be "inching up" … that is, why would buyers be offering less for the income?
Conversely, why would sellers be offering more income for less price?
(That's two different ways of saying the same thing … go back and play with the numbers until you get it.)
One likely reason is investors aren't willing to overpay today (bid up) expecting income to grow in the future.  The numbers need to make sense TODAY.
So cap rates are like a barometer of sentiment.  Rising cap rates are an indicator of a less bullish, more bearish outlook.
If rents rise (creating more income) and/or interest rates decline (reducing expenses), then cash flows improve.
If the rents don't rise (stagnant income) and/or interest rates climb (expenses increase), then cash flows stagnate or decrease.
So investors are saying the think either rents won't rise, or interest rates won't decrease (or even increase), or both.  That is, they don't expect market forces to improve cash flows going forward.
Make sense?
Which leads to the next headline …
Competition Intensifies for Value-Add Assets, NREI Online, April 17, 2018
"… competition is becoming increasingly stiff as the industry faces the likely end of the cycle and rent growth has moderated for core assets."
"As yields get lower and lower … two strategies have emerged … speculative building and value-add …" 
Quoting a research director at a commercial research firm …
"'Value-add has become quite attractive … people are less afraid to take on vacancy risk and reposition buildings.'"
So let's break this down real quick, then you can go get a snack …
When you hear "the likely end of the cycle", it's code for "the party's nearly over."
Real estate, like the rest of the economy, has been partying on easy money since 2009.
At Future of Money and Wealth, Fannie Mae chief economist Doug Duncan reminded us we've been in one of the longest (and weakest) recoveries in modern history.
In other words, we're nearing "the likely end of the cycle."  Duncan thinks the U.S. will be in full-fledged recession in 18-24 months.
So now instead of just buying a property and riding a wave, you actually have to buy smart and do some real work to improve the income … like "take on vacancy risk and reposition buildings." 
And if you're like our pal, the apartment king Brad Sumrok, and you've already been doing value-add and achieving spectacular results … be prepared to settle for "only" solid results.
Here's the bottom line …
Rising interest rates are moderating the economy, so it's important to focus your growth plans on things you have more control over.
This is probably not the environment to bet big on rising rents, falling rates, and lots of passive equity growth.  You'll need to buy smart, have a good plan, and work hard.  We call it "force the equity."
Pick your sectors, markets, properties, and financing structures for the long haul.
And remember … real estate is a highly inefficient investment vehicle with lots of nooks and crannies for good deals to hide.
So when you're well-connected, diligently searching, and properly prepared with a solid team and resources so you can act quickly and carefully, you improve your odds of landing profitable opportunities.
Until next time … good investing!
---
More From The Real Estate Guys™…
The Real Estate Guys™ radio show and podcast provides real estate investing news, education, training, and resources to help real estate investors succeed.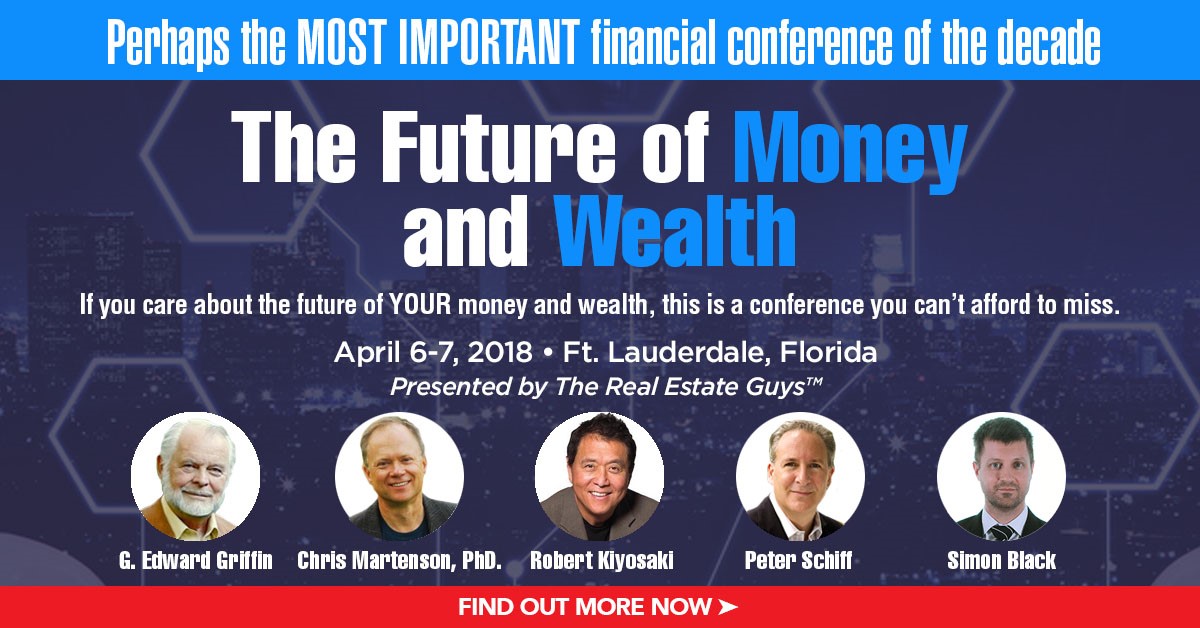 The world economic order is under-going massive change right now.  We're literally watching it unfold in the daily news.
Yet few investors really understand what's happening and why … or what they can do to both grow and protect wealth during these historic times.
"Those who can't remember the past are doomed to repeat it." – George Santanya
In two power-packed days our all-star line-up of notable experts will explain …
How the U.S. dollar is under attack and what it means to Main Street investors

What are the best and worst investments based on what's happening now … and where it's headed

How savvy investors are preparing to be on the right side of an historic wealth transfer most people don't see coming
Remember, the flip side of crisis is opportunity.  But pretending everything is fine … and not being prepared in case it's not … can be dangerous and expensive.
"Maintain unwavering faith you can and will prevail in the end, regardless of the difficulties, and at the same time, have the discipline to confront the most brutal facts of your current reality." – Jim Collins, Good to Great
Like waves on the beach or the rising and setting of the sun … the ebb and flow of the infamous "business cycle" is something every entrepreneur and investor must navigate.
The marketplace is fluid and dynamic.  There are no lane lines or guard rails.
More importantly, there is no singular cycle because there is no singular market.  As Jim Rickards says … it's a complex system.
At our last Investor Summit at Sea™, Fannie Mae's chief economist Doug Duncan warned the current economic expansion is one of the longest on record.
The odds, Duncan says, are high another recession is around the corner.
And as we've noted before, 10 of the last 13 times the Fed embarked on a rate raising program … the result was recession.  So …
Should real estate investors wait for the next recession to add to their portfolio?
The answer is … it depends.
That's because it's probably not smart to apply a one-size-fits-all simple strategy to an investing question about a complex system.
And even trying to "narrow" the question down to "real estate" is still complex.
After all, "real estate" covers a lot of ground (sorry, couldn't help it) … in terms of geographic markets, property types, teams, available financing, and specific deal terms.
Common sense says if you look at enough deals, you'll probably find a good one … in any cycle … because every real estate deal is unique.
So macro conditions are interesting for deciding which markets to shop in, but less so for deciding whether or not you want to find a deal.
Because if you won't even look because you're waiting for a macro-sale, you might miss a micro-sale… and find yourself sitting out much longer than you planned.
Remember, you can't profit on property you don't own.
Markets get hot for a reason …
When a real estate market gets hot, it's because buyers are bullish about the future.  Sometimes they're wrong, but often they're right.
Local real estate markets are driven by local factors … the local economy, local tax and business policies; local infrastructure, weather, amenities and population trends.
When LOCAL factors are positive, LOCAL real estate prices and rents rise.  Sometimes in sync.
But sometimes, prices get ahead of rents.  Cap rates (rent ratios) fall.  Investors are willing to pay more for the same income in that market … for a reason.
And in a recession, the problem can actually get worse.  In other words, it's not unusual in hard times for quality markets to become even MORE expensive.
That's because when clouds form … or it starts raining … money seeks shelter in quality.
So strong markets and property types often attract MORE capital in uncertain times … thereby raising the price to acquire safe haven assets.
As we discussed last time, Americans and foreigners have already shown a strong preference for U.S. real estate … housing in particular … even as stock markets are raging to record highs.
Royal flushes are rare …
When a macro-event comes and slaps down the national or global economy, sometimes great markets get caught in the downdraft.
This happened in 2008 and it created some of the best buying opportunities since the real estate bust of 1989.  For those who were in position when it happened and acted, it was awesome.
But think about that.
If you missed buying the bargains coming out of 1989 and sat out waiting for the next real estate recession, you'd have been on the sidelines for nearly two decades.
Meanwhile, lots of people made lots of money in real estate … without getting the bargain of the century on every deal.
Pigs get fed.  Hogs get slaughtered … or starve.
This variation on an old investing adage still rings true in today's investing climate.
The idea is there's danger in getting greedy.  It's about being overexposed to a market top, and taking on a lot of downside risk trying to squeeze out a little more upside gain.
But it's also true about waiting … and waiting … and waiting … for the BIG correction, so you can swoop in and gobble up distressed assets for pennies on the dollar.
Remember … you can also strike out by standing at the plate waiting for the perfect pitch.  It's usually better to swing.
What are YOU waiting for?  
A PIG is a Passive Income Generator … like rental real estate.  It's the kind of asset which actually attracts capital in a recession.
That's because when asset prices are uncertain, income is reassuring.  And as prices of stocks, bonds, commodities, and currencies go up and down like a roller coaster …
… working-class people ride the merry-go-round of getting up and going to work every day to pay their rent.
And if they don't, you can replace them with someone who will … IF you're in a market and product type with solid supply and demand dynamics.
To be there, you may have to pay a premium for quality.  The deal still needs to make sense, but it doesn't have to be cheap to be a bargain.
"Bargain" is a relative term … and price is only ONE component.  There's more to value and desirability than just price.  Few people want the cheapest brain surgeon.
So long as the market, team, property, and deal make sense … meaning you've got staying power to ride out a recession if it comes …
… then you can sail through the business cycle riding a PIG.  It's not sexy.  But it's better than starving or getting slaughtered.  You can score a lot of points with base hits.
Until next time … good investing!
---
 More From The Real Estate Guys™…
The Real Estate Guys™ radio show and podcast provides real estate investing news, education, training and resources to help real estate investors succeed.
Real estate investing can be lonely.  Very few financial conferences or commentators even talk about real estate … much less endorse it as a wealth building vehicle.
So real estate investors huddle together in obscure corners of the financial community … quietly making money and muttering about the trials and tribulations of tenants, toilets and 1031 tax-deferred exchanges.
But recently, mainstream financial headlines seem to be painting a rosier picture of real estate …
Several news outlets published articles referencing this Bankrate.com article and survey which says Americans prefer real estate over cash, stocks, gold and bonds …
The article says …

"… for the third consecutive year real estate is the favorite way to invest money not needed for at least a decade …"
"… home prices have gone gangbusters recently, climbing back above their record pre-crisis levels … according to CoreLogic."
Click Bait and Switch
But then the balance of the article is essentially dedicated to telling readers why the survey respondents are wrong for preferring real estate over stocks …

"Still, 'it's a rather poor investment,' says [a] RBC Wealth Management financial advisor.  'It's highly illiquid, and markets aren't always rational.'"

"One study … found that housing only returned 1.3 percent per year after inflation from 1900 to 2011, while stocks tended to perform more than four times better."

As you might guess, RBC Wealth Management deals in paper assets.

Their trite critiques of investment real estate reveal a lack of understanding at best … and a dishonest bias at worst.

Let's break it down.  Because whether you're raising private capital to invest in real estate …

… or just trying to convince your spouse or in-laws real estate is a viable alternative to stocks, bonds and mutual funds …

… it's important to be able to rebut the financial fake news bias against real estate.

Liquidity – LOL
The flip side of liquidity is volatility.  When traders can move in and out of an asset quickly, it makes the asset price volatile.  So liquidity isn't automatically a good thing.
The survey asked about money "not needed for at least a decade" … so liquidity isn't what investors are looking for when they buy real estate.
Besides … to say housing is "illiquid" is inaccurate. 
"Illiquid" means "not easily converted into cash" and "of a market with few participants and a low volume of activity". 
Sure, you can't day trade houses … but we see that as a plus.  It keeps prices more stable.
And when you can usually sell a house at a fair market price in about two months, that's hardly "illiquid".   Drop the price, and you'll sell it faster.
Market Rationality – ROFL
A paper asset promoter saying real estate "markets aren't always rational" … are you KIDDING???  That seems a LOT like the pot calling the kettle black. 
Way back in the 90's before the dot-com stock crash, Alan Greenspan famously accused stock market participants of "irrational exuberance".
Of course, a few years later the stock market crashed … and scared investors flocked TO real estate in the early 2000's.
With the stock market at nose-bleed levels today, we're guessing that's why people are preferring real estate over stocks again.
Only Returned 1.3 Percent – LMAO
The idea that "housing only returned 1.3 percent per year after inflation" is so off the mark it borders on absurd.
The argument is the PRICE of a home in 1900, adjusted for inflation to 2011, only grew on an annual basis of 1.3 percent …
… and that during that same period, stocks grew by "about four times that."
This argument assumes the only financial benefit of real estate ownership is price appreciation, which is a false premise.
We won't bore you with all the math, but you should grab a calculator and do it all so you can quickly blow-up this ridiculous idea that stocks beat real estate over the long haul.
Here it is in simple terms …
Leverage
When you put 25 percent down, you own property at 4:1 leverage.  So 1.3 percent appreciation is a 5.2 percent equity growth rate.

Right there, you're even with "about four times that".  But wait!  There's more …

Cash Flow 
Also missing from the comparison of stocks versus real estate is the rental income.  
Even if you're before tax positive cash flow is only two percent, with 4:1 leverage, your cash-on-cash rate is 8 percent. 
Amortization
A 30-year fully amortized loan at 5 percent reduces the loan balance (i.e., builds up equity) at a rate of over 2.6 percent per year.
Add 4:1 leverage, and you're growing equity at over 13% per year.  Now you're destroying stocks.
We'll skip tax benefits, which make it even BETTER, and let you tally the total. Any ONE of the three beats "four times that" all by itself.  Together … it's a wipe out.
People Aren't Stupid
Main Street investors have common sense … and at this stage of the information age, they're able to research and fact check quickly.
They know stock prices are being propped up by cheap money and corporate buybacks … and with the Fed raising interest rates, the party might be ending soon.

The Bankrate.com survey reinforced what our anecdotal conversations tell us … Main Street investors are nervous about the stock market. 
Their preference for cash over stocks for a ten year hold says a lot.  Main Street is looking for safety and surety.
And Main Street investors like real estate.  They understand real estate.  They TRUST real estate.

But it's not just Americans seeking financial safety in real estate.  Foreign buyers just purchased a record amount of U.S. houses.
Real estate is where people park money for long term wealth development and preservation.
Go with the Flow …
Even though home ownership in the U.S. remains at decade lows, it's actually a boon for real estate investors.  Less homeowners means more renters.
For flippers and syndicators, real estate is highly regarded and in demand.  Money wants to be in real estate … so there's a big opportunity helping it get there.
And while anything can happen, it seems the appeal of real estate isn't abating any time soon.
Until next time … good investing!
---
 More From The Real Estate Guys™…
The Real Estate Guys™ radio show and podcast provides real estate investing news, education, training and resources to help real estate investors succeed.
If you're old enough, you may remember the old Pee Wee Herman movies … where Pee Wee falls off his bike and with brash bravado claims, "I meant to do that!"
Well to no one's surprise, the Fed inched up their "target" Federal funds rates by 25 basis points.
So now, instead of just one-quarter of one percent (.25%), the rate is now a whopping one-half of one percent (.50%).
Of course, as we've previously discussed, the market already beat them to it.  So like Pee Wee Herman, it seems the Fed is not in as much control as they pretend to be.
Investor Summit at Sea™ faculty member Peter Schiff had some great commentary on this topic in a recent podcast.  You can listen to it yourself, so we won't repeat it here.
But one of his best points is that the Fed's own forecasts are WORSE going into 2017 than they were going into 2016.  Yet last year, the Fed projected FOUR increases for 2016.
In fact, in a panel on last year's Summit, Peter and Jim Rickards debated this very point.
Jim said yes, the Fed would raise four times.  Peter said no raise in 2016.  Both were wrong, but Peter was closer to right.
So it seems even super smart guys have a hard time figuring out what the puppet masters are going to do.
But just because no one can say for certain what will or won't happen … doesn't mean we don't pay attention.
We just don't go ALL IN on any one outcome.  Why? You NEVER know what will REALLY happen.
Right now, both the stock market and real estate have been on multi-year booms… after HUGE declines in 2008.
According to data compiled into this nifty chart by the Pew Research Center, U.S. home prices "have almost recovered from the bust."
Of course, the daily financial news is constantly blasting about the stock market … with the Dow flirting with 20,000 … in spite of the Fed's interest rate "increase."
Apparently people are continuing to pile into the stock market at these nose-bleed levels.
So that's a lot of EQUITY happening in both stocks and real estate.
It's no secret we're equity guys.  We LOVE equity.  When we're not talking real estate on the radio, we're forcing equity through real estate development.  Equity's AWESOME.
BUT … as we often point out … equity comes from cash flow.  They aren't mutually exclusive.  In fact, they go hand in hand.
However, there's another kind of equity out there.  The kind which comes from what David Stockman would call "bubble finance."
That is, when central banks pump cheap money into the system, it can cause asset prices to rise WITHOUT underlying cash flows to support it.  It's AIR.
This is a REALLY important concept, so PLEASE don't tune out …
Think about it.
It's easier to understand with stocks, but the principle is the same with real estate.  When buyers are paying MORE than the income justifies, it's NOT sustainable.
But it IS tempting.  When you can buy a stock or property, hold it for a short period of time, and sell it for much more than you paid to a "greater fool," the checks still cash.
However, when you stay in the casinos too long, the house (not yours) usually wins.
So YOU need to know how to tell the difference between real value and a bubble.  And then you need to have some strategy tools in your kit, so you can take appropriate action based on what you see.
Here's how income creates equity:  If an asset is valued at some multiple of earnings, i.e., a rental property selling for 10 times gross rents, and the rents go UP $2,000 per year, the property's VALUE just went up $20,000.
That's cash-flow-driven equity growth.  (We know in the real world, properties are valued by Net Operating Income, but you get the idea.)
What if properties are going up but rents are NOT?  At some point, that's a problem.
With home prices, in spite of still record LOW home ownership rates, values are still largely driven by affordability.  That's REAL wages and mortgage rates.
We already know mortgage rates have been on the rise.  Those are easy to see.  There's no massaging the numbers.  No seasonal adjustments.
Discerning real wages and inflation is a completely different matter.
The Fed says we have a "tight" labor market with a claimed unemployment rate of 4.6%.  Of course, you have to look at that in the light of a decades-low labor participation rate.
We're not going to attempt to dive into any of that.  If you go too macro, you can't see the ground anymore.
Here's the point …
There's a lot of equity happening.  Hopefully a lot of it is happening to you.
But if the Fed is really going to turn down the air to the jump house, some of your equity might leak out.
As real estate investors, our job is to proactively manage debt, equity and cash flow.  We let the property manager worry about tenants and toilets.
And when the wave machine of cheap money starts receding … potentially washing some of our newfound equity out to sea … we think about what we can do to protect it.
The GREAT NEWS is that mortgages in bubble equity markets are still cheap and readily available.  It's a big part of why bubbles form.
But easy mortgage money means you can take equity off the table … even if you want to hold the property for the long term.
Accessing the equity isn't the danger.  It's what you do with the proceeds, how you manage the cash flow, and the risks.
Before he was President-elect Trump,  Donald Trump told us it's ALWAYS smart to keep a little dry powder.  We'll see how he does as a politician, but he's got pretty good cred as a real estate guy.
So it's probably smart to stash some cash … or other highly liquid assets (preferably without counter-party risk) … arbitrage the debt (loan out a chunk at a rate higher than you paid) … and/or reposition the equity into income producing properties in NON-bubble markets.
Yes.  Non-bubble markets exist.  These are markets where there's very little if any financing and the income is real … not dependent on cheap money from central banks.
We know this idea may be getting a little repetitive.  But that's partly because of the nature of real estate.  It moves SLOWLY.   So it's easy for investors to nod off.
The bond market and the Fed's rate hike are reminders for us to PAY ATTENTION.
And then … like The Real Estate Guys™ motto, use your Education for Effective Action™.
We know it's a lot to absorb.  We have fond memories of living in our own little bubble from 2001 to 2007.  It was fun. It was easy.  Everything worked.  We were geniuses.
Then WHAM!
We didn't see the problem until it washed away huge amounts of our portfolios.
We've been at this a LONG time.  But there are people in our audience who started their investing careers in the run-up since 2008.  They've only seen sunshine.
We're not saying rain clouds are forming.  But they might be.
So we think it's a good idea to be prepared no matter which way the wind blows.
That means investing in education, networking… being attentive to cash flow…and sometimes getting chunks of equity out of harm's way.  Just in case.  And it's better to be early than late.
More From The Real Estate Guys™…
The Real Estate Guys™ radio show and podcast provides real estate investing news, education, training and resources to help real estate investors succeed.
Well, that didn't take long…
We recently alluded to the possibility of rising rates…whether the Fed raised them or not.
Then lo and behold, this headline popped up in our news feed:
Treasury Yields, Mortgage Rates Rising at Record Pace
Of course, rates are still crazy low.
But the move is noteworthy… beyond the obvious impact on the cost of the debt we use to acquire real estate and reposition equity.
The REAL Problem with Rising Rates
So what if interest rates rise?
It's complicated, but important. Because the debt markets (bonds and their derivatives) are BY FAR the largest financial markets in the world.
The problem isn't simply borrowing costs. It's what rising rates due to big players' balance sheets… and what that means to Main Street investors.
Famed bond fund manager Ray Dalio recently suggested that just a 1% rate increase could destroy over $2 TRILLION of balance sheet wealth.
In fact, without ANY move from the Fed… $1 TRILLION in wealth disappeared right after the election.
How can this happen? And how does it trickle down to Main Street?
Bond… Licensed to Kill
Remember two basic concepts:
When bond values go down, interest rates go up… and vice versa; and…
When bond values go down, anyone holding bonds as an asset, sees their net worth go down.
The latter is arguably the BIGGEST THREAT to your portfolio… not necessarily because YOU own bonds, but because of how bonds affect the financial system your investments float in.
The Daisy Chain
Many players in the paper markets borrow against their bonds the way you borrow against your real estate.
The loans they take out become their liability just like your mortgage becomes your liability.
But that same loan also becomes the lender's asset, just like your mortgage becomes your lender's asset.
Make sense?
When you get a bunch of players in the market all borrowing against bonds to create new bonds… that the next guy borrows against, you have a daisy chain of counter-party risk. Counter-party risk is when one person's asset is another's liability. If the person owing goes bust, the value of the asset collapses.
Think of a group of mountain climbers all chained together hanging off a cliff. If just ONE person falls, it's a problem for EVERYONE.
Growing Debt Means Rising Prices
All this borrowing creates purchasing power, which pushes asset prices UP.
It's just like when a college student gets a student loan. It pulls their future earnings into the present and bids UP the price of college today.
Debt doesn't make things cheaper. It makes them more expensive.
As these bonds and derivatives (debt) are created, the excess purchasing power has been recycled into even more bonds and derivatives in a vicious cycle of exploding debt.
Observers are watching consumer price inflation (CPI) and conclude "inflation is stubbornly low".
Maybe consumer inflation hasn't happened…yet. But bond price inflation sure has.
Rates Went Down, Down, Down and the Bonds Went Higher
Because as debt begat debt begat debt, all that purchasing power bid UP the price of bonds, driving yields (interest rates) DOWN.
But after going down for over three decades, interest rates have hit "the zero bound".
In fact, in several countries, bonds have been bid up into negative yields… for the first time in history.
Seems like rates don't have much of anywhere to go but up… which means bond prices don't have much of anywhere to go but DOWN.
This is where it gets messy…
I Owe You, You Owe Me, We Owe Them and We're in Debt Together
Congratulations. You're really a hardcore newsletter reader. Thanks for getting this far.
Because here's the TICKING TIME BOMB in the financial system…
If rates go up or bond prices go down, then the daisy chain of counter-party risk starts to implode across the too-big-to-fail players' balance sheets… taking asset prices with it.
Read that again and be sure you're tracking.
Because here's the fuse…
Your Margin's Calling
When a bond pledged as collateral in these paper derivative markets falls too far, the borrower gets a margin call.
So the borrower needs to put up cash or risk having the collateral (their bonds) sold into a falling market.
This puts a nasty dent in the borrower's balance sheet.
If this only happens to one player, no big deal. But remember, all these players are daisy chained together.
Call the Doctor… I Think I'm Gonna Crash
When bonds fall, everyone margined needs to come up with cash fast to meet their margin calls.
Wide scale margin calls suck cash out of the system. Lots of it. Economic activity slows way down.
For players who aren't sitting on enough cash to make their margin calls, they'll need to sell assets into an already falling market. This is like pouring gasoline on a fire.
That's because if everyone is short of cash, who can buy the assets?
If the cash crisis is bad enough, the markets go "no bid" and prices fall faster and farther which compounds the problem.
All the daisy chained balance sheets start to implode… pulling the next one with them into a black hole.
Bad scene. This is what happened in 2008.
Is the REAL Crash Still Yet to Come?
Money manager, best-selling author, financial pundit and Summit at Sea™ faculty member Peter Schiff, predicted the 2008 disaster in his 2006 best-selling book Crash Proof.
Peter says none of the fundamental problems which caused the 2008 crisis have been fixed. In fact, Peter says, they've gotten worse… and The Real Crash is yet to come.
Last time, central banks printed TRILLIONS to buy the "toxic assets"… putting a bid in a no-bid market. This stopped the free fall.
But that exploded the Fed's balance sheet from around $800 billion to nearly $5 trillion, where it is today.
Smart guys like Peter Schiff and Jim Rickards don't think the Fed can do it again without destroying the dollar and causing hyper-inflation. That's why on our last Summit at Sea™, both advised our Summiteers to hold some gold.
The Role of Real Estate in a Safe Haven Portfolio
You've read ALL this way… so before you go full fetal… remember GREAT FORTUNES were made in the wake of the crash.
Properly structured and liquid investors went on the shopping spree of a lifetime.
Income producing real estate is arguably one of the BEST havens in ANY storm. We're planning a future episode to discuss this very topic.
A New Sheriff In Town
Headlines are currently dominated by all things political. It's tempting to get caught up in that. Be careful.
While the U.S. switches out the Presidency, we choose to focus on things we can control. Like our own education for effective action.
The moral of this story?
Study. Network and converse with smart people. Be proactive with your portfolio.
We say "Plan and Do" is better than "Wait and See."
Until next time,
Good Investing!
More From The Real Estate Guys™…
The Real Estate Guys™ radio show and podcast provides real estate investing news, education, training and resources to help real estate investors succeed.

What mysteries lurk behind the mask of this economic recovery?  Is it real or is it just a big tease?
Robert Helms and Russell Gray, the hosts of The Real Estate Guys™ radio show head to The New Orleans Investment Conference November 10-13, 2013 for find out!
In fact, rumor has it, we're even going to get some stage time to share our own thoughts on the state of the real estate investment market as we wind down 2013.  Join us!
The New Orleans Investment Conference was founded in 1974 and is described as The World's Greatest Investment Event. We covered it last year and it was great!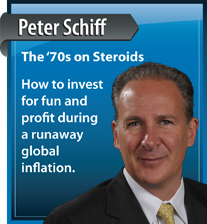 The 2013 New Orleans Investment Conference features a host of renowned commentators and experts on economics, policy and investing including Marc Faber, Charles Krauthammer, Ron Paul, Robert Prechter, Peter Schiff and Mark Skousen.
To be clear, the New Orleans Investment Conference isn't necessarily about real estate. It's about investing. And if we didn't learn anything from the Great Recession, we certainly found that the various financial markets and investment vehicles all have an effect on each other.
So even if you don't invest in stocks, bonds, precious metals or energy, these are important markets to understand.  In fact, many people view gold as the canary in the goldmine which will predict the demise of the dollar.
Of course, many people who invest in real estate also invest in many of these other vehicles as well.  The New Orleans Investment Conference is looking to add some quality real estate speakers to the agenda, so until they can find some, they've asked us to speak.  😉
So, The Real Estate Guys™ will be at The New Orleans Investment Conference in 2013.  And we look forward to re-connecting with our 2013 Summit at Sea™ buddies, Peter Schiff and Mark Skousen. And if you haven't heard yet, Peter Schiff will be back on our Investor Summit at Sea™ faculty in 2014!
Register to join us for the 2013 New Orleans Investment Conference in New Orleans, November 10-13, 2013.
Come out and hear what Peter Schiff has to say, then make your reservations to come out of winter hibernation in March 2014 and spend a week with Peter on a luxurious cruise ship in the Caribbean.  After all, just one great investment idea acted upon is probably worth the entire cost of both events. 🙂
We continue our summer soiree into all things economic with a triple set of interviews from Freedom Fest.  This time we're talking bonds, dividends and wealth management from a banking perspective – and how all that relates to real estate investors.  Not as exciting as how to evict a non-paying tenant, but here we go….
Adding their voices to the discussion at hand:
The sultan of summers in sunny Las Vegas, host Robert Helms
The prince of pointless ponderings, co-host Russell Gray
Bond market guru and Oxford Club contributor, Steve McDonald
Associate Investment Director for The Oxford Club, Marc Lichtenfeld
President of Wealth Management for Everbank, David Conover
Wow!  That's a pretty full house, but we suppose that's a good thing when you're in Las Vegas.
So we've been talking for quite awhile about the connection between the bond markets and the mortgage market.  Of course, the connection between the mortgage market and the real estate market is quite obvious.  But the connection is probably deeper than most people realize – especially if you're an income property investor.
Steve McDonald goes as far as to say that "the bond market IS interest rates".  And we know that interest rates affect every aspect of the economy including taxes, consumer spending, business investment (and employment), currency exchange and international trade.  Other than that, interest rates aren't that big of a deal.  So, yeah, the bond markets matter.
Steve gives us a primer on the bond market and then tells us that "the bond market works secretly for the benefit of the ultra-wealthy" and is 40-50 times BIGGER than the stock market.  Now we're even MORE interested!
If you're a regular listener, you know we're not big fans of bonds (or dollars) as a place to store wealth right now.  According to 2013 Investor Summit at Sea™ faculty member, Peter Schiff, bonds and the dollar are going to be the next and biggest crash.
At first, we thought Steve would disagree with Peter.  But au contraire… Steve actually agrees – and tells us that the bond market crash will make the housing market crash pale in comparison.  Then he goes on to describe some specific strategies for playing bonds in a fragile market.
One technique he describes is buying existing bonds at discounts.  Okay!  Now, we're getting back to something we understand.  It's the same as buying discounted mortgages.  That is, you increase your yield by paying less than the face value of the debt, so even though the current bond interest rate environment is low, you can earn high double digit returns.  That could (and perhaps will) be the topic of entire show…but not today.
All this to say that when Steve first sat down at the microphone, we weren't sure we'd get along.  But before long (do you see it coming?), we bonded with Steve (sorry, we couldn't help ourselves).
Whew.  And that's only the first of three interviews in this episode.
Next, we chat with Marc Lichtenfeld who advocates dividend investing.  In fact, he just wrote a book on how to get rich with dividends.  It's titled, "Get Rich with Dividends".  Clever.
In this case, Marc agrees with Peter Schiff that stock investors should emphasize investing for income.  Hey!  Isn't that the same mantra our friend Robert Kiyosaki has been preaching in Rich Dad Poor Dad?  Say "yes" because that's the right answer.
Of course, Kiyosaki isn't a stock guy and neither are we.  But it's nice to know that we can all get along.  Rodney King would be so proud.
The point is: buying equities (stocks or real estate) that will likely retain their comparative value (i.e., hedge against inflation) over the long haul can be a rocky ride when markets are jittery.  But then those equities cash flow, even if the asset value is up and down, the cash flow can calm your stomach in the short term – and enhance your overall ROI over the long haul.  Brilliant!
Now we move on to interviewee number 3, David Conover from Everbank.
Last year at Freedom Fest, we interviewed another Everbank exec, Frank Trotter.  We were intrigued then by Everbank's business model and offering, so we were anxious to visit with David and see what the world looked like through his eyes right now.
What's interesting is that while there's a lot of chaos in the banking business, Everbank has "robust expansion plans". Why do we care about that?
First, we think it's interesting when any business has robust expansion plans in this marketplace.  After all, we keep hearing about how businesses are hunkering down and running scared.  And since we like it when our tenants have jobs so they can pay the rent, we like to know what CEO's are thinking when it comes to expansion.
What's even more interesting to us is that Everbank is growing it's mortgage lending operations.  We've been saying for awhile that one of the leading indicators of a heating real estate market will be the expansion of lending.  Everbank obviously sees opportunity in this space, so it's something we'll continue to watch.  When money starts flowing freely into real estate, it's tide than can carry alert investors to handsome profits.
Also, real estate investors are typically sitting on piles (albeit some smaller than others!) of cash.  Dollars.  And we keep hearing that dollars are headed downward.  So what can an investor do to hedge against inflation, yet still have liquidity and safety?  David describes some unique banking products which give investors options to the dollar.  VERY interesting!
So all in all, this is a full deck of dialog that we think you'll enjoy!
Listen Now:
Want more? Sign up for The Real Estate Guys™ free newsletter
Don't miss an episode of The Real Estate Guys™ radio show! Subscribe to the free podcast!
Stay connected with The Real Estate Guys™ on Facebook!
The Real Estate Guys™ radio show and podcast provides real estate investing news, education, training and resources that help real estate investors succeed. Visit our Feedback page and tell us what you think!
What's a reasonable return on investment in today's market? As you might expect, the answer is, "It depends!"  Every investor must accept risk in order to attain reward.  Even doing nothing is a risk with its own reward.  The obvious goal is to achieve maximum reward with minimum risk.  Duh.  But what are the risks and how do you assess them?  What are the potential returns?  What's about the not-so-obvious risks?  And what's reasonable to expect in today's economy? Tough questions!
Balancing in our chairs behind The Real Estate Guys™ golden microphones (actually, they're black with smelly foam that prevents our P's from popping too profusely), to talk through all of these perplexities are:
Your Host and mental gymnast, Robert Helms
Co-host and floor tumbler, Russell Gray
Chief spotter, the Godfather of Real Estate, Bob Helms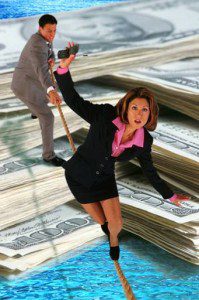 Real estate investing is as much an art as it is a science. There are so many different markets, sub-markets, product types and deal structures to choose from.  Beyond that, there are variations in economic conditions, seller motivations, tax laws, interest rates and on and on and on.  The types of returns which can be attained in a real estate investment range from bankruptcy (on the VERY negative side) to infinite returns (profit on nothing invested). We like the latter better, don't you?
Recognizing that real estate investing is "non-traditional" when compared to the conventional approach of "work hard, pay taxes, live below your means and buy stocks, bond and mutual funds for the long haul" – we talk about the ranges of returns which are reasonable to expect when investing in certain kinds of real estate.  We also talk about how certain deal structures can really improve your ROI.
Another topic of discussion is the risks of investing versus those of NOT investing.  There is an adage which says that the more risk you take, the more return you should demand.  We agree with that one. Of course, it presupposes that you understand the risks and can factor them into your decisions.
There is another adage which says that higher returns mean more risk.  NOT NECESSARILY!  There are actually deal structures which REDUCE risk while INCREASING return.  So of course, we talk about those things because they are among our favorite benefits of real estate investing!
After this broadcast, we slipped off our leotards (sorry, bad visual) and headed for the showers (worse visual!), pleased with our performance.  Now we're waiting for the judges (that's you) to put up our scores.  We only ask that not take into consideration what we look like in our leotards.  And, that you remember to take us to the gym because, as you probably already know after the leotard visual, we REALLY need the workout!
Listen Now
Don't miss a show!  Subscribe to the Free Podcast
Want More?  Sign Up for The Real Estate Guys™ Free Newsletter!