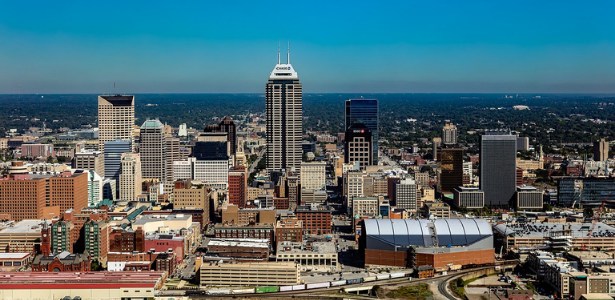 In tough times like 2020 has brought, demand for affordable essentials goes UP. When it comes to real estate, it doesn't get any more essential than residential.
Indianapolis is a hidden gem of a market … it is very affordable while still offering tremendous quality of life.
You will learn why Indianapolis is attracting nearby Midwesterners trying to escape high-price, high-tax states nearby! 
In this episode, we visit with our boots-on-the-ground guy Jeff "Shecky" Schechter and learn why he thinks Indianapolis is THE market to be in. 
In this episode of The Real Estate Guys™ show, hear from:
Your high-return host,

Robert Helms

His affordable co-host,

Russell Gray
Our Indianapolis boots-on-the-ground correspondent, Jeff "Shecky" Schechter
---
Listen
---
Subscribe
Broadcasting since 1997 with over 300 episodes on iTunes!
---
Review
When you give us a positive review on iTunes you help us continue to bring you high caliber guests and attract new listeners. It's easy and takes just a minute! (Don't know how? Follow these instructions).
Thanks!
---
What Makes an Affordable Market
As a real estate investor, price is important. As you become more seasoned, it's not the most important thing … but let's face it, getting started is tough! 
One financial strategy in acquiring real estate has to do with finding markets that make sense …. the big picture is that income has to be enough to cover expenses and then some!
So you look at these markets that have appreciated over time like Northern California, the Bay Area, Seattle … places where the prices have gone up and up, and yet the rent doesn't always keep pace.
Appreciation is one way we make money in real estate … but cash flow is how we hang on to the property, and so especially if you're starting out, you want to find a good market where prices are affordable and the rents are strong.
As we're sitting here in the latter part of 2020, we are on probably the front end or in the middle of the beginning of a pretty severe economic setback. Inflation is starting to show up. 
Your typical tenant is living paycheck to paycheck … and as people try to find a way to maintain a quality of life, to put a decent roof over their head to be in a decent community, they're going to have to move around. 
So we look for places where the conditions are good or that are near a large, major population center … that is probably going to track people from those large centers into the more affordable marketplaces.
Many years ago for real estate trivia, we asked what the most affordable market was in America. It actually is the same answer today, and that is Indianapolis, Indiana! 
Affordability means that somebody can purchase a home and have the same utility and quality for the lowest price compared to what the average wage is. 
But then is there room for renters? Well, what we've discovered is in that market … people at lower incomes typically don't have the ability to save up the 20% or more down payment it takes. 
So it's a market where we see a lot of renters, and that's great for landlords! 
Indianapolis also happens to be the neighbor of large markets that react differently than it does. 
We think if you're looking for a place to buy an inexpensive property where the returns are going to be solid, this is certainly a good place to start. 
Get to Know Indianapolis 
When we were visiting Indianapolis last year, we loved that this place is clean, nice, has affordable houses, has a major sports team, and is the home of the largest sporting event in the world. 
We went on a quest, and that led us to our guest today … Jeff Schechter of High Return Real Estate from Indianapolis, Indiana. 
Jeff says things are going well in Indianapolis. While they are seeing a little bit of upward price pressure during COVID-19, investors are doing well and people are making money. 
First, we want to discuss the rental situation …. We asked Jeff how COVID has impacted people paying their rent in the Indianapolis market. 
He says that while there are some who have taken advantage of courts being closed, for the most part, his tenants have been great with paying, and he's been able to work with those who could not. 
For those who don't know the Indianapolis area, Jeff explains that it's actually one of the biggest MSAs in the nation. 
He says, "We do see quite a bit of change in Indianapolis over the last few years; it has been going through quite a renaissance, so we're seeing a lot of really great old commercial buildings being changed over to different use. We're seeing new apartments going up or seeing a lot of those old beat-up homes being redone; I'm in one myself." 
Having local market knowledge is huge … Jeff explains that over the four years he's been working in Indianapolis, he's seen a lot of improvement in many areas of the city. 
What about appreciation in the Indianapolis market? 
Jeff says, "The last couple of years, especially in certain areas, we've seen some pretty significant appreciation." 
But while that is exciting … he says it's also a double-edged sword because the more that the price pressure happens, the harder it is to make the price to rent ratios work.
Indianapolis is Affordable for Everyone 
The premise of the show today is about an affordable market … so we ask Jeff to give the listeners an idea of what a typical house might cost.
Jeff says, "I've got one property right now that is under $50,000—that's for the whole house. Most of the sweet spot of what we do would be probably in the 60s to high 70s."
Wow … now that's AFFORDABLE! 
When it comes to rehabbing these properties, how does Jeff decide what needs to be done? 
Jeff says that's actually one of the easiest parts of his job. 
Every week he meets with his acquisition crew, and they decide what properties they should go for. 
The key is in the relationship with the crew chief who gives them an initial assessment … and they have a great checklist and system for deciding what materials to put in the house. 
Next, we ask Jeff what tenant/landlord law is like in Indianapolis … and you'll be happy to learn that he says laws are in fact very favorable for the landlords in Indiana. 
Compared to other states, it's a great situation for investors and landlords. 
What about property management for those who live far away from their investment properties? 
Jeff admits that's been one of the most difficult parts of the business for him … and we agree that it's hard to find reliable and trustworthy people in property management. 
But Jeff found the right solution in a new property management company that wrote their own software and proved themselves. 
He says he's happy with how they work. He doesn't want to have to be the best at everything! 
Bottom line …  if you haven't yet really taken a look at the Indianapolis market, there is a lot to learn. Jeff has put together a great report available to you AT NO COST! You will be able to learn why it's a great investment market. 
For all the great insights Jeff has to share on the Indianapolis market … be sure to listen to the whole podcast. 
---
More From The Real Estate Guys™…
The Real Estate Guys™ radio show and podcast provides real estate investing news, education, training, and resources to help real estate investors succeed.
---
Love the show?  Tell the world!  When you promote the show, you help us attract more great guests for 

your

 listening pleasure!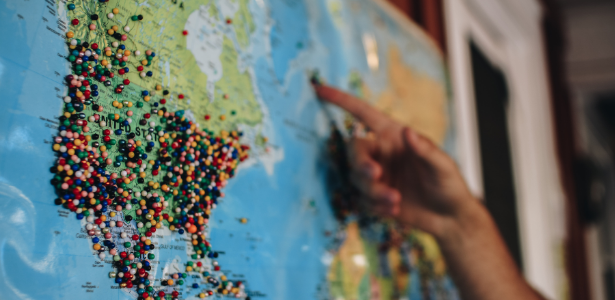 In an age of macro-economic turmoil and stress, the risk of the tide going OUT is far greater than the odds of a rising tide lifting all boats.
So as Warren Buffett famously quipped …
"Only when the tide goes out do you discover who's been swimming naked."
And of course, if that happens to be you … it's often expensive and embarrassing to have your shortcomings exposed.
Anyone paying attention right now expects the tide to go out any time now. In fact, many pundits are shocked the Fed has been able to prop things up this long.
So for strategic real estate investors, market selection matters more now than ever. You can't count on a rising tide in all markets.
People and prosperity will start to flow away from some markets and flood into others. We're already starting to see this polarization.
Get it wrong, and there you are in your financial birthday suit with water around your ankles.
Get it right, and your portfolio of "average" properties has you floating in equity and cash flow amidst a flood of demand with capacity to pay.
Long time followers know when we say "markets" we're referring not just to geographies, but also product niches and demographics.
So it's places, products and people.
And when times get tough … which is what's clearly on the weather report …
… the question is: where will people and businesses go, and what kind of real estate will they need?
If you only invest in your own area, this might seem simple.
After all, you know the lay of the land well. You talk to people. You have your thumb on the pulse of the local market.
But if you don't happen to live in a great investing market … and the local economy or cash flows don't make sense … then you need to look for clues about markets that might make sense.
For example, Visual Capitalist just put out a nifty 3D map they call …
The U.S. Cities With the Highest Economic Output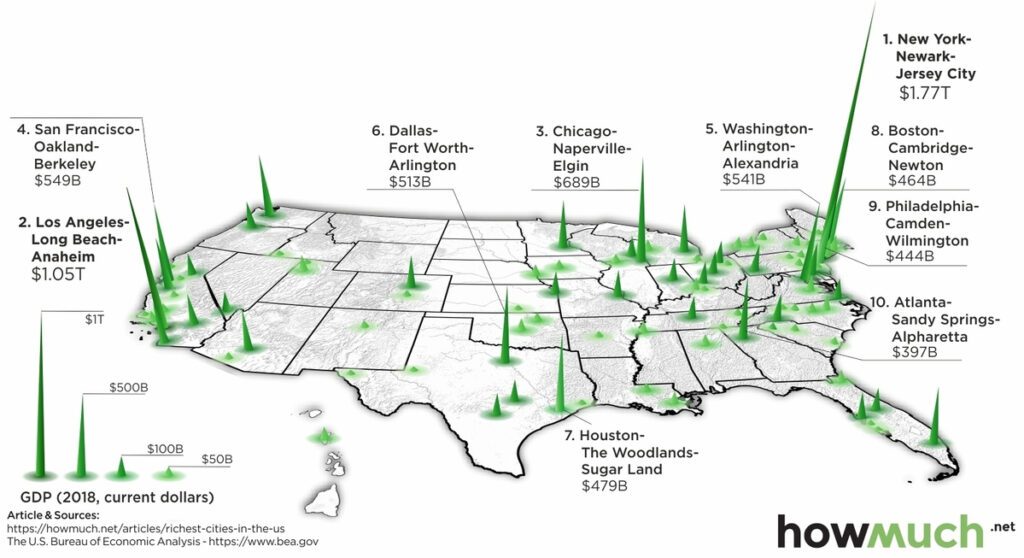 Of course, these aren't really cities … they're metros.
But it's a great top-down start for homing in on a local geography in which to search for teams and opportunities.
However, this is only a start. There are several other factors to consider when delving into markets … but strong economic activity is a biggie.
So before you jump on a plane and tour the nation, dig a little deeper.
If you're a residential rental property investor … single or multi-unit … there are several markets you'd probably eliminate from consideration, simply based on their hostility towards landlords.
Losers in this category would be California, Illinois and New York. In fact, of these ten, probably all but Texas and Georgia would get crossed off our short list.
Of course, while the macro-financial strength of a metro is a solid sea and can float a lot of boats …
… trends in the economy and employment also matter quite a bit too.
Remember … the Titanic was a big, powerful ship. Even after it started leaking it still seemed very robust. Many thought it could leak without sinking.
Of course, those passengers who didn't understand what was happening or didn't take it seriously were slow to make it to the lifeboats.
By the time the slow-movers were looking for safety, the best spots were all taken. It didn't end well for them.
Keep this in mind when deciding how to navigate this current crisis.
Another important thing to remember when shopping for real estate markets, jobs and population matter … a lot.
LinkUp.com puts out a lot of great (and expensive) data … but sometimes you get free samples that are useful.
In this case, they did a study of Changes in New Job Openings for a one-month period and created this very cool state-by-state graphic …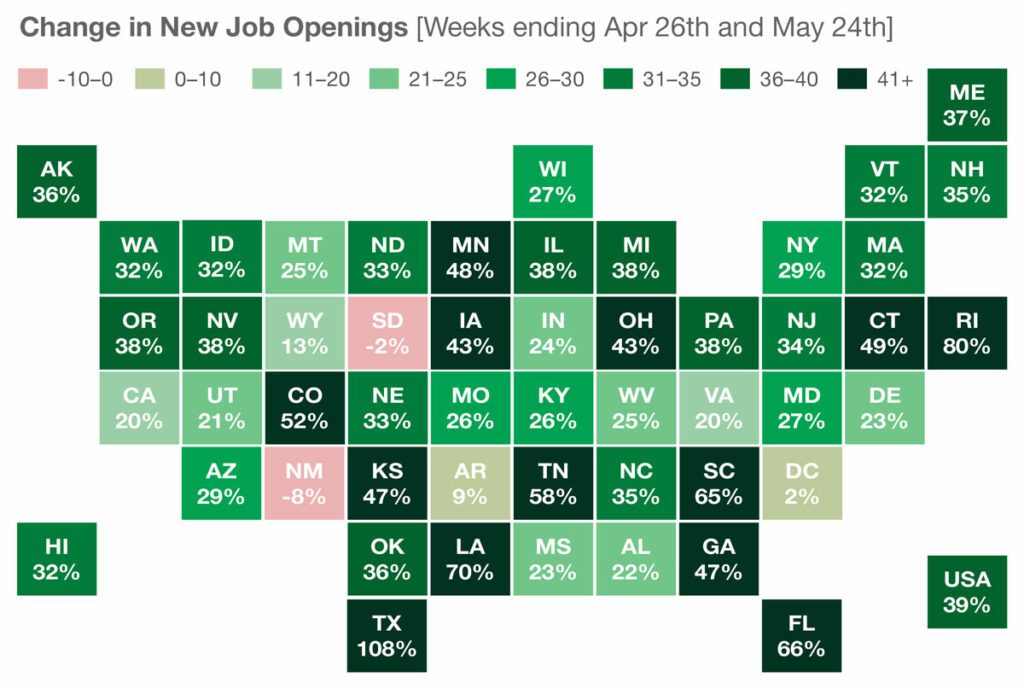 This adds a little color to the analysis … literally. 😉
Our audience knows some of our favorite markets for the last several years are in Florida, Georgia, Tennessee and Texas.
These numbers don't surprise us because these are business-friendly, landlord-friendly, relatively affordable markets.
Of course, this is just a snapshot … but it's another clue about where to search for resilient opportunity.
Another fun resource is Zumper.
They have a semi-interactive tool which visually shows internet search volume for where renters are interested in moving to.
Seems like that would be good to know.
Here's an interesting chart they recently put out …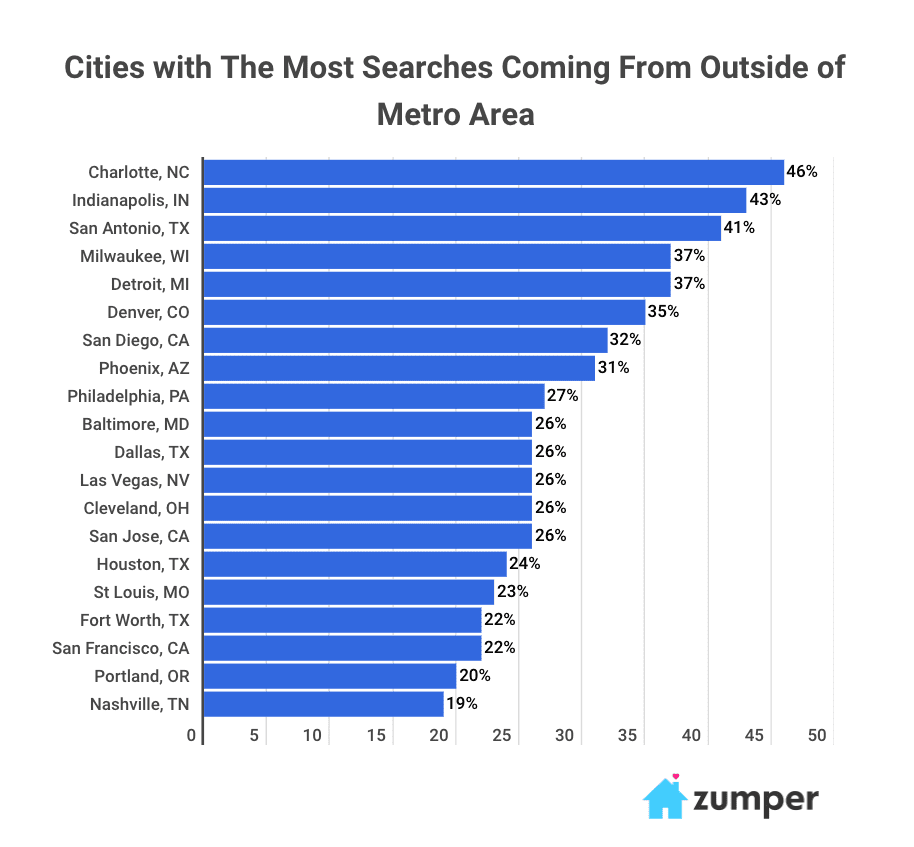 As you can see, there are some new markets to consider adding to the research bin to see how they stack up in terms of strength in economy, jobs, and landlord friendliness.
While we love top-down data … we like to compare and contrast it to "thumb on the pulse" feedback from people who know the market intimately.
For example, we can see from this data that Indianapolis is attracting a lot of interest. We just don't know WHY.
But we learned from talking with our Boots On The Ground correspondents, Indianapolis has been the beneficiary of people fleeing Illinois.
Our point is that as we continue to navigate this COVID-19 induced cascading crisis … people ALWAYS need certain types of real estate … and residential is always at the top of the list … no matter what's happening.
People and businesses will move to pursue or preserve quality of life and opportunity … which is about income, expenses, amenities, and climate (weather and business).
In good times and bad, there will always be winners and losers.
Investors who win are more strategic, informed, well-advised and supported, and therefore more aware, prepared, brave and bold … and move smartly and decisively as trends emerge.
To paraphrase Charles Dickens … these are the best of times and the worst of times … and history proves both are ever-present.
So it's not the circumstances which make times good or bad. Success depends on how well each individual responds to whatever is happening.
The good news and the bad news is … each of our individual destinies remains largely our own responsibility.
If that thrills you, then you've probably got skills and a great team … and are looking forward to the impending economic white waters.
If it freaks you out, then it's probably time to work on your training, tribe and team as a top priority.
The great news is it's never been easier to find great ideas, information, people and resources. Those all lead to great opportunities.
Thanks for being a part of our tribe … and for reading our stuff. We like it when you reply, give us feedback, comment on our videos. Especially while we're still in semi-lockdown.
We look forward to getting back into visiting with our audience at live events … but until then, we'll see you on the radio, podcast, social media and YouTube.
We're stepping up our content creation now because talking heads on mainstream financial media don't understand real estate investing.
They don't talk about real estate investing because it doesn't promote or protect Wall Street … and real estate is not an asset class or commodity.
But because properties CANNOT be used as chips in the casinos, they're much more stable in stormy seas. We think that's going to become VERY attractive.
The right real estate in the right markets controlled with the right financing and managed by the right team is about as good as it gets for building resilient wealth in tumultuous times.
Keep this in mind while watching the storms … and as you focus on the fundamentals, your odds for success go way up.
Until next time … good investing!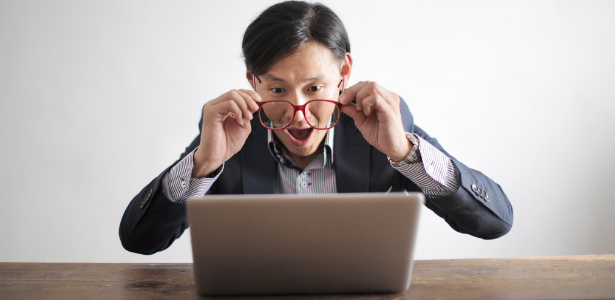 We're proudly filing this under the category of "We told you so." ….
Stripe workers who relocate get $20,000 bonus and a pay cut
– Bloomberg, 9/15/20
"Stripe Inc. plans to make a one-time payment of $20,000 to employees who opt to move out of San Francisco, New York or Seattle, but also cut their base salary by as much as 10% …"
"… companies … have expanded opportunities for employees to work remotely while also signaling … pay cuts if workers move to less-expensive cities."
"VMware Inc. … Facebook Inc., Twitter Inc. and ServiceNow Inc. have all considered similar measures."
Of course, we could just as easily file this under "Duh."
After all, when companies discovered they could move jobs to China and Mexico to save money and increase profits, they did.
Modern tech empowers remote working.
And while many info workers might not be keen on moving overseas … moving to low cost, low tax, good quality of life states is not just palatable … it's appealing.
The COVID-19 lock-downs have forced businesses into improving their remote workforce management … opening everyone up to a win-win move.
Companies LOWER their labor expenses, while employees improve their NET lifestyle in more affordable markets.
Also obviously, this has implications for the demand for real estate … housing, office, retail … in both the markets losing and those gaining people and their paychecks.
This is just one of many trends the COVID-19 crisis has accelerated, though likely still in its infancy … and worth watching.
That's why we created the COVID-19 Crisis Investing video series … and why we're getting regular updates from our Boots-on-the-Ground correspondents.
Shift is happening … and faster than usual.
Investing in this environment is like driving a car … the faster you go, the farther up the road you need to look so you have time to react well.
Here's another noteworthy article with insights which are a little more challenging to decipher, but worth the effort …
The Death of the 60/40 Portfolio
– Yahoo Finance, 9/6/20
"That's stock talk. It doesn't apply to me. I'm a real estate investor!"
Really?
Well, before you click away to check the latest mortgage rates or political pandering, consider …
While 60/40 refers to a typical Wall Street portfolio allocation model for a mix of stocks and bonds.
The reason it's been a staple … and the reason it's changing … is highly relevant to real estate investors.
"The biggest takeaway is that Woodard's team is more confident than ever that … interest rates … will likely … move considerably higher … arguing that investors should start to move away from bonds in their current allocations."
The "Woodard" they're referring to is Jared Woodard, Head of the Research Investment Committee for Bank of America Research.
So he's well-qualified to have an opinion worth contemplating.
But it's not just rising interest rates that are interesting to real estate investors …
(though that's a compelling reason to secure as much low-cost long-term debt as you can while you can)
… but his recommendation to "move away from bonds" is important.
So in another "surprise said no one" moment, are reports the two biggest U.S. bondholders in the world (China and Japan) have already started "moving away".
That's because when rates rise, bond values fall.
And like any bubble … when bondholders head for the exits en masse, it sets off a very disrupting chain of events in the macro-strata of the financial system.
Of course, as you might suspect … it all rolls downhill onto the often unsuspecting denizens of Main Street.
The reason it's SO extreme is because of the way bonds are used in the financial system.
In real estate terms, they're used like properties with equity. The owners borrow against them to raise more cash to lever into more "assets".
Except these loans against bonds come with margin provisions … which means if the value of the bond falls, you're either forced to sell at a loss or borrow more.
The point is when balance sheets at every tier of the financial system are stuffed with leveraged bonds …
… a collapse of bond prices is a BIG problem for everyone … including real estate investors. Remember 2008.
(Yes, we know we've covered this before. But although the asteroid is moving slowly towards Earth, it still seems important to talk about it and prepare.)
Of course, in 2008 bonds collapsed because of a higher than expected default rate in sub-prime loans.
Yes, it's true, that was then and this is now. But with an economy still largely locked-down, headlines like this should surprise … no one …
Lower-Credit Homeowners Weigh Heavily on U.S. Mortgage Market
– Bloomberg, 9/15/20
But whether it's sub-prime borrowers defaulting, large foreign holders dumping, interest rates rising, or leveraged bond-loans going bad …
It doesn't matter WHY bond values fall … if they do, it's a threat to the financial system.
The fix, of course, is lots of dollar printing by the Fed, which (as we've been saying and saying and saying) puts a lot of pressure on the dollar …
Dethroned Dollar Is Making Waves Across Markets, in Five Charts
– Bloomberg, 9/15/20
Of course, as this article points out, there are different tactics for investors to mitigate risk and capture opportunity …
"Savvas Savouri at Toscafund Asset Management recommends switching out of conventional Treasuries and into inflation-protected securities."
"'The simple reality is that the only feasible way to get the U.S. to the preferred inflation target is through a dollar devaluation,'"
The article also mentions gold as an alternative tool for the job …
"The dollar's decline has also helped thrust gold onto center stage … some investors are betting that [gold] bullion will prove a better haven than Treasuries as inflation bites …"
So while there's a fair amount of consensus about the challenges … there are variations on how to best address it.
And in yet another "surprise … said no one ever" moment …
… real estate is completely missing from mainstream financial media's discussion of potential solutions.
That's like heading out to a job site and leaving your best power tools at the workshop. Then again, if you don't know how to use them, what good are they?
Of course, any talk about the what, why, and how of real estate investing is completely omitted because (in our not-so-humble opinion) mainstream financial media exists to protect and promote Wall Street.
That's probably why YOU are here. It's certainly why we are.
The GOOD NEWS is, whether you're investing in your own account or organizing syndications with private investors …
… there's a LOT of opportunity RIGHT NOW to use the right real estate as the foundation of a resilient real asset portfolio.
The GREAT news is that even though things are moving faster than normal …
… there's still time to build your knowledge and relationships and to organize your life and portfolio to get in on the action.
The asteroid hasn't struck yet … and while it may not … better to be prepared and not have a crisis than to have a crisis catch you unaware and unprepared.
We're working hard to step-up the volume of ideas, resources, people and opportunities we share with you right now … because we think the times demand it.
There's a "new normal" on the horizon …
… and while real estate is real, essential and a time-tested vehicle for wealth building and preservation …
… there are new rules and strategies emerging … because market conditions are dramatically shifting.
So be SURE to subscribe to our re-launched YouTube channel, follow us on Facebook, and of course, subscribe to the podcast.
When you support ALL our distribution outlets with your listens, views, likes, shares, comments, questions, and reviews …
… you make it easier for us to attract the guests and resources necessary to produce more and better content for you.
We appreciate you … and look forward to thriving through this crisis with you.
Until next time … good investing!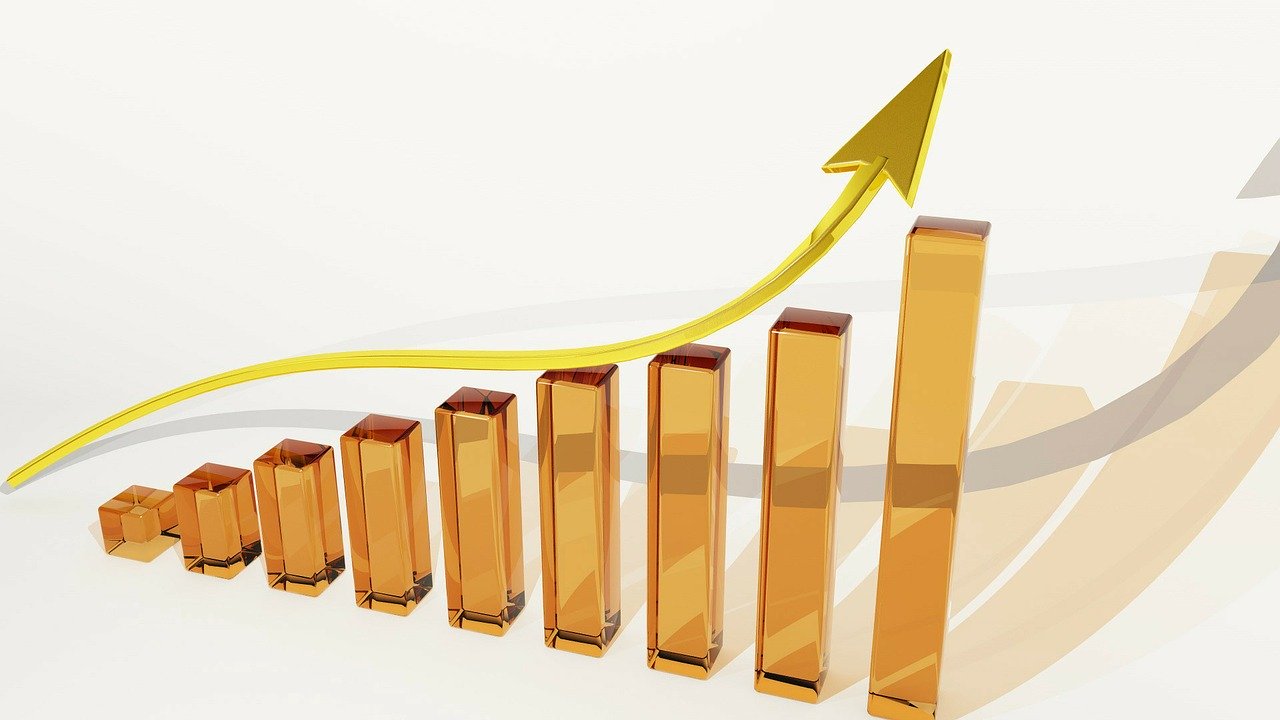 When things are moving fast, windows of opportunity open and close quickly. Those not aware and prepared either miss a good thing … or step in a bad thing. Yuck.
Headlines are SCREAMING right now. Things are moving FAST. But in all the noise, messages can be missed.
We're certainly not experts … just two guys with microphones, curious minds, years of experience, a big tribe of brilliant friends, and a few thoughts.
But here's what's on our radar this week …
In the category of "this makes no sense", the winners are …
Mortgage rates hit new record low as COVID news grows uglier
– MoneyWise via Yahoo Finance, 8/4/20
Interest rates are risk premiums on capital. When you take a bigger risk, you expect a bigger reward. While we love to borrow at low rates …
How in the world do record low interest rates accurately reflect the growing risk of defaults, bankruptcies, inflation and financial system collapse?
Hint: They don't. So something else must be at play …
Stocks tick higher; Treasury yields sink
– Associated Press via Times Union, 8/4/20
In theory, owning stocks is like being a silent partner in a viable, profitable business. Profitable enterprises with bright prospects should fetch a premium.
But today, entire economies are locked down or constricted by edict, untenable regulations, fear of contagion or lawsuit, or (fill in the blank).
So MAYBE companies facing severe headwinds get temporary credit for laying everyone off. But you can't cut your way to growth.
More likely, the Fed is propping things up with Greenspan Put 4.0.
As for Treasuries …
When YOU get over-extended … with growing loan balances, dropping income, borrowing just to make interest payments …
… do lenders INCREASE your credit limit and LOWER your rate?
Of course not. That's stupid and reckless on their part.
Yet somehow Uncle Sam gets to borrow more and more and more … and is rewarded with LOWER rates?
It makes NO sense … UNLESS …
Maybe the rest of the world is even MORE afraid of their OWN currency failing and are piling into Treasuries as a "safer" haven.
But headlines say the dollar is falling to a 3-year low against other currencies.
Maybe the Fed is bidding up Treasuries … and thereby pushing down yields.
(Just like apartment investors bidding up prices and pushing down cap rates)
Of course, gold and silver prices suggest investors worldwide are seeking shelter … not in the dollar or dollar-denominated Treasuries … but in something a little more shiny.
Meanwhile, speaking of gold …
In the category of "Duh. What took so long?" and "Uh oh." ….
Gold logs fresh record high near $2,050
– MarketWatch via MSN Money, 8/5/20
Anyone who attended or watched the recordings of Future of Money and Wealth Conference in 2018 saw this coming 2 years in advance.
(By the way, the "appreciation" on just ONE ounce of gold purchased in Spring 2018 after the conference … would pay DOUBLE the price of the video series. For all those who "saved" by skipping the recordings. Just sayin' …)
Candidly, we're surprised it took this long.
Of course, when you understand the important difference between money and currency, you realize gold didn't go "up" … the dollar FELL.
Seems like a big money "no confidence" vote on greenbacks. Makes sense.
It's like a Picasso or Rembrandt painting. An original is rare and valuable. Limited edition prints are somewhat rare and therefore somewhat valuable.
But do you want to invest in a copy of a painting they printed trillions of … and are still printing? Perhaps if an unsophisticated "collector" can be duped into buying it from you on the mistaken belief it's "limited edition".
Are YOU collecting prints of dead presidents thinking they're "limited edition"?
Gold is saying the world is concerned about the TRILLIONS of dollars being printed. They're realizing dollars aren't "limited edition".
That's probably why gold just punched through $2000 like Superman crashing through sheetrock to save Lois Lane.
Sure. Some gold bugs are giddy. Gold to the moon!
But Peter Schiff, who's one of the biggest proponents of gold we know, says on his latest podcast …
" … gold's move above $2,000 is not a cause for celebration … the move portends extreme economic hardship for most Americans."
Gold's price is a CLUE about the future of the dollar. And we're guessing you earn, borrow, save, invest, and measure your net worth in dollars.
Most Americans have only ONE measuring stick … dollars.
But as we've been saying … and delve into with our expert panelists in the JUST RELEASED 13-episode COVID-19 Crisis Investing Series …
… the ONGOING health crisis has triggered an ONGOING economic crisis, which (based on the Fed's behavior) … threatens to trigger a SEVERE financial system crisis (making 2008 look tiny) …
… which, (based on gold's behavior) threatens to trigger a severe dollar crisis.
So yeah. Maybe not so good.
In the category of "bad news can be good news" …
Housing Demand Strong, But Other Economic Recovery Signs Point Down
– Globe Street, 8/3/20
"Sales of existing and new homes increased significantly in June, and data points to stable demand for housing, according to a report by Bank of America."
Home Depot To Open 3 New Distribution Centers In Georgia; To Add Jobs
– Nasdaq, 8/5/20
Granted, we're using a BIG magnifier to read between the lines … but think about this …
Most of the United States has been put in time out at home. Many small businesses have moved home. Home is a bigger part of people's lives than in the past.
There's also a percentage of people who've decided their safest investment in uncertain times is the right roof over their heads.
And while we're admittedly biased, we're guessing more than a few folks are looking for a place to store wealth that's closer to home and more tangible.
When times get tough, investors tend to get REAL … as in REAL estate and REAL assets.
And based on our Boots on the Ground conversations with our network around the country, inventory is low, demand is high, while rents and collections are good.
So while macro numbers … where they throw the disastrous markets in with the good … might make the overall numbers soft …
… our anecdotal observation is there's still solid opportunity in residential real estate … in the right markets with the right teams.

In fact, some markets are seeing an influx of people coming in from high tax, high cost states to enjoy low cost, low tax warm weather and a nicer lifestyle.
All much easier now that working remotely is the rule and not the exception.
So in addition to investors potentially seeking shelter in real estate, the Home Depot story simply illustrates that even in downturns, there are pockets of opportunity.
And an already great opportunity that just got BETTER is syndication … raising money from private investors to do bigger deals and build diversified portfolios.
Think about it …
TRILLIONS of new dollars are funneling into the economy … leading to rising stock AND bond prices, which makes NO sense apart from Fed "influence".
As stock and bond investors wake up to their perilous position to seek REAL assets … and gold and housing says it's already starting at both the big and small money level …
… a chunk of those trillions will be open to Main Street alternatives …
… including equity (for tax breaks, inflation protection, capital preservation and growth) … and debt (real yields above inflation and backed by real collateral).
So while the rest of the world might be wondering what to do next, we think the headlines are providing strategic guidance … for those paying attention.
Until next time …. Good investing