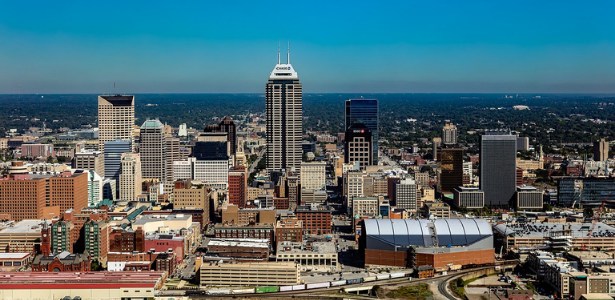 In tough times like 2020 has brought, demand for affordable essentials goes UP. When it comes to real estate, it doesn't get any more essential than residential.
Indianapolis is a hidden gem of a market … it is very affordable while still offering tremendous quality of life.
You will learn why Indianapolis is attracting nearby Midwesterners trying to escape high-price, high-tax states nearby! 
In this episode, we visit with our boots-on-the-ground guy Jeff "Shecky" Schechter and learn why he thinks Indianapolis is THE market to be in. 
In this episode of The Real Estate Guys™ show, hear from:
Your high-return host,

Robert Helms

His affordable co-host,

Russell Gray
Our Indianapolis boots-on-the-ground correspondent, Jeff "Shecky" Schechter
---
Listen
---
Subscribe
Broadcasting since 1997 with over 300 episodes on iTunes!
---
Review
When you give us a positive review on iTunes you help us continue to bring you high caliber guests and attract new listeners. It's easy and takes just a minute! (Don't know how? Follow these instructions).
Thanks!
---
What Makes an Affordable Market
As a real estate investor, price is important. As you become more seasoned, it's not the most important thing … but let's face it, getting started is tough! 
One financial strategy in acquiring real estate has to do with finding markets that make sense …. the big picture is that income has to be enough to cover expenses and then some!
So you look at these markets that have appreciated over time like Northern California, the Bay Area, Seattle … places where the prices have gone up and up, and yet the rent doesn't always keep pace.
Appreciation is one way we make money in real estate … but cash flow is how we hang on to the property, and so especially if you're starting out, you want to find a good market where prices are affordable and the rents are strong.
As we're sitting here in the latter part of 2020, we are on probably the front end or in the middle of the beginning of a pretty severe economic setback. Inflation is starting to show up. 
Your typical tenant is living paycheck to paycheck … and as people try to find a way to maintain a quality of life, to put a decent roof over their head to be in a decent community, they're going to have to move around. 
So we look for places where the conditions are good or that are near a large, major population center … that is probably going to track people from those large centers into the more affordable marketplaces.
Many years ago for real estate trivia, we asked what the most affordable market was in America. It actually is the same answer today, and that is Indianapolis, Indiana! 
Affordability means that somebody can purchase a home and have the same utility and quality for the lowest price compared to what the average wage is. 
But then is there room for renters? Well, what we've discovered is in that market … people at lower incomes typically don't have the ability to save up the 20% or more down payment it takes. 
So it's a market where we see a lot of renters, and that's great for landlords! 
Indianapolis also happens to be the neighbor of large markets that react differently than it does. 
We think if you're looking for a place to buy an inexpensive property where the returns are going to be solid, this is certainly a good place to start. 
Get to Know Indianapolis 
When we were visiting Indianapolis last year, we loved that this place is clean, nice, has affordable houses, has a major sports team, and is the home of the largest sporting event in the world. 
We went on a quest, and that led us to our guest today … Jeff Schechter of High Return Real Estate from Indianapolis, Indiana. 
Jeff says things are going well in Indianapolis. While they are seeing a little bit of upward price pressure during COVID-19, investors are doing well and people are making money. 
First, we want to discuss the rental situation …. We asked Jeff how COVID has impacted people paying their rent in the Indianapolis market. 
He says that while there are some who have taken advantage of courts being closed, for the most part, his tenants have been great with paying, and he's been able to work with those who could not. 
For those who don't know the Indianapolis area, Jeff explains that it's actually one of the biggest MSAs in the nation. 
He says, "We do see quite a bit of change in Indianapolis over the last few years; it has been going through quite a renaissance, so we're seeing a lot of really great old commercial buildings being changed over to different use. We're seeing new apartments going up or seeing a lot of those old beat-up homes being redone; I'm in one myself." 
Having local market knowledge is huge … Jeff explains that over the four years he's been working in Indianapolis, he's seen a lot of improvement in many areas of the city. 
What about appreciation in the Indianapolis market? 
Jeff says, "The last couple of years, especially in certain areas, we've seen some pretty significant appreciation." 
But while that is exciting … he says it's also a double-edged sword because the more that the price pressure happens, the harder it is to make the price to rent ratios work.
Indianapolis is Affordable for Everyone 
The premise of the show today is about an affordable market … so we ask Jeff to give the listeners an idea of what a typical house might cost.
Jeff says, "I've got one property right now that is under $50,000—that's for the whole house. Most of the sweet spot of what we do would be probably in the 60s to high 70s."
Wow … now that's AFFORDABLE! 
When it comes to rehabbing these properties, how does Jeff decide what needs to be done? 
Jeff says that's actually one of the easiest parts of his job. 
Every week he meets with his acquisition crew, and they decide what properties they should go for. 
The key is in the relationship with the crew chief who gives them an initial assessment … and they have a great checklist and system for deciding what materials to put in the house. 
Next, we ask Jeff what tenant/landlord law is like in Indianapolis … and you'll be happy to learn that he says laws are in fact very favorable for the landlords in Indiana. 
Compared to other states, it's a great situation for investors and landlords. 
What about property management for those who live far away from their investment properties? 
Jeff admits that's been one of the most difficult parts of the business for him … and we agree that it's hard to find reliable and trustworthy people in property management. 
But Jeff found the right solution in a new property management company that wrote their own software and proved themselves. 
He says he's happy with how they work. He doesn't want to have to be the best at everything! 
Bottom line …  if you haven't yet really taken a look at the Indianapolis market, there is a lot to learn. Jeff has put together a great report available to you AT NO COST! You will be able to learn why it's a great investment market. 
For all the great insights Jeff has to share on the Indianapolis market … be sure to listen to the whole podcast. 
---
More From The Real Estate Guys™…
The Real Estate Guys™ radio show and podcast provides real estate investing news, education, training, and resources to help real estate investors succeed.
---
Love the show?  Tell the world!  When you promote the show, you help us attract more great guests for 

your

 listening pleasure!