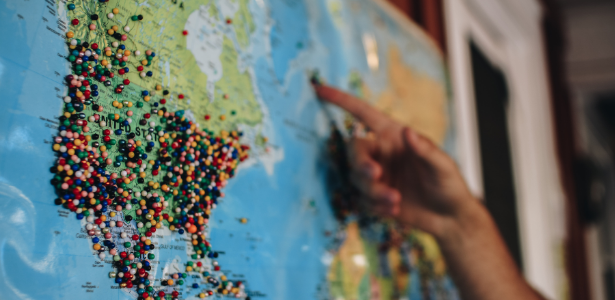 In an age of macro-economic turmoil and stress, the risk of the tide going OUT is far greater than the odds of a rising tide lifting all boats.
So as Warren Buffett famously quipped …
"Only when the tide goes out do you discover who's been swimming naked."
And of course, if that happens to be you … it's often expensive and embarrassing to have your shortcomings exposed.
Anyone paying attention right now expects the tide to go out any time now. In fact, many pundits are shocked the Fed has been able to prop things up this long.
So for strategic real estate investors, market selection matters more now than ever. You can't count on a rising tide in all markets.
People and prosperity will start to flow away from some markets and flood into others. We're already starting to see this polarization.
Get it wrong, and there you are in your financial birthday suit with water around your ankles.
Get it right, and your portfolio of "average" properties has you floating in equity and cash flow amidst a flood of demand with capacity to pay.
Long time followers know when we say "markets" we're referring not just to geographies, but also product niches and demographics.
So it's places, products and people.
And when times get tough … which is what's clearly on the weather report …
… the question is: where will people and businesses go, and what kind of real estate will they need?
If you only invest in your own area, this might seem simple.
After all, you know the lay of the land well. You talk to people. You have your thumb on the pulse of the local market.
But if you don't happen to live in a great investing market … and the local economy or cash flows don't make sense … then you need to look for clues about markets that might make sense.
For example, Visual Capitalist just put out a nifty 3D map they call …
The U.S. Cities With the Highest Economic Output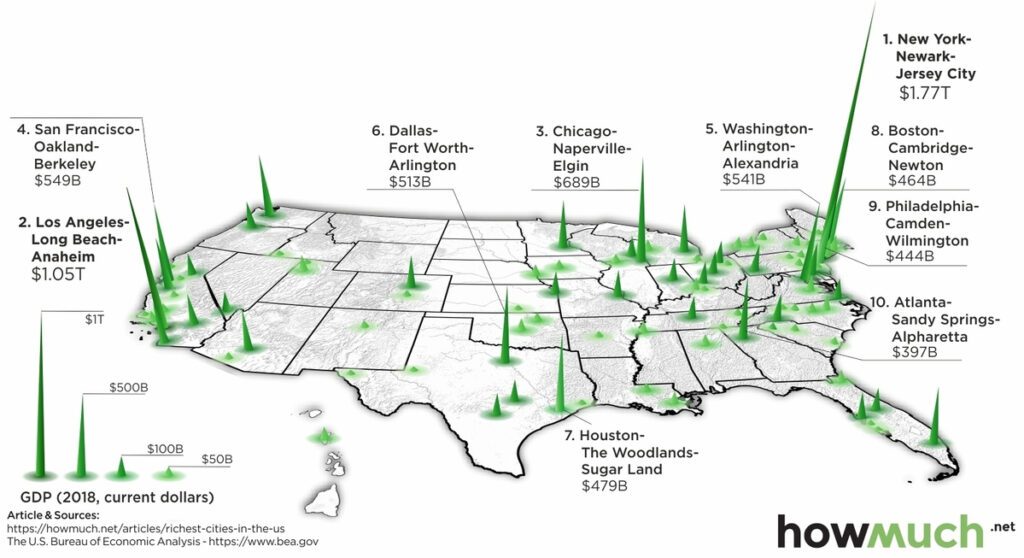 Of course, these aren't really cities … they're metros.
But it's a great top-down start for homing in on a local geography in which to search for teams and opportunities.
However, this is only a start. There are several other factors to consider when delving into markets … but strong economic activity is a biggie.
So before you jump on a plane and tour the nation, dig a little deeper.
If you're a residential rental property investor … single or multi-unit … there are several markets you'd probably eliminate from consideration, simply based on their hostility towards landlords.
Losers in this category would be California, Illinois and New York. In fact, of these ten, probably all but Texas and Georgia would get crossed off our short list.
Of course, while the macro-financial strength of a metro is a solid sea and can float a lot of boats …
… trends in the economy and employment also matter quite a bit too.
Remember … the Titanic was a big, powerful ship. Even after it started leaking it still seemed very robust. Many thought it could leak without sinking.
Of course, those passengers who didn't understand what was happening or didn't take it seriously were slow to make it to the lifeboats.
By the time the slow-movers were looking for safety, the best spots were all taken. It didn't end well for them.
Keep this in mind when deciding how to navigate this current crisis.
Another important thing to remember when shopping for real estate markets, jobs and population matter … a lot.
LinkUp.com puts out a lot of great (and expensive) data … but sometimes you get free samples that are useful.
In this case, they did a study of Changes in New Job Openings for a one-month period and created this very cool state-by-state graphic …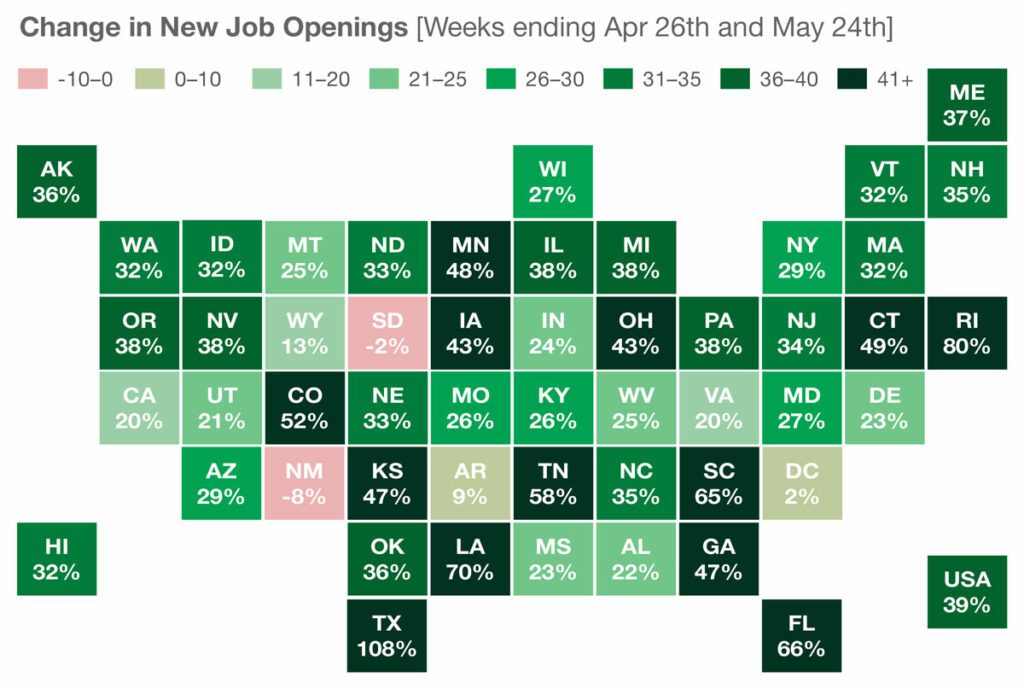 This adds a little color to the analysis … literally. 😉
Our audience knows some of our favorite markets for the last several years are in Florida, Georgia, Tennessee and Texas.
These numbers don't surprise us because these are business-friendly, landlord-friendly, relatively affordable markets.
Of course, this is just a snapshot … but it's another clue about where to search for resilient opportunity.
Another fun resource is Zumper.
They have a semi-interactive tool which visually shows internet search volume for where renters are interested in moving to.
Seems like that would be good to know.
Here's an interesting chart they recently put out …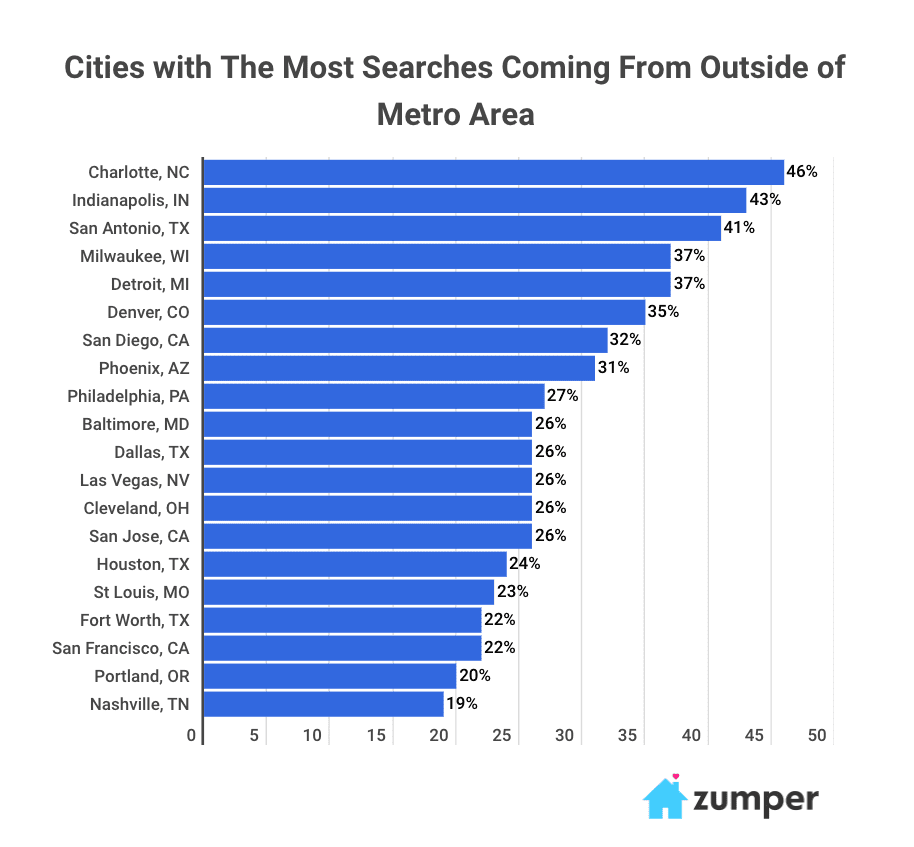 As you can see, there are some new markets to consider adding to the research bin to see how they stack up in terms of strength in economy, jobs, and landlord friendliness.
While we love top-down data … we like to compare and contrast it to "thumb on the pulse" feedback from people who know the market intimately.
For example, we can see from this data that Indianapolis is attracting a lot of interest. We just don't know WHY.
But we learned from talking with our Boots On The Ground correspondents, Indianapolis has been the beneficiary of people fleeing Illinois.
Our point is that as we continue to navigate this COVID-19 induced cascading crisis … people ALWAYS need certain types of real estate … and residential is always at the top of the list … no matter what's happening.
People and businesses will move to pursue or preserve quality of life and opportunity … which is about income, expenses, amenities, and climate (weather and business).
In good times and bad, there will always be winners and losers.
Investors who win are more strategic, informed, well-advised and supported, and therefore more aware, prepared, brave and bold … and move smartly and decisively as trends emerge.
To paraphrase Charles Dickens … these are the best of times and the worst of times … and history proves both are ever-present.
So it's not the circumstances which make times good or bad. Success depends on how well each individual responds to whatever is happening.
The good news and the bad news is … each of our individual destinies remains largely our own responsibility.
If that thrills you, then you've probably got skills and a great team … and are looking forward to the impending economic white waters.
If it freaks you out, then it's probably time to work on your training, tribe and team as a top priority.
The great news is it's never been easier to find great ideas, information, people and resources. Those all lead to great opportunities.
Thanks for being a part of our tribe … and for reading our stuff. We like it when you reply, give us feedback, comment on our videos. Especially while we're still in semi-lockdown.
We look forward to getting back into visiting with our audience at live events … but until then, we'll see you on the radio, podcast, social media and YouTube.
We're stepping up our content creation now because talking heads on mainstream financial media don't understand real estate investing.
They don't talk about real estate investing because it doesn't promote or protect Wall Street … and real estate is not an asset class or commodity.
But because properties CANNOT be used as chips in the casinos, they're much more stable in stormy seas. We think that's going to become VERY attractive.
The right real estate in the right markets controlled with the right financing and managed by the right team is about as good as it gets for building resilient wealth in tumultuous times.
Keep this in mind while watching the storms … and as you focus on the fundamentals, your odds for success go way up.
Until next time … good investing!