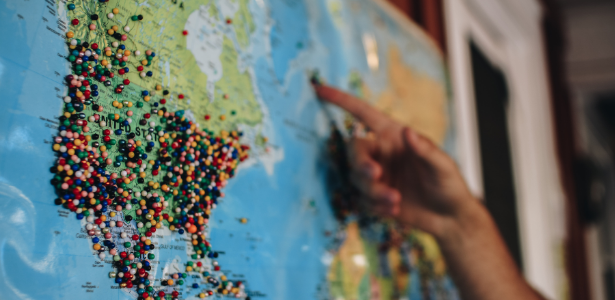 In an age of macro-economic turmoil and stress, the risk of the tide going OUT is far greater than the odds of a rising tide lifting all boats.
So as Warren Buffett famously quipped …
"Only when the tide goes out do you discover who's been swimming naked."
And of course, if that happens to be you … it's often expensive and embarrassing to have your shortcomings exposed.
Anyone paying attention right now expects the tide to go out any time now. In fact, many pundits are shocked the Fed has been able to prop things up this long.
So for strategic real estate investors, market selection matters more now than ever. You can't count on a rising tide in all markets.
People and prosperity will start to flow away from some markets and flood into others. We're already starting to see this polarization.
Get it wrong, and there you are in your financial birthday suit with water around your ankles.
Get it right, and your portfolio of "average" properties has you floating in equity and cash flow amidst a flood of demand with capacity to pay.
Long time followers know when we say "markets" we're referring not just to geographies, but also product niches and demographics.
So it's places, products and people.
And when times get tough … which is what's clearly on the weather report …
… the question is: where will people and businesses go, and what kind of real estate will they need?
If you only invest in your own area, this might seem simple.
After all, you know the lay of the land well. You talk to people. You have your thumb on the pulse of the local market.
But if you don't happen to live in a great investing market … and the local economy or cash flows don't make sense … then you need to look for clues about markets that might make sense.
For example, Visual Capitalist just put out a nifty 3D map they call …
The U.S. Cities With the Highest Economic Output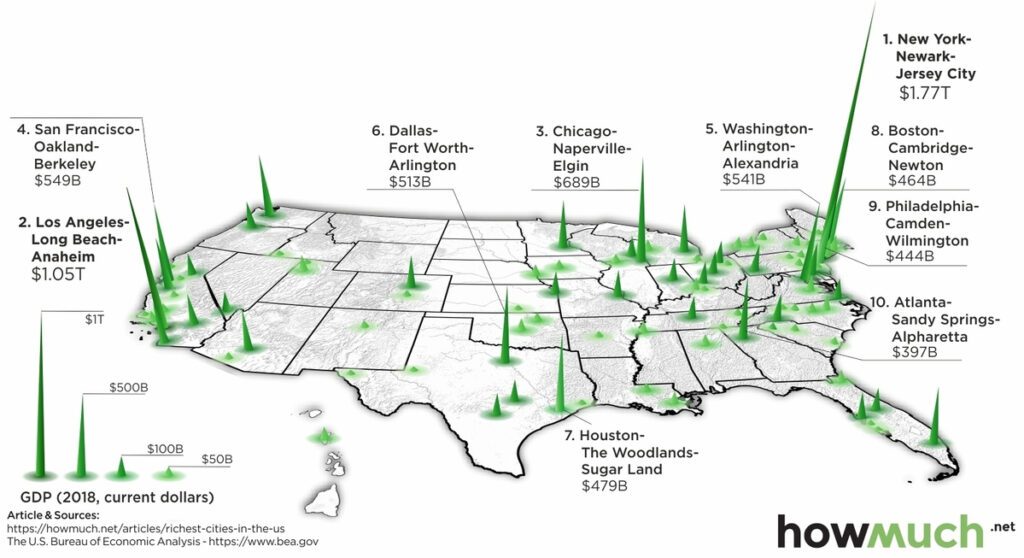 Of course, these aren't really cities … they're metros.
But it's a great top-down start for homing in on a local geography in which to search for teams and opportunities.
However, this is only a start. There are several other factors to consider when delving into markets … but strong economic activity is a biggie.
So before you jump on a plane and tour the nation, dig a little deeper.
If you're a residential rental property investor … single or multi-unit … there are several markets you'd probably eliminate from consideration, simply based on their hostility towards landlords.
Losers in this category would be California, Illinois and New York. In fact, of these ten, probably all but Texas and Georgia would get crossed off our short list.
Of course, while the macro-financial strength of a metro is a solid sea and can float a lot of boats …
… trends in the economy and employment also matter quite a bit too.
Remember … the Titanic was a big, powerful ship. Even after it started leaking it still seemed very robust. Many thought it could leak without sinking.
Of course, those passengers who didn't understand what was happening or didn't take it seriously were slow to make it to the lifeboats.
By the time the slow-movers were looking for safety, the best spots were all taken. It didn't end well for them.
Keep this in mind when deciding how to navigate this current crisis.
Another important thing to remember when shopping for real estate markets, jobs and population matter … a lot.
LinkUp.com puts out a lot of great (and expensive) data … but sometimes you get free samples that are useful.
In this case, they did a study of Changes in New Job Openings for a one-month period and created this very cool state-by-state graphic …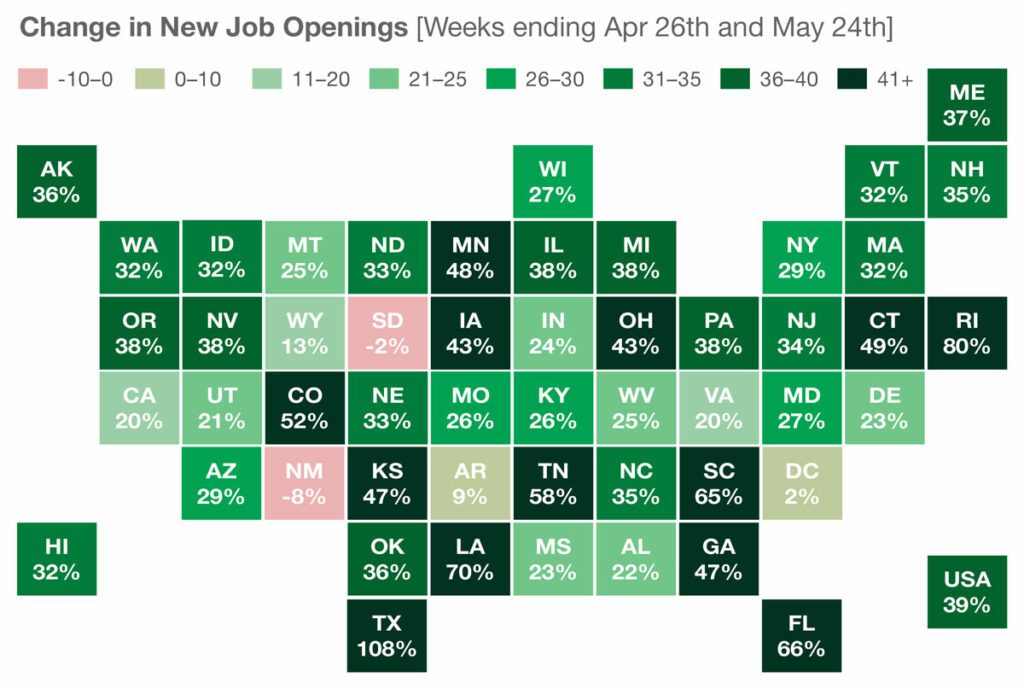 This adds a little color to the analysis … literally. 😉
Our audience knows some of our favorite markets for the last several years are in Florida, Georgia, Tennessee and Texas.
These numbers don't surprise us because these are business-friendly, landlord-friendly, relatively affordable markets.
Of course, this is just a snapshot … but it's another clue about where to search for resilient opportunity.
Another fun resource is Zumper.
They have a semi-interactive tool which visually shows internet search volume for where renters are interested in moving to.
Seems like that would be good to know.
Here's an interesting chart they recently put out …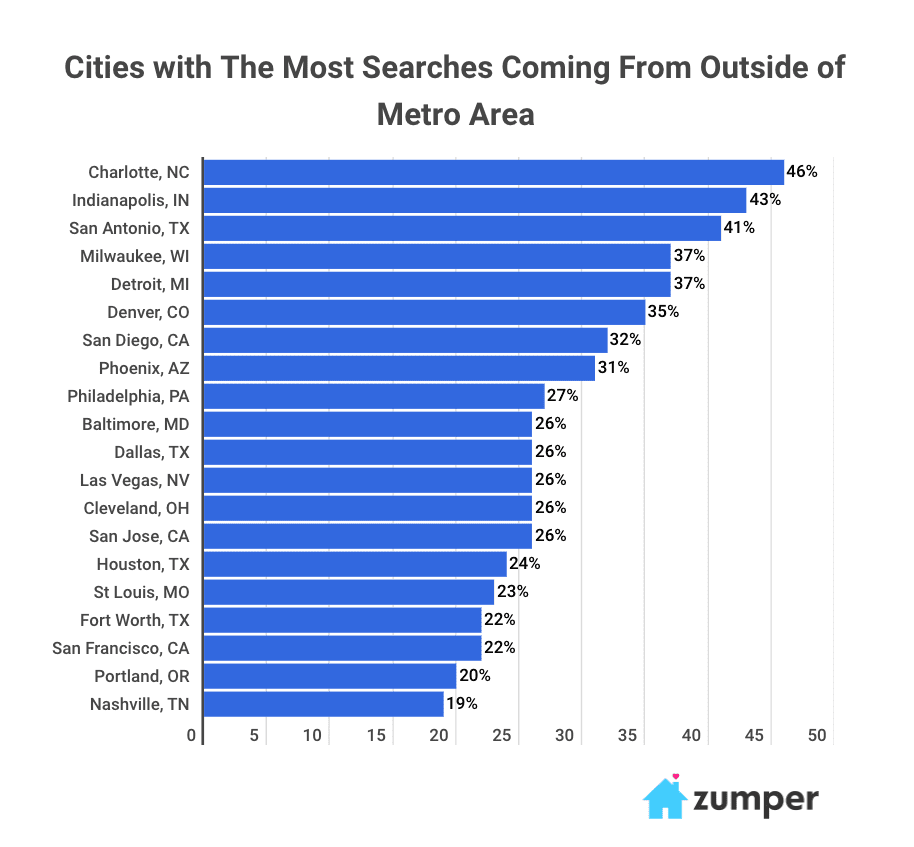 As you can see, there are some new markets to consider adding to the research bin to see how they stack up in terms of strength in economy, jobs, and landlord friendliness.
While we love top-down data … we like to compare and contrast it to "thumb on the pulse" feedback from people who know the market intimately.
For example, we can see from this data that Indianapolis is attracting a lot of interest. We just don't know WHY.
But we learned from talking with our Boots On The Ground correspondents, Indianapolis has been the beneficiary of people fleeing Illinois.
Our point is that as we continue to navigate this COVID-19 induced cascading crisis … people ALWAYS need certain types of real estate … and residential is always at the top of the list … no matter what's happening.
People and businesses will move to pursue or preserve quality of life and opportunity … which is about income, expenses, amenities, and climate (weather and business).
In good times and bad, there will always be winners and losers.
Investors who win are more strategic, informed, well-advised and supported, and therefore more aware, prepared, brave and bold … and move smartly and decisively as trends emerge.
To paraphrase Charles Dickens … these are the best of times and the worst of times … and history proves both are ever-present.
So it's not the circumstances which make times good or bad. Success depends on how well each individual responds to whatever is happening.
The good news and the bad news is … each of our individual destinies remains largely our own responsibility.
If that thrills you, then you've probably got skills and a great team … and are looking forward to the impending economic white waters.
If it freaks you out, then it's probably time to work on your training, tribe and team as a top priority.
The great news is it's never been easier to find great ideas, information, people and resources. Those all lead to great opportunities.
Thanks for being a part of our tribe … and for reading our stuff. We like it when you reply, give us feedback, comment on our videos. Especially while we're still in semi-lockdown.
We look forward to getting back into visiting with our audience at live events … but until then, we'll see you on the radio, podcast, social media and YouTube.
We're stepping up our content creation now because talking heads on mainstream financial media don't understand real estate investing.
They don't talk about real estate investing because it doesn't promote or protect Wall Street … and real estate is not an asset class or commodity.
But because properties CANNOT be used as chips in the casinos, they're much more stable in stormy seas. We think that's going to become VERY attractive.
The right real estate in the right markets controlled with the right financing and managed by the right team is about as good as it gets for building resilient wealth in tumultuous times.
Keep this in mind while watching the storms … and as you focus on the fundamentals, your odds for success go way up.
Until next time … good investing! 
In August 1971, President Richard Nixon went on national television and shocked the world by defaulting on the gold-backed dollar system created at Bretton Woods in 1945.
Up to that point, dollars were essentially coupons for real money … gold. Foreign dollar holders could turn in their dollars and walk away with gold at $35 per ounce.
Nixon repudiated that deal without warning, promising it was only a "temporary" measure. That was over 48 years ago … and the world is still waiting.
It reminds us of Ben Bernanke's promise that quantitative easing was only temporary. Yet, here we are 10 years later and it's still here.
Yes, we know Jerome Powell doesn't want to call it QE. Most people forget Ben Bernanke didn't want to call the original QE "QE" either.
So Nixon tried to take the edge off the gold default by saying it's only temporary, but he knew the world would react by dumping dollars … crashing the dollar and causing prices to rise.
If that's confusing, just think of dollars like stocks. When something happens to trigger people to sell, the price falls.
When the dollar falls, it takes more dollars to buy the same products. That's called inflation. And it hurts people who do business in the falling currency.
So while foreigners were upset about Uncle Sam's broken promise, those paying attention could sell their dollars quickly and buy gold in the open market.
American citizens were not so fortunate.
That's because back then it was still illegal for U.S. citizens to own gold. And the government had already taken all the silver out of the coins in 1965.
So even if Americans were smart enough to know what was happening, the best escape routes were blocked. Real money wasn't readily available to them.
Being aware the American voter would be facing rising prices and falling purchasing power headed into the 1972 election cycle, Nixon attempted to stop inflation by executive order.
In fact, at the same time he defaulted on the gold standard, Nixon also ordered a national freeze on prices and wages.
You read that right.
In the United States of America, the land of the free, bastion of free market capitalism …
… by executive decree, and without warning, it became immediately illegal for a private business owner to raise prices on a customer or increase wages to an employee.
Of course, it didn't work.
In fact, as discovered through his now infamous penchant for tape recording everything, it's well-documented Nixon knew it wouldn't work when he did it.
On February 22, 1971 in a recorded conversation with his Secretary of the Treasury, Nixon said,
" The difficulty with wage-price controls and a wage board as you well know is that the God damned things will not work."
"I know the reasons, you do it for cosmetic reasons good God! But this is too early for cosmetic reasons."
But by August 12, 1971, the Secretary of the Treasury apparently convinced Nixon the time had arrived to put lipstick on the pig …
"To the average person in this country this wage and price freeze–to him means you mean business. You're gonna stop this inflation. You're gonna try to get control of this economy. …If you take all of these actions … you're not going to have anybody…left out to be critical of you."
In other words, it was all political theater to pander to pundits and voters. It doesn't matter if it works … or if you even think it can. It only matters that you're seen trying.
So just 3 days later, Nixon went on TV and pulled the trigger.
What does all this have to do with YOUR real estate investing?
Maybe more than you think. History often has valuable lessons for those who take the time to reflect on it.
You may have heard … California just enacted state-wide rent control.
California's not the first to do this … Oregon holds that "honor", having enacted their own version of state-wide rent control last February.
Of course, this is a governmental policy, so any discussion of it runs the risk of turning political and divisive.
But it doesn't matter whether you or we agree or disagree with the spirit or letter of the law. That's irrelevant.
The rent control laws are here like them or not, so the more germane discussion is about what rent control on this scale might mean for real estate investors … regardless of political stripe.
Now if you think none of this matters to you because you have no intention of investing in California or Oregon … think again.
Because even though each state's law is different, the motives are similar … to "do something" (or at least appear to be trying) to address growing homelessness presumably created because "rent is too damn high."
If this way of thinking catches on (and it seems to be), state-wide rent control could be coming to a market near you.
And like California, rent control laws could be RETROACTIVE.
Think about that.
Let's say you're a value-add real estate investor and you find an older, run-down, poorly managed property in a decent area.
You put together a plan and invest generously to improve the property to the benefit of the tenants and the neighborhood, expecting to earn higher rents for a better product.
But AFTER you make your investment, the government decides to make it illegal for you to raise the rents to your projections. And it's retroactive.
You made a plan and took a calculated risk based on the rules in place … and wham-o! The government changes the rules after the fact.
Ouch.
Call us crazy, but that doesn't seem fair. At least Oregon "only" made their rent control effective immediately. California's law is retroactive seven MONTHS.
We understand politicians are trying to pre-empt landlords from jacking up rents before rent control kicks in.
Of course, this reveals a paradigm of how politicians view landlords … as greedy takers looking for every opportunity to screw over their customers.
Funny, some people see politicians the same way … but we digress.
It's painfully obvious these lawmakers don't understand real estate investing.
While it's true, the laws allow rents to rise a "generous" spread of 5-7% over the (artificially low) CPI.
Maybe this is okay for new or fully renovated properties. No cap ex needed.
But the law specifically targets properties over 15 years old … the very ones most likely to need substantial renovation.
Worse, the law does NOT make an exception for capital expenditures, so the limit on rental increases potentially caps the incentive to fix up old, ugly properties.
Will rent control create a greater divide between the nice and not-so-nice areas as existing properties are starved of cap ex?
History says it will. Time will tell if it's different this time.
Meanwhile, it's wise for real estate investors to pay attention to laws in places like Oregon and California … even though they may not apply to you … yet.
Because when you look at California, it seems like they got some of their ideas from Oregon. Like Hollywood, politicians tend to copy each other.
And because affordable housing is a national problem heading into a heated election year …
… it's likely other states are looking at the "leadership" of California and Oregon … and could be considering a rent control law variation of their own.
The opportunity could be in the overt and implied exemptions …
… like mobile home parks, residential assisted living, self-storage and other niches outside the cross-hairs of perhaps well-meaning, but sometimes misguided politicians.
Remember, markets are dynamic, complex systems affected by fiscal, tax, monetary, and regulatory policy as much or more than local demographics and economics.
It's smart to pay attention to ALL of it … and objectively evaluate how each factor might impact you and your portfolio.
We're back again to tackle the questions we missed in our last Ask The Guys episode. We love these episodes and the opportunity we get to talk through some of YOUR real-world investing opportunities and challenges.
We hear from listeners dealing with tenant damage and security deposits, 1031 tax-deferred exchanges, nontraditional lending ideas and TONS more.
First, the ground rules.
We talk about ideas and information. When you're dealing with real money in the real world, you want to consult a professional. We don't offer legal, investment, or tax advice.
In this episode of The Real Estate Guys™ show you'll hear from:
Your problem-solving host, 

Robert Helms

His trouble-making co-host, 

Russell Gray
---
Listen
---
Subscribe
Broadcasting since 1997 with over 300 episodes on iTunes!
---
Review
When you give us a positive review on iTunes you help us continue to bring you high caliber guests and attract new listeners. It's easy and takes just a minute! (Don't know how? Follow these instructions).
Thanks!
---
Question: How soon can I move in after a cash offer, and how low can I go under the asking price?
Joseph in Tacoma, Washington, asked this question. The important concept to understand here is price versus terms.
Whether or not you offer cash or take out a loan, the outcome is essentially the same for the seller. What cash offers is a quicker payout with certainty.
But, this isn't attractive to every seller. In some cases, a quick closing isn't what a buyer wants at all, so the promise of quick cash won't be an incentive.
When you're negotiating with cash, make sure what you're offering lines up with the seller's priorities. A cash offer doesn't automatically mean a 20 percent discount.
Question: I rehabbed a rental property in Detroit, and now I'm ready to sell. My tenant wants to purchase the property, but she has limited cash on hand. How can I find a lender to do the deal?
Wilbert in South Field, Michigan, brings us this question. He wants to sell the home for $38,000, but the appraisal came back at $20,000. That price gap, as well as the location has made it difficult to find a traditional lender.
The first problem is that many banks won't do a loan for less than $50,000. If the lender is going to go to all the trouble to do the paperwork for a percentage of the loan amount, then the loan amount needs to be enough to get their attention.
Here are a couple alternatives for Wilbert to consider:
Find a private lender.

This might mean a higher interest rate for the buyer. But, that higher interest rate will be more likely to attract a lender.

Be the private lender.

Rather than finding an outside investor, work a deal with the tenant to have them pay the loan to you instead. If they pay off the mortgage, you've still had that steady stream of income. If not, you'll get the property back to rent or sell to someone else.

Find a different buyer.

If finding a private lender isn't possible, consider finding a different buyer who is able to get financing or purchase the home for the price you want to sell.
Question: When a tenant in our out-of-state rental moved out, they caused a lot of damage. Why don't tenants take care of their rentals better, and why are they surprised when they don't get their deposit back?
Renters view their home differently than an owner. How else do you explain that it feels like no renter owns a vacuum cleaner?
Damage to property is part of doing business as a landlord. But, Lauren in Charleston, South Carolina, did a lot of things right. They documented all the damage with photos before the tenant moved out, had a third-party realtor do a final walkthrough with the tenant, and got estimates from contractors to repair the damage.
Here are a few other things you can do to deal with damage:
A picture is worth a thousand words.

Take photos of the property BEFORE the new tenant moves in and get their initials on the photos. Then, when they're ready to move out, you can use those photos to justify the cost of any damage.

Open up a pet policy.

Many landlords are hesitant to allow pets in a rental. But, with a hefty pet deposit and even a little higher rent, you can come out on top.

Get a read on your renters.

As you screen applicants, be perceptive. We've also known people who will meet with potential renters at their current residence to see how they treat their current space. This may not be possible for everyone, but get creative and thoughtful about how you screen new renters.
At the end of the day, renters are more likely to treat a rental home with less care than you do. Damage and repairs are a cost of doing business, so make sure you build that into your budget.
Question: I want to sell my rental home in California, and I'm interested in the 1031 tax-deferred exchange to buy a new property in Texas. I'm confused by the IRS form and want to know if this will eliminate my taxes in California?
Cindy in Fort Worth, Texas, is definitely an A student!
First of all, we want to be clear that with this kind of complicated tax question, you need expert opinion and advice. A 1031 tax exchange intermediary will be well worth the cost and can answer all your questions.
The intent of the 1031 tax-deferred exchange is that if you sell a property and then purchase another property, you can defer the tax. As you buy and sell properties, you can continue to defer the tax, but there isn't a way to eliminate the tax completely.
Finally, try not to let the tax tail wag the investment dog.
Real estate offers many great tax benefits, which is one of the reasons we love it! But, when you're dealing with real money and the IRS, you need a team of experts to guide you.
Life is short, and you don't want to spend your valuable time reading an IRS form.
Question: How can I learn more and get coaching on real estate syndication?
Addie in Seattle, Washington, brings us a question that is near and dear to our hearts!
We recommend our Secrets of Successful Syndication seminar as your first step. Whether you want to be a syndicator and learn how to leverage money with a group of investors or invest passively in real estate, this is an event you'll learn a lot from.
In this seminar, we're teaching the strategies that have been a part of our investments for years.
We do have a coaching program, but you can only learn about it at the seminar during an OPTIONAL session after the two days are done.
If you want to register for the event and see if syndication is right for you, we'd love to have you!
Question: My wife and I have a real estate investment company with 23 doors under rent. We've found traditional lenders to be slow and cumbersome and want to simplify our lending process. How can we do this?
John and Karen in Troy, Ohio, are having trouble scaling their business because of lenders. They write that they'd be willing to pay a higher interest rate to make the process easier and more streamlined.
For traditional banks, the process is often necessarily slow. They need to do due diligence to make sure the investment is a good one.
Private capital is easier and faster, but it comes at a higher price. This can be done through syndication or networking to find interested investors. Make sure you're well advised and working with big deals, and you're well on your way.
We'd also suggest that with the rollback of some of the Dodd-Frank provisions, some of the restrictions on community lending have eased. If you haven't checked in with your community lender recently, it's worth getting to know them. They'll get to know you and your entire portfolio of properties and could be a valuable resource.
Question: I wasn't able to attend your events for the Future of Money and Wealth in Florida. But I'd sure love to get access to that information. How do I do that?
A listener in Hawaii wants to learn from the incredibly faculty we brought in to talk about how to keep up with the changing times in the economy.
This was a one-off event, and it was an incredible gathering of some of the best minds in a variety of subjects all focused on how to protect your wealth.
We recorded the event with a professional video crew and now have 20 different panel discussions and presentations available to watch.
You can visit the Future of Money and Wealth website to learn more or send us an email to future [at] realestateguysradio [dot] com. We'll get you all the details on how to access these videos.
Question: My schedule seems to be always booked up by the time I hear about the Belize discover trips. Do you know the future trip dates for later in the year?
Tim in Silverton, Oregon, like many of us, has a busy schedule and needs to plan ahead!
To find out events as soon as possible and to get them on your calendar, get on our advanced notice list. Head to the events tab on our website. If you find an event there, and the date doesn't work out, get on the advanced notice list and you'll get an email letting you know about future dates.
Our next Belize discovery trip will be August 24-27, and registration is open now! We hope to see you there.
Question: What is the definition of a performing asset?
Matthew in Nacomin, Florida, asks us the shortest question in our inbox!
Simply put, a performing asset is something that puts money in your pocket. The more cash flow, the more equity. If you have something on your balance sheet that doesn't put money in your pocket, it's not a performing asset.
When you consider an asset you can go for a fat cow, a performing asset that will come at a premium but continue to deliver, or a skinny cow, a non-performing asset that needs some work to get it performing again.
---
More From The Real Estate Guys™…
The Real Estate Guys™ radio show and podcast provides real estate investing news, education, training and resources to help real estate investors succeed.
It's one of our favorite segments … answering YOUR real-world questions about real estate investing.
In this batch of mail, we run through where to start with syndication and investing to how to think about self-directed retirement funds and everything in between.
As a reminder, our show is about offering ideas and information, but we are not legal or tax professionals and do not give advice. Always see a pro for advice on your specific situation.
In this episode of The Real Estate Guys™ show you'll hear from:
Your problem-solving host, 

Robert Helms

His unraveling co-host, 

Russell Gray
---
Listen
---
Subscribe
Broadcasting since 1997 with over 300 episodes on iTunes!
---
Review
When you give us a positive review on iTunes you help us continue to bring you high caliber guests and attract new listeners. It's easy and takes just a minute! (Don't know how? Follow these instructions).
Thanks!
---
Question: I'm a real estate agent and would like to start investing for myself. How do I get started?
Kristen in Seattle, Washington, brought us this wonderful question. First of all, hats off to you for wanting to be your own best client!
Starting with the right education is so important and so is developing your network. You might consider joining an investment club, but you could also think even bigger and start your own!
Starting a syndication or investment club can be very successful if you surround yourself with the right people and experts. Here's a few people you'll probably want to include:
✓  A CPA to help with understanding tax benefits
✓  A mortgage broker to extract excess equity
✓  Other real estate agents … especially those with investment knowledge
You can convert your pursuit of education into a profitable business. Start by going to events with meetups and investment clubs. Remember, it's not just the presenters who have a great story. It's also the people in the seats. Make lasting connections with other attendees, and bring them into your network.
Question: Which materials … books and blogs should I read for getting educated in investing?
Our best advice to Luca in Croatia, who submitted this question, is to not just read a book … STUDY a book. Prepare your mindset to start thinking like an entrepreneur.
What does this mean? Find a group of people who are interested in investing, and get together and discuss a book.
You'll learn by listening to what others have to say AND teaching different concepts. Repeat the process of learn, study, teach, and use these discussion groups to build your network.
Recruit people who are further along in the investment process than you to learn from them. You want to discover not only the technical aspects of what they do, but also how they think. Explore their mindset and examine how it makes them successful.
Question: I want to self-direct my retirement funds after I leave my job. How can I use this money to invest in real estate?
This question comes from Jason in Stokesdale, North Carolina. Some aspects of this type of investing can get a little tricky, so remember to always seek advice from a tax and legal professional.
For money that's in a 401k from an employer, you might have access to what's called an in-service withdrawal. You might also consider taking out a loan on your 401k.
As with any investment, make sure that the numbers add up, especially since there are important tax considerations to make when you're investing borrowed money. This is also where a CPA will come in handy.
The vast majority of custodians do not allow for traditional investing and don't charge a lot in fees and maintenance charges because they make a piece of what you're investing in. Non-traditional custodians may charge more fees upfront because they do not make a piece of anything you invest in, but they can offer more flexibility in what you invest in.
If you want to know more on this topic, we have a couple reports that might be helpful on Qualified Retirement Plans (QRP) and Individual Retirement Accounts (IRA). You can get both of those by emailing QRP (at) realestateguysradio (dot) com AND IRA (at) realestateguysradio (dot) com.
Question: For those who don't like all the work of real estate investing, how do you find a trusted syndicator?
Roy in Bridgewater, New Jersey, and Patrick in San Diego, California had similar questions about passive investing through a syndicator. They both want to break into the bigger real estate deals, but are worried about putting their money into the wrong hands. Syndication is a powerful tool that we're big fans of here on the podcast, but vetting your syndicator is key!
First, look up all the info you can on your sponsor and know who you're dealing with. Ask them upfront if there's anything important you should know about them or their business, and then, go searching.
Referrals are a good way to get to know your sponsor. Careful Google searching (watch out for false information on the internet!) and looking up professional licenses and potential trouble with regulators are also essential before doing a deal.
Also, make sure their attorneys and legal documentation all checks out.
As we've said many times before … develop a relationship with the sponsor. Take the time to get to know them and the types of deals they do to make sure it's a good match.
We'd love to talk to you more about syndication at our Secrets of Successful Syndication event on September 13-14. Register now!
Question: I have a commercial property near the end of its lease. Should I sell it or keep the passive income?
Colleen in Savannah, Georgia, has had a triple-net (commercial) property for 13 years, but the lease will be up in 4 years. She enjoys the passive income from the property, but wants to know if it might be time to let it go.
We discussed the advantages of commercial property in detail with Tom Wilson in our Profitable Niches series, and the longer leases and steady income are definitely big pluses!
Lease negotiation can happen before a lease is up, so that's an option to make the deal sweeter for a potential buyer. But, here are a couple questions we would ask to determine if selling is the right choice:
✓  Knowing what you know now, would you buy it?
✓  If you did sell it, what would you do with the money?
Ultimately, the decision to sell or keep the property is up to you, but evaluating the lease with fresh eyes is a good way to keep your investments in line with your goals!
Question: How can I make some of my assets more liquid to prepare for an economic downturn?
Marty in Richmond, Virginia, has some real estate investment experience, but he's concerned about a possible negative turn in the economy and how to protect some of his assets he's received after selling a property.
We discussed the state of the economy and how to protect and grow wealth at great length in our video series: The Future of Money & Wealth. Take a look at that seminar for valuable insights from incredible experts.
To answer the question, if you think the market is going to downturn, you'll want to play your investments differently. There are pros and cons for stock market investment and even bank investment, and they all carry different risks.
If you want something that is liquid and fairly stable in relation to the dollar, you could consider a couple options like currencies, precious metals like gold, or putting your money in the bank or a safe.
Some other creative strategies are looking into a private mortgage or note or even paying cash outright for a property. As long as you're able to cover property taxes, having a property in a stable market is a good way to keep cash flowing in a down market. Even in a poor economy, people need a place to live.
Question: How many times a year is your syndication class given?
This was an easy one from Floyd in Las Vegas, Nevada. We do our Secrets of Successful Syndication podcast twice a year. The next one is coming up in September, and we'd love to see you there!
---
More From The Real Estate Guys™…
The Real Estate Guys™ radio show and podcast provides real estate investing news, education, training and resources to help real estate investors succeed.
We're taking a break from our relentless preparation for the upcoming Future of Money and Wealth conference to focus on one our favorite subjects …
Equity.
According to a recent report by CoreLogic, last year's increase in America's home equity wealth was the largest in four years.
In 2017, the national CoreLogic Home Price Index rose by more than six percent, the largest annual increase since 2013.
We call this "passive equity" because the market just handed it to homeowners simply for buying and holding their property over that time.
Good job.
Of course, national averages are interesting, but not useful for practical investing.  Real estate is local right down to the neighborhood and property … and no two are exactly the same.
Think of it this way …
If you have one foot in a bucket of snow at 20 degrees and another in a bucket of 170 degree steaming hot water, on average you're enjoying a nice soak in a warm bath …
… but in the real world, you're scalding one foot while you get frostbite on the other.  National averages have limited utility.
Fortunately, CoreLogic provides a nifty color-coded map which compares equity growth at the state level: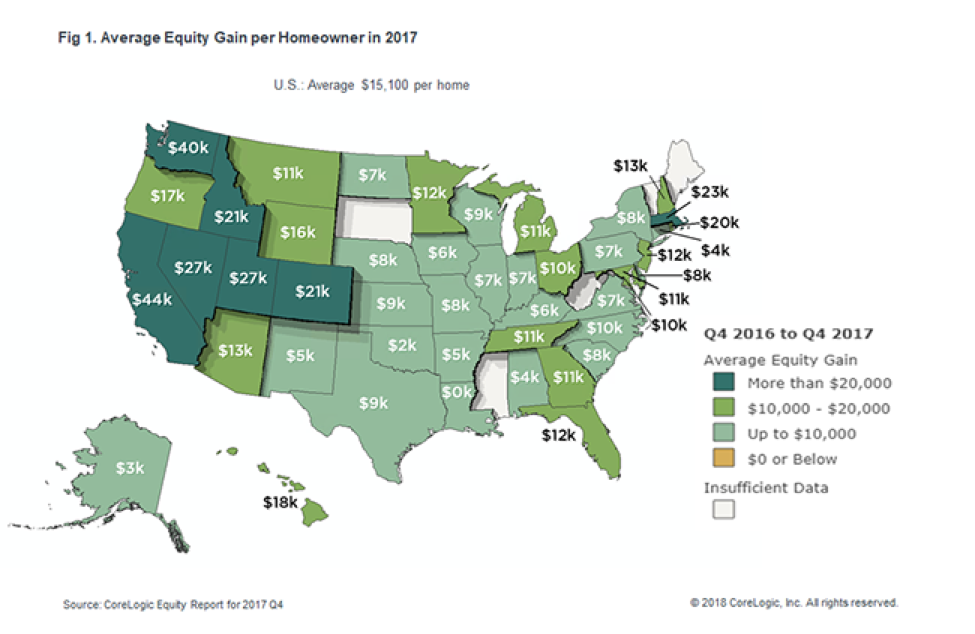 Unsurprisingly, coastal states with strong technology business … California and Washington … lead the pack for equity growth.
But we're guessing closer analysis would show equity rich markets are expensive relative to rents, so income investors can't just go to dark green and buy.
So how's an investor to use this kind of data?
Here are some ideas for your consideration …
First, you can do a deeper dive into the states with strong equity growth, and look for common factors.  Right away, we saw coastal and tech.
But that's just a start.
Look at supply and demand, nominal and real incomes, job growth, population growth, and migration patterns.
Then talk to street level people who live and work in those markets.  Find out what they're seeing right now.
Once you have your mind around what makes equity happen in one market, you can look for similar conditions in other "emerging" markets.
Then (hopefully) you can make your move and get in early … while the rent ratios still make sense … and ride a wave up.
Of course, if you're a typical busy person with a small portfolio, that's a lot of work relative to the size of the investment … especially if you plan to travel to check out markets, build teams, and inspect properties.
Plus, you might not even like doing all that, even if you had the time and a big enough portfolio to justify it.
That's why we're HUGE fans of syndication.
Syndication is where a syndicator aggregates funds from a group of investors through a private placement, and then does all the busy work of running the deal … for a fee and a piece of the action.
As long as there's enough profit in the deals to split equitably, it's a win-win.
The "passive" investors win because they gain access to opportunities they wouldn't otherwise have.  They effectively leverage the effort, expertise, and relationships of the syndicator.
The syndicator wins because the passive investors' capital facilitates economies of scale and access to bigger deals the syndicator might not have on his own.
And for both parties, two major sources of investable capital are paper assets in brokerage and retirement accounts, and equity in existing properties that can be re-positioned.
For example, real estate equity in an "appreciated" state might be accessed through a cash-out mortgage for about 5 percent interest at today's rates.
The loan proceeds can be used to acquire property in an "emerging growth" state that cash-flows at maybe 10 percent cash-on-cash.
The property-owner gets a positive spread on the equity, picks up some valuable tax-breaks, and has additional "top-line" real estate income streams which can grow over time.  Same equity, but more future opportunity.
As for stock market equity …
If history is any indicator, the recent turmoil in the paper asset markets is likely to create even more interest in real estate.
That's because speculating on asset prices, whether it's stocks or crypto-currencies, is a lot of fun when they're spiking.
But when the tide turns on speculation … and it always does … real estate's reputation as a reliable wealth builder is once again revealed and appreciated.
In fact, the CoreLogic article affirms the stability of real estate:
"… since 1970 home-equity wealth has been one-third less variable than corporate equity values …" 
And another recently released report from The National Bureau of Economic Research, The Rate of Return of Everything, 1870-2015, says …
"… returns in housing markets tend to be smoother than those in stock markets …"
"… housing has been as a good a long-run investment as equities, and possibly better."
"… equities do not outperform housing in simple risk-adjusted terms."
 "Housing provides a higher return per unit of risk …" 
"… housing returns … are more stable … housing portfolios have had comparable real returns to … equity portfolios, but with only half the volatility."
The report concludes (remember, to them, "equity" means stocks) …
"… the most surprising result of our study is that long term returns on housing and equity look remarkably similar.  Yet while returns are comparable, residential real estate is less volatile …" 
"Returns are comparable", BUT… they didn't include leverage …
"… the estimates … constitute only un-levered housing returns …"
When you add in 4:1 leverage (25 percent down), you take a 6 percent real estate equity growth rate to 24 percent!
Of course, we're probably preaching to the choir.  But think about this …
Maybe YOU already know real estate is a powerful, predictable, and demonstrably more stable wealth-building vehicle than stocks over the long haul.
But paper asset investors have been riding an easy money wave up to record-levels … and now stock markets are starting to get REALLY jittery.
What once was a fun ride is now becoming scary.  And  if you're a syndicator, this is MUSIC to your ears.
That's because paper asset investors are probably looking at their brokerage accounts and retirement plans, and are growing much more open to getting involved in real estate when it's presented properly.
And if you're a Main Street real estate investor limited by only your own funds, maybe it's time to consider leveraging your skills to get in on the syndication action.
We think syndication is arguably the best opportunity in real estate today.
We realize there are some people who think real estate might slow down because of rising interest rates. But history disagrees.
Rising rates just makes it hard for home buyers.  And when it's harder to buy, more people rent for longer, which is good for landlords.
Look what happened when the mortgage markets imploded in 2008 …
… no one could get a mortgage, millions had to rent, and even though there was a financial crisis … rents went up and up and up.
So all this stock market volatility is actually a gift to real estate investors.
Until next time … good investing!
---
More From The Real Estate Guys™…
The Real Estate Guys™ radio show and podcast provides real estate investing news, education, training, and resources to help real estate investors succeed.