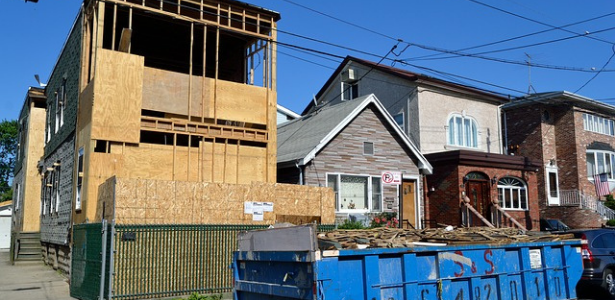 Having a short path to cash is an essential survival strategy during economic challenges. For real estate investors, flipping a property is often a reliable way to create cash quickly.
But we also know … understanding a concept and being able to execute it well in the real world are sometimes two very different things.  
In this episode, we visit with a seasoned 7-figure flipper who opens up and shares the good, the bad, and the ugly of how to flip profitably in the real world.
In this episode of The Real Estate Guys™ show, hear from:
Your flipping great host,

Robert Helms

His flipped-out co-host,

Russell Gray
Real estate flipping entrepreneur, Mike Simmons
---
Listen
---
Subscribe
Broadcasting since 1997 with over 300 episodes on iTunes!
---
Review
When you give us a positive review on iTunes you help us continue to bring you high caliber guests and attract new listeners. It's easy and takes just a minute! (Don't know how? Follow these instructions).
Thanks!
---
Flipping is a great path to short-term cash 
We often talk about the long-term ways to make money in real estate, but there are also opportunities to make money short-term. 
Today we're going to tackle a topic that we don't talk about often … the huge and amazing world of flipping real estate.
When someone goes through any form of crisis in business or investing, they should always know their shortest path to cash. In real estate, that means flipping a property, buying a property, and maybe wholesaling it … but essentially, short-term ownership to generate cash. 
When we see markets change … there are certain opportunities that are no longer on the table. With many not being able to make their rent or their mortgage payment … it might not be the best time to buy and hold a long-term rental house.
The great thing about flipping is that you're in and out pretty quickly, and you can make money no matter what the market does!
We have some experience flipping houses … but we found that managing teams and trying to be strategic was a lot of work. 
So that's why today we're talking to Mike Simmons who is an expert in flipping real estate. 
How Mike Simmons became a flipper
Mike Simmons grew up in a blue-collar family in Michigan that was employed by the automotive industry. Mike believed growing up that his goals should be to get into a union … work for 35 to 40 years … work overtime … and hopefully have a little bit of time left for retirement. 
Mike says nobody taught him about the possibility of being an entrepreneur. 
Over time, Mike tried different jobs and career paths, but even when he was moving up the corporate ladder at a white-collar job … he realized that nobody was happy in those positions. He wanted to figure out how to get out of the rat race and find a better path to retirement. 
Mike eventually discovered real estate and knew it was the path for him. His first real estate deal made him $15,000, which was small but a great start. 
He also discovered rental real estate and wholesaling … he says 60 to 70% of his company now is wholesaling. 
Mike says, "What if I get sick or if I am in the hospital or something happens to me … how do I create a business that is run independent of me, but still is able to produce income? That's what I've really gotten good at over the last handful of years."
Mike says you can excel at the type of work you do … but he didn't want to always be doing all the work himself.
It's a totally different skill set running a company and leading and managing and inspiring and hiring and training people. He said he needed to learn to also be a good leader. 
There are lessons to be learned at every step. 
Mike says that on the first house he flipped, he picked all the things off the punch list he thought he could do himself and save time and money on.
But that can be detrimental if you want to really grow your business and flip more than one house a year. He says that takes more time and will result in greater "holding costs" like taxes, garbage, etc. 
Mike says: "What I know and what I've become great at is, I know what things should cost, and I know how long they should take. Those are the two things you have to know that will make you a successful house flipper that has the ability to scale."
In Mike's experience … what he has found as a house flipper is that when he brings contractors in to quote a job, they will forever try to give him more things that he should be doing … and it takes experience to know the difference between just trying to add to the cost of the renovation and what's a legitimate suggestion. 
Mike says it's so important as a flipper to educate yourself and understand what the contractors are doing on a functional level and then dial in the cost of it. 
Flipping lessons Mike has learned
Mike says when he was first flipping … on every house, he started from scratch, personally picking out paint, tile, fixtures, flooring … and he says this lack of process really kept him from growing. 
This is okay for someone doing one or two … but to really grow, Mike learned he had to have a solid system. 
Next, he learned from his mistake of not tracking numbers and watching what marketing worked and what didn't with different houses. 
In the early stage of the pandemic in Michigan, his direct mail method stopped working because people didn't want to touch their mail. So Mike had to adapt to other marketing strategies. 
Google pay per click … text blasting … ringless voicemail are some other options. 
Mike also suggests learning what a "release of lien" is. He learned an important lesson from paying a general contractor who did not pay subcontractors. It's important to have everything in writing. 
With all the lessons learned and the team he has built … Mike now averages flipping 100 properties a year. 
What is level jumping? 
Imagine if you can use someone's 20/20 hindsight as your foresight to know what you should be doing, and maybe just importantly, what you shouldn't do? 
Mike learned to take his business to the next level, or maybe even "jump" a level … it's all about surrounding yourself with people you can learn from. 
That's how he has been able to grow so much after joining 7 Figure Flipping. He found good, quality people who give great advice that just helps others grow and realize their own goals. For all the great insights Mike has to share, listen to the full episode. For a free copy of Mike's new book, email [email protected]. 
---
More From The Real Estate Guys™…
The Real Estate Guys™ radio show and podcast provides real estate investing news, education, training, and resources to help real estate investors succeed.
---
Love the show?  Tell the world!  When you promote the show, you help us attract more great guests for 

your

 listening pleasure!
Even if you're a die-hard cash flow investor … more intent on collecting properties than flipping them … it's still important to pay attention to market cycles.
After all, though you might not plan to "sell high", it's sure nice to "buy low".
Besides, "buy and hold" doesn't mean you're not harvesting equity when conditions are ripe … which is usually closer to a cycle top.
So, what is a "cycle"? Why do cycles happen? And what do they look like?
Maybe obviously, cycles are the ups and downs of prices or economic activity. And they always seem so obvious when charted after the fact.
Of course, cycles are hard to see when you're buried in the weeds of the here and now. That's why it's smart to listen to seasoned investors.
Economic cycles … those sometimes severe and shocking ups and downs … happen for a complex variety of reasons … but are rooted in a fundamental pattern of action and over-reaction.
Think of it like a car fishtailing on an icy road …
It starts with a sudden acceleration or braking. Then a cascade of exaggerated actions and reactions take place … with lags in between … as both driver and vehicle strive to find an equilibrium and get back in sync.
Skilled and experienced drivers keep their emotions in check …
… calmly making proven moderate adjustments to quickly regain control and get the vehicle pointed safely in the right direction.
Of course, that's just one car and one driver.
In a professional race, it's a cohort of highly skilled drivers. In your daily commute, it's a diverse collection of amateurs.
In financial markets, there's an eclectic mob of professional investors, politicians, bankers, business executives, and upper-middle-class workers …
… all subject to greed, fear, and ego.
It's amazing there aren't bigger market wrecks more often.
The tell-tale sign of a cycle top is when everyone has piled in … and the prevailing belief is the good times will never end. But then they do.
Professionals recognize this and get out of the way and wait.
There's an old investing adage attributed to some fellow named Rothschild …
"The time to buy is when there's blood in the streets."
Hmmm. Makes you wonder how much money you'd make if you could find a way to trigger such a bloodletting? But that's a discussion for another day …
For mere mortals like us, it's simply a matter of watching events unfold … and getting in position to move in when others are moving out.
Of course, you don't want to "catch a falling knife" … another investing adage which refers to buying a failing investment.
So just because everyone's selling doesn't necessarily mean you should be buying. Sometimes there's a reason an asset goes "no bid".
Cheap doesn't mean bargain. There's no guarantee that something cheap won't go to zero.
Of course, with tangible assets like real estate, the "zero" scenario is less likely.
Still … when leverage is involved, equity can most definitely go to zero … even if the property doesn't.
How do you know the difference between an opportunity and a trap?
For clues, we watch smart, seasoned investors like Sam Zell. Fortunately, Sam's come out of his shell, so he's appearing more often in media to share his immense wisdom.
So, when we saw this headline pop up, we took time to listen to what mega-billionaire real estate investor Sam Zell has to say …
Sam Zell Says He's Buying Distressed Oil Assets During the Slowdown
Bloomberg, 11/14/19
What's nice is there's a video and you can hear it straight from Sam himself.
Like most brilliant people, he says a lot in a few words. You can watch for yourself, but in short, Sam sees TEMPORARY distress in oil assets. And that's a GOOD thing.
Now we're not saying you should invest in oil, although there are some compelling reasons to consider it right now.
But oil is a sector where Sam Zell sees opportunity. However, the lessons are less about oil and more about how Sam recognizes and reacts to market conditions.
Here are some of our key takeaways from Sam Zell's comments …
Look ahead and anticipate the next boom or bust … and react NOW, not after the fact. In other words, be proactive and get in front of opportunity as it develops.
Always pay attention to the supply and demand factor.
This is a common theme any time Sam Zell talks about how he evaluates opportunity. When supply and demand get out of sync, prices can rise or fall disproportionately. This "gap" creates attractive buying or selling opportunities.
Zell obviously doesn't think demand for oil is going anywhere soon, even though there's a temporary over-supply driving prices down.
It's these "low" oil prices that are creating issues for oil producers … and creating opportunity for investors like Zell.
That's because, as we've noted before, there's a lot of debt in the oil sector which was put in place when prices were higher.
And just like a real estate investor levering up a property during peak rents … when rental rates fall, debt can go bad fast … creating an urgent demand for cash.
Cash is king in a crisis.
It seems obvious. But it's hard to sit on "idle" cash when everything's booming. Yet legendary investor Warren Buffet is sitting on over $120 billion cash right now. Maybe there's a reason.
Real assets cash flow.
Zell mentions he doesn't lend. He buys assets. And if you listen carefully, he talks about how cash strapped oil producers are selling cash flow. That's what Zell appears to be buying.
There are probably many more lessons. Sam's a fun guy to study. Unlike Buffet, Sam Zell is fundamentally a real estate guy.
And as we learned from Ken McElroy in the wake of the 2008 downturn, the energy sector … and oil in particular … is a huge and important driver of economic strength in several U.S. markets.
So for that reason alone, oil is a sector real estate investors should watch. Right now, oil is energy, and energy is fundamental to all economic activity.
Meanwhile, remember that in both up cycles and down cycles, there are ALWAYS opportunities in real estate.
That's because every regional market, neighborhood, and individual property is unique … there's often a lot of room to negotiate a profitable win-win …
…and there's much a smart investor can do to proactively add value without needing to depend on unpredictable external factors.
We think it's safe to say that demand for real estate, like oil, is probably not going away anytime soon … no matter what's going on in politics or trade.
Just be careful to use financial structures you can live within both up and down cycles.
The mother of all private equity firms just issued a warning …
Blackstone Group Warns of the Mother of All Bubbles
Investopedia via Yahoo Finance – 11/11/19
According to the article, Blackstone's "… biggest concern is negative yields on sovereign debt worth $13 trillion …".
Remember, the 2008 financial crisis was detonated in bond markets … and the bomb landed hard on Main Street real estate.
So yes, this is something Main Street real estate investors probably want to pay attention to.
In fact, the article says Blackstone "… sees a troubling parallel with the 2008 financial crisis …"
Keep in mind, Blackstone manages over $550 billion (with a B) … which includes over $150 billion of real estate equity in a portfolio of properties worth over $320 billion.
So Blackstone has both the means and the motivation to study these things intensely … and they think about real estate too.
Of course, this doesn't mean they're right. But they're certainly qualified to have an opinion worthy of consideration. And right now, Blackstone is worried.
And they're not alone …
More than half of the world's richest investors see a big market drop in 2020, says UBS survey
CNBC – 11/12/19
"Fifty-five percent of more than 3,400 high net worth investors surveyed by UBS expect a significant drop in the markets at some point in 2020.
"… the super-rich have increased their cash holdings to 25% of their average assets …."
Of course, they're talking to paper asset investors, but the sentiment applies to the overall investment climate, which also affects real estate.
Also, by "super-rich", they're talking about investors with at least $1 million investable. So while that's nothing to sneeze at, it's also not the private jet club either.
So from behemoth Blackstone Group to main street millionaires, serious investors are worried right now.
Should YOU be worried too?
Probably. But it's not what you think …
In fact, according to this article, Blackstone's CEO Stephen Schwarzman believes worrying is fun …
"In his new memoir What it Takes, the private-equity titan advises readers that worrying 'is playful, engaging work that requires you never switch it off.'
This approach helped him to protect Blackstone Group investors from the worst of the subprime real estate crisis …"
There are some really GREAT lessons here …
Worrying is something to be embraced, not avoided.
Many people believe investing and wealth will create a worry-free life. Our experience and observation says this is completely untrue.
In fact, to adapt Ben Parker's famous exhortation to his coming of age nephew Peter Parker in the first Tobey Maguire Spider-Man film …
"With great wealth, comes great responsibility."
Worrying is the flip side of responsibility. They go hand and hand. If want wealth, you need to learn to live with worry.
Worrying isn't about being negative or pessimistic.
In Jim Collins's classic book, Good to Great, he says great businesses (investing is a business) always "confront the brutal facts".
That's because you can't solve a problem you don't see.
But missing problems isn't merely a case of oversight or ignorance. Sometimes, it's bias or denial.
In fact, one of the most dangerous things in investing is "normalcy bias".
This is a mindset which prevents an investor from acknowledging an imminent or impending danger and taking evasive action.
Mega-billionaire real estate investor Sam Zell says one of his secrets to success is his ability to see the downside and still move forward.
Threats often aren't singular or congruent … they're discordant.
According to this article …
"CEO Steve Schwarzman of Blackstone searches for 'discordant notes', or trends in the economy and the markets that appear to be separate and isolated, but which can combine with devastating results."
This is the very concept of complexity theory that Jim Rickards explains in his multi-book series from Currency Wars to Aftermath.
The point is that major wealth-threatening events seldom occur in isolation or without a trigger and chain reaction that is often not obvious.
It's why we think it's important to pay attention to people and events outside the real estate world.
The more you see the big picture and inter-connectedness of markets, geo-politics, and financial systems, the more likely you are to see a threat developing while there's time to get in position to avoid loss or capture opportunity.
Cash is king in a crisis.
This might seem obvious, but there's more to it than meets the eye. After all, cash isn't king in Venezuela … because their cash is trash.
Americans don't think of cash apart from the dollar. And their normalcy bias says they don't need to.
It's true the dollar is king of the currencies … for now.
Yet as we explained in our Future of Money and Wealth presentation, the dollar has been under attack for some time.
But even as high-net worth investors, the most notable of which is Warren Buffet, build up their cash holdings, it's a good time to consider not just the why of cash … but the HOW.
The WHY of cash is probably obvious …
When asset bubbles deflate, it takes cash to go bargain hunting.
It's no fun to be in a market full of quality assets at rock bottom prices … and have no purchasing power.
But the HOW of cash is a MUCH more important discussion … and too big for the tail end of this muse. Perhaps we'll take it up in a future writing or radio show.
For now, here are something to consider when it comes to cash …
Cash is about liquidity. It's having something readily available and universally accepted in exchange for any asset, product or service.
So, "cash" may or may not be your local currency.
Even it is, perhaps it's wise to have a variety of currencies on hand … depending on where you are and where you'd like to buy bargain assets.
It should be obvious, but cash is not credit.
So, if you're counting on your 800 FICO, your HELOC, and your American Express Black Card for liquidity, you might want to think again.
Broken credit markets are often the cause of a crisis, so you can't count on credit when prices collapse. You need cash.
Counter-party risk is another important consideration. This is another risk most Americans seldom consider … but should.
That's because one of the "fixes" to the financial system after 2008 is the bail-in provisions of the Dodd-Frank legislation.
"With a bank bail-in, the bank uses the money of its unsecured creditors, including depositors and bondholders, to restructure their capital so it can stay afloat."
Investopedia – 6/25/19
Yikes. Most people with money in the bank don't realize their deposits are unsecured loans to the bank … or that the bank could default on the deposit.
That's why the recent repo market mini-crisis has so many alert observers concerned. Are banks low on cash?
As we've noted before, central banks are the ultimate insiders when it comes to cash … and they've been stocking up on gold.
Maybe it's time to consider keeping some of YOUR liquidity in precious metals.
You can't win on the sidelines.
Even though serious investors are increasing liquidity in case there's a big sale, they aren't hiding full-fetal in a bunker. They're still invested.
This is where real estate is the superior opportunity.
It's hard to find bargains in a hot market when your assets are commodities like stocks and bonds. Price discovery is too efficient.
But real estate is highly inefficient … and every property and sub-market is unique. So compared to paper assets, it's a lot easier to find investable real estate deals … even at the tail end of a long boom.
Of course, if you're loaded with equity, it's probably a smart time to harvest some to build up cash reserves. Just stay VERY attentive to cash flow.
Last week the Fed pumped over $200 billion of freshly printed cash into the repo market.
Since then, the Fed's upped the ante to $400 billion … and counting.
For those young or asleep during the 2008 financial crisis …
… back then, the Fed provided an infusion of $85 billion per month to keep the wheels on the financial system bus.
Today, they're pumping in nearly that much PER DAY.
That's MIND-BOGGLING.
They're trying to keep interest rates DOWN to their target. Of course, interest rates matter to real estate investors. We typically like them low.
But this isn't about real estate. It's more about banks who hold debt (both mortgages and bonds) on their balance sheets.
As we explained last time, when interest rates rise, bond values fall …
… and a leveraged financial system with bonds as collateral is EXTREMELY vulnerable to collapse if values drop and margin calls trigger panic selling.
The Fed seems willing to print as many dollars as necessary to stop it.
And that brings us to an important question …
If the Fed can simply conjure $400 billion out of thin air in just a week … is it really money?
This matters to everyone working and investing to make or save money.
For help, we draw on lessons learned from our good friend and multi-time Investor Summit at Sea™ faculty member, G. Edward Griffin.
Ed's best known as the author of The Creature from Jekyll Island. If you haven't read it yet, you probably should. It's a controversial, but important exposé on the Fed.
In his presentation in Future of Money and Wealth, Ed does a masterful job explaining what money is … and isn't.
In short, money is a store of energy.
Think about it …
When you work … or hire or rent to people who do … the energy expended produces value in the form of a product or service someone is willing to trade for.
When you trade product for product, it's called barter. But it's hard to wander around town with your cow in tow looking to trade for a pair of shoes.
So money acts as both a store of value and a medium of exchange.
The value of the energy expended to create the product is now denominated in money which the worker, business owner, or investor can trade for the fruits of other people's labor.
This exchange of value is economic activity.
Money in motion is called currency. It's a medium of transporting energy. Just like electricity.
When each person in the circuit receives money, they expect it has retained its (purchasing) power or value.
When it doesn't, people stop trusting it, and the circuit breaks. Like any power outage, everything stops.
So … economic activity is based on the expenditure and flow of energy.
This is MUCH more so in the modern age … where machines are essential to the production and distribution of both goods and information.
Energy is a BIG deal.
This is something our very smart friend, Chris Martenson of Peak Prosperity, is continually reminding us of.
Here's where all this comes together for real estate investing …
New dollars conjured out of thin air can dilute the value of all previously existing dollars.
It's like having 100% real fruit juice flowing through a drink dispenser.
If someone pours in a bunch of water that didn't go through the energy consuming biological process of becoming real fruit juice in a plant…
… the water is just a calorie free (i.e., no value) fluid which DILUTES the real fruit juice in the dispenser.
Monetary dilution is called inflation.
Legendary economist John Maynard Keynes describes it this way …
"By a continuing process of inflation, government can confiscate, secretly and unobserved, an important part of the wealth of their citizens."
Inflation waters down real wealth.
Fortunately, real estate is arguably the BEST vehicle for Main Street investors to both hedge and profit from inflation.
That's because leverage (the mortgage) let's you magnify inflation's effect so your cash-on-cash ROI and equity growth can outpace inflation.
Plus, with the right real estate leverage, there's no margin call. Meanwhile, the rental income services the debt.
Even better, the income is relatively stable … rooted in the tenant's wages and lease terms. Those aren't day-traded, so they don't fluctuate like paper asset prices.
Effectively, you harness the energy of the tenant's labor to create resilient wealth for yourself. And you're doing it in a fair exchange of value.
Of course, the rental income is only as viable as the tenant's income.
This brings us back to energy …
Robert Kiyosaki and Ken McElroy taught us the value of investing in energy … and markets where energy is a major industry.
First, energy jobs are linked to where the energy is. You might move a factory to China, but not an oil field. This means local employment for your tenants.
Your tenants might not work directly in the energy business, but rather for those secondary and tertiary industries which support it. But the money comes from the production of energy.
Further, energy consumers are all over the world, making the flow of money into the local job market much more stable than less diverse regional businesses.
It's the same reason we like agriculture.
While machines consume oil, people consume food. Both are sources of essential energy used to create products and provide services.
So when it comes to real estate, energy, and food … the basis of the investment is something real and essential with a permanent demand.
Though less sexy and speculative, we're guessing the need for energy and food is more enduring than interactive exercise cycling.
Real estate, energy and agricultural products, are all real … no matter what currency you denominate them in.
And the closer you get to real value, the more resilient your wealth is if paper fails.
Right now, paper is showing signs of weakness. But like a dying star, sometimes there's a bright burst just before implosion.
Remember, Venezuela's stock market sky-rocketed just before the Bolivar collapsed.
Those who had real assets prospered. Those who didn't … didn't.
Are we saying stocks and the dollar are about to implode? Not at all. But they could. Perhaps slowly at first, and then suddenly.
If they do and you're not prepared … it's bad. It you're prepared and they don't … not so sad. If they do and you're prepared … it could be GREAT.
Real assets, such as well-structured and located income property …
… or commodities like oil, gold, and agricultural products (and the real estate which produces them) …
… are all likely to fare better in an economic shock than paper derivatives whose primary function is as trading chip in the Wall Street casinos.
So consider what money is and isn't … the role of energy in economic activity … and how you can build a resilient portfolio based on a foundation of real assets.
"The time to repair the roof is when the sun is shining."
John F. Kennedy
Until next time … good investing!
More From The Real Estate Guys™…
The Real Estate Guys™ radio show and podcast provides real estate investing news, education, training, and resources to help real estate investors succeed.
---
Love the show?  Tell the world!  When you promote the show, you help us attract more great guests for 

your

 listening pleasure!
It's been a busy week of alarming financial news!
Of course, events that rattle financial markets sometimes barely register to real estate investors. That's because rents and property values aren't directly involved in the high-frequency trading casinos of Wall Street.
So while paper traders frantically scramble to avoid losses or skim profits from currency flowing through the machinery …
… real estate investors calmly cash rent checks and wonder what all the fuss is about.
However, as seasoned investors discovered in 2008 …
… Wall Street's woes sometimes spill over and become Main Street blues … primarily through the linkage between bond markets and mortgages.
So even though the Saudi oil almost-crisis garnered a lot of attention …
… something BIG happened in an obscure corner of the financial system which has alert observers concerned …
Repo Market Chaos Signals Fed May Be Losing Control of Rates
Bloomberg, 9/16/19
Repo Squeeze Threatens to Spill Over Into Funding Markets
Bloomberg, 9/17/19
And no, this isn't about people losing their cars or homes. It's about a systemically important part of the financial system.
Before you tune out, remember …
… when you see words like "chaos" and "losing control" and "spill over" in the context of interest rates and funding markets … it's probably worth digging into.
When credit markets seize up, asset prices collapse. While this is troublesome for Main Street … it's DEVASTATING to the financial system.
And when the financial system breaks down, it affects EVERYONE … even smug real estate investors who might think they're immune.
So grab a snack and let's explore what's happening …
Wall Street operates on obscene amounts of collateralized leverage. Real estate investors use leverage too, but there's an important distinction.
There are no margin calls on real estate. So when property values collapse temporarily for whatever reason, positive cash flow let's you ride out the storm.
Not so in bond markets. When the value of a bond that's pledged as collateral falls, the borrower faces a margin call.
This means the borrower needs cash FAST. This is a risk of the game they play.
But when traders are confident they have ready access to cash at predictable and reasonable prices, they stay very active in the market.
This is important because healthy markets require an abundance of assets, cash, buyers, sellers, and TRUST to keep things moving.
When any one falters, markets slow down … or STOP … credit markets can freeze, economic activity stalls, and it hits real estate investors too.
The head Wizard at the Fed says not to worry … just like they said about the sub-prime problem back in 2007.
Fool us once, shame on you. Fool us twice, shame on us.
But we're far from expert on the repo market, so we encourage you to read up on what it is and why everyone's talking about it.
Meanwhile, we'll hit the high notes to get you started …
In short, the repo market is where short term borrowing happens. It's like a pawn shop where market participants hock bonds to raise some cash.
But when repo rates spike like this …
Source: Bloomberg
… it means there's not enough cash to go around.
Cash is like oxygen. You can live for a while without food (profit) or water (revenue) … but when you're out of cash, it's game over.
No wonder Wall Street freaked out …
'This Is Crazy!': Wall Street Scurries to Protect Itself in Repo Surge
Bloomberg, 9/17/19
Of course, we don't really care if Wall Street takes it on the chin.
But when craziness on Wall Street has the potential to spill over to Main Street, we pay attention.
In this case, the situation is dire enough the Fed stepped in with $53 billion of emergency cash … in ONE day.
This is the first time since the 2008 financial crisis the Fed's needed to do this.
The next day they added another $75 billion.
Then the Fed announced another rate cut … and hinted at more rate cuts … and suggested a willingness to print more money.
Then the VERY next day …yet ANOTHER $75 billion.
$53 billion here. $75 billion there. Pretty soon you're talking serious money … in this case about $200 billion in THREE days … and quite possibly a serious problem.
So what? What does any of this mean to real estate investors?
Maybe not much. Maybe a lot. We certainly hope the Wizards behind the curtain pull the right levers the right way at the right times.
But if this is a pre-cursor to The Real Crash Peter Schiff is concerned about, things could become more complicated than "just" a 2008-like collapse of asset prices.
As we chronicle in the Real Asset Investing Report and the Future of Money and Wealth video series, the world's faith in the Fed and dollar were shaken after 2008.
Meanwhile, negative interest rates on nearly $17 trillion in global debt is a symptom of a huge bond bubble today.
Here's why …
Just as rental property cap rates fall when investors bid prices up … so do bond yields fall when investors bid bond prices up.
And just like when over-zealous real estate speculators bid property prices up to negative cash flow … so over-zealous bond speculators have bid bond prices up to negative yields.
Negative yields are a symptom of a speculative bubble.
These unsustainable scenarios typically end badly when there's no greater fool left to bid the price up further.
And then, when the market goes "no bid" … prices collapse. Bad scene.
Remember, bonds are the foundation of the credit market and financial system.
This repo problem is like finding a big crack in the foundation of your favorite property.
The bigger concern is the size of the building sitting on the faulty foundation … and how much it might take to patch the crack.
So here's the inspection report …
Global debt is around $250 TRILLION. These are bonds … many of which are pledged as collateral for loans … creating an almost incomprehensible amount of derivatives.
Worse, many of those pledged bonds are subject to margin calls.
This is a HIGHLY unstable situation and operates largely on trust.
Think about what happens if bond prices fall …
Borrowers who pledged bonds are upside down and need to raise cash fast.
When they get to the market, they find there aren't enough dollars to go around. Cash starved sellers start discounting to attract buyers … causing rates to rise.
Again, it's just like trying to sell an apartment building in a slow market. As you lower the price, the cap rate (yield) goes UP.
As yields rise, bond values everywhere fall … triggering more margin calls, more demands for cash, more desperate sellers … and a dismal downward death spiral.
And then it spreads …
As the demand for cash grows, anything not nailed down is offered for sale … often at a steep discount to compete for a limited supply of dollars.
This is contagion … falling prices spreading like wildfire across daisy-chained balance sheets.
Yikes. (Of course, if you have cash, it's a shopping spree)
Enter the Fed's printing press to save the day. But this ONLY works long-term if the market TRUSTS the Fed and their printed product.
In 2008, the world worried as the Fed took its balance sheet from $800 billion to $4.5 trillion. And that was just to paper over the now relatively small sub-prime mortgage mess.
It worked (temporarily) partly because the world didn't have much choice. Dollars were the only game in town.
Today is much different than 2008. The world is wiser. Alternatives to the U.S. dollar and financial system exist or are being developed.
And the SIZE of the potential implosion is MUCH bigger than 2008.
Meanwhile, the Fed has already returned to lowering rates … and now is injecting substantial amounts of fresh cash into the system.
The question is … can the Fed print enough dollars to paper over a serious bond implosion … and if they do, will the world still trust the U.S. dollar?
Perhaps this is why central banks have been loading up on gold.
Coming back down to Main Street …
Whether the repo market is a canary in the coal mine signaling looming danger … or just a friendly wake up call to stay aware and prepared for something else later …
… there are some practical steps Main Street real estate investors can take to build a little more resilience into their portfolios.
First is education. The more you understand about how things work and how to recognize warning signs, the sooner you'll see shifts so you grab opportunity and dodge problems.
It's why we constantly encourage you to study, attend conferences, and get into meaningful conversations with experienced investors.
Next, it's important to pay attention.
Most of what's happening is widely publicized. But things are easy to miss when events don't seem directly relevant to your Main Street life. They often are.
From a practical portfolio management perspective, it's probably a great time to lock in low rate long-term financing, cash out some equity and retain a good level of liquidity.
When prices collapse, cash is king … and credit doesn't count.
Be attentive to cash flows in current and future deals.
Invest in keeping your best tenants and team members happy. Look for ways to tighten up expenses and improve operations. Cash flow is staying power.
Focus on affordable markets and product niches supported by resilient economic, geographic, and demographic drivers.
Real estate is not a commodity or asset class. Certain markets and niches will outperform others. Be strategic.
Most of all, stay focused on the principles of sound fundamental investing. Be careful of having too much at risk on speculative plays.
As we've said before, an economy can be strong based on activity, but fragile based on systemic integrity.
If the system breaks down, then economic activity slows … sometimes dramatically … and if you're only geared for sunshine, the storm can wash your wealth away quickly.
Until next time … good investing!
More From The Real Estate Guys™…
The Real Estate Guys™ radio show and podcast provides real estate investing news, education, training, and resources to help real estate investors succeed.
---
Love the show?  Tell the world!  When you promote the show, you help us attract more great guests for 

your

 listening pleasure!
Raising Capital with Cattle in Paraguay
Invest in a true cash cow! Buy into your own cattle herd in Paraguay and watch the returns roll in.
In the northern pastures of Paraguay, bovines reign supreme. The fertile soil provides good eats to the millions of cattle that graze and grow there.
And boy do they grow! These South American cattle can gain over a pound a day.
Paraguayan beef is exported to more than 65 countries all over the world. Get your own slice of this profitable agricultural market by partnering with Agri Terra … and investing in your own herd of cattle.
Agri Terra consists of a team of highly qualified and dedicated specialists who completely service your herd on your behalf. This set-up offers constant value appreciation with protection against inflation.
Learn why cattle growing is a booming business with this special report from Agri Terra! Delve into specifics about what makes cattle a great investment and why Paraguay produces the best beef you can find.
Simply use the form below to request your complimentary copy of Raising Capital with Cattle in Paraguay.
No doubt you've heard Facebook's stock face-planted recently. But just in case, here's the whole gory story in just three headlines over five days …
Facebook stock hits record high ahead of earnings – MarketWatch 7/25/18
"Investors … continue to shrug off … gaffes … with privacy and security … Chief Executive Mark Zuckerberg … said … the company has not seen an impact on the company's top line."
Facebook's stock market decline is the largest one-day drop in US history
– The Verge 7/26/18
"Facebook's market capitalization lost $120 billion in 24 hours."
Facebook's stock set to enter bear-market territory after third straight decline – MarketWatch 7/30/18
"The stock has now fallen 22% from its record close … on July 25."
Of course, if you're a real estate investor this may seem like only a moderately interesting side story buried in all the news flying across your screen.
And maybe that's all it is.
Then again, maybe there are some things to be gleaned from this epic implosion … even for real estate investors.
Lesson 1: Just because everyone else is … doesn't mean YOU should
Your mom probably taught you that. But it's good investing advice too. It's never smart to be late to an equity party … or late leaving.
The so-called FAANG stocks (Facebook, Apple, Amazon, Netflix and Google) are the "must have" stocks for … just about EVERYONE.
The problem is popular assets often get bid up well past their fundamental value … as speculators jump in hoping to ride the upward trend for awhile …
… and hoping to be fast enough to get out before the trend turns.
Of course, hope isn't a very good investing strategy.
Lesson 2: Don't ignore problems just to keep hope alive
Notice the quote about investors continuing to shrug off bad news … ignoring the obviously developing problems at Facebook.
So when Zuckerberg comes out right before the bad news … even as Facebook's stock was heading to a record HIGH … and says the problems aren't affecting the top line …
… investors apparently chose to believe him, … and not heed the clues in the news that clearly showed Facebook was headed for stormy seas.
Now, investors are suing Facebook and Zuckerberg for misleading them.
But investors should also look at the big picture, and consider the motives of these who claim as is well.
Remember this classic assurance from the world's foremost banker?
"Importantly, we see no serious broader spillover to banks or thrift institutions from the problems in the subprime market."
– Federal Reserve Chairman Ben Bernanke on May 17, 2007
Just a year later the financial system all but imploded.  But the danger signs were there …
Peter Schiff and Robert Kiyosaki were warning people. Most didn't listen.
We didn't. But you can be SURE we listen today.
Lesson 3: Momentum is a condiment … not a meal
With real estate, sustainable profit is all about the income.
Sure, it's great when things get hot and people want to pay MORE for the SAME income.  But at some point, the numbers don't make sense.
You can bad fundamentals and invest primarily because "it's going up." But when momentum fades, prices snap back to fundamentals.
If you're on the wrong end of it, it's painful.
Of course, if you see it coming, you can cash out via refinance or sale, and store up some dry powder for the soon-to-be-coming sale.
Lesson 4: Trends and indexes are interesting, but the deal's what's real
We have a big, diverse audience … so we talk about big picture stuff. It's important to see the big picture.
After all, every asset you own is floating in a big sloshing economic sea.
If you're not aware of weather patterns and watching the horizon, you might not see storm clouds and rough waters forming.
But investors make money in EVERY kind of economic environment, so it's not the conditions which dictate YOUR success or failure.
It's your attention to being sure each individual deal YOU do makes sense.
That means the right market, product type, neighborhood, financing structure, and management team.
Keep the deal real … and have plans for what you'd do in a variety of economic situations …
… so when conditions change you're not caught unaware and unprepared.
"The time to repair the roof is when the sun is shining."
– John F. Kennedy
Lesson 5: Train wrecks in stocks can be tee-up for real estate
This is our favorite.
It's not that we take joy when the stock market reveals its true character … but we know it's a wake-up-and-smell-the-coffee moment for many Main Street investors.
As our friends Chris Martenson and Adam Taggart recently pointed out …
… if you take the FAANG stocks out of the stock indexes, the highly-touted stock index returns would have been NEGATIVE.
It's hard to diversify when you you're exposed to the hot stocks everyone's piled into … directly or indirectly.
So as Main Street investors come to suspect the disproportionate influence just a few arguably overbought stocks have on their TOTAL net worth and retirement dreams …
… history says people's hearts turn home to an investment type they instinctively understand and trust. Real estate.
So for those raising money from private investors to go do more and bigger real estate deals, a stock market scare can make it easier for your prospects to appreciate what you're offering them.
Lesson 6: Do the math and the math will tell you what to do
Very few paper asset investors we've ever met actually do the math.
They either buy index funds based on trends and history, and don't realize most are exposed to the same small group of hot stock everyone owns …
… or they buy stocks based on a hot tip, a gut feeling, or a recommendation from someone they think is smarter than they are.
But real estate math is SO simple to understand and explain.
And when you can quickly show a Main Street paper investor how a 15-20% annualized long-term return on investment real estate is quite realistic … with very moderate risk …
… real estate is the CLEAR winner.
Even a modest 3% per year price appreciation on 20% down payment (5:1 leverage) is 15% average annual growth rate.
Add to that another 2% or so a year in amortization … paying down the loan using the rental income … you're up to about 17% annualized equity growth.
Toss in another modest 3-5% cash-on-cash and some tax benefits and you're pushing 20% annualized total return pretty fast.
And that's just bread-and-butter buy-and-hold rental property.
There are all kinds of specialty niches and value-add plays which allow active investors to goose returns …
… or for a syndicator to put a lot of meat on the bone for their passive investors … and still take a piece for doing the work.
Lesson 7: Monitor your portfolio for weak links and over-exposure
Lots of paper investors who didn't even know they were exposed to Facebook are finding out the hard way …
… just like when we didn't realize our whole investing and business model depended on healthy credit markets.
So be aware …
When you're overly exposed to a critical factor like interest rates, credit markets, a tax law, a specific industry or employer, or even a currency or financial system …
… you run the risk that a single unexpected event can take a BIG bite out of your assets.
And while you might not be able to fix everything right away, the sooner you're aware of the risks, the sooner you can start preparing to mitigate them.
Until next time … good investing!
---
More From The Real Estate Guys™…
The Real Estate Guys™ radio show and podcast provides real estate investing news, education, training, and resources to help real estate investors succeed.
Death and taxes are the two things you can count on in life. But, there is no need to pay a penny more than you owe. And, while we talk a lot about ways you can grow wealth and do bigger deals faster, today we're talking about how to reduce one of your biggest expenses … taxes.
With tax reform and other favorable policies for real estate investors, now is the time to look at your strategy and make some changes to reduce your liability.
This week's guest did just that … he took a piece of advice from our Summit at Sea and turned it into a BIG win. After making a big apartment deal, he saved over $1 million in taxes across ALL his earnings.
Remember, we aren't tax or legal professionals. We think you'll get some great insight from this story. But, when it comes to your OWN personal tax situation, be sure to find a pro to guide you.
In this episode of The Real Estate Guys™ show you'll hear from:
Your tax-wise host, 

Robert Helms

His tax-free co-host, 

Russell Gray

Guest,

Brad Sumrok

, apartment investor and coach
---
Listen
---
Subscribe
Broadcasting since 1997 with over 300 episodes on iTunes!
---
Review
When you give us a positive review on iTunes you help us continue to bring you high caliber guests and attract new listeners. It's easy and takes just a minute! (Don't know how? Follow these instructions).
Thanks!
---
Real estate investment returns are more than just cash
When we buy investment property, we most often look at the cash return. But, there are so many other benefits and things to consider when looking at a deal:
Cash flow.

This is the big one. You want more income than expenses.

Long-term capital appreciation.

The equity in the property gets bigger as the loan gets smaller.

Amortization.

Every month you're paying principal and interest, and your principal is decreasing.

Tax benefit.

The government wants to incentivize real estate investment, and there's a HUGE opportunity to reduce your liability.
Why look at your taxes now? For the first time since the '80s, Congress has made significant changes to the tax code.
We definitely don't suggest letting the tax tail wag the investment dog, but this year is the perfect time to dive deeper.
But, definitely don't go at this alone. The best thing you can do is seek out an expert to guide you through these tax changes and give you the best advice for your specific situation.
Saving a million in taxes … it's possible
Brad Sumrok is a long-time friend and a well-known player in the apartment investing space. He has thousands of doors and teaches students how to syndicate and buy into big apartment deals.
He also has an AMAZING story to tell about how he recently  saved big on his taxes.
"I had a goal in the past that I wanted to pay $1 million in taxes," Brad said.
But, he recently realized that just because he was earning more, it didn't mean he had to PAY more in taxes. And he learned how to look at real estate as more than just appreciation and cash flow but also as a way to reduce his liability.
But first, let's talk more about the deal.
Brad was evaluating a deal for a 124-unit apartment building. The returns were on the lower end of what his threshold is, and he almost walked away.
But, after taking into consideration the tax savings earned from depreciation, Tom realized that a marginal deal was actually a fantastic deal.
One of the reasons this deal worked out so well was because of bonus depreciation. While apartment buildings have a depreciation period of 27.5 years, for certain improvements and components, you can take 100 percent of the depreciation in the first year you own a property.
Since the bonus depreciation wasn't subject to passive loss limitations, Brad was able to use the depreciation loss to offset their total income … which meant he saved $1.2 million!
"It took a marginal deal and turned it pretty much into a home run," Brad said.
Taking hold of a good idea
After you read Brad's story, remember not to get too caught up in the numbers. Every deal and tax situation is different.
But, what Brad did was remarkable. He took a conversation he had with an expert at one of our events and put it into action.
What is the value of one great idea or one good relationship? You never know what you don't know. Put yourself in a position to find that great idea and explore it.
Sitting in a seminar room, attending a webinar, or listening on a phone call will never be enough. Putting an idea into practice is what saved Brad thousands of dollars, earning the cost of his attendance at an event several times over!
If you want more exposure to new people and new ways of doing things, we invite you to attend Brad's Apartment Investor Mastery National Conference on August 18.
The Guys will be there talking about apartment investing and it's sure to be a valuable, exciting event. Register by going to the events section on our website or sending an email to bradconference [at] realestateguysradio [dot]com.
We hope to see you there!
---
More From The Real Estate Guys™…
The Real Estate Guys™ radio show and podcast provides real estate investing news, education, training and resources to help real estate investors succeed.
We're back again to tackle the questions we missed in our last Ask The Guys episode. We love these episodes and the opportunity we get to talk through some of YOUR real-world investing opportunities and challenges.
We hear from listeners dealing with tenant damage and security deposits, 1031 tax-deferred exchanges, nontraditional lending ideas and TONS more.
First, the ground rules.
We talk about ideas and information. When you're dealing with real money in the real world, you want to consult a professional. We don't offer legal, investment, or tax advice.
In this episode of The Real Estate Guys™ show you'll hear from:
Your problem-solving host, 

Robert Helms

His trouble-making co-host, 

Russell Gray
---
Listen
---
Subscribe
Broadcasting since 1997 with over 300 episodes on iTunes!
---
Review
When you give us a positive review on iTunes you help us continue to bring you high caliber guests and attract new listeners. It's easy and takes just a minute! (Don't know how? Follow these instructions).
Thanks!
---
Question: How soon can I move in after a cash offer, and how low can I go under the asking price?
Joseph in Tacoma, Washington, asked this question. The important concept to understand here is price versus terms.
Whether or not you offer cash or take out a loan, the outcome is essentially the same for the seller. What cash offers is a quicker payout with certainty.
But, this isn't attractive to every seller. In some cases, a quick closing isn't what a buyer wants at all, so the promise of quick cash won't be an incentive.
When you're negotiating with cash, make sure what you're offering lines up with the seller's priorities. A cash offer doesn't automatically mean a 20 percent discount.
Question: I rehabbed a rental property in Detroit, and now I'm ready to sell. My tenant wants to purchase the property, but she has limited cash on hand. How can I find a lender to do the deal?
Wilbert in South Field, Michigan, brings us this question. He wants to sell the home for $38,000, but the appraisal came back at $20,000. That price gap, as well as the location has made it difficult to find a traditional lender.
The first problem is that many banks won't do a loan for less than $50,000. If the lender is going to go to all the trouble to do the paperwork for a percentage of the loan amount, then the loan amount needs to be enough to get their attention.
Here are a couple alternatives for Wilbert to consider:
Find a private lender.

This might mean a higher interest rate for the buyer. But, that higher interest rate will be more likely to attract a lender.

Be the private lender.

Rather than finding an outside investor, work a deal with the tenant to have them pay the loan to you instead. If they pay off the mortgage, you've still had that steady stream of income. If not, you'll get the property back to rent or sell to someone else.

Find a different buyer.

If finding a private lender isn't possible, consider finding a different buyer who is able to get financing or purchase the home for the price you want to sell.
Question: When a tenant in our out-of-state rental moved out, they caused a lot of damage. Why don't tenants take care of their rentals better, and why are they surprised when they don't get their deposit back?
Renters view their home differently than an owner. How else do you explain that it feels like no renter owns a vacuum cleaner?
Damage to property is part of doing business as a landlord. But, Lauren in Charleston, South Carolina, did a lot of things right. They documented all the damage with photos before the tenant moved out, had a third-party realtor do a final walkthrough with the tenant, and got estimates from contractors to repair the damage.
Here are a few other things you can do to deal with damage:
A picture is worth a thousand words.

Take photos of the property BEFORE the new tenant moves in and get their initials on the photos. Then, when they're ready to move out, you can use those photos to justify the cost of any damage.

Open up a pet policy.

Many landlords are hesitant to allow pets in a rental. But, with a hefty pet deposit and even a little higher rent, you can come out on top.

Get a read on your renters.

As you screen applicants, be perceptive. We've also known people who will meet with potential renters at their current residence to see how they treat their current space. This may not be possible for everyone, but get creative and thoughtful about how you screen new renters.
At the end of the day, renters are more likely to treat a rental home with less care than you do. Damage and repairs are a cost of doing business, so make sure you build that into your budget.
Question: I want to sell my rental home in California, and I'm interested in the 1031 tax-deferred exchange to buy a new property in Texas. I'm confused by the IRS form and want to know if this will eliminate my taxes in California?
Cindy in Fort Worth, Texas, is definitely an A student!
First of all, we want to be clear that with this kind of complicated tax question, you need expert opinion and advice. A 1031 tax exchange intermediary will be well worth the cost and can answer all your questions.
The intent of the 1031 tax-deferred exchange is that if you sell a property and then purchase another property, you can defer the tax. As you buy and sell properties, you can continue to defer the tax, but there isn't a way to eliminate the tax completely.
Finally, try not to let the tax tail wag the investment dog.
Real estate offers many great tax benefits, which is one of the reasons we love it! But, when you're dealing with real money and the IRS, you need a team of experts to guide you.
Life is short, and you don't want to spend your valuable time reading an IRS form.
Question: How can I learn more and get coaching on real estate syndication?
Addie in Seattle, Washington, brings us a question that is near and dear to our hearts!
We recommend our Secrets of Successful Syndication seminar as your first step. Whether you want to be a syndicator and learn how to leverage money with a group of investors or invest passively in real estate, this is an event you'll learn a lot from.
In this seminar, we're teaching the strategies that have been a part of our investments for years.
We do have a coaching program, but you can only learn about it at the seminar during an OPTIONAL session after the two days are done.
If you want to register for the event and see if syndication is right for you, we'd love to have you!
Question: My wife and I have a real estate investment company with 23 doors under rent. We've found traditional lenders to be slow and cumbersome and want to simplify our lending process. How can we do this?
John and Karen in Troy, Ohio, are having trouble scaling their business because of lenders. They write that they'd be willing to pay a higher interest rate to make the process easier and more streamlined.
For traditional banks, the process is often necessarily slow. They need to do due diligence to make sure the investment is a good one.
Private capital is easier and faster, but it comes at a higher price. This can be done through syndication or networking to find interested investors. Make sure you're well advised and working with big deals, and you're well on your way.
We'd also suggest that with the rollback of some of the Dodd-Frank provisions, some of the restrictions on community lending have eased. If you haven't checked in with your community lender recently, it's worth getting to know them. They'll get to know you and your entire portfolio of properties and could be a valuable resource.
Question: I wasn't able to attend your events for the Future of Money and Wealth in Florida. But I'd sure love to get access to that information. How do I do that?
A listener in Hawaii wants to learn from the incredibly faculty we brought in to talk about how to keep up with the changing times in the economy.
This was a one-off event, and it was an incredible gathering of some of the best minds in a variety of subjects all focused on how to protect your wealth.
We recorded the event with a professional video crew and now have 20 different panel discussions and presentations available to watch.
You can visit the Future of Money and Wealth website to learn more or send us an email to future [at] realestateguysradio [dot] com. We'll get you all the details on how to access these videos.
Question: My schedule seems to be always booked up by the time I hear about the Belize discover trips. Do you know the future trip dates for later in the year?
Tim in Silverton, Oregon, like many of us, has a busy schedule and needs to plan ahead!
To find out events as soon as possible and to get them on your calendar, get on our advanced notice list. Head to the events tab on our website. If you find an event there, and the date doesn't work out, get on the advanced notice list and you'll get an email letting you know about future dates.
Our next Belize discovery trip will be August 24-27, and registration is open now! We hope to see you there.
Question: What is the definition of a performing asset?
Matthew in Nacomin, Florida, asks us the shortest question in our inbox!
Simply put, a performing asset is something that puts money in your pocket. The more cash flow, the more equity. If you have something on your balance sheet that doesn't put money in your pocket, it's not a performing asset.
When you consider an asset you can go for a fat cow, a performing asset that will come at a premium but continue to deliver, or a skinny cow, a non-performing asset that needs some work to get it performing again.
---
More From The Real Estate Guys™…
The Real Estate Guys™ radio show and podcast provides real estate investing news, education, training and resources to help real estate investors succeed.
Real estate investing is full of ups … and downs. If you haven't experienced the downsides, we guarantee you will eventually.
As a real estate investor, you have to be on top of your game. You didn't get into this business to pull the sheets over your eyes … you're here to build wealth, and that requires planning and preparation.
You can't bet on disasters NOT happening … they most likely will. Careless investing is a sure recipe for a crash. Careful investing, on the other hand, will help you survive crashes without losing the wealth you've accumulated.
In this episode of The Real Estate Guys™ show, we discuss how YOU can prepare for storms that come out of nowhere. You'll hear from:
Your careful host, 

Robert Helms

His criminally cautious co-host, 

Russell Gray
---
Listen
---
Subscribe
Broadcasting since 1997 with over 300 episodes on iTunes!
---
Review
When you give us a positive review on iTunes you help us continue to bring you high caliber guests and attract new listeners. It's easy and takes just a minute! (Don't know how? Follow these instructions).
Thanks!
---
The nature of real estate
The real estate market is naturally volatile. Economies change, local markets evolve, natural disasters arise … sometimes overnight.
The downsides are ALWAYS looming.
But real estate investors are always looking for the upsides … sometimes so intently that they forget to look at the downsides too.
We caution you to do your due diligence AND have a back-up plan.
Some excellent words of wisdom are to always have a little cash on hand. The downsides are rarely in your control … but you can control your ability to react when they arise.
Four ways to be prepared for a downturn
As real estate investors, we weigh risk and reward every time we look at a deal. But some risks aren't so obvious.
Being a successful investor means playing defense and offense at the same time.
While you can't predict the future, you can take practical steps to make sure you're ready to fend off threats and take advantage of smart deals.
Step No. 1: Get in touch with a demographic that can weather a storm.
Tapping into the right demographic is the key to recession-resistant investing.
It's a smart idea to look at markets where someone who is a bit under the median income can afford to live.
In tough times, people who are well-off can downgrade to your market. And in good times, people on the lower end of the income scale can move up.
Either way, your area will be in demand.
Many factors can cause a downturn … rising interest rates, slow wage growth, tax increases, or geographic factors to name a few.
Downturns aren't solely due to nation-wide economic slowdowns. Make sure you pick a demographic that can resist small ebbs and flows in your market.
Step No. 2: Invest in towns that have multiple "stories."
Every town has something it's known for.
Even better is a town that's known for many things … the stories that draw people and growth.
A big industry would be one story. Two big industries? Even better. A major sports team might be another story.
Don't bet on a single story. Make sure the jobs in your market are tied to multiple industries … that way, when one industry fails unexpectedly, you won't see a mass exodus or decline.
And be sure an area is appealing for more than one reason.
Step No. 3: Monitor your inputs.
Look at what inputs make the numbers on your financial statement move. These are the inputs to keep track of.
Compile data, set up alerts, and don't be remiss about digging deeper when an alarm goes off in your head.
All the information you need can be found in one way or another. The internet is a treasure trove of data. Your local Chamber of Commerce is another resource for keeping track of essential information.
Don't be casual … especially if you're an experienced investor. Treat every deal like it's your first.
Monitoring your inputs can help you stay ahead of the curve and react to changes before others even know there's a threat.
Can you see the advantage?
Step No. 4: Key into experts.
We live in the information age … it's almost ridiculous how much information is available.
But some of the best information comes from people who have been in your situation and figured out solutions.
Listen to and read information from multiple sources … even if you disagree.
Learn what other people are saying BEFORE you interject your own opinion.
You can't expect the unexpected if you only listen to people who share your point of view.
Navigating the three rings of risk
We've learned a lot over the years.
One piece of advice we think highly of is to always own a property or two with no loan. The return won't be as high … but you can sleep at night.
In investing, it all comes down to the rings of risk.
Every investor should have three rings of risk in their portfolio.
The center ring is your livelihood. It should be isolated from all the other risks you're taking.
The second ring is those bread-and-butter properties that bring cash flow and provide long-term equity growth from modest appreciation.
The third ring is where your risky investments happen. You should only expand into this area after you've established the first two rings of your investment portfolio.
In the outer ring, you can be more speculative. You may lose quite a bit in this ring … you're taking on way more risk. But you could also win big.
Another thing to keep in mind is your Plan B.
In any short-term play, make sure you have a Plan B and even a Plan C to take you through the long term.
Sometimes the market changes in the middle of your play. In that scenario, financing structures and a property's ability to cash flow can be really important.
If you are house rich and cash poor, it may be time to sit down with a financial advisor and considering refinancing so you can leverage the equity you have in your properties.
You may also want to consider selling and buying new properties so you can get some cash on your balance sheet.
When the market turns, you want to be in a position to snatch up a bunch of cheap real estate … and you won't be able to do so unless you have cash on hand.
Another consideration to take is whether to diversify your liquidity. If the dollar falls, precious metals will retain their value … and the more wealth you have, the more important it is to put your equity in a stable medium.
Your best strategy is a strong network
Knowing how to sell is the essential survival skill in a tough market.
We're hosting our yearly How to Win Funds and Influence People event this year … a workshop that teaches participants negotiation strategies that result in win-win deals.
We host events like these because networking is SO important. The best way to prepare for the unexpected is to get around smart people and take note of their strategies.
Getting around people who've been in your shoes is essential … and most successful real estate investors are more than happy to share what they've learned.
We don't only host events for investors like you … we also attend them! We'll be at the upcoming New Orleans Investment Conference learning about all things investing with some of our most knowledgeable investor friends.
Join us!
Your net worth is defined by your network. Make those crucial connections, and you have the key to staying strong through ups AND downs.
---
More From The Real Estate Guys™…
The Real Estate Guys™ radio show and podcast provides real estate investing news, education, training and resources to help real estate investors succeed.