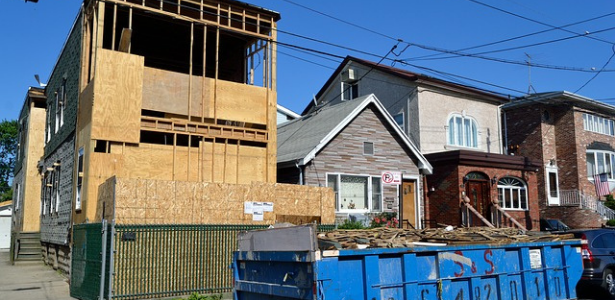 Having a short path to cash is an essential survival strategy during economic challenges. For real estate investors, flipping a property is often a reliable way to create cash quickly.
But we also know … understanding a concept and being able to execute it well in the real world are sometimes two very different things.  
In this episode, we visit with a seasoned 7-figure flipper who opens up and shares the good, the bad, and the ugly of how to flip profitably in the real world.
In this episode of The Real Estate Guys™ show, hear from:
Your flipping great host,

Robert Helms

His flipped-out co-host,

Russell Gray
Real estate flipping entrepreneur, Mike Simmons
---
Listen
---
Subscribe
Broadcasting since 1997 with over 300 episodes on iTunes!


---
Review
When you give us a positive review on iTunes you help us continue to bring you high caliber guests and attract new listeners. It's easy and takes just a minute! (Don't know how? Follow these instructions).
Thanks!
---
Flipping is a great path to short-term cash 
We often talk about the long-term ways to make money in real estate, but there are also opportunities to make money short-term. 
Today we're going to tackle a topic that we don't talk about often … the huge and amazing world of flipping real estate.
When someone goes through any form of crisis in business or investing, they should always know their shortest path to cash. In real estate, that means flipping a property, buying a property, and maybe wholesaling it … but essentially, short-term ownership to generate cash. 
When we see markets change … there are certain opportunities that are no longer on the table. With many not being able to make their rent or their mortgage payment … it might not be the best time to buy and hold a long-term rental house.
The great thing about flipping is that you're in and out pretty quickly, and you can make money no matter what the market does!
We have some experience flipping houses … but we found that managing teams and trying to be strategic was a lot of work. 
So that's why today we're talking to Mike Simmons who is an expert in flipping real estate. 
How Mike Simmons became a flipper
Mike Simmons grew up in a blue-collar family in Michigan that was employed by the automotive industry. Mike believed growing up that his goals should be to get into a union … work for 35 to 40 years … work overtime … and hopefully have a little bit of time left for retirement. 
Mike says nobody taught him about the possibility of being an entrepreneur. 
Over time, Mike tried different jobs and career paths, but even when he was moving up the corporate ladder at a white-collar job … he realized that nobody was happy in those positions. He wanted to figure out how to get out of the rat race and find a better path to retirement. 
Mike eventually discovered real estate and knew it was the path for him. His first real estate deal made him $15,000, which was small but a great start. 
He also discovered rental real estate and wholesaling … he says 60 to 70% of his company now is wholesaling. 
Mike says, "What if I get sick or if I am in the hospital or something happens to me … how do I create a business that is run independent of me, but still is able to produce income? That's what I've really gotten good at over the last handful of years."
Mike says you can excel at the type of work you do … but he didn't want to always be doing all the work himself.
It's a totally different skill set running a company and leading and managing and inspiring and hiring and training people. He said he needed to learn to also be a good leader. 
There are lessons to be learned at every step. 
Mike says that on the first house he flipped, he picked all the things off the punch list he thought he could do himself and save time and money on.
But that can be detrimental if you want to really grow your business and flip more than one house a year. He says that takes more time and will result in greater "holding costs" like taxes, garbage, etc. 
Mike says: "What I know and what I've become great at is, I know what things should cost, and I know how long they should take. Those are the two things you have to know that will make you a successful house flipper that has the ability to scale."
In Mike's experience … what he has found as a house flipper is that when he brings contractors in to quote a job, they will forever try to give him more things that he should be doing … and it takes experience to know the difference between just trying to add to the cost of the renovation and what's a legitimate suggestion. 
Mike says it's so important as a flipper to educate yourself and understand what the contractors are doing on a functional level and then dial in the cost of it. 
Flipping lessons Mike has learned
Mike says when he was first flipping … on every house, he started from scratch, personally picking out paint, tile, fixtures, flooring … and he says this lack of process really kept him from growing. 
This is okay for someone doing one or two … but to really grow, Mike learned he had to have a solid system. 
Next, he learned from his mistake of not tracking numbers and watching what marketing worked and what didn't with different houses. 
In the early stage of the pandemic in Michigan, his direct mail method stopped working because people didn't want to touch their mail. So Mike had to adapt to other marketing strategies. 
Google pay per click … text blasting … ringless voicemail are some other options. 
Mike also suggests learning what a "release of lien" is. He learned an important lesson from paying a general contractor who did not pay subcontractors. It's important to have everything in writing. 
With all the lessons learned and the team he has built … Mike now averages flipping 100 properties a year. 
What is level jumping? 
Imagine if you can use someone's 20/20 hindsight as your foresight to know what you should be doing, and maybe just importantly, what you shouldn't do? 
Mike learned to take his business to the next level, or maybe even "jump" a level … it's all about surrounding yourself with people you can learn from. 
That's how he has been able to grow so much after joining 7 Figure Flipping. He found good, quality people who give great advice that just helps others grow and realize their own goals. For all the great insights Mike has to share, listen to the full episode. 
---
More From The Real Estate Guys™…
The Real Estate Guys™ radio show and podcast provides real estate investing news, education, training, and resources to help real estate investors succeed.
---
Love the show?  Tell the world!  When you promote the show, you help us attract more great guests for 

your

 listening pleasure!