The Real Estate Guys™

19th Annual Investor Summit™

June 11 – 19, 2021
Now OPEN for Public Registration!


Click on the links below for more information …
People LOVE the Summit …
We get it…
When WE brag about the Summit, it's just a sales pitch.  Or at least it seems that way.  Fair enough.
But after 17 straight years of taking surveys and getting RAVE reviews – and even more importantly, having a HUGE percentage of repeat registrations, we're pretty confident the Summit ROCKS!
But we'll shut up about it (for now) and let our Summiteers share their thoughts on why the Investor Summit™ is SO AMAZING …
Of course, Robert Kiyosaki isn't the only best-selling author and investing expert that's a MULTI-TIME Summit faculty member.  The list is long and distinguished, including Peter Schiff, Tom Hopkins, G. Edward Griffin, and Chris Martenson.
And just in case you think they're all just hired guns … we don't pay any of them.  We can't afford to pay them what they're worth … so we don't.  They come for free because they believe in the mission, they love the people, and they learn from each other.
The Summit is THAT good.
Each year, we record at least one episode of The Real Estate Guys™ radio show while we're on the ship.  Here's are a few of the more recent episodes for your listening pleasure …
As you'll hear, our faculty members all LOVE the Summit  … that's why so many come back year after year after year and give so GENEROUSLY of their time and wisdom.
And it's not just the faculty who LOVE the Summit and come back year after year …
Check out these comments on the surveys from our previous Summits:
"I went on this program and I highly recommend it." – Robert Kiyosaki, best selling author Rich Dad Poor Dad and multi-time Summiteer
"The Summit at Sea was the most rewarding experience I have had in years, both professionally and personally.  I cannot thank you enough …" – Dana Samuelson, President of American Gold Exchange, Summit at Sea faculty member
"I want to thank you and the team for the 2019 Summit at Sea. Amazing 9 days … I suspect I will never be the same person ever again" – Loe H., Texas, USA
"Great!  Totally satisfied and delighted.  Thanks!  We're grateful and appreciative!" – Nick F.,  Nevada, USA
"The learning didn't stop with the lectures, but continued during the breaks and dinner.  You've really created a great environment for transformation! Thank you!" – Ryan N., West Virginia, USA
"The Summit at Sea was a life changing event.  I am still in awe of the entire trip.  Next year we will be bringing friends!" – Bill P.,  South Dakota, USA
"In my 39 years as a real estate investor, this was truly the best seminar experience I have ever had.  I will be returning." – Craig H.,  Oregon, USA
"On a scale of 1-10, this experience rates a 14!" – David S.,  Panama
"Over-delivered.  A class act top to bottom.  Loved the content and interaction." – Daniel S., West Virginia, USA
"Everyone is awesome!  Great time, useful info and new friends!" – Amy F.,  Nevada, USA
"Outstanding educational and social event.  Brilliantly organized!  The spirit and atmosphere are awesome." – Carl and Paula B.,  Llantwit Major, Wales
"We really enjoyed it.  Very impressed with the organization and faculty.  Can't wait to be back next year!" – John K.,  California, USA
"You guys pulled it off again!  Thank you!" – Mike M., California, USA
"Awesome!" – Norma Y., Fort Myers, Florida, USA
"I just followed my husband and came for a vacation.  However, I ended up attending the sessions and learned so many things and met wonderful people!  Attending made me understand how important it is to be on the page with my partner. Thank you so much!" – Hiromi W., Hiroshima, Japan
"Unforgettable!  Made amazing friendships. I came not really knowing what to expect. I am leaving with a purpose to educate myself and surround myself with like minded people.' – Wanda S., Alberta, Canad
"Great people with a lot of knowledge attended the Summit. It is priceless!" – Andrey S., Illinois, USA
"VERY stimulating conversations and sessions. VERY!" – Mike M., California, USA
"Thanks for everything you do.  This event is different than anything else we attend during the year and is something we look forward to.  This Summit was part of a larger transformation for me." – Rob S., California, USA
"This was my 3rd year and as always, I learned so much. met great people and caught up with alumni friends.  All the new stuff was awesome and I will be back next year!  Always worth the time and money!" – Leslye S., California, USA
"This was one of the best investor summits I have ever attended.  The quality of the presenters and participants cannot be matched." – James S.,  Alberta, Canada
"Thank you for a terrific week. I learned a lot and plan to pass it on!" – Brent S.,  Alberta, Canada
"Thank you for creating this extraordinary experience!" – David C.,  California, USA
"Transformational! Great to meet so many from outside the U.S." – Chad M.,  Missouri, USA
"I'd pay $50,000 for this…it's too cheap!" – Robert L.,  Colorado, USA
"I met such inspiring people who I know I will be friends with for a long time." – Trinity D., Australia
"Great event. THANK YOU!!!" – Randy H., Washington, USA
"Thank you for all you did for us during the Investor Summit at Sea.  I learned very much.  We had a blast!" – Frank Q., California, USA
"Exceeded expections! Wow." – Paula B., Wales
"It was awesome!" – Gary P., Connecticut, USA
"Amazing job!  Many, many thanks for a great week!" – Sandy C., Texas, USA
"My expectations were high.  The event exceeded them!" – John Z., Oklahoma, USA
"Exceeded expectations!  The Summits are getting better and more professional." – Greg B., Papua New Guinea
"Over-achieved in many ways: great ports and field trip, access to advisors, eye-opening conversations with advisors, allowing our children to join some of the sessions was priceless." – Rob and Leslye S., California, USA
"It was a great trip. I enjoyed it all. Great networking and materials." – Lisa L.,  Arizona, USA
"Life changing!!!!  Thanks and see you next year!" – Nick A.,  California, USA
"Amazing value!" – Mike M., California, USA
"Favorite speaker was Ken McElroy – visionary information. WOW!" – Markus M.,  Michigan, USA
"Great experience. Highly recommend to others." – Dr. Brent M., Oregon, USA
"Superb experience as usual!  All was great!" – Dr. Greg O., Indianapolis, USA
"I learned something from every speaker. Wonderful family atmosphere!" – Maree B., Papua New Guinea
"Outstanding educational experience!  The opportunity to spend a week with Kenny, Robert and the rest of the team and their families is fantastic!" – Joe S., Pennsylvania, USA
"It opened up new possibilities for me. Lots of great information from everyone." – Bob G.,  California, USA
"Exceeded expectations!  My favorites sessions were on exchanging because it was life changing, and on due diligence for pure wisdom." – Christopher P., California, USA
"Most important concept I learned is that good things can happen when you get out of your comfort zone." – Sandy C., Texas, USA
"The people lost the most money were those who 'saved' the price of admission by not coming.  Outstanding job!" – Rob K., New Jersey, USA
And there's a LOT more where those came from.  But you get the idea.
And now you may be wondering …
How much does the Summit cost?
If you attend … or if you don't?
Consider the value of just ONE great idea, opportunity, or strategic relationship!
Of course, there's no guarantee you'll personally profit from your Summit experience.  But we're pretty sure none of the smart, high-powered people on the next Summit will be headed to your house anytime soon.
Put yourself in a position to find that next great idea or relationship…
The Summit is the ULTIMATE investing education and networking event.  And it ALWAYS sells out.
We've been at this since 2002.  No one has EVER walked away saying the Summit wasn't totally worth the time and expense.  In fact, well over half the people on last year's Summit re-registered… without having any idea who was coming or where we were going.
Yeah.  It's THAT awesome.
Remember … just ONE great idea or relationship can make all the time and expense totally worth it.
The 19th Annual Investor Summit™

June 11 – 19, 2021
Now OPEN for Public Registration

---
---
The Real Estate Guys™
19th Annual Investor Summit at Sea™
Dates Coming Soon!
Click the links below for more information …
Faculty    Itinerary    FAQs   Pricing & Registration   Young Adult Program   Testimonials   Help
Use the form below to get on the Advance Notice List >>

 

Robert Kiyosaki was with us in 2018 for his 5th Investor Summit at Sea™
Is Robert Kiyosaki coming back in 2019???
We invited him!  Now we're just waiting for the answer … but rumor has it he wants to!
Why would the best-selling personal finance author in the history of the world spend several days on a cruise ship with a couple of radio talk show hosts and 200 of our closest friends?
(Hint:  It's not the money.  We can't afford to pay him what he's worth, so we don't)
In his own words…
The Real Estate Guys™ and Robert Kiyosaki have been friends for years…
Robert's also been a frequent guest on our radio show and always has great things to say.  So be sure to check out some of his past appearances below!
But first, here's a short message from Robert Kiyosaki about The Real Estate Guys™ …
Check out these episodes of The Real Estate Guys™ radio show featuring Robert Kiyosaki …
---

Robert Kiyosaki on the Financial System, Fake Teachers and Real Assets
Listen in to find out what the greatest selling financial author in the history of the world really thinks about the financial system, fake teachers, and real assets.
---
Robert Kiyosaki, Peter Schiff, Chris Martenson, Adam Taggart, and Brien Lundin with Expert Tips on Navigating Uncertain Times
Click here to read the Broadcast Blog … or Listen Now:
---
Robert Kiyosaki on Why the Rich Get Richer and You Can Too
Click here to read the Broadcast Blog or Listen Now:
---
Robert Kiyosaki Talks Second Chance – For Your Money, Your Life and Our World
Click here to read the Broadcast Blog or Listen Now:
---
Trump, Kiyosaki and What Government Could Learn from Real Estate Investors
Click here to read the Broadcast Blog or Listen Now:
---
Why "A" Students Work for "C" Students  – Robert Kiyosaki Looks at Education
Click here for the Broadcast Blog or Listen Now:
---
Finding Your Unfair Advantage with Robert Kiyosaki
Click here for the Broadcast Blog or Listen Now:

---
From the Summit at Sea™ with Robert & Kim Kiyosaki; plus Rich Dad Advisors Ken McElroy, Josh and Lisa Lannon and more!
Click here for the Broadcast Blog or Listen Now:
---
The Real Estate Guys™ radio show and podcast provides real estate investing news, education, training and resources real estate investors need to succeed.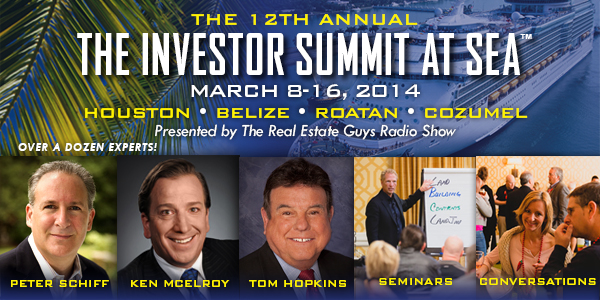 World leaders and banking elite have sometimes secret summits to make their plans for managing the global economy.  What they decide affects YOU…whether you like it or not.
Isn't it time YOU and other investors got together with the best and brightest experts to make YOUR plans to grow and protect your wealth from whatever the central planners decide?
We think so.
That's why we're proud to bring you the 12th Annual Investor Summit at Sea™ featuring an amazing line up of speakers like Peter Schiff, Ken McElroy, Tom Hopkins and MANY, MANY more!  And NEW!!! Simon Black of Sovereign Man will be with us in 2014!!!
There are experts in real estate investing, economics, precious metals, oil & gas, infinite banking, asset protection, syndication, real estate development, and even sales.
It's intense. But it's fun.
Robert Kiyosaki came in 2012 and loved it.  But don't take our word for it. Click here to hear directly from Robert.
The timing couldn't be more important.  The world is changing at an amazing pace.  The Summit is your opportunity to discover trends, develop strategies, make connections and get away from the daily grind to focus on your future.
Where else on earth can you go to get a week with this caliber of thought leaders?  Nowhere.  It doesn't exist.
And this Summit won't exist for long either.  The ship is filling up and even the Summit isn't until March, we're running out of space.
We know it's a big decision.  It's a lot of time and money.  But in the past 11 years we've never had anyone say it wasn't worth it.  So we want to strongly encourage you to seize the day and reserve your spot today.
Click here now

to learn more about the Summit.
Or fill out the form below to schedule a personal consultation.
Cruise with Peter Schiff!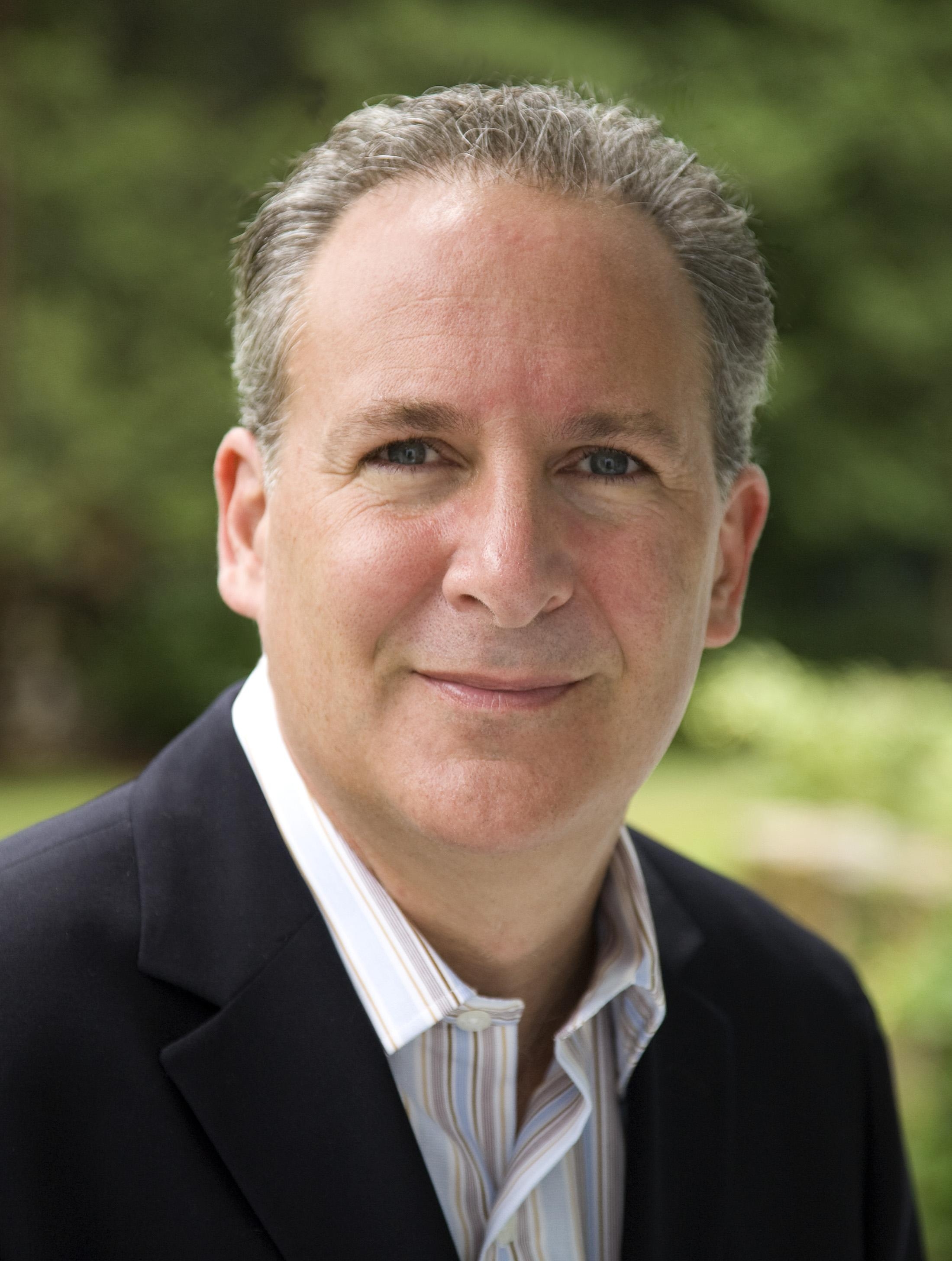 You may have seen Peter Schiff on one his many appearances on financial media like MSNBC, Fox Business News and CNN.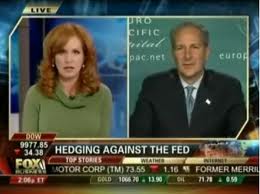 Maybe you've listened to the Peter Schiff radio show or have seen Peter speak at live conferences like Freedom Fest, The Money Show or The New Orleans Investment Conference.
But now you can enjoy an entire week learning and talking with Peter and the rest of a world-class faculty aboard a luxurious cruise ship during the 18th annual Investor Summit at Sea™!
Think about all that's going on in the world…things that affect YOUR finances.
Central banks around the world, led by the Fed's unprecedented amounts of "quantitative easing", have flooded the global economy with currency.  Many countries are experiencing NEGATIVE interest rates!   Attempts to normalize have failed … just as Peter predicted.

The stock market is roaring back.  Will the party last or is another bubble brewing?
The U.S. is election remains one of the most controversial in recent memory, and 2020 is right around the corner.  How will partisan politics affect the global economy and YOUR investments?
Real estate values have risen, but are flattening out.  The population is growing and more people are renting.  Is there still money to be made in real estate?
Are you ready to mitigate risks and capitalize on the opportunities?
When you attend the Investor Summit at Sea™, you'll enjoy more than a week of education, networking, conversations and total focus on new strategies and opportunities to profit from what's coming.
There are seminars, panels, roundtable discussion, small group dinners with faculty members, and private cocktail receptions.
This isn't the same group of experts you see on the circuit of every other investment conference.  You'll get new ideas, fresh perspectives and an eye-opening dynamic from experts in real estate, precious metals, oil & gas, infinite banking, global economics and more!  Serious investors are concerned about what's happening in the world.  But they also know with every challenge comes great opportunity.  This may the most important investment you make this year.
Get on board the 18th Annual Investor Summit at Sea™!
Click here to learn more now or fill out the form below to schedule a call with a Summit specialist.
For the ninth straight year, The Real Estate Guys™ and an energized group of committed real estate investors boarded a cruise ship for a week of powerful education, networking and fun. And as is our tradition, while on board we recorded a radio show with a live studio audience.
We call this annual event our Investor Summit at Sea™ because Summit means "the highest point of attainment or aspiration: the summit of one's ambition; the highest state or degree". 
More than education, the Summit is about relationships, enthusiasm, focus and family. Because of the unique environment created on a cruise ship, faculty and students often bring their families.  It's proven to be a great opportunity to unite families around their pursuit of financial independence and prosperity.

Reflecting on their Summit experience from the Mad Hatter's Lounge on the Carnival Miracle:
Your host, Robert Helms
Co-host, Russell Gray
The Godfather of Real Estate, Bob Helms
Robert Kiyosaki's Rich Dad Real Estate Advisor, Ken McElroy

International Real Estate Developer, Beth Clifford
Attorney, Mauricio Rauld
Financial strategist, Patrick Donohoe
After one week of focused education, networking and outrageous fun, each faculty member share their most important takeaways. Over two-thirds of the 2011 attendees, including the complete faculty and their families immediately signed up to come back in 2012 to celebrate our 10th annual Investor Summit at Sea™.  It's hard to describe the Summit experience, as several surveys described the event as "life changing", "incredible", "awesome" and "over the top".
How can a simple real estate investment conference have such a powerful impact? Tune in as our prestigious faculty tries to distrill their experience into a one hour radio show – and consider the power of just one great idea, relationship or commitment.
Listen now!
Don't miss a show – subscribe to the free podcast!
Want More?  Sign up for The Real Estate Guys™ free newsletter!
The Real Estate Guys™ Radio Show podcast provides education, information, training and resources to help investors make money with their real estate investing.  Learn more and subscribe to the free newsletter at www.realestateguysradio.com
Whew!  That's a big title.  But it's fitting for a big topic – one that reminds us that the world is not only getting smaller, but is changing rapidly.
Money, jobs and people are moving around the world like never before. And while fewer people may feel rich coming out of this recession, there are other good reasons many are still looking at international real estate – both as an investment strategy and a safe haven hedge against inflation.
While we were at the International Property Congress in Miami Beach, in addition to talking big picture economics with National Association of Realtor's Chief Economist Lawrence Yun and Federal Reserve Bank VP Thomas Cunningham (see our 11/21/10 show), we sat down and talked about who's buying international real estate, where and why.
Behind our well-traveled microphones for an international chat-fest:
Your host, the internationally renowned Robert Helms
Your co-host and internationally obscure Russell Gray
The man who has seen more changing landscapes than a migrant farm worker, the eternally international Godfather of Real Estate, Bob Helms
Special Guest #1: International Property Journal reporter, Kevin Brass
Special Guest #2: Representative from SECOVI, a Brazilian real estate trade association, Flavio Amary
It's no secret that every country in the world has it's own unique strengths and weaknesses.  As the dominant economy in the world, Americans have long enjoyed a uniquely stable and high quality of life.  It wasn't necessary or commonplace to travel abroad.  Even today, the  majority of Americans do not have passports.
However, the world is changing.  The US dollar, while still the dominant currency, is facing serious challenges.  Job losses, deficit spending, an aging populace and huge unfunded entitlements are all piling up on Uncle Sam.  Meanwhile, other countries are emerging as powerful economies in their own right – most notably China.
But this isn't an episode about the woes facing the US.  These aren't the first challenges and they won't be the last.  Every country has its ups and downs.
This episode is about discovering how and why the dynamics of the world's economies are changing the way people are approaching real estate.
While we're more traveled than the average American, we took the opportunity while in Miami to connect with Kevin Brass.  Kevin has been covering the international real estate industry for over 20 years and his articles and analyses have been regular features in the International Herald Tribune and the New York Times.  Today, Kevin writes for the International Property Journal.  His work takes him all around the globe and keeps him connected with many industry leaders worldwide.  In this episode, Kevin shares his perspectives on the changing landscape of international real estate.
We also discuss some recent changes to the once vaunted tax and privacy advantages of Panama, who recently entered into an information sharing agreement with the United States.  Tax and privacy advantages are often a prime motivator for people to acquire real estate and move to a particular country.  Is what happened in Panama a portend of things to come?
Of course, what would an episode on international real estate be without an interview with someone with one of those really intriguing accents?  We were privileged to find someone who not only sounds really cool, but has some very useful things to share with us about the robust economy of Brazil.  If you haven't been paying attention to Brazil, you may be surprised to hear about what's happening there.  Hint: not everyone's in a recession.
Buone Feste, Boas Festas, Felices Fiestas, Frohe Festtage, Wesołych Świąt, Bonnes vacances, Sarbatori Fericite and Happy Holidays!
The Real Estate Guys™ Radio Show podcast provides education, information and training to help investors make money with their real estate investments.
Listen now!
Don't miss a show – subscribe to the free podcast!
Want More?  Sign up for The Real Estate Guys™ free newsletter!
Do you remember the old "new" economy? That was the one where technology companies could go public without profit.  In some cases, they didn't even need revenue. Ahhhh, those were the days.
The new "new" economy (the Great Recession one) hasn't been nearly as fun – unless you're an old school entrepreneur.  That's the kind who looks at problems as opportunities.  Guys (and gals) like that are having a lot of fun right now because there are opportunities galore coming out of the Great Recession.
The Real Estate Guys™ headed off to Freedom Fest in Las Vegas a few weeks back.  We heard that money manager / economist / author / Senate candidate Peter Schiff would be there (among many other people with very strong opinions about the U.S. economy) and we wanted to do some interviews.  We're happy to report we got lots of great stuff, including Mr. Schiff and the CEO of Forbes Magazine, Steve Forbes.  Watch for those interviews in future broadcasts.
So we fly into Las Vegas in our private jet (the one operated by Southwest Airlines), and get to the convention venue and start setting up our booth.  Before the event had even started, a man stops by and sees our banner for Belize (we were promoting our upcoming field trip to Belize) and asks a few questions.  The short of it is that we find out he's working on a very exciting project in the Caribbean – one that solves a problem we've been trying to figure out too.  Russ gets so excited that he hugs the guy. Very weird.
After the appropriate apologies and some follow up male bonding, our new friend agrees to do a radio interview.  And that's what this broadcast is all about.
Manning the microphones for this edition of The Real Estate Guys™ Radio Show:
Your host, the Larry King of real estate radio, Robert Helms
Co-host, our "I love you, man" booth babe, Russell Gray
Special Guest, Investment Banker, Entrepreneur and assault victim, Jeff Villwock
Any time we get around smart people, we jump on the opportunity to talk with them. In this case, Russ literally jumped on Jeff.  When Jeff recovered, we got him on the mic, so you can listen to what he's doing, where he's doing it and why.  There's lots of lessons to be gleaned!
Freedom Fest is an event that attracts people with strong political opinions.  In many of the interviews we did there, those opinions come out.  Great!  We think the world works better when people respectfully debate important issues.  Sharing ideas is among the most sacred of our freedoms, especially if you're radio guys.
We also realize that the U.S. (the bulk of our audience) is pretty polarized right now.  Now, we love our entire audience and our show isn't political.  However, policies affect economics and economics affects real estate. There shouldn't be a serious student of real estate who can look at the last several years and deny that.  So politics are going to get into the discourse from time to time, which is a very good thing.
We think these Freedom Fest interviews are great.  If you disagree with the political views of our guests, don't let that get in the way of hearing what's being said.  Here's why:  a big part of real estate investing is understanding demographics and human nature. How people think and believe affects where they (and their money) will be moving.  Even if you disagree with them, if they believe it, it will affect their actions. So YOU need to understand them (even if you disagree) if you want to anticipate their behavior.
Did we mention that Jeff's project is in St. Kitts?  It just so happens that St. Kitts is one of the stops on our upcoming 9th Annual Summit at Sea!  So we ask Jeff if we can visit his project as part of our already planned real estate shore excursion in St. Kitts. Not only does Jeff agree to allow us to visit, he says he'll meet us there and show us around.  Awesome!
Once again, we're reminded of the importance of getting out of our cubicles and into the world where real people are. No doubt that virtual networking is powerful, but just as phones did not replace face to face meetings, neither will social media replace conventions as a great place to make important connections.  This is one of the reasons we attend trade shows and promote our field trips and the Summit at Sea™.  It's a great way to get to know great people in the real world.  We hope to see YOU at one very soon!
Listen Now
Don't miss a show!  Subscribe to the Free Podcast
Want More?  Sign Up for The Real Estate Guys™ Free Newsletter!
Most people don't get into real estate investing because they like tenants, toilets and all the tribulations you go through. And most of the time, they don't get into properties they would like to live in or visit on vacation.  In fact, most investors would be happy if they never saw their properties.  That's probably why stock investing is so popular.  You just buy a line item on your brokerage statement.  You never visit the company or meet the management.  It's all very sterile and anesthetized.  Maybe that's why you almost can't feel it when the stock market gives you a networthectomy.  But we digress (how unusual).
Anyway, with summer time in full swing and people heading off for a well-deserved vacation, we thought it would be refreshing to talk about how to combine real estate business with vacationing pleasure.
In the radio mini-van, headed to the beach of broadcasting for fun in the sun and investing too:
Your host and mini-van driver, Robert Helms
Captain Speedo, Russell Gray
The Godfather of Real Estate, Bob "Board Shorts" Helms
Before we hit the road of conversation we do a quick check of the packing list.  Did we remember to pack our investor mindset?  What about our notebook to keep track of our ideas, conversations and those all important (potentially) tax-deductible expenses?
We're all good, so off we go!
Since most people don't vacation in C-class neighborhoods, we start our conversation on the idea of resort area investing.  But as soon as we jump out of the mini-van, we are faced with that ugly limiting belief, "I can't afford it".  It's easy to look at real estate in a beautiful area and disqualify yourself before you even get started.  So we talk about how to push through the traffic of doubt in one's mind by asking the question, "How can I afford it?"
We decide to ride this train of thought and talk about the importance of getting the right answers and advisors, by learning how to ask the right questions. Bad questions yield bad answers.  It's like, "Which Speedo looks best on Russ?"  That's a bad question (and worse visual) with no good answer.
Of course, we can't miss the opportunity for some shameless self-promotion, so we hang a u-turn on the notion of making one's vacation an opportunity to look for real estate.  What about the idea of using a real estate trip as a vacation? Many of our listeners have come with us on our Investor Summit at Sea™ or field trips to Belize, Cabo San Lucas or other fun places we've gone.  Even though the main purpose of the trip is to look at real estate, is it against the rules to have fun?  So, when time and budget is limited, it just makes good sense to leverage your vacation / real estate "research and development" budgets.

We have a fun time with this show.  We think you'll like it too!
Listen Now
Don't miss a show!  Subscribe to the Free Podcast
Want More?  Sign Up for The Real Estate Guys™ Free Newsletter!