We just recorded an emergency conference call …
…  featuring Peak Prosperity's Chris Martenson (The Crash Course) and Brien Lundin (Gold Newsletter).
Chris is a big brain PhD who studies economics, eco-politics, and how energy (i.e., oil) affects economics.
Brien is a well-recognized expert in precious metals and mining investing … and spends much of his time studying the gold market.
Both guys are hyper-connected to the smartest economists, investors, and niche experts in the world.  So they're not just smart, they're also well-informed.
The conference call centers around China's recent announcement of plans to back their currency with gold for the purpose of settling oil trade.
This single move could substantially affect oil, gold, the dollar, interest rates, real estate … Uncle Sam's credit line, budget and influence around the world … and YOUR financial future.
It's a BIG deal.
China has been advancing … quietly at first, and lately much more overtly … a strategy to UNDERMINE the U.S. dollar as the world's reserve currency.
This is HUGE for anyone measuring wealth and income in U.S. dollars.
It's even more significant for Americans, whose government has been able to use its privileged status to go DEEPLY into debt … seemingly without consequence.
But that could be changing …
Uncle Sam's unlimited checkbook … as well as his substantial influence around the world … has been largely built on the power of issuing the world's reserve currency.
That's because international trade is primarily settled in U.S. dollars, so getting locked out of dollars though U.S. sanctions can choke a nation's economy …
… just ask Russia, Iran and Venezuela … to name a few who've been on the receiving end of this power.
Oil is the biggest component of international trade.
It's no wonder Russia, who happens to be the world's largest oil producer, was early to sign on to circumvent the dollar.
Iran (#5 producer) is on the team.  Venezuela (#11 producer), whose economy is 95% oil, also just got on board.
Now the U.S. is talking about kicking CHINA out of the dollar system.
But China's been preparing to be independent of the dollar …
… and has a LONG list of bilateral trade agreements signed with MANY trading partners (as chronicled in this free report on Real Asset Investing).
As the largest oil importer in the world, China has a lot of purchasing power to put pressure on the "petro-dollar" (U.S. dollars used in international trading of oil), as Chris explains in the call.
The petro-dollar has been a major component of the dollar's power in international trade.  China's move could be setting the table for a collapse of the petro-dollar.
This isn't the end of the world …
But it could be a BIG change for dollar denominated investors …  
Those who are aware and prepared can protect themselves and get in a position to win.  Those who aren't will likely be blind-sided and face potentially horrific losses.
We've been watching this develop for years … and now it seems things are picking up speed.
If YOU haven't been paying attention, it's time to accelerate YOUR learning and preparation.
Maybe this isn't as big a deal as we think.  But better to prepared and not have a dollar crisis … than to have one and not be prepared.
The GREAT news is there are lots of smart investors watching this situation very carefully … and there are strategies to hedge … and even profit … from these developments.
So click here now to listen in on the conversation with Chris Martenson and Brien Lundin … as we discuss China, oil, gold, the future of the dollar … and how concerned investors can prepare.
Until next time … good investing!
---
 More From The Real Estate Guys™…
The Real Estate Guys™ radio show and podcast provides real estate investing news, education, training and resources to help real estate investors succeed.
And the hits just keep on coming …
We know you'd like investing to be simple and drama free.  We do too.
But while real estate investing itself is a simple activity … the economics of real estate investing has become more complex.
There's a LOT going on in the world.   Some things interconnect by cause, and others by effect … meaning they don't appear to be related, but then converge.
As Jim Rickards points out repeatedly … economies and ecologies are complex systems.  They are difficult to understand and even more difficult to predict.
But even though no one can say with certainty what will happen, it's still important to take precautions when it's clear SOMETHING BIG is coming …
… just as Floridians watched Irma and prepared, not knowing fully what to expect.  Better to be prepared and not have a disaster than vice versa.
So let's take a look at what's forming on the horizon …
Hurricanes Harvey and Irma
While the total financial and human impact of these back-to-back disasters is yet to be calculated, one thing's for sure …  it's going to be expensive.
Short term disruptions to gas prices and orange futures aside, disasters like these redirect HUGE amounts of capital … which has a ripple effect.
For example, money insurance companies might otherwise put into financing NEW multi-family apartments in other markets …
… will now pour into re-building properties damaged and destroyed in Houston and Florida.
Federal money which might have been focused on infrastructure spending or tax cuts will also be redirected to damage recovery.
And it's likely the demand for construction labor and supplies will rise, driving up total construction costs in many markets … not just those affected by the storms.
That's because just as demand for concrete in China creates price increases in the U.S. … the demand for reconstruction resources will probably be felt throughout the United States.
Distressed inventory
Just like the financial disaster of 2008, there may be many problem properties coming out of all this … because many weren't insured for flood damage.
Federal aid may help some of those homeowners.  It's less likely such relief is offered to investors who were under-insured.
While it's no fun to profit from someone else's loss, there's a role for profit-seeking capital to play in repairing damaged communities.
We wouldn't be surprised to see tax breaks, loan subsidies or other incentives offered to entice investment capital to flow into affected markets … like when New Orleans was hit by Hurricane Katrina.
The Debt Ceiling

 
In other news, President Trump and Congress managed to get the debt ceiling temporarily increased … while raising the prospect of simply eliminating it all together.
Talk about calling a spade a spade.  The ceiling hasn't capped spending … ever.
Now billions of dollars are ear-marked for hurricane relief, and everyone can take a short break from "worrying" Uncle Sam might default on his debt.
So it looks like it's back to over-spending as usual. Not surprisingly, the dollar's year-long fall has resumed velocity.  
Then again … maybe the dollar's fall (and gold's rise) is part of a bigger story which has nothing to do with U.S. business-as-usual deficit spending …
Gold-backed yuan already finding friends
As we recently noted, China announced plans to settle its oil trade in yuan.
And to entice sellers to accept yuan, the Chinese are backing it with that "barbarous relic" … gold.
Days later, oil-rich Venezuela announced they'd start using yuan … and other currencies … to "free us from the dollar."
It's no surprise Venezuela would jump at this.  After all, just two weeks earlier President Trump signed an executive order sanctioning Venezuela … whose economy is 95% oil.
But as we note in our Real Asset Investing report, China began its plan to supplant the dollar way back in 2010.  So none of this is new.
And the first country to sign a bilateral trade agreement to "renounce the U.S. dollar" was … wait for it … Russia … followed by Brazil, Australia, and a LONG list of others.
We think this is a HUGE story that few in mainstream financial media are covering.  But we are.
In fact, we're putting together an emergency conference call with Brien Lundin and Chris Martenson to discuss the ramifications … so stay tuned for that!
Is the U.S. dollar doomed?
This is the big WHY IT MATTERS … especially for Americans and everyone denominating wealth in American dollars.
Like Hurricane Irma, no one can say exactly if, when, or how disaster will strike.  And it's possible the winds will change and the storm will miss your portfolio.
But what if it doesn't?  Right now, the winds appear to be headed your way.
Are YOU ready?  Are you getting ready?  Many people don't even know what ready looks like.  That was us 10 years ago.
It's a complex problem so there's no simple solution.  If there was, it probably wouldn't be a problem.
Peter Schiff has been warning about this for years. As has Robert Kiyosaki, Richard Duncan, Simon Black, Chris Martenson, Jim Rickards, David Stockman … and the list goes on and on.
Each has their own ideas about when … and how to prepare.
There's no one-size-fits all answer because everyone's situation, portfolio, investing IQ, advisory network, access to deals, and investment objectives are different.
MISSION: POSSIBLE
Your mission, should you choose to accept it, is to get informed, educated, connected and activated … as quickly as possible.
And if you think getting educated is time consuming and expensive … it's nothing compared to being ignorant and apathetic.
When storm clouds form on the horizon, some decide to pay attention and take pre-emptive steps.  There's no guarantee of safety, but their odds are better.
Others only hope for the best, but don't prepare for the worst.  Yet the higher the stakes, the more important it is to be preemptively cautious.
The storm warnings are loud and clear … for everyone paying attention.
But storms often approach slowly … and because most blow over … it's easy (yet dangerous) to assume every storm will.
Slowly at first … then all at once
Longtime listeners know we've been watching this whole story unfold for years.
We talked about the very real possibility of China making a run at reserve currency status almost two years ago.  We said then we'd keep you informed and so we are.
Now things are picking up speed.  So if you're new or haven't been all that interested … NOW is the time to accelerate your understanding.
If you've read this far, we trust you're interested and concerned … as you should be.
So we STRONGLY encourage you to SERIOUSLY consider attending BOTH Brien Lundin's New Orleans Investment Conference (coming up FAST!) and The Real Estate Guys™ 2018 Investor Summit at Sea™.
These events each feature lots of big brains … with critical perspectives every serious investor needs to have to help understand and navigate these stormy times.
Sure, these events are capitalist ventures … we each make some money producing them.
But we're not after your money … we simply use to it for event costs and to pay some bills along the way.  Your support makes these events possible.
We organize events so we can get brilliant minds in one place at one time.  And the only way to make it affordable for us … and you … is to share the cost with hundreds of others.
So yes, we need your help.  And in exchange YOU get access too!
With that said, these events are happening with or without you. Your absence or presence, while nice for us, could be LIFE-CHANGING for YOU … and that's true of most important ideas, opportunities and relationships.
So with the winds of sea change blowing fiercely on the horizon, it's a good time to consider carefully whether or not investing in preparation is a good idea.
We think it is.
Until next time … good investing!
---
 More From The Real Estate Guys™…
The Real Estate Guys™ radio show and podcast provides real estate investing news, education, training and resources to help real estate investors succeed.
You probably heard that President Trump gave a speech last night.  Looks like the stock markets liked it.
So what's all the excitement about?  And what does it mean to real estate investors?
First, forget about whether you like or agree with President Trump … or think he's a chump.  He's going to do what he's going to do whether you like it or not.
The big deal is a TRILLION dollars of infrastructure spending and a big boost in military spending.  That's a lot of cash flow … right into the economy.
Forget about how he's going to pay for it.  That's a policy problem … and maybe a fiscal problem.  We're sure Peter Schiff and the rest of our faculty will have something to say about all that in a few weeks on our Summit at Sea™.
And no one's really talking about the looming debt ceiling showdown March 15.  Something else we're sure to discuss on the Summit.
According to this Reuters article, "Treasury Secretary Mnuchin said … he would like to see an increase in the debt ceiling 'sooner rather than later'."
We're guessing he's going to get it … and the "big" showdown will pass quietly.
It's same thing we thought back in 2011 and again in 2013… just two of the debt ceiling showdowns in recent history.  Huge debt and deficits are the American financial system … for now.
So it seems the stock markets are pretty sure all this spending is going to happen.  And maybe President Trump will figure out a way to pay for it with help from private industry and NATO partners.  Maybe he won't.
But we think the odds Uncle Sam's about to open the checkbook are pretty high.  Like it or not.
So … if it happens, where's the opportunity for real estate investors?
Here are some things to think about …
Infrastructure projects require huge amounts of planning.  If you're paying attention, you'll probably be able to figure out which communities and industries will be the winners.
Common sense says go snooping around for the kinds of real estate the people who live and work in those communities and industries will want … and you'll probably be in the path of cash flow.
Less obvious, is to think about the supply chain for those projects.
Way back when China first started its economic ascent, it spent zillions on infrastructure … including all those ghost towns you read about.  So again, the spending doesn't have to be smart or responsible for the cash to flow.
But guess which real estate was the big beneficiary of China's big spending?
Australia … because that's where a lot of the raw materials came from to build China's infrastructure.
So understanding China's supply chain allowed investors who were not interested in owning Chinese real estate to make real estate profits because of China's spending.
But Australia also benefitted from all the Chinese who became rich on government spending used their new-found riches to go on vacation … to Australia.
The point is there's a ripple effect of spending.  And sometimes those ripples carry out through supply chains and consumer behavior to drive real estate demand in peripheral areas.
The same can be said for military spending.
We already know from President Trump's rhetoric he's likely to focus the vast majority of his spending on American companies.
So a savvy investor might start to really pay attention to what kinds of military contracts are being awarded and where those companies are doing the work.
Those are working class manufacturing jobs.  Great tenants!
And taking a page from the infrastructure spending supply chain model, those primary military contracts have out of area sub-contractors and suppliers.
If Trump's trillions come with the condition those military suppliers "buy American and hire American", the odds are good the money won't end up in China.  So it could well push real estate demand in those American markets in the food chain.
This is the same kind of strategic investing paper asset investors are doing. 
Except they're buying up the stocks they think will win and are speculating on the price.  They want to buy low and sell high.
Of course, there's LOTS of competition.  If you feel smart AND lucky … go for it.
A strategic real estate investor … that's you … can take the same approach, but you're looking to take a slice of the paychecks of all those workers and companies who are feeding off the Trump spending initiatives.
And because real estate is more esoteric … and messy … it's nowhere near as crowded as the stock markets.  Nor is it as easily gamed, as we've discussed in a prior commentary.
So whether for your own portfolio, or if you're investing money for others, there's opportunity developing as the Trump administration roles out its agenda.
Until next time … good investing!
---
More From The Real Estate Guys™…
The Real Estate Guys™ radio show and podcast provides real estate investing news, education, training and resources to help real estate investors succeed.
Because the US dollar is the reserve currency of the world, what happens in Washington DC and at the Federal Reserve has a big effect on the rest of the world.
Likewise, how the world responds to Washington and the Fed affects the strength of the US dollar, which in turn affects interest rates.  And of course, interest rates profoundly affect real estate investors.
So while the government shutdown is one level of stress, a possible debt default is a potential crisis of much larger proportions.
In the studio to talk about what the government shutdown and debt ceiling debate might mean for real estate investors:
A man with no ceiling on his talent, your host Robert Helms
His debatable co-host, Russell Gray
At least for a little while longer, the U.S. is the world's "biggest" economy.  And the U.S. dollar is the gold standard (well, technically that's not true anymore) for currency stability.
This unique positioning allows Washington DC to spend virtually without limit and the Federal Reserve Bank to print HUGE volumes of dollars – again, virtually without limit.  And unless you've been on vacation off-planet for the last 5 years, you know there's been a whole of spendin' and printin' goin' on.
Long time listeners know we've been covering this topic for quite some time.  In our estimation, it's one of the most important, yet least understood, factors affecting long term real estate investors in two critical areas: market selection and financing.
But even flippers are affected.  After all, most flippers are relying upon a takeout buyer who is often relying upon financing.  As interest rates rise (the result of higher perceived risk for buyers of US Treasuries), the pool of available takeout buyers and the size of the loan they can qualify for shrinks.  And that's just a ramification from the debt ceiling debate.
What about the government shutdown?
One of the results of the Great Recession, whether by design or by default, was the effective nationalization of the mortgage industry.  That is, a huge majority of home loans emanate from government agencies such as FHA, VA, Fannie Mae and Freddie Mac.  And when they're shut down, no loan approvals are happening.  So sellers who are counting on their buyer's loan to cash them out are stalled.  It's frustrating for the seller, the buyer and the agents – not to mention all of the ancillary service providers.  Lots of collateral damage.
Then there's the buyers who may be counting on their tax refunds to help with their down payments.  When the check writing department of the IRS is closed, no checks get sent.  It's interesting that the check CASHING department stayed open.  But that's the topic of a rant for another day.
Still, as inconvenient and frustrating as the completely avoidable government shut down is, few consider it to be the "big" threat that a debt default would be.  But because this isn't the first time the world has watched the U.S. flirt with a first ever default, rather than get carpal tunnel writing about it all over again, we simply refer you back to our multi-part blog on the Great Debt Ceiling Debate from the Summer of 2011.  If you aren't quite sure how all this affects mortgage interest rates, this blog series is for you.
Like we said in 2011, and we'll say again,  a traditional default is unlikely.  What's much more likely is that the debt ceiling will be raised, Congress will continue to spend without restraint, the Fed will print (buy Treasuries) to fund the debt, and the dollar will continue its slow and steady slide.  In other words, business as usual.  To paraphrase Jim Carrey from Dumb and Dumber, "What was all that hope and change talk?"
Here's the bottom line: When you're buying a property and getting a loan for the long term, the long term direction of the dollar creates both challenges and opportunities that every real estate investor should be aware of.  This is a topic we'll continue to cover for our listeners, because so much of financial media doesn't address the topic in a way that relates to real estate investors.  But have no fear!  The Real Estate Guys™ are here!
So listen in to the discussion and consider how the government shutdown and the debt ceiling debate affect YOU and YOUR portfolio.  Enjoy!
Listen Now:
Want more? Sign up for The Real Estate Guys™ free newsletter
Don't miss an episode of The Real Estate Guys™ radio show! Subscribe to the free podcast
 Stay connected with The Real Estate Guys™ on Facebook!
The Real Estate Guys™ radio show and podcast provides real estate investing news, education, training and resources that help real estate investors succeed. Visit our Feedback page and tell us what you think!
If you really care about your money, chances are you've watched more than your fair share of financial shows.  If so, you've probably seen or heard Peter Schiff.  He's a hard guy to ignore…not that you'd want to.  We know we'd be better off had we been listening to him back in 2006 when he accurately predicted the financial collapse.  Watch the video here.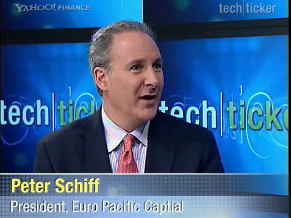 So it's probably obvious why WE would want Peter Schiff on board our 2013 Investor Summit at Sea™.  We want to spend quality time with him, hear what he thinks about the fiscal cliff, the debt ceiling, quantitative easing ( we call it "queasing", because it makes us queasy), the Fed, and Keynesian versus Austrian economics, and more.  We're also anxious to learn more about what Peter calls The Real Crash (the title of his recent best-selling book), which is the collapse of the dollar and government debt.
Scary?  Maybe.  But closing our eyes, or switching the channel on the remote won't make these issues go away.  So like it or not, we are ready to learn from a guy we think has unquestionably earned the right to have an opinion worthy of our consideration. And maybe, we'll learn some important strategies to protect ourselves and actually make great profits while everyone else is hitting the panic button (or the snooze button).
But why would Peter Schiff invest a week of his life to come hang out with us (and you, if you decide to join us)?  After all, we're not paying him.
Peter told us he looks at the Summit as a rare opportunity to give more than a keynote speech to a large crowd or a short soundbite on a TV show.  And even though he has a radio program, we know from experience that radio is a one way conversation.  The Summit is about connecting with people face to face without cameras and microphones.
For Peter, just as Robert Kiyosaki told us about the 2012 Summit that he attended, the Investor Summit at Sea is a chance to spend quality time with a relatively small group of serious investors and a diverse faculty in a fun, semi-private and focused environment.  Plus, our event brings together a slightly different mix of speakers than Peter usually shares the stage with, which means new conversational dynamics and strategic relationships, both for him and everyone else.
If you've ever heard Donald Trump talk about how he avoided financial ruin and re-built his empire, you know how important building face to face relationships can be.   As Trump explains it, he was $900 million in debt and on the verge of ruin, when almost on a whim, he decided to attend a dinner party that he didn't really feel like going to.
It turns out that he ended up sitting next to one of the bankers scheduled to foreclose (first thing on Monday!) on an important property , but after a personal conversation, Trump made a deal that played a pivotal role in saving the property and Trump's future.  What's scary, Trump says, is how close he came to not going.
The important lesson?  No one is going to come to your home and hand you or a solution on an opportunity.  The good news is that everything and everyone you need is out there somewhere.  You're mission, should you choose to accept it, is to go out and find the resources and relationships you need to achieve your dreams.  If you're reading this, you've already shown yourself to be someone who is out looking.  Good job!
We've been hosting these Summits for 10 years now.  We never know who's going to be there, what will be going on in the world at the time we sail, or what the faculty will have to say about anything.  But we do know that good things ALWAYS happen when we get people together for a week in the right environment.
Will getting to know Peter Schiff change your life?  We don't know.  But we invite you to come and find out…maybe some good Schiff will happen to you! 

Click here now

to learn more.
With all the news about the debt ceiling crisis, it's hard not to think about policy making. And while we think there are some great lessons available for real estate investors, we also think the politicians would benefit from looking at the situation like a real estate investor.
Since we recently interviewed two presidential candidates (watch for those interviews to be released soon!), maybe some policymakers are paying attention to our lowly blog?  Who knows.  But you're here (which we appreciate), so let's get on with it.
Lesson #1:  Add New Customers
For a real estate investor, this means acquiring more revenue producing units.  Notice that this isn't "raising rents". Raise rents in a weak economy and you LOSE customers, not gain them.  In fact, if you tell tenants you're thinking about raising rents, new people won't move in and existing tenants will start looking for someplace else to live.
For Washington, businesses are "customers".  Like tenants, businesses and the people they employ get up every day and go to work.  Then they send a portion of their earnings to Uncle Sam (in the form of taxes) just like a tenant sends a real estate investor a portion of his earnings in the form of rent.
So if a new tenant will not move in or an existing tenant will move out if rental increases are being hinted at, is it any surprise that businesses aren't being formed, won't hire, or move out of the country when higher taxes (or other similar government imposed burdens) are being threatened?  Consider how General Electric and Google have organized themselves (legally) to move their profits off shore, or how Amazon recently canceled contracts with all their California based affiliate marketers.  Did those companies want to invest time and effort to do those things? No.  But they decided is was the lesser of evils.
As a landlord, if you want to attract new tenants, you must provide a safe, affordable place to live. If Washington wants to "create jobs", the focus needs to be on providing a safe, affordable place to do business.  We look to acquire rental real estate in places that are friendly to business.
Lesson #2:
High Overhead Slows Growth
The bigger your real estate portfolio grows, the more people you'll need to help you manage it.  These include your tax advisor, estate planning attorney, asset protection attorney, insurance broker, mortgage broker, etc.  You'll also have property managers, maintenance people and a bevy of sub-contractors.
All these people must be supported by your rental income.  But you have to add tenants before you add team members.  If you get it backwards, you go broke, even though you have a "big" business.  "Big" isn't necessarily profitable.
When you watch the news coming out of Washington, ask yourself if Uncle Sam is growing government in response to a growing number of businesses, or independently of economic growth.  In other words, private sector employment should be growing first and faster.  If not, then expenses will go up and revenues won't and you'll be hemorrhaging cash.  And if you think raising rents on your tenants in a soft economy is the answer, go back to Lesson #1.
Lesson #3:  Cash Flow is Not Profit
As a real estate investor, it's important to make payments on time.  It preserves a strong credit rating, which is a very useful tool for investing.  But if your rents decline and you're using credit lines to make your payments, it may seem to you and the outside world that you have everything under control.  However, you're headed for disaster.
At some point, you'll run out of credit.  And even if your lenders are dumb enough to keep raising your credit limit, all you're doing is delaying the inevitable because each month more of your available cash flow goes to interest until that's all there is.  The real problem is that you're not running a profitable business.
When an investor is faced with this problem (and it happens all the time), he has some choices:
Increase revenue.  This can be done by raising rents on the existing tenants (if the economy will permit it – see Lesson #1) or by acquiring new profitable tenants (if you act before you've depleted your remaining cash and credit).
Decrease expenses. This is hard to do, but it's going to happen anyway if you don't fix the problem, so better to be proactive.
When we mentor investors, we encourage them to act like they're on a space ship in trouble (think Apollo 13).  To survive, you have to make a limited amount of resources last until you can get out of trouble.  This means cutting all non-essentials quickly and deeply.  If you just lost your job, using your "free time" and credit cards to repaint the house, put on a new roof, re-carpet and update the plumbing is probably not the kind of "investment in infrastructure" that will lead to long term prosperity.  Better to go acquire more revenue producing doors.  To survive, you have to keep the main thing the main thing.  And the main thing is to increase revenue (acquire more customers) faster than you increase expenses (hire more employees).
Lesson #4:  Inflation is Not Wealth
In a financial system that is designed to inflate (a topic too big for this article), it's easy to be deceived into thinking your successful when you're not.  WARNING: Math Ahead. 😉
For example, if you own a rental property that has 10 units renting for $100 a month in 1960, your gross income is $1000 a month.  So the building might be worth $12,000.  Assume for now it's paid for, so that's $12,000 of equity for you.
If in 2010, units in that same building are renting for $1,000 a month, your gross income is now $10,000 a month.  So this property many be worth $1.2 million.  Again, it's paid for, so it's all equity.  Are you richer?
Well, think about that.  Let's assume that you could buy a new car in 1960 for $2000.  So your building is worth 60 cars. ($120,000/$2000 = 60)
What about in 2010?
If a new car in 2010 is $20,000, then your building is still worth 60 cars. ($1,200,000 / $20,000 = 60)
Hmmm….in 2010, the building still houses 10 people and is still worth 60 cars.  So in terms of relative value and utility, it hasn't changed.  But now you're a "millionaire".
If instead, over the years, you re-invested the income and equity (see Bob's Big Boo Boo in Equity Happens), and you acquired 10 more buildings from 1960 to 2010, now you have a properties which will house 100 people and is worth 600 cars.  NOW you're richer.  Why?  You have more property.
More property, not more dollars, make you rich. This is very important when dollars are losing value.  For an extreme example, think how many trillionaires there are in Zimbabwe.
So for Washington to measure economic growth in terms of dollars is very confusing.  And you can't run a business with confusing numbers.  Did the economy grow or didn't it?  Our we in recovery or aren't we?
Think about it this way.  If an economy produces 1 million widgets at $100 each, then you have a $100 million economy.  If the price of the widgets increases to $120, you have a $120 million economy.  But did your economy really grow 20%?  The dollars say so, but production and employment say you didn't.  You're still only making 1 million widgets.  And your're still only employing however many people it takes to build 1 million widgets.  So you didn't grow at all.
Not to belabor the point (but we're going to anyway), what if the widgets are $120 and you only make 900,000 of them and then lay off a corresponding 10% of your workforce?  Your economy "grew" from $100 million to $108 million (900,000 widgest at $120 each = $108 million).  An 8% increase!  But you produced less and have higher unemployment.  That's called a jobless recovery or staglflation.
In real estate, if you own 1 property now and in 50 years you own 1 property, you might have a higher dollar denominated cash flow and net worth, but you aren't any richer if everything else around you also inflated.  You don't have any more property.
More property means more tenants.  Tenants who work (produce) means more productivity.  More productivity (not inflated dollars) is what makes you (and a country) richer. A wise real estate investor will focus on acquiring more tenants. See Lesson #1.
Lesson #5: Not All Jobs Are Equal
When a real estate investor considers a geographic region as a place to invest, jobs are the single most important factor.  Tenants have a much easier time paying rent when they have jobs.
But not all jobs are created equal.  And the difference is where the money comes from.
So businesses (the source of jobs) can be divided into two categories: Primary and Secondary.
A "Primary" business is one that sells products (derives revenue) from OUTSIDE the region.  That is, a Primary business pulls money in from elsewhere and funnels it into the local economy through their local vendors and employees.
So when a Primary business uses local business for office supplies, printing, temporary help, insurance, maintenance, utilities, sub-contract work, etc., they are effectively distributing the outside money into the local economy through these "Secondary" or support businesses.  Then all those employees further distribute the money as it passes through their hands and into the local economy.
But the key to a region's prosperity is having a strong base of Primary businesses.  As investors, we avoid markets which don't have a strong base of Primary businesses. Without Primary businesses, the Secondary businesses can't thrive.  And each time a Primary business is lost, you lose not only the Primary business' jobs, but many of the Secondary business' jobs as well.  It weakens the entire regional economy.
It would be a like a family of brothers all living in the same house.  If one brother has a good job outside the home, he can hire one brother to wash the cars and mow the grass.  He can hire another to cook and clean.  He could rent another brother's boat for a fun day at the lake.  He is the Primary earner and he can then trade his outside money for various goods and services within the household.  But he is really supporting the whole family, though no one is getting charity.  The prosperity is distributed to each brother according to his contribution.  However, all the brothers would be wise to be nice to the Primary earner.  If he moves out, everyone loses their jobs.
So imagine that one day, the Primary earning brother finds out that one his other brothers took some money out of his wallet without working for it.  He gets mad and decides to move, taking his primary income with him. Now all the remaining brothers are sitting home trying to figure out that to do next.
One brother decides to use his credit card to get an advance and then hires one of his other brother to mow the lawn.  Then that brother uses his "earnings" to hire another brother to cook and clean.  And that other brother uses his "earnings" to rent the boat.  To the outside world, and maybe to the brothers themselves, it looks the same as before.  But now they are simply trading with borrowed money.  How long can that last?
Sooner or later, that credit card has to be paid.  And someone better get a job outside the home and bring in some real money in, or everyone will eventually be broke and homeless.  A higher credit limit might put the problem off a while, but it isn't a long term solution.  You can't lose your Primary earners and expect to be prosperous long term.
A country, like a state, like a local region, like a family, better have some Primary earners. And the more, the better.  Without money coming in from the outside, deficits pile up and everyone is just passing borrowed money around and feigning prosperity while a financial time bomb is ticking in the background.  See Lesson #1.
The Real Estate Guys™ Radio Show and podcast provides real estate investing news, education, training and resources to helps real estate investors succeed.  Subscribe to the free podcast!
This is part 1 of a multi-part series on the "great debt ceiling debate" written as an accompaniment to our radio show broadcast and podcast, "Raising the Roof – How the Great Debt Ceiling Debate Impacts You".  You can download the episode on iTunes or find it on our Listen page.
As the debate rages on about whether and how to raise the U.S. debt ceiling, it's hard not to have any discussion of the topic degrade into political diatribes.
But as real estate investors, we're not too concerned about what the policymakers SHOULD do (since we don't have any direct control anyway).  Instead, we're much more focused on what IS happening, what is LIKELY to happen, and what we can do in response to avoid loss and/or create a profit.
In short, we refer to discussions about opinions about what should or shouldn't be done (or who's to blame) as "political" discussions.  After all, politics is a pretty "shouldy" business.  But you already knew that, didn't you?
We prefer that our discussions be more practical in terms of what's likely to happen and developing a plan A, B or C to react to it.  We may have political opinions (some of which leak out from time to time), but you know what they say about opinions: Opinions are like armpits.  Everyone has them and most of them stink.  We don't have to like each others' political opinions to enjoy a healthy conversation about what's happening and how it affects real estate investors.
Since the debt ceiling debate is a complex, polarizing topic with huge global economic consequences, we thought it was worthy of a bigger discussion than our regular broadcast blog.  So strap on your reading glasses and get ready for a big discussion.  And be sure to listen to the podcast on this topic also.  It doesn't replace this article, but it will help if you're new to all of this.
We STRONGLY encourage you to plow through it all because the discussion of the U.S. debt and financial system has a DIRECT impact on interest rates, availability of loans, job creation (the best tenants have jobs), wages and the value of your real estate – Just a few things that are probably pretty important to you.
In a Rising Tide, All Ships Rise and Vice-Versa
We all found out a few years ago that no matter where or what kind of real estate boat you were floating, when the MBS (mortgage backed securities) money drained out of the tub, values dropped.  Really astute investors paid attention to the macro trends BEFORE this happened and drained their own equity while the tide was still high (back in 2005 we did some shows on "equity hedging strategies", which you can find in the Backstage archives).  The rest of us learned (the hard way) that we better pay closer attention to the big picture for next time.
The big question is: will there be a next time?  That is, will real estate values rise again?  If real estate is down, never to rise again, then you can still make money, but you need to approach the problem differently.  If the tide of currency (the money supply) rises, then real estate values are likely to rise over time and you would structure your portfolio accordingly.
So what's LIKELY to happen? And how does the debt ceiling debate impact you?
You could say that prices are so low they can only go up.  Just like at the peak, when people said that prices were so high they could only go down.  Those are nice sayings, but even a broken clock is right twice a day.  What are the economics behind the predictions?  Is it all such a complicated mystery that merely guessing or listening to the loudest voice is the only way to know?
No.
Here's the good news.  You can understand all this.  In fact, you may be surprised at how easy it is.  So the goal of this series of articles and the accompanying podcast is to give you a basic understanding of "the mechanics of the money", so you can begin to plot cause and effect, then decide for yourself what you think will or won't happen.  But keep in mind, the best strategy will consider all possibilities.
At a recent conference, we heard a quote that has become one of our favorites:

"Better to prepare, than to predict" – Henry Brock
So in this series we'll take a look at what happens if the DO raise the debt ceiling and what happens if they DON'T.
Of course, who can resist the temptation to predict?  So, at the end, we'll go out on a limb and make a prediction.  Just keep in mind that our prediction is just our own opinion, and probably about worth what you paid for it. 😉
Ready?  Here we go.
The U.S. Money Supply
First, let's talk about how money gets into the U.S. system.  When the government needs money, the Treasury either taxes (takes it from the productivity of the people) or borrows (pledge the future productivity of the people).  Since the government has a chronic problem of spending more that it takes in (does that happen?), it's no surprise that they both tax AND borrow.  In fact, most of the taxes go to pay the interest on the debt.  But no matter how you slice it, the productivity of the people pays the bill.
When Uncle Sam borrows, he writes IOU's called bonds and sells them in the open market.  Uncle Sam's bonds are called Treasuries and, at least up until recently, Treasuries have been considered the safest debt you can buy.  After all, they're backed up by the "full faith and credit of the U.S. Government", which is really an euphemism to say "the full power and authority of the I.R.S. to tax the earnings of the most productive people on the planet".
Do you feel any temptation to talk politics?  Stay calm.  Keep your arms and ammunition in the vehicle until the ride comes to a full and complete stop.
So who buys Uncle Sam's IOU's?  Lots of people.  Private investors, banks and foreign governments to name a few.  Over the last several years, China has purchased trillions and is now the largest single foreign holder of U.S. debt.  Recently, there's been another big buyer whom we'll talk about momentarily.  But for now, let's talk…
Interest Rates
If you're already bored reading all this, just think about how important interest rates are to you.  From your savings account, to your mortgage, to your credit cards, to your car loans and all your investment properties, interest rates affect what you earn and what you pay.  More importantly, interest rates are at the heart of the great debt ceiling debate and the motivation behind much of the Fed's monetary policy.  So stick with us, even if you're not sure how the Fed's policies affect you.  You'll know before this is over.
Interest rates are the price the lender charges for the risk of making the loan.  That's why if you have bad credit or bad collateral, the rates are higher.  Common sense, right?
But interest rates are also a function of supply and demand.  This means that when there's lots of money to lend, but not too many borrowers, rates are low.  The lender lowers the price to entice you to borrow.  Low rates encourages borrowing.  High rates encourages saving.  Think about that one.  But not for too long, because we need to move on.
Conversely, if a borrower wants ( really needs, is desperate, etc.) to borrow, he may have to offer a higher interest rate to attract a lender's money.  In other words, if there's a big demand for loans, but not many lenders willing to lend, the interest rate a borrower must offer to a lender will rise until someone wants to buy the debt (make the loan). So far so good?
The Bond Market
Remember: Bonds are debt.  So when someone buys a bond, they are effectively lending to the bond issuer.  So when Uncle Sam wants to borrow, he goes into the open market to sell bonds.  This is elementary to some of our audience, but less so to others, so in keeping with our "no investor left behind" mantra, we wanted to make that clear before moving forward.
Now, let's talk about that other big bond (debt) buyer we mentioned earlier: The Federal Reserve or "The Fed".  That's the private (as in, not Federal) network of international banks (that is, not U.S.) whose leader is  appointed (that is, not elected).  How accountable is the Fed to the United States citizenry?  You don't want to know.  Let's just say, not very.
Contrary to popular myth, the Fed does NOT set interest rates – at least not directly for things like Treasury Bonds.  The interest rates the Fed sets are the rates at which the banks do business with each other. There's two: the discount rate (what banks pay when they borrow from the Fed) and the federal funds rate (the rates banks pay when they borrow from each other).  We're not going to talk about those now because they have nothing to do with the debt ceiling or Treasuries. Well, that's not entirely true, since Treasuries are competing with banks for the savings of all the "A" students who produce more than the consume and save the excess.  So if the Fed wants Treasury rates low, the banks better be low too, or people would put their money in FDIC insured savings accounts.
Hmmm….there seems to be a relationship between the Fed, the banks and the bond market.  This would be a fun topic to explore, but we'll leave that to you for extra credit.  For now, we just don't want you to confuse the rates the Fed sets directly (the Discount Rate and the Federal Funds rate) with how yields (interest rates) are established in the open market where bonds are sold.
Summary of Key Points
Money gets into the system when the Fed purchases U.S. Treasury Bonds
Interest are determined in the open market by supply, demand and risk versus reward
Private investors, including the Fed, purchase U.S. Treasury Bonds, effectively lending to Uncle Sam
U.S. Treasuries are considered the safest of all all debt (so far) and are the basis for virtually all other bond offerings, with higher risk investments paying higher interest rates
In our next scintillating article in this series, we'll discuss the mechanics of how the Fed affects interest rates on Treasury Bonds and why you should care. Don't miss it!