Real estate investors tend to like low interest rates.  
After all, low rates mean lower payments for the same size mortgage … or a bigger mortgage for the same payments.  Nice.
The current Wizard of Rates is Fed chair Jerome Powell.  And he just showed up on 60 Minutes and told everyone …
"'We don't feel any hurry' to raise rates this year."
Many Fed followers consider this a bit of an about face.
And those who use the Fed's actions as a barometer of economic health and stability are asking what this more dovish stance means.
After all, isn't the motive of low rates to goose a sluggish economy?  So then what's all that healthy economy talk?
Also weird is that just over six months ago, Powell stood at a podium and defended his plan to RAISE rates.
Then two months ago he said, 'The case for raising rates has weakened …"
Last summer, he apparently couldn't see six months ahead … and now all of the sudden he's clear for a year? 
Maybe the answer is here …
Fed Chair Powell: 'The US federal government is on an unsustainable fiscal path'
– Yahoo Finance, 2/26/19
Summit faculty member Peter Schiff constantly reminds us … the economy is addicted to cheap money and Uncle Sam is addicted to spending.
Of course, addicts … and their enablers … sometimes take extreme steps to keep the party going.
So that could mean more money printing … because that's how the Fed keeps rates down.  And as any debt-ridden household knows, lower interest rates help make a giant debt load a little easier to service.
That's probably more important than anyone's letting on.
Because with record corporate, consumer, and government debt … there's a lot of cheap money junkies out there.
So … maybe the Fed's just trying to keep them all supplied?
Of course, we have no way of really knowing what data or philosophy is driving Jerome Powell's decisions.  We just watch and react.
But based on all the green lights flashing across stocks, bonds, oil, and precious metals … it looks like asset price inflation is the bet du jour.
At least for now.
But even though it's party time in the Wall Street casinos, real estate investors need to play the game differently.
We don't have the luxury of jumping in and out of positions on a moment's notice.  Besides, that's not our game.
We're not trying to buy low and sell high.  Real estate investors work to find a spread between the cost of capital and the cash flow on capital invested.
So let's switch from the macro view and get a little closer to Main Street … and glean some lessons from self-storage investors.
But before you tune out, this isn't about self-storage … it's about how real estate investors are reacting to an big influx of capital. 
Because as cheap capital floods any market (niche, geography, asset class) it affects prices and yields.   So sooner or later, investors move around searching for opportunities.
And that's what's happening in self-storage … 
Self-Storage Investors Start Looking at Smaller Markets to Capture Higher Yields
– National Real Estate Investor, 3/11/19
This headline caught our attention because of what the Fed is doing with interest rates.  And as we dug deeper, we found some notable excerpts …
"Investors are being more careful about which assets to bet on …"
" … worried about the number of new … properties …"
 "To avoid competition from new properties coming on-line … buyers have turned their attention to secondary markets …"
" … buyers in overbuilt markets are taking more time to underwrite their deals, double-checking assumptions about future leasing and rent growth."
There's more, but let's stop and process these thoughts …
First, these are lessons investors in ANY income-property niche should take note of.  So it's not just about what's happening in self-storage.
Notice the attention to supply and demand. 
We see lots of rookie real estate investors crunch the numbers of the property … but completely ignore the inventory pipeline of the market.
And of course, there's also the supply of prospective renters in a market.  That's why we also look at population and migration trends.
The article also highlights something we've been talking about for a while …
People, businesses, and investors will "overflow" from mature primary markets into emerging secondary markets in search of affordability.
The danger is getting into an emerging market ahead of a migrating problem.
Think about it …
If investors are moving into secondary markets to find better opportunities than in an over-built market … what happens when builders move in for the same reason?
Cheap money makes building easy.  Developers love it.
But Austrian economists warn of "malinvestment" … when bad investments look good primarily because money is cheap.
All long-term debt needs stable long-term cash-flow to service it.  If supply exceeds demand, and rents and cash flows fall … debt can go bad fast.
So when looking at markets, pay attention to the capacity of market to absorb more inventory without collapsing rents.
Because if you go in with optimistic underwriting (tight cash flow) and supply expands faster than demand and rents fall … you could be in trouble.
That's why self-storage investors are "taking more time to underwrite their deals".  Maybe you should too.
Hot markets can be intoxicating for investors.  It's easy to jump on a hot trend hoping to catch a nice ride …
"Despite these worries … investors keep paying higher and higher prices … relative to income.  Cap rates … are at their lowest point on record."
"They continue to trend lower even though interest rates have begun to rise …"
"There is a tremendous amount of capital chasing yield."
That's what happens when interest rates are low.
Don't get us wrong.  We're not complaining.  We like low-cut interest rates as much as the next guy.  But hot markets can be fickle. 
So the moral of this muse is to stay sober and diligent about your underwriting … and be very wary of using short term money to invest long.
Until next time … good investing!
More From The Real Estate Guys™…
The Real Estate Guys™ radio show and podcast provides real estate investing news, education, training, and resources to help real estate investors succeed.
---
Love the show?  Tell the world!  When you promote the show, you help us attract more great guests for 

your

 listening pleasure!
A very big real estate story splashed across mainstream news recently, but got buried underneath (insert the sensational political headline you're sick of) …
Oregon Okays First Statewide Mandatory Rent Control Law
 Associated Press, 2/28/19 
Okay, we admit this is a government policy … so it's political.
But politics is easy to laugh at when it's happening in cyberspace.  It's a little less funny when it hits hard on Main Street.
For thousands of Main Street landlords in Oregon, politics just landed hard … right in their portfolio.
Of course, as is often the case, there's more to the story than meets the eye.
So even if you don't own property in Oregon … or won't for much longer 😉 … there's a lot to glean from this watershed legislation.
We could debate whether or not government should step into a "free" market and regulate the price of anything … from housing to healthcare to haircuts.
But it doesn't matter if WE think they should or shouldn't.  They do.
And as a broken financial system keeps growing a wedge between haves and have-nots … we're guessing more politicians will try to legislate affordability.
So like it or not (we don't), rent control is something every investor everywhere should be watching out for.
Let's take a look at how rent control works in the real world …
Real estate investors buy property to produce income and build long-term wealth.  The more income a property produces, the more it's worth.
In order to create more wealth, real estate investors need to create more income … which means creating more value that a tenant is willing and able to pay for.
The essence of real estate investing is using capital to acquire long-term cash flow.  This is how real estate investors think.
Make sense so far?
Politicians, whom we're guessing are NOT real estate investors, think investment starts and ends at acquisition.
Unless you're Warren Buffet, paper asset investors don't buy stocks with the intention of improving the cash flow.
You just buy, own, and sell.  Maybe collect some dividends along the way.
But when value-add real estate investors buy properties in poor condition with lousy amenities …
… they're excited about the potential to make further investments into the property AFTER the acquisition.
For example, a property without a washer and dryer might rent for $50 a month less than one with that amenity included.
So for perhaps $600 per unit additional capital invested, a landlord could acquire $600 per year cash flow.
That's a good ROI.  It's also a nice amenity for the tenant.
You could say the same about covered parking, self-storage, a laundry room, a workout room, free wi-fi, and on and on.
Rent control caps the owner's ability to create positive returns by improving properties.  So guess what?  They don't.
So crappy properties stay crappy … because the incentive to improve them is removed.
And as nicer properties deteriorate, there's not much incentive to maintain them above the bare minimum.
With profit potential capped on the revenue side … and no cap on the fixed expense side …
… as margins get squeezed, property owners have no choice but to cut services and defer maintenance.
So rent control makes both landlords and properties cheap.  In a bad way.
And because there's always more people on the low-end of the economic scale (part of the reason Oregon is doing this) …
… there will always be a line of people waiting to get into these "affordable" rentals … even though they're crappy.
And with little market pressure on landlords to compete for tenants, there's even less incentive to improve properties, add services and amenities, or lower rents.
But it gets "better" … or actually worse …
As property values decline … or stagnate relative to rising costs of labor and materials … incentives for developers to build new inventory declines too.
Rising values are what attract developers to create more supply … which is the answer to moderating rising values.
Yes, it's sad when marginal tenants' incomes don't grow as fast as rents … or other inflating necessities.
But capping the property's growth doesn't pull the tenants up.  It pulls the properties down.
It's a bad scene. That's why nearly every investor we know stays away from rent control areas.
But it's also important to consider WHY this is happening …
The Fed dropped interest rates to zero for nearly a decade, then pumped trillions of dollars into the financial system … primarily to inflate asset values (stocks, bonds, real estate).
It worked … at least for some people.
Those paying attention, with both resources and financial education … snapped up the money, rode the equity train, and got much richer.
You might be one of them … or hope to join them.  We hope you succeed.
You can't blame people for playing the game using the rules and circumstances in their own best interests. But politicians do.
But the real issue is the financial policy wizards thought these now richer folks would then spend the money … and build businesses … and prosperity would trickle down to Joe six-pack and Larry lunch-bucket. 
In many ways, it worked.  The problem is the wealth didn't allocate very evenly.  It never does.
Certain markets got a disproportionate share of the goodies. 
And even though Oregon wasn't really on the list … it was nearby … and so became a collateral beneficiary /victim.
Lots of cheap money ended up in tech stocks, which blew up real estate values in tech hubs like Seattle and Silicon Valley.
As prices shot up, folks in those uber high-priced markets got pushed off the back of the bus … and gravitated to nearby "affordable" places like Oregon, Nevada, and Arizona.
Of course, the folks already in those nearby affordable areas end up competing with the new people who see everything as cheap … and easily bid things up.
It's a regional variation of gentrification … with its roots in paper asset bubbles blown up by cheap stimulus money.
But politicians are notoriously myopic when it comes to "fixing" things … especially financial problems.
As Peter Schiff says, "Good economics is bad politics, and good politics is bad economics.  That's why you always get bad economics from politicians."
Sadly, there are signs it could get worse as politicians try to contain the consequences of an over-financialized economy.
So even though we tout the opportunity to invest in affordable areas ahead of the crowds, it's REALLY important to stay aware of the political climate.
If you bought into Oregon ahead of the migration …
… you're now the proud owner of a property where the state government views you more as a public utility to be regulated than a free entrepreneur to be incentivized.
So you'll either need to get out while the getting's good … or not as bad as it could get … or start brushing up on your C-class property management skills.
Until next time … good investing.
More From The Real Estate Guys™…
The Real Estate Guys™ radio show and podcast provides real estate investing news, education, training, and resources to help real estate investors succeed.
---
Love the show?  Tell the world!  When you promote the show, you help us attract more great guests for 

your

 listening pleasure!
Since we're big shot jet-setters, we thought we'd fly our semi-private jet (the one we share with with 135 other Southwest Airlines passengers) over to Phoenix to visit Robert Kiyosaki in his Rich Dad studios.
The author of mega-bestseller Rich Dad Poor Dad has a new literary derivative (that's financial lingo for "book") called Unfair Advantage – The Power of Financial Education. In fact, on March 31st, there's a kick off event in Los Angeles by the same name.  We'd be there ourselves, but we'll be in Fort Lauderdale prepping for our Secrets of Successful Syndication seminar and our 9th Annual Investor Summit at Sea™.  And there's still time for you to join us.!
Whew.  Now that we have all the shameless self-promotion out of the way, let's talk about this episode of show.
In the Rich Dad studios to talk about finding your unfair advantage in financial competition:
Your host and the fairest of them all, Robert Helms
Your fair (on a scale of poor-fair-good-excellent) co-host, Russell Gray
Author, speaker and entrepreneur, and most excellent dude, Robert Kiyosaki
It's really unfair to say "unfair" advantage, since everyone has the opportunity to get a solid financial education. But in the real world, since so few people are willing to put in the time to learn, those with a good financial education appear to operate with an unfair advantage.  Kiyosaki says that's why the rich get richer and the poor get poorer.
Those armed with financial education are able to make money in down markets as well as up markets. So while most people's fortunes rise and fall with the ebb and flow of financial cycles, the financially astute just keep ratcheting up and up.  That's the side we want to be on!
Financial competence isn't simply a matter of information and how to. Every time we talk with Robert Kiyosaki he emphasizes the investor's mindset.  His signature book, Rich Dad Poor Dad, is a study in the subtle but critical differences between how the rich and poor think about, value and handle money.  We've met many people who testify that Kiyosaki's philosophies have changes their lives.
Kiyosaki tells us that "when the amateurs get in, the pros get out" and "the late-comers always gets killed".  Then he tells us whether he thinks now is a good time to getting in to real estate.
The Real Estate Guys™ are very fortunate to have enjoyed a great relationship with Robert and the Rich Dad organization going on 8 years now.  We've read most of his books, interviewed many of his advisors, gotten to know several of the folks in the Rich Dad offices, and attended several of the Rich Dad conferences.  Of course, Rich Dad's real estate advisor, Ken McElroy was part of our faculty on our 2010 Investor Summit at Sea and is coming back for the 2011 edition (there's still room for you!). 🙂
All this to say that we've developed a strong respect for Robert Kiyosaki and the Rich Dad team.  More, we've found their message to be inspiring and empowering – not just for us, but for many of our listeners.  So whenever we have the opportunity to sit down with Robert Kiyosaki, we're interested in whatever's on his mind.  Of course, we brought the microphones along to capture the conversation for you.  We really enjoyed our visit and trust you will too!
Listen Now:
The Real Estate Guys™ radio show and podcast provides real estate investing news, education, training and resources that help real estate investors succeed.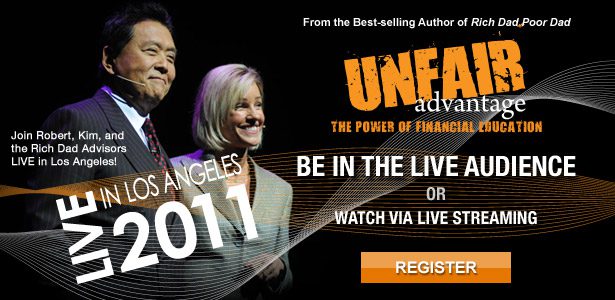 The Real Estate Guys™ just got back from an awesome visit with Robert Kiyosaki and the Rich Dad team in Scottsdale, Arizona – home of spring training for the World Champion San Francisco Giants!  And courtesy of Rich Dad's Real Estate Advisor (and our own Summit at  Sea™ faculty member) Ken McElroy, we got a chance to take in a few innings before heading to the Rich Dad offices to interview Robert Kiyosaki for an upcoming episode of  The Real Estate Guys™ Radio Show.
Our interviews with Robert Kiyosaki are always fun and enlightening. You can always count on Robert to tell you what he really thinks!  So watch for that interview, which you can listen to online or via iTunes.   To make sure you don't miss it, or any of the shows, be sure to subscribe to the free podcast.
In the unlikely event you don't know, Robert Kiyosaki is the author of mega-best seller Rich Dad Poor Dad.  We've had many of our listeners tell us how Robert's teachings has changed their lives.  Some people in the conventional financial industry and media are critical of Rich Dad (and the feeling is mutual), but the success of the Rich Dad message speaks for itself.  The conventional industry fosters dependency and profits on the public's financial ignorance.  Rich Dad is committed to empowerment through education.  We like it.
So what's on Robert Kiyosaki's mind right now as America struggles to recover from the Great Recession?
Robert Kiyosaki says it's more important than ever to have a solid real world financial education. Wall Street, the Federal Reserve and Washington DC aren't to be trusted with your hard earned money.  There are games being played at high levels that victimize the poor and middle class.  And it doesn't matter which party is in power.  He calls it "the conspiracy of the rich"  and wrote a best selling book by the same title.  For years, he's been saying the rich will get richer, while the ranks of the poor will swell as the middle class is pushed down. Don't believe it?  Just read the headlines every day.
So the question isn't whether or not it's happening.  The question is: What are YOU going to do about it?
Kiyosaki says (and we agree) that the first and most important thing to do is to make a COMMITMENT to your own financial education.  There are a few things in life that you cannot afford to be ignorant about, and money is one of them.  Otherwise, the people who understand money will find a way to take yours.  The old adage is true:  when experience meets money, the money gets the experience and the experience gets the money.
The VERY GOOD NEWS is that YOU get to decide which side of the equation you're on. And your success begins with education.  We support the Rich Dad organization because they are committed to education, just as we are at The Real Estate Guys™ Radio Show.  It's that common bond that keeps us supportive of one another.
So we highly encourage YOU to be in the live or virtual audience on March 31st to discover how YOU can gain an Unfair Advantage through education.  Learn to protect and build your wealth and prosperity – even in (and because of) difficult times.
Click here now to learn more and register for this live event!
Then afterwards, use our Feedback page to tell us what you think.