We're still just a little more than a week removed from a mind-blowing 9-day mind-meld with brilliant thought leaders, niche experts, and seasoned investors and entrepreneurs …
… so we've been busy catching up on the news and looking at the world through our freshly expanded paradigms.
There are two things bouncing around our brains we think are important, but few real estate investors are paying attention to …
Gold and oil.
Sure, both these "commodities" fit well with real estate in a strategic real asset portfolio.  And if you're not sure how all that works, you can start with these past podcasts about gold and oil.
But bigger picture, both gold and oil probably drive more of geo-politics than most casual observers realize … and both are quasi-proxies for the dollar.
In other words, when you understand what's happening with gold and oil, you have insights into the future of the dollar … and some of the things governments are doing to either defend dollar dominance … or break free from it.
Of course, if you earn, invest, borrow, or denominate wealth in dollars, the future of the dollar should be of great interest to you … even if you think of the dollar as being as permanent and reliable as air (it's not).
As real estate investors, our primary interests (besides occupancy and cash flow) are demographics, migration trends, local economic strength, interest rates, taxes, and the supply and demand dynamics in our local market.
But all of that sits on the foundation of a functional financial system with two primary components … credit and currency.  Gold and oil provide insight into both.
Oil is important at both the macro and the micro level.
In the macro, it takes energy to drive economic activity.  When energy's expensive, it drives up the costs of everything and is a drag on economic activity.
At the micro level, high dollar-denominated oil prices drive up the cost of living for your dollar-denominated tenants.
But for metros where oil is big business, oil also means local jobs.  Remember, Texas and its robust energy sector were the primary driving force for U.S. job creation coming out of the 2008 recession.
Investors who realized this (like our pal Kenny McElroy) strategically invested in those markets while most people were hiding under the sheets.
So whether or not you're interested in oil as a direct investment, paying attention to the oil business can be a great way to pick markets likely to hold up well if oil prices rise.
Oil also has a potential impact on credit markets and interest rates.  Billions of dollars of debt has been created to fund shale oil production.
If oil prices drop, it both undermines the ability of regional oil economies to grow … but also for those employers to service their debt.
In the macro, if a big chunk of the debt goes rotten, credit markets could tighten.  Think about what happened in 2008 when sub-prime mortgage debt went bad.
So again, whether you're an oil investor or not, the oil industry has a direct impact on your real estate investing.
Watching oil helps you see what's coming sooner … so you have time to position yourself to capture opportunity and mitigate risk.
Of course, the good news and bad news about real estate is it moves slowly.
So while you have plenty of time to be proactive IF you're paying attention, it's really hard to act fast if you're not.  That's why we pay attention.
What about gold?
On the macro level, gold is a good gauge of how the world feels about U.S. Treasuries and the dollar.
When things get choppy in stocks, paper investors worldwide tend to flee into Treasuries for safety.  After all, Treasuries are backed up by the Fed's printing press.
Of course, what does the Fed print?  U.S. dollars.
But to quote Watto from Star Wars – The Phantom Menace … 
"Republic credits are no good here.  I need something more … real."
That is, when investors worldwide are looking for safety … and they don't trust the paper … they go into gold.
So what does that mean to real estate investors?
Remember, mortgage rates and availability derive from healthy bond markets … most notably, U.S. Treasuries.
The 2008 Great Financial Crisis had its genesis in a broken bond market … mortgage-backed-securities.  When those went bad, frightened investors worldwide piled into Treasuries … and rates fell.
But what happens if investors worldwide don't trust Treasuries?
You don't have to wonder.  China came out in 2009 and scolded Uncle Sam about the size of the deficit and all the dollar printing doing on.
Why did it bother them? Because they own TRILLIONS in U.S. bonds.  They don't want to get paid back in diluted dollars.
But Uncle Sam's debt, deficits, and printing have BALLOONED since then.
So it's no surprise that China … along with Russia and several other countries … have been diligently accumulating and repatriating gold.
They're getting out of dollars and Treasuries to do it.  And who can blame them?
Paper money has an atrocious long-term record as a store of wealth …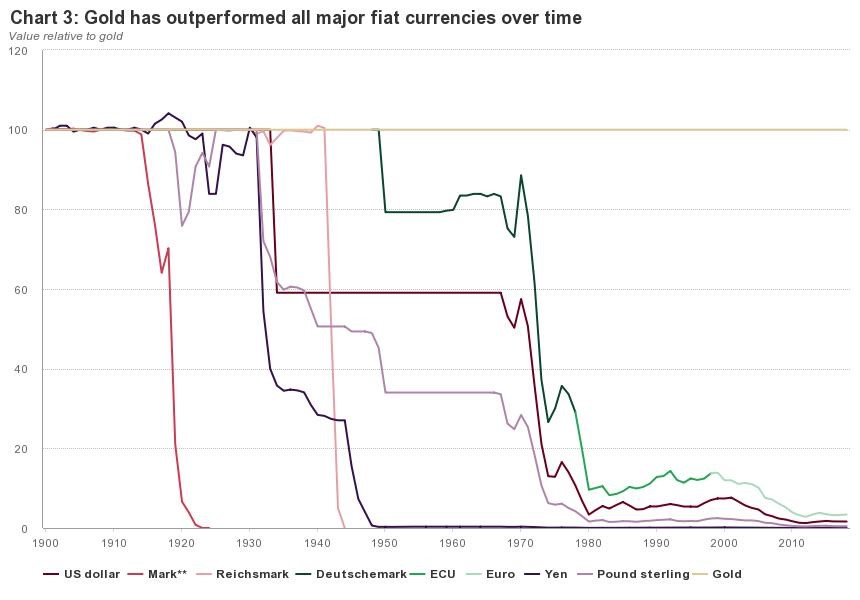 Source:  World Gold Council 
Consider this when you think about where you're storing YOUR long-term liquid wealth.
Meanwhile, there's just a little more to the developing story of gold … and the story behind the story.  It's a little complicated, but interesting and noteworthy.
After the 2008 crisis, the world's bankers got together in Basel, Switzerland to come up with voluntary rules to prevent another financial crisis.  The agreement is called the Basel Accord.
A provision in the agreement, known as Basel III (the agreement's rolled out in phases) allows financial institutions to consider gold "Tier 1" capital.  So adding gold is supposed to make banks more liquid and stable.
This is a bit of a promotion for gold.  Some observers think this means demand for gold will increase, but we're not smart enough to have an opinion on that.
But there are a couple of things we are thinking about …
Perhaps most obviously, international bankers apparently consider gold more valuable than simply a "barbarous relic" with no place in a modern monetary system.
Keep that in mind when you hear people criticize the placement of gold in a portfolio. If gold can make a bank more stable and liquid, can't it do the same for you?
To be clear, we're not fans of gold as an investment.  It's just an alternative to cash … a way to store long-term liquidity while hedging against a declining dollar and bank counter-party risk.
But the more interesting aspect of gold's now elevated role in bolstering the banking system is why it's necessary in the first place.
Is it because the banking system is still fragile and in need of support?  Is it because the world needs more leverage to expand … and so more collateral to lever?  Why not just use Treasuries?
We don't know yet.  But we'll be checking in with our big-brained gold experts to see what they think.
Meanwhile, we encourage you to think outside both the real estate and mainstream financial media boxes.  It seems like oil and gold might be trying to tell us something.
Are you listening?
Until next time … good investing!
More From The Real Estate Guys™…
The Real Estate Guys™ radio show and podcast provides real estate investing news, education, training, and resources to help real estate investors succeed.
---
Love the show?  Tell the world!  When you promote the show, you help us attract more great guests for 

your

 listening pleasure!
A healthy, growing business requires help. If you're a lone wolf real estate investor, accepting you need help is hard. Finding the right help can be even harder.
To make the transition from lone wolf to wolf pack easier for you, we've invited guest Robert Nickell to tell us about the process of finding the right folks to help grow his own business.
He'll explain how to identify needs and set up processes to hire the right people so you can increase efficiency and offload busywork.
In this episode of The Real Estate Guys™ show you'll hear from:
Your running-with-the-wolves host, 

Robert Helms

His wolfish co-host, 

Russell Gray

Real estate broker, investor, and consultant

Robert Nickell
---
Listen
---
Subscribe
Broadcasting since 1997 with over 300 episodes on iTunes!
---
Review
When you give us a positive review on iTunes you help us continue to bring you high caliber guests and attract new listeners. It's easy and takes just a minute! (Don't know how? Follow these instructions).
Thanks!
---
Recruiting help: Rob's story of trial and error
How can busy real estate professionals get the help they need? Robert Nickell has faced this problem … and conquered it.
Rob got his start in real estate working with a general contractor in high school. But his fire for real estate didn't really get lit until one of his older siblings brought home a copy of Rich Dad, Poor Dad by Richard Kiyosaki.
The idea of passive income and cash flow became a passion … but Rob didn't have any starter cash. So in 2008, he started rehabbing and flipping houses with a friend.
"The market was primed for us to get in and get into it," he says. The problem? Business was booming so much that he was running out of time.
Alongside managing contractors, projects, and materials for his rehabbing business, Rob started wholesaling. This required managing buyer lists and staying in touch with sellers.
But he didn't want to hire someone. "To be honest, I didn't want the responsibility of providing for someone else," Rob says. But he knew he needed help. So, he started looking for part-time folks to fill in.
His first attempt didn't go well. "I spent all of my time training and recruiting people. I was waking up miserable every day," Rob says. "It was hard enough to run my own task list, much less give someone else a task list."
Rob decided to visit his broker, who was crushing it with a small office but didn't seem very stressed out. Rob, on the other hand, was working 60-70 hours a week and starting to hate his work. The broker's secret? Virtual assistants.
The broker was leveraging low-cost trained labor from the Philippines to do the majority of the day-to-day work for his office … virtually anything that required a phone or a computer.
Rob decided to give it a shot. But his second attempt at offloading some of his work didn't go well either.
His first hires were low-quality and required more work to train and oversee than it would take to just do the task himself. Rob had to learn how to develop a good process for hiring people from overseas.
From virtual pain to legitimate virtual assistant
The process for hiring virtual assistants isn't much different than the process for hiring an in-office employee. For new hires, Rob now requires background checks, resumes, personality and job-specific tests, and sometimes, evidence of related experience. For example, anyone doing phone work has to do a phone analysis.
This process cuts down on time training people … and makes sure hires end up in places where they fit best and will be happiest.
Still, Rob says many people have misperceptions about virtual assistants. They think because overseas virtual assistants are inexpensive, they don't require extensive training.
Rob takes a completely different tack by training his hire extensively to do what real estate investors do. "I'm looking for a rock star to complete specific jobs that will provide efficiencies for me," he says.
Rob has some advice for real estate investors going through the same thing he did. "We're all in different stages of stuck," he says. Every business has inefficiencies they can eliminate.
The first step forward is to understand where you want to go with your business. Next, entrepreneurs need to create a structure based on their business plan for specific jobs that need to be created and filled.
For Rob, the formula for success looks like a combination of the right skill set, in the right seat, working under smart systems, with some accountability and structure in place.
Where can investors start? "The great thing about real estate is we can structure our businesses however we see fit," Rob says. Every person does things a bit differently, but there are some basics that leaders can easily offload, like phone work to speak to marketing leads and property analysis.
Should the same person be doing both phone work and property analysis? Probably not. Personality tests and other evaluation can help you evaluate which job position a prospective hire will fit best.
Training and real-world experience are also key indicators. "When you couple experience with personality you can understand where people will really be successful," Rob notes.
Helping other businesses succeed
Rob figured out the process of recruiting help for his own business. But he didn't stop there. He now helps other real estate investors implement similar processes so they can run at maximum efficiency.
He starts by mapping out each business he works with, asking a few essential questions:
What are you doing right now?

What does your current team look like?

What tasks do they complete?

What are your business goals?
From there, he crafts a success map alongside his clients that details a structure for recruiting, hiring, training, and placing assistants throughout the business. This provides leaders with carefully crafted job descriptions and gives them some accountability throughout the process.
If the thought of delegation feels overwhelming to you … like it did at first for Rob … figure out the easiest things to delegate. Letting go of the tasks YOU don't need to do can be the key to building a bigger and better business.
There is some art to this process, but it's mostly a science, says Rob. When there's not enough time, what projects fall by the wayside? Start there.
"Anyone can do this on their own," Rob says, but working with a consultant may be the quickest solution. (Why figure something out on your own when there's already a good solution out there?)
If you want to give hiring a virtual assistant a shot on your own, start with these steps:
Map out your business goals and current structure.

Develop a plan for specific tasks you need filled.

Start recruiting. Look for a rock star who will fit the role perfectly.

Get that person set up with a schedule, onboarding process, and any necessary training. Treat them like an employee, even though you will probably hire them as an independent contractor.
Try to create win-wins … for yourself and those you hire. Virtual assistants allow you to hire help at a low cost to fill certain needs … so you can spend your time doing the $1,000/hour tasks. And they receive benefits from steady pay and the opportunity to do work they're good at and enjoy.
Reaching the next level
If you want to get to the next level, you've got to find a way to get help. Rob's pioneered one solution. There are many others out there.
It's easy to find a solution. It may not be so easy to recognize there's a problem in the first place. But it's essential. Because whether you want to grow your business or just be more efficient, you can't do it alone.
---
More From The Real Estate Guys™…
The Real Estate Guys™ radio show and podcast provides real estate investing news, education, training and resources to help real estate investors succeed.
The people you spend time with influence what you think … and where you'll end up. Building your social network gives you power and safety in an unstable economic environment.
Real estate is a relationship business. The most successful real estate investors have built a network of quality connections so they can exchange value when the time is right.
In this episode of The Real Estate Guys™ show, we'll hear from Chris Martenson, co-author of the book Prosper! He'll explain the eight types of capital … and take a deep dive into how and why building social capital is important.
Listen in! You'll hear from:
Your socially adept host, Robert Helms
His socially awkward co-host, Russell Gray
Author and futurist Chris Martenson
---
Listen
---
Subscribe
Broadcasting since 1997 with over 300 episodes on iTunes!
---
Review
When you give us a positive review on iTunes you help us continue to bring you high caliber guests and attract new listeners. It's easy and takes just a minute! (Don't know how? Follow these instructions).
Thanks!
---
Chris Martenson's eight forms of capital
If you listen to the show, you've heard us talk about the book Chris Martenson and Adam Taggart wrote. It's called Prosper!, and we think it should be required reading for everyone … especially real estate investors.
Chris has a PhD in science, but today he works as an economic researcher and futurist. He says he is not a forecaster or a visionary, instead approaching his predictions through the lens of his scientific background.
Prosper! is a book about preparing for the future … but preparing doesn't mean prepping a bunker. It means not taking for granted the energy and natural resources we rely on … and taking steps to make your life better today AND in the future.
"We can't have a future based on the past," Chris says. As technology, fuel sources, and the economy change, so will the way we prosper.
What can we do to prepare for the future? Build up capital, says Chris. He gave us a rundown of the eight essential types of capital important to a happy, healthy, and prosperous life.
Financial capital. "Grow it and take care of it," says Chris. (Don't worry, the book goes into way more detail.)
Living capital. Not only do we need to monitor the health of our bodies, but we should take stock of the health of the ecosystem around us, including soil, water, plants, and animals.
Material capital. Don't just own "stuff." Think about whether your belongings are valuable and long-lasting. What properties do you own, and how are they fueled? How about your vehicles? Chris recommends buying high-durability basics that are simple to fix instead of cheap plastic tools that waste both money and resources over time.
Knowledge capital. This is the sum or your book learning and actual experience.
Social capital. Your social capital is built not just on how many people you know, but also on how well you know them and whether you can depend on them.
Emotional capital. If you fall apart at the first sign of trouble, it doesn't matter whether you've built up the other seven types of capital. Be able to rebound from insults and setbacks. Know yourself well enough that you can respond with a clear head when times are tight.
Cultural capital. You either have this or you don't, says Chris. The key is to take stock of where you're at and where you want to be.
Time capital. "Time is our most important asset," says Chris. It's important we be able to prioritize. In Chris's words, "You get to waste one life … so don't waste it!"
How and why to build your social capital
Rich social capital equals a happier, healthier person, says Chris, a person with a greater sense of reward and purpose. We derive meaning from the people we spend time with.
Chris measures his social capital by the number of people he could call to watch his kids if there were an emergency. (Take a second to take stock. How many people in your address book could you depend on to help with a last-minute crisis?)
Social capital is incredibly important … for both personal well-being and success as a businessperson. So how do we build it?
It's simple, says Chris … spend time doing stuff with people.
For example, Chris hosts a monthly neighborhood potluck with anyone who'll come. And he makes and effort to have real conversations with people … instead of just small talk.
The key to social capital? "You have to be the one to take the risk," Chris says. Be real. Be vulnerable. And get down to the deep questions, instead of staying at surface level.
Build rapport and get to know people. It takes time, but results in a deep knowledge of others' strengths and weaknesses.
As a real estate investor, your business is built on relationships. You don't want those relationships to be simply transactional. By building rapport and depth, you'll get better deals … and be more satisfied with your relationships.
Social capital is incredibly important. So sit down and make a strategic decision to make an effort to build on your current relationships … and make new ones.
Chris notes that most Americans are living in a state of anxiety and fear … but not taking any steps to make their situation better. In a happy and successful life, there's no room for stress and strife, he says.
How can you step away from anxiety? "It's all about the doing," says Chris.
Chris's business, Peak Prosperity, wants to give his community of readers knowledge about what's happening now so they can take a big-picture view. But more importantly, he aims to help people take steps to change the way they live and prosper.
Envisioning the future
Interested in building your social capital? Come to our Create Your Future Goals Retreat in January! We aim to help you figure out your values, motivations, and goals … so you can find people who share similar values.
We enjoy talking to Chris and learning from him because he really pays attention to what the future might look like.
It's a guarantee that the future will look different. Artificial intelligence, communication, and technology are all poised to shift radically in the next few decades. And big changes are coming to the economy, social stratosphere, and environment.
Yet despite not knowing what the future holds, we have to make major, long-term investment decisions every day.
That's one reason social capital is so important. Having social capital means having a community of people you can trade ideas with. Social connections empower you to question yourself and learn new ideas … enabling you to prepare for the future with confidence.
Now go out and build some social capital! May we suggest a potluck?
---
More From The Real Estate Guys™…
The Real Estate Guys™ radio show and podcast provides real estate investing news, education, training and resources to help real estate investors succeed.
Real estate investing can be lonely.  Very few financial conferences or commentators even talk about real estate … much less endorse it as a wealth building vehicle.
So real estate investors huddle together in obscure corners of the financial community … quietly making money and muttering about the trials and tribulations of tenants, toilets and 1031 tax-deferred exchanges.
But recently, mainstream financial headlines seem to be painting a rosier picture of real estate …
Several news outlets published articles referencing this Bankrate.com article and survey which says Americans prefer real estate over cash, stocks, gold and bonds …
The article says …

"… for the third consecutive year real estate is the favorite way to invest money not needed for at least a decade …"
"… home prices have gone gangbusters recently, climbing back above their record pre-crisis levels … according to CoreLogic."
Click Bait and Switch
But then the balance of the article is essentially dedicated to telling readers why the survey respondents are wrong for preferring real estate over stocks …

"Still, 'it's a rather poor investment,' says [a] RBC Wealth Management financial advisor.  'It's highly illiquid, and markets aren't always rational.'"

"One study … found that housing only returned 1.3 percent per year after inflation from 1900 to 2011, while stocks tended to perform more than four times better."

As you might guess, RBC Wealth Management deals in paper assets.

Their trite critiques of investment real estate reveal a lack of understanding at best … and a dishonest bias at worst.

Let's break it down.  Because whether you're raising private capital to invest in real estate …

… or just trying to convince your spouse or in-laws real estate is a viable alternative to stocks, bonds and mutual funds …

… it's important to be able to rebut the financial fake news bias against real estate.

Liquidity – LOL
The flip side of liquidity is volatility.  When traders can move in and out of an asset quickly, it makes the asset price volatile.  So liquidity isn't automatically a good thing.
The survey asked about money "not needed for at least a decade" … so liquidity isn't what investors are looking for when they buy real estate.
Besides … to say housing is "illiquid" is inaccurate. 
"Illiquid" means "not easily converted into cash" and "of a market with few participants and a low volume of activity". 
Sure, you can't day trade houses … but we see that as a plus.  It keeps prices more stable.
And when you can usually sell a house at a fair market price in about two months, that's hardly "illiquid".   Drop the price, and you'll sell it faster.
Market Rationality – ROFL
A paper asset promoter saying real estate "markets aren't always rational" … are you KIDDING???  That seems a LOT like the pot calling the kettle black. 
Way back in the 90's before the dot-com stock crash, Alan Greenspan famously accused stock market participants of "irrational exuberance".
Of course, a few years later the stock market crashed … and scared investors flocked TO real estate in the early 2000's.
With the stock market at nose-bleed levels today, we're guessing that's why people are preferring real estate over stocks again.
Only Returned 1.3 Percent – LMAO
The idea that "housing only returned 1.3 percent per year after inflation" is so off the mark it borders on absurd.
The argument is the PRICE of a home in 1900, adjusted for inflation to 2011, only grew on an annual basis of 1.3 percent …
… and that during that same period, stocks grew by "about four times that."
This argument assumes the only financial benefit of real estate ownership is price appreciation, which is a false premise.
We won't bore you with all the math, but you should grab a calculator and do it all so you can quickly blow-up this ridiculous idea that stocks beat real estate over the long haul.
Here it is in simple terms …
Leverage
When you put 25 percent down, you own property at 4:1 leverage.  So 1.3 percent appreciation is a 5.2 percent equity growth rate.

Right there, you're even with "about four times that".  But wait!  There's more …

Cash Flow 
Also missing from the comparison of stocks versus real estate is the rental income.  
Even if you're before tax positive cash flow is only two percent, with 4:1 leverage, your cash-on-cash rate is 8 percent. 
Amortization
A 30-year fully amortized loan at 5 percent reduces the loan balance (i.e., builds up equity) at a rate of over 2.6 percent per year.
Add 4:1 leverage, and you're growing equity at over 13% per year.  Now you're destroying stocks.
We'll skip tax benefits, which make it even BETTER, and let you tally the total. Any ONE of the three beats "four times that" all by itself.  Together … it's a wipe out.
People Aren't Stupid
Main Street investors have common sense … and at this stage of the information age, they're able to research and fact check quickly.
They know stock prices are being propped up by cheap money and corporate buybacks … and with the Fed raising interest rates, the party might be ending soon.

The Bankrate.com survey reinforced what our anecdotal conversations tell us … Main Street investors are nervous about the stock market. 
Their preference for cash over stocks for a ten year hold says a lot.  Main Street is looking for safety and surety.
And Main Street investors like real estate.  They understand real estate.  They TRUST real estate.

But it's not just Americans seeking financial safety in real estate.  Foreign buyers just purchased a record amount of U.S. houses.
Real estate is where people park money for long term wealth development and preservation.
Go with the Flow …
Even though home ownership in the U.S. remains at decade lows, it's actually a boon for real estate investors.  Less homeowners means more renters.
For flippers and syndicators, real estate is highly regarded and in demand.  Money wants to be in real estate … so there's a big opportunity helping it get there.
And while anything can happen, it seems the appeal of real estate isn't abating any time soon.
Until next time … good investing!
---
 More From The Real Estate Guys™…
The Real Estate Guys™ radio show and podcast provides real estate investing news, education, training and resources to help real estate investors succeed.
Protecting your money in today's highly uncertain economy is surely very challenging. Remember when real estate equity and bank accounts were considered among the SAFEST places to keep your savings?  Today, real estate equity has disappeared – and for many people even getting access to whatever equity they still have is next to impossible.  Boy, do we miss those equity lines of credit with their checkbooks and debit cards!
And even though you can still write checks on your cash deposits at a bank, with record bank failures even that old saying "sure as money in the bank" seems a little outdated.  Add horribly low interest rates and, to compound the injury, taxes on your meager interest earnings, it's enough to make you wonder what this financial world is coming to.
Well, we have good news. There's a new way to look at an old product – one that is time tested and has survived its fair share of economic turmoil.  And we got such a positive response to our first foray into this topic, we decided to re-visit it with a new guest.
In the radio lifeboat for another voyage into broadcasting brilliance:
Host and head lifeguard, Robert Helms
Co-host and lifeboat inflater, Russell Gray
Seasoned sailer of stormy economic seas, the Godfather of Real Estate, Bob Helms
Special guest, "infinite banking" expert, Patrick Donohoe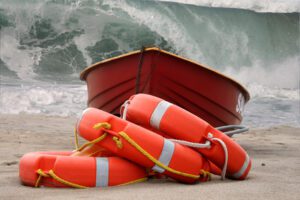 Right out of the gate we need to set the table, which is no small task with the lifeboat bobbing on the waves:  what does life insurance have to do with real estate investing?
Think about what a bank account has to do with real estate investing and you're on the right track.  But unlike a bank account, our guest explains that certain types of life insurance – thought greatly misunderstood – offer far greater flexibility than bank accounts.  And though they aren't FDIC insured, insurance companies are arguably more stable and conservatively run.  Unlike banks right now, you don't hear a lot about record number of life insurance companies failing.
We also address why so many CONSUMER financial gurus are down on cash value life insurance, yet corporations like Wells Fargo and Wal-Mart buy tons of it.  Could it be there are BUSINESS purposes that make it very useful for BUSINESS people?  We say all the time that real estate investing is a business, so it makes good sense to see how businesses are using this financial tool.
For example, how'd you like you to take a tax deduction for making a deposit in your bank account?  Hmmm….that's an interesting concept!  What about getting a loan against your equity without having to qualify?  Try doing that with a property!  And unlike property, the value isn't determined by market forces, so your equity doesn't disappear in a market downturn.
The point of this episode is that insurance can do a lot more than manage risk and pay a benefit. Our job is to expose you to some of the possibilities.  Your mission, should you choose to accept it, is to explore those possibilities, learn how to use this powerful tool, and decide when and where to use it to advance your real estate investing program.  It seems the economic storm isn't over yet, so it might be a good idea to know how to operate the lifeboat.  It's a matter of life and debt.
Listen Now: 
The Real Estate Guys™ radio show and podcast provides real estate investing news, education, training and resources that help real estate investors succeed.
9/13/09 Scottsdale, AZ – Nearly 150 enthusiastic people gathered in Scottsdale for the 2 day Rich Dad Real Estate Summit hosted by best selling author Robert Kiyosaki and conducted by Rich Dad Advisor and real estate entrepreneur Ken McElroy. The Real Estate Guys were on hand to not only observe, but participate in this inaugural boot camp which is dedicated to teaching active and aspiring real estate investors how to succeed in the "new" real estate economy.
The event featured a host of highly qualified experts in various aspects of real estate investment including property management, financing, deal sourcing and analysis, and taxation. The event started at 9 am on Saturday morning and ran well into the evening. We didn't get back to our hotel room (at the very nice Scottsdale Plaza Resort) until close to 9 pm, but even then we weren't done! We had 5 different real life investment deals to review in preparation for the next day when we would divide into team and prepare and present offer letters to the panel.
Though it sounds intense, the Rich Dad team did a great job keeping the energy up with lively music, regular breaks with refreshments provided, and the trademark conversational breaks where we would discuss the topic at hand with other students sitting at our table. Not only did this break up the monotony of lecture, but it really helped reinforce our understanding of the material. Teaching is a very effective learning tool. In fact, when we were talking with Robert Kiyosaki during a recording session on Monday, he said one of the reasons he works so hard teaching is because he learns so much!
In the afternoon of the 2nd day, the crowd was divided into teams and each team was assigned one of the case study properties on which to write a Letter of Intent (LOI). It was like being on The Apprentice! The pressure was mounting to finish the analysis and craft an offer that would be strong enough to win, but without overpaying for the property. As the announcer counted down the time, the tension mounted. People were running to the front of the room to submit their offer before the time ran out!
A representative from each team was called up to sit with their competitors in front of the panel of judges. One by one, each had just 2 minutes to present the offer. Then the panel would begin to question and negotiate. Having been through this process many times ourselves, we can tell you is that very realistic!
There were far more lessons than could ever be contained in this short report, but even with all of the experience we have in the real world of real estate, The Real Estate Guys definitely discovered some new things. Plus, we made lots of new friends!
Overall, we thought it was a great event – well organized, well produced and lots of fun. We can't wait to go to the next one!