Debt is a lot like religion and politics.  People have strong opinions … so it's risky to talk about it in a group setting.
But we're going to do it anyway … because there's more debt in the world than ever before.  And it has big potential ramifications for real estate investors.
Most real estate investors use debt.  Some because they need to … others because they want to.
Consumer finance gurus hate debt.  They say cut up your credit cards, pay down your mortgage, drive an old car, and brown bag your lunch.
On the other hand, Robert Kiyosaki (the greatest-selling personal finance author in history) LOVES debt …
… but he makes an important distinction between "good" debt and "bad" debt.
"Bad" debt is used for non-productive purposes, and payments come from the earnings of the borrower. 
When you borrow more than you can service and eventually pay off, the debt first enslaves you … then bankrupts you.
That's bad.  And it can happen to people, businesses, and countries.
"Good" debt is invested for productive purposes … creating income and capital gains exceeding the interest expense.  Good debt is profitable.
And when the payments come from the investment itself … the loan is essentially free, the return is infinite, and the debt goes from good to GREAT!
The topic of debt popped up when ex-Starbucks CEO Howard Schultz announced he may run for President.
His pet worry?   According to this Time.com article …
''… the fact that the United States is $20 trillion in debt…" 
Actually, it's closer to $22 trillion.  But who's counting? 
It seems Schultz thinks the MAIN problem is Uncle Sam's debt … and presumably he can fix it.
Maybe.  But we've seen dozens of politicians over the decades … both winners and losers … all warn about the national debt.
But no matter what combination of colors end up in control … one thing is SURE.  The debt grows … and grows … and GROWS.
So even if Schultz runs and wins, he'll probably be the same as Donald Trump, who's no different than Barack Obama, who was no different than Ronald Reagan.
There.  That should have offended pretty much everyone … so now we're all on a level playing field.
But this isn't about politics or personal preferences. 
The whole point is to cut through the noise and look at the structural realities … so we can make better investing decisions.
Here's the dirty little secret … the entire system is debt. 
When currency is borrowed into existence (which is how it works), then it can't be paid back WITH interest … unless you borrow even MORE currency into existence to pay the interest too.
It's an infinite loop of ever-expanding debt.  It's not political.  It's STRUCTURAL.
Like water in an aquarium, you can swim from one end to the other, hide under a rock or behind a plant, lurk in the depths, or float at the top. 
But no matter where you go or how you're positioned, you're ALWAYS in the water.  If you jump out, you suffocate.
Even if you personally manage to become "debt free" … your government goes into debt for you … then uses taxes and inflation to force you to debt service.
Depressed?  Don't be. 
But that red pill reality check is the first step towards "confronting the brutal facts" … a pre-requisite to making better, more pragmatic decisions. 
Robert Kiysosaki understands the financial system is based on perpetual, growing debt.  You can't effectively escape it.
In fact, on our 2012 Investor Summit at Sea™ …  after G. Edward Griffin (The Creature from Jekyll Island)  explained the debt-driven nature of the Federal Reserve system …
… Kiyosaki said, "Don't fight the Fed.  BE the Fed."
That's a LOT of paradigm shattering brilliance all distilled into two short sentences.
But it begs the question … HOW?
Debt. 
The Fed uses debt to create currency and so can you.  The key is to use GOOD debt … and stay keenly aware of where you are in the "cycle."
Consider this truism …
"If something cannot go on forever, it will stop." 
 – Herbert Stein 
Debt can only grow safely if it can be serviced.  When payments are missed, then debts default, credit market seize, and asset prices plunge.
That's what happened in 2008.  And it was GOOD … at least for those who saw it coming (or listened to them) and were properly positioned.
For investors, crashes are like sales.  You can stock up on quality assets … IF you're emotionally, intellectually, and financially prepared to act quickly.
Good debt is the tool of choice for extracting equity while it's available … and having it liquid for the next inevitable shopping spree.
And real estate is the collateral of choice …
… because the cash flows, large loan limits, tax breaks, favorable interest rates and amortization schedules make real estate debt the best good debt available.
Plus, you're double-hedged against inflation because you have both a real asset AND long-term debt.
That's important because …
Out-of-control debt virtually assures currency debasement.
That's wonky talk for inflation. It takes more paper money to buy the same real things.
The sooner you "get real" with real estate, commodities, energy … the better you avoid the inflation tax.  Of course, real estate and oil also help avoid income tax too!
And one last thing …
(thanks to our Peak Prosperity pals Chris Martenson and Adam Taggart for enlightening us)
Economic activity requires resources.  Try making a product without raw materials or energy.  It ranges from not easy to impossible.
Debt requires payments … which come from profits … which come from productivity … which requires resources.
Growing debt requires growing supplies of resources.
But if supplies are limited, then growing demand will inevitably bid UP the prices of those resources.
And those who own, produce, process, and distribute those resources … and along with those who invest in the communities those folks live in … will be enriched.
There's a reason we pay attention to precious metals, energy, farmland … in addition to our fascination with everyday real estate.
Real assets help build a resilient portfolio … even in the midst of a debt-fueled slow-motion train wreck. 
So go ahead and cheer your for your favorite politician.  Watch the Super Bowl, too.  They're both cheap entertainment.
But remember to confront the brutal flaws of a debt-based system and then structure yourself accordingly.
Until next time … good investing!
---
More From The Real Estate Guys™…
The Real Estate Guys™ radio show and podcast provides real estate investing news, education, training, and resources to help real estate investors succeed.
---
Love the show?  Tell the world!  When you promote the show, you help us attract more great guests for 

your

 listening pleasure!

The economy may be strong …
but what about the financial system supporting it?
Discover the opportunities hidden inside a FRAGILE financial system … and how to HEDGE against inflation, deflation, and even stagflation.
Featuring voice largely shunned by mainstream media, the Future of Money and Wealth reveals …
The REAL trade war no one's talking about … and how Russia and China are making major moves to take down a major U.S. stronghold …
Which assets are in bubbles now … and specific strategies to fortify your balance sheet … before it's too late …
The shocking truth about oil … it's direct impact on YOUR wealth … and how to profit from what's about to happen …
Who the new tax law REALLY helps … and how YOU can use it to grow more wealth faster (it's NOT an IRA) …
PLUS … candid conversations about crypto-currencies … wealth privacy strategies … contingency planning … and MUCH MORE!
Just ONE good idea can make or save you a FORTUNE …
Future of Money and Wealth brings you a HUGE collection of experts, thought-leaders, and real-world investors … who ALL volunteered their time to share their best ideas, warnings, and strategies with over 400 people in the live audience …
---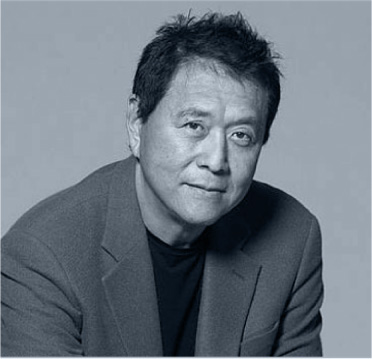 Robert Kiyosaki
Famous for being the greatest-selling personal finance author in history (Rich Dad Poor Dad series), Robert is a mega-millionaire investor in real estate, precious metals, and oil. He's also an avid student of money, economics, investing, and the financial system. He was one of the few pundits publicly warning the world about the 2008 financial crisis.
---
Doug Duncan
Doug is SVP and chief economist for Fannie Mae, which is perhaps the most dominant force in U.S. residential lending.
Doug is responsible for strategic research, including how Fannie Mae's activities affect housing. He's been named one of Bloomberg / Business Week's 50 Most Powerful People in Real Estate.
---
Peter Schiff
Peter's also a multi-millionaire investor, money manager, and outspoken financial pundit.
A best-selling author in his own right (Crash Proof 2.0 and The Real Crash), like Robert Kiyosaki, Peter was on record vociferously alerting people in 2006 about the impending financial crisis.
---
Chris Martenson
An economic researcher and futurist, Chris is an expert in the relationship between energy, the environment, and economics. Rising to prominence with his groundbreaking video series, The Crash Course, Chris is a best-selling author (Prosper!) and hosts a popular podcast featuring interviews with a variety of thought leaders and experts.
---
Simon Black
A former Army intelligence officer turned international entrepreneur and investor, Simon's a worldwide traveler, an avid student of political and financial history, and has developed an eclectic portfolio of investments and business ventures all over the globe.
Simon's diverse experience and global perspectives make his presentations both practical and enlightening.
---
Tom Wheelwright
Tom's a high energy tax and wealth strategist, a best-selling author, an entrepreneur … and is Robert Kiyosaki's personal CPA.
Tom's extremely well-versed in the new U.S. tax law and shares how investors can use it to build substantial wealth and permanently reduce taxes.
---
Kim Kiyosaki
Kim is a high-powered real estate investor, entrepreneur, and best-selling author of Rich Woman. She's co-founder of the Rich Dad company and a popular speaker on the topics of investing,

entrepreneurship, and empowering women.
Kim co-hosts the Rich Dad radio show, and is an avid student of investing, economics, and personal development.
---
G. Edward Griffin
Ed is a renowned investigative journalist and best known for his epic and controversial book, The Creature from Jekyll Island – A Second Look at the Federal Reserve.
Ed has a deep and historical understanding of money, currency,

central banking … and a knack

for explaining all of it in an easy to understand way.
---
Brien Lundin
For nearly four decades, Brien's been an active student, investor, commentator, and newsletter publisher in the precious metals industry.
As producer of the longest running investing conference in the world, Brien's one of the most informed, connected, and intelligent experts on money, precious metals, mining, investing, and economics.
---
Future of Money and Wealth is brought to you by The Real Estate Guys™ Radio Show
Broadcasting on conventional radio since 1997, The Real Estate Guys™ radio show is an investment talk program focusing on real estate as the core of a real asset portfolio.
After being among the many real estate investors caught completely unaware and unprepared for what happened in 2008 …
… hosts Robert Helms and Russell Gray are on a mission to bring the brightest and best real asset investing experts together to share insights, ideas, and strategies for building and preserving real, sustainable wealth.
The Real Estate Guys™ co-host Russell Gray explains why …

What YOU DON'T KNOW you don't know can COST YOU BIG …
Sound dramatic? Maybe. But consider this …
Wealth Wiped Out Without Warning
In 1929, 1987, 2000 and 2008 … millions of people were financially DEVASTATED by market disruptions they didn't even see coming.
Meanwhile, in those very same markets … informed and prepared investors not only survived … they THRIVED.
What's the difference?
Be Careful Who You Listen To
Successful investors didn't buy the hype from Wall Street, financial media, and politicians who downplay dangers … just so they can earn fees, placate advertisers, and win votes.
Remember this classic assurance?

"Importantly, we see no serious broader spillover to banks or thrift institutions from the problems in the subprime market."
Federal Reserve Chairman Ben Bernanke on May 17, 2007



Oops. Of course, just a year later the financial system melted down … triggering the GREATEST FINANCIAL CRISIS since the Depression.
But successful investors back then understood history. They looked at the financial system underneath the "strong" economy … and saw reasons to be alarmed.
They paid attention to the people and signs others were ignoring …
… so they could be proactive to get in position to prosper while there's still time.
TODAY, there are record levels of consumer, corporate, and government debt …
… and rising interest rates are already triggering loan defaults … to levels not seen since the 2008 crisis.
Stocks indexes are setting bubble highs … and market volatility suggests traders are ready to run for the exits … crashing prices … at the first sign of recession.
And that's just some of the more obvious challenges facing Main Street investors.
But there's GOOD news …
Many successful investors prospered through past market disruptions and YOU can too.
By finding new ideas, strategies, and the right experts you're better able to see what's coming sooner …
… so you can be proactive preparing YOUR business and portfolio to both survive and THRIVE through the next crisis.
Future of Money and Wealth brings YOU important insights from many top experts … so YOU can be more aware and prepared.
Eavesdrop on the Experts …
Imagine being a fly on the wall while some of the biggest brains in economics and investing share expert insights and discuss the most pressing issues facing investors today ..
You don't have to imagine … because the Future of Money and Wealth is all on videotape and ready for YOU to watch from the comfort of your own home or office!
Just ONE good idea can make or save you a FORTUNE …
Explore the future of money and wealth with people well-qualified to have an opinion …
Speakers include Rich Dad Poor Dad author Robert Kiyosaki and outspoken financial pundit and money manager Peter Schiff.
Both men are famous for LOUDLY warning the 2008 crash was coming … in spite of being mocked by mainstream financial media.
Back then the economy was STRONG … but the financial system was FRAGILE. And while many "experts" couldn't see it … Kiyosaki and Schiff did.
And while Federal Reserve chair Ben Bernanke was DEAD WRONG … Robert Kiyosaki and Peter Schiff were RIGHT.
Today Robert Kiyosaki and Peter Schiff are concerned again. And this time they're not alone.
Fannie Mae (yes, THAT Fannie Mae … the one making most of the mortgages in the U.S.) chief economist Doug Duncan points out that most of his predictions from last year turned out to be eerily accurate …
… and then reveals when he thinks the NEXT recession will strike (it's not that far away)
And that's just one of TWENTY powerful expert presentations and panels recorded at the Future of Money and Wealth conference.
Other important topics include …
Where real estate is likely headed … and which niches are best positioned for profit
Why oil and gas are likely headed higher … and the important impact on the economy and opportunity for investors
The fascinating rise of block-chain technology … and how crypto-currencies are changing the future of money and wealth
… PLUS a shocking revelation about the RAGING currency war between the U.S. and the tag team of Russia and China.
Far Away But TOO Close to Home …
You'll discover there's a WHOLE LOT MORE to the sparring between Uncle Sam and Russia and China than the mainstream media lets on.
And while it may seem like it's far away from YOUR income and investments … it's NOT.
If you earn, save, or measure your wealth in dollars …
… you REALLY need to understand the Future of Money and Wealth.
Nearly 400 people in the live audience at the Future of Money and Wealth conference were blown away. They called it "life-changing", "eye-opening", and "invaluable".
But don't take our word for it … watch for yourself …
Here's the GREAT NEWS …
We videotaped the ENTIRE event … all TWENTY presentations and panels …
… nearly fourteen compelling hours of essential education …
… and we've organized them all into one powerful online video series.
Now YOU can hear directly about the Future of Money and Wealth from Robert Kiyosaki, Peter Schiff, Doug Duncan, Chris Martenson, Tom Wheelwright, Brien Lundin, Simon Black, G. Edward Griffin … and MANY other top experts.
You may not know who all these people are right now … but you'll be REALLY glad to hear from them.
Their wisdom is impacting the lives of many millions of people all around the world … and it can help you too.
Real World Investors React …
It's one thing to hear and understand what's happening in geo-politics and macro-economics. It's another to decide what to DO about it at the micro-level.
So we included lots of practical insights from a great collection of niche experts, including …
---
Adam Taggart
Adam started his career as investment banker and saw first hand how broken Wall Street is. Later, he helped a company go from start up to acquisition in Silicon Valley. Today, Adam and his partner Chris Martenson develop and share ideas to help people prosper even when the world is full of uncertainty.
---
Kathy Fettke
Kathy's a highly successful real estate investor, syndicator, and investment club leader.
She's also a frequently featured expert real estate pundit in media and at conferences.
---
Gene Guarino
Gene's a recognized leader in the residential assisted living facilities investing space. He's a trained, but not practicing Certified Financial Planner. Gene saw opportunity in solving one of the major problems facing an aging demographic … and grabbed it.
---
Beth Clifford
Armed with a formal education in classical economics and graduating with honors, Beth cut her business teeth on the streets of Wall Street.
Today she's CEO of a groundbreaking offshore real estate development and construction company.
---
Brad Sumrok
Brad freed himself from the corporate grind in less than 5 years by investing in apartment buildings.
The 2008 financial crisis crushed many homeowners … and made many apartment investors multi-millionaires. Brad not only built a portfolio that survived the crash … he thrived through it.
---

David Sewell
David is a Canadian-born international agricultural investor and entrepreneur operating in Latin America.
With an MBA in Corporate Finance and an extensive background in real estate, securities, syndication, and international business … there's not much David hasn't seen.
---
Damion Lupo
Damion is a modern-day financial renaissance man with expertise in real estate investing, precious metals, and crypto-currencies. He specializes in strategies using alternative assets and sheltering wealth from predators and taxes through qualified retirement plans.
---
Patrick Donohoe
Patrick is a financial strategist and an expert in the unique use of life insurance contracts for enhanced cash management and private banking.
He has a degree in economics, hosts his own financial podcast, and is an avid student of economics, investing, and financial history.
---
Dana Samuelson
Dana has been in the precious metals business for decades.
He owns and operates a long-established precious metals and numismatic coin dealership, and is past-President of the Professional Numismatic Guild.
---
It's said to truly understand a subject, you need to study it from multiple perspectives.
Wealth that took a lifetime to accumulate can be lost or severely diminished in a financial crisis.
To survive and thrive when a financial system collapses or resets takes understanding, awareness and preparation. Future of Money and Wealth is an affordable, fun, and easy way to get started!
A tremendous value …



This program cost MANY thousands of dollars to produce. With travel, hotel and registration … every person at the taping paid thousands.
And the information in this video series is EASILY worth thousands of dollars … because just ONE great idea can make or save you a FORTUNE.
So we could charge a LOT more for this program … and it would be totally worth it.
And of course, we need to charge SOMETHING to cover costs … AND more importantly, so you have enough skin in the game that you'll actually watch it all.
But as you'll see … it's important to get this vital information out to as many people as possible. So we're making it a no-brainer …
Get ALL 20 videos … 14 hours of compelling content …

for only $497

(regularly $1997)
PLUS a SPECIAL BONUS when you act today … the Strategic Real Asset Investing webinar.

HUGE value … great price … powerful, life-changing information. But ONLY if you watch it!
Remember … what you don't know that you don't know could cost you a fortune … just ask all the people blind-sided by the last financial crisis.
"An investment in education pays the best dividend."
– Benjamin Franklin
Good advice. No wonder Ben's on the $100 bill.
Now it's decision time …

You've read this far for a reason.
You're concerned about the future … YOUR future … but while it's easy to be interested, it takes an investment of time, money and effort to actually get educated and busy implementing.
But if you think that's a burden …
Consider the price of NOT being informed and prepared …

And even if "this time it's different" (famous last words) …
.. and there's never going to be another financial crisis … sunshine and unicorns for as far as the eye can see …
Which is worse … to be prepared and not have a crisis … or to have a crisis and not be prepared?
Remember, the course you don't watch can't help.
Whatever you have, you've worked hard for.
And remember … the flip side of a crisis is opportunity, so it's not gloomy … there's a lot to look forward to and plan for.
For the informed and prepared … the future is bright. But for those who aren't … not so much.
With the stakes this high, it's time to …



To your prepared and prosperous future,
Robert Helms and Russell Gray
Hosts
The Real Estate Guys™ Radio Show
Producers of Future of Money and Wealth
P.S. Think about how much financial education you got in school. Most people get NONE … and so they're easily herded into a system designed to feed the banks interest, the government taxes, and Wall Street commissions and fees.
Worse, without context … it's nearly impossible to recognize major problems forming … while bankers, politicians, and financial media claim all is well.
Future of Money and Wealth will shock and enlighten you … and help you prepare yourself and your portfolio to PROSPER through what many experts believe is an inevitable economic re-set.
You're a click away from changing your future …
Get ALL 20 videos … 14 hours of compelling content … for

only $497

(regularly $1997)
PLUS a SPECIAL BONUS when you act today … the Strategic Real Asset Investing webinar.
Just ONE good idea can make or save you a FORTUNE …
This is our 16th year hosting our annual educational event … the Investor Summit at Sea™. Guests and faculty have all disembarked from a wonderful week learning about the future of money and wealth.
We didn't want our wonderful listeners to miss out entirely on the treasure trove that is the Summit … so we hosted a live recording session on board the ship!
In this episode of The Real Estate Guys™ show, we chat with some of our illustrious faculty members. Listen in to hear their reflections and insights on our week at sea.
You'll hear from:
Your adventurous host, 

Robert Helms

His seasick co-host, 

Russell Gray
Robert and Kim Kiyosaki

, the brains behind

Rich Dad, Poor Dad

G. Edward Griffin

, author of

The Creature from Jekyll Island

Securities law attorney

Mauricio Rauld
Victor Menasce

,

author of

Magnetic Capital

Glen Mather

, president of NuView IRA
---
Listen
---
Subscribe
Broadcasting since 1997 with over 300 episodes on iTunes!
---
Review
When you give us a positive review on iTunes you help us continue to bring you high caliber guests and attract new listeners. It's easy and takes just a minute! (Don't know how? Follow these instructions).
Thanks!
---
Lessons from Robert and Kim Kiyosaki
It was a pleasure to have the always inspiring Robert Kiyosaki and his wife, Kim, on board for the Summit. "It's more important than ever before to come on Summit at Sea because so much has changed," Robert says.
The duo enjoyed hearing from experts with many different points of view. "The conversations happening behind the scenes are the most important part," Robert adds.
Lucky attendees were able to hear from Robert … and female attendees joined Kim in a women-only breakout session about finding financial freedom.
We asked Robert and Kim about their opinions on educating younger people … and why it's important to have youth at the Summit.
"It's important we teach the younger generation," says Robert. "We need to teach kids to look at the world from a different point of view. Most kids haven't been trained to see a problem as an opportunity."
Kim adds, "What they teach you in school is the opposite of what it takes to be successful." According to Kim, school teaches you there's only one right answer … and you should never make a mistake.
But investors need to learn there are many right answers … and mistakes are the best way to learn. Plus, says Robert, "Student loan debt will never amortize on you."
Robert and Kim recently celebrated the 21st birthday of Rich Dad, Poor Dad. "The message remains the same," says Kim. Lessons like "your house is not an asset" and "savers are losers" still ring true, Robert says.
A red pill from G. Edward Griffin
G. Edward Griffin gives this review of the Summit: "I'm amazed at what I learned and that so many people learned so much!"
Edward walked us through the process of writing his book, The Creature from Jekyll Island. He almost gave up twice because he thought he couldn't do the content justice … but he persisted. Today the book is on its 48th printing!
What about the young people? "Young folks can buy into the idea that the banking system is stealing from them in a legalized fashion," Edward says. "We're at a huge tipping point."
Edward created the Red Pill Expo to get the word out to people that things aren't always as they seem in the world of money and banking. "You have to be aware before you can do something about the problem," he says.
The Expo aims to help people "take the red pill, break out of the matrix, and see reality."
Edward had some great words of wisdom for everybody listening … "We have within all of us the power to understand that most of the great barriers in life are not the barriers we think they are."
Three experts on the power of community
The author of Magnetic Capital, Victor Menasce, reports, "When you break bread with people, the level of connection and the environment is amazing."
Attorney Mauricio Rauld agrees. The Summit provides attendees with the opportunity to "absorb knowledge like a sponge," he says. "It's an amazing environment."
Faculty member Glen Mather believed in the power of the Summit so much he brought his first-time property buyer daughter so she could learn too.
Glen has seen the Summit work its wonders firsthand … on himself. "I can't listen to these guys without thinking, 'There is so much we have to change,'" he says.
We think getting together to learn is incredibly valuable … if we didn't, we wouldn't have created the Summit at Sea™. We offer materials like our podcast and educational reports as the start of a relationship … with the hope that listeners will take that relationship to the human level.
Gathering as a community is a powerful experience … and experiences like the Summit allow both fledgling investors and experts alike to learn new information, open their minds to ideas, and form life-long connections.
---
More From The Real Estate Guys™…
The Real Estate Guys™ radio show and podcast provides real estate investing news, education, training and resources to help real estate investors succeed.
On March 26th, the Chinese launch their yuan-denominated oil contracts.
Is that a big deal? 
Some people think so.  Some say it's just another incremental step towards a gradual shift in global economic power.  Some say it means nothing.
Most people have no idea it's happening … and even if they do, have no idea if it has any impact on them.
But think about this …
If you pay attention and nothing happens, you'll probably learn some things about the eco-system you invest in.  That's not a big win, but it's not a big lose.
But what if you don't pay attention and something big happens? 
That's what happened to all the people who downplayed sub-prime mortgage problems in 2007.  
So stick with us for a few minutes and we'll share our reasons for thinking this is development worth paying attention to … 
… even if you're a nose-to-the-grindstone real estate investor who doesn't care what happens in stocks, bonds, currencies, or commodities.
In this case, we're talking about oil … and in that regard, China's kind of a big deal.  After all, China has surpassed the U.S. as the world's largest importer of oil.  
That means China is the most important customer to countries who sell oil … including Russia, Saudi Arabia, Venezuela, Iraq, and Iran.  
Hmmm … Funny how the U.S. doesn't get along with most of those folks, but that's probably just a coincidence, so put your tinfoil hat away.
The point is … China has leverage with major oil producers to pressure them to do business in yuan … and not U.S. dollars.
THAT'S why some say this latest development is important.
It starts back in August 1971 when President Richard Nixon shocked the world by defaulting on the gold-backing of the U.S. dollar.
That's right.  Up until 1971, foreign holders of U.S. dollars could turn them into Uncle Sam and take home cold, hard gold.
The problem is the U.S. printed too many dollars and foreigners (being prodded by France) got worried … and started trading dollars in for gold.
And as demand for the dollar dropped, so did its value.
So then it took more dollars to buy the same things (inflation).  Gold went from $42 to $850, oil quadrupled, and consumer prices were rising double-digits.
It wasn't as bad Venezuela today, but bad enough that Nixon prohibited private businesses from increasing prices or giving pay raises. 
Yes, that really happened in the land of the free.  It's important to remember … governments do crazy things when they're desperate.
Here's where oil comes into the picture … 
To re-create global demand for dollars after they were no longer as good as gold, Uncle Sam made a deal with Saudi Arabia. 
At the time, the U.S. was the world's No. 1 producer of oil.  Saudi Arabia was No. 2 and the de facto leader of OPEC, the Middle Eastern oil cartel founded in 1960.
In exchange for military support from the U.S., Saudi Arabia agreed to sell oil in dollars.  The other OPEC members tagged along. 
So now, if Germany, for example, wanted to buy oil from Saudi Arabia, they had to buy dollars first.  Even though the U.S. had nothing to do with the deal.
This created immediate global demand for dollars and the "petro-dollar" system was born … replacing the Bretton Woods "gold–dollar" system that Nixon defaulted on.
Many financial historians believe this was the single most important move the U.S. made to save the dollar.
Of course, other tactics were used, including jacking up interest rates and opening trade relations with China. But the petro-dollar system was (and is) a big deal and the focus of today's discussion.
Oil's not well with the dollar … 
Since the mid-70s, the petro-dollar system has been central to creating global demand for the dollar.  And the U.S. has been pretty protective of it.
But China's been systematically cutting into that action. And the yuan-denominated oil contract is the latest, and perhaps most substantial step.
Of course, we're just a couple real estate radio talk show hosts, so don't take our word for it.  Here's just a few of the MANY news reports …
China has grand ambitions to dethrone the dollar – CNBC October 24, 2017
China's launch of 'petro-yuan' in two months sounds death knell for dollar's dominance – RT, October 25, 2017
China Will Launch Yuan-Based Oil Futures Contract, Set to Shake Up Global Market – Fox Business News, December 20, 2017
China Set To Launch Yuan-Prices Oil Futures Next Month – Oilprice.com, February 9, 2018
Yes, we know many pundits and officials contend it's no big deal.  But that doesn't mean they're right.
Funny today.  But not so funny if you were on the wrong end of the joke.
It's good to have a Plan B … 
The dollar's been falling for over 100 years, so it's not the downward trend that freaks people out.  You can get rich simply by leveraging real assets with long term debt as the dollar falls.  That's real estate investing economics 101.
The bigger concern is a sudden move, like when Nixon defaulted on the gold-backing.  Or when the subprime crisis suddenly seized up the entire financial system.
That's like having a fire at your home or business.  It's best to have a plan in place BEFORE the crisis … or you're likely to panic, run in circles, and end up hurt.
We've got Robert Kiyosaki, Peter Schiff, Doug Duncan (chief economist for Fannie Mae), Chris Martenson, Brien Lundin, G. Edward Griffin, and MANY others …
We're going to talk tax reform, the dollar, oil, gold, crypto, banking, and of course, real estate.   
And most importantly … what an investor can do to prepare to avoid losses and reap big profits … and how to know what moves to make as things unfold. 
The future of money and wealth is changing … whether you're paying attention or not.   But if you read this far, now you know.  
The big question is what to do next … 
There's still time to join us in Fort Lauderdale April 6-7.  They might just be two of most important days of your year.
---
More From The Real Estate Guys™…
The Real Estate Guys™ radio show and podcast provides real estate investing news, education, training, and resources to help real estate investors succeed.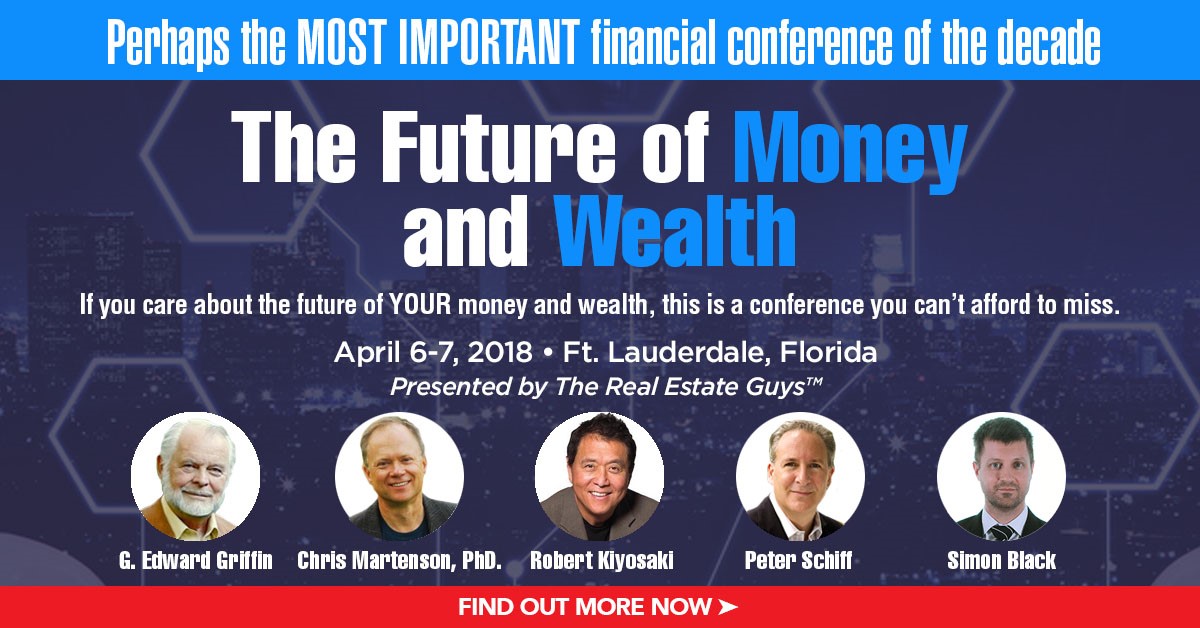 The world economic order is under-going massive change right now.  We're literally watching it unfold in the daily news.
Yet few investors really understand what's happening and why … or what they can do to both grow and protect wealth during these historic times.
"Those who can't remember the past are doomed to repeat it." – George Santanya
In two power-packed days our all-star line-up of notable experts will explain …
How the U.S. dollar is under attack and what it means to Main Street investors

What are the best and worst investments based on what's happening now … and where it's headed

How savvy investors are preparing to be on the right side of an historic wealth transfer most people don't see coming
Remember, the flip side of crisis is opportunity.  But pretending everything is fine … and not being prepared in case it's not … can be dangerous and expensive.
"Maintain unwavering faith you can and will prevail in the end, regardless of the difficulties, and at the same time, have the discipline to confront the most brutal facts of your current reality." – Jim Collins, Good to Great
This edition of Clues in the News is coming to you from Bozeman, Montana, where we just wrapped up an insightful weekend at the Red Pill Expo with thought-provoking author G. Edward Griffin and other amazing speakers.
Perhaps the mention of this conference provokes skepticism. Why attend, you ask?
We've learned that as real estate investors, it's crucial to examine information from all sides instead of taking a single account at face value.
That's why we found the expo so exciting. It's also why we read the news every day … and then examine it with a critical eye to see what lies between the lines.
In this all-new edition of Clues in the News you'll hear from:
Your at-the-helm host, Robert Helms
His (tired of being kicked in the side!) sidekick, Russell Gray
---
Listen
---
Subscribe
Broadcasting since 1997 with over 300 episodes on iTunes!
---
Review
When you give us a positive review on iTunes you help us continue to bring you high caliber guests and attract new listeners. It's easy and takes just a minute! (Don't know how? Follow these instructions).
Thanks!
---
The rise (and fall?) of short-term vacation rentals
We find it helpful to look at the real estate investing world from both a big-picture perspective and a smaller local perspective. Often, local news gives us helpful insight into currents running underneath the big waves that make national headlines.
That's why we took a look a Bozeman's local newspaper, the Bozeman Daily Chronicle, where we found an interesting article about short-term vacation rentals.
Short-term rentals are a craze that has been sweeping across the nation over the past couple years … and local governments have responded in various ways as these rentals have risen in popularity.
Although Bozeman isn't a large town, many residents and businesses are concerned about this issue.
Why? Well, think about who's threatened by rentals offered through companies like Airbnb. Hotels.
A pragmatic investor or businessperson is aware they may meet resistance to their business model … and that's what's happening in Bozeman.
Companies threatened by these smaller rentals are taking the issue to local politicians … who are backing them up.
Think about it … who has a bigger influence on local economics, and thus a bigger say in local politics? The one-property Airbnb owner, or the hotel operator?
Investing is more than just making deals. An important piece of being a successful investor is being aware of the local political environment, including tenant-landlord laws and local issues that may affect you.
The lesson? It's great to be optimistic and hope for sunny skies, but always pack an umbrella in case you run into rain (or resistance).
Market peaks continue to soar higher
When we took a step back and zoomed out to see the nation as a whole, we noticed a trend we've been seeing for a while … escalating home prices across the board.
Although home prices continue to rise, there's a lot of variation in different markets. A close look at the data in Harvard's Annual Housing Report tells us that while home prices in the 10 most expensive metro areas have risen a whopping 63% since 2000, while prices in the 10 cheapest areas have grown by only 3%.
That's a big difference!
We think it's important to dig deeper and find the over-performers. Looking at information at the macro level is great … but it's up to you to take that information and move toward the micro.
Look at the nation … then examine your specific town. You may find surprising disparities, even between different neighborhoods in one city!
We zoomed out even further to see if the housing boom was a U.S.-only trend and found an article from an Irish newspaper that stated the average cost of buying a house was €338,000 (about $384,000).
That amount is nine times the average Irish salary!
Big, overheated markets aren't a problem specific to America. They're a worldwide trend.
As this trend becomes more obvious, journalists are taking note and coming up with their own interpretations of the data to satisfy the curious public.
We find it helpful to remember news isn't hard data, and it isn't the answer … it's really the question.
The news gives you a starting place to ask yourself: Does this topic affect me? And what does this article really mean? How can I dig deeper?
We went through this process with a CBS article that contained advice for home buyers in the current market.
Many of the article's statements were simply the opinion of the journalist. And although the journalist offered some helpful advice, we often find professional journalists don't have the buy-in to catch some of the most important dynamics active in the marketplace.
That's why as an astute investor, YOU have to be prudent and pay attention.
Rising home prices may mean it's time for you to take some chips off the table. Depending on trends in income versus rent prices and other numbers, they may mean something else.
Either way, it's up to you to do the math!
The cost of renting versus buying
If you're a landlord, you know it may not make sense to buy rental properties in areas where tenants can afford to buy homes.
We found this infographic eye-opening. Although it only cites average numbers, it's obvious that today buying a home is more affordable compared to renting than it ever has been.
What does that mean for you? It means you have to watch your numbers.
Analyze your own tenant base. Ask yourself the following questions:
What is the income-to-price ratio?
How affordable is your housing for your tenants?
Do you have tenants with high credit scores who will be able to get easy loans?
Do you have a competitive advantage over other housing options?
The overall idea is to find tenants that have income durability, but won't skip when they can buy a house. One option is to invest in rent-to-own properties.
Finding that balance can be tricky, but if you're paying careful attention to your numbers, it's doable.
Rising mortgage rates and plummeting credit scores
Credit rates affect new homebuyers' abilities to get loans and buy houses. In a recent article, we read that for every increase in mortgage rates, credit scores go down.
As real estate investors, we always want to understand the ratios of mortgage rates and interest rates.
We have no control over these rates … but they definitely affect what we do as investors.
So what do these changing numbers mean? Is there any correlation? We don't necessarily think so.
What we do know is when lenders lower barriers to entry by decreasing the credit score required to get a loan or nudging the required debt-to-income ratio, it can be a warning sign credit markets are starting to get desperate.
When you start to see lenders giving borrowers up to 50% of their income, that's when you know something problematic is happening.
A dimming outlook for brick-and-mortar retail stores
We'll look at this next issue with the assumption that with the rise of mega-sized online retailers (think Amazon), retail is not the greatest place to be right now.
With this dimming retail outlook comes a push for shorter leases.
When retail tenants consider their options, they ask themselves a basic question: Do I pick a longer lease for more stability, or a shorter lease I can get out of sooner?
The trade-off of choosing a longer lease is that the landlord decides what the future 5-10 years will look like in terms of rate increases, even if those don't match up to reality.
Retail tenants also have to consider how the location they choose will drive traffic.
If big-box stores pull out, can smaller retailers expect the same regular traffic? Uncertain about the future of these stores, more smaller retailers are pushing for shorter lease terms.
If you're not in the retail business, you may be wondering how this affects your residential properties. Ask yourself, How many of my residents work at these stores? What will happen when local retailers shut down and my residents are out of work?
Big sea changes for retailers can also mean big changes for you. Retailers typically choose to close stores in places that are weak for core drivers. If you have a tenant demographic similar to the store's shopper demographic, it may be insightful to look at where stores are shutting down, and why.
As an outsider, you're not privy to why the big dogs do what they do, but you can observe what they're doing and come to your own conclusions.
New options for homebuyers with student debt
We all know student debt is increasingly becoming a bigger issue amongst millennials.
This younger generation often forgoes buying homes due to high amounts of student debt.
An article in the Wall Street Journal reported on a new option backed by Fannie Mae that allows homebuyers with student debt to refinance and convert their student loan debt to housing debt.
This program gives younger buyers collateral … and may make them more likely to choose to buy a home.
The program could also drive home pricing in your area, depending on the makeup of the local population.
If you don't have student debt, this program may not seem relevant … until you stop to consider the bigger picture.
That's it for now until next week, when we talk about a major disruption in real estate markets!
---
More From The Real Estate Guys™…
The Real Estate Guys™ radio show and podcast provides real estate investing news, education, training and resources to help real estate investors succeed.
Join G. Edward Griffin, Robert Kiyosaki and a host of other notable speakers for an event that will BLOW YOUR MIND …
If you're familiar with the 1999 sci-fi movie The Matrix, you may recall the red and blue pills.
The blue pill allowed the hero Neo (played by Keanu Reeves) to remain in a computer induced illusion which SEEMED like the real world.
But it was fake … and hid the reality of Neo's enslavement.
The mysterious mentor Morpheus (Laurence Fishburne) challenged Neo to take the red pill and "free your mind" to see the much harsher reality …humans enslaved by machinery.
Neo took the red pill.  Once enlightened, he became engaged in a very real world fight for true freedom.
But for one of Neo's comrades, the artificial prosperity of slavery was too tempting.  It was easier to enjoy faux freedom than fight for the real thing.
What does this have to do with real estate investing?
Maybe nothing.  Maybe everything.
G. Edward Griffin's iconic book, The Creature from Jekyll Island – a Second Look at the Federal Reserve, pulled back the curtain on the origins, mechanics and motivations of what is arguably the most powerful institution on the face of the earth.
It's a VERY controversial work.  Not everyone agrees.  But it opens the imagination to the possibility there's more to the Fed than meets the eye.
Some lay the blame for the dot com stock bust and subsequent real estate bust and mortgage meltdown directly at the feet of the Fed.
This alone makes the Fed worthy of study by any serious real estate investor.
The Fed could just be the tip of the iceberg …
The foundation of real estate riches is private property rights.
Every real estate investor should be VERY aware of any infringement upon their rights to own and profit from property.
But what if there are some people who believe your rights to profit from your property should be limited?
What if they're working behind the scenes to infringe on your property rights?
Anyone paying attention knows this has been going on for some time.
It started innocently enough with eminent domain laws, which subordinated the individual's property rights to the "greater good" based on the government's best judgment.
Of course, there's a long list of abuses of eminent domain.  But until it gets close to home, no one pays attention.
Later, the wars on drugs and terror effectively suspended constitutional due process … allowing the government to seize property first and prove guilt later.
Not surprisingly, there's a growing list of abuses here also.
But again, so long as it's the "other" guy and not you, it's (maybe) okay.
Today, there are global environmental treaties being contemplated which may further erode your private property rights.  Where will they lead?  How will YOU be affected?
We're attending the Red Pill Expo to find out.
More than just money …
On our 2016 Investor Summit at Sea™ we did a special panel discussion called Health – The Ultimate Wealth … which turned out to be one of the most popular sessions.
After all, what does it profit you to gain a fortune in real estate but lose your health?
This Summit session was born out of a personal crisis … when one of our very own was diagnosed with stage 4 cancer.
This horrible event led to an urgent study of the disease and treatment options, and ultimately to a shocking discovery about alternative treatments which are largely hidden from cancer patients.
We'd heard the stories.  But until we experienced it first hand, it just seemed like so much conspiracy theory.
But it's not.
And it made us wonder … what other really important things do we not know about?
Standing on the edge …
Our friend and favorite teacher, Robert Kiyosaki, has taught us the importance of looking at BOTH sides of an issue … by standing on the edge of the proverbial coin.
Legendary shock rocker Frank Zappa said it best … "The mind is like a parachute.  It only works when it's open."
So we're heading to Bozeman, Montana on June 23-24 for the Red Pill Expo.  We're not sure what we'll hear or whether we'll like it.
But we have immense respect for both G. Edward Griffin and Robert Kiyosaki.
So when Robert Kiyosaki told us he's rearranging his vacation to be in Bozeman, that was good enough for us.
Besides, the worst thing that happens is we'll see a beautiful part of the world, and re-connect with our friends Ed Griffin and Robert Kiyosaki.
And who knows?  We might just pick up another piece of life-changing information or make yet another valuable relationship.
As Smash Mouth sang in All-Star, "You'll never know if you don't go."
Click here now to join us at The Red Pill Expo.
---
More From The Real Estate Guys™…
The Real Estate Guys™ radio show and podcast provides real estate investing news, education, training and resources to help real estate investors succeed.
The world is full of alarming headlines which should concern any alert investor:
Pension Crisis Too Big for Markets to Ignore
The Federal Reserve Could Reduce Its Monstrous Balance Sheet Soon – That Should Terrify Everyone
The retail apocalypse has officially descended on America
We could have pulled up more, but you get the idea.  Scary stuff.
Of course, we're still on a high after our recent Summit at Sea™ with Robert Kiyosaki, Peter Schiff, G. Edward Griffin, Simon Black, Chris Martenson, and many other really smart people.
If you're familiar with any of these guys, you may wonder why we're still excited.  After all, these guys are notorious for decrying the many problems facing the global economy.
But their concerns are only half the story.
There's also lots of opportunities available … many of which are unique to real estate
So while it may be bad timing to buy an over-priced property hoping to flip it to the greater fool for fast cash, high-priced properties create opportunities too.
If you're the proud owner of a highly-appreciated property, you have the gift of equity.
Your equity can be repositioned from an over-priced market to a growth market through a cash-out refinance or 1031 tax-deferred exchange.
Consider this headline from the LA Times …
Leaving coastal California is a 'no-brainer' for some as housing costs rise
The article highlights a couple who are leaving Huntington Beach for Phoenix.
There's a lot of that going on right now.  People and businesses move around in order to survive and thrive.
The key is to get on the right side of the flow.
Of course, not everyone leaving high-priced areas will want or be able to buy.  And until they do, we'd love them to rent … from us!
So record-low home ownership rates might reflect weakness in the overall economy, but they actually create demand and opportunity for landlords in affordable markets.
There's ALWAYS an opportunity.
Now this isn't to say that all real estate anywhere is a good deal.  Or that maximum leverage on every property is the ideal portfolio structure.
But don't let the doom and gloom of mainstream news dissuade you from developing your real estate investing opportunities.
Real estate is not a fad.  As long as individuals are permitted to own properties, those who do will be wealthier than those who don't.
Real estate is real.  It's considered by the world's wealthy to be a safe haven asset.
So when bombs are dropping, financial markets are volatile, geopolitical tensions are high … capital seeks shelter in the dollar, Treasuries, gold and real estate.
But consider that the dollar is under attack by two very formidable forces … China and Russia. If they succeed, it could cause problems for the dollar.
Besides, the dollar is only a temporary hiding place for frightened capital.
What about U.S. Treasuries?
Debt denominated in the world's reserve currency, and backed by the world's biggest economy and military, tends to attract flight capital.  It's safer than other debt.
But the U.S. is also the world's largest debtor … with no apparent plan to stem the hemorrhaging of red ink.
And if anyone eventually creates a strong alternative to the dollar for global trade, especially in oil, then Treasuries could be in real trouble.
A weaker dollar means debt holders will want higher interest rates to compensate for the lost purchasing power.
Hopefully, that makes sense.  If not, think of it this way …
There was a time when you could buy 100 pieces of bubble gum for one dollar.  A penny a piece.
If you loaned someone a dollar, it's worth 100 pieces of gum.  But if the dollar loses purchasing power, it might only buy 50 pieces of gum … now two cents each.
If you thought that might happen, you'd need the borrower to pay you back two dollars just to be EVEN.  And you'd probably want a little more for your risk.
That extra dollar is "interest."  And when the currency is losing purchasing power, you need MORE interest to compensate.
Make sense?
The problem is if interest rates rise, bond values drop.  In the interest of time, we won't explain this now, but grab a calculator and play with numbers until you get it.
So rising interest rates mean a loss of principal for capital placed in bonds.
This makes bonds a scary place to park long-term capital for wealth preservation.
And with next to no yield, safety of principal is really the primary purpose of parking cash in bonds.  No wonder foreigners have been dumping Treasuries.
How about gold?
We like gold.  It's shiny.  There's no counter-party risk.  It's easily convertible into any currency.  It's been used as money for thousands of years.  It's survived the rise and fall of empires, currencies and cultures.
BUT … gold pays no yield.  It just sits there like a stack of cash.  And tax law can make it difficult to move in and out of.
Which brings us (finally) to real estate …
We're admittedly homers for real estate.  After all, we're The Real EstateGuys™.
Still, we think there's a LOT to like about real estate in uncertain times … like right now.
First, real estate is a tangible, physical asset.  Stock in a company that goes out of business isn't worth the paper the shares are printed on.
Real estate doesn't have counter-party risk.  If you park cash in real estate, no one else needs to do anything for the property to have value.  Your asset isn't someone else's liability … like an insurance contract, a bank deposit, or a bond.
Of course, if the tenant pays rent, the property becomes MORE valuable.
But what if the tenant doesn't pay?
With real estate, you can evict a non-paying tenant and replace them with one who does.  Try to do that with a bond.
If a bond issuer owes you money and fails to pay, you can't just replace them with someone who will.
The debt just goes bad … and you lose.
We could go on.  But you get the idea.
Real estate was valuable a thousand years ago, and it's probably going to be even more valuable a thousand years from now … especially as more people compete over less land.
So the question isn't really about real estate.  It's about how much YOU will own.
Until next time … good investing!
---
More From The Real Estate Guys™…
The Real Estate Guys™ radio show and podcast provides real estate investing news, education, training and resources to help real estate investors succeed.
We're back from what Robert Kiyosaki described as our BEST Summit at Sea™ so far.  It's hard to disagree.  And no, this isn't a pitch for the Summit.
In fact, alumni already grabbed about 40% of the available spots … before we even got off the ship!
While there's no way to describe the magic of the Summit, there are a few valuable ideas worthy of mention.
Developing social capital
New Summit faculty members Chris Martenson and Adam Taggart (The Crash Course and Peak Prosperity podcast) shared the importance of "social capital."
After a compelling presentation about the inevitable collision between exponential growth and finite resources (a fascinating topic!), Martenson and Taggart suggested your prospects for prospering will rely heavily on your network of relationships.
That's true whether a crisis strikes tomorrow or 100 years from now.
And it's not just knowing a large quantity of people … it's who those people are and how well you know them.
But even if a crisis NEVER hits, it's wise to invest in quality relationships.
Surprise faculty member, Ken McElroy often says, "If you want to change your life, change the people you hang around with."
This year, we had several young people take advantage of our Young Adult Program.  It allows a limited number of young adults ages 18-25 to get into the Summit for only $2,500.
More importantly, it gave these young people close personal access to many highly successful investors and thought leaders.
Our other surprise faculty member, Simon Black of SovereignMan.com joined Kiyosaki and McElroy for a one-hour private session with these young adults.
Simon said it was the most powerful experience in his four years of being a part of the Summit.
Going forward, we're dedicating up to 30 seats on next year's Summit to our Young Adult Program.
We believe investing in young people is one of the BEST investment we can make.  And we're thrilled our super-star faculty agrees!
But whether you're young or not-so-young, if you're interested in taking your education, business and investing to the next level, it's wise to put concerted effort into developing good relationships with great people.
Summit faculty member and legendary sales trainer Tom Hopkins (How to Master the Art of Selling) reminded us the key is being of service to others.
So it's not what you GET that matters most … it's what you GIVE.
That's easy to say, but often hard to do when our own urgent needs are clamoring for attention.
Tom says always remember, "Use money and serve people.  Don't use people and serve money."
A billion-dollar boo-boo
Consider the recent flap over United Airlines handling of an overbooked flight.
It's a case study in forgetting the MAIN thing.
Unless you've been off-planet for the last few days, you know a ticketed customer was forcibly removed … literally dragged … from a plane because the airline wanted his seat to reposition their own staff.
The details are all over the news, but the bottom line is the airline decided to "save" money by not raising the bid to buy people off the plane, or making other (presumably more expensive) arrangements to get their staff where they needed them.
In short, they served money and used people.  Oops.
Of course, the horrific decision and resulting disastrous PR resulted in a nearly BILLION dollar loss of market value.
And that's probably just the beginning of losses which will include customers, employees … plus money spent on public relations, training, and let's not forget … LEGAL.
It's shocking a mature business could be so short-sighted.
Relationships are the REAL asset
The beauty and danger of real estate is it's not traded in impersonal, highly automated exchanges.  It's a very PERSONAL business.
If you've got a good reputation and great relationships, real estate is actually pretty easy.
If your reputation is poor and your relationships are weak, you're almost always looking at leftovers.
But it's not just about deal flow … or even raising money.
Relationships provide access to ideas, perspectives, wisdom, encouragement, and inspiration.
Relationships change who you are, how you see yourself, what you reach for, and what you believe you can achieve.
We spoke on the Summit about Roger Bannister, the first human to run a mile in less than four minutes.
Until he did it, it was commonly believed it wasn't physically possible.
But once he did it, others soon followed … because he broke the mental barrier holding so many people back.
If this can be done in the world of athletics, where a certain level of physical skill is required … imagine what can be done in a less demanding arena like real estate investing.
During the course of the Summit, we heard from investors who started with next to nothing … and grew portfolios of THOUSANDS of rental units in just a few years.
Until you're around them, it SEEMS impossible.  But when you meet them and hear their stories, it opens your mind to the possibilities.  It EXPANDS your dreams and beliefs.
An epic experience
There were so many GREAT sessions including Peter Schiff on navigating the Trump economy, G. Edward Griffin on how the Fed affects everyone, Fannie Mae's chief economist Doug Duncan on the state of the U.S. economy and housing … and MANY more.
We had nearly 25 faculty members … our biggest ever!
Perhaps one of the best parts of the Summit were the eight expert panels featuring some of the biggest brains on banking, precious metals, marketing, real estate niches, the next crash, and more.
In the information age, panels are really powerful.
It's one thing to HEAR a great mind share big ideas.  But you can do that online.
It takes you to a whole new level when you watch several great minds DISCUSS big ideas. And to be a part of the conversation yourself?  Priceless!
With limited space on each year's Summit, we realize it's not possible for everyone to be there.  Hopefully someday, YOU can join us!
But in the meantime, we encourage you to seek out the smartest, most accomplished people you can … and find a way to get into high quality, win-win relationships.
They'll expand your thinking, show you possibilities you didn't know existed, open doors and make introductions to people and places you might otherwise take months or years to get to.
There's nothing we know of that can help you accelerate your success faster than smart investments in building social capital.
Until next time … good investing!
---
More From The Real Estate Guys™…
The Real Estate Guys™ radio show and podcast provides real estate investing news, education, training and resources to help real estate investors succeed.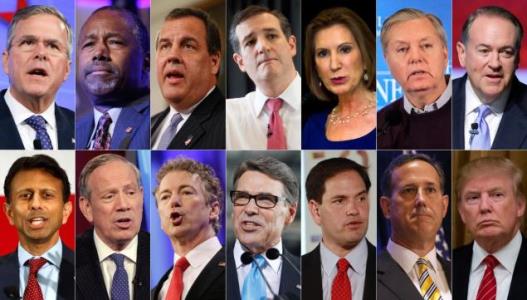 Last night seventeen GOP presidential hopefuls showed up for two different debates to discuss "the most important issues" facing the American people.
Among them were Donald Trump, Jeb Bush, Carly Fiorina, Rand Paul, Scott Walker, Ben Carson, Marco Rubio, Ted Cruz and a whole gaggle of candidates who hope to face off against the presumptive Democratic nominee, Hillary Clinton.
But despite all the hooplah, including 6 million Facebook visits and 40,000 questions from John Q. Public…
The MOST important issue was completely IGNORED.
The Fed and money.
Okay, these are really two issues. But together, they affect EVERY person and business on the planet.
Thank about it.
Most of your time and efforts are invested in earning, spending, managing, investing…and worrying about…money. Right?
And the cost of money…interest rates…have a HUGE affect on the price of EVERY financial asset there is…everywhere.
The Fed has been AGGRESSIVELY intervening in financial markets for decades…with "mixed" results (to be kind).
And there was NO MENTION of it.
Keep in mind that since the Fed arrived on the scene in 1913, money has devolved to nothing but debt.
How can you have a conversation about the "debt problem" without talking about the Fed and money?
Of course, unless you're a geeky student of economics and history, with a dash of conspiracy theorist, you might not understand the problem.
And with only one-minute answers, it would seem impossible for a mainstream debate to address them.
But it's really quite simple.
Our "money", which is really only currency, (click here to understand the difference) is BORROWED into existence.
And it comes with an interest expense, albeit very small right now.
When you understand this simple concept, you know why it is IMPOSSIBLE to pay off debt. Because doing so would extinguish all the money.
Think of it this way…
Let's say we're at the very beginning of the economy and there is no currency. Just like starting a board game.
To get things started, the issuer of currency (the Bank) prints a bunch of pieces of paper and LOANS them to the players.
And to keep the math simple, let's say the interest rate is 10 percent per round of play.
Suppose the game begins with a total of $1,000 being handed out to all the players. It doesn't matter how many players, or who gets what. All we need to know is the Bank loaned out $1,000.
Play begins. Players buy and sell. They even create new products. All kinds of commerce occurs over the course of the game.
Now, at the end of Round 1, it's time to settle up.
Some players accumulated more currency. Others have less than they started with. But because there was only $1,000 distributed, that's ALL there is at the end of the round.
Now it's time to pay the banker back ALL the principal PLUS the 10% interest.
It doesn't matter how much each individual player owes because we're simply looking at the aggregate of ALL players.
So there's $1,000 of principal owed… PLUS $100 of interest… for a total of $1,100 owed.
Everyone tries to pay off their debt, but with only $1,000 in circulation, the society of players is $100 short.
And of course, even if they could pay off the debt, there would be no currency available to play Round 2 with.
So because they can't pay off the debt with interest, and because they want to keep playing, the players collectively decide to borrow MORE.
So to start Round 2, the society of players borrows $2,100 from the Bank (who simply prints it).
This would be enough to pay back the original $1,000 plus $100 interest owed from Round 1…and still leaves $1,000 available to play Round 2.
Now the players' collective total debt is $2,100 as they enter Round 2….up from $1,000 at the start of Round 1.  And no matter what they do while playing the game, they end each round owing MORE than the total amount of currency held by all the players.
Do you see the problem?
When you borrow your currency into existence and owe interest, the ONLY way to keep playing the game is to ALWAYS increase the debt. To pay it off, ends the game.
This is why, for decades, no matter what party's in place, no matter what anyone says, the debt NEVER shrinks. It only grows…because it MUST. Or the game ends.
Maybe the candidates don't get it? Or maybe the Fox news moderators don't. Maybe it's the American people who don't understand or don't care…and the candidates and mainstream media just follow their lead?
We don't know. If you think the candidates and media are controlled by sinister behind-the-scenes forces, then go ahead and put your tinfoil hat on. We're right there with you.
It doesn't matter.
But until we can change the system, we need to be skilled at playing the game the way it's run today.
For us, it means using the abundant and affordable debt to accumulate real assets which produce real income that remains top of the priority list even in hard times.
It's hard to imagine anything more real than real estate. Or any stream of income much higher on the priority ladder than keeping a roof over your head or food on the table.
The good news is that real estate is also one of the easiest and safest investments you can acquire using debt.
Just remember, the value isn't in buying low and selling high. When you do that, all you end up with is a pile of currency.
Mainstream financial pundits focus on asset prices, which are often bubbles expanding and contracting. Buy low! Sell high! Generate commissions for Wall Street! Generate taxes for Uncle Sam! Rinse. Repeat.
They can't play that game with real estate, so they don't like it. And they focus on the price, which is smoke and mirrors…like most asset prices in a funny money economy.
The real value of real estate is in the income.
Income is what drives the equity. And it's what frees the equity, so you can use debt to protect profits without realizing a taxable gain or relinquishing the property.
And when you pick the right properties and structure your financing properly, you can weather virtually all of the economic and political uncertainty.
So stay tuned to The Real Estate Guys™ radio show. We'll continue to bring you ideas, information, perspectives and strategies to help you keep it real…in an unreal world.
AND…if you REALLY want to talk about money and the Federal Reserve…
Join us on our 2016 Investor Summit at Sea™! We've just confirmed that G. Edward Griffin, the author of The Creature from Jekyll Island – A Second Look at The Federal Reserve will be returning for his second appearance on the Summit.  Click here to learn more.
Good investing!