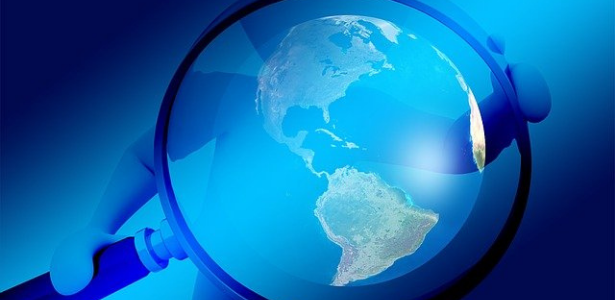 What a difference a week makes!
Last time we commented on the big news about the world's most famous real estate guy potentially using the tax laws to reduce his federal income taxes to virtually zero.
Since then, as you probably know, the news has been dominated by President Trump's illness, hospitalization, treatment, and return to the White House.
The undercard of the Presidential virus is the stimulus threesome of Trump, Pelosi and Powell. The first TPP didn't work out. Will this one?
And while all this is politically titillating, we're not into kinky politics. Our interest is purely economic and investment oriented.
So let's consider what's happening and why it matters to real estate investors … then we'll close out by taking a peek into the future.
First, the New York Times "shocks" the world … at least the world who doesn't understand how the tax law works … by breaking the "news" President Trump may have paid virtually no income tax for many years.
It may divide people politically … as if they weren't already … but it just might unite people around real estate investing.
So we think having Trump's tax secrets exposed is GREAT for real estate in general and syndicators in particular.
That's because many highly taxed, but poorly advised affluent people will likely awaken to the benefits of real estate investing.
Some will want to invest directly … but we're guessing most would prefer to invest through a syndicator because it's easier and safer.
But when the salacious story of Trump's tax secrets was buried by coverage of his illness, it seemed national attention shifted away from real estate.
However, with Trump's apparent recovery, perhaps the tax story will be resurrected by Trump's adversaries.
Time will tell. In any case, we think Trump's taxes will have a positive impact on attracting more investment into real estate.
Meanwhile, Fed Chairman Jerome Powell just came out publicly to call for more FISCAL stimulus … a.k.a., government spending …
More Stimulus Now Or Economy Will Sink, Fed Chairman Jerome Powell Warns As White House Talks Drag
– International Business Times, 10/6/20
" 'Too little support would lead to a weak recovery, creating unnecessary hardship for households and businesses. Over time, household insolvencies and business bankruptcies would rise, harming the productive capacity of the economy, and holding back wage growth,' Powell said …"
As you may know, when the Fed gooses things … dropping interest rates, printing money, buying bonds … it's called MONETARY stimulus.
It seems Chairman Powell feels like the Fed has done its fair share of stimulating … so now it's time for Trump and Pelosi to spice things up.
But it's no secret President Trump and Speaker Pelosi are strange bedfellows. At this stage of the affair, it seems neither Trump nor Pelosi is giving an inch.
Whether it's tactics, posturing or principles … both are digging in, apparently refusing to budge… leaving everyone wondering what's really going to happen.
Of course, all this stimulus uncertainty creates volatility in paper asset markets … including stocks, bonds and currencies.
So what does all his have to do with real estate investors?
Besides the obvious impact on interest rates, lending, jobs (and thus rents), inflation (affecting tenants' payment ability) … and the value of the dollars you're collecting or the stability of the financial system you store them in … not much. 😉
But it's not all doom and gloom. We're already seeing some markets and niches boom, as people and money move around to adjust to the new world.
Our point today is there's a good chance of a potentially big wave of interest and capital heading into real estate from three major fronts.
First, as we've discussed, are over-taxed people who are about to wake up bigly to the powerful tax advantages of real estate investing.
Next is the still large and powerful baby-boomer demographic which is facing anemic interest rates for as far as the eye can see.
Boomers need higher and safer risk-adjusted income than they can get with CDs, bonds, annuities, or dividend paying stocks. Real estate can deliver for them.
The third potential influx of capital into U.S. real estate could well come from foreigners seeking safe-haven assets in a very stormy world.
Right now, the world is VERY chaotic and uncertain. Investors need protection from inflation, deflation, currency collapse, systemic collapse, societal collapse.
We're not saying all or any of those things will happen in the United States to a shocking degree … but they could.
They're certainly happening in other parts of the world.
Meanwhile, for all its challenges and flaws, United States real estate remains among the most desirable safe-haven assets in the world.
Sure, U.S. investors get weirded out comparing yesterday to today. But what about wealthy folks in places like Venezuela or China?
USA properties probably look pretty darn good from their perspective.
Wealthy foreigners might get nervous about U.S. paper assets like stocks, bonds, and dollars, which are volatile and easily tracked and seized.
But REAL assets in a jurisdiction with very stable private property laws are alluring for people in places where their world doesn't work that way.
Think about all the wealthy people in Hong Kong.
Now we're not saying everyone and their foreign cousins are going to start pouring into real estate tomorrow.
For many foreigners, the challenge is getting their money from there to here … and doing it in such a way that's private, secure and manageable.
But as is often the case with many challenges in the modern world … technology may provide the answer.
Imagine being able to own a digital asset backed up by a real asset …
Now you have something portable, private, secure, relatively liquid … all representing ownership in something real.
Gold seems like the logical choice, and it's not bad. But gold isn't an investment … it's just an alternative form of cash. It's money.
(If that makes your head tilt, we discuss it on our Making Sense of Silver series)
But a digital asset backed by income producing real estate would check some important boxes.
To no surprise, clever entrepreneurs are already figuring this out and are rolling out solutions. We think it has the potential to be VERY big, so we'll be talking more about in the very near future.
Meanwhile, whether you're an accomplished real estate investor or just getting started, you've got lots of opportunities headed your way.
The economy might recover and boom … lifting all boats. Just be sure you're IN one.
The economy might crash, temporarily crushing asset prices, and providing proactive investors an opportunity to collect quality assets at bargain prices.
In both cases, capital from less stable assets and places will likely be attracted to the stability and high risk-adjusted returns of the right real estate in the right markets.
Your mission is to be ready, willing and able to recognize and act on attractive opportunities when they appear. Because in ANY market, good deals always go to the aware, prepared, brave and bold.
Until next time … good investing!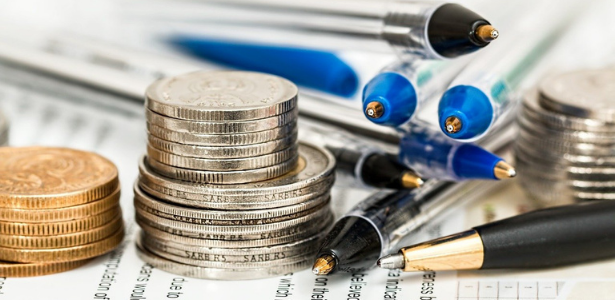 Taxes, politics, and real estate investing might not be as salacious as sex, lies and videotape … but it's arguably just as intriguing.
By now we're sure you've heard all the "outrage" about allegations the United States' Real Estate Investor-in-Chief paid nearly no federal income tax.
This shocks no one who understands real estate or the tax code, but it's sure to rile up those who don't. Call us cynical, but we suspect this might be the plan.
We're not here to pour gas on the fire … or defend or attack any candidate, party, platform, or policy. If we influence you, we hope it's simply towards Education for Effective Action™.
After all, the tax code is a tool available to ANYONE willing to invest the time and effort to learn how to use it.
Of course, you probably already know this.
But this entire debate over what's really in Donald Trump's tax returns promises to push the incredible tax benefits real estate investors have enjoyed for decades …
… right into the mainstream media's crosshairs …
… AND into the focus of nearly every moderately politically cognizant person during one of the most watched election cycles in history.
So before you put on your red, blue or orange face paint and cheer for your team and curse "the enemy" …
… let's consider the potential challenges and opportunities of these unfolding events for all real estate investors … blue, red, green or yellow.
A Main Street Wake Up Call
The tussle over Trump's tax returns is going to wake up a lot of people who have no idea the tax code allows real estate investors to legally reduce their taxes to nearly nothing.
Some will be outraged … at least outwardly. Most rational people will realize Trump didn't write the tax code … he simply used it effectively.
Some people will be angry. Others jealous. Some suspicious.
But we're guessing a big chunk of people will be curious enough to fact check the law … because it's 2020 and they can.
And it won't take long to find the key to tax-free wealth involves real estate.
Further, as more people discover the tax savings is legit and how to do it, we bet a lot of the newly aware will be looking to get in on the action.
Of course, not everyone will want to go out and become a hands-on real estate investor. Many busy and retired people still want the "Wall Street" convenience of passively investing with professional asset managers.
But when they find they can have their cake and eat it too ...
… it could create a surge of interest in real estate private placements or "syndications" …
… and an even better opportunity for real estate syndicators to attract capital.
In fact, one of the most successful alumni of our syndication training has been using the tax benefits of his deals to raise over $200 million in private funds.
Meanwhile, back to the political drama …
Calling Capitol Hill's Bluff
As media fans the flame of tax-avoidance outrage … and opportunistic politicians myopically jump on the trash Trump bandwagon …
… the very politicians who created the tax laws Donald Trump and nearly every other well-advised real estate investor uses to legally reduce tax liability …
… could potentially face a lot of pressure to either defend them (at great political cost) or eliminate them.
In fact, in the first 2020 Presidential debate, Joe Biden claimed he would.
Of course, politicians of all colors are famous for making lots of promises and espousing policies they never actually follow through on.
We'll let you decide which outcome you prefer, and which team is likely to push for it. Vote your conscience.
We're just raising awareness so you can best prepare your portfolio … come what may.
What do we think will happen?
Well, since you asked …
When we look past the two teams on the field and the fiery rhetoric …
… we see a financial system which requires the unrelenting and perpetual expansion of debt.
We've explained this many times in the past, but in simple terms … any system which borrows its currency into existence at interest can ONLY repay by borrowing more.
If that's confusing, just sit and think about it.
If you borrow $100 into existence at 10% annual interest to run your "economy" … no matter where the money ends up at the end of the year … the economy owes $110 (principal + interest).
The obvious problem is there's only $100 in existence. The ONLY way to pay the interest and keep the economy going is to borrow MORE.
Spoiler alert: THAT is (apparently) THE plan. And (perhaps) all the rest is theater.
If this makes no sense to you, that's because it makes no sense.
As we explained in our Future of Money and Wealth conference, it's a faulty, unsustainable system.
Nonetheless, this is the system which was born in 1913 as a result of a secret meeting at Jekyll Island, Georgia. If you don't know the story, it's a great Halloween read.
But because the system is based on debt, the tax law encourages borrowing.
And because the best collateral for loans is real estate, it's no surprise the best tax breaks are with real estate.
As CPA Tom Wheelwright has been telling us for years, the tax code is written to coerce people and businesses to do what the government wants.
And just in case you've heard the argument taxes are necessary to pay for government … there's a different perspective from someone well-qualified to have an opinion …
Click here to read the transcript of a public speech given by a high-ranking Federal Reserve official who admits …
…income taxes are NOT necessary to pay for government… AND the tax code is overtly used to manipulate private sector behavior for political purposes.
So will the tax breaks for real estate go away?
Probably not completely. But some of the best bonus depreciation breaks are already slated to expire soon … unless they're extended to create more stimulus.
We're not waiting around. There's a window of opportunity for real estate investors … so we think the smart move is to grab them while you can.
Until next time … good investing!
Will the Fed Raise Interest Rates?
Global stock markets continue to convulse as participants and pundits try to divine whether Janet Yellen will really pull the trigger and raise interest rates.
Our bet is no.  Or if so, maybe by only a quarter point (25 basis points in bank-speak) just to prove the Fed hasn't forgotten how to do it.  After all, it's been about 8 years.
But we think not.
The list of reasons is far too long for this missive, but here's a few:
The Dollar is Too Strong
We're not saying WE think this is bad.  But the people in charge think so.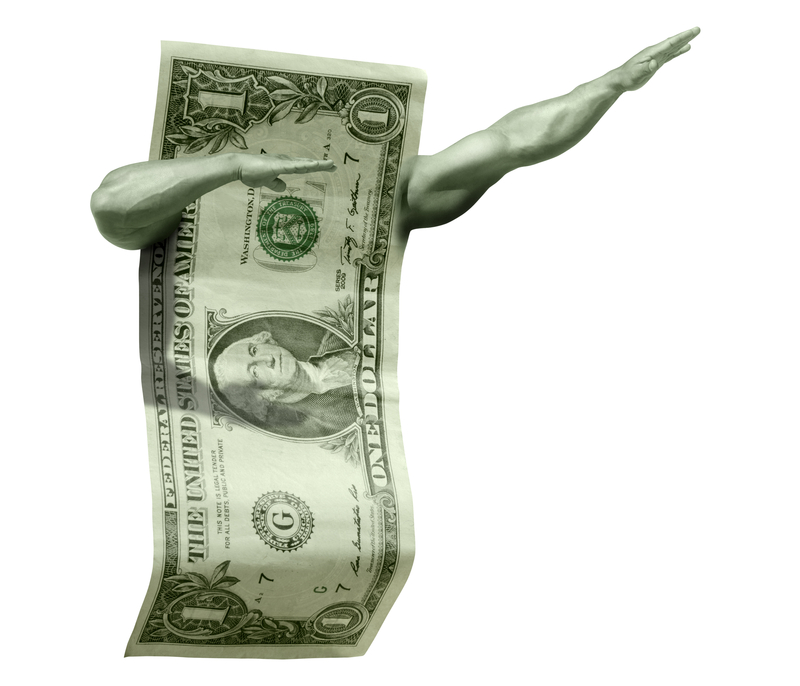 They say a strong dollar makes it harder for U.S. companies to sell exports…because it takes more foreign currency to buy anything denominated in dollars.
And U.S. companies doing business abroad are losing out when converting their foreign sales back into U.S. dollars.  So they say a strong dollar is bad for earnings and stock prices.
Also, a strong dollar means the U.S. government is paying more real interest on all its debt to foreigners.
The goal for a borrower is to receive strong dollars today and pay back weaker dollars later.  It's why policy makers (and real estate investors) like a falling dollar.
A strong dollar is deflationary, which is the polar opposite of what the Fed wants (more on that in a moment…)…though most consumer we know LIKE IT when prices fall.
But when prices on things like houses, cars, stocks, bonds, etc., drop in dollar terms…and those things are being used as collateral, it means the value of the collateral drops.
That forces painful margin calls and creates a temptation for borrowers to bail on the debt.  Just think back to the sub-prime crisis which triggered the Great Recession.  It all started when debt went bad.
And speaking of debt, there's the other major reason NOT to raise interest rates…
Uncle Sam is Drowning in Debt
When interest rates rise, payments go up.  That puts downward pressure on spending, which the financial brainiacs believe is the key to economic expansion.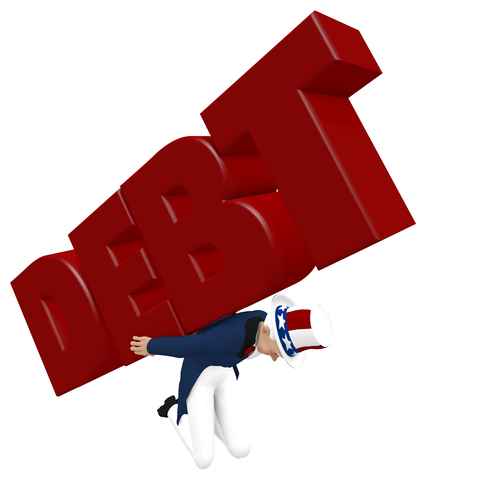 The problem today is that interest rates are SO LOW that even a 25 basis point increase is a substantial percentage increase.
Do the math.
If you have debt at 2% and rates rise by .25% that effectively increases your interest expense (and payment) by 8%.
That doesn't sound like much, but when you're Uncle Sam and you're already paying out $381 BILLION in interest each year…an 8% increase costs an additional $30 BILLION.
Now if interest rates were to rise 100 basis points, say from 2% to 3%, that's a 33% increase…or a whopping $125 BILLION increase in interest payments.
And because Uncle Sam is already running in the red, it's all debt compounded on debt.  Just like using your credit card to pay the credit cards you used to pay the credit cards you used to pay your house payment.
In financial terms, we call this a "train wreck".
Since the last great re-set in the 80's when then Fed chair Paul Volcker jacked rates up to over 20%, the government has gone aggressively into debt and lowered interest rates steadily for three decades.
But now we're at the bottom of the interest rate barrel.
So if you can't lower interest rates to leverage your payments into servicing higher loan balances (just like you do when you refinance your mortgage to a lower rate and keep the same balance …or grow it…while reducing your monthly payment)…
Then the only other options you have is to make more money.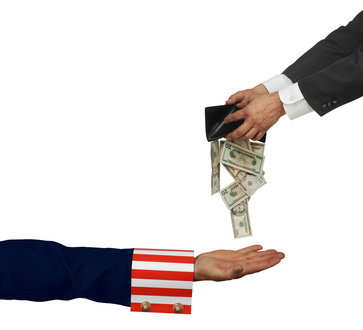 For Uncle Sam, this means raising taxes.  And there are two ways to do this.
The small government faction says lower rates to grow the private sector and take a smaller percentage of a bigger pie.
That is, lower tax rates, which they believe will leave more profits in the hands of entrepreneurs who will use it to expand their businesses (if they can find customers).
Then, when the pie is big enough, the smaller percentage of tax yields more absolute dollars to Uncle Sam.
Go red team!
The big government faction says raise taxes on the entrepreneurs and uber-rich and funnel that money through the government to the poor and middle class.
Then, when those everyday people spend all that money, it will provide customers and profits for the businesses, which will in turn result in even more tax revenue.
Go blue team!
Obviously, these two policies are polar opposites and each one enrages the proponents of the other.
So everyone beats up on each other and nothing gets done.
Go purple team!
BUT…there is another way…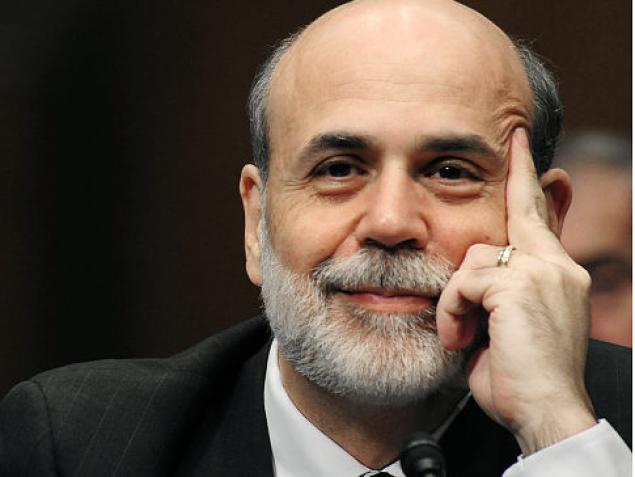 And on November 21, 2002 a guy named Ben Bernanke (who later took over for Alan Greenspan to become the chairman of the Federal Reserve) explained it in a speech before the National Economists Club in Washington DC.
Big Ben said….
"…the U.S. government has a technology called a printing press (or, today, its electronic equivalent) that allows it to produce as many U.S. dollars as it wishes at essentially no cost."
"By increasing the number of U.S. dollars in circulation, or even by credibly threatening to do so, the U.S. government can also reduce the value of a dollar in terms of goods and services, which is equivalent to raising the prices in dollars of those goods and services."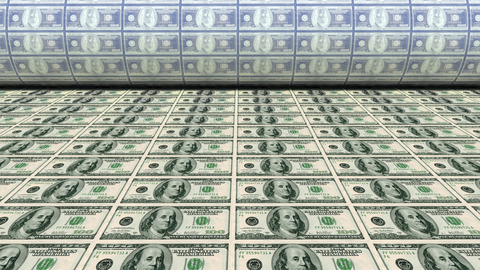 "We conclude that, under a paper-money system, a determined government can always generate higher spending and hence positive inflation."
"…sufficient injections of money will ultimately always reverse a deflation."
Our emphasis.  Always.
And just so you know we don't make this stuff up, you can read the whole thing here.
So we think the Fed will find some excuse to turn the Quantitative Easing (QE) printing presses back on.
But, you say (correctly) didn't they already do QE?  Like, 4 times?  Then why didn't prices rise?
Great observation.
Here's the short of it…and why it matters to real estate investors RIGHT NOW…
The Fed expanded its balance sheet (printed) by about 4 TRILLION DOLLARS since 2008.
Most of the money ended up in bonds (causing bond prices to rise and interest rates to fall)…or stocks (causing stock prices to rise to record levels)…and on banks' balance sheets (as reserves parked at the Fed).
Of course, when you read Big Ben's 2002 comments, he expected the banks to lend.  That's the way all the new money was supposed to get to the market.
But frightened borrowers weren't anxious to take on more debt.  They were inclined to save or pay off debt, rather than spend.
So there's not been a long line of borrowers to lend to.
On the lender side, with the politicians busy POUNDING on the banks (and rightfully so)…banks decided it was safer NOT to loan…except to only the very BEST borrowers.
But now that all the very best borrowers have taken on their fill of debt, Uncle Sam is back to making nice with the banks…hoping to get all the money pushed out into the market.
And guess which sector they're focused on?
Yep.  Real estate.  And it's happening as we head into an election year.  But that's probably just a coincidence.
Check out this headline:
"The government is trying to coax banks back to making mortgage loans to risky borrowers…"
This makes sense because we already have construction lending surging.  But builders can only borrow if they have buyers to sell to.  And most buyers can only buy if they can get financing.
So Uncle Sam can see that the bottleneck in the pipeline is at the street level…where real estate investors like you invest.
All this to say (and thanks for reading to the end) that the stock market gyrations could actually be GOOD for real estate in the mid-term.
When nervous stock investors seek safety, they'll go to bonds and push interest rates down.  Great!  Borrow all you can and lock in LOW FIXED rates.
Make SURE your properties cash flow conservatively and focus on big, affordable markets with low taxes, a friendly business environment, and a diverse local economy.
Some frightened stock investors will pile into real estate…just like they did in 2001 after the tech bubble deflated.  The Chinese already are.
So, we wouldn't be surprised to see a run UP in prices in the near term…which could be a chance to grab some equity and move it to safety…once again taking advantage of increasingly liberal lending.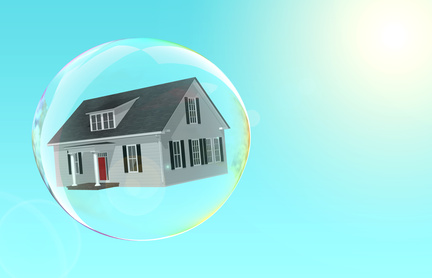 Eventually, the real estate bubble that's beginning to inflate now will "pass a little gas".  Or maybe a lot.
Sure, it will stink.  But it won't kill you if you're prepared to hold your breath and go in and do some bargain hunting.
Meanwhile, as all this unfolds, it's a good idea to continue to watch and prepare.  You can't control it.  But you can roll with it.
Good investing!
The Real Estate Guys™ radio show and podcast provides real estate investing news, education, training and resources that help real estate investors succeed.