The economy may be strong …
but what about the financial system supporting it?
Discover the opportunities hidden inside a FRAGILE financial system … and how to HEDGE against inflation, deflation, and even stagflation.
Featuring voice largely shunned by mainstream media, the Future of Money and Wealth reveals …
The REAL trade war no one's talking about … and how Russia and China are making major moves to take down a major U.S. stronghold …
Which assets are in bubbles now … and specific strategies to fortify your balance sheet … before it's too late …
The shocking truth about oil … it's direct impact on YOUR wealth … and how to profit from what's about to happen …
Who the new tax law REALLY helps … and how YOU can use it to grow more wealth faster (it's NOT an IRA) …
PLUS … candid conversations about crypto-currencies … wealth privacy strategies … contingency planning … and MUCH MORE!
Just ONE good idea can make or save you a FORTUNE …
Future of Money and Wealth brings you a HUGE collection of experts, thought-leaders, and real-world investors … who ALL volunteered their time to share their best ideas, warnings, and strategies with over 400 people in the live audience …
---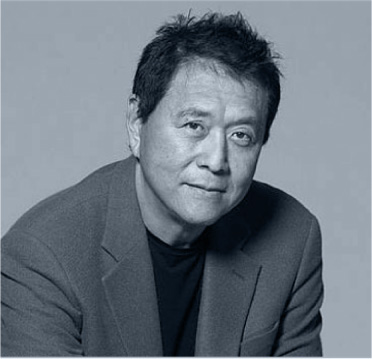 Robert Kiyosaki
Famous for being the greatest-selling personal finance author in history (Rich Dad Poor Dad series), Robert is a mega-millionaire investor in real estate, precious metals, and oil. He's also an avid student of money, economics, investing, and the financial system. He was one of the few pundits publicly warning the world about the 2008 financial crisis.
---
Doug Duncan
Doug is SVP and chief economist for Fannie Mae, which is perhaps the most dominant force in U.S. residential lending.
Doug is responsible for strategic research, including how Fannie Mae's activities affect housing. He's been named one of Bloomberg / Business Week's 50 Most Powerful People in Real Estate.
---
Peter Schiff
Peter's also a multi-millionaire investor, money manager, and outspoken financial pundit.
A best-selling author in his own right (Crash Proof 2.0 and The Real Crash), like Robert Kiyosaki, Peter was on record vociferously alerting people in 2006 about the impending financial crisis.
---
Chris Martenson
An economic researcher and futurist, Chris is an expert in the relationship between energy, the environment, and economics. Rising to prominence with his groundbreaking video series, The Crash Course, Chris is a best-selling author (Prosper!) and hosts a popular podcast featuring interviews with a variety of thought leaders and experts.
---
Simon Black
A former Army intelligence officer turned international entrepreneur and investor, Simon's a worldwide traveler, an avid student of political and financial history, and has developed an eclectic portfolio of investments and business ventures all over the globe.
Simon's diverse experience and global perspectives make his presentations both practical and enlightening.
---
Tom Wheelwright
Tom's a high energy tax and wealth strategist, a best-selling author, an entrepreneur … and is Robert Kiyosaki's personal CPA.
Tom's extremely well-versed in the new U.S. tax law and shares how investors can use it to build substantial wealth and permanently reduce taxes.
---
Kim Kiyosaki
Kim is a high-powered real estate investor, entrepreneur, and best-selling author of Rich Woman. She's co-founder of the Rich Dad company and a popular speaker on the topics of investing,

entrepreneurship, and empowering women.
Kim co-hosts the Rich Dad radio show, and is an avid student of investing, economics, and personal development.
---
G. Edward Griffin
Ed is a renowned investigative journalist and best known for his epic and controversial book, The Creature from Jekyll Island – A Second Look at the Federal Reserve.
Ed has a deep and historical understanding of money, currency,

central banking … and a knack

for explaining all of it in an easy to understand way.
---
Brien Lundin
For nearly four decades, Brien's been an active student, investor, commentator, and newsletter publisher in the precious metals industry.
As producer of the longest running investing conference in the world, Brien's one of the most informed, connected, and intelligent experts on money, precious metals, mining, investing, and economics.
---
Future of Money and Wealth is brought to you by The Real Estate Guys™ Radio Show
Broadcasting on conventional radio since 1997, The Real Estate Guys™ radio show is an investment talk program focusing on real estate as the core of a real asset portfolio.
After being among the many real estate investors caught completely unaware and unprepared for what happened in 2008 …
… hosts Robert Helms and Russell Gray are on a mission to bring the brightest and best real asset investing experts together to share insights, ideas, and strategies for building and preserving real, sustainable wealth.
The Real Estate Guys™ co-host Russell Gray explains why …

What YOU DON'T KNOW you don't know can COST YOU BIG …
Sound dramatic? Maybe. But consider this …
Wealth Wiped Out Without Warning
In 1929, 1987, 2000 and 2008 … millions of people were financially DEVASTATED by market disruptions they didn't even see coming.
Meanwhile, in those very same markets … informed and prepared investors not only survived … they THRIVED.
What's the difference?
Be Careful Who You Listen To
Successful investors didn't buy the hype from Wall Street, financial media, and politicians who downplay dangers … just so they can earn fees, placate advertisers, and win votes.
Remember this classic assurance?

"Importantly, we see no serious broader spillover to banks or thrift institutions from the problems in the subprime market."
Federal Reserve Chairman Ben Bernanke on May 17, 2007



Oops. Of course, just a year later the financial system melted down … triggering the GREATEST FINANCIAL CRISIS since the Depression.
But successful investors back then understood history. They looked at the financial system underneath the "strong" economy … and saw reasons to be alarmed.
They paid attention to the people and signs others were ignoring …
… so they could be proactive to get in position to prosper while there's still time.
TODAY, there are record levels of consumer, corporate, and government debt …
… and rising interest rates are already triggering loan defaults … to levels not seen since the 2008 crisis.
Stocks indexes are setting bubble highs … and market volatility suggests traders are ready to run for the exits … crashing prices … at the first sign of recession.
And that's just some of the more obvious challenges facing Main Street investors.
But there's GOOD news …
Many successful investors prospered through past market disruptions and YOU can too.
By finding new ideas, strategies, and the right experts you're better able to see what's coming sooner …
… so you can be proactive preparing YOUR business and portfolio to both survive and THRIVE through the next crisis.
Future of Money and Wealth brings YOU important insights from many top experts … so YOU can be more aware and prepared.
Eavesdrop on the Experts …
Imagine being a fly on the wall while some of the biggest brains in economics and investing share expert insights and discuss the most pressing issues facing investors today ..
You don't have to imagine … because the Future of Money and Wealth is all on videotape and ready for YOU to watch from the comfort of your own home or office!
Just ONE good idea can make or save you a FORTUNE …
Explore the future of money and wealth with people well-qualified to have an opinion …
Speakers include Rich Dad Poor Dad author Robert Kiyosaki and outspoken financial pundit and money manager Peter Schiff.
Both men are famous for LOUDLY warning the 2008 crash was coming … in spite of being mocked by mainstream financial media.
Back then the economy was STRONG … but the financial system was FRAGILE. And while many "experts" couldn't see it … Kiyosaki and Schiff did.
And while Federal Reserve chair Ben Bernanke was DEAD WRONG … Robert Kiyosaki and Peter Schiff were RIGHT.
Today Robert Kiyosaki and Peter Schiff are concerned again. And this time they're not alone.
Fannie Mae (yes, THAT Fannie Mae … the one making most of the mortgages in the U.S.) chief economist Doug Duncan points out that most of his predictions from last year turned out to be eerily accurate …
… and then reveals when he thinks the NEXT recession will strike (it's not that far away)
And that's just one of TWENTY powerful expert presentations and panels recorded at the Future of Money and Wealth conference.
Other important topics include …
Where real estate is likely headed … and which niches are best positioned for profit
Why oil and gas are likely headed higher … and the important impact on the economy and opportunity for investors
The fascinating rise of block-chain technology … and how crypto-currencies are changing the future of money and wealth
… PLUS a shocking revelation about the RAGING currency war between the U.S. and the tag team of Russia and China.
Far Away But TOO Close to Home …
You'll discover there's a WHOLE LOT MORE to the sparring between Uncle Sam and Russia and China than the mainstream media lets on.
And while it may seem like it's far away from YOUR income and investments … it's NOT.
If you earn, save, or measure your wealth in dollars …
… you REALLY need to understand the Future of Money and Wealth.
Nearly 400 people in the live audience at the Future of Money and Wealth conference were blown away. They called it "life-changing", "eye-opening", and "invaluable".
But don't take our word for it … watch for yourself …
Here's the GREAT NEWS …
We videotaped the ENTIRE event … all TWENTY presentations and panels …
… nearly fourteen compelling hours of essential education …
… and we've organized them all into one powerful online video series.
Now YOU can hear directly about the Future of Money and Wealth from Robert Kiyosaki, Peter Schiff, Doug Duncan, Chris Martenson, Tom Wheelwright, Brien Lundin, Simon Black, G. Edward Griffin … and MANY other top experts.
You may not know who all these people are right now … but you'll be REALLY glad to hear from them.
Their wisdom is impacting the lives of many millions of people all around the world … and it can help you too.
Real World Investors React …
It's one thing to hear and understand what's happening in geo-politics and macro-economics. It's another to decide what to DO about it at the micro-level.
So we included lots of practical insights from a great collection of niche experts, including …
---
Adam Taggart
Adam started his career as investment banker and saw first hand how broken Wall Street is. Later, he helped a company go from start up to acquisition in Silicon Valley. Today, Adam and his partner Chris Martenson develop and share ideas to help people prosper even when the world is full of uncertainty.
---
Kathy Fettke
Kathy's a highly successful real estate investor, syndicator, and investment club leader.
She's also a frequently featured expert real estate pundit in media and at conferences.
---
Gene Guarino
Gene's a recognized leader in the residential assisted living facilities investing space. He's a trained, but not practicing Certified Financial Planner. Gene saw opportunity in solving one of the major problems facing an aging demographic … and grabbed it.
---
Beth Clifford
Armed with a formal education in classical economics and graduating with honors, Beth cut her business teeth on the streets of Wall Street.
Today she's CEO of a groundbreaking offshore real estate development and construction company.
---
Brad Sumrok
Brad freed himself from the corporate grind in less than 5 years by investing in apartment buildings.
The 2008 financial crisis crushed many homeowners … and made many apartment investors multi-millionaires. Brad not only built a portfolio that survived the crash … he thrived through it.
---

David Sewell
David is a Canadian-born international agricultural investor and entrepreneur operating in Latin America.
With an MBA in Corporate Finance and an extensive background in real estate, securities, syndication, and international business … there's not much David hasn't seen.
---
Damion Lupo
Damion is a modern-day financial renaissance man with expertise in real estate investing, precious metals, and crypto-currencies. He specializes in strategies using alternative assets and sheltering wealth from predators and taxes through qualified retirement plans.
---
Patrick Donohoe
Patrick is a financial strategist and an expert in the unique use of life insurance contracts for enhanced cash management and private banking.
He has a degree in economics, hosts his own financial podcast, and is an avid student of economics, investing, and financial history.
---
Dana Samuelson
Dana has been in the precious metals business for decades.
He owns and operates a long-established precious metals and numismatic coin dealership, and is past-President of the Professional Numismatic Guild.
---
It's said to truly understand a subject, you need to study it from multiple perspectives.
Wealth that took a lifetime to accumulate can be lost or severely diminished in a financial crisis.
To survive and thrive when a financial system collapses or resets takes understanding, awareness and preparation. Future of Money and Wealth is an affordable, fun, and easy way to get started!
A tremendous value …



This program cost MANY thousands of dollars to produce. With travel, hotel and registration … every person at the taping paid thousands.
And the information in this video series is EASILY worth thousands of dollars … because just ONE great idea can make or save you a FORTUNE.
So we could charge a LOT more for this program … and it would be totally worth it.
And of course, we need to charge SOMETHING to cover costs … AND more importantly, so you have enough skin in the game that you'll actually watch it all.
But as you'll see … it's important to get this vital information out to as many people as possible. So we're making it a no-brainer …
Get ALL 20 videos … 14 hours of compelling content …

for only $497

(regularly $1997)
PLUS a SPECIAL BONUS when you act today … the Strategic Real Asset Investing webinar.

HUGE value … great price … powerful, life-changing information. But ONLY if you watch it!
Remember … what you don't know that you don't know could cost you a fortune … just ask all the people blind-sided by the last financial crisis.
"An investment in education pays the best dividend."
– Benjamin Franklin
Good advice. No wonder Ben's on the $100 bill.
Now it's decision time …

You've read this far for a reason.
You're concerned about the future … YOUR future … but while it's easy to be interested, it takes an investment of time, money and effort to actually get educated and busy implementing.
But if you think that's a burden …
Consider the price of NOT being informed and prepared …

And even if "this time it's different" (famous last words) …
.. and there's never going to be another financial crisis … sunshine and unicorns for as far as the eye can see …
Which is worse … to be prepared and not have a crisis … or to have a crisis and not be prepared?
Remember, the course you don't watch can't help.
Whatever you have, you've worked hard for.
And remember … the flip side of a crisis is opportunity, so it's not gloomy … there's a lot to look forward to and plan for.
For the informed and prepared … the future is bright. But for those who aren't … not so much.
With the stakes this high, it's time to …



To your prepared and prosperous future,
Robert Helms and Russell Gray
Hosts
The Real Estate Guys™ Radio Show
Producers of Future of Money and Wealth
P.S. Think about how much financial education you got in school. Most people get NONE … and so they're easily herded into a system designed to feed the banks interest, the government taxes, and Wall Street commissions and fees.
Worse, without context … it's nearly impossible to recognize major problems forming … while bankers, politicians, and financial media claim all is well.
Future of Money and Wealth will shock and enlighten you … and help you prepare yourself and your portfolio to PROSPER through what many experts believe is an inevitable economic re-set.
You're a click away from changing your future …
Get ALL 20 videos … 14 hours of compelling content … for

only $497

(regularly $1997)
PLUS a SPECIAL BONUS when you act today … the Strategic Real Asset Investing webinar.
Just ONE good idea can make or save you a FORTUNE …
This is our 16th year hosting our annual educational event … the Investor Summit at Sea™. Guests and faculty have all disembarked from a wonderful week learning about the future of money and wealth.
We didn't want our wonderful listeners to miss out entirely on the treasure trove that is the Summit … so we hosted a live recording session on board the ship!
In this episode of The Real Estate Guys™ show, we chat with some of our illustrious faculty members. Listen in to hear their reflections and insights on our week at sea.
You'll hear from:
Your adventurous host, 

Robert Helms

His seasick co-host, 

Russell Gray
Robert and Kim Kiyosaki

, the brains behind

Rich Dad, Poor Dad

G. Edward Griffin

, author of

The Creature from Jekyll Island

Securities law attorney

Mauricio Rauld
Victor Menasce

,

author of

Magnetic Capital

Glen Mather

, president of NuView IRA
---
Listen
---
Subscribe
Broadcasting since 1997 with over 300 episodes on iTunes!
---
Review
When you give us a positive review on iTunes you help us continue to bring you high caliber guests and attract new listeners. It's easy and takes just a minute! (Don't know how? Follow these instructions).
Thanks!
---
Lessons from Robert and Kim Kiyosaki
It was a pleasure to have the always inspiring Robert Kiyosaki and his wife, Kim, on board for the Summit. "It's more important than ever before to come on Summit at Sea because so much has changed," Robert says.
The duo enjoyed hearing from experts with many different points of view. "The conversations happening behind the scenes are the most important part," Robert adds.
Lucky attendees were able to hear from Robert … and female attendees joined Kim in a women-only breakout session about finding financial freedom.
We asked Robert and Kim about their opinions on educating younger people … and why it's important to have youth at the Summit.
"It's important we teach the younger generation," says Robert. "We need to teach kids to look at the world from a different point of view. Most kids haven't been trained to see a problem as an opportunity."
Kim adds, "What they teach you in school is the opposite of what it takes to be successful." According to Kim, school teaches you there's only one right answer … and you should never make a mistake.
But investors need to learn there are many right answers … and mistakes are the best way to learn. Plus, says Robert, "Student loan debt will never amortize on you."
Robert and Kim recently celebrated the 21st birthday of Rich Dad, Poor Dad. "The message remains the same," says Kim. Lessons like "your house is not an asset" and "savers are losers" still ring true, Robert says.
A red pill from G. Edward Griffin
G. Edward Griffin gives this review of the Summit: "I'm amazed at what I learned and that so many people learned so much!"
Edward walked us through the process of writing his book, The Creature from Jekyll Island. He almost gave up twice because he thought he couldn't do the content justice … but he persisted. Today the book is on its 48th printing!
What about the young people? "Young folks can buy into the idea that the banking system is stealing from them in a legalized fashion," Edward says. "We're at a huge tipping point."
Edward created the Red Pill Expo to get the word out to people that things aren't always as they seem in the world of money and banking. "You have to be aware before you can do something about the problem," he says.
The Expo aims to help people "take the red pill, break out of the matrix, and see reality."
Edward had some great words of wisdom for everybody listening … "We have within all of us the power to understand that most of the great barriers in life are not the barriers we think they are."
Three experts on the power of community
The author of Magnetic Capital, Victor Menasce, reports, "When you break bread with people, the level of connection and the environment is amazing."
Attorney Mauricio Rauld agrees. The Summit provides attendees with the opportunity to "absorb knowledge like a sponge," he says. "It's an amazing environment."
Faculty member Glen Mather believed in the power of the Summit so much he brought his first-time property buyer daughter so she could learn too.
Glen has seen the Summit work its wonders firsthand … on himself. "I can't listen to these guys without thinking, 'There is so much we have to change,'" he says.
We think getting together to learn is incredibly valuable … if we didn't, we wouldn't have created the Summit at Sea™. We offer materials like our podcast and educational reports as the start of a relationship … with the hope that listeners will take that relationship to the human level.
Gathering as a community is a powerful experience … and experiences like the Summit allow both fledgling investors and experts alike to learn new information, open their minds to ideas, and form life-long connections.
---
More From The Real Estate Guys™…
The Real Estate Guys™ radio show and podcast provides real estate investing news, education, training and resources to help real estate investors succeed.
Once a year our producers let us out of the studio to hang out on a cruise ship with an enthusiastic contingent of listeners…and some of the biggest brains in investing and economics.  And we always have a GREAT time!
Our tradition is to record a radio show in front of a live studio audience and ask many of our faculty members to share their reflections on the week.
We're always humbled and honored that so many incredibly successful people donate over a week of their very busy lives to inspire and educate our fun-loving collection of investors from all over the globe.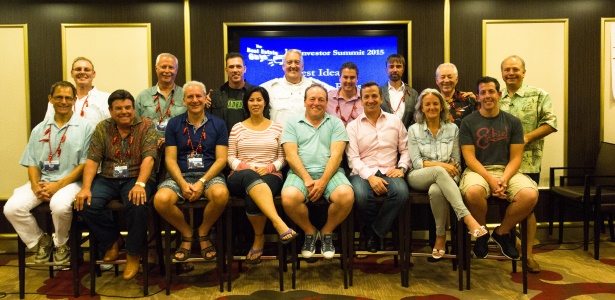 Behind the microphones from a luxurious cruise ship somewhere in the Caribbean Ocean:
Your captain of conversation, host Robert Helms
His first mate, co-host Russell Gray
The founders of Rich Dad, best-selling authors and avid investors, Robert & Kim Kiyosaki
The inspirational and legendary master of salesmanship, Tom Hopkins
World class real estate investor and best-selling author, Ken McElroy
Financial pundit, best-selling author and multi-million dollar fund manager, Peter Schiff
International real estate developer, Beth Clifford
Social entrepreneurs and Rich Dad Advisors, Josh and Lisa Lannon
International entrepreneur, David Sewell
Asset protection and estate planning attorney, Jeffrey Verdon
Financial strategist Patrick Donohoe
Oil and gas investing expert, Paul Mauceli
Private placement attorney and asset protection strategist, Mauricio Rauld
Strategic metal investing expert, Knut Andersen
The Godfather of Real Estate, Bob Helms
Whenever we have a chance to to get around uber successful investors and entrepreneurs, we notice an interesting and encouraging paradox…
First, they're not really bigger than life.
Even though they are doing amazing things…that many of us only dream about…they're just people…like everyone else.
In fact, if you didn't know they were so accomplished in their respective fields, you probably wouldn't even realize they're special.
So it isn't something inherently superior about these people that makes them successful.  In other words, if THEY can do it…you can too!
THAT'S encouraging.
Next, they tend to be curious, respectful and genuine.  They aren't at all the greedy, egotistical, deceptive manipulators TV and movies portray as the stereo-typical ruthless rich person.
That's inspiring.  You can be rich… and still be a decent human being.
So once you're no longer afraid of becoming rich…and yes, MANY people are subconsciously afraid of success…perhaps because of the negative brainwashing about what successful people are and aren't…
The next thing to do is learn and adopt the attitudes and activities which successful use to achieve above and beyond the average person.
So how do you learn to think like a multi-millionaire?
We think one of the best ways is to invest as much time as you can in listening to, talking with, watching and working with as many high achievers as you possibly can.
Everything The Real Estate Guys do is about creating those opportunities for our listeners…whether it's the broadcasts,  our recommended reading or any of the many live events we wither produce or promote.
In this episode, you get to hear how these high achieving faculty members process the Summit at Sea experience.
But listen carefully…because often the best lessons are subtly woven in to what often sound like casual off-hand comments.
Remember, the difference between where you are today and where you want to be in 10 years are the thoughts you think, people you meet and the actions you take.
But it all starts with your thoughts.  So be sure you invest some time every day putting good ideas into your mind.
To secure YOUR place on the next amazing Summit at Sea…click here now.
Listen Now: 
The Real Estate Guys™ radio show and podcast provides real estate investing news, education, training and resources that help real estate investors succeed.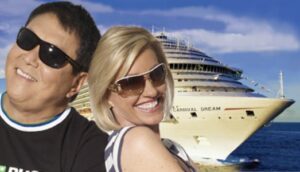 Rich Dad Poor Dad author Robert Kiyosaki and his lovely wife Kim Kiyosaki (author of Rich Woman), plus several of their Rich Dad Advisors® are all part of The Real Estate Guys™ 10th annual Investor Summit at Sea™.
And while the idea of spending an ENTIRE WEEK at a conference may seem a little boring, nearly seven of the eight days take place aboard a cruise ship sailing the Caribbean and visiting four beautiful ports.  That's the complete opposite of boring.
Wow!  Fun in the sun and financial education too.  No wonder Robert and Kim are smiling.  And when you join us, you'll be smiling too!
After all, we already have people coming from ten different countries.  Just imagine the caliber of people you'll meet, the quality of conversations you'll enjoy, and all the things you'll learn!  Plus we have an all star faculty – all of whom have committed not only to teach,, but to hang out with you at our private parties, shore excursions, round table discussions and nightly shipboard meals.  Really, is there ANY other place you can go to get this level of education, access and entertainment?
Here's a special message from Robert Kiyosaki:

And this special message from Robert and Kim is for couples: 

This Investor Summit at Sea™ is a VERY RARE opportunity for you to learn from and get to know the Kiyosakis, their Rich Dad Advisors and, of course, The Real Estate Guys™ and the rest of our amazing Summit faculty – all aboard the spectacular Carnival Dream.
So make your plans NOW to be on board March 30th – April 7th, 2012.  Space is limited and your reservation must be secured many weeks in advance.  If you wait too long, the event may sell out.  Don't miss the boat!!! For all the the details, click here now.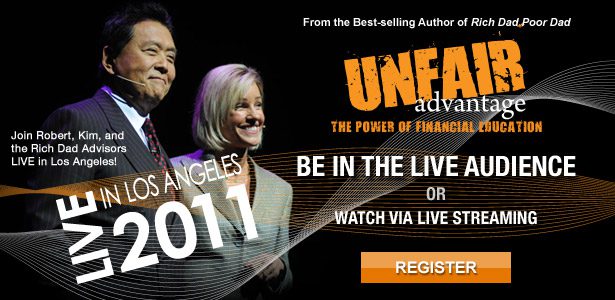 The Real Estate Guys™ just got back from an awesome visit with Robert Kiyosaki and the Rich Dad team in Scottsdale, Arizona – home of spring training for the World Champion San Francisco Giants!  And courtesy of Rich Dad's Real Estate Advisor (and our own Summit at  Sea™ faculty member) Ken McElroy, we got a chance to take in a few innings before heading to the Rich Dad offices to interview Robert Kiyosaki for an upcoming episode of  The Real Estate Guys™ Radio Show.
Our interviews with Robert Kiyosaki are always fun and enlightening. You can always count on Robert to tell you what he really thinks!  So watch for that interview, which you can listen to online or via iTunes.   To make sure you don't miss it, or any of the shows, be sure to subscribe to the free podcast.
In the unlikely event you don't know, Robert Kiyosaki is the author of mega-best seller Rich Dad Poor Dad.  We've had many of our listeners tell us how Robert's teachings has changed their lives.  Some people in the conventional financial industry and media are critical of Rich Dad (and the feeling is mutual), but the success of the Rich Dad message speaks for itself.  The conventional industry fosters dependency and profits on the public's financial ignorance.  Rich Dad is committed to empowerment through education.  We like it.
So what's on Robert Kiyosaki's mind right now as America struggles to recover from the Great Recession?
Robert Kiyosaki says it's more important than ever to have a solid real world financial education. Wall Street, the Federal Reserve and Washington DC aren't to be trusted with your hard earned money.  There are games being played at high levels that victimize the poor and middle class.  And it doesn't matter which party is in power.  He calls it "the conspiracy of the rich"  and wrote a best selling book by the same title.  For years, he's been saying the rich will get richer, while the ranks of the poor will swell as the middle class is pushed down. Don't believe it?  Just read the headlines every day.
So the question isn't whether or not it's happening.  The question is: What are YOU going to do about it?
Kiyosaki says (and we agree) that the first and most important thing to do is to make a COMMITMENT to your own financial education.  There are a few things in life that you cannot afford to be ignorant about, and money is one of them.  Otherwise, the people who understand money will find a way to take yours.  The old adage is true:  when experience meets money, the money gets the experience and the experience gets the money.
The VERY GOOD NEWS is that YOU get to decide which side of the equation you're on. And your success begins with education.  We support the Rich Dad organization because they are committed to education, just as we are at The Real Estate Guys™ Radio Show.  It's that common bond that keeps us supportive of one another.
So we highly encourage YOU to be in the live or virtual audience on March 31st to discover how YOU can gain an Unfair Advantage through education.  Learn to protect and build your wealth and prosperity – even in (and because of) difficult times.
Click here now to learn more and register for this live event!
Then afterwards, use our Feedback page to tell us what you think.
In our continuing quest for real estate wisdom, The Real Estate Guys catch up with two of the most active real estate investors around.  As 2009 closes and we look forward to the new decade, what do the experts think?
Gazing into their crystal balls for this episode:
Your senior seer, host Robert Helms
Chief ball polisher, co-host Russell Gray
Rich Dad's Real Estate Advisor, best selling author and real estate entrepreneur, Ken McElroy
Best selling author, prolific real estate investor and entrepreneur, Kim Kiyosaki
We like to talk to people who know what they're talking about.  Not just because they're smart, but because they have wisdom that only comes from experience.  We kick off with an honorary member of The Real Estate Guys, Ken McElroy.  This is a show worth listening to with a note pad because he gives us some great pearls of real estate wisdom!
Ken starts out telling us what he's excited about as we enter the new year.  While many people are licking their wounds, Ken says 2009 was his best year ever!  Then he goes on to explain why the unraveling of the mortgage industry has provided extraordinary opportunity.  He also discusses his strategies for market selection, tells us what NOT to do, and then reveals some of the markets and product types he's most interested in right now.  Plus, he gives us the one key item he looks for to find markets that are more likely to provide lower marketing and turnover costs, and a bigger pool of quality tenants.
Ken wraps up his appearance by sharing what he sees coming in 2010 in terms of interest rates, foreclosures, rents, inflation, the dollar and more!  Really good stuff!
The second half of the show features a conversation with Kim Kiyosaki,  Rich Woman author and big time real estate investor.  She gives us her take on the prospects for 2010, which includes both bad news and good news.  Then Kim shares some details on a huge real estate deal she just closed which exemplifies her forecast.  She reminded us that she started in 1989 in the middle of the last real estate "meltdown" with no money and no credit.  Unable to obtain conventional loans for the first 8 years, she explains how she had to be creative to get her deals done. When you hear the size of her latest deal, you'll realize how much can change in 20 years!  As we said in Equity Happens, 20 years from now it's going to be 20 years from now.  The difference will be what you choose to do between now and then.
We're going to continue checking in with the biggest brains in real estate to see what they're going to be doing in the new decade.  Stay tuned to The Real Estate Guys – and tell a friend!
Don't miss a show! Subscribe to the Free Podcast
Want More?  Sign Up for The Real Estate Guys Free Newsletter!
Today's Wall Street Journal reports that MGM Mirage is cutting the price of  the condominiums in its spectacular City Center project in Las Vegas, Nevada.  How big a cut?  Thirty percent!  We're not sure what their margin is, but that's probably all of it and then some. Ouch.
Worse, it's probably still not enough. But only time will tell.  The cuts are a little surprising to us, but clearly they're the result of a major reality check for MGM Mirage.  And this post isn't really about Las Vegas, MGM or City Center.  It's about the LESSONS available in this situation for all of us.
Lesson #1 – The market sets the price. Whatever MGM needs to cover its cost is interesting, but only to MGM.  The market decides what its willing to pay.  In this case, MGM is hoping it's just 30% off.  Before it's all done the market may want more.
Lesson #2 – The market is fickle. Three years ago people were willing to pay more. That's why MGM sold so many.  People had equity, unemployment was half what it is today, financing was readily available for almost anything related to real estate  – even condo-hotels.  But a funny thing happened on the way to the closing table.  Okay, not so funny.  But the stream of foreign money through Wall Street into mortgage backed securities got shut off almost over night, taking with it equity and working capital.  A market heavily driven by momentum did an abrupt 180.  Whether you're rehabbing a fixer upper or building a skyscraper, if your success requires you to find a ready,willing and able buyer (or in MGM's case, thousands of them), you better get to market fast – because things can change.
Lesson #3 – Have a Plan B. Donald Trump's Plan A was to sell the condos in his Las Vegas project, just like MGM and every other developer participating in the Las Vegas rush for real estate gold.  When Plan A bit the dust, he converted the project into a hotel.  Still a tough gig, but the goal is to get some cash flow to hold the property until things improve.  Rich Dad Advisor and Robert & Kim Kiyosaki's investment partner Ken McElroy says they only do deals they can afford to stay in for 10 years.  Plan A may be to build or fix up for quick sale, but Plan B is to structure the deal so it still makes sense if they have to hold.  Plan A is a win and so is Plan B.
Lesson #4 – Understand the other party's needs, wants and desires. When you're in a deal that's going sideways, whether for reasons under your control or those not (certainly MGM could not predict, much less control the mortgage meltdown), it's easy to fixate on your own pain.  If buyers aren't willing to close on City Center, should it be assumed they are unwilling because of the price?  Could they be unable because of lack of financing?  Could they be afraid of reduced rents on their units due to the soft economy?  Until you know what the issue are for the other party (again, in MGM's case, thousands of them), you might give up or give away profit unnecessarily.
Lesson #5 – Use Creativity to Protect Profits (or minimize losses). Certainly we don't know all the considerations for MGM, and presumably these are extremely smart people, but we know many investors who are in contract for units in City Center and we haven't heard any discussion of owner financing.  We know that condo-hotel pricing has all but disappeared. For many buyers getting a conventional third party loan is an impossibility.  But what if City Center carried back the financing?  It doesn't get cash, but it gets an asset (a mortgage). For those buyers who need income to service the mortgage, couldn't MGM as the hotel operator, steer more guests into the unit? After all, they still get their operator's share of revenue, plus they get the mortgage payment.  The owner may need to kick in a little cash flow to feed the mortgage, but better than losing one's deposit. After all, it's still one of the premier properties in the country.  Where do you think values will be in 20 years?
You may not be a Big Time Operator like MGM.  But real estate is real estate and when you watch what's happening for the BTO's, many of the lessons will apply to you.
The REAL Book of Real Estate
by Robert Kiyosaki and 22 Contributing Co-Authors
He's back.
Robert Kiyosaki, author of Rich Dad Poor Dad, one of the best selling books in history, is back talking about real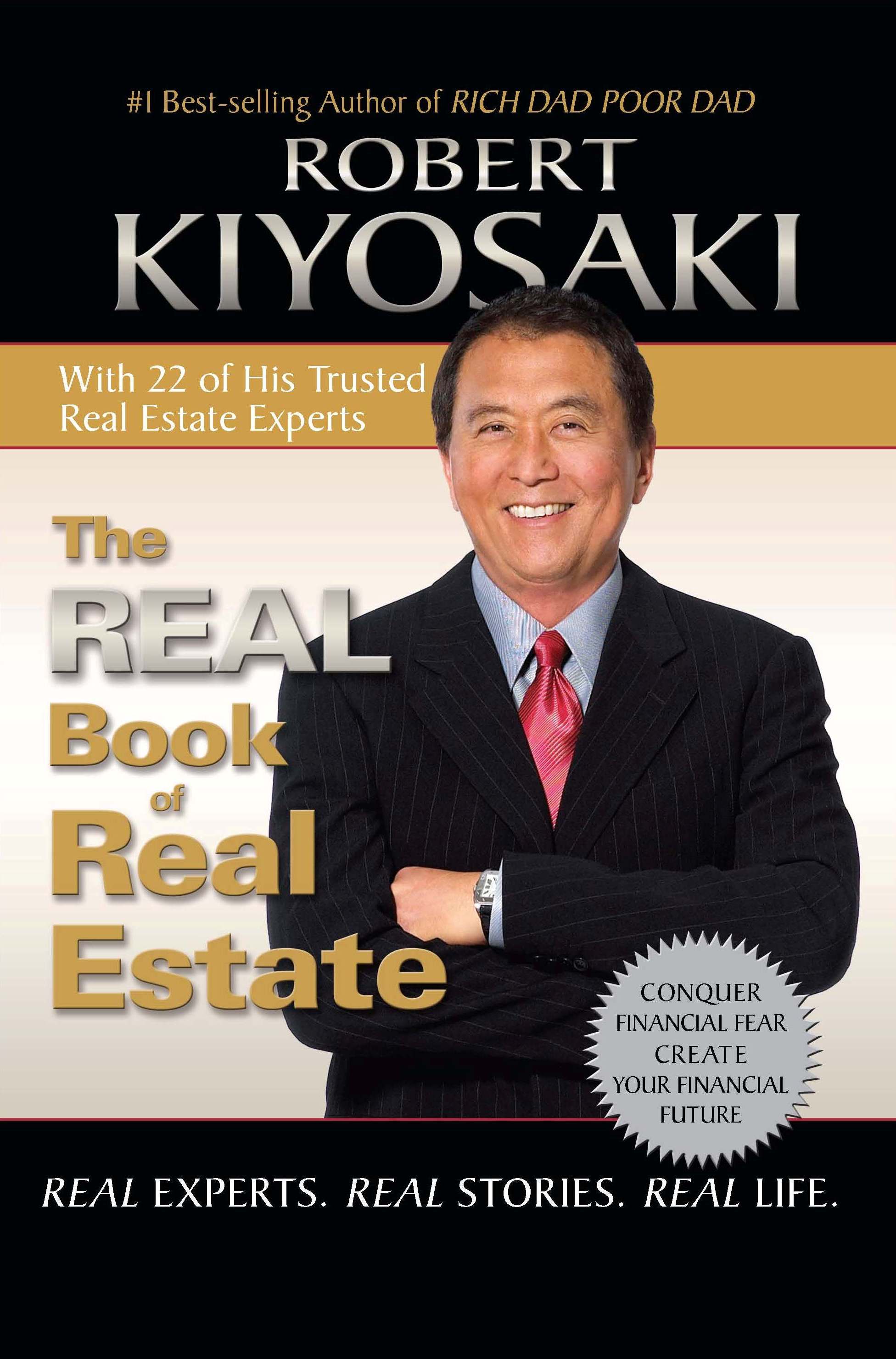 estate!  Why now?  He says the rules have changed and the numbers make sense again.
In The REAL Book of Real Estate, Kiyosaki compiles real estate investing wisdom from 22 veteran experts.  The Real Estate Guys had a chance to talk personally with Mr. K. about this book and the unusual timing of its release.  You would think that a book on real estate investing would be a hard sell in this post meltdown world.  And it is.
But the book was released now to help investors who've only known boom times.  It shares the knowledge and perspectives of veterans who've survived and thrived through previous real estate market cycles (which is lesson #1:  real estate cycles, it doesn't disappear).   If real estate isn't "over", then the question remains: where are the opportunities and how can I find or create them?  That's what this book addresses.  It might be a bad time to sell a book on real estate investing, but that might make it a great time to pick up bargain properties.  This book will teach you many of the things you need to know.
What we like best about it is that it's immensely readable.  It isn't a book about theory.  It's very real world practical.  And you can start anywhere, as each author's work is a stand alone discussion about their particular area of expertise.  It's as much a reference manual as an educational work.
We like it.   We've been around real estate for awhile and we learned a lot.  We think you will too.
Order your copy today – and be sure to visit the archives to listen to The Real Estate Guys' exclusive interviews with Robert Kiyosaki and many of his contributing co-authors.  Let us know what you think!