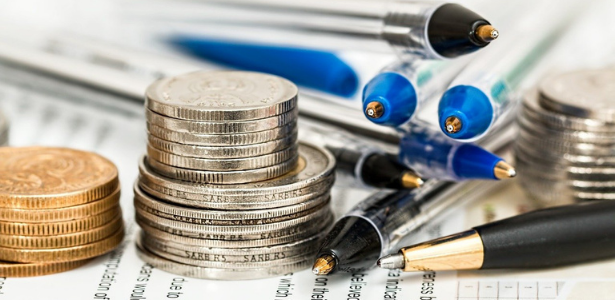 Taxes, politics, and real estate investing might not be as salacious as sex, lies and videotape … but it's arguably just as intriguing.
By now we're sure you've heard all the "outrage" about allegations the United States' Real Estate Investor-in-Chief paid nearly no federal income tax.
This shocks no one who understands real estate or the tax code, but it's sure to rile up those who don't. Call us cynical, but we suspect this might be the plan.
We're not here to pour gas on the fire … or defend or attack any candidate, party, platform, or policy. If we influence you, we hope it's simply towards Education for Effective Action™.
After all, the tax code is a tool available to ANYONE willing to invest the time and effort to learn how to use it.
Of course, you probably already know this.
But this entire debate over what's really in Donald Trump's tax returns promises to push the incredible tax benefits real estate investors have enjoyed for decades …
… right into the mainstream media's crosshairs …
… AND into the focus of nearly every moderately politically cognizant person during one of the most watched election cycles in history.
So before you put on your red, blue or orange face paint and cheer for your team and curse "the enemy" …
… let's consider the potential challenges and opportunities of these unfolding events for all real estate investors … blue, red, green or yellow.
A Main Street Wake Up Call
The tussle over Trump's tax returns is going to wake up a lot of people who have no idea the tax code allows real estate investors to legally reduce their taxes to nearly nothing.
Some will be outraged … at least outwardly. Most rational people will realize Trump didn't write the tax code … he simply used it effectively.
Some people will be angry. Others jealous. Some suspicious.
But we're guessing a big chunk of people will be curious enough to fact check the law … because it's 2020 and they can.
And it won't take long to find the key to tax-free wealth involves real estate.
Further, as more people discover the tax savings is legit and how to do it, we bet a lot of the newly aware will be looking to get in on the action.
Of course, not everyone will want to go out and become a hands-on real estate investor. Many busy and retired people still want the "Wall Street" convenience of passively investing with professional asset managers.
But when they find they can have their cake and eat it too ...
… it could create a surge of interest in real estate private placements or "syndications" …
… and an even better opportunity for real estate syndicators to attract capital.
In fact, one of the most successful alumni of our syndication training has been using the tax benefits of his deals to raise over $200 million in private funds.
Meanwhile, back to the political drama …
Calling Capitol Hill's Bluff
As media fans the flame of tax-avoidance outrage … and opportunistic politicians myopically jump on the trash Trump bandwagon …
… the very politicians who created the tax laws Donald Trump and nearly every other well-advised real estate investor uses to legally reduce tax liability …
… could potentially face a lot of pressure to either defend them (at great political cost) or eliminate them.
In fact, in the first 2020 Presidential debate, Joe Biden claimed he would.
Of course, politicians of all colors are famous for making lots of promises and espousing policies they never actually follow through on.
We'll let you decide which outcome you prefer, and which team is likely to push for it. Vote your conscience.
We're just raising awareness so you can best prepare your portfolio … come what may.
What do we think will happen?
Well, since you asked …
When we look past the two teams on the field and the fiery rhetoric …
… we see a financial system which requires the unrelenting and perpetual expansion of debt.
We've explained this many times in the past, but in simple terms … any system which borrows its currency into existence at interest can ONLY repay by borrowing more.
If that's confusing, just sit and think about it.
If you borrow $100 into existence at 10% annual interest to run your "economy" … no matter where the money ends up at the end of the year … the economy owes $110 (principal + interest).
The obvious problem is there's only $100 in existence. The ONLY way to pay the interest and keep the economy going is to borrow MORE.
Spoiler alert: THAT is (apparently) THE plan. And (perhaps) all the rest is theater.
If this makes no sense to you, that's because it makes no sense.
As we explained in our Future of Money and Wealth conference, it's a faulty, unsustainable system.
Nonetheless, this is the system which was born in 1913 as a result of a secret meeting at Jekyll Island, Georgia. If you don't know the story, it's a great Halloween read.
But because the system is based on debt, the tax law encourages borrowing.
And because the best collateral for loans is real estate, it's no surprise the best tax breaks are with real estate.
As CPA Tom Wheelwright has been telling us for years, the tax code is written to coerce people and businesses to do what the government wants.
And just in case you've heard the argument taxes are necessary to pay for government … there's a different perspective from someone well-qualified to have an opinion …
Click here to read the transcript of a public speech given by a high-ranking Federal Reserve official who admits …
…income taxes are NOT necessary to pay for government… AND the tax code is overtly used to manipulate private sector behavior for political purposes.
So will the tax breaks for real estate go away?
Probably not completely. But some of the best bonus depreciation breaks are already slated to expire soon … unless they're extended to create more stimulus.
We're not waiting around. There's a window of opportunity for real estate investors … so we think the smart move is to grab them while you can.
Until next time … good investing!
Most investors don't really know what it means … or what to do about it …
Real estate investors are more likely to be interested in grading slopes than yield curves. And the Fed's balance sheet? That's REALLY esoteric and boring.
BUT … the Fed is the most powerful and influential financial force in the world … affecting the stock and bond markets (where mortgage rates are set), the economy, and even geo-politics.
The Fed seems to prefer hiding in the shadows …
… except when diverting attention from charts like the one below with cryptic congressional testimony and occasional PR appearances on TV.
This chart shows the Fed's ballooning balance sheet …
The numbers might be too small to read, but they're too big to comprehend … with over $7 trillion of assets (nearly double from just 4 months ago).
You may or may not know what it means, but set that aside right now … and just look at the slow and stable trajectory leading into the end of 2008 …
… and the "big" spike at the beginning of 2009.
Bring back any memories?
We found flipping the chart over helps …
Now, instead of looking like a positive, happy, upward trend … it looks more like the way it felt …
… like you were paddling along on a river until late 2008 when … whoosh! You went into a rough patch of white waters.
Then after a bit of a bumpy ride, you settled into a deep but slow descent into "the eye of the storm" (yes, we just mixed the metaphor) where it seemed stable and trending up.
Then some headwind … you might say your momentum was tapering … and then a little teaser turbulence right before …
WHOOSH!!! Over the waterfall.
This is what it FEELS like for investors riding waves of Fed liquidity via "quantitative easing" (Fedspeak for printing unfathomable amounts of dollars).
Of course, the Fed doesn't really "print" … that's so 20th century.
Here's the official explanation straight from Fed Chairman Jerome Powell's appearance on 60 minutes:
60 MINUTES: Fair to say you simply flooded the system with money?
POWELL: Yes. We did. That's another way to think about it. We did.
*** (ANOTHER way to think about it? What's the first way???) ***
60 MINUTES: Where does it come from? Do you just print it?
POWELL: We print it digitally. So as a central bank, we have the ability to create money digitally. And we do that by buying Treasury Bills or bonds or other government guaranteed securities. And that actually increases the money supply.
Hopefully, that's VERY clear.
The Fed, by their own admission, simply conjures dollars out of thin air and uses them to buy government-backed debt.
Keep this in mind when you're perplexed about why the government not only grows its own debt but seems all too willing to guarantee private debt also.
But don't think about all that too much now. Let's focus on the discussion at hand …
The Fed's balance sheet shows HOW MUCH digital money the Fed conjures out of thin air … as reflected by how much government-backed debt they own.
Think about this …
The Fed creates dollars out of thin air at no cost. At this point, it has no value because it cost nothing to create.
Those fresh dollars only become valuable later when someone who did real work and produced a real product or service is willing to trade their product for those previously worthless dollars.
Doesn't seem quite fair to the person doing real work. But that's a rant for another day.
Of course, the Fed doesn't actually put the money directly into circulation. They loan it to the government, who then must spend it into circulation.
Seems like a pretty good deal for the government. They get to spend lots of money to buy nice things … like votes.
If we didn't know better, we'd be tempted to think the Fed and Uncle Sam have a bit of a racket going.
Nah.
So if the Fed prints dollars for free and then loans them to the government, wouldn't this make them separate parties?
Good catch. Yes, they are. Of course, that's also another rant for another day, and not our point right now.
Today, we're less concerned with who the Fed is … and more focused on what they're doing and what it REALLY means to Main Street real estate investors.
It's a bit more complicated than just interest rates and inflation. Sorry. But it's important because what's brewing isn't your run-of-the-mill financial crisis.
Back to our story …
So the Fed prints money from nothing and lends it to Uncle Sam. But when the government borrows money, who pays it back … and how?
Hint: The Federal Reserve, the income tax, and the IRS were all created at the same time as part of the 16th amendment in 1913.
Why?
Well, it seems there was a financial crisis in 1907, and the politicians and their funders decided to "fix" the situation.
Of course, "fix" is a word subject to interpretation …
"Repair, mend" … OR … "to influence the actions, outcome, or effect by improper or illegal methods".
– Merriam-Webster Dictionary
And since we're quoting …
"Never let a crisis go to waste." 
– Saul Alinsky
"Never let a good crisis go to waste."
– Winston Churchill
"You never let a serious crisis go to waste. And what I mean by that it's an opportunity to do things you think you could not do before."
– Rahm Emanuel
You get the idea. Exploitation of a crisis is a standard operating political principle that's been around a long time. And the consequences often land on Main Street.
And speaking of principles that have been around a long time …
"The rich rules over the poor; and the borrower is servant to the lender." 
Proverbs 22:7
Interesting.
We're guessing you're smart enough to put all that together for yourself. Must be nice to print money out of thin air and buy up trillions in debt.
Meanwhile, back on Main Street …
You don't need to be a rocket surgeon to know you can only extract so much tribute … even at zero interest … before the burden is simply too much.
As we noticed last September, there were signs of severe systemic stress BEFORE the COVID-19 crisis hit.
Now everything is moving much faster … so it's important to pay close attention and be ready to react to both the approaching dangers and opportunities.
Obviously, dollars are nearly free right now. It's probably not a bad idea to grab all you can while credit markets are still functioning.
We're noticing small businesses and commercial properties coming on the market at an increased pace … and with "price reduced!" in the pitch.
That's a clue the crisis sale might be starting.
You also may have noticed precious metals are catching a bid in dollar terms. That's talking head jargon for gold and silver prices are going UP on dollar price.
This indicates more dollar-denominated investors are choosing to keep some liquidity in precious metals versus currency.
This makes sense as every other currency in the world is already at all-time lows versus gold (i.e., gold is at all-time highs in every currency except the dollar).
When the Fed is printing trillions of dollars each year … and Uncle Sam is aggressively putting them into circulation … the historical result is a falling dollar.
And despite what you may hear on financial TV … we think it can be strongly argued this is setting up a perfect storm for leveraged income-producing real estate.
Remember, Wall Street and the TV gurus who promote them believe investing is "buy low, sell high".
But real estate investors think "cash flow" … which is the only reliable source of equity. Income creates real equity.
Meanwhile, strategic real asset investors put it all together into a bigger picture …
Real estate (especially residential) is a sector strongly supported by the most powerful constituencies … politicians, bankers, and voters.
That's a lot of love … and a great place in line when emergency help is doled out.
More importantly, debt is the real investment.
Income property mortgages are essentially a big short of the dollar with a great feature: the income from the property makes the payments.
So while you may not be able to print money like the Fed, using the right real estate debt is pretty close. And …
… the Fed is ALWAYS working on making debtors winners.
And when you use debt to convert real estate equity into precious metals, you have a very powerful shield against a falling dollar.
Yes, it's true the dollar is catching the "best last paper currency standing bid" …
… but the dollar's relative strength against other paper currencies at the same time it's showing weakness against gold …
… is a major clue there's some real-world weakness likely coming for the dollar in the not-too-distant future.
Yes, we know this is a lot to absorb. It's why we keep repeating ourselves.
But rather than getting bored, we hope you're getting inspired to study and prepare. This is a whole new ballgame.
This four-phase cascading crisis is still very early in its life-cycle.
It's not the time to succumb to a short attention span.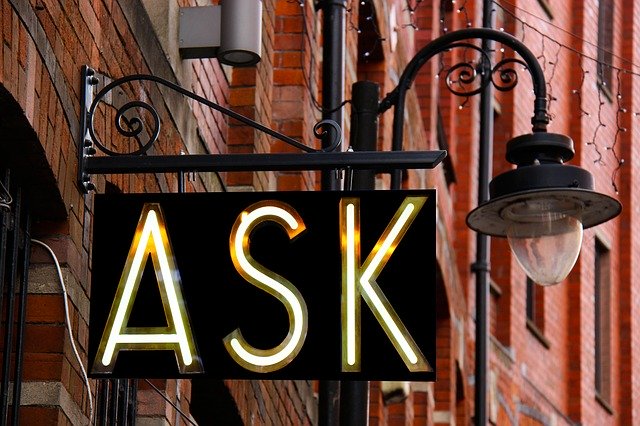 That's right. It's another episode of our favorite topics from our favorites guests … YOU!
It's time for another segment of Ask The Guys … and we're ready to tackle the tough questions. 
We're touching on 401ks, purging portfolios of problem properties, and how to prepare for what many believe is an inevitable bust. 
And … there's more!
The best way to learn is from each other. 
Remember … we aren't tax advisors or legal professionals. We give ideas and information … NOT advice. 
In this episode of The Real Estate Guys™ show, hear from:
Your succeed-or-bust host,

Robert Helms
His bust-a-gut co-host, Russell Gray
---
Listen
---
Subscribe
Broadcasting since 1997 with over 300 episodes on iTunes!
---
Review
When you give us a positive review on iTunes you help us continue to bring you high caliber guests and attract new listeners. It's easy and takes just a minute! (Don't know how? Follow these instructions).
Thanks!
---
401k sitting idle
Our first question is from Lenedia in Forney, Texas. She says she has about $16,000 left in an old 401k plan that's just sitting idle. 
She wants to invest this money in real estate or in another niche that would give her a profit within a year … but she wants to know our advice for a first time investor. 
Well, we don't give advice … but we are happy to share ideas. 
The duration of the investment is always an important factor. When you're looking for a return in a short period of time … it limits the things you can invest in. 
When you're using retirement savings … there are some rules and some risks. 
The best thing you can do as a first time investor is get educated. Invest in investment. The good news is that it doesn't cost that much. 
In this particular case, you'll want to learn about 401k plans and how they dictate what you can invest in. 
Maybe you're at a point in your life where it's time to start taking distributions from retirement. In that case, you may make different choices about where you invest the money. 
One of the big advantages of retirement account investing is that it isn't subject to the same taxation.
But again … the most important thing you can do is educate yourself on all the options before you make a decision. 
What to do with non-performing properties
Christopher in Anchorage, Alaska, started purchasing multi family real estate in 2013. Currently, he's sitting on two unfinished, non-performing properties.
Christopher says he either needs to find a buyer that wants to finish the properties … or an investor willing to front the funds so they can be finished and flipped for a cash out. 
What have we seen in these types of situations?
The real essence of the question is, "How do you get rid of a property you don't want?"
Anytime you're looking at an investment decision, you're looking at its current condition. Whatever it is … it's worth something in its current state. 
That worth is your baseline. Then, you look at what the potential of the property is … and what it is going to take to bridge the gap between where it is and its potential. 
If you can bridge that gap and make a profit … it may be an opportunity … but it still might not be the opportunity for YOU. 
Have other investors in your life come and look at the property and the market and ask them what they think the opportunity may be. They may see an opportunity that you don't … or they may want to take it on themselves. 
Either way, it's time to take a look at how the properties got this way to begin with. Why did this project croak on your watch?
Use it as a learning opportunity … and if you decide to take on the project yourself, you'll need to be able to explain what happened to other investors. 
When you take the property to market … you may just decide it is best to take a loss on it and move on. Nobody gets through this business clean. 
Extra billions and the bust 
Jason in Merrick, New York, wants to know if we see the recent creation of billions of dollars pumped into the banking system having an impact on real estate. 
In the U.S. and many other countries, there is what we would term quantitative easing … printing money and creating billions of dollars out of thin air. 
Of course, there are ramifications. And there are a couple of things to think about. 
Lots of this capital gets into the system, and it doesn't get back out again. That's how it stays contained. 
People have access to the capital through whatever means bid up the assets that are in demand. 
That being said, there's a lot of motivation on a lot of people's parts to prop up real estate … because bankers make loans against real estate.
If those loans go bad … if real estate prices drop … the voters that live in those homes get angry at politicians. 
Some politicians are very motivated … that's why you see a lot of effort to create subsidized financings and easing lending guidelines. 
All that to say that historically, more money being pumped into the system is good for real estate in the long term. 
Sometimes, it does create major disruptions in the credit markets. When that happens, credit markets dry up like they did in 2008 … and that has a negative impact on real estate prices.  
But, if you're a cash flow investor and you're controlling your real estate with prudent cash flows and long term structured debt that isn't going to be called … you can ride that wave out. 
If prices were to crash again, we think it would be fair to expect that the powers that be will do exactly what they did last time … funnel lots of money into real estate until they can re-inflate. 
So, there are a lot of maybes and what ifs … but generally, real estate is the winner when there is more money floating around in the system. 
More Ask The Guys
Listen to the full episode for more questions and answers. 
Have a real estate investing question? Let us know!  Your question could be featured in our next Ask The Guys episode.
More From The Real Estate Guys™…
The Real Estate Guys™ radio show and podcast provides real estate investing news, education, training, and resources to help real estate investors succeed.
---
Love the show?  Tell the world!  When you promote the show, you help us attract more great guests for 

your

 listening pleasure!
The mother of all private equity firms just issued a warning …
Blackstone Group Warns of the Mother of All Bubbles
Investopedia via Yahoo Finance – 11/11/19
According to the article, Blackstone's "… biggest concern is negative yields on sovereign debt worth $13 trillion …".
Remember, the 2008 financial crisis was detonated in bond markets … and the bomb landed hard on Main Street real estate.
So yes, this is something Main Street real estate investors probably want to pay attention to.
In fact, the article says Blackstone "… sees a troubling parallel with the 2008 financial crisis …"
Keep in mind, Blackstone manages over $550 billion (with a B) … which includes over $150 billion of real estate equity in a portfolio of properties worth over $320 billion.
So Blackstone has both the means and the motivation to study these things intensely … and they think about real estate too.
Of course, this doesn't mean they're right. But they're certainly qualified to have an opinion worthy of consideration. And right now, Blackstone is worried.
And they're not alone …
More than half of the world's richest investors see a big market drop in 2020, says UBS survey
CNBC – 11/12/19
"Fifty-five percent of more than 3,400 high net worth investors surveyed by UBS expect a significant drop in the markets at some point in 2020.
"… the super-rich have increased their cash holdings to 25% of their average assets …."
Of course, they're talking to paper asset investors, but the sentiment applies to the overall investment climate, which also affects real estate.
Also, by "super-rich", they're talking about investors with at least $1 million investable. So while that's nothing to sneeze at, it's also not the private jet club either.
So from behemoth Blackstone Group to main street millionaires, serious investors are worried right now.
Should YOU be worried too?
Probably. But it's not what you think …
In fact, according to this article, Blackstone's CEO Stephen Schwarzman believes worrying is fun …
"In his new memoir What it Takes, the private-equity titan advises readers that worrying 'is playful, engaging work that requires you never switch it off.'
This approach helped him to protect Blackstone Group investors from the worst of the subprime real estate crisis …"
There are some really GREAT lessons here …
Worrying is something to be embraced, not avoided.
Many people believe investing and wealth will create a worry-free life. Our experience and observation says this is completely untrue.
In fact, to adapt Ben Parker's famous exhortation to his coming of age nephew Peter Parker in the first Tobey Maguire Spider-Man film …
"With great wealth, comes great responsibility."
Worrying is the flip side of responsibility. They go hand and hand. If want wealth, you need to learn to live with worry.
Worrying isn't about being negative or pessimistic.
In Jim Collins's classic book, Good to Great, he says great businesses (investing is a business) always "confront the brutal facts".
That's because you can't solve a problem you don't see.
But missing problems isn't merely a case of oversight or ignorance. Sometimes, it's bias or denial.
In fact, one of the most dangerous things in investing is "normalcy bias".
This is a mindset which prevents an investor from acknowledging an imminent or impending danger and taking evasive action.
Mega-billionaire real estate investor Sam Zell says one of his secrets to success is his ability to see the downside and still move forward.
Threats often aren't singular or congruent … they're discordant.
According to this article …
"CEO Steve Schwarzman of Blackstone searches for 'discordant notes', or trends in the economy and the markets that appear to be separate and isolated, but which can combine with devastating results."
This is the very concept of complexity theory that Jim Rickards explains in his multi-book series from Currency Wars to Aftermath.
The point is that major wealth-threatening events seldom occur in isolation or without a trigger and chain reaction that is often not obvious.
It's why we think it's important to pay attention to people and events outside the real estate world.
The more you see the big picture and inter-connectedness of markets, geo-politics, and financial systems, the more likely you are to see a threat developing while there's time to get in position to avoid loss or capture opportunity.
Cash is king in a crisis.
This might seem obvious, but there's more to it than meets the eye. After all, cash isn't king in Venezuela … because their cash is trash.
Americans don't think of cash apart from the dollar. And their normalcy bias says they don't need to.
It's true the dollar is king of the currencies … for now.
Yet as we explained in our Future of Money and Wealth presentation, the dollar has been under attack for some time.
But even as high-net worth investors, the most notable of which is Warren Buffet, build up their cash holdings, it's a good time to consider not just the why of cash … but the HOW.
The WHY of cash is probably obvious …
When asset bubbles deflate, it takes cash to go bargain hunting.
It's no fun to be in a market full of quality assets at rock bottom prices … and have no purchasing power.
But the HOW of cash is a MUCH more important discussion … and too big for the tail end of this muse. Perhaps we'll take it up in a future writing or radio show.
For now, here are something to consider when it comes to cash …
Cash is about liquidity. It's having something readily available and universally accepted in exchange for any asset, product or service.
So, "cash" may or may not be your local currency.
Even it is, perhaps it's wise to have a variety of currencies on hand … depending on where you are and where you'd like to buy bargain assets.
It should be obvious, but cash is not credit.
So, if you're counting on your 800 FICO, your HELOC, and your American Express Black Card for liquidity, you might want to think again.
Broken credit markets are often the cause of a crisis, so you can't count on credit when prices collapse. You need cash.
Counter-party risk is another important consideration. This is another risk most Americans seldom consider … but should.
That's because one of the "fixes" to the financial system after 2008 is the bail-in provisions of the Dodd-Frank legislation.
"With a bank bail-in, the bank uses the money of its unsecured creditors, including depositors and bondholders, to restructure their capital so it can stay afloat."
Investopedia – 6/25/19
Yikes. Most people with money in the bank don't realize their deposits are unsecured loans to the bank … or that the bank could default on the deposit.
That's why the recent repo market mini-crisis has so many alert observers concerned. Are banks low on cash?
As we've noted before, central banks are the ultimate insiders when it comes to cash … and they've been stocking up on gold.
Maybe it's time to consider keeping some of YOUR liquidity in precious metals.
You can't win on the sidelines.
Even though serious investors are increasing liquidity in case there's a big sale, they aren't hiding full-fetal in a bunker. They're still invested.
This is where real estate is the superior opportunity.
It's hard to find bargains in a hot market when your assets are commodities like stocks and bonds. Price discovery is too efficient.
But real estate is highly inefficient … and every property and sub-market is unique. So compared to paper assets, it's a lot easier to find investable real estate deals … even at the tail end of a long boom.
Of course, if you're loaded with equity, it's probably a smart time to harvest some to build up cash reserves. Just stay VERY attentive to cash flow.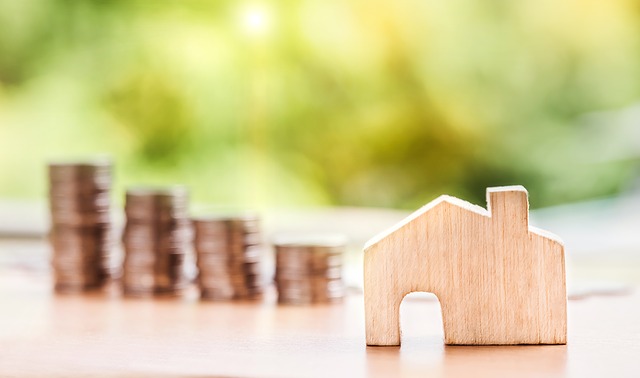 Lending is a big part of real estate investing … but sometimes your situation doesn't fit the traditional lending mold. 
If you … or your deals … require out-of-the-box funding … have no fear!
There is a great, big, wide world of alternative funding solutions just waiting to be discovered. And the payoff can be just as big. 
Today, we're sitting down with a veteran loan broker who is here to share the details of some of the creative loan products available for unconventional real estate investors. 
It's time to optimize your portfolio … and find new ways to claim needed capital. 
In this episode of The Real Estate Guys™ show, hear from:
Your fund-finding host,

Robert Helms

His fun-loving co-host,

Russell Gray 
Investor and financing strategist, Billy Brown
---
Listen
---
Subscribe
Broadcasting since 1997 with over 300 episodes on iTunes!
---
Review
When you give us a positive review on iTunes you help us continue to bring you high caliber guests and attract new listeners. It's easy and takes just a minute! (Don't know how? Follow these instructions).
Thanks!
---
Locating leverage and getting cash for deals
One of the most important questions in real estate is … where do you get the money?
Great news! Things have changed in the lending world … and today, there are opportunities like never before … all while protecting your equity. 
One of the first challenges many investors have to figure out is leverage. Leverage is what helps us magnify returns. 
In a nutshell … it means the bank loans you money so you don't have to come up with all the money to buy real estate. 
Leverage is like a chainsaw. It's a great tool … but if you use it wrong, it can cut you. 
So, today we're going to focus on alternative funding solutions. 
True investing is about focusing on cash flow. If you do that, then you can weather pretty much any storm. 
Right now, the market is pretty hot. There are people out there who have wisely built a nice portfolio … but now they have five, six, seven, or more loans and they can't get any more. 
And yet the rates are down. That leaves those investors staring at a lot of cheap money that they can't get their hands on. 
So, those investors look at the equity they have in their current properties … and they want to get at that equity. 
If you're not liquid … you're going to be like a kid locked out of the candy store. 
If the credit markets seize up … all that fabulous equity that you have disappears. But if you have strong cash flow … you'll weather it. 
How can you liquefy equity? How can you take advantage of lower rates in your portfolio and free up money so you can continue to invest? 
Loans designed for investors
Billy Brown is a seasoned investor and loan officer who specializes in helping investors and syndicators figure out the finances of investing. 
One of the big problems Billy sees is that investors get successful, start to build their portfolios … and then get what we call Fannie-d and Freddie-d out. 
They no longer conform to those guidelines Russ was talking about. They suddenly have a hard time getting a loan. 
Billy has the ability to sit down with these people and help them be able to take individual loans and restructure that in a way that frees up their qualification. 
"I love infinite returns," Bill says, "so that's how I wear my hat. I focus on how we can use the tools available to us inside lending and our lending partners to go create infinite returns."
Billy has a few different strategies in place to help people access equity. 
The first is portfolio lending. 
There are a lot of portfolio lenders out there. Banks and non-banks will do it. The idea is to take everything and put it together as an investor loan. 
The rates might be a little bit higher … but what it buys you back is the qualification of those loans. Plus, you get the option of one loan servicing multiple properties. 
This type of loan is better than going through Fannie Mae or Freddie Mac because it is designed for the job you are trying to do. 
You go from 9 or 10 loans with 9 or 10 mortgage payments that may or may not be escrowed down to one mortgage with escrow … and a whole bunch of cash. 
Billy says that if you have a simple written rule or schedule of real estate owned and your personal financial statement, he can come up with a plan fairly quickly. 
"Usually within 48 hours I have a pretty good idea of whether I can get you a recourse or non-recourse option and set out the strategy," Billy says. 
Billy also says that these portfolio loan options are fun because they are designed for investors and have a cash flow of their own. 
Special considerations for special loans
What happens if you want to sell one of your properties?
Billy says that is one of the first questions he asks when he consults with investors. "Are there any ugly children in this portfolio that you want to get rid of? If so, leave them out of the loan."
This type of lending option is really designed for the investor that wants to buy and hold a portfolio and keep hanging on to it for at least 3 to 5 years.
The reason there is a prepayment penalty is that lenders put a certain amount of resources, time, effort, and capital to be in a position to collect the interest rate from you. 
Lenders want to make sure they're making a return … so you can't use this type of portfolio strategy and then turn around in 10 days and sell it without paying a heavy fee. 
So if you've spent the last several years acquiring a portfolio of single family homes that are working for you … but you would like to have access to the capital … this is probably a great tool. 
Each lender has their own set of circumstances … and most require you to have property management. 
The property manager is the least respected and most important person on your team. 
If you have commercial properties, you probably already have management in place … but if you have single family homes, you could still be managing yourself. 
"That's a great way to learn for the first couple of years, but eventually you want to hand that job off," Billy says.
Discover the method that works for you
No matter what your circumstance is, Billy and his lending network can help. 
"We can do anything from $100,000 cash out refinance of a single family rental up to a $100 million CMBS loan," Billy says. 
To learn more about unconventional funding solutions for investors like YOU, listen in to the full episode!
More From The Real Estate Guys™…
The Real Estate Guys™ radio show and podcast provides real estate investing news, education, training, and resources to help real estate investors succeed.
---
Love the show?  Tell the world!  When you promote the show, you help us attract more great guests for 

your

 listening pleasure!
As of this writing, we're not sure what the Fed will do with interest rates, though it's widely expected they'll cut.
So as much as we'd like to talk about what it means to real estate investors, we'll wait to see what happens.
And even though mainstream financial media are finally paying attention to gold and the future of the dollar … these are topics we've been covering for some time.
But if you're new to all this, consider gorging on our past blog posts …
… and be sure to download the Real Asset Investing report …
… and for the uber-inquisitive, check out the Future of Money and Wealth video series.
After all, this is your financial future … and there's a LOT going on.
In fact, today there's a somewhat esoteric and anecdotal sign the world might be on the precipice of its next major financial earthquake.
But before you go full-fetal, this isn't doom and gloom. We're too happy-go-lucky for that.
It's more an adaptation of a principle from Jim Collins' classic business book, Good to Great …
Confront the brutal clues.
Of course, the original phrase is "Confront the brutal facts." But as great as data is, sometimes data shows up too late to help.
So, while facts may confirm or deny a conclusion … clues provide awareness and advance warning.
But just like with facts, you must be willing to go where the clues lead.
In this case, we're just going to look at one clue which has a history of presaging a crack up boom.
For those unfamiliar, a crack up boom is the asset price flare up and flame out that occurs at the end of an excessive and unsustainable credit expansion.
In other words, before everything goes down, they go UP … in spectacular fashion.
Here's a chart of the housing boom that eventually busted in 2008 …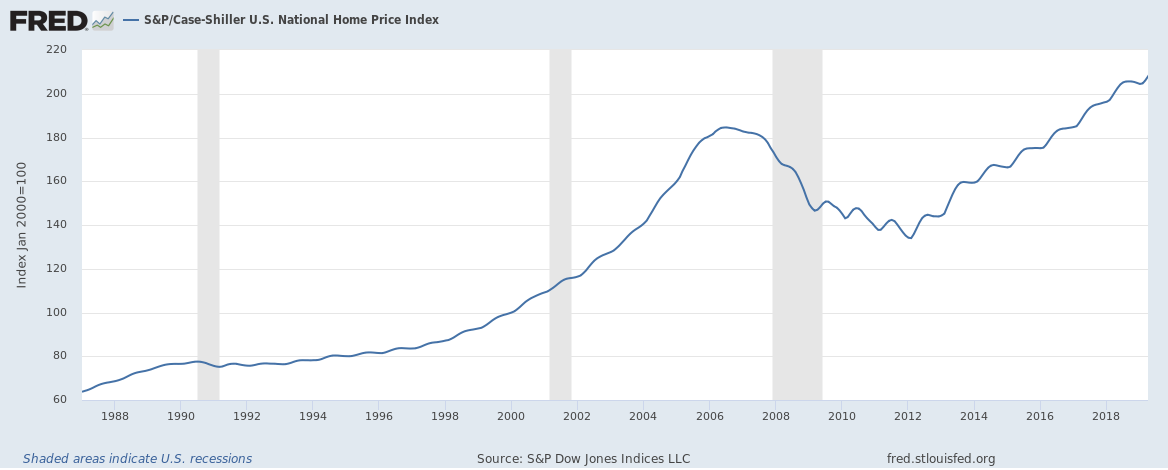 See the bubble that peaked in 2007? It's hard to miss … in hindsight. It's hard to see when you're in the middle of it.
Peter Schiff saw it in 2005 and published his book, Crash Proof, in 2006 to warn everyone. Few listened. Some mocked.
In 2008 it became painfully obvious to everyone.
Of course, for true real estate investors … those busy accumulating tenants and focusing on the long-term collection of rental income …
… asset prices are only interesting when you buy, refinance, or sell.
As long as you stay in control of when you buy, refinance, or sell … you can largely ride out the bust which often occurs on the back end of a boom.
And if you're paying attention, you use boom time as prime time to prep … and the bust as the best time to buy.
Today it's safe to say, just based on asset prices alone, we're probably closer to a bust than another big boom.
But the current run-up could still have more room to boom. As we said, it's hard to tell when you're in the middle of it.
Shrinking cap rates are one of the most followed metrics for measuring a boom.
Cap rates compress when investors are willing to pay more for the same income. That is, they pay more (bid up the asset price) for the same income.
But when the Fed says low-interest rates are the new normal, maybe it means so are low cap rates.
It's one of MANY ways Fed policy ripples through the economy … even real estate.
But there's another sign that's hard to see unless you're an industry insider, and while not scientific or statistical, it still makes a compelling argument the end is nearing …
Lending guidelines.
Think about it … booms are fueled by credit. It's like the explosive fuel which propels rising asset prices.
The only way to keep the boom going is to continually expand credit.
But any responsible head of household knows you can't expand credit indefinitely … and certainly not in excess of your capacity to debt service.
At some point, the best borrowers are tapped out. So to keep the party going, lenders need to let more people in. That means lowering their standards.
We still have a "backstage pass" to the mortgage industry and see insider communications about lenders and loan programs.
When this subject line popped up in our inbox, we took notice …
24 Months of Bank Statements NO LONGER REQUIRED
To a mortgage industry outsider that seems like a lame subject line. But to a mortgage broker trying to find loans for marginal borrowers, it's seductive.
It suggests less stringent lending criteria. Easier money.
Sure, the rates are certainly higher than prime money. But with all interest rates so low, they're probably still pretty good.
And these are loans with down payments as low as 10% for borrowers just 2 years out of foreclosure or short-sale. Hardly a low risk borrower.
Usually, lenders want to see TWO years of tax returns and a P&L for self-employed borrowers. They're looking for proof of real and durable income.
Not these guys. Just deposits from the last 12 months banks statements. And they'll count 100% of the deposits as income, and won't look at withdrawals.
So a borrower could just recycle money through an account to show "income" based solely on deposits.
The lender is making it STUPID EASY for marginal borrowers to qualify.
All of this begs two questions:
First, why would a lender do this?
And second, why would a borrower fabricate income to leverage into a house they may not be able to afford?
We think it's because they both expect the house to go UP in value and the lender is growing increasingly desperate to put money to work at a decent yield.
Pursuit of yield is the the same reason money is flowing into junk bonds.
And if the Fed drops rates as expected, it's likely even more money will move to marginal borrowers in search of yield.
Today, MANY things could ignite the debt bomb the way sub-prime did in 2008. Consumer, corporate, and government debt are at all-time highs.
Paradoxically, lower interest rates take pressure off marginal borrowers … while adding to their ranks.
It's hard to perfectly time the boom-bust cycle.
But careful attention to cash-flow protects you … whether structuring a new purchase or refinance. It means you can ride out the storm.
Meanwhile, it's smart to prepare … from liquefying equity to building your credit profile to building a network of prospective investors …
… so if the bust happens, you have resources ready to "clean up" in a way that's positive for both you and the market.
No one knows for sure what's around the corner … but there are signs flashing "opportunity" or "hazard".
Both are present, but what happens to you depends on whether you're aware and prepared … or not.
Until next time … good investing!
More From The Real Estate Guys™…
The Real Estate Guys™ radio show and podcast provides real estate investing news, education, training, and resources to help real estate investors succeed.
---
Love the show?  Tell the world!  When you promote the show, you help us attract more great guests for 

your

 listening pleasure!
As a real estate investor, knowing which tool to pull out of the toolbox is a big part of your success. And to know which tool you need, you have to know what tools are available.
Commercial loans generally have shorter terms than residential loans … and that isn't always good. What if the market doesn't agree with your personal timeline?
Keeping in mind that times have and will again change, we took a look at the best commercial financing options out there to keep your risk low and your leverage high.
In our latest episode, we visit with an FHA multi-family lending expert to find out how to finance apartments with maximum leverage and minimum risk. In this informative episode of The Real Estate Guys™ show you'll hear from:
Your multi-passionate investor host, Robert Helms
His multi-problems co-host, Russell Gray
Multi-family financing expert Paul Winterowd
---
Listen
---
Subscribe
Broadcasting since 1997 with over 300 episodes on iTunes!
---
Review
When you give us a positive review on iTunes you help us continue to bring you high caliber guests and attract new listeners. It's easy and takes just a minute! (Don't know how? Follow these instructions).
Thanks!
---
Multi-family financing basics
To get you the basics on multi-family loans, we did a Q&A with Paul Winterowd, a long-time member of the lending team at Bonneville Multifamily Capital.
If you're a multi-family investor or interested in becoming one, "It's a great time to be in the business," Paul told us.
That's due to two things … flowing capital markets and stable rates that have held over the years.
Paul told us that multi-family properties are the No. 1 asset class in commercial real estate because of their broad risk profile.
So what are the primary things to know before getting a loan?
To start, there are some significant differences between the loans offered by the banking system and loans offered by government agencies.
Among them is the balloon payment. Most bank loans for multi-family property investors have five- to ten-year amortization schedules that force investors to pay the full amount or refinance once time's up.
And that can pose problems, especially considering how much the market can change in five or ten years.
Paul shared with us a story of a friend who bought a multi-family property in Las Vegas in 2004. With his co-investors, he put a total of three to four million dollars into the property. Their five-year term came due in 2009—right after the housing bubble collapsed. Even though Paul's friend made every payment on time, no banks would work with him. The bank sold the property to a loan shark, who foreclosed.
Paul's friend didn't do anything wrong, but he fell hard because of timing.
We asked Paul what options investors have if they want to be less beholden to the ebbs and flows of capital markets.
He told us that there is ONE loan program in the commercial real estate world with a fully amortizing term and no balloon payment … an FHA loan.
Everything you need to know about FHA loans
An FHA loan is a mortgage insured by the Federal Housing Authority, which is under the jurisdiction of the Housing and Urban Development (HUD) Department.
FHA provides a conduit for financing. The great thing about the FHA's commercial loan program is that terms can stretch up to 35 years … 42 years for construction loans.
Essentially, this loan is the closest to a single-family loan that exists in the commercial lending world.
And there's more … although it's easy for people to make a decision based solely on the lending rate, Paul told us that FHA rates are "bottom of the barrel."
In addition, FHA loans provide a very attractive loan-to-value ratio: between 75% and 85%. Traditional bank loans will get you between 65% and 70%.
A necessary disclaimer: Paul doesn't work for the federal government. He's just really good at helping people figure out which loans are right for them.
Gearing up to get a loan
The FHA loan sounded like a REALLY great option to us … so we asked Paul what it takes for an investor to get involved with the FHA program.
Paul told us that in general, the key litmus tests to get a loan are adequate experience and sufficient net worth.
Because lenders want to know that this isn't your first rodeo, they'll want to see more than just a single-family property on your résumé … meaning it may be necessary for you to bring in a partner.
Lenders will also want to see at least a 1:1 ratio of net worth to loan amount to make sure that buyers have cash assets on hand in case anything gets wrong. The FHA program offers a boost here, accepting ratios as low as 1:4.
And yes, you can go into the FHA program with a partner, or partners. The FHA will look at your combined assets and experience, although in a classic syndication scenario, they will need a lead sponsor or sponsorship group.
Because Paul is intimately involved in the lending process, we asked him what he looks for when he underwrites loans.
He told us in order to mitigate risk, he needs buyers to hit several important numbers in regard to their asset:
A debt-coverage ratio of, at minimum, 1.25. That's the net operating income of a property divided by the annual debt service. Paul and other underwriters want to see that there's plenty of net income to cover the debt service.
Records of at least 90 days of occupancy at 90% or above.
A trailing twelve months (aka a profit and loss statement for the last year).
Paul emphasized the importance of keeping good records … in fact, he could not emphasize it enough!
In terms of buyers' personal records, he told us he'd also need the following:
A list of all assets and outstanding debt.
A personal financial statement that shows the buyers' experience.
Obviously, there's a lot of preparation that goes into qualifying for the FHA loan. But are there any downsides?
The only real downsides are the paperwork and waiting time, Paul told us.
Typical HUD loans take about 60-90 days, but permanent financing for FHA loans takes even longer … about 4-6 months.
Because HUD is insuring these loans, more underwriting has to take place to minimize risk for the federal government.
As Paul reminded us, "Good things come to those who wait." If you're willing to be patient and deal with a little more paperwork, you could find yourself with a killer solution.
Is there anything Paul wishes borrowers knew before seeking out an FHA loan? Paul told us that people think timing is everything and rate is everything … but they're not.
If buyers took a step back and looked at the bigger picture, they'd be able to find other benefits that are very compelling. We think a fully amortized loan is worth the wait.
Debt isn't always dangerous
We see Paul as a wealth of knowledge.
In any new situation, it's helpful to have a sort of "safari guide" … someone to lead the way in places you haven't gone before.
We hope that Paul's knowledge has given you some things to think about.
In particular, we want you to keep in mind that debt can be an asset. Taking advantage of opportunities like the FHA loan can force value and create more equity from the equity you don't have to spend up front, leading to a cycle of success.
We also hope that if anything, Paul got you thinking of some good real estate practices.
This week, we encourage you to go out and make some equity happen!
---
More From The Real Estate Guys™…
The Real Estate Guys™ radio show and podcast provides real estate investing news, education, training and resources to help real estate investors succeed.
After our last episode of Ask The Guys, we asked Walter, our email room manager, to rummage through our email inbox and gather up a bunch of listener questions about loans and lending.  And he came up with some gems!
So we dialed up our lending brain trust and convened in our Dallas studio to answer your questions about loans and lending.
Behind the microphones and ahead of the yield curve for this episode of The Real Estate Guys™ radio show:
Your well-capitalized host, Robert Helms
His living on borrowed time co-host, Russell Gray
Residential investor lending specialist, Graham Parham
Commercial lending specialist, Michael Becker
After several years of tight money, it's nice to be able to talk about getting loans again.
Even better, lenders are beginning to to get more creative in looking for ways to attract new borrowers.
But while that's good news, it means savvy investors need to stay on top of the ever-evolving underwriting guidelines.  That's why it so important to have one or more mortgage pros on your team.
So when Walter dragged in a bag of emails full of lending questions, we called on our lending gurus, Graham Parham and Michael Becker, to help us answer.  In fact, we made them do all the work. 😉
We talk about what happens when you're fortunate enough to have equity and want to use a cash out refinance to access it for additional investment.
We discover that…from a lending perspective…not all properties are the same.
For example, a condominium might be in great shape…and your credit score and debt-to-income ratios might be amazing…
But if there's too many renters and not enough owners living in the complex, your condo might be "unwarrantable".
That means the government subsidized lenders, Fannie Mae and Freddie Mac, don't want to make the loan.
Bummer.  Now you can't get the cheapest rates.
However, all is not lost.  Because while Fannie and Freddie might shun your deal, there's an emerging group of private money lenders who can probably help you.
Of course, it's more expensive compared to Fannie and Freddie.  But probably better than leaving your equity trapped and idle in a property.
We also talk about HELOCs (Home Equity Lines of Credit).  These are nifty tools that allow you to have what is essentially a revolving line of credit against the equity in your property.
For a while…in the wake of the mortgage meltdown…lenders were shutting these credit lines off en masse.
Today, lenders are advertising to attract HELOC borrowers.  Happy days are here again!
Of course, we don't think it's smart to count on HELOCs for essential liquidity.  After all, the lender can shut the line off at will.
But they can be VERY handy tools for tapping equity…and only paying interest when you have the funds drawn.  Nice.
One of the issues borrowers are facing is income documentation.
It SEEMS like documenting income is a good idea.  After all, who would lend to someone who doesn't have enough income to make the payments?
BUT…as our good friend Robert Kiyosaki always reminds us…there are three sides of the coin.
In the case of income documentation, most self-employed people are working diligently with their tax advisor to MINIMIZE (legally) the amount of income showing in their tax returns.
But when it comes to borrowing, the lender wants to see LOTS of income.
It used to be that lenders understood this, and would allow a borrower to "state" their income…rather than prove it.
As long as they had good credit, savings, and a legitimate source of income, the lender assumed if the borrower was willing to risk their down payment and credit score, they probably had the means to repay…whether or not the tax returns proved it.
Of course, when real estate got "hot"…and everyone was rushing in and betting on never-ending price appreciation…borrowers and lenders got sloppy.  And we all know what happened.
So today, borrowers need to plan ahead.  That means preparing your income documentation…including your tax returns…TWO YEARS in advance of your purchase!
Obviously, it's a REALLY good idea to work closely with your mortgage AND tax advisors.
Of course, if you decide to make the leap to commercial lending (more than 5 residential units or anything non-residential)…it's the income of the PROPERTY that needs to qualify…and it's your balance sheet…and not your income statement…that the lenders will be interested in.
There's another group of people who are somewhat locked out from all the great cheap government subsidized loans.  Foreigners.   And foreigners have been very interested in buying up U.S. real estate.
Of course, where there's demand, entrepreneurs (even lenders) will look for ways to create supply.  But as you  might imagine, those solutions don't involve government programs.
Still…some leverage…even at higher interest rates…can be better than no leverage.
As we often say, "Do the math and the math will tell you what to do."
Another question that came up has to do with Fixed Rate versus Adustable Rate…which is best?
The answer….as you might guess…is "IT DEPENDS!"
It's hard to imagine interest rates falling too much farther.  So the probability is higher rates in the future.
With that said, asking the the lender to fix your rate for 30 years puts all that risk on them…which you might like…but it's insurance you'll pay a premium for.
So the decision to go fixed or adjustable can be largely based on YOUR plans for the property.  Do you plan to sell in 3-5 years?  Do you plan to hold for 30 years?
Also, if you decide to exit the property in a few years…will you buyer be able to get affordable financing?  You can't always assume you can freely get out of the property…at least not at your price…because if rates are up…there will be less buyers and likely less appreciation.
We think it makes sense to look at the terms of your ARM…and if you can live with the WORST case scenario interest rates…and want to enjoy the low rates of adjustable in the meantime…and ARM could be a good choice.
On the other hand, if you're squeezing into the property with thin cash flow based on a temporarily low interest rate…and you MUST get out in 3-5 years or you'll go bust…an ARM can be a time bomb.
Be smart.
Just like picking your property carefully, it's important to pick your financing carefully.  And your mortgage advisors can be VERY helpful in making good decisions.
For now, listen to our two expert guests and consider how you can be a smarter borrower.
Listen Now: 
The Real Estate Guys™ radio show and podcast provides real estate investing news, education, training and resources that help real estate investors succeed.
Money makes the world go around.  But when you don't have enough, loans are pretty handy.
Real estate financing has changed a LOT in the years following the Great Recession. To get up to speed on the state of the art of lending, in this episode we interview two loan pros.
Sitting in the broadcast cabaret:
Your host and Master of Ceremonies, Robert Helms
Master of the Obvious and no-I'm-not-related-to-Joel co-host, Russell Gray
Residential Mortgage Maestro, Graham Parham
Commercial Lending Mentor of Money, Michael Becker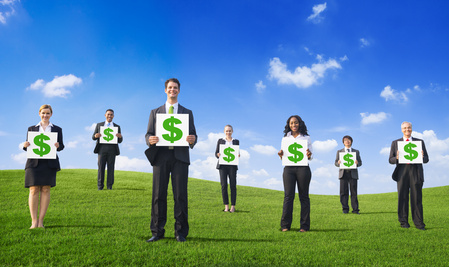 Back in the heyday of easy money…before the sub-prime meltdown exposed the flaws in that model…there were a plethora of loan programs being provided by a gaggle of eager salespeople.
Then everything blew up.  Or more accurately…imploded.  It was like someone tripped over the cord to the bounce house and all the air just came out.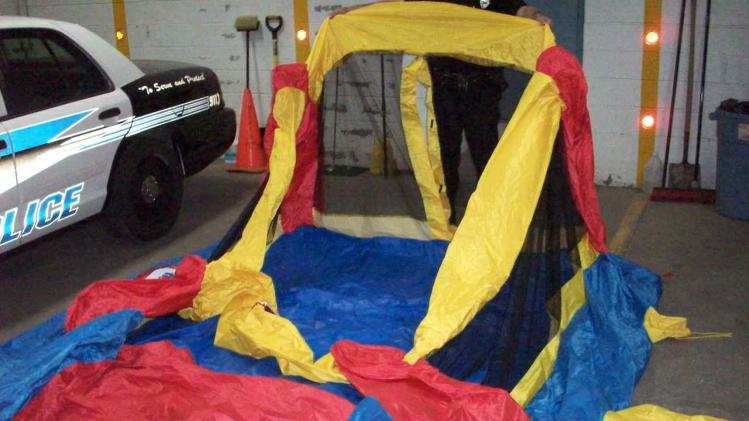 Most people in the mortgage business went broke.  Everything came to a grinding halt.
So the government and central banks intervened in a HUGE multi-trillion dollar way and put in a bottom to the free fall.
Some say they merely kicked a huge can a few years down the road.  Time will tell.
But coming out of the recession, it was much harder to get loans.  This was partly because many lenders were out of business.  And those that were still around were afraid of falling values and aggressive consumerist activism.
But that was then and this is now.
Today, by most accounts, the real estate bottom is well in place.  Equity is happening in many markets.
Dodd-Frank and its regulatory cousins are largely implemented and adapted to…and trillions of dollars in stimulus has worked its way into the marketplace and is looking for a home…to loan against.
All that to say that lending is loosening up, which makes real estate investing a little more fun…albeit more competitive.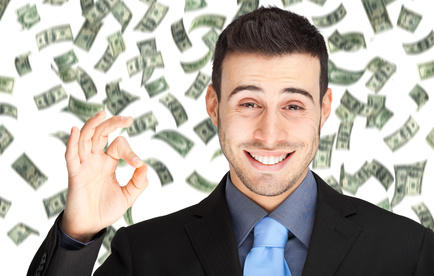 This means it's important to stay on top of new loan products and underwriting guidelines (the rules under which loans are approved).
Your mortgage team is your key to staying up to speed on this ever changing landscape.
When it comes to residential lending there are two basic categories:  4 units or less; and 5 units or more.
So in this episode we have experts on both to provide us an update on where they see lending today, and where they see it heading tomorrow.
If you're an active or aspiring real estate investor, you should be excited.  Because loan program innovation is back!  Private lenders (non-government) are getting back in the game.
This means more money flowing into real estate…and more money for you to work with to acquire more properties.  And right now, it's still dirt cheap.
But rather than clog the blog with all the details, we'll let you listen into the conversation yourself…Enjoy!
Listen Now: 
The Real Estate Guys™ radio show and podcast provides real estate investing news, education, training and resources that help real estate investors succeed.
U.S. home ownership is around a 19 year low…banks are lowering their standards for jumbo loans…millennials aren't buying houses…and the middle class is moving inland to more affordable markets.
Other than that, there's not a lot going on. 😉
But what do all these headlines mean to everyday real estate investors?
Behind the shiny silver microphones to explore the Clues in the News:
Your clued in host, Robert Helms
His clueless co-host, Russell Gray
We like to watch the news.  Each headline is like a piece of a jigsaw puzzle.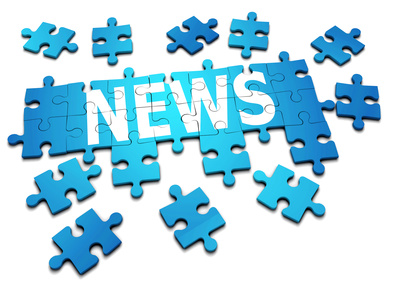 Viewed separately, it's hard to see the big picture.  But when you look at a series of headlines, they start to tell a story.
So when we're not sitting in the studio or gallivanting around the world seeking out interesting guests and real estate markets, we bury our noses in the news.
For this episode, there were a few headlines that popped out.
First, Reuters reports that Wells Fargo is loosening their lending standards.  But this time, it isn't for the lowly sub-prime borrower…it's JUMBO loans.
So it's no surprise that Bloomberg reports million dollar home loans have surged to new records.
Why?
Well, partly because, as CNBC reports, millennials aren't buying homes.
We also see that banks are showing interest in cash out refinances and home equity loans.
So on the one hand, this is all very exciting.  We're having flashbacks to 2003.
Yes, we know it all ended badly.  But everyone made a ton of money until the music stopped.
Maybe it's possible to take all the lessons from the last crash, and use them to prepare better for the next one?
We think so.  But, as we've been discussing in our weekly newsletter, this isn't your parent's real estate market…which is both good and bad.
Of course, bad can be good too.
What's good is that interest rates remain low and lenders are opening up to allow more people to qualify.  They're also creating loan programs which permit the repositioning of equity.
What's bad is that first time home buyers aren't pushing up the demand. In fact, a lot of the price appreciation is the result of hot money looking to real estate for yields.  This includes both foreigners and hedge funds.
Of course, because hedge funds and foreigners don't use loans, prices are up, but lending is down.
That's bad for lenders, but good for borrowers…because as lenders try to create business, they lower their standards and their interest rates.
Meanwhile, every day real estate investors aren't competing heavily with home buyers…at least not yet.  And that's good.
In fact, home ownership is at a 19 year low.  The inverse of that is there are more people renting.  Great!
It also means that without home buyers to bid up prices, even though prices are up in many markets, they are still at or below replacement costs.
In short, houses and the mortgages to buy them remain on sale!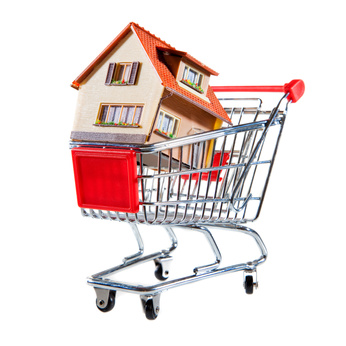 How long will this window last?  We don't know.
But when you can buy a real asset for less than it's replacement cost, and lock in low cost financing for the long term, it seems like you'd want to get all you can.
Of course, as we always say, market and team selection are important factors.  And being sure to structure your deals so you can weather the next financial crisis….whatever that looks like, and whenever it comes.
For those with money in the bank, the latest inflation numbers should be giving you fits compared with real estate.  Sure, there's no guarantees with real estate.  But it seems like the only thing a bank account can guarantee is the long term loss of purchasing power.  The need to hedge inflation seems obvious.
With savers are being crushed by Fed policy, no wonder everyone has piled into the stock market.  If you recall, this is exactly what happened last time.
Do you remember what came after the last stock market bubble?
Yep.  It was the real estate bubble.  But if you structure your deals right, even if there is a bubble, as long as you have the cash flow to service your low fixed rate loan, you have a fighting chance.  We know many investors who rode out the last crash…and we took notes.
So it seems to us that properly structured income producing real estate could be one of the hottest investment opportunities right now.
We'll keep watching the news to see if the forecast is changing…so listen in for each edition of Clues in the News!
Listen Now:
Want more? Sign up for The Real Estate Guys™ free newsletter!
Don't miss an episode of The Real Estate Guys™ radio show!  Subscribe to the free podcast!
Stay connected with The Real Estate Guys™ on Facebook!
The Real Estate Guys™ radio show and podcast provides real estate investing news, education, training and resources that help real estate investors succeed.