Personal development guru Tony Robbins reminds people …
"Success leaves clues."
The idea is that success isn't purely a product of blind luck or extreme innate ability. For guys like us, that's REALLY good news.
Success is much more a matter of developing the knowledge and discipline to take aggressive action based on proven patterns and principles.
So if you carefully observe both what a successful person does and how they think, you can often replicate their thinking, behavior, and results.
Similarly, if you've had success in one area of life, you can probably apply those principles to other endeavors and achieve success there too.
That's why we pay attention to successful people … even those who aren't real estate investors.
So we perked up when we saw this headline …
Warren Buffett offers his 2 best pieces of advice for aspiring young investors
– Yahoo Finance 4/28/20
Of course, notwithstanding his investment in Berkshire Hathaway Home Services, Warren Buffet isn't really a real estate guy.
But Warren Buffet is arguably one of the most successful, famous, most admired investors in modern history. There's probably a lot to learn from him.
And since we need a timeout from our intense monitoring of the macroeconomic tsunami forming on the horizon …
(we'll do a deep dive on our upcoming Crisis Investing webinar)
… today we're looking at what real estate investors can learn from Warren Buffet.
After all, at nearly 90 years old, Buffet has seen his fair share of crises. Few people on earth are as experienced at navigating stormy economic times and building wealth in spite of frail financial infrastructure.
So according to the Yahoo Finance article and accompanying interview video, Buffet's first tip is to learn accounting.
Tip number two is do NOT invest based on charts (an approach referred to by stock traders as "technical analysis"), but rather to focus on "buying good businesses instead."
As with most brilliant people, there's a lot of wisdom packed into just couple of sentences. So let's take a moment to unpack it and look for principles we can apply to real estate investing …
TRADERS attempt to buy low and sell high … going from cash to asset to cash. The mindset is to accumulate cash.
INVESTORS seek first to acquire a stake in a profit-generating enterprise. They focus on accumulating cash FLOW … or what we call the ongoing efforts of others.
Of course, they're happy to buy low and enjoy some capital gains too. But the purpose of buying is to acquire cash flow.
In real estate, flippers and wholesalers are TRADERS … they hustle to go from cash to asset to cash.
The difference between a stock and real estate trader is the real estate trader has the ability to improve the asset (add value).
So the real estate trader has some degree of control over creating the capital gain they wish to realize. The stock trader does not.
But whether in stock or real estate trading, the long-term financial performance (the accounting) is less important than the short term "mood of the market" (the technicals).
If the market is hot and new buyers are piling in … especially if those buyers are equipped with cheap credit … then it's a lot easier to sell high to the next guy.
This investment philosophy is sometimes called "The Greater Fool" because your exit always requires someone coming along willing and able to pay more.
And when rising prices are dependent upon healthy credit markets and abundant jobs, and one or both crash, the line of greater fools gets short real fast.
So the challenge, as many traders just discovered, is hot markets can turn cold quickly … and you can end up a reluctant long-term holder.
Of course, with leverage (margin on stocks, or mortgages on real estate), you may not be able to hold on for the long-term. Then it's a wipe out.
Mortgages are far more forgiving than margin debt on securities, but negative cash flow on a negative equity property is no fun either.
On the other hand, real estate INVESTORS are much more like Warren Buffet …
… except instead of buying businesses, real estate investors are looking to populate portfolios with profitable cash-flow producing properties.
This is a very timely discussion, because in challenging times like these, QUALITY matters.
And when it comes to sound investments, quality is cash flow.
To survive and thrive long-term, it's important to look for sound properties … in relatively strong markets … managed by great teams … and serving a viable demographic.
Yes, many markets are weak now … and getting weaker. Ditto for demographics. But some aren't. And some are well-positioned to bounce back better when things open up again.
So it's not all doom and gloom. In fact, markets which are dipping now, but positioned to bounce back soon, could present great acquisition opportunities.
This isn't the time to sit out or tip toe through the trauma.
However, you'll need to know how to look at the operating financials of an income property … the accounting of real estate.
Warren Buffet says, "that's got to be like a language to you."
In other words, you're not looking at the entrance price, exit price, and profit potential. You're looking at how to hold for the long term in between.
The Yahoo article refers back to an annual letter Buffet sent his investors way back in 1988 …
"Our favorite hold time is forever."
– Warren Buffet
In Seven Habits of Highly Effective People, Steven Covey explains it's important to "begin with the end in mind."
When you approach real estate as a commodity to trade with your end game being cash … then you'll focus on short term circumstances and structures to produce short term results.
Then, at the end of the transaction all you end up with is cash.
Worse, cash in the bank pays next to no yield, and with the Fed printing trillions, there's a possibility (probability) cash will lose value.
So to protect your "profit" you'll need to quickly find another asset to buy.
But when you approach real estate as a "going concern" … a business … then you underwrite, structure, and manage it very differently … for the LONG term.
It's not a date, it's a marriage.
This matters more than ever right now …
It's not a stretch to think prices for many properties will be falling as the damage done by the COVID-19 shutdown permeates through the economy.
We expect a big chunk of the damage to metastasize through credit markets, further weakening the economy and letting a lot of air out of property prices.
This is a very challenging environment for real estate traders. It's hard to buy low and sell high when prices are falling faster and farther than any value you might add.
Meanwhile, many investors will sit on the sidelines and let viable deals go by because they don't want to "pay too much".
But if you have a 10 or 20 year hold horizon (remember … "our preferred hold time is forever") …
… it's less important what you pay today versus having a viable property and structure you can live with long term.
Sometimes prices can fall so you could theoretically buy lower. But if it's because the availability of capital or credit if limited, it might hider your ability to buy with an optimal structure.
Also, real estate isn't a static commodity. If the property is in good shape and you pass at the higher price, the lower later price could be because the condition of the property or tenant mix deteriorates.
So sure, you might wait and get the lower price, but is it a better buy? Maybe not. That's why we say if the deal in front of your make sense, buy it.
Lessons from Warren Buffet's career suggest that quality is present in all markets.
The time to buy is when an individual deal makes sense and can be structured for the long haul.
If the bust becomes a boom, all ships rise with the tide.
But if the boom becomes a bust, only the well-structured property ownerships will survive to the next boom.
Investing is different than trading. And success is simply a matter of focusing on the relentless execution of the boring basics.
Sure, it's fun to flip the hot property and find yourself neck-deep in a pile of green paper.
And if you're short on liquidity, you may need to do that from time to time (though we prefer syndication as a preferred path to having more cash to invest with).
But if you're aspiring to build a portfolio of properties and a pile of passive income, then it's wise to take a long-term approach and focus on fundamentals as a proven path to resilient prosperity.
Until next time … good investing!
Just when you thought things couldn't get any more insane, the price of oil dropped all the way to NEGATIVE $37.
Of course, it bounced back to a positive (but still very low) price of about $12.
We're guessing there's a big opportunity somewhere in all of that … just like if rents crashed temporarily. We'll look into it.
Meanwhile, Uncle Sam is rolling out Free Stimulus Money Phase whatever … all freshly printed by the (privately owned) Federal Reserve.
We're not sure how many dollars the Fed can print before dollar-holders start moving into something else. Russia dumped dollars for gold quite a while ago.
Looks like Bank of America thinks more investors will follow suit …
Bank of America recently RAISED its 18-month dollar price target for gold to $3,000 an ounce … 50% higher than gold's all-time high …
… because "the Fed can't print gold." (the title of B of A's report).
So it's not just Peter Schiff, Robert Kiyosaki and Jim Rickards who think the dollar could be headed down … and gold is where many will flock for safety.
If you're a nose-to-the-grindstone Main Street real estate investor and haven't paid any attention to the dollar, gold, and oil …
… it's time to wake up and smell the crisis.
Because as we discussed in our last muse … and the one before that … the fundamental flaw in the financial system is too much debt.
We won't beat that horse again except to say it seems the Fed is betting the dollar is strong enough to paper over all of the debt and neither will implode.
So the question every investor … including real estate investors … should be considering is …
… will this economic shutdown and money printing result in inflation or deflation?
Inflation makes your rents (and expenses) go up. At least once it makes its way through the entire system.
Of course, wages haven't seen much inflation in a long time. So demand-driven rising rents actually pushed some people down the ladder or out onto the streets.
Inflation causes equity to happen all by itself … no hammer, paint, or new carpet needed.
Inflation makes debt easier to pay off.
That's why all borrowers, including indebted governments, LOVE inflation … and central banks work furiously to create it.
Of course, deflation is the opposite of all that.
Deflation causes equity to disappear and wages and rents to decline. It makes the mortgage payment harder to deal with.
Deflation causes debts to go bad, which is why banks (lenders) are scared to death of it.
Once a deflationary spiral begins, it's really hard to stop it. Ask Japan.
Deflation (or preventing it) is what the Fed's "price stability" mandate is REALLY all about.
So the Fed's not interested in keeping prices low … it's trying to keep them HIGH and rising at least 2% per year.
But as the Rolling Stones said and the Bank of Japan can attest … you can't always get what you want. At least not exactly when, where and how you'd like.
So will it be INFLATION or DEFLATION?
Yes. At least in terms of prices. Both can be present at the same time, and we're already seeing it. Gold is up while oil is down.
That's because rising and falling prices are factors of currency supply, leverage, and supply vs. demand.
When the Fed prints money, it increases currency supply. If you focus solely on that, you see hyper-inflation. After all, they're printing TRILLIONS.
But when credit markets collapse (the reason the Fed is printing), leverage decreases … letting air OUT of prices.
That's why real estate values plummeted in 2008. Anything dependent on financing falls when financing fails.
And when supply is short in the face of demand … prices rise … if you can get product at all. Think of recent price gouging in medical masks or toilet paper.
Conversely, when demand disappears in the face of strong supply … prices collapse … as just happened in oil.
Currency supply, leverage, supply and demand are like three tension wires holding an old-fashioned TV antenna upright.
The trick for the wizards behind the curtain is to balance them so prices remain "stable" … which for the Fed means plus 2 percent per year.
The trick for a lowly Main Street investor is to watch all this …
… and then accurately anticipate what's likely to happen and auickly position to avoid catastrophe and capitalize on opportunities.
It's also important to consider whether the factor causing the shift is permanent or temporary.
Will oil demand be this low forever? For a while? For a season? What about unemployment? Dollar demand?
We know … it's a little complicated. But it's not rocket science. And it's worth the effort to gain context for all the non-stop info in the daily financial news.
Armed with context and information, your mission is to thoughtfully consider what to do in different scenarios.
This is a VERY IMPORTANT exercise RIGHT NOW … because everything is changing so fast.
The time to design the fire escape isn't when the house is on fire. And there's already a fair amount of smoke. This is no time to hit the snooze button.
We're going to leave you with some questions to ponder for now, while we get back to work on the upcoming Coronavirus Crisis Investing webinar …
If unemployment remains high and wages fall, then which geographic markets, demographic markets, and product niches are likely to win and lose?
If credit markets seize up as badly or worse than 2008, how will your current portfolio of deals, debt and equity be affected?
If real estate prices collapse, what can you do NOW to mitigate the risks and capitalize on opportunities?
And the super-bonus extra-credit question …
If the dollar loses reserve currency status, what happens to your portfolio, liquid net worth, and purchasing power? How can you hedge?
Hey, no one said real estate investing is paint by numbers.
Diligent investors need to think, imagine, and mastermind with each other to find creative ways to survive and thrive.
You can't control external factors, but you can decide how to react. Do your best to accept the challenge and enjoy it.
After all … "We're all in this together."
Until next time … good investing!
(Here's a 5-minute money read)
You probably know the global economy caught a virus and suffered a massive heart attack. Cash stopped flowing, creating a cascade of problems …
… including individual cell damage, organizations and systems in danger of failing, and almost certainly … brain damage.
So the monetary doctors at the Federal Reserve are infusing enormous volumes of liquidity … perhaps hoping sheer pressure will force cash to flow.
Concurrently, Uncle Sam is injecting free money right into Main Street bank accounts …
… while local governments are selectively allowing certain chosen industries to provide "essential" products and services.
We're not criticizing or complimenting. It's simply an observation of what's happening.
In recent rants, we suggested that insane, absurd, unsustainable levels of systemic debt is the primary vulnerability …
… the kryptonite of the "super" economy the United States was purportedly enjoying … right up until it wasn't.
It's a long, convoluted rabbit trail to explain, but the short of it is simple … when cash stops flowing, debts go bad.
That's bad enough. But of course, it gets worse …
All that debt is underpinning artificially inflated asset prices (yes, that's where the inflation ended up … they just call it "the wealth effect").
As debts go bad, asset prices PLUMMET …
… UNLESS, the Wizards behind the curtain conjure many trillions of new dollars out of thin air to prop up … EVERYTHING … and push asset values back up.
Of course, all those dollars aren't really free.
But no one in the White House, Congress, the Federal Reserve, or the mainstream financial media will say it, because …
"It is well enough that people of the nation do not understand our banking and monetary system, for if they did, I believe there would be a revolution before tomorrow morning."
– Henry Ford
But YOU should know it.
It's the reason real estate investing has been arguably the most powerful and reliable builder of real wealth for many decades.
Properly structured income-producing properties allow investors to hedge deflation, ride inflation, and enjoy high after-tax yields on equity along the way.
Of course, there's risk. And real estate investing is more work and takes more education than "invest and forget" or "buy low/sell high" paper asset investing.
But with ALL forms of investing … when external factors change, your investing strategy and tactics need to change too.
Right now, external factors are changing FAST. But it's too early to tell if we're facing an unpleasant cold front … a deadly blizzard … or a new ice age.
However it's safe to say storm clouds have formed … and inclement economic weather is threatening to engulf the entire world.
This is notable because it usually takes a strong lead dog to pull the pack and sled through the snow … though that sometimes comes at a price.
China took on nearly $33 trillion in new debt to help pull the world out of the Great Financial Crisis of 2008. It's doubtful they'll do it again.
So contrary to popular myth, this 2020 crisis-in-waiting is probably NOT 2008 all over again.
Of course, the how and why won't be clear until we're on the other side.
But YES, the sun will come back out … eventually. Right now, it's cloudy and cooling with very limited visibility.
So rather than delve into tactical details for right now …
(we're interviewing many of our boots on ground teams and we'll be talking on the radio show about what they're seeing and doing right now)
… we think it much more useful to share what we're watching and why …
Jobs
The MOST important thing is jobs.
When we interviewed then-candidate Donald Trump and asked about his housing agenda, his one-word answer was, "Jobs".
But jobs are only the start of the financial food chain.
Tenants' jobs provide your rent, which provides your mortgage payments. Obviously, homeowners' jobs are the source of their mortgage payments.
Mortgage payments often get made to servicers, who in turn forward the income to investors often via mortgage-backed securities (MBS).
But when enough payments get missed, those MBS lose value. And if they're leveraged, that loss in value triggers margin calls.
Margin calls then force leveraged paper investors to post cash or face a forced sale of their pledged assets at a loss.
(This is where all the excessive systemic debt is the biggest problem … in that regard this IS 2008 all over again … only bigger)
If you've ever been on the wrong end of a leverage stock investment and received a margin call, you know exactly what that's like.
Sometimes, highly-margined paper traders need to sell anything and everything at ANY price in order to raise cash … or end up bankrupt like Lehman Brothers in 2008.
These fire sales cause paper asset prices to collapse, triggering more margin calls, and a vicious downward cycle of asset price deflation.
That's financial system contagion and when you see RED flashing across all the financial market indices.
The "patch" is for the "Plunge Protection Team" and/or the Federal Reserve and their proxies to step in and bid up prices … the Fed's "asset purchase programs".
Of course, when this happens, markets see a blip up, and cash-starved traders "sell the rally" … which of course, creates more red.
Right now, the Fed is SO active, paper traders default to buying anything the Fed's buying just to catch a free ride.
We wish real estate underwriting were so simple.
The REAL solution is productivity (jobs), NOT printing currency.
But neither the government nor the Federal Reserve can "create" jobs. The best they can do is foster an environment where private enterprise creates jobs.
Right now, just the OPPOSITE is happening. They're shutting everything down.
Until that's fixed and businesses have time to rebuild … economic malaise and financial system (credit markets, banks, currency) instability are likely.
Sorry to burst your bubble … oh wait, something else already did that.
The Dollar
As we've been pointing out for some time, the Federal Reserve is using their printing press to "borrow" trillions of new dollars from the purchasing power of ALL dollar holders worldwide.
Read that again. And if you don't CLEARLY understand it, then make a note to study this topic until you do.
It's probably the most important financial concept most people don't understand, but should …
"By a continuing process of inflation, government can confiscate, secretly and unobserved, an important part of the wealth of their citizens." 
– John Maynard Keynes (look him up)
A fantastic resource for understanding the foundation of all this is The Creature from Jekyll Island by G. Edward Griffin.
Creature is a much more useful horror experience while sheltering in place than binge watching The Walking Dead.
And while you're digging deep into the design of the dollar system, be sure to study its ascendancy to world's reserve currency status in 1944.
Then go even deeper and consider what YOUR world will look like if the dollar loses that reserve currency status. Most Americans are NOT ready.
However, as we chronicled way back in 2013, Russia and China have been on a mission since 2010 to knock King Dollar off the throne.
As pointed out in the opening session of the Future of Money and Wealth program, Russia and China are in a MUCH better position to pull it off today.
Are they? Will they? Maybe. Maybe not.
But it's no secret they want to … and have been working on it for a long time. They've reiterated it in word and deed on many occasions over the last 10 years.
Which brings us to …
Gold
Gold is the oldest and most universal form of money.
"Gold is money. Everything else is credit."
J.P. Morgan
And apparently, the rest of the world is adding to their gold savings ….
Again, this has been going on since 2009, when China publicly warned the U.S. about protecting the value of dollar.
But Uncle Sam's debt swelled nonetheless.
And the Fed's balance sheet exploded from $800 billion to $4.5 trillion in 2012 … and is now $6.6 trillion and still GROWING. That's all freshly printed dollars.
No wonder the world went to work on breaking their dependency on the dollar.
You may know gold is at all-time highs against every major paper currency in the world … except the dollar.
Stated inversely, paper currencies have collapsed to their all-time lowest values against gold … and the dollar is getting there … probably soon.
The ultimate currency insiders … central banks … accelerated their gold acquisition over the last two years. Hmmmm ….
What's in YOUR safe?
Bringing it Home to Main Street
It's no secret all us outsiders are on the front end of what looks to be a severe economic contraction.
Individuals, businesses, industries, asset classes, and even countries …are going to feel it. Real estate is not immune.
But even as you prepare for the worst, there are bright spots …
U.S. Manufacturing and Agriculture
In the short term, it's ugly.
But long term, it seems policymakers and John Q. Public realize it's important to have more manufacturing back in the United States.
Shortages of masks and medicine sent a message. We're guessing many industries will consider or be coerced into moving.
So we'll watch for opportunities in currently overlooked geographies where a migration of manufacturing might create a resurgence in real estate.
Energy
Again, energy is depressed right now because of a temporary collapse in demand.
But that also means choice assets are on sale. Meanwhile, less efficient production is going off-line … perhaps permanently.
So unless you think economic activity has ceased forever, then at some point the demand for energy should rebound … even more so if more manufacturing makes its way back to the USA.
Cheap Debt
Stimulus almost always means free money.
While borrowing to spend is stupid, borrowing low and long to invest high and short can be very smart … and profitable.
And right now, credit markets haven't collapsed … yet.
So, it's probably still a great time to quickly load up on cheap dollars, some precious metals, and high-yield debt secured by real estate you wouldn't mind owning.
Distressed Assets
Of course, tough times means wrong-footed investors will need to let go of nice properties in good markets because they're only structured for sunshine.
They're selling because they have a problem, and when you buy … even at a discount … you help solve their problem.
And while it's nice to buy at the very bottom, what really matters is where everything is at 10-20 years from now.
So, don't be shy to buy if a deal makes sense … even if there's a chance more air will come out. After all, you don't know what will happen tomorrow.
Until next time … good investing!
Boise Metro Market Report
People are packing up and booking it to Boise. Opportunities abound in Boise!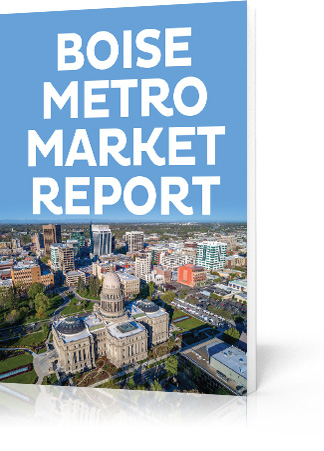 Look no further than the Boise Metro area to find a market on the move. 
Up and coming areas like Nampa, Idaho … 20 miles west of Boise … are thriving economically and culturally. 
Quality of life is high with a variety of major industries like agribusiness, manufacturing, retail, tech, and healthcare providing employment. The area is also home to four universities. 
The population is steadily growing … which means opportunities abound for real estate investors. 
In this special report learn:
✓ Why the Boise Metro area is situated for success
✓ What world-class companies call Boise home
✓ How Boise's demographics favor real estate investors
✓ And more!
Get to know Boise better …
Simply fill out the form below to access the Boise Metro Market Report!