Just as ancient hunter-gatherers would migrate in search of sustenance, real estate investors today might be well-served to migrate into new markets and product types to find yields.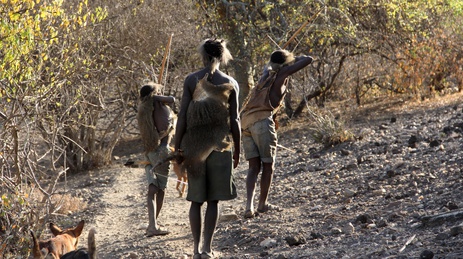 In this first episode in our series on finding yield, we go WAY outside the box of little green houses and red hotels on Main Street USA…and take a look at an eclectic assortment of global opportunities.
In the studio gathering ideas and hunting for opportunity in this episode of The Real Estate Guys™ radio show:
Your heckuva hunter and host, Robert Helms
His nut-gnawing co-host, Russell Gray
Special guest and Uruguyan attorney, Juan Federico Fischer
Special guest and Premier of Nevis, the honorable Vance Amory
Returning guest and international property broker, Jon Greene
Special guest and Myanmar fund manager, James Song
It's no secret real estate has been attracting a lot of investment capital over the last several years.  After the dust settled from the financial implosion of 2008, the most intrepid investors stepped in and started snapping up bargains.  Turns out that was a pretty good idea.
Today, while there are still deals that make sense, it's a lot harder for residential real estate investors to find bargains.
Does that mean it's time to sit out and wait for the next crash?
Only if you're a one trick pony.
But if you're open to new markets, product types and strategies, there are lots of alternatives.  In this episode, we talk to several people about investment ideas we're guessing you wouldn't have come up with on your own.
Uruguay
Up first, we talk to Juan Federico Fischer.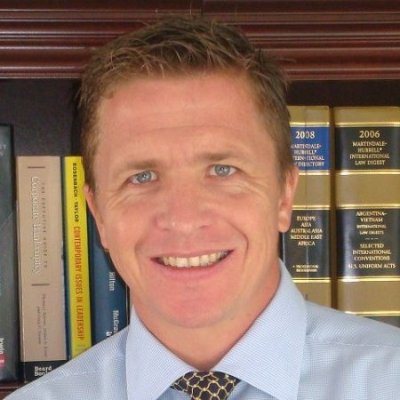 Juan is a lawyer from Uruguay.  But we like him anyway.
When's the last time you talked to a lawyer…or anyone…from Uruguay?
Juan's professional practice helps international investors understand and find real estate investment opportunities in Uruguay…and in particular…farmland.
Long time listeners know we've been very interested in farmland…anywhere…for the last few years.
Farmland investing is a great way to derive income from land, by serving a need that is even more basic than housing.  And unlike residential real estate, where you need to hone in on local jobs.  Farmland investing lets you produce your crop anywhere and the sell it anywhere.
So no matter where the hungry mouths are…and it's a safe bet the world's population is on the rise…you can own land that produces a renewable resource and tap into emerging markets.
Juan explains to us that Uruguay is extremely friendly to foreign investors.  In fact, one-third of the land is owned by foreigners and they're fine with that.  Very cool.
Uruguay is also one of the most advanced countries in Latin America with the highest per capita income.  We would not have guessed that.  But that's why we ask experts.
Nevis
Next, we sit down and visit with the Premier of the tiny Caribbean island nation of Nevis, the honorable Vance Amory.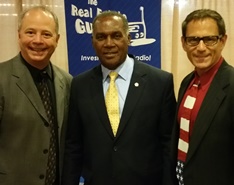 While you may not have heard of Nevis, you've probably heard of Alexander Hamilton.  He's the guy on the U.S. ten dollar bill.  At least for now.  There's been some talk about dumping Alex and replacing him with a woman.  But we digress.
So Alexander Hamilton was born in Nevis.  Jot that down.  It could end up as trivia question on a future episode of The Real Estate Guys™.
Back to Nevis…
The investment play in Nevis isn't farmland.  It's beautiful resort property….that you can rent out.
We're also fans of resort property because it's a way to collect rents from the affluent.  Just say those words.  Collect rents from the affluent.  That just SOUNDS like a good idea.

This can be great diversification for real estate investors who derive most of their income the lower middle class.
Nevis (and Uruguay also) has another cool feature which our next guest Jon Greene describes…
If you purchase a property of sufficient value (about $400,000 US), it's possible to not only get the property, but citizenship too!  That means another passport.
While not everyone is into a second (or third or sixth) passport, some people (Simon Black) think it might be a good idea.
What's REALLY cool is you can buy a property, collect rents for 5 years while (hopefully) equity happens to you…PLUS get a passport.  And then, after 5 years you can sell the property and KEEP the passport.
Of course, we'd like to keep both.  But it's nice to know that after 5 years, your Nevis citizenship is permanent, even if you decide to move your equity to another place.
Mynamar
Next…and to make sure we're showing some love to the Eastern hemisphere, we talk with James Song.
James is a principal in an investment fund in Myanmar.
Never heard of it?
How about Burma?  Like Burmese python.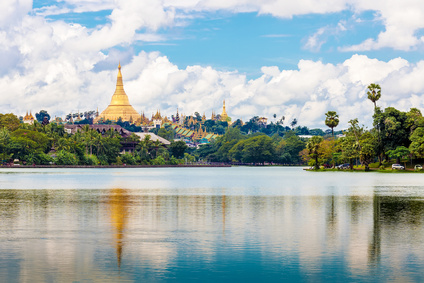 It's a long story, but Burma was once one of the richest nations in Southeast Asia.  Then it fell under a military dictatorship.  We hate when that happens.  It's usually a disaster for an economy.
In time, they got the dictator out of the way, changed their name and held free elections in 1990.  That's a start!
Of course, getting people to trust their capital to a country with a someone volatile past is a little scary.  It's like loaning money to someone with a checkered credit history.
Yet, Myanmar is a very resource rich country…including gems, natural gas, oil and other minerals.  And in spite of China's recent slow down, they're still a big consumer of natural resources, so Myanmar's close proximity to China (and India) give it some really big potential customers right nearby.
So brave investors might be willing to take the risk.
But if you're a little more conservative, before you make that "loan" to the buy with bad credit…
What if you could get an investment guarantee…up to nearly THREE times your investment?
And what if that guarantee is by the U.S. government?
You can.  And it is.
James explains the what, why and how of all this.  We just think it's amazing and certainly worth a closer look.  Or in this case, a closer listen.
So tune into this episode of The Real Estate Guys™ radio show and join us in our first excursion…in search of yield.
Listen Now: 
The Real Estate Guys™ radio show and podcast provides real estate investing news, education, training and resources that help real estate investors succeed.
Whew!  That's a big title.  But it's fitting for a big topic – one that reminds us that the world is not only getting smaller, but is changing rapidly.
Money, jobs and people are moving around the world like never before. And while fewer people may feel rich coming out of this recession, there are other good reasons many are still looking at international real estate – both as an investment strategy and a safe haven hedge against inflation.
While we were at the International Property Congress in Miami Beach, in addition to talking big picture economics with National Association of Realtor's Chief Economist Lawrence Yun and Federal Reserve Bank VP Thomas Cunningham (see our 11/21/10 show), we sat down and talked about who's buying international real estate, where and why.
Behind our well-traveled microphones for an international chat-fest:
Your host, the internationally renowned Robert Helms
Your co-host and internationally obscure Russell Gray
The man who has seen more changing landscapes than a migrant farm worker, the eternally international Godfather of Real Estate, Bob Helms
Special Guest #1: International Property Journal reporter, Kevin Brass
Special Guest #2: Representative from SECOVI, a Brazilian real estate trade association, Flavio Amary
It's no secret that every country in the world has it's own unique strengths and weaknesses.  As the dominant economy in the world, Americans have long enjoyed a uniquely stable and high quality of life.  It wasn't necessary or commonplace to travel abroad.  Even today, the  majority of Americans do not have passports.
However, the world is changing.  The US dollar, while still the dominant currency, is facing serious challenges.  Job losses, deficit spending, an aging populace and huge unfunded entitlements are all piling up on Uncle Sam.  Meanwhile, other countries are emerging as powerful economies in their own right – most notably China.
But this isn't an episode about the woes facing the US.  These aren't the first challenges and they won't be the last.  Every country has its ups and downs.
This episode is about discovering how and why the dynamics of the world's economies are changing the way people are approaching real estate.
While we're more traveled than the average American, we took the opportunity while in Miami to connect with Kevin Brass.  Kevin has been covering the international real estate industry for over 20 years and his articles and analyses have been regular features in the International Herald Tribune and the New York Times.  Today, Kevin writes for the International Property Journal.  His work takes him all around the globe and keeps him connected with many industry leaders worldwide.  In this episode, Kevin shares his perspectives on the changing landscape of international real estate.
We also discuss some recent changes to the once vaunted tax and privacy advantages of Panama, who recently entered into an information sharing agreement with the United States.  Tax and privacy advantages are often a prime motivator for people to acquire real estate and move to a particular country.  Is what happened in Panama a portend of things to come?
Of course, what would an episode on international real estate be without an interview with someone with one of those really intriguing accents?  We were privileged to find someone who not only sounds really cool, but has some very useful things to share with us about the robust economy of Brazil.  If you haven't been paying attention to Brazil, you may be surprised to hear about what's happening there.  Hint: not everyone's in a recession.
Buone Feste, Boas Festas, Felices Fiestas, Frohe Festtage, Wesołych Świąt, Bonnes vacances, Sarbatori Fericite and Happy Holidays!
The Real Estate Guys™ Radio Show podcast provides education, information and training to help investors make money with their real estate investments.
Listen now!
Don't miss a show – subscribe to the free podcast!
Want More?  Sign up for The Real Estate Guys™ free newsletter!
Do you remember the old "new" economy? That was the one where technology companies could go public without profit.  In some cases, they didn't even need revenue. Ahhhh, those were the days.
The new "new" economy (the Great Recession one) hasn't been nearly as fun – unless you're an old school entrepreneur.  That's the kind who looks at problems as opportunities.  Guys (and gals) like that are having a lot of fun right now because there are opportunities galore coming out of the Great Recession.
The Real Estate Guys™ headed off to Freedom Fest in Las Vegas a few weeks back.  We heard that money manager / economist / author / Senate candidate Peter Schiff would be there (among many other people with very strong opinions about the U.S. economy) and we wanted to do some interviews.  We're happy to report we got lots of great stuff, including Mr. Schiff and the CEO of Forbes Magazine, Steve Forbes.  Watch for those interviews in future broadcasts.
So we fly into Las Vegas in our private jet (the one operated by Southwest Airlines), and get to the convention venue and start setting up our booth.  Before the event had even started, a man stops by and sees our banner for Belize (we were promoting our upcoming field trip to Belize) and asks a few questions.  The short of it is that we find out he's working on a very exciting project in the Caribbean – one that solves a problem we've been trying to figure out too.  Russ gets so excited that he hugs the guy. Very weird.
After the appropriate apologies and some follow up male bonding, our new friend agrees to do a radio interview.  And that's what this broadcast is all about.
Manning the microphones for this edition of The Real Estate Guys™ Radio Show:
Your host, the Larry King of real estate radio, Robert Helms
Co-host, our "I love you, man" booth babe, Russell Gray
Special Guest, Investment Banker, Entrepreneur and assault victim, Jeff Villwock
Any time we get around smart people, we jump on the opportunity to talk with them. In this case, Russ literally jumped on Jeff.  When Jeff recovered, we got him on the mic, so you can listen to what he's doing, where he's doing it and why.  There's lots of lessons to be gleaned!
Freedom Fest is an event that attracts people with strong political opinions.  In many of the interviews we did there, those opinions come out.  Great!  We think the world works better when people respectfully debate important issues.  Sharing ideas is among the most sacred of our freedoms, especially if you're radio guys.
We also realize that the U.S. (the bulk of our audience) is pretty polarized right now.  Now, we love our entire audience and our show isn't political.  However, policies affect economics and economics affects real estate. There shouldn't be a serious student of real estate who can look at the last several years and deny that.  So politics are going to get into the discourse from time to time, which is a very good thing.
We think these Freedom Fest interviews are great.  If you disagree with the political views of our guests, don't let that get in the way of hearing what's being said.  Here's why:  a big part of real estate investing is understanding demographics and human nature. How people think and believe affects where they (and their money) will be moving.  Even if you disagree with them, if they believe it, it will affect their actions. So YOU need to understand them (even if you disagree) if you want to anticipate their behavior.
Did we mention that Jeff's project is in St. Kitts?  It just so happens that St. Kitts is one of the stops on our upcoming 9th Annual Summit at Sea!  So we ask Jeff if we can visit his project as part of our already planned real estate shore excursion in St. Kitts. Not only does Jeff agree to allow us to visit, he says he'll meet us there and show us around.  Awesome!
Once again, we're reminded of the importance of getting out of our cubicles and into the world where real people are. No doubt that virtual networking is powerful, but just as phones did not replace face to face meetings, neither will social media replace conventions as a great place to make important connections.  This is one of the reasons we attend trade shows and promote our field trips and the Summit at Sea™.  It's a great way to get to know great people in the real world.  We hope to see YOU at one very soon!
Listen Now
Don't miss a show!  Subscribe to the Free Podcast
Want More?  Sign Up for The Real Estate Guys™ Free Newsletter!