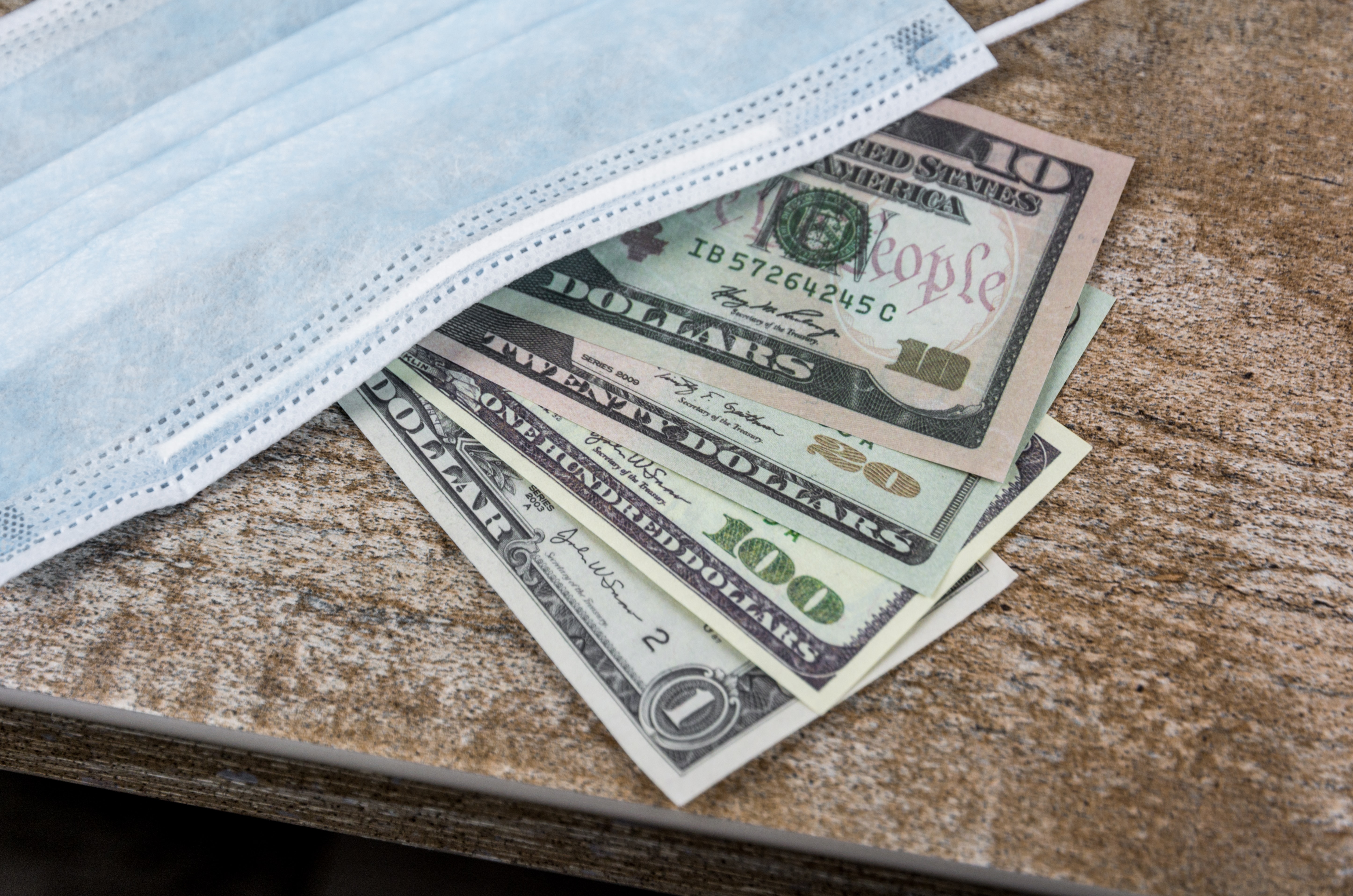 The COVID-19 pandemic means the economy has slowed down … way down in some cases. 
So, central banks led by the Fed are conjuring TRILLIONS of fresh dollars out of thin air. And Uncle Sam is making sure they get into circulation. 
The question on many investors' minds is, "WHAT IS GOING TO HAPPEN?" 
Will prices rise or fall? Can the economy grow if it's locked down? Or are we headed into depression?
And of course, one of the biggest questions of all … will the world trust a dollar being diluted by the trillions on a monthly basis?
In this episode of The Real Estate Guys™ show, hear from:
Your inflated host,

Robert Helms

His depressing co-host,

Russell Gray
PhD economist and best-selling author, Richard Duncan
---
Listen
---
Subscribe
Broadcasting since 1997 with over 300 episodes on iTunes!
---
Review
When you give us a positive review on iTunes you help us continue to bring you high caliber guests and attract new listeners. It's easy and takes just a minute! (Don't know how? Follow these instructions).
Thanks!
---
Looking at the bigger economic picture
All investments float in the economic sea. If you only look at real estate … instead of taking a step back to look at the bigger economic picture … you may run into trouble. 
The situation we find ourselves in today with COVID-19 is different than other economic situations we have faced in the past … 2008 included. 
This health crisis has manifested in a global economic lockdown. Instead of a credit crisis coming first and leading to job losses, we have job losses right out of the gate in a bigger fashion than we've ever seen in our lifetime. 
And not just in the United States … around the world. 
So, it makes a lot of sense for us to talk to someone today that looks at the world from the understanding of credit markets on a global level and how all of those things play together. 
Richard Duncan is a PhD economist and author. He was an advisor to the International Monetary Fund (IMF), and he really sees a much bigger picture than the average investor. 
Whether you agree with the opinions he shares today or not, Richard is qualified to have an opinion. 
If you concentrate hard on listening to what he has to say, processing the data, and understanding his logic, you might gain some great insights and actionable intelligence. 
If nothing else, you may learn to anticipate the potential consequences that can come when the people behind the financial curtain start pulling on their levers. 
Recession or depression?
"The thing that is going to determine whether this is just a recession or a full-fledged 1930-style depression is going to be the speed and magnitude of the government's fiscal and monetary policy response," Richard says. 
COVID-19 has put the economy into a complete freefall, but Richard says that we have been really fortunate in the U.S. because the government acted quickly. 
The government has come to through with almost $3 trillion of fiscal rescue bills with more money potentially on the way. 
Meanwhile, the Fed has radically expanded the amount of money that is created. In 2020, the Fed has created $2.75 trillion in new money. 
Basically, the government is spending money to replace all the money that's not being spent by households and businesses … they're holding the economy together. 
"If the government spends enough and the Fed continues to print enough, there's no reason that we have to collapse into a protracted, decade-long depression the way we did in the 1930s," Richard says. 
But, it's going to be absolutely crucial that the government keeps spending. 
If they do, Richard thinks that the economy will survive and come out of this crisis looking very similar to the way it looked before COVID-19. 
But if not, then the U.S. could be headed for a depression-style economic catastrophe that could extend far into the future. 
That's why it is absolutely essential, in many economists' view, that the government continue propping up the economy and holding the economy together the way that it has so far. 
But what happens when, say, $10 trillion more works its way into the economy?
Looking back at 2008, we see that the expansion of government debt and the expansion of the Fed's money printing didn't cause inflation at the consumer price level. 
It DID cause inflation at the asset price level, but that was part of the plan. They needed to push up asset prices to create a wealth effect, boost consumption, and keep the economy growing because the private sector was weak. 
So, looking ahead based on that experience, Richard says it is by no means certain that we are going to move into a period of significant inflation at the consumer price level. 
Although he adds, we may see property prices go higher and stock prices go higher as a result of the new money and the government spending. 
All of this remains true as long as globalization remains intact. 
For example, before the outbreak of the virus, tensions with China were already strained. Now things are … even more so. 
In the U.S., we have realized that we don't have the manufacturing in place to manufacture medical supplies that we need. So, a certain amount of manufacturing has been brought back during the pandemic. 
That's a good thing … but it's hard to tell to what extent that localization is going to be reversed. If globalization breaks down entirely, Richard says there is a chance that America will move back to a period of high inflation rates. 
The future of the dollar
Moving forward in terms of the dollar, Richard says that there really is no alternative to the dollar standard. 
"The reason the dollar is the global reserve currency above all else is because the U.S. has such a large trade deficit," Richard says. 
For instance, in recent years China's trade surplus with the United States has been more than $1 billion every day. 
That means that China sells its goods in the United States. It gets paid in dollars. It takes those dollars back to China … and it has a few choices. 
"It can burn them. It can bury them under the Great Wall, or it can buy dollar-denominated assets with them like treasury bonds," Richard says. 
So, as long as China wants to keep selling things to the U.S. and have that surplus, it's going to have to take those dollars and invest them either in government bonds or something riskier. 
That's not going to change. There's nothing they can do about it as long as they want to keep selling things in the United States … and their economy depends on it. 
For more on Richard's thoughts about the world economy and where things are headed … listen to the full episode!
---
More From The Real Estate Guys™…
The Real Estate Guys™ radio show and podcast provides real estate investing news, education, training, and resources to help real estate investors succeed.
---
Love the show?  Tell the world!  When you promote the show, you help us attract more great guests for 

your

 listening pleasure!
While a lockdown stops the economy and slows everything down … putting downward pressure on prices … central banks led by the Fed are conjuring TRILLIONS of fresh dollars out of thin air. And Uncle Sam is making sure they get into circulation.
Will prices rise or fall? Can an economy grow when it's locked down … or will it recede perhaps even into a dismal depression?
And how long will the world trust a dollar that's being diluted by the trillions on a monthly basis?
Tune in and find out when we talk all this and more with PhD economist and best-selling author Richard Duncan.
---
More From The Real Estate Guys™…
The Real Estate Guys™ radio show and podcast provides real estate investing news, education, training, and resources to help real estate investors succeed.
---
Love the show?  Tell the world!  When you promote the show, you help us attract more great guests for 

your

 listening pleasure!
Although there may be some debate about the true origin, cause, and date of the COVID-19 virus … there's no doubt about its presence and impact today.
And just as the health crisis began quietly, before exploding onto the scene, so it may be with the subsequent financial crisis.
After all, if you're not both an epidemiologist and paying attention … or listening to one … like our friend Chris Martenson at Peak Prosperity …
… you probably didn't know anything about COVID-19 until there was no toilet paper on the shelves at your local store.
Clearly, there were people who knew and acted sooner than others …
… and we're guessing most folks would prefer to be in the group who's aware and prepared.
Fortunately, being late to the toilet paper run didn't result in being completely wiped out. (Sorry, we couldn't resist.)
But as the health crisis and resulting lock down has mutated into an economic crisis …
… and is already showing signs of spreading into a financial crisis …
… the consequences of being ignorant and ill-prepared could be a whole lot messier to handle than a toilet paper shortage. (Okay, we'll stop now.)
Punning aside, our point is there are abundant and alarming clues in the news that a financial contagion has already begun.
But preparing for it is a lot more complicated than simply stocking up on paper products … including cash.
Preparing is also a lot bigger than just looking out for you and yours.
Just as society rallied to "flatten the curve" … slowing the contagion to preempt the number of afflicted from overwhelming the health system …
… we're "all in this together" and need to flatten the curve of people going broke and overwhelming the financial system.
Because while you might be able to get along in life not exchanging germs with other people …
… it's impossible to live in a world of free enterprise without trading with others.
We all need each other to be financially healthy if we want to build resilient prosperity.
So, it's in everyone's enlightened self-interest to both prepare individually … and help others prepare to prosper through the wild ride looming on the horizon.
That's why we're organizing a Crisis Investing webinar … featuring a STELLAR faculty, including …
Richard Duncan – Economist, best-selling author, former consultant to the IMF
Peter Schiff – Money manager, best-selling author, podcaster, financial pundit
Robert Kiyosaki – Mega-millionaire investor, greatest-selling financial author in history, host of the Rich Dad Radio Show
Nomi Prins – Former Wall Street insider, geopolitical financial expert, investigative journalist, best-selling author
Danielle DiMartino-Booth – Former Fed insider, popular market commentator, financial newsletter publisher, best-selling author
Brien Lundin – Gold expert, publisher of Gold Newsletter, New Orleans Investment Conference producer
And that's not everyone. The Crisis Investing webinar is a big and important project.
We're working hard to collect the thoughts and perspectives of a large, well-qualified group of thought leaders, insiders, and seasoned investors.
By the way … this isn't a pitch … because the webinar is totally free.
So, be sure to tell your family, friends, neighbors, associates and total strangers to get on the Advance Notice List ASAP.
Remember, most of the "experts" on mainstream financial media are directly or indirectly underwritten by and beholden to Wall Street and the big banks.
So, most don't understand or value Main Street investing … especially real estate. Yet that's where most people live … and where all the fallout lands.
Of course, it's possible to see danger coming in time to get in position to avoid most problems and capture many opportunities.
Of course, this requires focus and diligence because these are truly unprecedented times …
Fed's balance sheet tops $7 trillion, shows increasing buying of corporate bond ETFs
MarketWatch, 5/21/20
Not sure what that means to you? You're not alone … and that's the point.
The wizards behind the curtain are pulling levers, flashing lights, and using smoke, mirrors, and fancy words to manipulate the currency, credit markets, and interest rates YOU depend on.
Hint: The Fed's balance sheet represents how many dollars they conjure out of thin air … and it's nearly doubled since the COVID-19 crisis hit just a few months ago.
But anyone with even a rudimentary understanding of economics knows that no amount of money printing creates products and services.
If it did, then the Fed could just print money and everyone could stay home and watch Netflix.
But like any form of debt, money printing is simply a claim on existing and future products and services.
If you earn, borrow, or measure wealth in dollars, this should concern you.
Meanwhile …
Over 4 million Americans are now skipping their mortgage payments
MarketWatch, 5/24/20
With nearly 40 million jobs lost in the last few weeks … defaults on rent, mortgages, car payments, credit card payments should surprise no one.
Sure, the Fed can print money for Uncle Sam to direct deposit to everyone.
And MAYBE they'll use it to make debt payments … versus less important things like say … EATING.
But you may recall …
Alarming number of Americans don't have enough savings for unexpected expenses
New York Post, 1/30/20
"One in four Americans do not have enough money saved to cover more than two months of expenses, according to a recent poll."
Many of those folks are your tenants. But it's not just the little guys who are struggling as the economic contagion spreads …
Default Notices Are Piling Up for Retailers Unable to Pay Rent
Bloomberg, 5/22/20
Hertz, slammed by coronavirus, to continue under bankruptcy protection
Chicago Tribune, 5/26/20
'No business is built for zero revenue.'
NO business is built for zero revenue. Neither is any city, state, or nation.
No society can survive long without production AND commerce.
So, while it's good that the world is coming out of its COVID-19 induced economic coma …
… the extent of the damage … and what's temporary vs what's permanent … will not be known for some time.
But with so much uncertainty remaining about whether the health crisis at the front end of this chain of calamity is past its peak …
… there's no rational reason to think the subsequent economic crisis is even close to over.
And even if it was, all those missed payments and printed money is likely to create a financial system crisis … and perhaps even a currency crisis … down the road.
So our bet is things get MUCH choppier before they get better.
BUT … that's not all bad news. In fact, there's likely a lot of opportunity in all this mess.
So rather than go full-fetal freak out … or waste a bunch of time blaming (pick a perp or scapegoat) … or philosophizing about what the people in charge should or shouldn't do …
… we think you're better served to stay focused on what YOU can do NOW.
We're sorry if this is a little repetitive …
… but if you were on the deck of the Titanic, would you want the crew to stop boring you with repeated directions to the lifeboats?
Of course, no one knows exactly the "best" way to mitigate risks and capture opportunities … there's still too much unknown.
But as we often say, focus on being diligent to control what you can so you're in the best position to respond to what you can't.
And listen to as many smart people as you can who are also diligently preparing and paying attention. That's what the Crisis Investing webinar is all about.
The follow up to the webinar will be to take all these expert perspectives and then come up with the best ideas and action plans.
But be patient. With MANY hours of interviews, the project won't be ready for a few more weeks. Stay tuned!
Meanwhile, we still think it's wise to get as liquid as you can while you can … especially with respect to equity and taking advantage of the cheapest mortgage money you may ever see.
Take a good look at your portfolio … and think about how it would respond to rising rates, a banking crisis, a credit market collapse, or a substantial decline in rents.
Remember, "no business is built for zero revenue".
Sometimes you simply can't save everything from a worst-case scenario. So it's also important to know when to retreat and preserve capital … so you can live to invest another day.
But if you're liquid, conservatively structured, well-educated, and connected … you'll probably hold onto most of what matters …
… and easily make up any losses by grabbing the bargains likely to be littered across the landscape as this all unfolds.
And if this turns out not to be as big a deal as it seems … how are you worse off for being prepared?
Listen in to hear part two of our 2018 Predictions Panel!
In this episode of The Real Estate Guys™ show, we sit down with three expert economists. Our guests hail from Fannie Mae, the international finance sector, and the National Association of Realtors® (NAR).
Together, we'll look back on the economic trends of 2017 … and talk about what our experts think is coming around the corner in 2018.
Then we'll put it all together to calculate how trends in the U.S. and across the world will affect YOU as a real estate investor.
This show features:
Your trending host, 

Robert Helms

His not-terribly-trendy co-host, 

Russell Gray
Doug Duncan

, senior vice president and chief economist at Fannie Mae

Richard Duncan

(no relation!), best-selling author and economist

George Ratiu

, director of quantitative and commercial research at NAR
---
Listen
---
Subscribe
Broadcasting since 1997 with over 300 episodes on iTunes!
---
Review
When you give us a positive review on iTunes you help us continue to bring you high caliber guests and attract new listeners. It's easy and takes just a minute! (Don't know how? Follow these instructions).
Thanks!
---
Where do we fall in the economic cycle?
We asked Doug, Richard, and George about where the U.S. economy will be heading in the next 12 months.
"Recent data suggests a recession probably won't happen in the next 12 months," says Doug. He reminds investors to be mindful, however … "Every expansion eventually ends."
Doug also predicts that, "In 2018, we will see a small acceleration of growth over what we saw in 2017." The forecast at Fannie Mae predicts a growth of approximately 2.75 percent over the next year, after which the market will slow down a bit.
Richard also agrees that although we are in the midst of a remarkably long expansion, it's unlikely the bubble will burst in the next year.
Should investors sell now? "That depends on their risk tolerance," Doug told us. "The best strategy is to ride a bubble out and surf it to the top. This is probably not the top of the bubble."
Every expansion has to end eventually. The market has been growing since the market crash in 2008 … but so far, our expert economists aren't seeing any major signs of impending recession.
What will cause an eventual crash? "The key as to when the bubble will pop depends on interest rates," says Richard.
Will interest rates rise?
The biggest factor affecting players in the lending world … that's you! … is interest rates.
In the next year, says Doug, "The central banks may tighten, which will apply upward pressure to mortgage rates."
He says upward pressure won't be significant this year … but that we're moving that general direction.
Richard is a bit more concerned about rising interest rates, and thinks YOU should be too … he says, "Listeners should be very concerned about the possibility that U.S. interest rates will go up within the year."
That's because the Fed is currently reversing quantitative easing right now … essentially "uncreating" money. That may bring danger, as higher interest rates will push asset prices down, says Richard.
He also says higher rates will cause credit to become more expensive and "contract and cripple the economy."
What's happening in the housing market?
Doug notes the rental market is slowing down right now … but only because the largest metros are saturated. Smaller, less saturated markets are a better place for investors to be right now.
George agrees. Prices in large-cap spaces are still trending upwards, he says, but investors have started to take their foot off the accelerator over the last year.
By contrast, smaller markets like Austin, Nashville, and Jacksonville are still seeing continued acceleration. "There's a lot of potential in smaller markets," says George … and these markets are grabbing the attention of investors, both locally and internationally.
What about the supply side of the equation? "Single family home construction is still running slower than demand, whether that's from investors or occupants," says Doug.
George emphasizes the low housing supply … "2017 has been a year characterized by extremely tight inventory," he says.
But in 2018, George thinks the market will be a stable platform for real estate investors. He says price appreciation will flatten and prices may even decline in some markets.
On the other hand, Doug predicts that "Real prices will continue to accelerate faster than has historically been the case."
Even if housing prices flatline this year, they're already historically high. Will incomes rise to meet the cost of buying property? That depends, in part, on the effect of the recent tax reform.
How will the tax bill affect the economy?
According to Doug, "The tax change should result in household income growth due to tax cuts for most households and acceleration in business investment," which will increase productivity and wages.
"This is the biggest sweeping change in a very long time," says George.
Will the tax bill benefit those who want to become homeowners? George notes that the mortgage interest deduction and property tax deduction were both capped in the new bill … and predicts that will affect the real estate market going forward.
The impact will be higher, however, in states where the property tax is significant.
What does the future look like for millennials?
George notes there is concern about this generation acting differently than past generations. Living in a sharing economy may mean millennials are less likely to want to own their own homes … which could be good for investors.
But according to Doug, "There's clear evidence that millennials are moving to buy homes."
Despite the demand, there are some barriers to entry for millennial home buyers … George notes that property prices have increased six percent year over year, while wages have only gone up about two percent.
Combined with rising interest prices, millennials are faced with an affordability challenge. And, says George, "Student debt also presents a serious issue."
What's going on in the global market?
Richard sees several areas of concern, globally.
Europe is cutting down on quantitative easing, just like the U.S. This will push interest rates higher, eventually impacting the market negatively, he says.
He is also concerned about Chinese exports. "The world can no longer continue absorbing so many Chinese exports," he says, and this may lead to tariffs on goods from China.
He thinks China will begin overproducing goods, weakening prices and ultimately causing bank loans to default. This would cause a systemic banking sector crisis in China, says Richard … and have serious repercussions around the world.
For the time being, however, U.S. investors find themselves in a fairly stable position. According to George, "The U.S. economy has performed quite well, even as other places resort to negative interest rates."
Although George, Richard, and Duncan aren't sounding any major alarm bells, we encourage you to do your own research and figure out a plan that's right for you.
Start by checking out part 1 of our 2018 Predictions Panel, if you haven't already!
Whether you buy, sell, or hold, make sure you're prepared for an eventual crash. Investing is a long game. Start figuring out your contingency plan now!
---
More From The Real Estate Guys™…
The Real Estate Guys™ radio show and podcast provides real estate investing news, education, training and resources to help real estate investors succeed.
Imagine being a passenger boarding the Titanic for its maiden voyage. Today, we all know how that story ended.  But what would you have paid to know what was going to happen BEFORE it happened?  Or at least while there was still time to save yourself and your loved ones?
The US economy has long been considered unsinkable. When the economic waves of the world get choppy, investors worldwide seek shelter in US bonds.  And the US government has been all too happy to sell those bonds and go deeper and deeper into debt.  Today, almost daily we hear about record setting deficits and new debt ceilings.  It's easy to be confused and simply tune out.  There were people dancing on the deck of the Titanic even as it was sinking.  They were too busy having fun.
They say that people who fail to learn from history are doomed to repeat it.  If you thought graduation meant no more studying and no more tuition, you might want to think again.  It's been said that in the history of the world, no economy has survived a 98% devaluation of its currency.  The US is at 95% today.
What does all this mean?  More importantly, what does it mean to you?  MOST importantly, what can you DO about it?
We think the first and most important thing a concerned individual can do is get educated. There are great books, podcasts and seminars available.  One of our favorite teachers is Robert Kiyosaki and the Rich Dad Company.  He's a guy that takes a lot of criticism, but for our money he tells it like it is better than anyone else that is readily accessible to everyday people.  Anyone who threatens the status quo is going to be the target of critics.
We suggest you read his work, listen to his message and ask yourself if it makes sense to you.  The key to your success will be your ability and willingness to research, think and act. Most people will keep dancing on the deck.  As for us, we'll be in Scottsdale on April 30th listening to what Robert Kiyosaki, Mike Maloney and Richard Duncan have to say.
Wealth transfers are nothing new. And Robert Kiyosaki thinks a HUGE wealth transfer is imminent if not underway right now.  If you are concerned (and you should be), then we encourage you to attend this event also.
For us, it's a business decision.  If we invest the time and money and go to the event, the worst thing that happens is that we spend 3 days hearing that these men have to say and thinking about the subject.  Even if we completely disagree, the 3 days of concentrated thought will help us make better decisions.  If we pick up just one of two great ideas that we can act upon, we should easily be able to make enough profit to cover the cost of the event. In either case, we're likely to meet some interesting people – and who knows what opportunities will open up from that?  Our guess it will be more profitable than if we stay at home dancing in the deck.
Mike Maloney says this wealth transfer presents one of the GREATEST OPPORTUNITIES in history. We don't want to to miss it!
We hope to see you in Scottsdale on April 30th.  Click here to join us.
Here's a replay of our radio interview with Mike Maloney on November 18, 2009: