WealthAbility – Tom Wheelwright
Tax-saving software, self-paced online courses, and a network of CPAs at your disposal … it's a smart investor's dream. Discover WealthAbility!

Tom Wheelwright has spent the last three decades of his life studying and practicing tax law. On top of that, he is a Certified Public Accountant and a best-selling author.
Did we mention he is also a tax advisor to legendary Rich Dad Poor Dad author Robert Kiyosaki?
Now, he is putting his expertise to work for YOU.
WealthAbility is a global network of CPAs and a platform of educational tools. Tom created the platform to share innovative strategies for reducing taxes and creating wealth with investors like you.
With WealthAbility, design your own plan to achieve your financial dreams … all while working hand-in-hand with vetted advisors to legally reduce your taxes by up to 40 percent.
WealthAbility's network of financial experts help you optimize your business structure and operations to maximize your tax incentives. You don't need Wall Street to take control of your money.
Access tax-saving software, self-paced online courses, and free articles and advice from Tom and his team.
Tap into the WealthAbility resources by completing the confidential form below.
You will receive your own free copy of How to Choose the Right Tax Advisor and Preparer.
BONUS! You'll also receive information on how to sign up for Tom's FREE Weekly Report … the No. 1 source for tax-saving and wealth-building strategies.
Simply complete the form below to begin your path to reducing taxes now …

Like waves on the beach or the rising and setting of the sun … the ebb and flow of the infamous "business cycle" is something every entrepreneur and investor must navigate.
The marketplace is fluid and dynamic.  There are no lane lines or guard rails.
More importantly, there is no singular cycle because there is no singular market.  As Jim Rickards says … it's a complex system.
At our last Investor Summit at Sea™, Fannie Mae's chief economist Doug Duncan warned the current economic expansion is one of the longest on record.
The odds, Duncan says, are high another recession is around the corner.
And as we've noted before, 10 of the last 13 times the Fed embarked on a rate raising program … the result was recession.  So …
Should real estate investors wait for the next recession to add to their portfolio?
The answer is … it depends.
That's because it's probably not smart to apply a one-size-fits-all simple strategy to an investing question about a complex system.
And even trying to "narrow" the question down to "real estate" is still complex.
After all, "real estate" covers a lot of ground (sorry, couldn't help it) … in terms of geographic markets, property types, teams, available financing, and specific deal terms.
Common sense says if you look at enough deals, you'll probably find a good one … in any cycle … because every real estate deal is unique.
So macro conditions are interesting for deciding which markets to shop in, but less so for deciding whether or not you want to find a deal.
Because if you won't even look because you're waiting for a macro-sale, you might miss a micro-sale… and find yourself sitting out much longer than you planned.
Remember, you can't profit on property you don't own.
Markets get hot for a reason …
When a real estate market gets hot, it's because buyers are bullish about the future.  Sometimes they're wrong, but often they're right.
Local real estate markets are driven by local factors … the local economy, local tax and business policies; local infrastructure, weather, amenities and population trends.
When LOCAL factors are positive, LOCAL real estate prices and rents rise.  Sometimes in sync.
But sometimes, prices get ahead of rents.  Cap rates (rent ratios) fall.  Investors are willing to pay more for the same income in that market … for a reason.
And in a recession, the problem can actually get worse.  In other words, it's not unusual in hard times for quality markets to become even MORE expensive.
That's because when clouds form … or it starts raining … money seeks shelter in quality.
So strong markets and property types often attract MORE capital in uncertain times … thereby raising the price to acquire safe haven assets.
As we discussed last time, Americans and foreigners have already shown a strong preference for U.S. real estate … housing in particular … even as stock markets are raging to record highs.
Royal flushes are rare …
When a macro-event comes and slaps down the national or global economy, sometimes great markets get caught in the downdraft.
This happened in 2008 and it created some of the best buying opportunities since the real estate bust of 1989.  For those who were in position when it happened and acted, it was awesome.
But think about that.
If you missed buying the bargains coming out of 1989 and sat out waiting for the next real estate recession, you'd have been on the sidelines for nearly two decades.
Meanwhile, lots of people made lots of money in real estate … without getting the bargain of the century on every deal.
Pigs get fed.  Hogs get slaughtered … or starve.
This variation on an old investing adage still rings true in today's investing climate.
The idea is there's danger in getting greedy.  It's about being overexposed to a market top, and taking on a lot of downside risk trying to squeeze out a little more upside gain.
But it's also true about waiting … and waiting … and waiting … for the BIG correction, so you can swoop in and gobble up distressed assets for pennies on the dollar.
Remember … you can also strike out by standing at the plate waiting for the perfect pitch.  It's usually better to swing.
What are YOU waiting for?  
A PIG is a Passive Income Generator … like rental real estate.  It's the kind of asset which actually attracts capital in a recession.
That's because when asset prices are uncertain, income is reassuring.  And as prices of stocks, bonds, commodities, and currencies go up and down like a roller coaster …
… working-class people ride the merry-go-round of getting up and going to work every day to pay their rent.
And if they don't, you can replace them with someone who will … IF you're in a market and product type with solid supply and demand dynamics.
To be there, you may have to pay a premium for quality.  The deal still needs to make sense, but it doesn't have to be cheap to be a bargain.
"Bargain" is a relative term … and price is only ONE component.  There's more to value and desirability than just price.  Few people want the cheapest brain surgeon.
So long as the market, team, property, and deal make sense … meaning you've got staying power to ride out a recession if it comes …
… then you can sail through the business cycle riding a PIG.  It's not sexy.  But it's better than starving or getting slaughtered.  You can score a lot of points with base hits.
Until next time … good investing!
---
 More From The Real Estate Guys™…
The Real Estate Guys™ radio show and podcast provides real estate investing news, education, training and resources to help real estate investors succeed.
If you've ever wondered how to invest in commercial real estate, this is a great episode to get started with.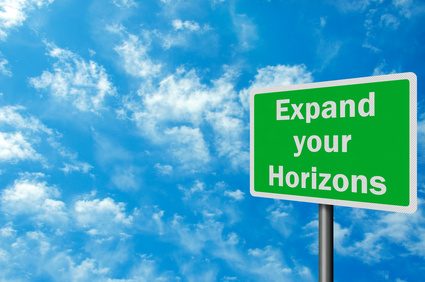 That's because there are MANY ways to make money from commercial real estate.
And as we've been discussing for the last few episodes, with cash flows on residential real estate tightening, alert investors have already begun to widen their horizons.
In The Real Estate Guys™ radio show studio helping you widen your real estate investing horizons through a look at how to invest in commercial real estate investing:
Your wide open host, Robert Helms
His horizontal co-host, Russell Gray
Commercial real estate is both a deep and wide topic.
Flitting across the surface of the topic, there are three major categories of commercial:  Office, Retail and Industrial.
But that's far from exhaustive.
And then going deep into each of the big three, there are all kinds of sub-categories.  And it's WAY too much to cover in one episode.
So the purpose of this edition of The Real Estate Guys™ radio show is to give you an overview of some of the many options available when you enter the wide, wonderful world of commercial real estate.
How to Invest in Commercial Real Estate – OFFICE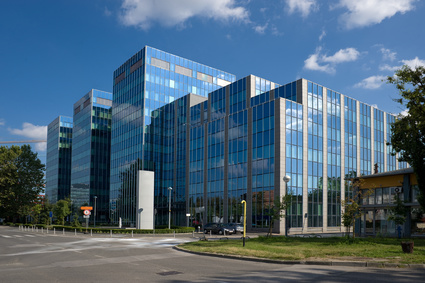 When it comes to office real estate, the first thing most people imagine are office buildings holding white collar workers all sitting at desks starting at computer screens and shuffling papers.
But there's more to office than just that.  And it's a good thing.  Because as technology has empowered a virtual workforce, the need for mainstream office space has been affected.
Today, many people telecommute.  That means less desks…or some cases, shared space.
And with more people free lancing, executive suites and collaboration stations are growing in popularity.
Also, with so many records digitized, it's less important to keep physical records in close proximity of workers.  This reduces the need for high priced office space, while adding to the demand for off-site record storage.
Yes, there are still businesses that retain hard copy documents for many years…often for compliance reasons.
How to Invest in Commercial Real Estate – MIXED-USE
Also growing in popularity are mixed-use buildings where people live above offices or retail space.  Part of this shift can be attributed to younger people waiting longer to start families and move to to the suburbs.
Another factor in the popularity of Mixed-Use is traffic congestion and people's desire to reduce the amount of time they spend in cars to go to work, shop and socialize.
How to Invest in Commercial Real Estate – RETAIL

From strip centers, to shopping malls, to single-purpose structures like car washes or that coffee kiosk in the parking lot, retail real estate comes in a variety of shapes and sizes.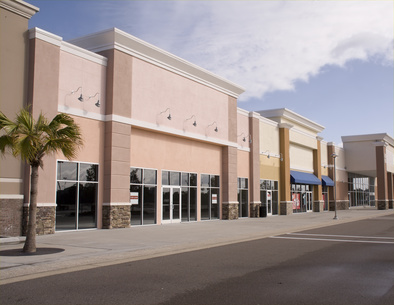 And while office has certainly been affected by technology induced societal changes, retail much more so.
So as a retail real estate investor, it's important to understand how the internet is affecting your tenants, the retailers.
One only needs to consider that Amazon, a company with not a single retail location, has surpassed Wal-Mart in terms of stock market capitalization.
People order MANY things on-line (one of the reasons we love markets like Memphis, Dallas and Atlanta that are distribution hubs).  This means they aren't necessarily going to the corner store to buy them.
Therefore, a smart retail landlord manages his tenant mix carefully…preferring businesses whose products or services require customers to visit them.  You can't order a sandwich, a mani-pedi, or a haircut online.
But it's more than simply making sure your tenants have local customers and aren't losing business to websites.
A good tenant mix will promote cross-selling.  So when a customer comes to the center to drop off their dry-cleaning, they can get get a haircut, or a teeth cleaning, or massage.
In other words, you are helping your tenants leverage each other's traffic, by offering a complimentary mix of products and services and getting more of that customer's spending to happen in your retail center.
How to Invest in Commercial Real Estate – INDUSTRIAL
Although it isn't glamorous, industrial space can be a stable way to generate long term cash flows.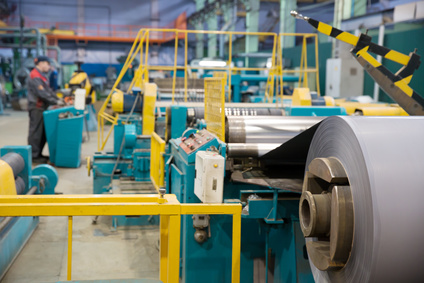 When a business rents a building and loads it up with equipment, whether it's light manufacturing, auto repair or something else…it takes a lot of time and hassle to move.  So they don't.
And they're happy to rent because they don't want to tie up their money in real estate.  They need it for equipment and inventory.
As you can see the list of commercial opportunities is long and diverse.  And we only scratched the surface.
But as people pile into pile into the the ever more crowded residential space because it's easy to understand, if you'll take some time to learn a commercial niche, you may find less competition and more profits are waiting for you.
Listen Now:
The Real Estate Guys™ radio show and podcast provides real estate investing news, education, training and resources that help real estate investors succeed.

Robert Kiyosaki says "Investing is a team sport."
We agree! And this is especially true with real estate investing because unlike paper assets…properties aren't uniform commodities which lend themselves to being traded on electronic exchanges.
Instead, the buying and selling of real estate involves people…lots of them. And so who you have on your team and how you get along with them is critical to your success.
In the studio to talk about who you need on your team and how to pick people who fit well with you…and with each other:
Your quarterback of conversation and host, Robert Helms
His co-host waterboy of waxing on (and off from time to time), Russell Gray
The Godfather of Real Estate, Bob Helms
We think building a portfolio of people is foundational to building a portfolio of properties.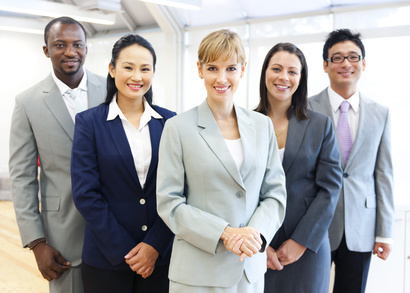 Sadly, many people approach investing backwards.
They find either go out and look for…or through happenstance, stumble upon, a property that looks "good"…and they get into contract.
Then…AFTER the fact…they go look for a mortgage broker, an insurance agent, a property manager, and a local real estate attorney (or maybe they wait until they actually have a problem).
In other words, they build the team around the property.  Oops.
In the first installment of this four part series, we talked about the role of your personal investment philosophy in helping guide you to the right market, team and property.
In our last installment, we discussed how to pick a market (geographic, demographic and product type) that is most likely to fit you…based on your personal investment philosophy.
In this third installment, we focus on the how and why of building a team.  And not surprisingly, we think your team should be a reflection of your personal investment philosophy.
Warning:  Build a team is hard work.  It takes time, patience, thick skin and adequate funding.
That's because it's an iterative process.  And you will almost certainly need to try out a lot of prospective players to find your "starters".
So where do you start?
Assuming you've worked out your preliminary personal investment philosophy…and specifically your values and goals…you should have some sense of culture.
The Culture Club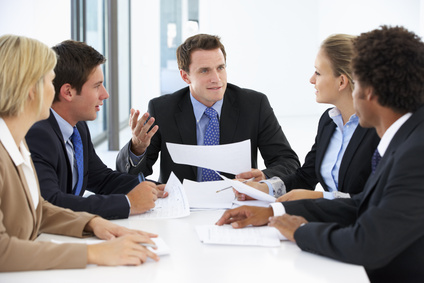 Every member of your team should reflect your values…and understand their role in helping you achieve your goals.
So your mission will be to communicate your values and goals to prospective team members…then watch their reaction.  If they get excited, you're on the right track.  If they don't…then you might want to keep moving.
Trust is a Two-Headed Creature
Next, you're looking for people you can trust.  Duh.
But it's more complicated than you might think…because you need to trust you team members in TWO important areas…and you can't have one OR the other.  You MUST have BOTH.
First, you must trust your team's motivations.  You need to know they have your back.  In other words, you need to trust their professional ethics.
Just as importantly, every team member must be professionally competent.
An honest, caring, well-meaning…but incompetent…team member can cost you a lot of money.  Worse, they can severely tarnish your reputation.
However, a top notch team member that doesn't really care about you could surgically rip you off…or ignore you in your time of need.
So make sure you're confident in every team member's ethics AND competency.
Size Matters
Did you really think we'd miss the opportunity for a double entendre? 😉
So while there are lots of ways to categorize people, one of our favorites is mentality.
Some people see ABUNDANCE…while others see SCARCITY.
Abundance thinkers believer there's PLENTY to go around.  They tend to collaborate, share and contribute.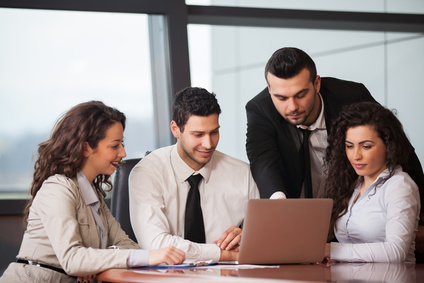 Scarcity thinkers believe there's NOT enough to go around.  They hoard ideas and resources…and often major in minor issues.
Because it's important for your team to play well TOGETHER, there's not always room for big egos.  And that means you too.
No one can be too obsessed with WHO is right.  Everyone needs to be focused on WHAT is right…in the context of your stated mission, vision, values and goals.  They need to be TEAM players.
Also, scarcity minded people focus on getting all they can while the getting is good.  We prefer folks who focus on building a bigger pot for everyone to share.
Going Deep
(Sorry…we couldn't help ourselves…)
Just as a football coach (we could have picked a different sport, but why not pick the best?) has a DEPTH CHART…you need one too.
So there are the various positions you need to fill…and you'll want to have back-ups…at least for the most critical positions.
Among them are:
Property Manager – who is responsible for managing the income production.  This is arguably the most important and least loved player on your team.
Real Estate Attorney – real estate law is very regional.  So if you get onto contract or start tinkering with your lease agreements…or worse, end up in litigation…you'll want good counsel on board.
Insurance – we think you'll want both an agent AND an attorney to help you select, procure and review you policies.  You don't want the first time you read your policy to be AFTER you've suffered a loss.
Mortgage – Most real estate investors are voracious users of debt…and arguably should be.  And with rates and programs constantly changing, anyone growing a big portfolio of mortgages needs an expert to help optimize the debt…including cash flow, interest expense, rate risk, equity optimization.
Tax – Nearly EVERYTHING you do financially has a tax consequence.  Better to know what that is BEFORE you commit the act…then to find out when you are filing…and paying…your taxes.
There's a LOT more than this…remember, we warned you it was big task…but these are several of the core members.
Here's the GOOD news…
When you find just ONE great team member…he or she can usually connect you to one or more others.  It's like hitting a gold vein.  You just keep mining it.
In this broadcast, we also cover several of the key questions you should ask any prospective team member.
So grab a note pad and tune into this episode as we discuss putting together your real estate investing team!
Listen Now: 
The Real Estate Guys™ radio show and podcast provides real estate investing news, education, training and resources that help real estate investors succeed.
Getting into a long-term relationship with a market is a big decision.  It's important to take time up front to consider if you're truly compatible with each other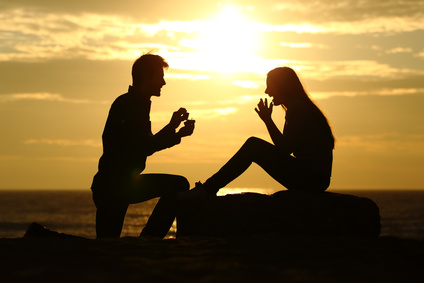 Do you have similar goals and personalities?  Common friends and values?
If things change or don't work out,…do you have a plan to move on without too much damage?
In the studio to to discuss how to pick a market that suits YOU:
Your real estate relationship counselor, host Robert Helms
His long term temporary co-host, Russell Gray
In last week's show we talked about the importance of your personal investment philosophy.
Knowing yourself, what you want, what you don't want, what you're willing to do…and not willing to do…are all part of being able to recognize what makes a "good deal" for you.
But that's only part of the equation.
In Part 2 of this series, we turn our attention to the art of personal market selection.  And while there are some practical, statistical components…market selection is also highly personal.
Our experience is that markets…like beers… have personalities.  If you, like us, have occasion to travel far and wide (and enjoy a few frosty brews along the way), you know exactly what we're talking about.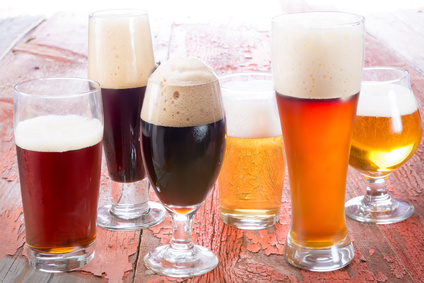 New York City has a completely different vibe than Jackson Hole, Wyoming…which is very different from Las Vegas, Nevada or Detroit, Michigan…not to mention someplace like Tijuana, Mexico or San Pedro Town in Ambergris Caye, Belize.  They're all different.
And while people, culture and customs all play a part…it's more than that.  At least when it comes to real estate investing.
So how do you evaluate a market for compatibility with your personal investment philosophy?
As we often say, if you want great answers you must begin by asking great questions.
So here are few questions to ask yourself and to research when you're looking at a market.  And again, all of these are against a backdrop of your already established personal investment philosophy.
Where is the market in relationship to you and how far and frequently you're willing to travel?
The most financially appealing market might be completely wrong for you if you're not willing to put in the time and effort to go there, learn it, build a team, and visit from time to time to keep things running smoothly.
Even a great market can't save you from neglect.
What kind of people are in the market?  Are you a cultural fit?
We can't over-emphasize the importance of relationships in this business.  If you aren't comfortable with the people in a market (or vice versa), it's hard to build the relationships you'll need to be successful.
Is the market headed in the same direction you are?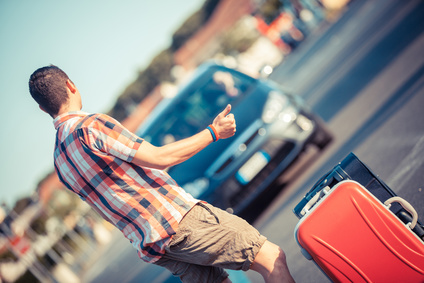 Some markets are "emerging"…that is, they are going from small to large.  It's a steep curve and requires some faith, vision and patience.
But immature markets (like people) can have issues.
They aren't as sustainably liquid.  In other words, if whatever is driving the growth slows down (think North Dakota) you might find it difficult to get out clean when it's time to end it.
Some markets are in decline in the macro, which can create unique opportunities for the savvy investor.
That's because inside a declining market, people are moving around.  Some neighborhoods and property types will be winners, while others will be losers.  In other words, the decline isn't spread out evenly.
And if you're looking for bargains, a declining market can be a bargain hunter's dream…especially if the decline is temporary and you're effectively buying the "dip".
Do the supply and demand dynamics favor your investing goals?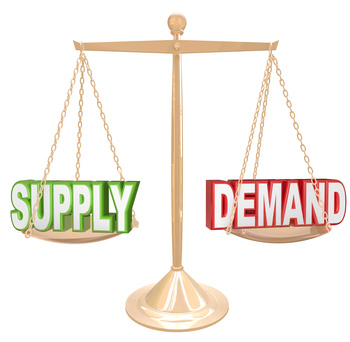 If you're in for maximum long term appreciation (growth above inflation), then a strong local economy with a permanent restriction on the increase of supply is a match.  Places like Silicon Valley, Washington DC or even pockets of the Dallas metro come to mind.
On the other hand if you're looking for great cash flows, you might decide a working class market like Memphis makes more sense.
Of course, "markets" are more than just geographic.
People, or demographics, are "markets" too.  We've talked alot about the baby boomers.  The even bigger wave of millennials will surely be a hot topic for decades to come.
And that's just age.
There are financial demographics….affluent, middle-class and low income…and lots of iterations in between.
And that's just the residential demographic.  There's also the commercial demographic…including small business, corporations and retail.
Whew!  There's a lot more to "market" selection than most investors realize.
"Markets" are also property types.
Even "housing" can be comprised of single-family, small multi-family, large apartments, condos, town homes…even mobile homes.  And then there's commercial, industrial, agricultural (yes, you can own and rent out farmland), retail…and special use (billboards, cell towers, assisted living, etc.)
They ALL have unique characteristics.  And as you might guess, you can't be expert at all of them.  At least not at the same time…and not right away.
When you think about all of the different opportunities it can be exciting…and overwhelming.  
But as you look at markets in the context of your personal investment philosophy, your focus will narrow.
Once you've identified some interesting prospects, you can do some research…and maybe even go out on a few "dates".  It's one of the reasons we've been doing market field trips for the last 15 years.
We have our favorites…and we're generally faithful.  But it's always fun to go out and shop around.  The worst thing that happens is we have fun, learn something and meet interesting people.
Sometimes we find a new love.
In all cases, it's always good.
So if you're on the front end of your real estate investing career…or you're at a place where you're looking to move into a new market or two…listen in to this episode…and then get out and explore!
Listen Now: 
The Real Estate Guys™ radio show and podcast provides real estate investing news, education, training and resources that help real estate investors succeed.
We've been told, 'There are no problem properties…only problem ownerships."
Jim Carrey put it a different way in the movie, The Grinch…"One's man toxic waste dump is another man's potpourri!"
The WHY is perhaps obvious.
Certain types of properties and the demographics they attract require a specific temperament, skill set, risk tolerance and expectation.  Mismatching a property and investor usually results in a very unhappy investor…and a "problem" property.
Funny thing is…when the unhappy investor finally throws in the towel…usually at a direct or indirect loss…some other (typically more experienced) investor comes along and scoops up the "good deal" and makes money!
So we think it's pretty clear that investors…just like properties…are all different.  And not all investors and properties are meant for each other.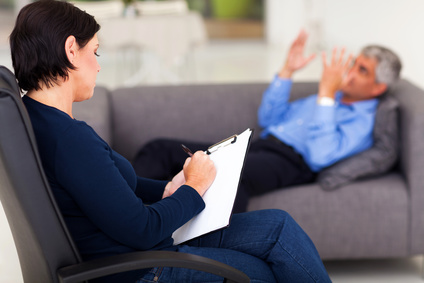 To stay out of trouble, it's critical to get in touch with YOUR inner investor…and figure out what kind of an investor YOU are.
While there's no substitute for real world experience, you can compress time frames by thinking carefully about who you are, what you want, what you're willing to do…and what you're NOT…in order to get it; and by watching what other investors are experiencing…
Then you put it all together in your mental blender…and puree it into your very own initial personal investment philosophy.
In the studio blending their voices into this episode of The Real Estate Guys™ radio show:
A smooth blend of talent, wisdom, knowledge and experience…your host, Robert Helms
His discombobulated co-host, Russell Gray
A man who blends 7 decades of experience into a frappe of fatherly wisdom, The Godfather of Real Estate, Bob Helms
We think your personal investment philosophy is the magic potion which inoculates you from bad deals.
It's like rolling up to the gate at the airport with your carry-on bag.  You drop into the "box" to see if it fits.  If it does, you proceed.  If it doesn't, you don't.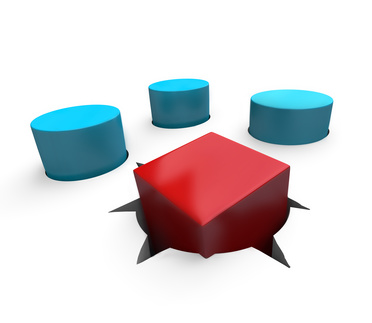 Your "bag" is the deal you're looking at.  The "box" is your personal investment philosophy.  The bag needs to fit in the box or it's a no go. Make sense?
To develop your PIP, you need to ask yourself a series of questions.  We detail them in this broadcast…but for now, they go something like this:
What is my PRIMARY objective for the investment…spendable cash flow today…or long term equity growth?
How much risk am I willing to take?  Am I more conservative or aggressive?
What types of properties am I most comfortable with or interested in?
How much turnover am I willing to deal with in my portfolio?  That is, am I "flipping" for short term capital gains…or am I holding long term for income and equity growth?
What kind of markets (geographic and demographic) am I most comfortable with?  Can I handle the stress of dealing with low-end markets…(lots of problems, but potentially more income)…or would I be happier in upscale areas?
How hands on do I want to be?  Will I manage everything myself or would I rather pay my team to do all the work?
Where in the world am I willing to go?  Do I want all my investments near me or am I willing to travel?  If so, how far and how often?
Of course, these are not binary questions.  There are LOTS of nuances…and your answers will probably be somewhere in between two extremes.
But you'll likely find that you tend to gravitate towards one extreme or the other…and that's okay.
You'll also find that your PIP will evolve as you and the marketplace change.  That's okay, too.  In fact, if your PIP isn't evolving, then you either aren't investing or your aren't learning.
We think revisiting your PIP is something you should do at least once a year.  Because the more clear you are about what you want and what you're willing to do to get it, the less likely you are to find yourself entangled in a deal you don't like.
So listen in as we guide you through the process of getting in touch with your inner investor…
Listen Now:
The Real Estate Guys™ radio show and podcast provides real estate investing news, education, training and resources that help real estate investors succeed.
Protecting your money in today's highly uncertain economy is surely very challenging. Remember when real estate equity and bank accounts were considered among the SAFEST places to keep your savings?  Today, real estate equity has disappeared – and for many people even getting access to whatever equity they still have is next to impossible.  Boy, do we miss those equity lines of credit with their checkbooks and debit cards!
And even though you can still write checks on your cash deposits at a bank, with record bank failures even that old saying "sure as money in the bank" seems a little outdated.  Add horribly low interest rates and, to compound the injury, taxes on your meager interest earnings, it's enough to make you wonder what this financial world is coming to.
Well, we have good news. There's a new way to look at an old product – one that is time tested and has survived its fair share of economic turmoil.  And we got such a positive response to our first foray into this topic, we decided to re-visit it with a new guest.
In the radio lifeboat for another voyage into broadcasting brilliance:
Host and head lifeguard, Robert Helms
Co-host and lifeboat inflater, Russell Gray
Seasoned sailer of stormy economic seas, the Godfather of Real Estate, Bob Helms
Special guest, "infinite banking" expert, Patrick Donohoe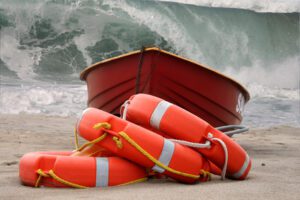 Right out of the gate we need to set the table, which is no small task with the lifeboat bobbing on the waves:  what does life insurance have to do with real estate investing?
Think about what a bank account has to do with real estate investing and you're on the right track.  But unlike a bank account, our guest explains that certain types of life insurance – thought greatly misunderstood – offer far greater flexibility than bank accounts.  And though they aren't FDIC insured, insurance companies are arguably more stable and conservatively run.  Unlike banks right now, you don't hear a lot about record number of life insurance companies failing.
We also address why so many CONSUMER financial gurus are down on cash value life insurance, yet corporations like Wells Fargo and Wal-Mart buy tons of it.  Could it be there are BUSINESS purposes that make it very useful for BUSINESS people?  We say all the time that real estate investing is a business, so it makes good sense to see how businesses are using this financial tool.
For example, how'd you like you to take a tax deduction for making a deposit in your bank account?  Hmmm….that's an interesting concept!  What about getting a loan against your equity without having to qualify?  Try doing that with a property!  And unlike property, the value isn't determined by market forces, so your equity doesn't disappear in a market downturn.
The point of this episode is that insurance can do a lot more than manage risk and pay a benefit. Our job is to expose you to some of the possibilities.  Your mission, should you choose to accept it, is to explore those possibilities, learn how to use this powerful tool, and decide when and where to use it to advance your real estate investing program.  It seems the economic storm isn't over yet, so it might be a good idea to know how to operate the lifeboat.  It's a matter of life and debt.
Listen Now: 
The Real Estate Guys™ radio show and podcast provides real estate investing news, education, training and resources that help real estate investors succeed.
Would you rather be aggressively conservative or conservatively aggressive? Many investors who are still in the game through the mortgage meltdown and the Great Recession are facing this question – whether they realize it or not.
In a recent show (Old School Real Estate – Debt Free Investing) we talk about the pros and cons of the old school approach of investing for cash.   However, the discussion raised another consideration that we didn't talk about: how has the Great Recession affected your inner investor? Whether you're aware of it or not, you're probably forming new paradigms as you observe and experience the current real estate market.  We suggest that you form your new paradigms thoughtfully and purposefully, rather than simply absorbing the attitudes of whatever group of people you happen to associate with today.
So again:  would you rather be aggressively conservative or conservatively aggressive?
Some people will respond to the pain of unforeseen setbacks by elevating risk avoidance above profit generation.  If you're old enough to remember the Tom Cruise film Top Gun, Cruise's character, Pete "Maverick" Mitchell was a reckless, but very talented fighter pilot.  After Maverick's beloved flying mate "Goose" (played by Anthony Edwards) was killed during a practice session that Maverick piloted,  Maverick became hyper-conservative.  He lost all of the swag that contributed to making him a great fighter pilot.  Though he remained talented and capable, he became ineffective when it mattered most.
Later in the movie, the now timid Maverick is pressed into live combat, but actually endangers his team because he is too conservative to engage the enemy.  The safety of his own plane had become his paramount priority.  He was more interested in risk avoidance than winning the battle.  His paradigm shift had changed his priorities.
Thankfully, in the middle of the battle, he snaps out of it and re-engages.  The irony is that the formerly reckless, undisciplined Maverick doggedly follows procedure, placing his own plane in jeopardy by refusing to "leave his wingman".  But all the skills and instincts that made him great when he was reckless still remained, and he was able to outflank and outsmart the enemy.  He saves the day with his now conservative aggression.
So Maverick started out highly skilled, but arrogant and reckless.  Then he experienced a tremendous setback and withdrew into an aggressive conservativeness which neutralized his amazing skill.  When he applied the lesson of his setback to his aggression rather than to his fear of failure, he became conservatively aggressive and highly effective – perhaps even more so than before his failure.  In other words, his failure actually made him stronger when he got the right lesson from it.
If you're just starting out, try to look at the pain some of the old timers are facing (we know it's hard) and ask yourself what lessons you should apply to your ambition.
If you're among the walking wounded, look at your attitude towards investing today. Are you looking for reasons to engage – or for reasons to disengage? Have you become aggressively conservative?  If so, did you do it purposefully – or have you simply absorbed negativity from the naysayers in your life?
The great news is that you don't have to have lightening fast reflexes, eagle sharp vision or marathon runner stamina to be successful as real estate investor.  But like Maverick, you have to manage your inner fighter pilot and make sure you can effectively engage when the battles of investing call you into action.  You may be safe sitting in the hangar watching, but you won't win any medals.  This economy needs heroes right now.
But not everyone has what it takes to be an investor in the real world.  It's hard work, it can be scary at times; and if you engage early and often, there is a high probability you will get shot at – and perhaps even shot down.  But if you keep your wits about you, pack your chute, and follow procedures developed through the trials and errors of those who have come before you, you have a legitimate chance to win.
Is it worth the risk?  That's up to you.  But financial freedom, like any other kind of freedom, isn't free. It comes at a price.  If you do nothing, then not winning is a certainty.  You may be safe, but you won't be victorious.  You have to decide if you want to soar like Maverick in an iron eagle or be safe like a church mouse hiding in a hole in the wall hoping to live your life unnoticed.
You know where we'll be: right here on the radio and our website bringing you news, views, information, inspiration and resources to help the fighters succeed.  When one of our listeners succeeds, they become another contributor to a successful society.  That's good for them, it's good for us – and it's good for the church mice, too.