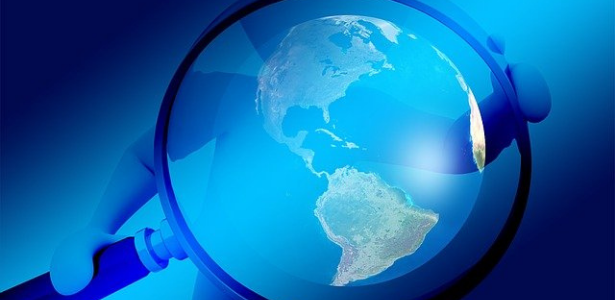 What a difference a week makes!
Last time we commented on the big news about the world's most famous real estate guy potentially using the tax laws to reduce his federal income taxes to virtually zero.
Since then, as you probably know, the news has been dominated by President Trump's illness, hospitalization, treatment, and return to the White House.
The undercard of the Presidential virus is the stimulus threesome of Trump, Pelosi and Powell. The first TPP didn't work out. Will this one?
And while all this is politically titillating, we're not into kinky politics. Our interest is purely economic and investment oriented.
So let's consider what's happening and why it matters to real estate investors … then we'll close out by taking a peek into the future.
First, the New York Times "shocks" the world … at least the world who doesn't understand how the tax law works … by breaking the "news" President Trump may have paid virtually no income tax for many years.
It may divide people politically … as if they weren't already … but it just might unite people around real estate investing.
So we think having Trump's tax secrets exposed is GREAT for real estate in general and syndicators in particular.
That's because many highly taxed, but poorly advised affluent people will likely awaken to the benefits of real estate investing.
Some will want to invest directly … but we're guessing most would prefer to invest through a syndicator because it's easier and safer.
But when the salacious story of Trump's tax secrets was buried by coverage of his illness, it seemed national attention shifted away from real estate.
However, with Trump's apparent recovery, perhaps the tax story will be resurrected by Trump's adversaries.
Time will tell. In any case, we think Trump's taxes will have a positive impact on attracting more investment into real estate.
Meanwhile, Fed Chairman Jerome Powell just came out publicly to call for more FISCAL stimulus … a.k.a., government spending …
More Stimulus Now Or Economy Will Sink, Fed Chairman Jerome Powell Warns As White House Talks Drag
– International Business Times, 10/6/20
" 'Too little support would lead to a weak recovery, creating unnecessary hardship for households and businesses. Over time, household insolvencies and business bankruptcies would rise, harming the productive capacity of the economy, and holding back wage growth,' Powell said …"
As you may know, when the Fed gooses things … dropping interest rates, printing money, buying bonds … it's called MONETARY stimulus.
It seems Chairman Powell feels like the Fed has done its fair share of stimulating … so now it's time for Trump and Pelosi to spice things up.
But it's no secret President Trump and Speaker Pelosi are strange bedfellows. At this stage of the affair, it seems neither Trump nor Pelosi is giving an inch.
Whether it's tactics, posturing or principles … both are digging in, apparently refusing to budge… leaving everyone wondering what's really going to happen.
Of course, all this stimulus uncertainty creates volatility in paper asset markets … including stocks, bonds and currencies.
So what does all his have to do with real estate investors?
Besides the obvious impact on interest rates, lending, jobs (and thus rents), inflation (affecting tenants' payment ability) … and the value of the dollars you're collecting or the stability of the financial system you store them in … not much. 😉
But it's not all doom and gloom. We're already seeing some markets and niches boom, as people and money move around to adjust to the new world.
Our point today is there's a good chance of a potentially big wave of interest and capital heading into real estate from three major fronts.
First, as we've discussed, are over-taxed people who are about to wake up bigly to the powerful tax advantages of real estate investing.
Next is the still large and powerful baby-boomer demographic which is facing anemic interest rates for as far as the eye can see.
Boomers need higher and safer risk-adjusted income than they can get with CDs, bonds, annuities, or dividend paying stocks. Real estate can deliver for them.
The third potential influx of capital into U.S. real estate could well come from foreigners seeking safe-haven assets in a very stormy world.
Right now, the world is VERY chaotic and uncertain. Investors need protection from inflation, deflation, currency collapse, systemic collapse, societal collapse.
We're not saying all or any of those things will happen in the United States to a shocking degree … but they could.
They're certainly happening in other parts of the world.
Meanwhile, for all its challenges and flaws, United States real estate remains among the most desirable safe-haven assets in the world.
Sure, U.S. investors get weirded out comparing yesterday to today. But what about wealthy folks in places like Venezuela or China?
USA properties probably look pretty darn good from their perspective.
Wealthy foreigners might get nervous about U.S. paper assets like stocks, bonds, and dollars, which are volatile and easily tracked and seized.
But REAL assets in a jurisdiction with very stable private property laws are alluring for people in places where their world doesn't work that way.
Think about all the wealthy people in Hong Kong.
Now we're not saying everyone and their foreign cousins are going to start pouring into real estate tomorrow.
For many foreigners, the challenge is getting their money from there to here … and doing it in such a way that's private, secure and manageable.
But as is often the case with many challenges in the modern world … technology may provide the answer.
Imagine being able to own a digital asset backed up by a real asset …
Now you have something portable, private, secure, relatively liquid … all representing ownership in something real.
Gold seems like the logical choice, and it's not bad. But gold isn't an investment … it's just an alternative form of cash. It's money.
(If that makes your head tilt, we discuss it on our Making Sense of Silver series)
But a digital asset backed by income producing real estate would check some important boxes.
To no surprise, clever entrepreneurs are already figuring this out and are rolling out solutions. We think it has the potential to be VERY big, so we'll be talking more about in the very near future.
Meanwhile, whether you're an accomplished real estate investor or just getting started, you've got lots of opportunities headed your way.
The economy might recover and boom … lifting all boats. Just be sure you're IN one.
The economy might crash, temporarily crushing asset prices, and providing proactive investors an opportunity to collect quality assets at bargain prices.
In both cases, capital from less stable assets and places will likely be attracted to the stability and high risk-adjusted returns of the right real estate in the right markets.
Your mission is to be ready, willing and able to recognize and act on attractive opportunities when they appear. Because in ANY market, good deals always go to the aware, prepared, brave and bold.
Until next time … good investing!
5 Things Every Syndicator Must Know To Stay Out of Jail 
The violation of securities laws is a serious matter, and carries with it significant consequences.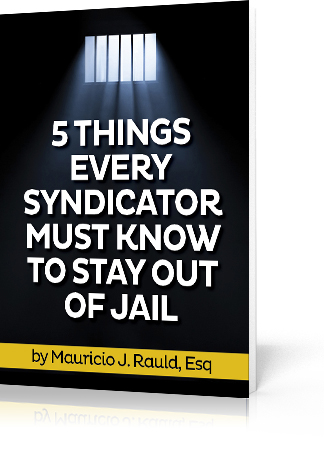 This report outlines possible gray areas and how you can navigate challenges to ensure that you are on the right side of the law. 
The information provided here will allow every syndicator, from beginner to seasoned, to know exactly what the most common issues are, from an SEC and also State regulatory compliance perspective.
This Special Report covers:
✓ Why Creatively Structuring Your Real Estate Syndication To Avoid Securities Laws Won't Work
✓ A Zero Tolerance Policy the SEC has Towards Advertising Your Syndication When Prohibited (yes, this includes Social Media)
✓ Why You Cannot Pay Unlicensed People to Raise Money For You
✓ What Constitutes a "Pre-Existing Substantive Relationship" 
✓ And more!
Discover 5 Things for staying on the right side of the law!
Simply fill out the form below to access

5 Things Every Syndicator Must Know To Stay Out of Jail …
Old Capital Lending
Your Multifamily Lending Experts. A Trusted Source to get Your Apartment Loans Funded 

What we like best about the Old Capital Lending team is that they do one main thing … and they do it REALLY well. 
That's Commercial Loans on Multifamily Apartment Buildings! 
They've been the go-to provider for real estate investors looking for apartment loans for over 20 years … Have we mentioned they do this really, really well? 
You can tap into their extensive network of equity and lending sources …Fannie Mae & Freddie Mac agencies, life companies, conduits, wealthy individuals, family offices, institutional investors, and even hard money lenders. 
Their sources trust their underwriting practices and decades of experience … That means YOUR DEAL gets FUNDED. 
Syndicators can benefit from the Old Capital Lending team's experience funding apartment projects for syndicators … helping you structure your "capital stack" just right. 
Their prudent advice and proactive transaction management drives investors to come back to them again and again for deal after deal. 
The Old Capital Lending team regularly contributes to our Secrets of Successful Syndication event! 
Simply fill out the form below to discuss your Apartment Loan questions with their expert team …

Reviews
Here's what your fellow investors are saying …
"Once again Old Capital came through on their word and executed flawlessly. I always trust your professional opinion and feel confident when you're on the deal. I would be glad to recommend you to any brokers or investors looking for a trustworthy debt source. Thanks again for your work, I am looking forward to the next one."  – Michael W., Dallas, TX
"We want to thank you so much for getting this refinance done. Not only was it pretty quick, but painless to boot. If we need any assistance, you'll be the first one we'll call. Thank you again, for all the effort and energy that help make this finally happen."  – Bill K., Santa Barbara, CA
"Old Capital was great to work with. They were able to help secure the financing needed for my first multi-family purchase and get started off on the right foot. It was a pleasure working with Old Capital on this transaction and they guided me through a smooth purchase."  – Al M., Phoenix, AZ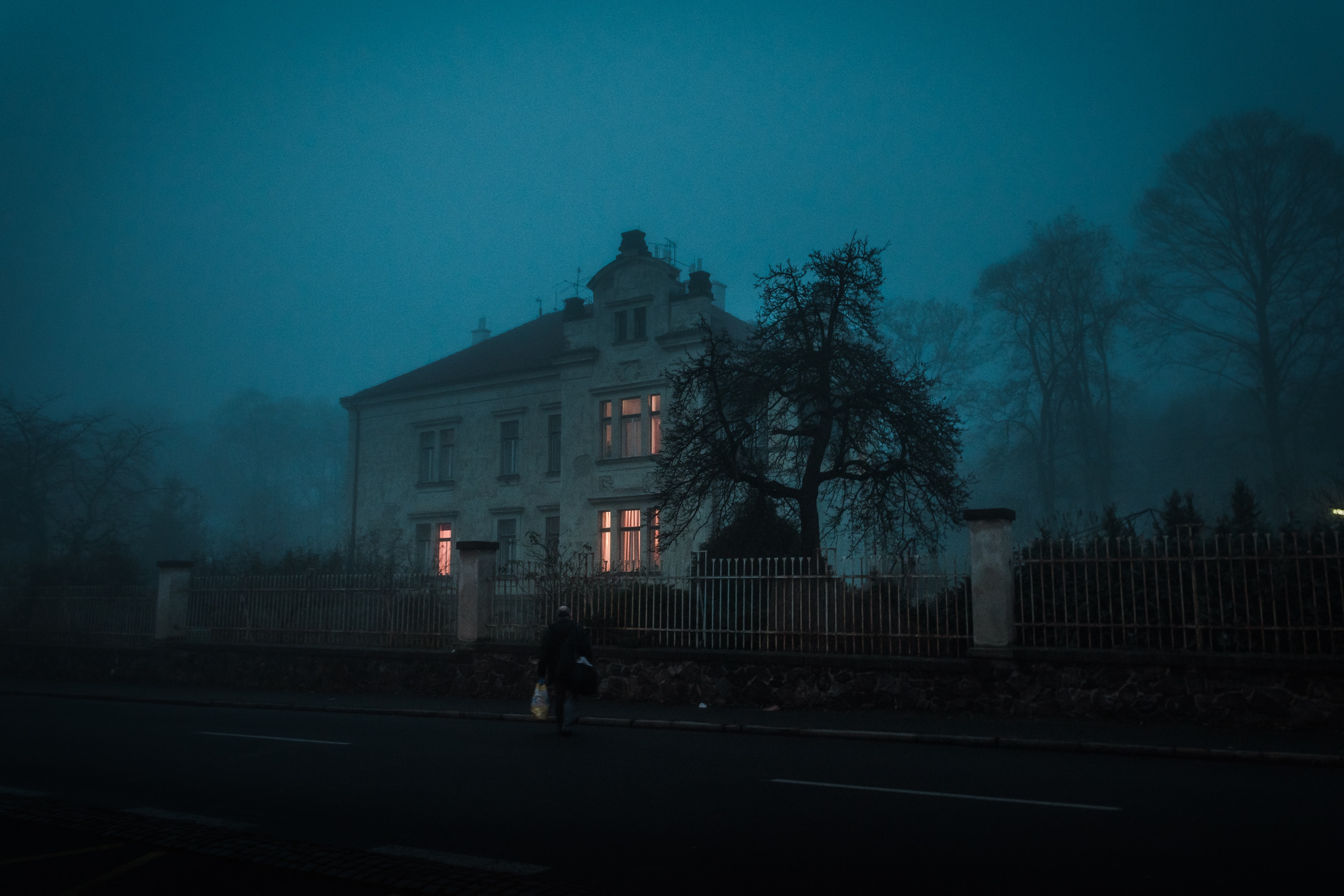 Another year … another Halloween … another classic collection of creepy catastrophes from our listeners. 
The stories you are about to hear are all true … terrible, but true!
And while these investors paid the price, YOU don't have to … if you learn from their experiences. 
Tune in for terrifying tales of toil, trouble, and real estate!
In this episode of The Real Estate Guys™ show, hear from:
Your spooky host,

Robert Helms
His cooky co-host, Russell Gray 
---
Listen
---
Subscribe
Broadcasting since 1997 with over 300 episodes on iTunes!
---
Review
When you give us a positive review on iTunes you help us continue to bring you high caliber guests and attract new listeners. It's easy and takes just a minute! (Don't know how? Follow these instructions).
Thanks!
---
Halloween horror stories … and important lessons learned
Welcome to another bone-breaking edition of Halloween horror stories! 
Alarming anecdotes and deals that went wickedly wrong can contribute compelling lessons for real estate investors. 
It's our annual edition of Halloween Horror Stories!
Real estate is a messy business … but this episode isn't designed to scare people off. Instead, it's a way for us to share tribal knowledge. 
Somebody paid full price for these lessons … so you don't have to. 
The never-ending cosmetic refresh
Curtis Drake and Ryan Pedit acquired a property in a market that they were previously in. It was light rehab … and they wanted to do the cosmetic piece. 
They met with their on-the-ground property management company and went over the timeline and expectations for the updates. They closed on the property … and took off. 
But the whole project went sideways with no revenue income. 
What they learned was that they were doing things that were outside of their management's wheelhouse. That team typically just managed property … they didn't handle cosmetic overhauls. 
Many property managers have a bevy of contractors in their network. So, when you say you want to do some light rehab, they think, "Yeah, we can do that."
But rehab isn't the same as upkeep. 
Curtis and Ryan also share the importance of having a written agreement with dates and times established. Their handshake agreement left them without any leverage to fall back on. 
Should have built from scratch
Loe Hornbuckle has been on the show before. He is a super syndicator … but even he has a horror story to share. 
Loe did a project where he bought an existing assisted living facility. There was a lot of due diligence involved … but even then, some things slip through. 
Turns out the property had an illegal fire suppression system that was not caught by any of the previous inspections. 
Instead, it was caught when they filed for a permit to expand the property footprint into the garage. 
Loe began working with the city to resolve the issue. It took six weeks for the city to articulate why the system hadn't been caught and what the next steps needed to be.
Turns out the city allows certain fire suppression systems in single-family homes and others for businesses. When the property applied for a permit, the city thought it was an SFH. 
But the property actually had an assisted living component … and with a certain number of residents, a different class of fire suppression systems is required. 
So, Loe and his team had to rip out the old system and install a new one … about $15,000 worth of unexpected cost … and they lost 15 to 16 weeks of time. 
Lessons learned … there may be more to your due diligence than you think. Really focus and take account of the physical pieces of the building.  
Just because something has been checked off … it doesn't mean it's correct. 
Another lesson Loe walked away with is that there is power in building from the ground up. 
When you purchase an existing property, there are things you will need to tear out and replace. Sometimes, you might as well start from scratch. 
Tragedy turns into lawsuit 
Our good friend and wonderful attorney Kevin Day shares one of his own client's horror stories.
This particular client had an apartment building. One of the tenants had a boyfriend who was home babysitting her son, left food on the stove … and went to sleep. 
A fire started, and only the boyfriend was able to get out. The family went after the apartment owner in a lawsuit. 
It ended in a settlement with insurance, but there are lessons to be learned. 
Kevin says the big lessons are to separate targets. As you do your business and estate planning … remember that privacy is important. 
The lower profile you have … if they don't know you have five other rental properties … the less of a target you are.  
Fully occupied … or not
Patti Hussey and Andrew Thruston from PJ Hussey … a property and construction management team in Phoenix, Arizona … have their own Halloween horror story to share. 
The team was taking on a 28-unit apartment complex in the northeast portion of Phoenix. 
One thing they noticed was that all of the tenants' leases were month to month. 
It was a hundred percent occupied with rents through the roof … but the day the deal closed, they lost 10 tenants. 
The previous owner was calling tenants and telling them that they were free to move into the next property. The strategy was to build up residency in these multi-family apartments, sell them … and then move tenants to the next property. 
Everything was to give the allusion of high residency. 
The PJ Hussey team jumped in and worked to fill apartments with appropriate leases … but it was challenging. 
The big lesson the team took away is to really be careful how you do your vetting. Talk to the tenants and ask them how long they have been there. 
If things look suspicious … trust your gut. 
For more Halloween Horror stories … and lessons learned … listen to our full episode!
More From The Real Estate Guys™…
The Real Estate Guys™ radio show and podcast provides real estate investing news, education, training, and resources to help real estate investors succeed.
---
Love the show?  Tell the world!  When you promote the show, you help us attract more great guests for 

your

 listening pleasure!
Most people think of tax season as January 1 to April 15.
After all, that's when most people close the books on the previous year, issue and collect tax documents, prep returns, and settle up with the taxing authorities.
But for a host of real estate investors and entrepreneurs, the REAL tax season is right NOW.
It's a HUGE opportunity to dramatically improve your bottom line. And it just got BETTER …
States Fail to Overturn SALT Deduction Caps in Court
Forbes, 10/1/2019
Yes, that's a wonky headline that may not convey intelligible information … much less exciting opportunity for the casual reader.
But before you wander away bored, invest a few minutes to dig a little deeper …
For those unfamiliar, the recent Trump tax overhaul put a cap on the amount of State And Local Taxes (hence, the acronym SALT) that a taxpayer could deduct from their federal income tax bill.
There's some political disagreement about whether this is good or bad, or what the motivations might be … but the bottom line is it's the current law, and for now the courts are upholding it.
So what does it mean?
In short, high-income earners in high-tax states are now bearing the full weight of their tax bills at the federal, state, and local level.
High-income earners in high-tax states are paying MORE taxes.
As you might imagine, they're not happy about it. So while a few states banded together to fight the law in court, Main Street folks are fighting with their feet …
Americans abandoning New York, New Jersey, other high-tax states
Fox Business News, 4/25/19
But according to our friendly neighborhood tax strategist Tom Wheelwright CPA… this is largely unnecessary.
After all, your state tax liability is primarily derived from your federal taxable income anyway.
So the secret to reducing your federal tax is less about deducting state tax than it is about reducing or eliminating your federal tax liability altogether … by carefully following the instructions provided in the tax law.
And just in case you think that's unpatriotic and you'll starve your deserving federal government from much needed revenue, consider this amazing admission …
"The necessity … to tax … to maintain … solvency is true for state and local governments, but not true for national government.
Two changes … have substantially altered the position of the national state with respect to financing its current requirements.
The first … is … the … central banks. The second is the elimination … of the convertibility of the currency into gold."
This remarkably candid admission is a quote excerpted from an article titled, Taxes for Revenue Are Obsolete, which contains the transcript of a speech made by then-Chairman of the New York Federal Reserve, Beardsley Ruml.
But if taxes aren't needed for revenue because the Fed can print as much money it wants … what ARE taxes for?
Chairman Ruml says …
"Federal taxes can be made to serve … these purposes ….
… to express public policy in the distribution of wealth and income …
… to express public policy in subsidizing or penalizing various industries and economic groups …"
So when Tom Wheelwright says the purpose of the tax code is to coerce you into doing what the government wants you to do, he's not just making it up.
The good news is the government wants you to be an entrepreneur and investor.
They want you to start businesses and make investments in real estate and energy.
When you do, they reward you with huge tax breaks.
So much so, that when you do it right, you can eliminate virtually all your federal (and therefore state) income taxes.
And THIS is the time of year alert investors are making smart moves to capture those tax benefits before the end of the year.
Of course, as a savvy real estate investor you probably already know all about the tax benefits of real estate.
You might even be aware of how to use energy investments or a solo 401(k) to create big write-offs fast.
But MANY high-income earners don't.
This creates a BIG opportunity for syndicators to put together tax advantaged deals to help high-taxed earners reduce their tax bills.
And if you happen to be one of those highly taxed high-income earners, before you back up the moving van, take a closer look at the tax law …
… not as an obstacle, but as a road map to reorganize your affairs to reduce or eliminate your taxes.
When you do, you'll realize owning a business and investing in real estate are two of the smartest moves you can make.
Until next time … good investing!
More From The Real Estate Guys™…
The Real Estate Guys™ radio show and podcast provides real estate investing news, education, training, and resources to help real estate investors succeed.
---
Love the show?  Tell the world!  When you promote the show, you help us attract more great guests for 

your

 listening pleasure!
We're just winding up a multi-part real estate investing webinar series we're doing for our friends Chris Martenson and Adam Taggart at Peak Prosperity.
The webinar series is called Real Estate Investing for Profit and Safety.  
The first episode, The Case for Real Estate, is nearly two hours long and free of charge.  You can check it out here.  If you love it, share it with your friends.  If not, let us know.
Our theme, which we think is an important one, is how real estate creates RESILIENT wealth when strategically located and structured.
Of course, if you're a seasoned real estate investor … meaning you've lived through at least the 2008 financial crisis … you may already be convinced.
Even if you're in the group who lost a bunch in 2008 (we feel your pain), hopefully by now you've realized there were lots of people who not just survived … but THRIVED.
So obviously, real estate wasn't the problem.
If you're an active or aspiring syndicator, you may find the series useful for explaining to your prospective investors why real estate is an attractive investment vehicle … and the value YOU bring to them by helping them get in the game.
Of course, for anyone who cares about their financial future, the daily news is full of reasons to look for ways to create stability in their portfolio.
Wild stock market price swings … rampant (seemingly systemic) corruption in large financial institutions … highly uncertain geo-political tensions …
… unprecedented levels of government, corporate, and consumer debt … severely underfunded private and public pensions … Social Security …
Yikes. 
So there's a LOT to be worried about … IF you're betting your financial future on fickle and fleeting asset PRICES.
And with "safe" havens like banks and bonds paying very low to no interest for over a decade, many Mom & Pop investors (and their financial planners) have succumbed to "buy low, sell high" as the means for creating spendable cash. 
Think about that.
"Buy low, sell high" is an investment strategy that tempts amateurs into the rigged casinos to compete with the pros.  
Trading also produces commissions for Wall Street, capital gains for the IRS, and cash float deposits for bankers (who lever it up 10-20x for fat profits so they can afford all those big fines).
And the challenge with "buy low, sell high" is it's SUPER volatile and unpredictable.  Unless you're tethered to the news with lightning fast judgment and reflexes, it's easy to be late to enter or exit the party. 
The "solution" offered Mom & Pop investors is to buy trading software to compete with the pros … 
… or "invest for the long haul in a well-diversified portfolio" because the long-term upward (inflationary) "trend is your friend".
Thanks to the Fed's printing press, buy and hold works for boosting your balance sheet.  But it's only PAPER wealth … unrealized gains.  You can't spend it. 
To have real spendable money to live on, folks need CASH.
To get it … and avoid capital gains taxes … they borrow (confident in their paper wealth).
Or they liquidate capital (eating "the golden goose") …. or take on substantial counter-party risk by purchasing higher yielding, riskier bonds.
Of course, if you're a real estate investor, this is all foreign to you.  It's a game you don't play.  But MILLIONS of people do. 
And as baby boomers pile into retirement in a debt-ridden world where low and falling interest rates are a necessity of systemic survival … 
… finding inflation-hedged, asset-backed sources of reliable, resilient, high-yield, tax-advantaged income is the Holy Grail. 
While not perfect, there's nothing better than income-producing real estate to meet this huge and growing need.
Of course, as we often point out, small-time real estate investing is far too troublesome and inefficient for busy or retired folks to take on personally.
That's why we keep beating the drum for the HUGE opportunity for real estate savvy entrepreneurs to get into the syndication business. 
Syndication isn't just about making money.  It's an important industry to help solve some of the most pressing economic problems facing the United States.
In fact, it's SO important that both the Obama AND Trump administrations took bold action to remove barriers and stimulate the flow of capital into real estate syndications.
THAT alone should tell you something.
You may wonder why the mainstream financial press isn't reporting on this. 
But think about it …
How many mainstream financial journalists are real estate investors or syndicators?
Not many. 
And who buys all those expensive ads on mainstream financial programs?
Big Wall Street firms.
But whether there's some grand conspiracy to herd an unsuspecting public into the sheering pens of the Wall Street / banking cartel's casinos …
… or if it's just big money using their clout to buy ads and exposure for their products and services …
… it's clear most Main Street investors don't understand or appreciate the power of income producing real estate to create resilient wealth. 
But if YOU do, then YOU have a BIG opportunity … both as an investor and as an entrepreneur.
So be careful about getting paralyzed by the daily drama of mainstream financial news … especially when it's related to real estate.
After all, most real estate commentary on mainstream news is directed at homeowners and people buying home builder stocks.
But when home ownership is down, prices are high, or builders aren't building and selling as much … it's all GOOD for landlords.
Besides, no matter what happens economically …
As long as there are people, they'll need real estate … for homes, offices, food, and distribution centers to get products to consumers.  And people always needs places to relax, play, and heal.
Your mission is to acquire the skills, knowledge, and relationships to build a resilient portfolio …
… whether you manage only your own investments, invest through others, or create a business to help others take advantage of all that real estate provides. 
Time will tell … but it seems the global financial order is in the process of concurrent major disruptions. 
For some it will be traumatic and chaotic.  For others it will be exciting and profitable.  
The difference, of course, depends on awareness, preparation, and effective action.
And if it all turns out to be a lot of hype over nothing … well, better to be prepared and not have a crisis … than to have a crisis and not be prepared.
Chaos or calm, real estate is a historically proven place to effectively build, protect and pass on real, resilient wealth.  Tell a friend.
Until next time … good investing!
More From The Real Estate Guys™…
The Real Estate Guys™ radio show and podcast provides real estate investing news, education, training, and resources to help real estate investors succeed.
---
Love the show?  Tell the world!  When you promote the show, you help us attract more great guests for 

your

 listening pleasure!
You probably know The Avengers Endgame is the culmination of a 22-film decade-long extravaganza of EPIC story-telling.
What you may not know is how many great real estate investing lessons surround The Avengers Endgame.
Here are just a few … and don't worry, there are no spoilers!
Lesson 1:  Businesses and their jobs will move to seek a better environment.
The Avengers Endgame was filmed at Pinewood Studios in Atlanta, Georgia … and NOT in Hollywood, California.
The Pinewood Studios website says Georgia is "the number one filming location in the world" according to this industry report by Film LA.
One of the reasons is " … the highly competitive nature of tax credits …"
Over five years ago, the Los Angeles Daily News reported this trend …
Why TV, Film Production is Running Away from Hollywood
" … they're running away from here … primarily due to tax incentives offered in … states with rich tax credits such as Georgia …"
But it's not just taxes, though they're a BIG part.
As New York discovered when Amazon abruptly backed out of plans to bring 25,000 jobs to Long Island city for their much sought after HQ2 …
" … it came down to a long-term environment that Amazon did not care to work in …"
And they're not talking weather.  It's the political environment.
So while YOU may or may not agree with Amazon's or Disney's politics or business practices … it's important to remember how the businesses feel.
Learn to look at markets the way employers do … even if you disagree.
Lesson 2:  Get rich in a niche.
This is where LOCAL knowledge really helps.
As you might guess, creating a blockbuster film like The Avengers Endgame requires hundreds … perhaps thousands … of talented, highly-paid people.
While some workers are local to the studio, many come to town temporarily during production … which can last months.
These folks aren't going to live in a hotel room or a trailer all that time, which means they need nice, local housing.  But they aren't buying.  They're renting.
Some investors we know figured this out … and developed an entire business model catering to the unique temporary housing needs of the film producers.
"What?  You didn't see that coming?"
– Hawkeye to Quicksilver in The Avengers – Age of Ultron 
We learned about it during an Atlanta field trip years ago … and it made perfect sense then … and it still does.
After all, when a producer is driving hard and fast to execute on a high-stakes timeline to get a 9-figure film over the line …
… they're deploying a LOT of capital really fast … and they need to get things off their checklist quickly.
Focus on the REAL needs of your customer and you don't need to compete on price.
Lesson 3:  Primary drivers create secondary and tertiary jobs.
Even if you're unable to get into the primary path of cash, there's still a lot of opportunity to get in on the action … a little downstream.
When money is being drawn into a geography by a large enterprise or industry … the money flows through the primary driver to the locals.
So even though not all real estate investors are renting directly to members of The Avengers Endgame production team …
… there are plenty of employees of secondary local vendors who are also being paid out of the fat production budget.
Of course, it's not just The Avengers Endgame budget, which is temporary.
The real driver is the CONSISTENT stream of production budgets drawn to Pinewood Studios.
But whether you're deriving rental income directly tied to those production budgets via primary and secondary employees … there's yet a third tier.
Even your tenants who don't get paid directly from the production are working for the restaurants, shops, and other local businesses who serve those who are.
Just remember … it all starts with the PRIMARY drivers.
Pay attention to primary drivers and the rest will usually follow.
Lesson 4:  Always begin with the end in mind.
You may recognize this adage as one of The Seven Habits of Highly Successful People by Stephen Covey. It's a powerful concept.
The Avengers Endgame is the capstone of a world-class case study in what "beginning with the end in mind" looks like in the real world.
Every film over a decade painstakingly added new characters and story-lines carefully woven together into a powerful tapestry of cinematography.
It's a testament to thinking ahead.
Of course, there's probably been many course adjustments along the way … as talent, opportunity, and even adversity, all manifested on the road to success.
In that regard, The Marvel Cinematic Universe is a lot like life and investing.
Yet very few folks we know are thinking that far ahead.  But perhaps they should be.
In the Create Your Future Goals Retreat, one important outcome is to define your personal mission, vision, values and most important goals … for ALL areas of your life.
With clarity of vision, you can make better small decisions about how you want to live and fund a life you'll be pleased with when you put you head on the pillow for that very last time.
Take time to plan a happy ending for YOUR endgame. 
Lesson 5:  Big dreams take time to build.
In the 22 films from Iron Man to The Avengers Endgame, Marvel Studios patiently constructed an entire "cinematic universe".
It made the concept of a trilogy seem tiny.  It was (and is) a BIG vision … and it took over a decade to develop.
In real estate, whether you're assembling a powerful portfolio of properties or building a mega-million-dollar master planned development, it takes time and consistency to get it done.
Most people can't think that big … and still pay attention to details at the same time.  And many that do, can't stay the course.
But when you do, you have a chance to accomplish something extraordinary.
Think big.  Plan small.  Stay the course. 
Lesson 6:  Together Everyone Achieve More.
TEAM is a huge theme both inside and outside The Avengers Endgame story line.
From the first Avengers film, where a self-absorbed Tony Stark transforms into someone willing to make the ultimate sacrifice …
… to the violently divisive Captain America – Civil War and The Avengers – Age of Ultron where division nearly destroys the team …
… The Avengers discover time and again their best chance for success is teamwork.
Of course, out in the real world, it took teams of writers, directors, actors, special effects, stunt people, production and marketing staff …
…  all working together with diverse skills, backgrounds, personalities and perspectives …
… to make The Avengers Endgame the BIGGEST box-office success in history.
If you have aspirations to build a great real estate investing business or portfolio … ESPECIALLY if you're syndicating, you'll need a team.
Build a great team.
Finally, to paraphrase Scarlett Johansson's Black Widow when she unleashed The Hulk to smash the baddies … Go be an investing hero.
Until next time … good investing!
More From The Real Estate Guys™…
The Real Estate Guys™ radio show and podcast provides real estate investing news, education, training, and resources to help real estate investors succeed.
---
Love the show?  Tell the world!  When you promote the show, you help us attract more great guests for 

your

 listening pleasure!
Welcome back to an all-new edition of Ask The Guys!
Today, we'll be answering listener questions. So listen in for our best real estate tips and tricks!
A disclaimer … we are not tax advisors or legal professionals. In our Ask The Guys series, we give ideas and information … NOT advice.
In this episode of The Real Estate Guys™ show you'll hear from:
Your tipster host, 

Robert Helms

His tricky co-host, 

Russell Gray
---
Listen
---
Subscribe
Broadcasting since 1997 with over 300 episodes on iTunes!
---
Review
When you give us a positive review on iTunes you help us continue to bring you high caliber guests and attract new listeners. It's easy and takes just a minute! (Don't know how? Follow these instructions).
Thanks!
---
How do I find a property management company?
This question comes from Lee, in Bay City, Michigan. He wants to know whether we have any advice for finding—and vetting—management companies.
He says he's investing in his area, but the only management companies he can find are run by real estate agents on the side. He has a day job, and doesn't have time to manage on his own … so he wants to find a reputable company that's up for the task.
He also asks whether he should move out of his local area, since there aren't many management companies.
We always say you should invest where the numbers make sense … but you also need to invest in places where you can find a great team.
In the long term, your property manager is the most important person on your team. So if there aren't any great property management solutions where you live … perhaps it's time to expand your geographic investing boundaries.
Start by refining your personal investment philosophy, then look for a market that both matches your goals and has the management companies to fill your needs.
You don't want single-point failure. Make sure the company you choose aligns with your philosophy. Ask them, "Who supports you, and how?"
You want to make sure their compensation model is aligned with your best interests. In other words, when you earn money, they do too.
And choose your property management company BEFORE you buy your properties. They can be an excellent resource for finding properties and asset class types that will work well for both of you.
Remember, you can't scale up without putting the right team in place. Getting a great property manager on your team helps you find the professional distance you need to run your business properly.
How do Section 8 rentals work?
Laura, from Naples, Florida, wants to know how Section 8 rentals work and how she can acquire affordable housing in her investment market.
First, a few things about Section 8. Section 8 is housing subsidized by the Department of Housing and Urban Development (HUD). But it's administered by local public housing agencies, so it's not always available and differs across the country.
Section 8 can be great because a portion of the rent is paid by the government. You basically have a guarantee you'll get most of your rent on time, regularly.
But tenants in this housing can be a tough crowd … sometimes they don't blend well with other, non-Section 8 tenants. For that reason, we like a property to be all Section 8 or none.
A great resource for learning about Section 8 is Mike McLean, who has published a book called the Section 8 Bible and has some great online resources, too.
Affordable housing can be a good place to be because of stagnant purchasing power … but make sure you're playing close attention to the program from which funding comes.
And keep in mind … the devil is in the details. If you're not managing the property yourself, make sure your property manager is well acquainted with Section 8.
Should I invest now, or later?
Casey, in Lehi, Utah, has been listening to the podcast, and now he has a pressing question.
Casey has saved up $100,000 to invest, but he wants to know whether he should invest now or wait until the market takes a dive. He mentions worries such as rising interest rates, an unstable dollar, and inflation.
Let's start with a premise … markets will either do well or poorly in the future. We know that. We also know that when the market hits the bottom, you can only go up.
Real estate is a long-term, buy-and-hold business. But it is interest-rate sensitive, so you want to make sure you lock in long-term financing if you invest now.
It's also good to keep some liquidity for if and when the market does go downhill.
Something we like to say is, "Opportunities are like busses. Another one will always come along … but you have to get on the bus at some point."
The way we see it, Casey has a few options …
Invest in things that are likely to do well, even when the market is bad, particularly mid-level rentals and below. There will always be demand for housing, especially mid-range housing.

Invest in a forced equity situation … a neighborhood or property that has room for improvement, which you can force upward in value. This will help you mitigate downward pressure to the dollar.

Invest in a bigger market … this provides stability, as these markets have more ballast during tough times.

Step in on the debt side of the market by

lending money

to other investors.

Work with an experienced syndicator who is more likely to get investments right, even when times are more precarious.
Remember, when you're in property for the long haul, most of the time you'll be fine. The key is to structure deals so you can weather the ups and downs.
Another thing to consider … the price only matters when you buy and when you sell. In between, it's all about cashflow.
Real estate is one of the best inflation hedges if you structure the financing properly relative to cashflow … but you can't fledge against inflation if you don't do anything at all!
How do I create residual income with little savings?
Jeff, in Fountain Hills, Arizona, says he is in an interesting situation.
He doesn't have any income, but he has enough cash to live on for 24 months. In the meantime, he wants to figure out how to create residual income that will pay for his living expenses going forward.
Jeff is looking at building a balance sheet of passive income sources.
But right now, he has time, labor, and energy he can put to work. And since he's not holding on to a chunk of cash, the active investor route is a good one.
Some options …
Force equity by fixing and flipping.

Earn cashflow by fixing, holding, and renting.

Become a syndicator

and use other people's money to make great investments. It's our favorite way to go full-time, fast.

Try

wholesaling

.
Basically, what Jeff needs to do right now is to build up his investment capital so he can start getting some cashflow.
But before he does that, we suggest he invest in education and build relationships. Get the right tools in your toolbox and the right advisors at your back before you go big.
Can you recommend turnkey management companies?
Keith hails from East Sandwich, Massachusetts. He recently bought a home through Mid South Homebuyers and is ready to buy another.
The problem? He's on the waitlist at Mid South. In the meantime, he's looking for another turnkey company that manages the houses it sells.
One disclaimer … we don't know anybody quite like Terry Kerr at Mid South.
But we do know lots of other great folks.
The idea of a turnkey provider is that they do the whole thing … find the properties, get them in great shape, put tenants in, and manage the rentals.
But before you look for a provider, think about the type of property, market, and team you want.
Then go ahead and search our provider network for someone who can help fill your needs. We don't guarantee anyone on the list, but we do promise we've spent a lot of time with them on the ground and have seen enough to trust them.
Should I attend Secrets of Successful Syndication now, or later?
Gene, in Boston, Massachusetts, is an investor who owns two duplexes. He wonders whether he should attend our signature Secrets of Successful Syndication conference now, or later in the year when he has more experience.
We've gotta say, we really think the key is for investors to come early and often.
This conference is designed for investors who already have a portfolio and are ready to take the next step.
But even if you're just starting out, it's a great way to get around what we call "evidence of success" and learn the power of networking.
Experience is something you can accumulate through other people. And syndication is all about having the experience to make good investment decisions.
So, for those who want to move forward, we recommend you start as soon as you can.
---
More From The Real Estate Guys™…
The Real Estate Guys™ radio show and podcast provides real estate investing news, education, training, and resources to help real estate investors succeed.
---
Love the show?  Tell the world!  When you promote the show, you help us attract more great guests for 

your

 listening pleasure!
It's one of our favorite segments … answering YOUR real-world questions about real estate investing.
In this batch of mail, we run through where to start with syndication and investing to how to think about self-directed retirement funds and everything in between.
As a reminder, our show is about offering ideas and information, but we are not legal or tax professionals and do not give advice. Always see a pro for advice on your specific situation.
In this episode of The Real Estate Guys™ show you'll hear from:
Your problem-solving host, 

Robert Helms

His unraveling co-host, 

Russell Gray
---
Listen
---
Subscribe
Broadcasting since 1997 with over 300 episodes on iTunes!
---
Review
When you give us a positive review on iTunes you help us continue to bring you high caliber guests and attract new listeners. It's easy and takes just a minute! (Don't know how? Follow these instructions).
Thanks!
---
Question: I'm a real estate agent and would like to start investing for myself. How do I get started?
Kristen in Seattle, Washington, brought us this wonderful question. First of all, hats off to you for wanting to be your own best client!
Starting with the right education is so important and so is developing your network. You might consider joining an investment club, but you could also think even bigger and start your own!
Starting a syndication or investment club can be very successful if you surround yourself with the right people and experts. Here's a few people you'll probably want to include:
✓  A CPA to help with understanding tax benefits
✓  A mortgage broker to extract excess equity
✓  Other real estate agents … especially those with investment knowledge
You can convert your pursuit of education into a profitable business. Start by going to events with meetups and investment clubs. Remember, it's not just the presenters who have a great story. It's also the people in the seats. Make lasting connections with other attendees, and bring them into your network.
Question: Which materials … books and blogs should I read for getting educated in investing?
Our best advice to Luca in Croatia, who submitted this question, is to not just read a book … STUDY a book. Prepare your mindset to start thinking like an entrepreneur.
What does this mean? Find a group of people who are interested in investing, and get together and discuss a book.
You'll learn by listening to what others have to say AND teaching different concepts. Repeat the process of learn, study, teach, and use these discussion groups to build your network.
Recruit people who are further along in the investment process than you to learn from them. You want to discover not only the technical aspects of what they do, but also how they think. Explore their mindset and examine how it makes them successful.
Question: I want to self-direct my retirement funds after I leave my job. How can I use this money to invest in real estate?
This question comes from Jason in Stokesdale, North Carolina. Some aspects of this type of investing can get a little tricky, so remember to always seek advice from a tax and legal professional.
For money that's in a 401k from an employer, you might have access to what's called an in-service withdrawal. You might also consider taking out a loan on your 401k.
As with any investment, make sure that the numbers add up, especially since there are important tax considerations to make when you're investing borrowed money. This is also where a CPA will come in handy.
The vast majority of custodians do not allow for traditional investing and don't charge a lot in fees and maintenance charges because they make a piece of what you're investing in. Non-traditional custodians may charge more fees upfront because they do not make a piece of anything you invest in, but they can offer more flexibility in what you invest in.
If you want to know more on this topic, we have a couple reports that might be helpful on Qualified Retirement Plans (QRP) and Individual Retirement Accounts (IRA). You can get both of those by emailing QRP (at) realestateguysradio (dot) com AND IRA (at) realestateguysradio (dot) com.
Question: For those who don't like all the work of real estate investing, how do you find a trusted syndicator?
Roy in Bridgewater, New Jersey, and Patrick in San Diego, California had similar questions about passive investing through a syndicator. They both want to break into the bigger real estate deals, but are worried about putting their money into the wrong hands. Syndication is a powerful tool that we're big fans of here on the podcast, but vetting your syndicator is key!
First, look up all the info you can on your sponsor and know who you're dealing with. Ask them upfront if there's anything important you should know about them or their business, and then, go searching.
Referrals are a good way to get to know your sponsor. Careful Google searching (watch out for false information on the internet!) and looking up professional licenses and potential trouble with regulators are also essential before doing a deal.
Also, make sure their attorneys and legal documentation all checks out.
As we've said many times before … develop a relationship with the sponsor. Take the time to get to know them and the types of deals they do to make sure it's a good match.
We'd love to talk to you more about syndication at our Secrets of Successful Syndication event on September 13-14. Register now!
Question: I have a commercial property near the end of its lease. Should I sell it or keep the passive income?
Colleen in Savannah, Georgia, has had a triple-net (commercial) property for 13 years, but the lease will be up in 4 years. She enjoys the passive income from the property, but wants to know if it might be time to let it go.
We discussed the advantages of commercial property in detail with Tom Wilson in our Profitable Niches series, and the longer leases and steady income are definitely big pluses!
Lease negotiation can happen before a lease is up, so that's an option to make the deal sweeter for a potential buyer. But, here are a couple questions we would ask to determine if selling is the right choice:
✓  Knowing what you know now, would you buy it?
✓  If you did sell it, what would you do with the money?
Ultimately, the decision to sell or keep the property is up to you, but evaluating the lease with fresh eyes is a good way to keep your investments in line with your goals!
Question: How can I make some of my assets more liquid to prepare for an economic downturn?
Marty in Richmond, Virginia, has some real estate investment experience, but he's concerned about a possible negative turn in the economy and how to protect some of his assets he's received after selling a property.
We discussed the state of the economy and how to protect and grow wealth at great length in our video series: The Future of Money & Wealth. Take a look at that seminar for valuable insights from incredible experts.
To answer the question, if you think the market is going to downturn, you'll want to play your investments differently. There are pros and cons for stock market investment and even bank investment, and they all carry different risks.
If you want something that is liquid and fairly stable in relation to the dollar, you could consider a couple options like currencies, precious metals like gold, or putting your money in the bank or a safe.
Some other creative strategies are looking into a private mortgage or note or even paying cash outright for a property. As long as you're able to cover property taxes, having a property in a stable market is a good way to keep cash flowing in a down market. Even in a poor economy, people need a place to live.
Question: How many times a year is your syndication class given?
This was an easy one from Floyd in Las Vegas, Nevada. We do our Secrets of Successful Syndication podcast twice a year. The next one is coming up in September, and we'd love to see you there!
---
More From The Real Estate Guys™…
The Real Estate Guys™ radio show and podcast provides real estate investing news, education, training and resources to help real estate investors succeed.
We're taking a break from our relentless preparation for the upcoming Future of Money and Wealth conference to focus on one our favorite subjects …
Equity.
According to a recent report by CoreLogic, last year's increase in America's home equity wealth was the largest in four years.
In 2017, the national CoreLogic Home Price Index rose by more than six percent, the largest annual increase since 2013.
We call this "passive equity" because the market just handed it to homeowners simply for buying and holding their property over that time.
Good job.
Of course, national averages are interesting, but not useful for practical investing.  Real estate is local right down to the neighborhood and property … and no two are exactly the same.
Think of it this way …
If you have one foot in a bucket of snow at 20 degrees and another in a bucket of 170 degree steaming hot water, on average you're enjoying a nice soak in a warm bath …
… but in the real world, you're scalding one foot while you get frostbite on the other.  National averages have limited utility.
Fortunately, CoreLogic provides a nifty color-coded map which compares equity growth at the state level: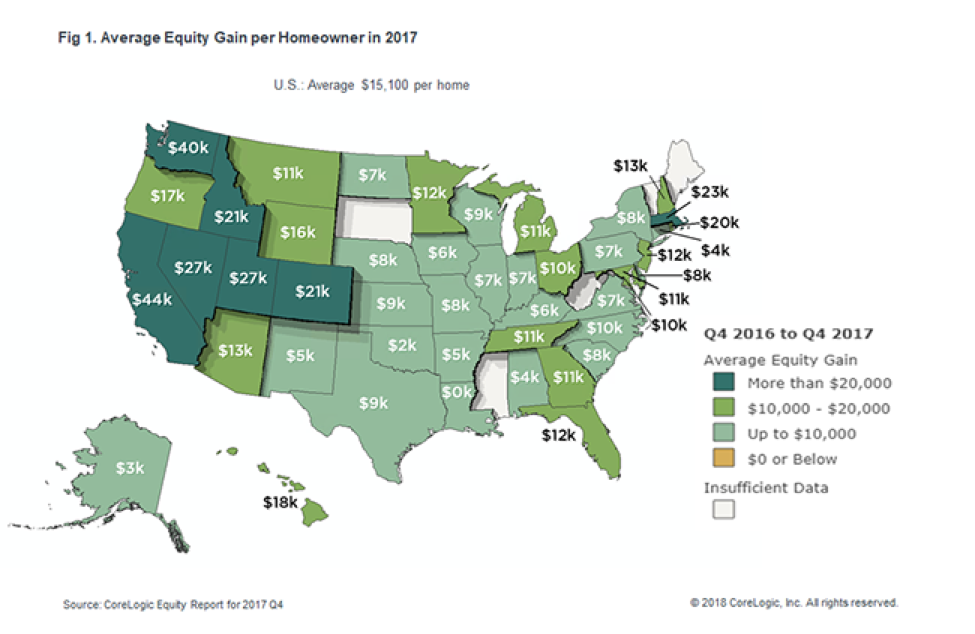 Unsurprisingly, coastal states with strong technology business … California and Washington … lead the pack for equity growth.
But we're guessing closer analysis would show equity rich markets are expensive relative to rents, so income investors can't just go to dark green and buy.
So how's an investor to use this kind of data?
Here are some ideas for your consideration …
First, you can do a deeper dive into the states with strong equity growth, and look for common factors.  Right away, we saw coastal and tech.
But that's just a start.
Look at supply and demand, nominal and real incomes, job growth, population growth, and migration patterns.
Then talk to street level people who live and work in those markets.  Find out what they're seeing right now.
Once you have your mind around what makes equity happen in one market, you can look for similar conditions in other "emerging" markets.
Then (hopefully) you can make your move and get in early … while the rent ratios still make sense … and ride a wave up.
Of course, if you're a typical busy person with a small portfolio, that's a lot of work relative to the size of the investment … especially if you plan to travel to check out markets, build teams, and inspect properties.
Plus, you might not even like doing all that, even if you had the time and a big enough portfolio to justify it.
That's why we're HUGE fans of syndication.
Syndication is where a syndicator aggregates funds from a group of investors through a private placement, and then does all the busy work of running the deal … for a fee and a piece of the action.
As long as there's enough profit in the deals to split equitably, it's a win-win.
The "passive" investors win because they gain access to opportunities they wouldn't otherwise have.  They effectively leverage the effort, expertise, and relationships of the syndicator.
The syndicator wins because the passive investors' capital facilitates economies of scale and access to bigger deals the syndicator might not have on his own.
And for both parties, two major sources of investable capital are paper assets in brokerage and retirement accounts, and equity in existing properties that can be re-positioned.
For example, real estate equity in an "appreciated" state might be accessed through a cash-out mortgage for about 5 percent interest at today's rates.
The loan proceeds can be used to acquire property in an "emerging growth" state that cash-flows at maybe 10 percent cash-on-cash.
The property-owner gets a positive spread on the equity, picks up some valuable tax-breaks, and has additional "top-line" real estate income streams which can grow over time.  Same equity, but more future opportunity.
As for stock market equity …
If history is any indicator, the recent turmoil in the paper asset markets is likely to create even more interest in real estate.
That's because speculating on asset prices, whether it's stocks or crypto-currencies, is a lot of fun when they're spiking.
But when the tide turns on speculation … and it always does … real estate's reputation as a reliable wealth builder is once again revealed and appreciated.
In fact, the CoreLogic article affirms the stability of real estate:
"… since 1970 home-equity wealth has been one-third less variable than corporate equity values …" 
And another recently released report from The National Bureau of Economic Research, The Rate of Return of Everything, 1870-2015, says …
"… returns in housing markets tend to be smoother than those in stock markets …"
"… housing has been as a good a long-run investment as equities, and possibly better."
"… equities do not outperform housing in simple risk-adjusted terms."
 "Housing provides a higher return per unit of risk …" 
"… housing returns … are more stable … housing portfolios have had comparable real returns to … equity portfolios, but with only half the volatility."
The report concludes (remember, to them, "equity" means stocks) …
"… the most surprising result of our study is that long term returns on housing and equity look remarkably similar.  Yet while returns are comparable, residential real estate is less volatile …" 
"Returns are comparable", BUT… they didn't include leverage …
"… the estimates … constitute only un-levered housing returns …"
When you add in 4:1 leverage (25 percent down), you take a 6 percent real estate equity growth rate to 24 percent!
Of course, we're probably preaching to the choir.  But think about this …
Maybe YOU already know real estate is a powerful, predictable, and demonstrably more stable wealth-building vehicle than stocks over the long haul.
But paper asset investors have been riding an easy money wave up to record-levels … and now stock markets are starting to get REALLY jittery.
What once was a fun ride is now becoming scary.  And  if you're a syndicator, this is MUSIC to your ears.
That's because paper asset investors are probably looking at their brokerage accounts and retirement plans, and are growing much more open to getting involved in real estate when it's presented properly.
And if you're a Main Street real estate investor limited by only your own funds, maybe it's time to consider leveraging your skills to get in on the syndication action.
We think syndication is arguably the best opportunity in real estate today.
We realize there are some people who think real estate might slow down because of rising interest rates. But history disagrees.
Rising rates just makes it hard for home buyers.  And when it's harder to buy, more people rent for longer, which is good for landlords.
Look what happened when the mortgage markets imploded in 2008 …
… no one could get a mortgage, millions had to rent, and even though there was a financial crisis … rents went up and up and up.
So all this stock market volatility is actually a gift to real estate investors.
Until next time … good investing!
---
More From The Real Estate Guys™…
The Real Estate Guys™ radio show and podcast provides real estate investing news, education, training, and resources to help real estate investors succeed.