How to Create Massive Wealth through a 1031 Exchange and Delaware Statutory Trust
Don't let the tax man pick your pocket … use a 1031 Exchange!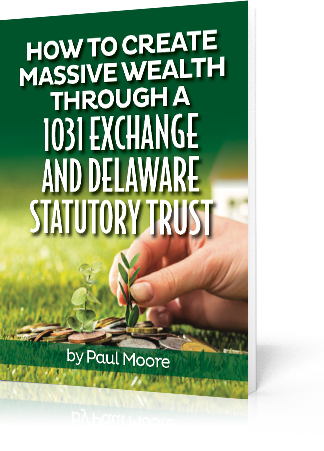 If you think the tax man has gotten out of control in the past century … wait until you see what's coming.
Taxes could easily be the difference between you enjoying steady cash flow, creating wealth, and CHOOSING THE LIFE YOU WANT in retirement or just scraping along through life.
A 1031 exchange means real estate investors like YOU can swap one investment property for another … and defer capital gains and depreciation recapture taxes.
The experts at Wellings Capital are here to share everything you need to know to create massive wealth through a 1031 exchange and Delaware Statutory Trust.
In this special report, learn:
✓ What a 1031 Exchange is and what its limitations are
✓ Advantages of a 1031 Exchange
✓ Disadvantages of a 1031 Exchange
✓ What a Delaware Statutory Trust is and how to use it
✓ And more!
Start seeing the way to massive wealth, and stop the tax man from stealing from you!
Simply fill out the form below to access How to Create Massive Wealth through a 1031 Exchange and Delaware Statutory Trust …
5 Things Every Syndicator Must Know To Stay Out of Jail 
The violation of securities laws is a serious matter, and carries with it significant consequences.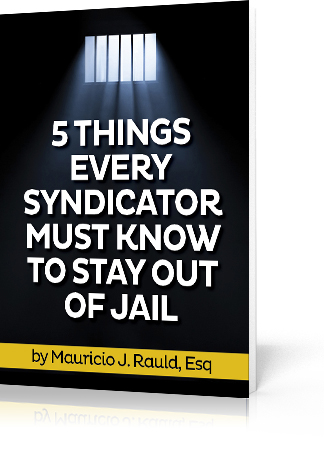 This report outlines possible gray areas and how you can navigate challenges to ensure that you are on the right side of the law. 
The information provided here will allow every syndicator, from beginner to seasoned, to know exactly what the most common issues are, from an SEC and also State regulatory compliance perspective.
This Special Report covers:
✓ Why Creatively Structuring Your Real Estate Syndication To Avoid Securities Laws Won't Work
✓ A Zero Tolerance Policy the SEC has Towards Advertising Your Syndication When Prohibited (yes, this includes Social Media)
✓ Why You Cannot Pay Unlicensed People to Raise Money For You
✓ What Constitutes a "Pre-Existing Substantive Relationship" 
✓ And more!
Discover 5 Things for staying on the right side of the law!
Simply fill out the form below to access

5 Things Every Syndicator Must Know To Stay Out of Jail …
Benefits of Cost Segregation
Cost Segregation can help you in THREE ways …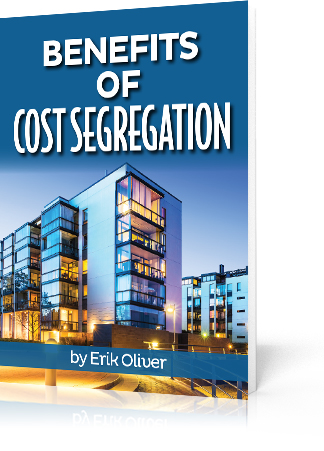 Create immediate Tax Savings – by reducing taxable income.
Increase Cash Flow – by accelerating depreciation deductions and deferring tax payments.
Catch-up Prior Years Accelerated Depreciation – "Catch Up" on previously under-reported depreciation without filing an amended tax return. All catch up depreciation can be taken in the current year.
In this special report, learn:
✓ How the recent tax reform impacted cost segregation
✓ How the CARES Act impacted cost segregation
✓ When you can expect a return on your cost segregation study
✓ Bonus depreciation
✓ And MUCH more!
Ready to learn how to get the most from your investments? 
Simply fill out the form below to access

Benefits of Cost Segregation …
Late filers in the U.S. just got finished assessing last year's tax damages.  For some, it was a pre-Halloween shocker.
Fortunately, there's still some time left in the current year to make some smart moves and take advantage of some of the most generous tax breaks available to investors …
First, consider setting up a Qualified Retirement Plan.  Even if you don't fund it until next year, you'll need it in place by end of year or you lose the option.
Be aware that not all retirement plans are created equal.  In fact, there's one specific plan that can 10x your tax savings! 
Of course, there's a lot to consider when deciding how a QRP makes sense for you. 
That's why we asked tax strategist CPA Tom Wheelwright and QRP expert Damion Lupo to get on a video conference with us to talk through the pros and cons. 
One thing we'll talk about FOR SURE … is how to avoid the most dangerous and expensive mistake many real estate investors make with their retirement accounts. 
That ALONE makes it worth the time.  Plus, it's free. It's informative. And nothing's for sale.  
So click here now to register for The Tax Truth About Real Estate Investing with Retirement Accounts featuring Tom Wheelwright and Damion Lupo. 
But wait, there's more!  And that's not hype …
Another great opportunity for a HUGE current-year tax break comes from investing in oil and gas.
We know.  Energy isn't REALLY real estate … but it comes out of the ground, provides BIG tax breaks and passive income.  So it has a lot to offer real estate investors. 
Robert Kiyosaki first exposed us to the idea of using oil and gas for tax breaks.   
Since then, we've invited long-time oilman Bob Burr to join us aboard the Investor Summit at Sea™ to teach us about oil and gas investing. 
Bob's always a BIG hit.  We learn a lot. And we're happy to say, Bob will be back for our next Summit.
But you don't need to wait to have Bob explain oil investing.  You can click here now to listen to our recent interview with Bob Burr. 
Of course, today's topic is taxes … and while most real estate investors understand depreciation when it comes to buildings, most don't understand it when it comes to energy.
So we asked Bob and his team put together a short video to help you understand the terrific tax benefits of energy sector investing.  Click here now to request free access.
Last but not least on our list of year-end tax saving opportunities is … buy an investment property!
After all, investment real estate offers some of the best tax breaks available. 
As CPA Tom Wheelwright explains in this fantastic Investor Summit at Sea™ presentation … the current tax law's bonus depreciation provides HUGE tax benefits. 
Of course, you should never let the tax-tail wag the investment-dog.  Do your homework and be sure to pick a strong market and a great team.  
But accelerated depreciation schedules can make even a late addition to your property portfolio a big-time contributor to your tax-saving strategy.
So there you go … some great ideas about how YOU might save BIG on your 2019 tax bill.  Sure, it takes some effort, but the return on time could be HUGE!
Keep in mind … we're The Real Estate Guys™ and NOT the Tax Guys.  So be sure to work with your own qualified tax advisor to figure out what makes sense for you.
And if you need help finding a brilliant CPA who's well-versed in how to get maximum tax benefits out of your investments click here to connect with Tom Wheelwright. 
Happy Tax Planning! 
People, businesses, and their money move around for lots of reasons. New jobs, better opportunities, tax incentives, high returns … the list goes on and on.
Savvy investors monitor these constant migrations. They look for patterns and take action to capitalize on opportunities and avoid risks.
All this movement affects supply and demand … especially for real estate. So today, we're taking a look at some of the many factors moving markets today.
In this episode of The Real Estate Guys™ show you'll hear from:
Your savvy host, 

Robert Helms

His sassy co-host, 

Russell Gray
---
Listen
---
Subscribe
Broadcasting since 1997 with over 300 episodes on iTunes!
---
Review
When you give us a positive review on iTunes you help us continue to bring you high caliber guests and attract new listeners. It's easy and takes just a minute! (Don't know how? Follow these instructions).
Thanks!
---
Read the signs in moving markets
We talk a lot about specific markets that are providing great opportunities for investors right now … but what about a year from now? Five years? Ten?
If you want to stay ahead of the game, you need to know how to read the signs of a market on the move.
It's important to remember that it isn't the property that makes you money … it's the people.
A market is made up of people and businesses that have a relationship with real estate. That's what makes it valuable.
The more tenants you have in properties that you own, the more positive CASHFLOW comes in … and the richer you become.
When you look at markets, the main thing you are looking at is supply and demand. Are people leaving? Are people coming in?
Then, you need to ask why people are moving in or moving out. There are always underlying factors that affect where and when people move.
As you work to identify these factors, you'll begin to recognize patterns and principles … information that will enable you to spot emerging trends in other markets and get ahead of the pack.
The power of politics and trade
An article in Bloomberg Business Week points out the upside of a global downturn … juicy real estate deals.
Worldwide, many high-end home prices are being slashed by as much as 30 percent. This market information gives us some interesting clues.
These price cuts could indicate future opportunities … these markets could move!
If you're looking to flip properties, you could purchase real estate now and have a good chance of selling it in the future for more … and not just because of the equity you put into it to add value.
Take a market like London, for example.
London has a reputation for being super expensive. But sellers of high-end homes are slashing their price tags.
When you do your research, you can discover some of the underlying factors contributing to this lower asking price. Recent changes to tax codes, Brexit, and a surge in populist thinking are just a few.
So, people with the means and ability to move to a more friendly jurisdiction will do it.
But London has a historically great real estate market … when things settle down, there's a predictable chance prices and demand will shoot right back up.
Sydney, Australia, finds itself in a similar situation. The median home price is down 6 percent year over year since last year.
Australia has an economy that is largely driven by supplying commodities to China. But China is experiencing a slowdown, and Australian markets are feeling the impact.
When you're looking at markets, you're looking for clues … and international politics and trade can be powerful factors.
Hong Kong has been a strong real estate market … but like many parts of the world, real estate there is tied to U.S. dollars.
The market is down 10 percent since August of last year and is predicted to be down another 10 percent by 2020.
When you're looking at moving markets, that's not necessarily a bad thing.
Populous markets have a lot of drivers … and in Hong Kong those drivers have caused prices to go down quickly. That doesn't mean they won't go back up.
Hong Kong is generally considered to be very safe for property rights, personal liberty, and financial stability. It's an economic capital in that part of the world.
All of these factors are clues that tell the smart real estate investor it might be worth digging deeper to determine whether a market has a good chance of turning upward.
If it does, a temporary downturn can be a lasting opportunity.
Clue in on taxes
There are plenty of markets on the move within the United States … and a lot of that has to do with taxes.
Any time you have changes in the tax code, you will see changes in the way people invest their money. It's an essential clue in identifying market trends.
New York City is the perfect example.
For the first time in a long time, the median price of condominiums in Manhattan has dropped below $1 million. That's DOWN 6 percent from a year ago.
Under the previous tax code, you could deduct your state and local taxes from your federal income tax.
If you lived in a high-tax state like New York, you could mitigate a lot of those high taxes by simply deducting them from your federal liabilities. You can't anymore.
As a result, markets like New York City and California's Silicon Valley are moving down … and low-tax jurisdictions like Las Vegas, Phoenix, and Florida are moving up.
Learn from moving markets
You might never invest in London, Sydney, Hong Kong, or New York … but you CAN learn a lot by looking at why those markets are moving.
Markets move in different direction for different reasons. The more you understand, the more easily you can identify patterns in the trends occurring in your market of choice.
Studying markets on the move is an invitation for you to do the research. A market that works for one investor doesn't necessarily work for another.
Markets have personalities … just like people.
You wouldn't marry somebody just because they were the first person you talked to or because your best friend thinks they're interesting.
You decide on your own investment life … where you want to be, and what you want to be doing.
---
More From The Real Estate Guys™…
The Real Estate Guys™ radio show and podcast provides real estate investing news, education, training, and resources to help real estate investors succeed.
---
Love the show?  Tell the world!  When you promote the show, you help us attract more great guests for 

your

 listening pleasure!
A brand-new year brings with it both anticipation and apprehension.  Both are emotional responses to the unknown.
There are MANY things we could discuss in this year's opening missive …
… tariffs, trade wars, a new Congress, the Fed, interest rates, the stock market, the bond market, gold, oil, taxes, Opportunity Zones, and on and on.
Most of those things are completely OUTSIDE of your control.
So as we stand together at the threshold of the New Year, rather than dive into the weeds of the daily news or pontificate on predictions of the future …
… we think it's important to consider how to use things WITHIN our control effectively to make the MOST out of the next twelve months.
The goal is to OPTIMIZE your odds of success by focusing your best efforts on the few things you can control, and which create the most positive leverage in your endeavors.
Read that again and let it sink in.  It's something we work on all the time.
Now let's take a look at this idea from a real estate investing perspective …
Everything starts with your goals.  But not really … because before you can set a MEANINGFUL goal, it's critical to choose your values, mission, and vision.
Values, mission, vision, goals, focus, and effort are all things YOU can control.
Sadly, most people don't proactively and strategically identify their values, mission, and vision.
Instead, they bounce from thing to thing … role model to role model … idol to idol … hoping to stumble onto the secret to happiness.
That's why we put so much emphasis on taking time to create your future.
Once you have your values, mission, and vision clear, NOW you can set meaningful goals … what are often referred to in business as "key objectives."
These are activities YOU can control … things you CAN do … which are specific, measurable, and have a deadline for completion.
For example, "owning more real estate" is NOT a goal.  "Buying four properties by the end of the year" is better.
But "acquiring 100 doors by the end of the year" is even more powerful because it creates possibilities and leverage … while focusing your activity on the REAL heart of real estate investing.
Think about it …
If your goal is to "buy four properties", you might end up with four single-family homes … which is only four tenants, or "doors".
And saying "buy" puts a subconscious limitation on HOW you acquire the properties.
But focusing on "acquiring 100 doors" is VERY different because you might achieve it through only ONE property, which provides time leverage.
This goal also focuses you on what REALLY matters … acquiring TENANTS.
Remember, it's not real estate that makes you rich … it's the rent.  Even equity is a derivative of income.
And when you think in terms of "acquiring" instead of simply "buying", it opens your mind to seeing alternative acquisition possibilities … like options or syndication.
After all, you can acquire a property without paying for it. 
For example, if you syndicate 1,000 doors for a 10% share, you effectively gain 100 doors personally.
But instead of paying to own them, you get PAID to own them.  BIG difference.
So it's actually easier and faster to think bigger.  Yet most people believe just the opposite.
Of course, thinking and feeling are interconnected.  That is, how you think affects how you feel … and how you feel affects how you think.
Blair Singer says, "When emotions run high, intelligence runs low."
So if you're afraid of an uncertain future or of making a mistake, you'll tend to think about avoiding risk.
But investing is about navigating risks … not avoiding them.
Similarly, if you're hyper-enthusiastic, you may only think about the upside and fail to think about the risks  … or strategies for navigating them.
We think passion and logic go together.  The most successful investors we've seen know how to balance both effectively.
It comes down to knowing the difference between what you can and should control, and what you can't.
The future is always in motion and largely out of our control, so we can NEVER be certain.  Striving for certainty in an uncertain world is a recipe for paralysis.
On other words, it's ineffective to worry about things we can't control.
Better to stoically observe uncontrollable events, and then focus our passionate attention on things we CAN control in a way which maximizes possibilities and leverage.
We KNOW there will be LOTS of things happening in the new year.  We just don't know what they are.  However, we can sure they'll present both challenges and opportunities.
But it's not the uncontrollable events themselves which most effect our results … it's how we choose to react to them.
History tells us there will be ups and downs, and there will be winners and losers.  In the same set of circumstances, some will prosper and others will fail.
The individual challenge is figuring out how to define what winning looks like on a personal basis, and then doing what's in our control to win on our terms … in whatever environment we face.
It takes clarity, knowledge, connections, emotional control, and the discipline to focus on those few strategic things under your control that provide the most leverage.
It's simple, but not easy.   If it were, more people would do it.
Our experience and observation is that the best place to start is by putting great ideas in your mind, getting around the right people as much as possible … and narrowing your focus to the very few things that make the most impact.
So as you enter the new year … be sure the time and resources you invest in developing the real estate between your ears is commensurate with the size of your investing goals.
More From The Real Estate Guys™…
The Real Estate Guys™ radio show and podcast provides real estate investing news, education, training, and resources to help real estate investors succeed.
---
Love the show?  Tell the world!  When you promote the show, you help us attract more great guests for 

your

 listening pleasure!
As we're winding down 2018, it's time to rub our crystal balls and peer into the new year … and we see …. 
Taxes.
For most high-earners, taxes are their biggest expense.  And almost everyone who has to pay taxes would prefer not to … or at least pay less.
So while there are MANY trends and developments real estate investors should pay attention to in the new year …
… the biggest story may well end up being how market participants respond to their growing understanding of the revised tax code.
Thanks to tax strategy advocates like Tom Wheelwright, many people ALREADY investing in real estate are cashing in on the amazing tax benefits the new law gives to real estate investors.
But as investors of all stripes close the books on 2018 and start looking for tax breaks in the new year, we're guessing many will discover real estate for the very first time.
Meanwhile, it's quite possible stock investors will trade in their "buy the dip" strategy for "drop the falling knife" … and look for other, less volatile places to invest the proceeds.
While YOU may not be interested in the stock market, its recent tribulations are noteworthy because it may portend a shift of capital from Wall Street stocks to Main Street real estate.
And if you're a syndicator talking with prospective investors, you should really have more than just a cursory understanding of what puts downward pressure on stocks.
After all, some of the jittery money still stuck in stocks just might be inclined to move your way … if you're able to explain the case for real estate.
Besides tariffs and rising interest rates, there are two factors putting pressure on stocks but aren't discussed much on mainstream financial news.
First, as interest rates rise, it's less profitable for corporations to borrow heavily to buy back their own stocks.
Besides, many have already gorged themselves on cheap money while taking corporate debt to record levels.  This alone is causing some concern.
And if rates resume their climb, debt service will begin to take a toll on corporate earnings as interest expenses rise. 
There's a second factor sucking the wind out of the corporate buyback sail …
The big tax break offered to corporations enticing them to bring their offshore money back to America has already worked most of its magic.
And a lot of the money ended up in stock buybacks.
But with the dual air pumps of cheap debt and repatriated offshore funds both losing pressure, stock buybacks are slowing … letting air out of the stock bubble.
Remember, asset values (prices) are largely based on "air pressure".  There always needs to be more money coming in to keep prices elevated.
On the other hand, income producing assets … like rental properties … derive their value from income.  And because those incomes are relatively steady, so are the prices.
That's why jilted stock investors often migrate into real estate. 
Sure, they like flirting with the hot stocks when the punch bowl is full.  But when the bowl runs dry, many investors choose to go home to old faithful … real estate. 
And when you add in the new tax breaks, old faithful got a face lift … and is even MORE attractive.
But it gets better …
The world is really starting to buzz about Opportunity Zones. 
O-zones promise huge tax breaks … and much of it is likely to provide long-term benefit to real estate in those designated areas.
Of course, like anything new, it takes time for folks to figure it out, to get in position, and make their moves.
That's the advantage of being small.  You can study fast and out-hustle the big money to get into position. 
Then when big money finally shows up, you get to ride a wave.
So when we look at the upcoming year, we think the impact of the tax laws will continue to magnify a movement of money into real estate.
And even if the overall economy slows, it's our guess real estate will continue to attract its unfair share of investor interest.
Now we're starting to understand why Tom Wheelwright and Robert Kiyosaki get so excited about taxes, real estate, and infinite returns.
Until next time … good investing!
More From The Real Estate Guys™…
The Real Estate Guys™ radio show and podcast provides real estate investing news, education, training, and resources to help real estate investors succeed.
---
Love the show?  Tell the world!  When you promote the show, you help us attract more great guests for 

your

 listening pleasure!
Death and taxes are the two things you can count on in life. But, there is no need to pay a penny more than you owe. And, while we talk a lot about ways you can grow wealth and do bigger deals faster, today we're talking about how to reduce one of your biggest expenses … taxes.
With tax reform and other favorable policies for real estate investors, now is the time to look at your strategy and make some changes to reduce your liability.
This week's guest did just that … he took a piece of advice from our Summit at Sea and turned it into a BIG win. After making a big apartment deal, he saved over $1 million in taxes across ALL his earnings.
Remember, we aren't tax or legal professionals. We think you'll get some great insight from this story. But, when it comes to your OWN personal tax situation, be sure to find a pro to guide you.
In this episode of The Real Estate Guys™ show you'll hear from:
Your tax-wise host, 

Robert Helms

His tax-free co-host, 

Russell Gray

Guest,

Brad Sumrok

, apartment investor and coach
---
Listen
---
Subscribe
Broadcasting since 1997 with over 300 episodes on iTunes!
---
Review
When you give us a positive review on iTunes you help us continue to bring you high caliber guests and attract new listeners. It's easy and takes just a minute! (Don't know how? Follow these instructions).
Thanks!
---
Real estate investment returns are more than just cash
When we buy investment property, we most often look at the cash return. But, there are so many other benefits and things to consider when looking at a deal:
Cash flow.

This is the big one. You want more income than expenses.

Long-term capital appreciation.

The equity in the property gets bigger as the loan gets smaller.

Amortization.

Every month you're paying principal and interest, and your principal is decreasing.

Tax benefit.

The government wants to incentivize real estate investment, and there's a HUGE opportunity to reduce your liability.
Why look at your taxes now? For the first time since the '80s, Congress has made significant changes to the tax code.
We definitely don't suggest letting the tax tail wag the investment dog, but this year is the perfect time to dive deeper.
But, definitely don't go at this alone. The best thing you can do is seek out an expert to guide you through these tax changes and give you the best advice for your specific situation.
Saving a million in taxes … it's possible
Brad Sumrok is a long-time friend and a well-known player in the apartment investing space. He has thousands of doors and teaches students how to syndicate and buy into big apartment deals.
He also has an AMAZING story to tell about how he recently  saved big on his taxes.
"I had a goal in the past that I wanted to pay $1 million in taxes," Brad said.
But, he recently realized that just because he was earning more, it didn't mean he had to PAY more in taxes. And he learned how to look at real estate as more than just appreciation and cash flow but also as a way to reduce his liability.
But first, let's talk more about the deal.
Brad was evaluating a deal for a 124-unit apartment building. The returns were on the lower end of what his threshold is, and he almost walked away.
But, after taking into consideration the tax savings earned from depreciation, Tom realized that a marginal deal was actually a fantastic deal.
One of the reasons this deal worked out so well was because of bonus depreciation. While apartment buildings have a depreciation period of 27.5 years, for certain improvements and components, you can take 100 percent of the depreciation in the first year you own a property.
Since the bonus depreciation wasn't subject to passive loss limitations, Brad was able to use the depreciation loss to offset their total income … which meant he saved $1.2 million!
"It took a marginal deal and turned it pretty much into a home run," Brad said.
Taking hold of a good idea
After you read Brad's story, remember not to get too caught up in the numbers. Every deal and tax situation is different.
But, what Brad did was remarkable. He took a conversation he had with an expert at one of our events and put it into action.
What is the value of one great idea or one good relationship? You never know what you don't know. Put yourself in a position to find that great idea and explore it.
Sitting in a seminar room, attending a webinar, or listening on a phone call will never be enough. Putting an idea into practice is what saved Brad thousands of dollars, earning the cost of his attendance at an event several times over!
If you want more exposure to new people and new ways of doing things, we invite you to attend Brad's Apartment Investor Mastery National Conference on August 18.
The Guys will be there talking about apartment investing and it's sure to be a valuable, exciting event. Register by going to the events section on our website or sending an email to bradconference [at] realestateguysradio [dot]com.
We hope to see you there!
---
More From The Real Estate Guys™…
The Real Estate Guys™ radio show and podcast provides real estate investing news, education, training and resources to help real estate investors succeed.
You've probably noticed Amazon is taking over the world.  There's a lot we could say, but we'll narrow our focus to lessons for real estate investors …
In the May Housing News Report, there's an article about Amazon's ongoing search for their second headquarters (HQ2).
Even from just a real estate perspective, Amazon is a fascinating company to watch.  There are SO many lessons to be gleaned from watching what they're doing … and how the world is reacting.
In case you're new to the Amazon HQ2 story …
In 2017, Amazon put out a Request for Proposal (RFP) to bait cities across the U.S. into falling all over themselves to win Amazon's coveted second headquarters …
… and the 50,000 high-paying jobs (average salary = $100,000 per year) that come with it.  We commented on this story at the time.
At first, there were hundreds of cities in the hunt. We said at the time we think there's an excellent chance Amazon will pick Atlanta.
Early in 2018, the race narrowed to 20 finalists … and Atlanta's still on the list.
Which brings us to now …
In the Housing News Report article, there's a link to an analysis by Daren Blomquist of Attom Data Solutions.  Daren ranked the 20 finalists by comparing the cities on certain criteria defined in Amazon's original RFP.
It's the same process we did, except Daren used actual data … we just guessed.
Here's Daren's actual chart for your viewing pleasure …
Notice Atlanta's ranked #2.  So our hunch is holding its own … so far.
Meanwhile, there several useful things to glean from this chart and the story behind it, so let's dig in …
Single family homes are NOT an asset class
We've said it a thousand times, but just look at the median prices.  They range from $130,000 in Indianapolis to $1.445 MILLION in New York.
When people say, "Housing is in a bubble!" … what housing are they talking about?  Indy?  Seems pretty cheap based on median price and affordability.
And when high-priced markets start hitting the top of their affordability range, people MOVE … to more affordable markets.  People ALWAYS need a place to live.
So while it's true that migration patterns drive prices … demand rises or falls as people move in or out … it's often economics that drive migration patterns.
So an alert investor can get in front of growing demand and ride a wave up. That's exactly what the folks who got into Dallas five years ago have done.
Equity happens … but not evenly
Look at the disparity in five-year appreciation rates among these markets … from just 8% in Montgomery County to 246% in Dallas.  HUGE difference!
Even in markets where median prices are similar … say Dallas and Miami… the five-year appreciation variance is substantial … Dallas coming in at 246% and Miami at "only" 71%.
So price doesn't seem to be the deciding factor for appreciation.
And neither does property tax … as Dallas is second highest behind New Jersey (hey, New Jersey had to win at something), but Dallas is still king of appreciation.
Meanwhile Denver has the lowest property tax … half of Atlanta … yet their appreciation rates were about the same.
And price-to-income ratios don't seem to make the difference either … as Los Angeles and New York are both equally unaffordable, yet New York has half the appreciation.
Keep it simple …
Obviously, this is just one chart … and it's easy to get lost in the weeds.  We don't want paralysis from analysis.  So charts like these are just the start of a deeper dive.
But it doesn't have to be complicated.  Here's what we look for …
What do winners have in common?
Dallas and Austin are both triple-digit appreciators … even though Dallas grew at twice the rate of Austin.  Is it just simply they're both in Texas or is there more to the story?
Of course, 10 years ago, Dallas was coming off being one of the slowest appreciating markets in the country.  So something changed that dramatically…
What's driving appreciation?
Prices get bid up when supply is growing more slowly than demand with capacity to pay.
So though you can see affordability based on income on this chart, you can't see supply and demand drivers.  Neither can you see the economic drivers.
But you need to look at them.
That's why we say you can't study 20 markets well.  It's too much.  Use a chart like this to pick your top three … and get to know them very well.
What markets are poised for growth?
Once you understand what makes a market like Dallas tick … and how it went from no growth to explosive growth … you can watch for similar factors in sleepy markets.
When you spot something interesting, you go in for a closer look.  If things go your way, you get there before the masses … and you get to catch a rising star!
What are the big players doing?
Big players can do research you can't.  But that's okay because you can piggy-back on their hard work.  It's like cheating off the smart kid in school, except you don't get detention.
Amazon is a juggernaut in American business … and their power is impacting real estate of all kinds … retail, industrial, and even office and housing in markets where they have a footprint.
That's why SO much attention is being paid to their search for HQ2.
But another reason to watch is they're leaders in business decision making too.  Other employers are watching what Amazon does and being influenced by it.
So when Amazon ultimately picks a city, we're guessing other companies will cheat off their homework … and pick the same city.
The reason we bet on Atlanta is because many other Fortune 1000 companies had already chosen Atlanta as a great place to set up shop.
We don't know what process they went through to get there.  We just know they did.  So as Amazon goes through its process … they may reach similar conclusions.
Of course, Raleigh is also home to a comparable number of big companies.
But based on the world-class airport, huge labor pool, access to higher education, major distribution, and a business-friendly environment … though it's close, we still think Atlanta has the edge.
Then again, Jeff Bezos isn't consulting with us, so we'll just have to wait and see like everyone else.
Meanwhile, as the field narrows, we'll continue to learn where corporate leaders think the best location is for their businesses, employees, and new job creation.
Until next time … good investing!
---
More From The Real Estate Guys™…
The Real Estate Guys™ radio show and podcast provides real estate investing news, education, training, and resources to help real estate investors succeed.
Hard to believe it's nearly 10 years since Fannie Mae and Freddie Mac collapsed and were taken over by Uncle Sam.
Time flies when you're getting rich.
It's been a GREAT run for residential real estate investors … especially apartment investors.  Free money in the punch bowl can really juice up a profit party.
But after 10 years of equity happening to real estate bull market riders … it's a good time to think about where we are, where things are headed, and what to do next.
And looking forward comes in two parts:  external and internal.
The external is the world of variables outside your control.  Like driving down the freeway, there are lots of other drivers whose actions affect YOUR safety and progress.
But the key to your success isn't what's going externally. It's how YOU navigate those external circumstances … based on what's going on inside of you.
It's about financial and emotional intelligence.
Because what you think and believe affects what you do … and what YOU do has the greatest impact on the results YOU experience.
One of the biggest dangers of riding a wave of easy money into gobs of equity is thinking you're an investing genius.
We know … because it's happened to us … and we see it happen all the time.
It's much harder to be humble, curious, teachable and innovative when you already think you're smart.
It's important to know the difference between luck and skill.
True financial genius is being able to make money when everything externally is falling apart … like a pro race car driver deftly navigating a multi-car melee at 180 miles an hour.
That's REAL skill.  Anyone can rocket down an open road.
Fannie Mae's chief economist Doug Duncan told the audience at Future of Money and Wealth he thinks recession is likely in the not-too-distant future.
And Doug made those comments after reminding everyone his last year's Summit predictions were all essentially spot on.
So based on both his pedigree and track record, Doug's qualified to have an opinion.  And we're listening.
"The time to repair the roof is when the sun is shining." 
– John F. Kennedy
The sun's been shining on real estate investors for ten years now.  Maybe you're one of the many who've made tons of money.  We hope that trend continues.
But as our friend Brad "The Apartment King" Sumrok reminds us … it's time to approach today's market with a little more sobriety.
Money and margins are both getting tighter.
This means paying better attention to detail, increasing your financial education, and being careful not to rationalize marginal investments to bet on positive externals.
In other words, beware of being a bubble market genius … and thinking what worked in a bull market will work when things change.
Better to work on sharpening your skills at finding and creating value.
Of course, real estate is FULL of pockets of opportunity … the polar opposite of a commodity or asset class where everything's the same and moves together.
Real estate's quirkiness befuddles Wall Street investors … but thrills Main Street investors.
A case in point are apartments …
On the one hand, lots of brand new inventory is coming on the market … and it's putting pressure on landlords to offer profit reducing concessions.
On the other hand, more affordable existing stock is attracting lots of interest… from both tenants and investors.
So "housing" isn't hot or cold.  And neither are "apartments".  Real estate defies that kind of simplistic description.
Of course, it takes financial education to recognize the difference between momentum and value.
It also takes time, effort, and relationships to actually find the markets, team and properties to invest in.
For most people, that's way too much trouble.  They'd rather sit in their crib with their trading app … or turn their financial future over to a paper asset advisor.
That's all peachy until rates rise, recession hits, and paper prices plunge.
History … and Doug Duncan … says the inevitable bear market is getting closer.
Of course, as we've previously commented … when paper investors get nervous, one of their favorite places to seek safety with return is real estate.
So for active and aspiring syndicators … it really doesn't get any better than right now.
Think about it …
MILLIONS of baby-boomers are retiring.  They need to invest for INCOME.
And they're sitting on stock market equity, home equity, and retirement accounts …
… holding many TRILLIONS of wealth needing to (literally) find a home withreliable income and inflation protection.
Their paper asset providers will try to meet the need, but their toolbox isn't properly stocked.  They can't do private real estate.
But as boomers struggle at squeezing spendable money out of sideways or stagnant stock markets, they'll look towards dividends and interest.  Cash flow.
The challenge with dividend stocks is … in a volatile market, investors face capital loss on share prices.  Worse, dividends can be cancelled.
Compare this to rental real estate, which produces far MORE reliable income than dividends with LESS price volatility.  And no one is cancelling the rent.
So dividend stock investors would LOVE income property … IF it just wasn't so darned hard to find, buy, and manage.
What about bonds and bank accounts for income?  (Try not to laugh out loud)
Remember, a deposit is a LIABILITY to a bank.  When you deposit money in the bank, the bank needs to create an offsetting ASSET … a loan.
But the Fed has stuffed banks full of reserves … and there aren't enough good borrowers to lend to.
Banks don't need to offer higher interest to attract deposits.  So they don't.
As for bonds …
Yes, it's true bond yields are edging up, which means bond holders earn a little more income … but at a what price?
Rising bond yields also mean falling bond values.  So bond buyers are understandably very nervous about capital loss on their bonds.
WORSE …, bonds carry the added risk of default or "counter-party risk."
A bond default is TOTAL loss. Yikes.
Real estate to the rescue …
The relative safety and performance of income property or income producing mortgages secured by real estate is extremely attractive right now.
The biggest problem for passive paper investors is real estate is hard to buy, messy to manage, and takes more financial education than just knowing how to click around an online trading app.
And THAT is the BIG opportunity for skilled real estate investors to go bigger faster with syndication.
Whether you decide to explore the opportunities in syndication or not … it's important to stay curious, alert and proactive.
Most real estate investors we know are preparing for the next recession … because that's when true financial genius pays the biggest rewards.
Until next time … good investing!
---
More From The Real Estate Guys™…
The Real Estate Guys™ radio show and podcast provides real estate investing news, education, training, and resources to help real estate investors succeed.