Across the country, real estate markets are hot … and getting hotter. That means compressed cap rates … which in turn mean a lower rate of return for investors.
So how can investors find a market that will offer great returns in good times and bad? In today's show, we'll discuss the market fundamentals that can make or break your next real estate investment deal.
Luckily, markets leave clues. If you're an excellent market detective, you'll be able to spot subtle indicators that will help you make an educated guess about the market's future.
For this episode of The Real Estate Guys™ show, we recruited the best private eye we know to guide us through his analytical approach to investigating and choosing new investment markets.
You'll hear from:
Your sleuthing host, 

Robert Helms

His clueless co-host, 

Russell Gray

Real estate developer and author

Victor Menasce
---
Listen
---
Subscribe
Broadcasting since 1997 with over 300 episodes on iTunes!
---
Review
When you give us a positive review on iTunes you help us continue to bring you high caliber guests and attract new listeners. It's easy and takes just a minute! (Don't know how? Follow these instructions).
Thanks!
---
Stepping into new markets with Victor Menasce
Victor Menasce is the author of Magnetic Capital and a successful U.S.-based real estate developer. He's a strong believer in the principle that the best markets aren't necessarily the ones you live in … or near.
Instead of automatically going for nearby markets, Victor undergoes a thorough evaluation process for potential markets, whether they're near or far.
One of the things we look for when we're analyzing a new market is net in-migration … essentially, we want to know whether there are more people entering the market than exiting.
Metrics like these can help you predict whether a market will serve your investment goals.
For Victor, market evaluation begins with the most basic metric of all … supply and demand. That means choosing a market where demand outpaces supply.
He says investors should focus on three things when entering a new investment deal, in the order listed:
The market.

The team who has boots on the ground in that market.

The specific investment opportunity.
If you perform due diligence on the market and the team and something doesn't line up, then you need to step back and reassess … before you even look at specific investment opportunities.
Philadelphia market analysis
To model his process for market choice, Victor guided us through an analysis of one of his current investment markets … Philadelphia.
"You have to look on the macro level," Victor says.
Like many large American cities, Philadelphia has a large low-income population. This is a benefit, says Victor, because it creates areas where high-priced real estate and low-priced real estate brush up against each other.
The key is to find the arbitrary line between high and low properties … and then move that line by creating value.
Another reason Philadelphia is so successful is because of its proximity to an overpriced, overcrowded market … New York City. Victor says he sees a lot of renters moving from the New York market to Philadelphia because of its relative affordability and proximity to the Big Apple.
Two other big factors Victor looks at are population influx and job creation and availability.
He also evaluates cap-rate compression. That's how he discovered that he can build new for 25 to 30 percent less than he can buy used. "That's a competitive advantage," Victor points out. "We're creating opportunity out of thin air."
Another point of consideration is rental rate per square foot. In Philadelphia, Victor can charge between $1.50 and $1.75 per square foot … $1,200 to $1,400 per month for an 800-square foot B-class apartment.
Victor compares that to Raleigh, North Carolina, where the average rents average $1.15 per square foot, even for class A properties. That's about $920 for the same 800-square-foot apartment, for context.
Although rents differ, the cost of building in Raleigh and Philadelphia is comparable. That's why Philadelphia makes far more financial sense for Victor.
Victor also walked us through the process of finding a team in the Philadelphia market. "I only go to Philadelphia one to two times a year," he says. He started by making friends with an active group of investors already in Philadelphia who had good connections to local contractors and businesses.
Then, he amassed property by buying land and derelict structures for "pennies on the dollar."  
Lake Charles, Louisiana market analysis
Although big markets like Philadelphia generally make more sense for real estate investors and developers than smaller markets with fewer resources and infrastructure, Victor is currently investing in properties in a small town in Louisiana.
Why? The town, Lake Charles, has several compelling factors that make it a great place for long-term investing.
He walked us through his process of discovery and analysis.
Through personal relationships with people in the Louisiana real estate market, Victor came across Lake Charles, a town on the I-10 corridor.
The town is poised to produce 118 BILLION dollars of natural gas over the next decade … now that's a staggering number.
Because of its increasingly important status as an exporter of natural gas, jobs and ancillary services are expected to increase over the next decade … and with that, the population is expected to keep rising.
With 48-50 billion dollars of construction in the works or anticipated, the population growth isn't solely temporary workers, but also new permanent residents.
This is a town where skilled labor prevails, so the average household income is north of 90k a year … not the typical tenant profile. That means rents in Lake Charles average around $1.50 per square feet, even though it's not a major city.
Because Lake Charles is growing so rapidly, it needs construction of all kinds. So Victor has dipped his feet into several markets, including workforce, family, and senior housing as well as medical offices.
It's a lesson to investors … start with the market, then discover the needs and assemble a team to address those needs. Investors who go into markets operating only in a small niche may miss the best opportunities.
Why is Victor so confident in Lake Charles? "This is a town that has embraced heavy industry," he says. He expects few obstacles to pop up as the town continues to grow. And he's confident in his assessment because he has relied on folks who have their boots on the ground.
Treat real estate investing like a business
Victor has a pragmatic approach to market analysis. He's logical and thorough and treats every investment decision like it's a business decision.
We like to say that most people know a little about a lot, but Victor knows a lot about a lot. But he also knows his limits.
It's really hard to be involved in more than a handful of markets at once … careful investors can't do the kind of analysis Victor has done for Lake Charles for 30 markets simultaneously.
And Victor has spent the time to cultivate relationships with his teams in Lake Charles and Philadelphia. That's important too.
We think Victor is a great resource for investors looking to take a careful approach to market choice and more. Looking for more real estate wisdom? Listen in to his Real Estate Espresso podcast, a 5-minute, interview-style briefing he puts out 7 days a week.
---
More From The Real Estate Guys™…
The Real Estate Guys™ radio show and podcast provides real estate investing news, education, training and resources to help real estate investors succeed.
This is our 16th year hosting our annual educational event … the Investor Summit at Sea™. Guests and faculty have all disembarked from a wonderful week learning about the future of money and wealth.
We didn't want our wonderful listeners to miss out entirely on the treasure trove that is the Summit … so we hosted a live recording session on board the ship!
In this episode of The Real Estate Guys™ show, we chat with some of our illustrious faculty members. Listen in to hear their reflections and insights on our week at sea.
You'll hear from:
Your adventurous host, 

Robert Helms

His seasick co-host, 

Russell Gray
Robert and Kim Kiyosaki

, the brains behind

Rich Dad, Poor Dad

G. Edward Griffin

, author of

The Creature from Jekyll Island

Securities law attorney

Mauricio Rauld
Victor Menasce

,

author of

Magnetic Capital

Glen Mather

, president of NuView IRA
---
Listen
---
Subscribe
Broadcasting since 1997 with over 300 episodes on iTunes!
---
Review
When you give us a positive review on iTunes you help us continue to bring you high caliber guests and attract new listeners. It's easy and takes just a minute! (Don't know how? Follow these instructions).
Thanks!
---
Lessons from Robert and Kim Kiyosaki
It was a pleasure to have the always inspiring Robert Kiyosaki and his wife, Kim, on board for the Summit. "It's more important than ever before to come on Summit at Sea because so much has changed," Robert says.
The duo enjoyed hearing from experts with many different points of view. "The conversations happening behind the scenes are the most important part," Robert adds.
Lucky attendees were able to hear from Robert … and female attendees joined Kim in a women-only breakout session about finding financial freedom.
We asked Robert and Kim about their opinions on educating younger people … and why it's important to have youth at the Summit.
"It's important we teach the younger generation," says Robert. "We need to teach kids to look at the world from a different point of view. Most kids haven't been trained to see a problem as an opportunity."
Kim adds, "What they teach you in school is the opposite of what it takes to be successful." According to Kim, school teaches you there's only one right answer … and you should never make a mistake.
But investors need to learn there are many right answers … and mistakes are the best way to learn. Plus, says Robert, "Student loan debt will never amortize on you."
Robert and Kim recently celebrated the 21st birthday of Rich Dad, Poor Dad. "The message remains the same," says Kim. Lessons like "your house is not an asset" and "savers are losers" still ring true, Robert says.
A red pill from G. Edward Griffin
G. Edward Griffin gives this review of the Summit: "I'm amazed at what I learned and that so many people learned so much!"
Edward walked us through the process of writing his book, The Creature from Jekyll Island. He almost gave up twice because he thought he couldn't do the content justice … but he persisted. Today the book is on its 48th printing!
What about the young people? "Young folks can buy into the idea that the banking system is stealing from them in a legalized fashion," Edward says. "We're at a huge tipping point."
Edward created the Red Pill Expo to get the word out to people that things aren't always as they seem in the world of money and banking. "You have to be aware before you can do something about the problem," he says.
The Expo aims to help people "take the red pill, break out of the matrix, and see reality."
Edward had some great words of wisdom for everybody listening … "We have within all of us the power to understand that most of the great barriers in life are not the barriers we think they are."
Three experts on the power of community
The author of Magnetic Capital, Victor Menasce, reports, "When you break bread with people, the level of connection and the environment is amazing."
Attorney Mauricio Rauld agrees. The Summit provides attendees with the opportunity to "absorb knowledge like a sponge," he says. "It's an amazing environment."
Faculty member Glen Mather believed in the power of the Summit so much he brought his first-time property buyer daughter so she could learn too.
Glen has seen the Summit work its wonders firsthand … on himself. "I can't listen to these guys without thinking, 'There is so much we have to change,'" he says.
We think getting together to learn is incredibly valuable … if we didn't, we wouldn't have created the Summit at Sea™. We offer materials like our podcast and educational reports as the start of a relationship … with the hope that listeners will take that relationship to the human level.
Gathering as a community is a powerful experience … and experiences like the Summit allow both fledgling investors and experts alike to learn new information, open their minds to ideas, and form life-long connections.
---
More From The Real Estate Guys™…
The Real Estate Guys™ radio show and podcast provides real estate investing news, education, training and resources to help real estate investors succeed.
Bzzzzz …. Can you hear the cross-pollination with some of the best and brightest brains in real estate?
Just like bees, we've been busy spreading ideas, making connections, and getting our minds blown AGAIN and AGAIN.
In this second installment, live from the 15th Investor Summit at Sea™, we share more insights of our stellar faculty members. We hope some of the ideas they share will pollinate your mind, too!
In this episode of The Real Estate Guys™ show you'll hear from our friends and mentors:
Your psyched-at-sea host, Robert Helms
His slightly psycho (about the Summit, of course!) co-host, Russell Gray
Debt and equity expert, Michael Becker
Brand and marketing strategist, Kyle Wilson
The foremost expert in residential assisted living investing, Gene Guarino
Entrepreneur and sustainability champion, David Sewell
Sales legend and international sales trainer, Tom Hopkins
Best-selling personal finance author and guru, Robert Kiyosaki
Active investor and syndication expert, Victor Menasce
Financial strategist and life insurance expert, Patrick Donohoe
Real estate investment expert, Kathy Fettke
Nationally recognized apartment investor, Brad Sumrok
Precious metals expert and host of the New Orleans Investment Conference, Brien Lundin
The "gold guy," rare coins and precious metals expert, Dana Samuelson
Last but not least, the Godfather of Real Estate, Bob Helms
---
Listen
---
Subscribe
Broadcasting since 1997 with over 300 episodes on iTunes!
---
Review
When you give us a positive review on iTunes you help us continue to bring you high caliber guests and attract new listeners. It's easy and takes just a minute! (Don't know how? Follow these instructions).
Thanks!
---
Last man standing: Michael Becker
We call Michael Becker the "last man standing" because he's usually the last man standing … at the bar.
All the rubbing shoulders Michael did gave him a good insight … he remarked that people attend the Summit for its content, but leave with conTEXT. Like many other attendees, Michael felt he came with acquaintances and left with friends.
Although Michael noted that Summit attendees did hear a lot of (truthful) doom and gloom, there's still strategic opportunity out there.
"Everything's local," he told us. If you buy in the right markets and structure your deals properly, you may find the market still holds great potential.
It just takes foresight.
Attending with an open mind: Kyle Wilson
Second-time attendee and faculty member, Kyle Wilson has impresses us with his marketing know-how. Sales and marketing, he told us, is all about seeing what people need and adding value.
Kyle remarked on the pricelessness of the community and relationships he found at the Summit and the information presented.
"I took so many notes," he commented. "You're really smart if you're inquisitive and you want to learn; you're not so smart if you just want to defend your ideas."
Kyle recommends open-mindedness … asking questions and being genuinely curious about how other investors think and work.
The biggest kick: Gene Guarino
Gene is our resident expert in residential assisted living investment.
We think Gene's field is fascinating. It's clear the way the numbers are trending in terms of aging … the elderly constitute the fastest growing segment of the U.S. population.
Clearly Gene's in a field with potential. But he's not in it solely for the money.
"The biggest kick I get is teaching people how to do this themselves," says Gene. He's proud he's taught people all over the country how to provide comfortable, affordable in-home care for the elderly.
Like his company motto says, he's in this to "do good and do well."
Gene shared a remarkable anecdote about his son, who came to his first investor Summit "ready to quit, curl up in a ball, and do nothing."
The Summit, Gene says, changed his life … he went home, read 50 books, and now he's a successful real estate agent.
You've gotta love the transformative power of real estate!
Serious about sustainability: David Sewell
David Sewell runs specialty cacao and coffee farms and is our go-to expert on agricultural investing.
His business philosophy has three pillars:
Economic sustainability. "If you don't make money, you can't stick around to do your thing."
Environmental sustainability. "It's about more than just thinking green … it's leaving nature better than you found it."
Social sustainability. "Get yourself a team."
David shared more insights about his social sustainability model during the Summit. Working with teams of local experts is what allows him to relax on a cruise ship for a couple of days … he relies on his team to keep his business functioning.
Why everyone is in sales: Tom Hopkins
"I truly believe," Tom Hopkins told us, "that if I got out of a plane in a city where I knew no one and started knocking on doors, making calls, and building business, that within 90 days I would have a profit center."
"How?!" You might ask.
Because of the 80/20 rule, Tom would tell you. Which is 80% of people will make 20% of the wealth, and 20% will make the other 80%.
And then there's the super special 5% who put themselves in the right place and accomplish a high degree of wealth because they are superstars and champion salespeople.
"Everyone is in sales," Tom says.
Why? Because sales is simply the ability to communicate and persuade effectively.
And if you doubt you have what it takes, look at Tom. He started with 90 days of college and little knowledge of sales, and within three years he had sold 365 homes in one year.
Tom credits his success to his own hard work … and the mentors he was blessed to find.
"Every person has greatness inside him (or her)," Tom told us. Sometimes it just takes a little nudge from someone else to let that greatness out.
Sales is not a four-letter word: Robert Kiyosaki
We really look up to Robert Kiyosaki, so when he says sales is an essential skill, we listen!
If you've read Robert's books, you probably know his experience. Robert grew up in a home where "sales" was a dirty word and salespeople were seen as the scum of the earth.
When he came back from Vietnam in 1973 and told his mentor he wanted to be an entrepreneur, his rich dad told him he needed to know how to sell.
Robert was reluctant at first … but he came around (eventually). Listen in for his moment of reckoning!
Robert no longer thinks sales = #!?%. Sales = income! And if you don't have income? Well, it's probably because you can't sell.
Successful startups: Victor Menasce
Victor's a Canadian investor and author of Magnetic Capital.
He gave us some wisdom from his newest book, Startupology, which discusses how to transform a startup into a big business overnight.
Sound impossible? It might be, if you go the traditional route. Only about 10% of startups succeed, and even then, it takes on average seven years to reach profitability.
"My advice, if you want to start a startup: Don't do it," Victor told us.
We can hear you saying it now: "Wait! I thought Victor was going to give me the key to success!"
Here's the key … "If you have an idea that could transform the industry, it's better to find an adjacent business that already has revenue and customers. Your chances of success go up by a factor of eight. It's that simple." Bam.
Bringing the kids on board: Patrick Donohoe
"It's your environment and network that shape a lot of who you are," Patrick told us.
That's why this year, he brought his daughter to the Summit. "There's a dynamic that exists when you're confined to one area with the same people for a week." Believe it or not, that dynamic is packed with motivation and stimulation, said Patrick.
Patrick's daughter Megan first read a tiny version of Rich Dad, Poor Dad when she was six … and now she's got a great head start on becoming a successful real estate investor. Just like dad!
Make very, very wise decisions: Kathy Fettke
Kathy Fettke has been educating folks for a very long time about real estate investing. She runs the Real Wealth Network and has been an investor for years.
So we can say she's seen a lot.
If you weren't investing before 2009, "You need to know there's a lot you don't know," Kathy said.
How do you get that knowledge? Talk to people who've been through down cycles!
These days, Kathy looks for guests to feature on her podcast, The Real Wealth Show, who've been investing for a while … at least thirty or forty years, ideally.
Interested in investing now? Kathy offered some advice. In much of the market, she said, we're in the ninth inning … but not all. You have to know which markets are strong.
And you need to be prepared. "It's a very different game when things turn around, and they always do," said Kathy.
"Now is the time to make very, very wise decisions. The market could be very different next year this time."
A good year for apartments: Brad Sumrok
We asked Brad, a guru on multi-family investments, about market cycles right now. He echoed some of the themes we've been hearing from our other faculty.
"If you're looking at the right markets," Brad told us, "there are still opportunities to be found."
It's those secondary and tertiary markets that folks should really be exploring right now, he added.
Precious info on precious metals: Brien Lundin
Brien runs the longest running investment conference in the U.S., the New Orleans Investment Conference. He's also a precious metals expert.
What do precious metals have to do with real estate? There's actually a lot of crossover between both of these tangible assets.
Long-term depreciation of the dollar and other currencies corresponds with long-term increases in precious metal prices (and values of other assets).
We asked Brien about metal market cycles. He told us that buyers interested in using precious metals as their savings plan should look to buy at interim low points, but true investors really have to watch the cycles carefully.
He also gave us the lowdown on getting involved in the early stages with precious metals … by investing in actual mining companies.
This move can give investors "tremendous leverage," Brien says … just don't forget that with great potential rewards comes great potential risks, too.
Politics and precious metals: Dana Samuelson
Dana also specializes in precious metals, particularly coins.
His current take on the metal space? "People buy all the time, but some people are smart and buy the dips."
For his own part, Dana's waiting to see how the new administration will translate. "Things could be choppy right now," he told us.
Dana also explained his enthusiasm for coin collecting. Coins are little pieces of history. As a collector, "the coin you've held in your hands may have been held by Alexander Hamilton, founder of our monetary system." How cool is that?
15 Summits: Bob Helms
We're proud that the godfather of real estate has joined us for every single summit from the very beginning.
Speaking to the Summiteers, he said, "Hopefully the things you've learned have made it worthwhile."
And he gave all of us some words of wisdom … "Invest in yourselves."
Sowing in fertile ground: Russell Gray
Last but not least, Russ recapped his experience for us. The thing he's most proud of? The Summit's young adult program.
We can't think of a better investment than investing in the next generation.
The environment we've been blessed to create as The Real Estate Guys™ is very nurturing, accepting, and open.
We believe sowing the fertile ground of a young mind can really change the course of a young person's life. Now imagine that influence magnified across all the lives each young person will touch!
Every investor who participated in the Summit this year has had a similar chance to make a profound impact … simply by being willing to learn from each other.
We don't know what seeds will germinate from this Summit, but we do know it'll be good.
We have the most amazing Summiteers, faculty and attendees alike. If you didn't attend this year, the only thing missing was you!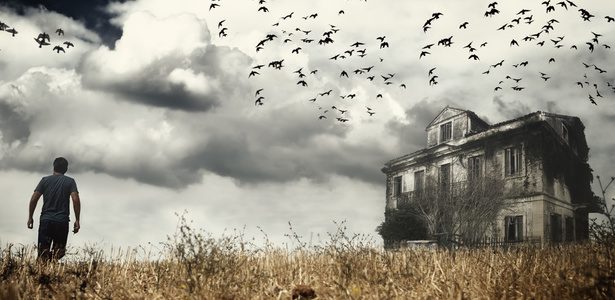 Sunshine and unicorns are part of what get real estate investors chasing after that next … great … deal.
Don't get us wrong.
We encourage you to believe good things will happen to your real estate portfolio. Otherwise, no one would have the courage to try.
But every now and then, ugly, terrible, BAD things will happen, even to the most successful people.
That's what our annual Halloween Horror Stories show is about – letting you know that nothing's wrong with you if you make a mistake or get stunned with an upset.
When something goes sideways, learn from it.
Once, Russ heard about a business downfall happening to Robert Kiyosaki. When he saw Robert in person, he genuinely said he was sorry to hear about it. Robert Kiyosaki shot back, the way only Robert Kiyosaki can:
"Don't be! It's going to be great. The company's going to be better, my marriage is going to be better. I'm going to become a better businessman. If you're not stressed, you're not growing."
Hopefully these spooky tales shine some light on what YOU can do when proverbial "haunted houses" happen.
Continue … if you DARE! Tune in to our latest edition of The Real Estate Guys™ radio show with:
Your haunted-house-tour-guide host, Robert Helms
His ghastly co-host, Russell Gray
Host of the Wealth Formula Podcast and real estate investor, Buck Joffrey, MD
Mobile home real estate investor, Mike A. 
Real estate investor and broker, Randy Hobbs
Real estate investor, Paul Anthony Thomas
Author of Magnetic Capital and real estate developer, Victor Menasce
Real estate turn-key provider in Orlando, Greg Bond
Real estate investor, Eric Tate, MD
President of Mid-South Homebuyers, Terry Kerr
Real estate investor, Sep B. 
---
Listen
---
Subscribe
Broadcasting since 1997 with over 300 episodes on iTunes!
Review
When you give us a positive review on iTunes you help us continue to bring you high caliber guests and attract new listeners. It's easy and takes just a minute! (Don't know how? Follow these instructions.)  Thanks!
---
"The Case of the Disappearing Tenants"
When Buck Joffrey, MD, bought his first apartment building, he looked at the numbers. It was a Class-D property, but the rent rolls were full, and the cash flow looked great. Buck found a property manager who owned several buildings in the area and could handle the property management for him.
After making the deal, Buck realized there was very little money coming in. What was going on? On paper, he had a completely occupied building, but he wasn't seeing any rent collected.
He learned the previous owner, who owned other buildings, had told his tenants if they moved into the Class-D building, they wouldn't have to pay rent!
That's right … his building was stuffed full of non-paying tenants!
"A little bit of scar tissue goes a long way," says Buck, who learned big things from the nightmare situation.
Lesson: Although the numbers looked good, it was a Class-D building. We recommend not buying Class-D for your first property. Wait until you have more experience. Also, do a thorough due diligence on the property manager and make sure you have some track record from the area.
Another thing to consider: Who's the tenant standing in line to rent? You need to be aware of how easily a property manager can fill up your building if you need to re-tenant.
"What's that Smell?"
Real estate investor and owner Randy Hobbs owns a two-bedroom, one bath home, where his tenant he says is "like a grandma" to him has lived for 28 years. She's a great tenant, who sends in her checks like clockwork.
All was going well … until Randy received a call.
His tenant said there was a funny smell in the house, coming from the cold cellar crawlspace beneath it.
He sent someone over to check it.
Aghast! The plumbing had fallen apart under the kitchen sink! Every time his tenant washed dishes or use the water, it was spilling into a huge puddle (more like a lake) under the house. The toxic waste had destroyed the foundational supports, a costly project to fix.
Lessons: Insurance only covers water losses if they are due to a sudden water loss. Don't let yourself get complacent if you're managing a property yourself. Make sure you're checking things like the attic and crawlspace (or hire someone to do it) regularly so you don't have surprises.
 "Water Park Fiasco"
When Paul Anthony Thomas wanted to get in on the hot trend of water parks and outlet malls in Texas in the 1970's.
During the due diligence process of a water park and outlet mall combo, he spent $100,000 on a feasibility study, plans, and incidentals. "At the time, that was a lot of money for me," said Paul. "Any time you pay for a feasibility study, they just tell you what you want to hear."
Paul happened to get to meet with the top water park developer in the nation, who looked at the plans and told him the reality.
There wasn't the right mix of population and traffic to make it work. Due to the demographics of the area, the retailers wouldn't be successful.
Lesson: You don't know what you don't know. Before spending any appreciable amount of money, consult experts. When you understand the experts analyze the opportunity, you can study it and become an expert yourself.
"The Dreadful Cut"
Developer Victor Menasce has a condo building in Philadelphia where there is very little parking. For one condo project, they needed to create a way to get into the parking level, and the only way to enter from the street is to get over the curb.
"To make a curb cut, you have to apply with the city," said Victor. "The rule says if you're sharing with three or more properties, you qualify to do so."
Although he had the go-head from his architect, Victor learned that because his three properties were adjacent to each other, they were considered "consolidated" into one, meaning he no longer had the required three properties.
In order to make the simple curb cut, Victor would have to shell out tens of thousands of dollars to his lawyer in an appeal process with the city, and he was losing time- which meant even more loss of money.
The horror!
Thankfully, he learned that each condo unit could be considered a unique property, allowing him to bypass the appeals process and move forward with the curb cut.
Lesson: You hire an architect often based on creativity. Sure, you want some curb appeal, and an appetizing mix of form and function. However, when you evaluate your architect, make sure their skill-set goes beyond aesthetics and they understand zoning laws.
"A Luxurious Disaster"
When experienced real estate investor Greg Bond, based in Orlando, had a deal come his way for luxury home, he didn't want to let it pass by. Already a pro at flipping rental homes, Greg figured it wouldn't be too different to fix up this stripped-down luxury home.
"I figured I'd buy it and make some money," said Greg. "I'd just take my crews from other properties to fix it up."
However, he soon learned this was not his typical rental home! As the rehab costs started piling up, the ghastly numbers told their deal-killing story.
There were much higher costs for the flooring, fixtures, detailing … and Greg would have to use a realtor, which added up more costs.
"There was no profit here," said Greg. "I was on a different learning curve and walked away with less than the realtors made on the deal."
Lesson: Get crystal clear on what works for you, your personal investment philosophy. If you veer from your core competency, prepare for surprises.
Horror Stories Wrap-up
This is just a handful of the terrifying tales – listen to our latest show to hear more!
In the end, each of these real estate investors lived to tell their terrible tale. You'll survive your next blunder, too.
Looking to avoid regrets?
We say the best way is to create your future, and have a goals approach that covers every aspect of your life – financially, spiritually, socially, and physically.
That way you're prepared for anything – no matter what comes. 
---
More From The Real Estate Guys™…
The Real Estate Guys™ radio show and podcast provides real estate investing news, education, training and resources to help real estate investors succeed.