Do you remember the old "new" economy? That was the one where technology companies could go public without profit.  In some cases, they didn't even need revenue. Ahhhh, those were the days.
The new "new" economy (the Great Recession one) hasn't been nearly as fun – unless you're an old school entrepreneur.  That's the kind who looks at problems as opportunities.  Guys (and gals) like that are having a lot of fun right now because there are opportunities galore coming out of the Great Recession.
The Real Estate Guys™ headed off to Freedom Fest in Las Vegas a few weeks back.  We heard that money manager / economist / author / Senate candidate Peter Schiff would be there (among many other people with very strong opinions about the U.S. economy) and we wanted to do some interviews.  We're happy to report we got lots of great stuff, including Mr. Schiff and the CEO of Forbes Magazine, Steve Forbes.  Watch for those interviews in future broadcasts.
So we fly into Las Vegas in our private jet (the one operated by Southwest Airlines), and get to the convention venue and start setting up our booth.  Before the event had even started, a man stops by and sees our banner for Belize (we were promoting our upcoming field trip to Belize) and asks a few questions.  The short of it is that we find out he's working on a very exciting project in the Caribbean – one that solves a problem we've been trying to figure out too.  Russ gets so excited that he hugs the guy. Very weird.
After the appropriate apologies and some follow up male bonding, our new friend agrees to do a radio interview.  And that's what this broadcast is all about.
Manning the microphones for this edition of The Real Estate Guys™ Radio Show:
Your host, the Larry King of real estate radio, Robert Helms
Co-host, our "I love you, man" booth babe, Russell Gray
Special Guest, Investment Banker, Entrepreneur and assault victim, Jeff Villwock
Any time we get around smart people, we jump on the opportunity to talk with them. In this case, Russ literally jumped on Jeff.  When Jeff recovered, we got him on the mic, so you can listen to what he's doing, where he's doing it and why.  There's lots of lessons to be gleaned!
Freedom Fest is an event that attracts people with strong political opinions.  In many of the interviews we did there, those opinions come out.  Great!  We think the world works better when people respectfully debate important issues.  Sharing ideas is among the most sacred of our freedoms, especially if you're radio guys.
We also realize that the U.S. (the bulk of our audience) is pretty polarized right now.  Now, we love our entire audience and our show isn't political.  However, policies affect economics and economics affects real estate. There shouldn't be a serious student of real estate who can look at the last several years and deny that.  So politics are going to get into the discourse from time to time, which is a very good thing.
We think these Freedom Fest interviews are great.  If you disagree with the political views of our guests, don't let that get in the way of hearing what's being said.  Here's why:  a big part of real estate investing is understanding demographics and human nature. How people think and believe affects where they (and their money) will be moving.  Even if you disagree with them, if they believe it, it will affect their actions. So YOU need to understand them (even if you disagree) if you want to anticipate their behavior.
Did we mention that Jeff's project is in St. Kitts?  It just so happens that St. Kitts is one of the stops on our upcoming 9th Annual Summit at Sea!  So we ask Jeff if we can visit his project as part of our already planned real estate shore excursion in St. Kitts. Not only does Jeff agree to allow us to visit, he says he'll meet us there and show us around.  Awesome!
Once again, we're reminded of the importance of getting out of our cubicles and into the world where real people are. No doubt that virtual networking is powerful, but just as phones did not replace face to face meetings, neither will social media replace conventions as a great place to make important connections.  This is one of the reasons we attend trade shows and promote our field trips and the Summit at Sea™.  It's a great way to get to know great people in the real world.  We hope to see YOU at one very soon!
Listen Now
Don't miss a show!  Subscribe to the Free Podcast
Want More?  Sign Up for The Real Estate Guys™ Free Newsletter!
Feeling undersized when going up against your lender in a loan mod negotiation? It's a big problem to wrestle with, but you're not alone!  Recent developments are tipping the scales back toward the borrower – and none to soon!  To get up to speed on the latest and greatest, we invited back to the show one of the most prolific commentators on the topic.
In the Sumo sand pit for this episode: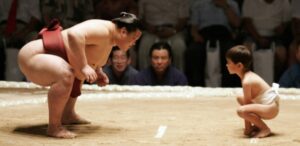 Your larger than life host, Robert Helms
Co-host and sand pit groomer, Russell Gray
The Godfather of Real Estate, Bob Helms
Special Guest, Mortgage Industry Pundit, Martin Andelman
Even though we see lots of opportunities in all the crushing problems facing today's real estate market, that isn't much consolation to people still grappling with mortgages that don't make sense.  No wonder our special report, What You MUST Know Before Attempting a Loan Workout (available in our Resource Center) has been our most requested publication for the last 18 months.  And when you consider that the number of modifications actually getting done are dwarfed by the huge number of mortgages currently in default, there's no way to take this problem lightly.  When it all shakes out, we know there's still a LOT of work to do before the balance sheets of banks and borrowers are stabilized.  It's a sizable task.
Enter Martin Andelman. Martin reminds us of Don Quixote from Man of La Mancha.  We almost went there with this blog, but the Sumo thing was way too much fun.  Still, Don Quixote was a crusader pursuing an impossible dream (the theme song from the movie), so it seemed to match.  It was hard to combine "impossible dream" with Sumo, unless there was a Speedo involved, and we didn't think that was a good fit, if you know what we mean.
Anyway, Martin's been an observer, commentator and outspoken critic of the banks and lenders who claim to care about the borrowers, but can't seem to do anything substantial to help.  Do you remember the Bible verse in James, where it basically says "talk is cheap" (our paraphrase)?   That is, what good does it do to say you care, if you don't really do anything real to help?
Please don't misunderstand.  We're not advocates for, or supporters of, bailouts for borrowers or for banks.  Philosophically, we think things would get better a whole lot faster if the government would get out of the way and let the banks and borrowers negotiate.  After all, these are contracts between private parties.  But the government has had its nose in the mortgage business for decades, so it's a threesome, like it or not.  (We're sorry.  Is our opinion showing?  We'll tuck it away.)
So we start this show with an update from Martin on the state of the government's HAMP program.  Can you feel it yet?  Is it working?  Is it getting better?  Martin gives us the scoop.  His answer surprised us.
And while the Executive Branch is trying get its HAMP fired up, what about the Legislature and the Judiciary?  Martin briefs us on a couple of interesting court cases which affect loan modifications.  Of course, we can't help but talk about California's SB94, which now "protects" consumers from all the "greedy" loan mod attorneys who selfishly want to be paid for the work they do.   Why wouldn't the attorney just do the work first and then send a bill?  It's so unreasonable to think that a client who isn't making their mortgage payment would be a bad credit risk.  We're sure all the underwater borrowers are sleeping much better now that now that most of the loan mod companies have shut their doors.  Yeah, that helped.  Unless….do you think maybe it wasn't the borrower the law was intended to help?  Hmmmm….?  Sorry.  That pesky opinion keeps popping out.   These Sumo shorts don't give you much room to hide.
But lest you think this episode is just a rant about what isn't working, the real highlight of the show comes when Martin tells us about a new "secret weapon" that's now available to borrowers.  And he says it IS working!  He says borrowers armed with this powerful new tool find themselves no longer getting squashed in their negotiations with the lender.  That's right!  The little guy is starting to win.  We like it.
Off mic, we impose upon Martin to write a special report on this topic, which he generously commits to do.  He calls it The Underwater Borrower's Secret Weapon: How to Make Modifying Your Loan Your Lender's Idea. Wow.  That's a mouthful.  But if you know Martin, it's not surprising.  You can bet he'll have a lot to say – and it will be fun to read!
The bottom line (that's a Sumo pun in case you missed it) is we got so jazzed about the whole thing, we're working on adding the company which supplies this "secret weapon" to our resource network.  Meanwhile, if you or someone you know has been wrestling with a lender that seems immovable, be sure to request Martin's report.  Maybe his secret weapon will work for you and your friends.  We want to help get the secret out, so everyone has access.  Not just because we like to root for the underdog. But because the sooner all these bad loans get re-done, the faster the world can get back to focusing on more productive things.  And that's good for everyone.
Listen Now:
The Real Estate Guys™ radio show and podcast provides real estate investing news, education, training and resources that help real estate investors succeed.
So we're wandering around the radio show one day trying to think of something to talk about.  Then we trip over a big bag of email and say, "Hey! We haven't answered listener questions for awhile. Let's do that!"  So today's episode is all about you and your questions.
Taking the stand and promising to answer each question to the best of our admittedly limited abilities:
Host and Professional Pontificator, Robert Helms
Co-Host and Head of The Real Estate Guys Research Institute, Russell Gray
The Man Who's Forgotten More Real Estate than Most Will Ever Know, the Godfather of Real Estate, Bob Helms
One of our favorite things to do is show off how smart we are.  For obvious reasons, we don't get to do that very often, but we always look forward to the opportunity.  Then again, if you subscribe to the idea that people learn by making mistakes, we're REALLY smart!
Anyway, we get lots of questions from people and we love it.  So please keep 'em coming!  Go to Ask the Guys and ask away!  For this episode, we grabbed a handful from the email bag and here are some we found.
(For privacy purposes, we've omitted the names, phone numbers, social security numbers, birthdates, drivers license numbers, bank account information, picture, height, weight, race, religion, sexual orientation and favorite ice cream)
I just came out of a Chapter 7 bankruptcy.  How can I get a mortgage?
I found properties for $500 – $1000!  Seems like a no-brainer.  Am I missing something?
Is Dallas a dangerous place?
The Great Recession wiped me out.  How do I get going again?
What do you think of using retirement accounts to buy real estate?
Are tax liens a safe investment?
And our personal favorite:

Is it still possible to buy property for no money down?
Tune in for the answers to these and other exciting questions on this episode of The Real Estate Guys™ Radio Show! (theme music plays here).
Listen Now
Don't miss a show!  Subscribe to the Free Podcast
Want More?  Sign Up for The Real Estate Guys™ Free Newsletter!
Most people don't get into real estate investing because they like tenants, toilets and all the tribulations you go through. And most of the time, they don't get into properties they would like to live in or visit on vacation.  In fact, most investors would be happy if they never saw their properties.  That's probably why stock investing is so popular.  You just buy a line item on your brokerage statement.  You never visit the company or meet the management.  It's all very sterile and anesthetized.  Maybe that's why you almost can't feel it when the stock market gives you a networthectomy.  But we digress (how unusual).
Anyway, with summer time in full swing and people heading off for a well-deserved vacation, we thought it would be refreshing to talk about how to combine real estate business with vacationing pleasure.
In the radio mini-van, headed to the beach of broadcasting for fun in the sun and investing too:
Your host and mini-van driver, Robert Helms
Captain Speedo, Russell Gray
The Godfather of Real Estate, Bob "Board Shorts" Helms
Before we hit the road of conversation we do a quick check of the packing list.  Did we remember to pack our investor mindset?  What about our notebook to keep track of our ideas, conversations and those all important (potentially) tax-deductible expenses?
We're all good, so off we go!
Since most people don't vacation in C-class neighborhoods, we start our conversation on the idea of resort area investing.  But as soon as we jump out of the mini-van, we are faced with that ugly limiting belief, "I can't afford it".  It's easy to look at real estate in a beautiful area and disqualify yourself before you even get started.  So we talk about how to push through the traffic of doubt in one's mind by asking the question, "How can I afford it?"
We decide to ride this train of thought and talk about the importance of getting the right answers and advisors, by learning how to ask the right questions. Bad questions yield bad answers.  It's like, "Which Speedo looks best on Russ?"  That's a bad question (and worse visual) with no good answer.
Of course, we can't miss the opportunity for some shameless self-promotion, so we hang a u-turn on the notion of making one's vacation an opportunity to look for real estate.  What about the idea of using a real estate trip as a vacation? Many of our listeners have come with us on our Investor Summit at Sea™ or field trips to Belize, Cabo San Lucas or other fun places we've gone.  Even though the main purpose of the trip is to look at real estate, is it against the rules to have fun?  So, when time and budget is limited, it just makes good sense to leverage your vacation / real estate "research and development" budgets.

We have a fun time with this show.  We think you'll like it too!
Listen Now
Don't miss a show!  Subscribe to the Free Podcast
Want More?  Sign Up for The Real Estate Guys™ Free Newsletter!