Tax policy can be a VERY polarizing issue.  Just think about what happened in Boston in the late 1700's.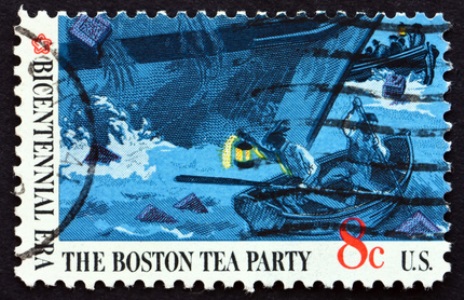 However, tax considerations play a big role in the decisions real estate investors make when choosing markets, financing structures and hold terms.  All diligent real estate investors spend a lot of time with their tax strategist to manage their portfolios for optimum tax benefit.
But most of that work is done inside the tax code…which grows out of the tax statutes passed by Congress…which grow out of tax philosophy, AKA tax policy.
Working backwards… tax policy is what gives birth to the tax code.
So if tax POLICY changes, then it will directly affect the tax CODE…and YOUR strategic investment decisions.
And it's not just you, the small time real estate investor, who's affected.  There's also the big REITs, hedge funds and mega-millionaire real estate investors.
But it's even BIGGER than that.
Consider how tax strategy impacts the decision making of corporations, small businesses and bond investors (where much of the money we borrow to buy real estate comes from).
So any proposed tax reform, whether we agree with it or not, has the potential to DIRECTLY impact the flow of capital, the expansion of supply and the formation of jobs…in YOUR local markets.
To talk about the current state of tax reform as the U.S. heads into a major election year:
Your well-formed host, Robert Helms
His deformed co-host, Russell Gray
Tax reform activist and author, Grover Norquist
Billionaire, author, former presidential candidate, Steve Forbes
If you're familiar with our guests, you already know they share a particular slant when it comes to tax reform:  smaller and simpler is better.
You may or may not agree.  That's okay.  While Steve Forbes and Grover Norquist may want to persuade you to their particular philosophy, that's not what this episode is all about.
The fact is that we're headed into a major election year.  It's one that promises to include heated debate about how best to improve the state of the U.S. economy.
And a big part of the discussion will include what to do about the enormous and complicated U.S. tax code.
If Donald Trump is right when he says all the politicians do is talk but nothing happens, then maybe you don't need to pay much attention.  After all, the tax code hasn't changed much since Ronald Reagan pushed through the Tax Reform Act of 1986.
BUT…if you're a geeky student of economic history like we are, you may recall that quite a few MAJOR events occurred in the wake of the last major tax reform…such as the Black Monday stock market crash of 1987 and the real estate bust of 1989.
However, we're not here to dissect the 1986 tax reform act.  We encourage you to go back and study it for yourself.
The point right now is that MANY inattentive investors…both real estate and stock…got CRUSHED by the ramifications of tax reform.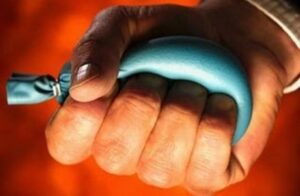 It's called The Law of Unintended Consquences.  We call it the "squish" factor.
If you've ever squeezed a balloon in your hand, you know that under pressure the volume of the balloon will move…sometimes very rapidly…and pop out someplace.  But you can't always predict when and where.
Sometimes politicians mean well (stop laughing…sometimes they do)…but the road to you know where is often paved in good intentions.
Again, we're not saying tax law should or shouldn't be reformed.
But if tax reform actually happens, it often means good and bad things happens…some anticipated and some not.
All that to say, we think paying attention to the potential for serious tax reform is an important use of time…especially when political change is in the air.
So we decided to sit down with two of the most outspoken proponents of tax reform, Grover Norquist and Steve Forbes.
Grover Norquist is the President of Americans for Tax Reform, an organization that was formed in 1985 at the request of then President Ronald Reagan for the purpose of advocating for the tax reform which was eventually enacted in 1986.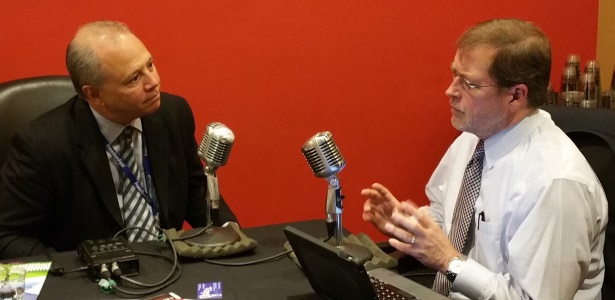 In a nutshell, the objective is to reduce the burden of taxes on the private sector so those resources can be redirected to more productive uses.
The thesis is that less tax means more growth, so even though the percentage of tax is a smaller part of GDP, the actual taxes collected are higher.
Does it work?
For our purposes, it doesn't matter.  What we want to know is how businesses and individuals respond to it…or are likely to.
Norquist advocates for a lower corporate tax.  He says at 35% (which is higher than both Greece and France), the current corporate tax rate is a de-motivator for economic growth and job creation in the U.S.
So Norquist wants to see the corporate tax pushed down to 20%, which he says is about "average" among the major developed nations.  At this rate, he says, the U.S. is on a level playing field to attract and retain major employers.
Our question is…and if you know any CEOs or if you are a CEO of a major company, please let us know…what do CEOs think?  Will a lower corporate tax motivate corporations to stay, expand or move in to the U.S.?
We want to know because where jobs are likely to grow and stay is a very important consideration when choosing which geographic markets to invest in.
Norquist also favors the elimination of taxes on savings and investment.
This is the exact opposite of the reported position of presidential hopeful Hillary Clinton.  She's calling for an INCREASE in capital gains tax…to nearly 40%.
However, Clinton says this will only affect the .5% who earn more than $412,000 a year.
(Note: You should go look up how many people the original income tax was supposed to affect…and compare it to how many are affected today…)
But if you flip houses, it's easy to get over $412,000 a year in total income.
Think about how paying DOUBLE the capital gains tax would affect YOU.  Would you be able to do more…or less?  Would create more work for your teams…or less?  Would the higher tax create more jobs…or less?
Our next guest, Steve Forbes has a very simple proposal…one he's been advocating for nearly 20 years.  One thing you can say about Forbes…he's persistent.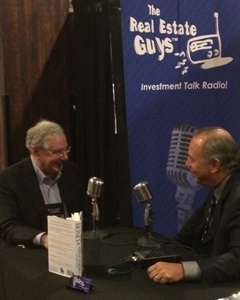 Steve Forbes' proposal is to simply implement a flat tax.  It's an idea that GOP presidential hopeful Rand Paul is advocating for.
Forbes' contention is that a flat tax frees up about 6 billion hours a year currently dedicated by businesses and individuals dealing with today's highly complex tax code.  He believes when this time and effort is redirected into innovation and production, job creation wouldn't be far behind.
We don't know which, if any, tax proposal will ever see the light of day…or if one does, what at the actual effect will be.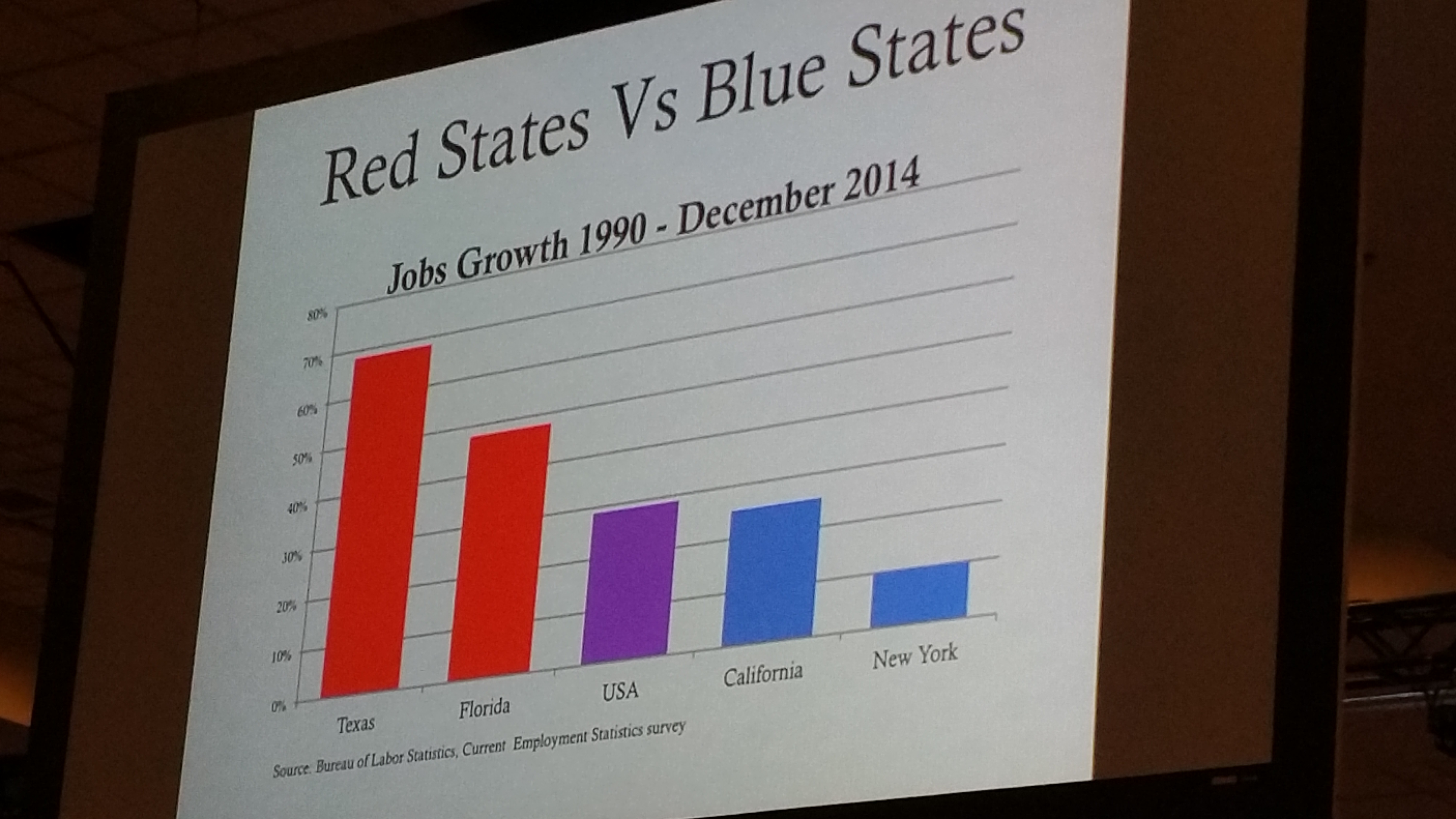 But we do know what of the four largest states in the Union…which are New York, California, Texas and Florida…two have gained the MOST jobs over the last decade while two have LOST the most jobs.
According a data we say presented by economist and former Wall Street Journal editor Stephen Moore…New York and California are the losers, while Texas and Florida are the winners in terms of both job growth AND net migration growth.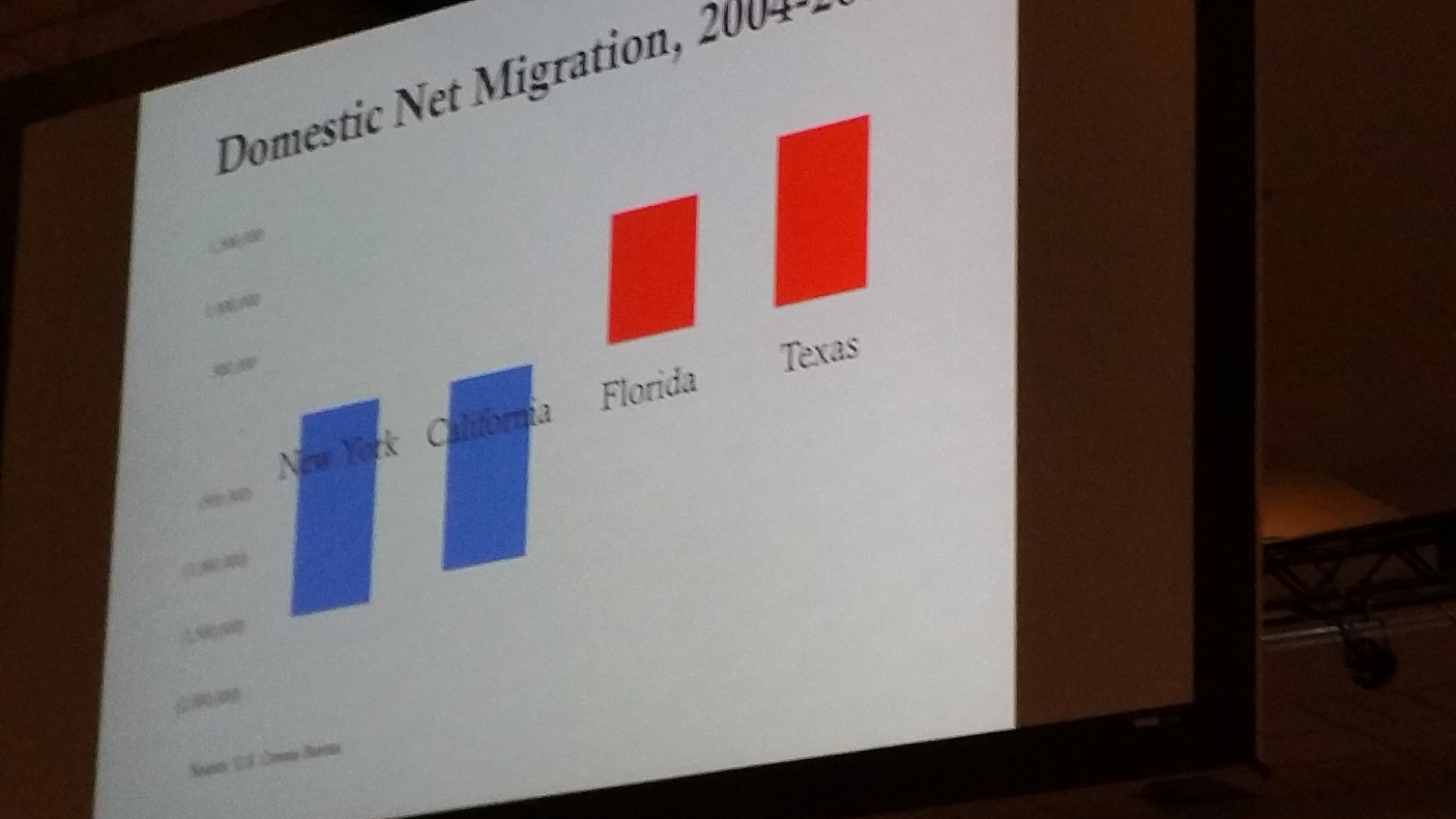 And it so happens that the losers happen to have the HIGHEST tax burden, while the winners have NO state income tax.
Coincidence?  Maybe.
But if you've been watching TV lately, you may have seen ads for StartUp NY, which is a state government sponsored initiative that "offers new and expanding businesses the opportunity to operate tax-free for 10 years" as a way to create jobs in New York.
They say imitation is the highest form of flattery.  So perhaps this is New York's way of tipping its hat to Texas and Florida?
We don't know.
But we do know that two of the BEST real estate investment markets have been Texas and Florida.  Not surprising since people and jobs are the two biggest factors which drive real estate.
The bottom line is that tax policy affects real estate investors…so it's worth paying attention to.  Especially in a major election cycle.
So tune in and listen to what our expert guests have to say about some of the current tax reform proposals being floated around…and consider how any such reform might affect you and your real estate investing.
Listen Now: 
The Real Estate Guys™ radio show and podcast provides real estate investing news, education, training and resources that help real estate investors succeed.
The ultimate real estate guy is running for the ultimate political office. Government could learn a lot from real estate investors like Donald Trump and Robert Kiyosaki.
Like him or not, Donald Trump is a force to be reckoned with.
So we decided to risk a little controversy and take up a conversation about what government might learn from real estate investors and entrepreneurs like Donald Trump and Robert Kiyosaki.
Chiming in on the conversation for this episode of The Real Estate Guys™ Radio Show:
Your host and a man who regularly interviews billionaires, best-selling authors and Presidential candidates, Robert Helms
His co-host and a guy who wants to be billionaire, a best-selling author, and once voted for a winning Presidential candidate, Russell Gray
Presidential candidate, real estate mogul, reality TV star, best-selling author and a guy who's even richer than Forbes thought he was…Donald Trump
Real estate investor, entrepreneur, teacher and the greatest selling financial author in the history of the universe, Robert Kiyosaki
---
Listen
Subscribe
Broadcasting since 1997 with over 300 episodes on iTunes!
Review
Like the show? Help us reach new listeners by leaving us a quick review on iTunes. It takes just a minute of your time, and it would really help us out. Thank you so much!! (Don't know how? Follow these instructions.)
---
Even though we've had Donald Trump on the show before…and we got face to face with him in Iowa last January…and we've watched him on The Apprentice for years…and we've read several of his books…Heck, we've even interviewed Donald's ex-wife Ivana…
We still don't feel like we REALLY know Donald Trump.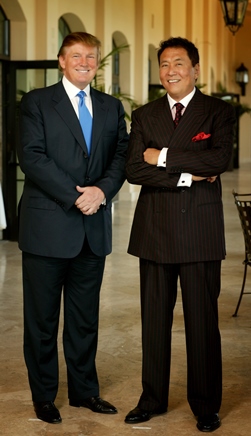 So when we heard Trump was running for President, we immediately called our friend Robert Kiyosaki….because in the course of co-authoring two best-selling books, Donald Trump and Robert Kiyosaki became friends.
So as we were flying into Phoenix to meet with Robert Kiyosaki, we started pondering what it would be like to have a bonafide real estate investor and entrepreneur in the White House.
And the bigger question is:  What could government learn from real estate investors and entrepreneurs like Donald Trump and Robert Kiyosaki?
Here's what we came up with…
Lesson #1:  Always add new customers
For a real estate investor, this means acquiring more tenants.  It's the BEST way to increase revenue and profits.
Notice this isn't "raising rents".
Real estate investors know you can't raise rents in a weak economy or you will LOSE tenants AND revenue.
In fact, even if you don't actually raise rents… if you tell the tenants you're thinking about it, they may move out…or start seriously looking for a more affordable option.
As a landlord, you're mission is to provide people a safe, affordable place to live.  When you fail to do this, your tenants move out…or never move in to begin with.
Seems to us a government's job is similar:  create a safe, affordable place for people and businesses to live.
When you do, you attract and retain people and businesses.  When you don't…you don't.
Lesson #2: More employees doesn't mean more success
The bigger your real estate empire grows, the more people you need to help manage it…property managers, maintenance crews, bookkeepers, tax advisors, lawyers and vendors and staff of all kinds.
ALL of these people don't pay you rent.  They feed off of the rental income.
If you don't add customers faster than employees, you'll go broke.  You should only add employees as your growth will permit.
The same is true for government.
When government grows faster than new business and productive population, there's a problem in the future.
Lesson #3: Cash flow is not profit
As a real estate investor, it's important to make your payments on time.  It builds good will with your suppliers, maintains a good credit rating and reduces your borrowing costs.
So if your rental income declines and you start relying on credit to pay your bills, everything may look fine to the outside world…for awhile…but your financial statements are telling you that you're headed for a disaster.
At some point, you'll run out of credit.  And even if the lenders are dumb enough to keep raising your credit limit, all you're doing is delaying the inevitable.
The REAL problem is you're not running a profitable operation.
When an investor is faced with this problem, the options are:
a) Increase revenue – this can be attempted by raising rents on existing tenants…IF the economy will permit it (see Lesson #1)…OR by acquiring new profitable tenants (assuming you don't waster your dwindling resources delaying a problem instead of fixing it); and/or…
b) Decrease expenses – this is hard to do…especially if it means cutting staff…but it's doing to happen anyway, so better to be proactive.  Kicking the can down the road (a popular political strategy) just means the problem (and the ultimate pain) gets bigger.
Every day your debt gets bigger, it takes more and more of your profit to service it.  That's money which can't be put into attracting new customers (Job #1) or retaining the most productive staff.
Debt is like a cancer.  When it gets to the point where a family, business or government must borrow simply to debt service…the cancer becomes terminal.
Lesson #4: Price is not wealth
In a monetary system designed to inflate (a topic too big for this blog)…it's easy to be deceived into thinking your successful when you're NOT.
For example, if you own a property with 10 units renting for $100 a month in 1960, your gross rental income is $1000 a month or $12,000 per year.
A property like this might be worth $120,000.
If today that same 10 unit building is now renting for $1,000 a month, your gross rental income is $10,000 a month for $120,000 per year.
So now the SAME property is worth $1.2 million. Yippee!  You're a millionaire!!!
But are you richer?
In dollars, yes.  In utility, no.  After all, you still have only 10 rental units.
What about measuring wealth by purchasing power?
Well, if in 1960, you could buy a brand new car for $2,000, your $120,000 property was worth 60 cars.
Today, you can buy a brand new car for $20,000.  So your $1.2 million property is worth…60 cars. About the same.
So you're a millionaire, but you still only have 10 tenants and enough wealth to buy 60 cars.  In terms of purchasing power, you're not richer at all.
There are trillionaires in Zimbabwe who can't buy a roll of toilet paper.  For them, net worth is not wealth.
So consider a company that produces 1000 widgets per month at $83.33 per widget.  And let's say it takes 20 employees to operate this business.
The company generates gross income of $83,333 per month or $1,000,000 per year.
Stay with us now…it's not that hard.  Simple math.
Now, because of inflation, costs go up, so the company has to raise its price to $100 per widget.
Assuming they continue to sell 1,000 widgets per month at the new price of $100 each, the company has now "grown" its sales to $100,000 per month or $1.2 million per year.  That's an increase of 20%!
But have they really grown?
They still only produce 1,000 widgets per month.  They still only employ 20 people.  They only maintained their same profit margin.
So in "nominal" (number) terms, they grew 20 percent.
But in terms of adding any real value to the economy (jobs, products), they haven't grown at all.
That's what a jobless recovery looks like.
Just as an investor or entrepreneur shouldn't be fooled by nominal growth that isn't corroborated by an increase in purchasing power, customers or real productivity…
Government should be careful about measuring the merit of any policy based solely on nominal growth.
Price is not wealth.
Lesson #5: Not all jobs are created equal
Real estate investors are very focused on jobs.  After all, it's hard for a tenant to pay the rent without an income.  So jobs are an important consideration when selecting a real estate market to invest in.
When we go into a real estate market, we don't just look at jobs.  We look for PRIMARY drivers.
A primary driver is an employer who sells outside of the region.  In other words, they are a funnel for bringing OUTSIDE money in.
So a business that builds computers, or software, or cars, or food, or whatever…and sells to customers outside the city they're located in…is a primary driver.
When the money from those out of area sales comes in and is paid out to LOCAL employees and suppliers, it then flows out to support the LOCAL economy.
And as the local people spend those funds on local services…such as auto service, dry cleaning, groceries, coffee, restaurants and the like…these SECONDARY businesses provide even more LOCAL employment.
BUT…without the PRIMARY business, many of these local businesses fail.
So a smart real estate investor picks markets where there are lots of healthy PRIMARY businesses…knowing that the secondary businesses will take care of themselves.
When a local, regional or national government creates an environment where primary businesses are welcome and can thrive, the secondary jobs will follow.
Conversely, no amount of stimulating secondary jobs through consumer spending alone can succeed.  It's PRIMARY employers which create the economic activity necessary to provide secondary jobs…and spending.
Someone has to bring money in from the outside.  That's why any country can't run trade deficits forever without eventually losing ALL its jobs.
Closing thoughts…
Will Donald Trump win the Presidency?  And if Trump wins, would he be a good President?
We don't know.  But there are two things we're sure of…
We agree with Robert Kiyoksaki…Trump's campaign will be entertaining and interesting.
And whether you agree with the Donald or not, having him in the race means more people are paying attention to the issues…and that's a good thing.
Last but not least, we think real estate investors and entrepreneurs have real world wisdom governments everywhere would be well served to pay attention to.  Maybe Donald Trump can make that happen…whether he wins or not.
---
Watch on YouTube
Want More?
The Real Estate Guys™ radio show and podcast provides real estate investing news, education, training and resources that help real estate investors succeed.
In this fourth and final installment of our series on developing your personal investment strategy and putting it into action, we finally get to the place where most people start: the property.
In the studio perfectly poised for profound and prolific pontification:
Your practically perfect host, Robert Helms
His immensely imperfect co-host, Russell Gray
The Godfather of Real Estate, Bob Helms
As we pointed out in our first installment, there are no problem properties…only problem ownerships.
The keys to picking a property for you are: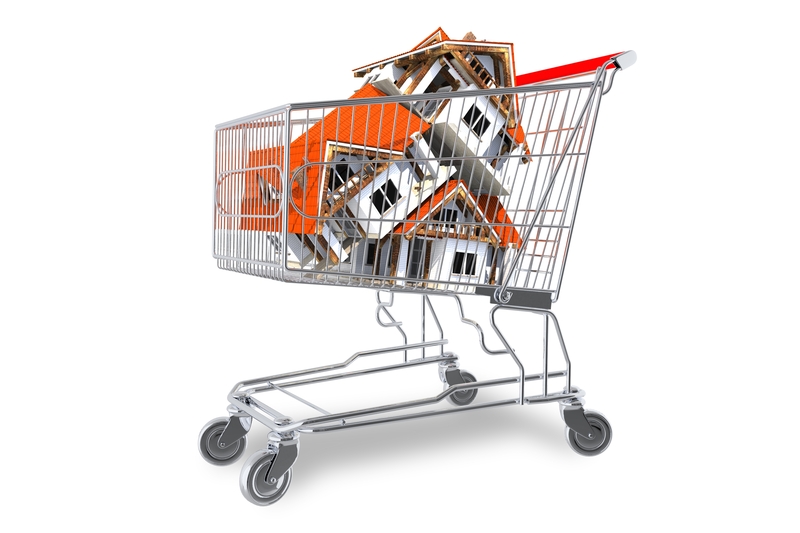 Being clear about your personal investment philosophy
Choosing a market (geographic, demographic and product type) that is well positioned to perform towards your predetermined investment objectives
Enlisting the help of a properly qualified team
It sounds simple, but each step requires a lot of work.
The good news is that if you lay the proper foundation, picking the right property is MUCH easier!
With that said, there's still some work to do to be sure the property you pick will fit properly into your portfolio.
For starters, once your team has recommended a property, you need to evaluate their recommendation.
Usually, you'll get some type of property profile which provides a basic description, location and financials.
Assuming the property type fits your objectives, you need to understand the specific micro-location.
It's fine to say, "I like the economy and demographics of single-family homes in Atlanta, Georgia."  But when it comes to actually picking a property, you'll want to be much more granular.
How's the neighborhood?  Who are the customers (tenants)?  What's the micro-trend for demand, economics, demographics?  Are there any local ordinances or projects, present or pending, which may affect desirability, utility and potential profit opportunities?
For example, let's say you pick a property in a nice quiet neighborhood, and your customers are retired seniors.
Then you find out a new freeway, nightclub or sporting venue is planned.  The neighborhood's about to get a lot louder…which may drive your customers away.
You get the idea.  The point is to find out about the neighborhood factors which might impact the specific property.
Next, what is the actual condition of the subject property?
In most professionally represented transaction, there will be a host of disclosures and inspections.  Read them!  Ask questions.
You're not looking for reasons NOT to do the deal.  So don't major in the minors.  But do keep an eye out for your "deal killers"…items which are so important to you, you'd walk away at almost any price.
You're also looking for "levers"…items over which the seller should probably be willing to sweeten the deal.
Look for hidden opportunities in the condition or structure of the property.  These are things you believe you could change to improve the value of the property, such as adding covered parking, storage, individual utility meters, etc.
If your personal investment strategy revolved around "value add", then hidden opportunities will be really important to you.
Now it's time to dig into the financials.
What you'll usually get is a "pro forma", which we jokingly refer to as Latin for "made up".
So if the numbers look good at first glance, it's important to go through them line by line to look for anomalies and opportunities.
If you don't happen to be familiar with a particular market or product type, one of your best allies in reviewing the financials is a local mortgage broker who specializes in the type of property you're looking at.
Another good source for a second set of eyes is an experienced property manager.  These guys will know what the REAL market rent is.  They'll be able to look at a lot of the expense items and know if they're in spitting distance of reality.
The bottom line is this…
When it comes to picking the perfect property for your portfolio, it needs to fit your philosophy, float in a market with dynamics likely to push the kind of financial performance you're after (both today and into the future); be run by a team who has your back, understands your goals and values, and are well qualified to do the work; and you need to see CLEARLY what you are really buying in terms of condition, micro-location and customer base.
The time you spend laying a great foundation will pay enormous dividends over the term of your investing career.
Listen Now: 
The Real Estate Guys™ radio show and podcast provides real estate investing news, education, training and resources that help real estate investors succeed.

Robert Kiyosaki says "Investing is a team sport."
We agree! And this is especially true with real estate investing because unlike paper assets…properties aren't uniform commodities which lend themselves to being traded on electronic exchanges.
Instead, the buying and selling of real estate involves people…lots of them. And so who you have on your team and how you get along with them is critical to your success.
In the studio to talk about who you need on your team and how to pick people who fit well with you…and with each other:
Your quarterback of conversation and host, Robert Helms
His co-host waterboy of waxing on (and off from time to time), Russell Gray
The Godfather of Real Estate, Bob Helms
We think building a portfolio of people is foundational to building a portfolio of properties.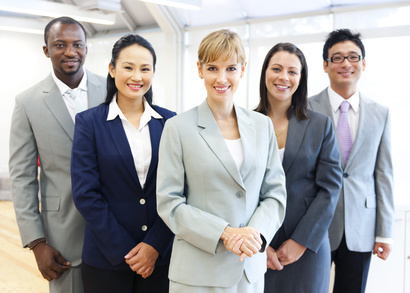 Sadly, many people approach investing backwards.
They find either go out and look for…or through happenstance, stumble upon, a property that looks "good"…and they get into contract.
Then…AFTER the fact…they go look for a mortgage broker, an insurance agent, a property manager, and a local real estate attorney (or maybe they wait until they actually have a problem).
In other words, they build the team around the property.  Oops.
In the first installment of this four part series, we talked about the role of your personal investment philosophy in helping guide you to the right market, team and property.
In our last installment, we discussed how to pick a market (geographic, demographic and product type) that is most likely to fit you…based on your personal investment philosophy.
In this third installment, we focus on the how and why of building a team.  And not surprisingly, we think your team should be a reflection of your personal investment philosophy.
Warning:  Build a team is hard work.  It takes time, patience, thick skin and adequate funding.
That's because it's an iterative process.  And you will almost certainly need to try out a lot of prospective players to find your "starters".
So where do you start?
Assuming you've worked out your preliminary personal investment philosophy…and specifically your values and goals…you should have some sense of culture.
The Culture Club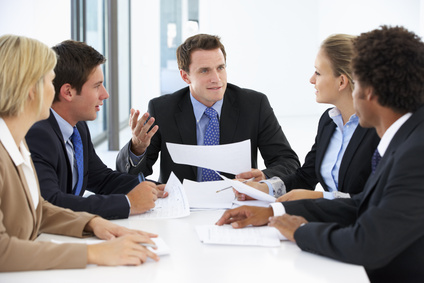 Every member of your team should reflect your values…and understand their role in helping you achieve your goals.
So your mission will be to communicate your values and goals to prospective team members…then watch their reaction.  If they get excited, you're on the right track.  If they don't…then you might want to keep moving.
Trust is a Two-Headed Creature
Next, you're looking for people you can trust.  Duh.
But it's more complicated than you might think…because you need to trust you team members in TWO important areas…and you can't have one OR the other.  You MUST have BOTH.
First, you must trust your team's motivations.  You need to know they have your back.  In other words, you need to trust their professional ethics.
Just as importantly, every team member must be professionally competent.
An honest, caring, well-meaning…but incompetent…team member can cost you a lot of money.  Worse, they can severely tarnish your reputation.
However, a top notch team member that doesn't really care about you could surgically rip you off…or ignore you in your time of need.
So make sure you're confident in every team member's ethics AND competency.
Size Matters
Did you really think we'd miss the opportunity for a double entendre? 😉
So while there are lots of ways to categorize people, one of our favorites is mentality.
Some people see ABUNDANCE…while others see SCARCITY.
Abundance thinkers believer there's PLENTY to go around.  They tend to collaborate, share and contribute.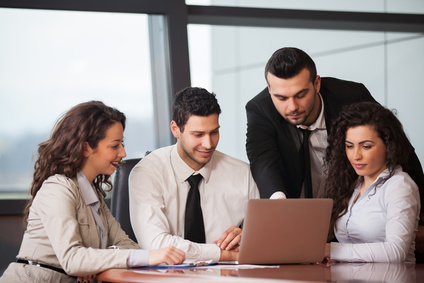 Scarcity thinkers believe there's NOT enough to go around.  They hoard ideas and resources…and often major in minor issues.
Because it's important for your team to play well TOGETHER, there's not always room for big egos.  And that means you too.
No one can be too obsessed with WHO is right.  Everyone needs to be focused on WHAT is right…in the context of your stated mission, vision, values and goals.  They need to be TEAM players.
Also, scarcity minded people focus on getting all they can while the getting is good.  We prefer folks who focus on building a bigger pot for everyone to share.
Going Deep
(Sorry…we couldn't help ourselves…)
Just as a football coach (we could have picked a different sport, but why not pick the best?) has a DEPTH CHART…you need one too.
So there are the various positions you need to fill…and you'll want to have back-ups…at least for the most critical positions.
Among them are:
Property Manager – who is responsible for managing the income production.  This is arguably the most important and least loved player on your team.
Real Estate Attorney – real estate law is very regional.  So if you get onto contract or start tinkering with your lease agreements…or worse, end up in litigation…you'll want good counsel on board.
Insurance – we think you'll want both an agent AND an attorney to help you select, procure and review you policies.  You don't want the first time you read your policy to be AFTER you've suffered a loss.
Mortgage – Most real estate investors are voracious users of debt…and arguably should be.  And with rates and programs constantly changing, anyone growing a big portfolio of mortgages needs an expert to help optimize the debt…including cash flow, interest expense, rate risk, equity optimization.
Tax – Nearly EVERYTHING you do financially has a tax consequence.  Better to know what that is BEFORE you commit the act…then to find out when you are filing…and paying…your taxes.
There's a LOT more than this…remember, we warned you it was big task…but these are several of the core members.
Here's the GOOD news…
When you find just ONE great team member…he or she can usually connect you to one or more others.  It's like hitting a gold vein.  You just keep mining it.
In this broadcast, we also cover several of the key questions you should ask any prospective team member.
So grab a note pad and tune into this episode as we discuss putting together your real estate investing team!
Listen Now: 
The Real Estate Guys™ radio show and podcast provides real estate investing news, education, training and resources that help real estate investors succeed.