Boots-on-the-Ground Market Insights: Belize
September 2020
From Ambergris Caye to Placencia … we hear about all Belize has to offer for investors, retirees and even those seeking a different pace of life.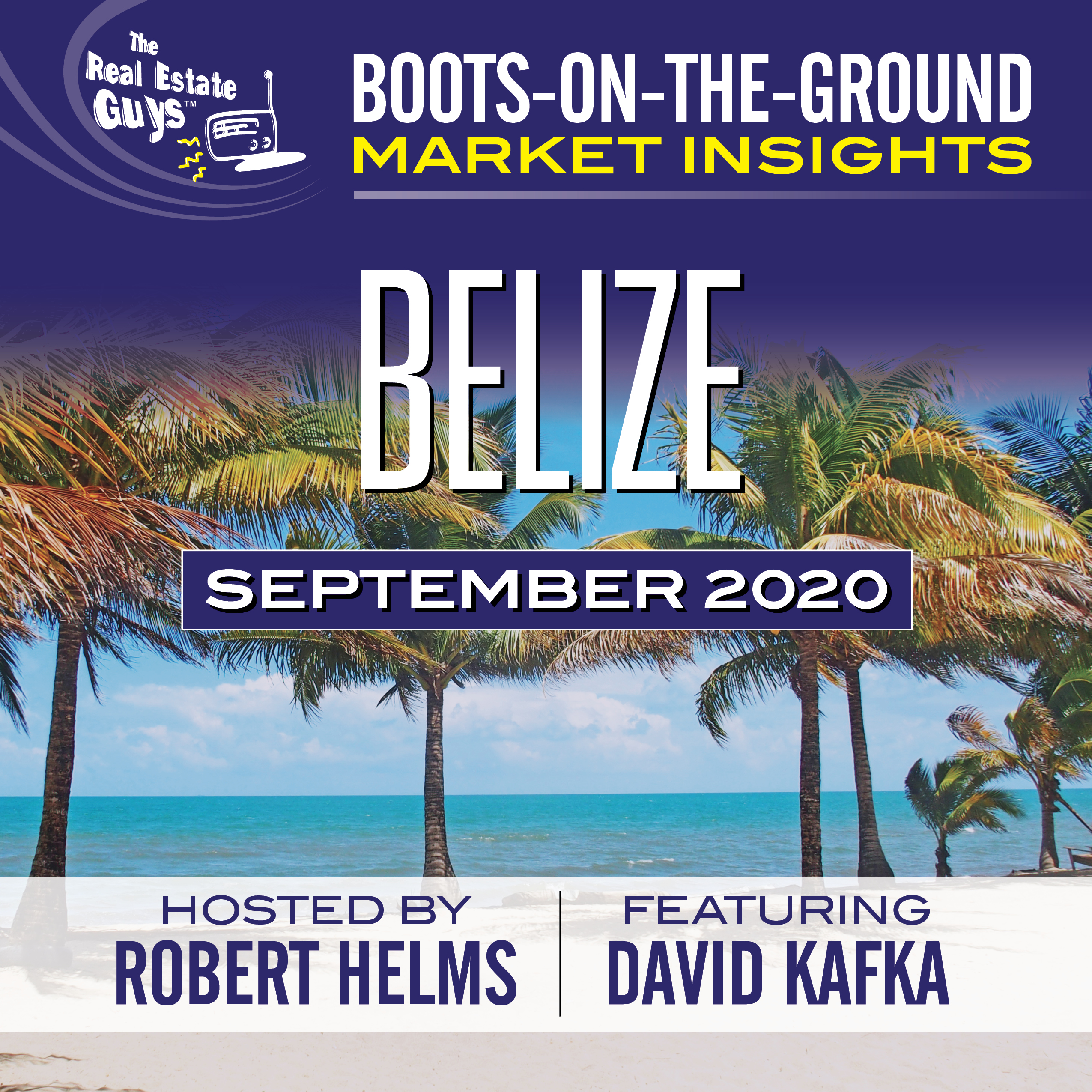 Belize has long been a popular retirement destination for Americans, Canadians and Europeans looking to enjoy great weather and a peaceful lifestyle for considerably less than what they might pay in other markets. Another great aspect is that Belize does not have income or property taxes, making it an ideal escape for those who want to live in or simply invest in paradise … especially during an era of overcrowded cities and creeping taxation. 
For investors interested in owning foreign real estate, Belize can be considered a buyers market. Whether it be for residential, commercial or rental properties … opportunities are available. Robert Helms, Host of The Real Estate Guys™  Radio Show, talks with David Kafka about the current state of the market in Belize and what investors can expect when (and even before) the borders open. 
Hearing all about: 
Retirement Opportunities

Cost of Living

Financing Options

Reduced Sale Prices

Eviction Rates
And MUCH more!
Simply fill out the form below to access this edition of Boots-on-the-Ground Market Insights: Belize … 
Mahogany Bay Village – Beth Clifford
Find paradise next to the beautiful blue waters of the Caribbean Sea!

Mahogany Bay Village is an idyllic modern retreat being brought to life in Belize by CEO and developer, Beth Clifford. 
This retreat features a globally branded luxury resort, a collection of customizable homes, and a bustling retail marketplace. 
It's 10 minutes from historic San Pedro Town and offers sparkling white sand beaches, fresh local food, and all the retail shopping your heart desires.
Mahogany Bay Village isn't just a dream vacation. It's an IDEAL LOCATION … for travelers and INVESTORS alike.
Explore the opportunity to invest in this resort community … 
Belize enjoys a great reputation as a tax-friendly jurisdiction. It boasts strong privacy and asset protection laws.

Belize is the ONLY country in Latin America whose official language is English. Its currency is pegged at a fixed 2:1 exchange rate with the U.S. dollar, making a friendly place for Americans.

Ambergris Caye Island, where Mahogany Bay Resort is located, has been named the No. 1 island in the world TWICE

by

Trip Advisor

.
Beth Clifford is helping investors enjoy PROFITS while having fun in one of the world's most beautiful locales!  
For more information on this turnkey lifestyle-investment opportunity …
Simply fill out the form below to contact the Mahogany Bay Village team.

Housing is the sector of real estate most watched … and worried about … by economists, politicians, journalists, bankers, and investors … from Wall Street to Main Street.
That's because housing, quite literally, hits us all right where we live.
We can all relate to it and housing is both an objective and subjective measure of individual and national prosperity.
Housing has certainly been in the financial news of late …
Housing Starts Surged in December. Don't Expect It to Last
MarketWatch, 1/17/20
Housing market falling short by nearly 4 million homes as demand grows
CNBC, 1/21/20
New Risk to World Economy: Synchronized Housing Slowdown
Wall Street Journal, 1/28/20
As you can see, there's both "good" news and "bad" news. Of course, buried inside of all that is opportunity.
So we think it worthwhile to look at housing through the lens of a tried and true investing strategy which could prove timely in today's market conditions.
But first, let's set the context …
Despite low interest rates (and largely because of them), housing is expensive relative to incomes.
That's a problem for both renters and prospective home buyers … and why affordable housing is a hot topic today.
It's also why we're strong advocates of leaning towards affordable markets, neighborhoods, and price points. Demand tends to be stronger there.
We think it wise to be positioned below the top of the range. If interest rates rise or there's a recession, people above will flow downhill to you.
Meanwhile, be prepared to survive a notch or two below your current price point. Otherwise, you may lose more demand leaking out the bottom of the range than you gain flowing in from the top.
In other words, ALWAYS compete for the loyalty and rent checks of your tenants … even in a high demand market.
Those who push rents to the margin of the range are the first to feel the pullback. Like equity, all rent retraction is at the margin. High rents hurt first.
That's because when tenants start to feel a financial squeeze, giving a 30-day notice and moving to someplace more affordable is a relatively easy thing to do.
And don't get suckered into thinking there's no inflation or high employment based on the highly publicized and potentially "adjusted" official data.
Pay attention to the real world … because that's where your tenants live.
From a home buying perspective, demand comes from first-time home buyers entering the market and pushing things up.
That's why pundits are concerned that the average first-time home buyer age has risen to 47 years old.
Perhaps young people would rather rent than own? Maybe. But even if true, we wouldn't bet on that lasting.
Sure, Millennials saw their parent's real estate experience turn sour in 2008 … but that's now 11 years ago … and a LOT of equity has happened since.
Most Millennials we know would like to own. They see prices rising and affordability getting away. Meanwhile, rents are climbing.
So we think Millennial demand will be a substantial factor in housing going forward. Demand is already growing … and it's a wave you can likely ride over the next 10 years or more.
Also, Millennials are among a large group of Americans standing to inherit about $764 billion THIS YEAR alone.
We're guessing next to paying off student debt, buying a home is near the top of the wish list for some of those heirs … adding some additional capacity-to-pay to fuel demand.
And speaking of capacity-to-pay …
Interest rates remain crazy low … and aside from a collapse of the dollar or a seizure in the bond markets (which could easily happen somewhere down the road) …
… there's not much in the near-term to suggest interest rates will rise substantially.
In fact, with the amount of debt in the system, it could be argued there's FAR more downward pressure than upward.
Still, because you don't know, it's not a bad time to stock up on inexpensive good debt. Just be VERY attentive to marrying it to durable income streams to service it.
Of course, another much discussed hindrance to Millennial home ownership is the now infamous and mountainous levels of unforgivable and inescapable student debt.
But in terms of student debt defaults and the resulting dings to credit, it's only less than 15% of borrowers.
That means 85% of Millennials are chugging along making those payments … and presumably preserving their very valuable credit scores.
Of course, making those student loman payments hinders a young person's ability to save for a down payment on a home. They start later and it takes longer.
And if a young person doesn't have parents with equity they're willing to re-position into a home for junior, or they aren't on the receiving end of a chunk of that $764 billion inheritance …
… the lack of a down payment is perhaps an even bigger hindrance to Millennial home ownership than student debt.
And even though there are low down payment programs out there, they come with higher interest rates, private mortgage insurance, and larger loan balances …
… all of which converge to make the resulting mortgage payment much bigger than low interest rates can offset.
So that elusive 20% down payment dramatically increases the affordability of home ownership for many Millennials.
ALL this adds up to a great opportunity for real estate investors …
There's a simple, time-tested strategy to leverage your cash into long-term equity … while preserving your credit and avoiding virtually all land-lording hassles.
It's "equity sharing".
In short, a cash rich investor supplies the down payment to a credit worthy owner-occupied home buyer.
The credit partner gets the loan, makes the mortgage payment, and lives in the house for the long term.
After a predetermined period of time … usually 3 to 10 years … an appraisal is done.
Any equity growth net of capital investments (reimbursed to the partner who made them) is split at a previously agreed upon rate such as 50/50.
Of course, there are some legal agreements which need to be put in place … and the borrower needs to work closely with a mortgage pro to make sure nothing is misrepresented in the loan application.
But equity sharing is a profitable way for Main Street investors to help the next generation of homeowners get into the market … so both can ride the long-term equity wave.
The borrower gets a home of their "own" … to live in, care for, and fix up for their personal enjoyment and prosperity.
They don't feel or act like tenants … and they're in for the long haul.
And with their name and credit on the line, they're HIGHLY motivated to make the payment … even if it's higher than they could rent a similar home for.
They don't move to save a few bucks the way a tenant would because they have housing stability, tax breaks, long-term equity growth, and pride of ownership.
Meanwhile, the investor gets half the amortization and appreciation over the hold period … and next to no management headaches.
Plus, the investor has no property management expense, no loan on their credit report, no turnover or vacancy expense.
Equity sharing is a great way for an investor to leverage cash without as much risk as traditional land-lording.
Equity sharing is really just a form of syndication and a simple strategy for taking advantage of current market conditions.
For the cash partner, you get to invest in housing for the long-term, while mitigating much of the downside risk in the short term.
For the credit partner, you convert your housing expense into housing security and long-term equity. Half of something is better than all of nothing.
And when it's hard to find rental housing that cash flows after expenses, equity sharing is a way to ride the housing bull with far less risk than traditional land-lording … while helping a young person get on board the real estate equity train.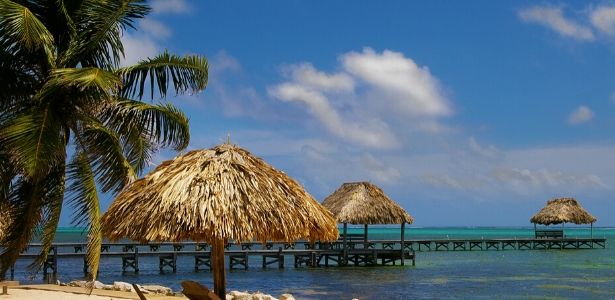 We can't say enough about resort property investing. 
Like all real estate investing … everything starts with market selection. You're looking for the right mix of supply, demand, location, team, and demographic. 
Belize is one of the most uniquely positioned resort markets in the world … and it checks A LOT of boxes. 
We're visiting with a U.S. expat who is very active in the Belize real estate market. Is now the right time to put paradise in your portfolio?
In this episode of The Real Estate Guys™ show, hear from:
Your resourceful host,

Robert Helms

His last resort co-host,

Russell Gray
From RE/MAX 1st Choice Belize, David Kafka
---
Listen
---
Subscribe
Broadcasting since 1997 with over 300 episodes on iTunes!
---
Review
When you give us a positive review on iTunes you help us continue to bring you high caliber guests and attract new listeners. It's easy and takes just a minute! (Don't know how? Follow these instructions).
Thanks!
---
Welcome to Belize
One of our personal favorite opportunities is markets that are outside of the norm. Today, we're going to talk about investing internationally … specifically in beautiful Belize. 
For many years, Belize was basically undiscovered. We first started visiting about 15 years ago. 
Since then, Belize has really grown. It's definitely been discovered … but there are still great opportunities to ride the wave. 
It's easy to see the possibilities for the future when you look at Belize through the lens of Cabo San Lucas, Mexico, or Hawaii. 
So, the next thing to do is your homework … making sure that the underpinnings, the things that you think you see, are really there. 
When we first went to San Pedro, Belize, there were 600 rooms for overnight accommodations. Today there are nearly 2000. 
Until two years ago, there wasn't a single branded hotel on the island. Today, one just opened and three more are opening soon. More airlines are coming too. 
Still, it's not a very populated place. It's a small market. Belize only has about 4,000 people that call it home. 
Belize has a mainland … with beautiful rainforests, the largest Jaguar preserve in the world, and Mayan ruins … and then there are the islands with white sand and palm trees. 
With any new market, there are stories of investors and developers who have come in and failed. But there are plenty of people also seeing an amazing increase in equity and cash flow in tourism. 
We get it. Thinking about somewhere like Belize as an investment opportunity is an adjustment. But you have to learn to think bigger than your local market.
The hotels, airlines … they all go where the people, money, and opportunity is. Why should a real estate investor be any different?
There are also many advantages to organizing your business internationally … like tax laws. Belize has been a tax haven for a long time. 
So, if you think an international investment might be the next step for you … look at the market drivers and dynamics. Find out if it is going to help you accomplish your personal investment goals. 
Then, it's time to build a team. 
Building a Team
You want to find people on the ground who really know the market. 
The best people operate in the market on a daily basis and can help you make tactical decisions and strategic introductions to the resources you're going to need to go from an idea to implementation. 
David Kafka is one of the most successful real estate brokers in the country of Belize. He has one of the largest brokerage offices with about a dozen agents. 
The average real estate office in Belize has less than two people. 
So, how did he end up in Belize?
"Some friends and I decided we wanted to move internationally. I came to Belize on vacation, and I pretty much never left," David says. 
David didn't start off in real estate, but he has always liked it. Several times, he has bought a house, fixed it up, lived in it for a few years, and sold it. 
But once he came to Belize, he was ready to go all in. Now, he splits his time between Placencia and San Pedro. 
David says that one of the unique aspects of Belize is that it is one of the sparsest populated countries in this area of the world … but it has lots of land. 
"It takes an adjustment coming from the bustling United States, but I'd rather have no traffic, no air pollution, great food, and great people," David says. 
The population of Belize is very diverse … ethnically, culturally, and economically. But they all love the area. 
Most of David's customers want to purchase a house or a condo now while there is a market opportunity, rent it out for a few years or use it as a vacation home, then have the option to move in permanently. 
But he is starting to see more investors who see Belize as an investment opportunity and more than just a personal experience. 
Investment Opportunities 
David says there are many investment opportunities in Belize. 
There are standard vacation rentals and a high demand for affordable housing. 
Many people who owned apartment buildings saw a rise in tourism and turned their workforce housing into accommodations instead. 
It makes sense. A unit that might rent for $1000 a month would rent for $250 a night. 
But these changes are displacing the locals. That's where the opportunity lies. So many people come to San Pedro for a job and can't find an apartment within their budget. 
The result is substandard living. 
If an investor can come in and give someone nice, quality living accommodations and affordable pricing, there will be locals, contract workers, and others ready to take advantage. 
The key is … and you've heard us say this a thousand times … great property management. 
When you look at the property management side of the equation, long term rentals are more stable and simple than vacation rentals.
So, there's a balance either way. 
The good news is that there is no reason investors can't do a little bit of both. 
And don't forget, there is a lot of land in Belize that is suitable for agriculture, development, or commercial investment. 
"There's always some land for any budget," David says. 
To find out about more opportunities for putting paradise in your portfolio … tune in to the full episode!
More From The Real Estate Guys™…
The Real Estate Guys™ radio show and podcast provides real estate investing news, education, training, and resources to help real estate investors succeed.
---
Love the show?  Tell the world!  When you promote the show, you help us attract more great guests for 

your

 listening pleasure!
Resort property investing starts with market selection … just like all real estate investing. You're looking for the right mix of supply, demand, location, team, and demographic.
Belize checks a LOT of boxes. It's one of the most uniquely positioned resort markets in the world.
In this exotic episode, we visit with a U.S. ex-pat who set up shop in Belize and is very active in the real estate market.
Is it time for you to consider putting some paradise in YOUR portfolio? Tune in and find out!
---
More From The Real Estate Guys™…
The Real Estate Guys™ radio show and podcast provides real estate investing news, education, training, and resources to help real estate investors succeed.
---
Love the show?  Tell the world!  When you promote the show, you help us attract more great guests for 

your

 listening pleasure!
RE/MAX 1st Choice Belize – David Kafka
Get a taste of paradise from a broker who knows Belize!

Belize is one of the world's hottest developing countries … but just like cowboys in the wild, wild west, investors don't want to ride out into the market alone.
That's why David Kafka is a go-to guy for EVERYTHING investors need to know about this Central American paradise.
In 2006, David arrived in Belize for vacation and to explore possible investment opportunities … He loved it so much that he permanently relocated there in 2009.
As a successful investor himself, David knows the unique challenges investors face … like financing and property management. He's solved these common problems for himself first and then for investors day-in and day-out.
Real estate everywhere is a LOCAL game … David's team is connected with many brokers in a variety of neighborhoods in Belize. Together, his network of brokers know the country like the back of their hand.
In a developing country, like Belize, investors are wise to be careful when engaging with unknown agents … things aren't as regulated as you may have come to depend on in the states. We appreciate the fact that David is a RE/MAX broker … investors can move forward with confidence doing business with a strong brand on the line.
As you explore Belize, David and his team are ready to answer your questions and point you in the right direction.
Simply fill out the form below and a representative from RE/MAX 1st Choice Belize will be in touch!
How to Buy Property and Use Leverage, In Belize!
You CAN use leverage to buy properties in beautiful Belize … you just have to think creatively!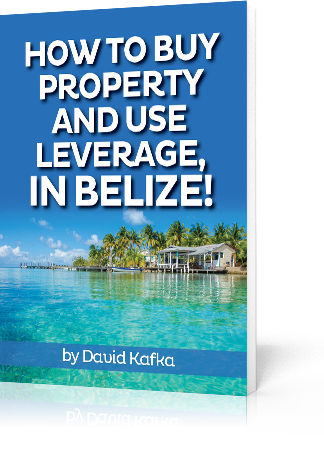 Buying property in Belize sounds like an investor's paradise … but many people struggle to pull the trigger.
Some don't have the cash. Some want to use other people's money. Others are simply afraid to invest in a land they don't understand.
This special report highlights insider tips from David Kafka … Belize investor and Re/Max broker.
Working with investors every day in Belize, David specializes in creative options for using leverage to buy property …
Discover:
✓ Options for buying in Belize when low-cost financing isn't always available
✓ Special considerations … like fees … for each financing route
✓ How to put yourself in position for massive equity growth
✓ And more!
Get creative, use leverage, and buy property in this piece of paradise!

Start by filling out the form below to access How to Buy Property and Use Leverage, In Belize!
The Q1 numbers are in and the U.S. GDP came in at a robust 3.2% … MUCH better than expected. 
While it can be argued there's some fluff hiding under the hood … with growing inventories masking lackluster consumer spending … 
… the financial media are describing 3.2% growth as a "big upside surprise," "upbeat," and a "blowout." 
That's a lot of excitement over 3.2% growth. 
So let's shift to real estate …  
The Q1 numbers are in for tourism in the country of Belize … and after hitting an all-time high of 6.6% YOY in March (the 28th consecutive month of YOY growth) … 
… Belize's first-quarter 2019 visitor arrivals grew 6.3%! 
In the parlance of resort property investing, that's called DEMAND.
Of course, healthy demand is a key component of that all-important supply and demand relationship smart real estate investors watch so carefully. 
If you've already been on our Belize field trip, you're familiar with the favorable supply and demand dynamic in Belize's top tourist destination.
You also know big brands like Hilton, Marriott, and Coastal Living are staking claims in this exciting growth market and product niche.  That's a BIG clue. 
Of course, we've been talking about resort property investing for quite some time. With boomers retiring every day, resort travel is a "booming" niche.
Resort property is a great way to earn rents from the affluent … while adding some lifestyle benefits to your real estate investing. 
So while the blowout United States GDP number is interesting to paper pundits … we think the significant and consistent tourism growth in Belize is much more exciting and actionable for real estate investors.  
Maybe it's time for YOU to put on your sunnies, sandals, and swimsuit so you can …  
Join Robert Helms for an intimate guided tour of the resort property market of Ambergris Caye, Belize on our upcoming Belize Discovery Trip! 
Click here now to claim YOUR seat on the next Belize Discovery Trip >> 
You'll LOVE it …
More From The Real Estate Guys™…
The Real Estate Guys™ radio show and podcast provides real estate investing news, education, training, and resources to help real estate investors succeed.
---
Love the show?  Tell the world!  When you promote the show, you help us attract more great guests for 

your

 listening pleasure!
We're back again to tackle the questions we missed in our last Ask The Guys episode. We love these episodes and the opportunity we get to talk through some of YOUR real-world investing opportunities and challenges.
We hear from listeners dealing with tenant damage and security deposits, 1031 tax-deferred exchanges, nontraditional lending ideas and TONS more.
First, the ground rules.
We talk about ideas and information. When you're dealing with real money in the real world, you want to consult a professional. We don't offer legal, investment, or tax advice.
In this episode of The Real Estate Guys™ show you'll hear from:
Your problem-solving host, 

Robert Helms

His trouble-making co-host, 

Russell Gray
---
Listen
---
Subscribe
Broadcasting since 1997 with over 300 episodes on iTunes!
---
Review
When you give us a positive review on iTunes you help us continue to bring you high caliber guests and attract new listeners. It's easy and takes just a minute! (Don't know how? Follow these instructions).
Thanks!
---
Question: How soon can I move in after a cash offer, and how low can I go under the asking price?
Joseph in Tacoma, Washington, asked this question. The important concept to understand here is price versus terms.
Whether or not you offer cash or take out a loan, the outcome is essentially the same for the seller. What cash offers is a quicker payout with certainty.
But, this isn't attractive to every seller. In some cases, a quick closing isn't what a buyer wants at all, so the promise of quick cash won't be an incentive.
When you're negotiating with cash, make sure what you're offering lines up with the seller's priorities. A cash offer doesn't automatically mean a 20 percent discount.
Question: I rehabbed a rental property in Detroit, and now I'm ready to sell. My tenant wants to purchase the property, but she has limited cash on hand. How can I find a lender to do the deal?
Wilbert in South Field, Michigan, brings us this question. He wants to sell the home for $38,000, but the appraisal came back at $20,000. That price gap, as well as the location has made it difficult to find a traditional lender.
The first problem is that many banks won't do a loan for less than $50,000. If the lender is going to go to all the trouble to do the paperwork for a percentage of the loan amount, then the loan amount needs to be enough to get their attention.
Here are a couple alternatives for Wilbert to consider:
Find a private lender.

This might mean a higher interest rate for the buyer. But, that higher interest rate will be more likely to attract a lender.

Be the private lender.

Rather than finding an outside investor, work a deal with the tenant to have them pay the loan to you instead. If they pay off the mortgage, you've still had that steady stream of income. If not, you'll get the property back to rent or sell to someone else.

Find a different buyer.

If finding a private lender isn't possible, consider finding a different buyer who is able to get financing or purchase the home for the price you want to sell.
Question: When a tenant in our out-of-state rental moved out, they caused a lot of damage. Why don't tenants take care of their rentals better, and why are they surprised when they don't get their deposit back?
Renters view their home differently than an owner. How else do you explain that it feels like no renter owns a vacuum cleaner?
Damage to property is part of doing business as a landlord. But, Lauren in Charleston, South Carolina, did a lot of things right. They documented all the damage with photos before the tenant moved out, had a third-party realtor do a final walkthrough with the tenant, and got estimates from contractors to repair the damage.
Here are a few other things you can do to deal with damage:
A picture is worth a thousand words.

Take photos of the property BEFORE the new tenant moves in and get their initials on the photos. Then, when they're ready to move out, you can use those photos to justify the cost of any damage.

Open up a pet policy.

Many landlords are hesitant to allow pets in a rental. But, with a hefty pet deposit and even a little higher rent, you can come out on top.

Get a read on your renters.

As you screen applicants, be perceptive. We've also known people who will meet with potential renters at their current residence to see how they treat their current space. This may not be possible for everyone, but get creative and thoughtful about how you screen new renters.
At the end of the day, renters are more likely to treat a rental home with less care than you do. Damage and repairs are a cost of doing business, so make sure you build that into your budget.
Question: I want to sell my rental home in California, and I'm interested in the 1031 tax-deferred exchange to buy a new property in Texas. I'm confused by the IRS form and want to know if this will eliminate my taxes in California?
Cindy in Fort Worth, Texas, is definitely an A student!
First of all, we want to be clear that with this kind of complicated tax question, you need expert opinion and advice. A 1031 tax exchange intermediary will be well worth the cost and can answer all your questions.
The intent of the 1031 tax-deferred exchange is that if you sell a property and then purchase another property, you can defer the tax. As you buy and sell properties, you can continue to defer the tax, but there isn't a way to eliminate the tax completely.
Finally, try not to let the tax tail wag the investment dog.
Real estate offers many great tax benefits, which is one of the reasons we love it! But, when you're dealing with real money and the IRS, you need a team of experts to guide you.
Life is short, and you don't want to spend your valuable time reading an IRS form.
Question: How can I learn more and get coaching on real estate syndication?
Addie in Seattle, Washington, brings us a question that is near and dear to our hearts!
We recommend our Secrets of Successful Syndication seminar as your first step. Whether you want to be a syndicator and learn how to leverage money with a group of investors or invest passively in real estate, this is an event you'll learn a lot from.
In this seminar, we're teaching the strategies that have been a part of our investments for years.
We do have a coaching program, but you can only learn about it at the seminar during an OPTIONAL session after the two days are done.
If you want to register for the event and see if syndication is right for you, we'd love to have you!
Question: My wife and I have a real estate investment company with 23 doors under rent. We've found traditional lenders to be slow and cumbersome and want to simplify our lending process. How can we do this?
John and Karen in Troy, Ohio, are having trouble scaling their business because of lenders. They write that they'd be willing to pay a higher interest rate to make the process easier and more streamlined.
For traditional banks, the process is often necessarily slow. They need to do due diligence to make sure the investment is a good one.
Private capital is easier and faster, but it comes at a higher price. This can be done through syndication or networking to find interested investors. Make sure you're well advised and working with big deals, and you're well on your way.
We'd also suggest that with the rollback of some of the Dodd-Frank provisions, some of the restrictions on community lending have eased. If you haven't checked in with your community lender recently, it's worth getting to know them. They'll get to know you and your entire portfolio of properties and could be a valuable resource.
Question: I wasn't able to attend your events for the Future of Money and Wealth in Florida. But I'd sure love to get access to that information. How do I do that?
A listener in Hawaii wants to learn from the incredibly faculty we brought in to talk about how to keep up with the changing times in the economy.
This was a one-off event, and it was an incredible gathering of some of the best minds in a variety of subjects all focused on how to protect your wealth.
We recorded the event with a professional video crew and now have 20 different panel discussions and presentations available to watch.
You can visit the Future of Money and Wealth website to learn more or send us an email to future [at] realestateguysradio [dot] com. We'll get you all the details on how to access these videos.
Question: My schedule seems to be always booked up by the time I hear about the Belize discover trips. Do you know the future trip dates for later in the year?
Tim in Silverton, Oregon, like many of us, has a busy schedule and needs to plan ahead!
To find out events as soon as possible and to get them on your calendar, get on our advanced notice list. Head to the events tab on our website. If you find an event there, and the date doesn't work out, get on the advanced notice list and you'll get an email letting you know about future dates.
Our next Belize discovery trip will be August 24-27, and registration is open now! We hope to see you there.
Question: What is the definition of a performing asset?
Matthew in Nacomin, Florida, asks us the shortest question in our inbox!
Simply put, a performing asset is something that puts money in your pocket. The more cash flow, the more equity. If you have something on your balance sheet that doesn't put money in your pocket, it's not a performing asset.
When you consider an asset you can go for a fat cow, a performing asset that will come at a premium but continue to deliver, or a skinny cow, a non-performing asset that needs some work to get it performing again.
---
More From The Real Estate Guys™…
The Real Estate Guys™ radio show and podcast provides real estate investing news, education, training and resources to help real estate investors succeed.

Pension Problems Piling Up …

Anyone paying attention knows the world is facing a global pension crisis.  And if you don't think it will affect you … think again. 
Consider this report recently issued by the Federal Reserve Bank of Chicago …
How Should the State of Illinois Pay for Its Unfunded Pension Liability?  The Case for Statewide Residential Property Tax 
"The State of Illinois has a very large unfunded pension liability and will likely have to pay much of it off by raising taxes." 
And guess what?  Illinois isn't the only place with pension problems.  California is a HUGE mess too … as is much of the country.
According to this report from The Pew Charitable Trusts, only four states had at least 90% of the assets needed to pay promised benefits.
It's BAD.  And the Federal Reserve apparently wants to tax property owners to fix it. 
"In our view, Illinois's best option is to impose a statewide residential property tax …"
" … the tax rate required to pay off the pension debt over 30 years would be about one percent."
 But it gets WORSE … are you sitting down?  This is SHOCKING …

"There are good reasons to pay off … pension debt through … residential property tax … home values go down …"
" Current homeowners would not be happy, but … would not be able to avoid the new tax by selling their homes … because home prices should reflect the new tax burden quickly."
In other words, prices will crash, and upside-down homeowners are trapped.
Nice.
In a presentation at Future of Money and Wealth, we warned that financially strapped governments would turn desperado.  This is a classic example. 
This isn't hyperbole or conspiracy theory.  We don't make this stuff up.  These are the Fed's OWN WORDS.  You can (and should) read them yourself. 
Here's a link to a PDF we highlighted to make it easy for you.   And here's a link to the Chicago Fed's website where you can see the source with your own eyes.
The writing is on the wall.  Property owners are easy prey because the asset is right out in the open.
BUT … the low hanging fruit are properties in jurisdictions where the desperado taxman has authority.
That's why many savvy investors park wealth in non-domestic property … in countries where the tax burden is small.
If you've been following us for any length of time, you've been bombarded with invitations to come to Belize.  And this is another one. 
We don't understand why EVERYONE reading this wouldn't drop everything and immediately register for the next Belize discovery trip … and learn how to invest in offshore real estate.
You don't need to be a multi-millionaire to diversify your wealth internationally. 

 

But you do need to get educated and connected.  

 
The Belize discovery trip is a great way to start.
And the trip is not just relatively affordable … it's FUN! You get a multi-day semi-private educational tour personally led by our very own Robert Helms.
And one last suggestion on the educational front …
We videotaped the entire 14 hours of the Future of Money and Wealth conference … and you can click here to order the entire collection of Future of Money and Wealth presentations and panel discussions.
In spite of all the rosy economic rhetoric … and yes, there are some good things happening … there are still some BIG landmines out there.
This latest trial balloon from the Fed should be a wake-up call for all real estate investors.  Isn't it prudent to explore options while there's still time?
---
More From The Real Estate Guys™…
The Real Estate Guys™ radio show and podcast provides real estate investing news, education, training and resources to help real estate investors succeed.