Interest rates are a big deal for real estate investors … for many reasons.
The first and most obvious reason is because interest rates are the price of the money you borrow to invest with.  Higher rates mean higher payments and less cash flow.
Of course, even when you pay cash for your properties, your tenants probably carry consumer debt … car loans, credit card, and installment debt …
Higher rates mean higher debt payments for your tenants, so less of their monthly budget is available to pay you rent or absorb rent increases.
Also, your property values, exit options, and liquidity are all affected by interest rates.
Higher rates mean buyers have less capacity to bid up comparable properties … and fewer buyers can afford to buy your property when you're ready to sell.
For these reasons and others, most real estate investors and their mortgage advisors pay very close attention to interest rates …  especially when financing or re-financing.
But there are other very important reasons for real estate investors to care about the future of interest rates …
Interest rates are a barometer for the health of both the currency and the overall economy.
Last time we looked, most real estate investors transact and denominate wealth in currency (dollars for Americans) … and your rental properties, tenants' incomes, and overall prosperity all exist inside of the broader economy.
So the potential for big changes to either the currency or the overall economy matter to real estate investors just like they do to paper asset investors.
In fact, based on the amount of debt most real estate investors use, interest rates are arguably even MORE important to real estate investors.
We're just a couple of days away from our Future of Money and Wealth conference … with nearly 400 people coming … and right now we're thinking a lot about the dollar and interest rates.
Peter Schiff is speaking.  Peter wrote Crash Proof in 2006 and released it in 2007.  Back then, he loudly warned of an impending financial crisis whose roots would be in the mortgage market.
Sadly, back then we didn't know Peter, and we didn't read his book.  Then 2008 happened, and we were blindsided by the financial crisis.
So now we read more … a LOT more.
We make time to listen to people like Peter Schiff, Robert Kiyosaki, and Chris Martenson.  And we work hard to share them with our audiences.
A very interesting book we just finished is Exorbitant Privilege by Barry Eichengreen.  He's Professor of Political Science and Economics at Cal Berkeley.
Eichengreen published Exorbitant Privilege in 2011, which means he probably wrote it in 2010.
Keep this in mind as we share these prophetic excerpts from Chapter 7, "Dollar Crisis"…
"What if foreigners dump their holdings and abandon the currency [dollar]?  What, if anything, could U.S. policymakers do about it?"
"It would be nice were this kind of scenario planning undertaken by the Federal Reserve and CIA … it would have to start with what precipitated the crash and caused foreigners to abandon the dollar."
Note:  Eichengreen probably didn't know at the time that James Rickards, former attorney for Long Term Capital Management (the hedge fund at the center of the near financial meltdown of 1998), was participating in precisely this kind of planning, which Rickards describes in his book Currency Wars, published a year after Exorbitant Privilege.
Back to Eichengreen's prophetic 2011 commentary …
"One trigger could be political conflict between the United States and China.  The simmering dispute over trade and exchange rates could break into the open …
"… American politicians … could impose an across-the-board tariff on imports from [China]."
WOW … Eichengreen wrote that at least 7 years before this March 22, 2018 headline from CNBC:
Trump slaps China with tariffs on up to $60 billion in imports: 'This is the first of many'
Back to Eichengreen in 2011 …
"Beijing would not take this lying down."
China to US: We'll match your tariffs in 'scale' and 'intensity'
Eichengreen in 2011:
"Or the United States and China could come into conflict over policy toward rogue states like North Korea and Iran."
If you've been following the North Korea drama, you probably know this one's been back and forth.
Last summer, China seemed to side with North Korea.  Then they tried to take a neutral position.
But recently Kim Jong Un paid a secret visit to China.  Of course, no one really knows what that was about.
But based on recent trade policy it seems the U.S. isn't sucking up to China for help with North Korea.  So maybe the U.S. and China disagree on North Korea?
Now STAY WITH US … because the point of all this is … according to Eichengreen …
China's relationship with the United States and the U.S. dollar has a DIRECT impact on the future of YOUR money, interest rates, and wealth.
And if you're like most Main Streeters, you may not completely understand the connection …
… just like we didn't understand what Credit Default Swaps had to do with our real estate investing in 2008 … until everything suddenly imploded …
… despite reassurances from the wise and powerful man then behind the curtain of the Federal Reserve, Ben Bernanke.
And the point here isn't Iran, or North Korea, or tariffs, or trade wars … it's about whether China gets upset enough with the U.S. and opts for the nuclear option …
Eichengreen in 2011:
"… China [could] vent its anger and exert leverage … by … dumping [Treasuries] … would send the bond markets into a tizzy … interest rates in the United States would spike.  The dollar would crater … could cause exporters, importers, and investors to abandon the dollar permanently."
Obviously, there's a LOT more to this topic than we can cover today.
Our point for now is that way back in 2010-11, Eichengreen envisioned a scenario in which conflict with China could create a dollar crisis.
As you can see, today's headlines are living out his concerns.
When you read Eichengreen, like Jim Rickards, he talks about things reaching a tipping point … where everything happens fast.
We lived that in 2008 and it was NO FUN.  But that was only because we were on the wrong end of it.  While we got slammed, others made fortunes. They were informed and prepared.  We weren't.
So be cautious of normalcy bias and complacency when it comes to contemplating the possibility of a dollar crisis.
Better to be prepared and not have a crisis … than to have a crisis and not be prepared.
Until next time … good investing!
---
More From The Real Estate Guys™…
The Real Estate Guys™ radio show and podcast provides real estate investing news, education, training, and resources to help real estate investors succeed.
What is the Fed? Friend or foe? Love it or hate it, the Federal Reserve of the United States is arguably the most powerful financial force on earth. 
Fed policies affect interest rates, prices and credit…not just in the United States, but around the world. Ben Bernanke and Ron Paul have two very different answers to the question, "what is the Fed?".
Former Fed chair Ben Bernanke has been touring the country promoting his memoir The Courage to Act.  Co-host Russell Gray stopped by a San Francisco Commonwealth Club meeting where Bernanke was speaking…just to hear what Big Ben had to say for himself.
Meanwhile, host Robert Helms sat in on a Simon Black Sovereign Man conference featuring long-time Fed critic, ex-congressman and multi-time Presidential candidate Ron Paul.
Then we sat down with the microphones and chatted about what we heard and how it relates to real estate investors.
---
The Real Estate Guys™ radio show and podcast provides real estate investing news, education, training and resources that help real estate investors succeed.
---
In the studio to reflect on the very valid, but polar opposite views of Ben Bernanke and Ron Paul on the Federal Reserve…
Your very valid host, Robert Helms
His in-need-of-validation co-host, Russell Gray
Long time listeners know we aren't raving fans of the Federal Reserve system.  So we confess that right up front. We're a bit biased when it comes to answering the question, "what is the Fed"?
With that said, we're huge believers in "getting a 360" when it comes to studying any topic…and especially one as important as the Fed.  In fact, in our Recommended Reading bookstore, we feature several books on what is the Fed.
Some, like G. Edward Griffin's iconic Creature from Jekyll Island, view the Fed as a nefarious creation of elite collectivists intent on world domination.  Scary stuff, if true.
Others, like David Wessel's In Fed We Trust, heap kudos on the Fed…and Ben Bernanke in particular…for saving the global financial system with bold action in 2008.
Obviously Mr. Bernanke concurs…as he named his memoirs, The Courage to Act.
What is the Fed?
That's a loaded question in itself.  The standing joke is that the Federal Reserve Bank is not federal (i.e., it's not a governmental agency, but rather a private company), is not a bank, and it has no reserves.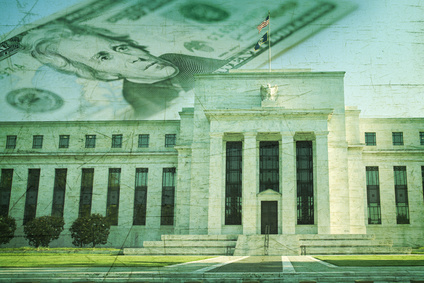 But for sake of this discussion, suffice it to say that the Federal Reserve Bank is the United States' central bank.
The Fed issues the currency (those green pieces of paper with pictures of famous dead politicians on them)…called Federal Reserve Notes (FRNs).  You probably refer to them as "dollars", but that's technically incorrect.
Of course, that opens up a HUGE can of worms about the difference between currency (FRNs) and money (dollars – which used to be specific amount of silver and gold).  But we won't go there….at least not today.
So as you can see, right out of the gate … "what is the Fed?" is complicated topic.  But it's one worth studying when you consider what Henry Ford (the guy who created the Ford Motor Company) said…
"It is perhaps well enough that the people of the nation do not know or understand our banking and monetary system, for if they did I believe there would be a revolution before tomorrow morning." – Henry Ford
Why would he say that?
Well, since Mr. Ford is no longer with us, we can only speculate.  But the gist of the comment is plainly understood.
Obviously, he felt the citizens would not be happy if they knew how money and banking worked.
And that's exactly what Ron Paul thinks.
Ron Paul has been an outspoken critic of the Federal Reserve for the four decades he served in Congress.
He wants the Fed audited.  He wants the Fed more transparent.  He wants the Fed accountable.
Ron Paul wants the Fed ABOLISHED.
Yet other people are convinced the Fed is an essential part of the U.S. financial system.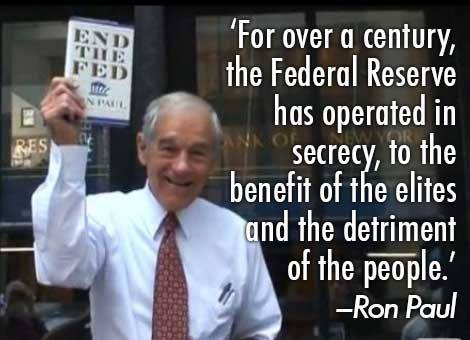 The Fed is the Bank to the Banks
If you've ever seen the movies It's a Wonderful Life or Mary Poppins, you've seen a run on the bank.
This is when depositors come wanting their money back, but the bank doesn't have it.
That's because the banking system business model is fundamentally flawed.  A bank borrows short by paying you interest…at least they used to…on your demand deposits.  The means you can pull the money out any time you want…as in "short" notice.  They, they lend long…like a 5 year car loan or a 30 year mortgage.
So the amount of actual cash on hand is very low compared to potential demands on cash (withdrawals).  The number is something less than 5%.
No wonder they run out of money!
The idea of a Central Bank (like the Fed), is to give the banks somewhere to go when they run out of money.  It's like a payday loan for banks.
So when a bank doesn't have enough money to satisfy customer withdrawals, they can go to the Fed and borrow.  Later, when they get some money in from new deposits or loan payments, they can pay it back.
Obviously, we're WAY over-simplifying this.  But that's the basic model.
The Fed Creates the Currency Out of Thin Air
So where does the Fed get the money to lend?
It prints it.
Bet you wish YOU could do that.  But you can't.  So don't try.  It won't end well.
When Panic Strikes…
When the 2008 Financial Crisis struck, financial markets froze up.  It's a long convoluted story, and if you're super interested, then you're a sickie like Russ, and you'll enjoy plowing through ALL of the books in the Banking and Economics section of the bookstore.
The short of it is that major banks, insurance companies and investment houses all ran out of money…at the same time.
How could that happen?
Leverage.
Wall Street created trillions of dollars of faux financial assets called "derivatives".  Basically it's debt secured by debt secured by debt secured by debt.  Get it?
Even though there were BILLIONS of dollars in the financial system, they were holding up MANY TRILLIONS of dollars of debt.
And when the sub-crime…oops…sub-prime…crisis hit, some of that debt went bad.
Normally, that's not a big deal.  Which is probably why Ben Bernanke assured the world the sub-prime contagion wouldn't spread.
Famous last words.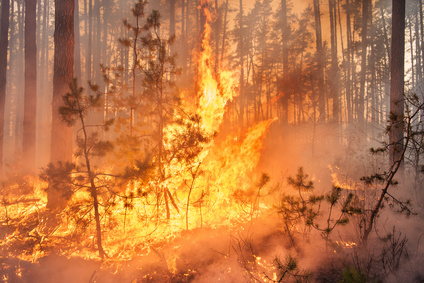 In fact, it spread like wild fire.
That's because when the sub-prime debt went bad, it set off a daisy chain reaction of ALL the derivatives (debt secured by debt secured by debt secured by debt…secured by sub-prime mortgages).
And each layer had a margin call.  So when the sub-prime loan went bad, the value dropped relative the derivatives backed by it, so the bank that pledged it as collateral got a margin call.
That means they need to put up cash.  Except they didn't have enough.
So they tried to sell some of the derivatives they had to raise cash.  But no one wanted to buy them.  Seems the word on the Street was the paper (debt) was bad.
Now, in a "no bid" environment, prices were in free fall.  Margin calls were everywhere.  More and more derivatives were hitting the market with no bid…leading to more margin calls, defaults and widespread panic.
Ben Bernanke to the Rescue
It's a big long story…but the short of it is this:  Ben Bernanke printed over $4 trillion dollars and started buying up all the bad debt.
The Fed put a "bid" under the market to stop the margin calls.
Then they made huge emergency loans to private businesses.  Like the $80 billion loan that saved AIG Insurance.
They allowed Goldman Sachs and other investment banks they liked (then Secretary of the Treasury Henry Paulson was the former CEO of Goldman Sachs) to become deposit banks so the FDIC fund could be raided…oops…used to save them.
Lehman Brothers wasn't smart enough to get their CEO into Treasury, so Lehman went bust.
So Ben Bernanke had the courage to act.  And according to people like David Wessel, Richard Duncan and Bernanke himself…Ben's bold action saved the financial system.
Good job.
Who Broke the Financial System?
Ron Paul, Peter Schiff and other critics of the Federal Reserve System claim that the entire problem was originally caused by Federal Reserve activity in the years and decades leading up to the financial crisis.
You can (and should) read more about that in Peter Schiff's books, Crash Proof 2.0 and The Real Crash.
Who Cares?
Hopefully, when it comes to understanding, "what is the Fed", YOU do.  After all, the Fed's decisions impact every aspect of the economy including interest rates, employment, wages, cost of materials, availability of credit and more.  All those things directly affect you, your tenants, the value of your savings, and the price of your properties.
But we make distinction between politics and investing.
We have an opinion about how things SHOULD be.  Sadly for us, things aren't that way.  You may have your own opinion and you may agree or disagree with us.
That's okay. It's what makes the world go around.
But when it comes to investing, whether we like the Fed or not, and whether or not we agree with the Fed, politicians or each other…what matters is making sure we understand what is the Fed and what's happening so we can try to anticipate likely outcomes and position our portfolios to roll with the flow.
Will there be inflation or deflation?  Will interest rates rise or fall?  Will employment improve or weaken?  And on and on and on…
The Elephant in the Room
So just like being locked in a room with a huge elephant which could EASILY CRUSH YOU…
So, what is the Fed? It doesn't matter if you think the Fed is evil and is trying to destroy you…or if the Fed is just a big, lumbering oaf…
If you're on the wrong end of it, you get CRUSHED.
So pay attention to the Fed.  Try to see if from all angles.  And when it moves, make your adjustments to make sure you're safely positioned.
---
Listen Now: 
The Real Estate Guys™ radio show and podcast provides real estate investing news, education, training and resources that help real estate investors succeed.
Will the Fed Raise Interest Rates?
Global stock markets continue to convulse as participants and pundits try to divine whether Janet Yellen will really pull the trigger and raise interest rates.
Our bet is no.  Or if so, maybe by only a quarter point (25 basis points in bank-speak) just to prove the Fed hasn't forgotten how to do it.  After all, it's been about 8 years.
But we think not.
The list of reasons is far too long for this missive, but here's a few:
The Dollar is Too Strong
We're not saying WE think this is bad.  But the people in charge think so.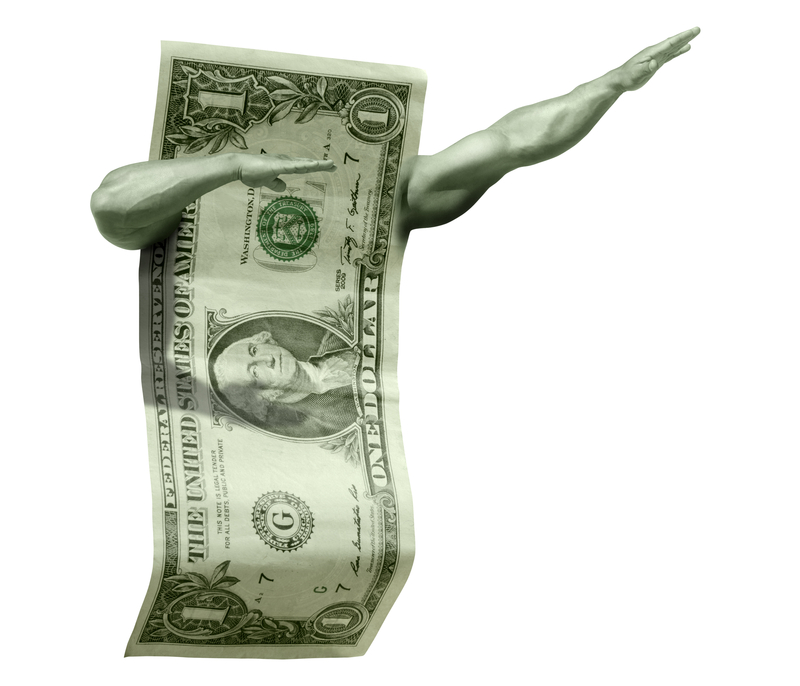 They say a strong dollar makes it harder for U.S. companies to sell exports…because it takes more foreign currency to buy anything denominated in dollars.
And U.S. companies doing business abroad are losing out when converting their foreign sales back into U.S. dollars.  So they say a strong dollar is bad for earnings and stock prices.
Also, a strong dollar means the U.S. government is paying more real interest on all its debt to foreigners.
The goal for a borrower is to receive strong dollars today and pay back weaker dollars later.  It's why policy makers (and real estate investors) like a falling dollar.
A strong dollar is deflationary, which is the polar opposite of what the Fed wants (more on that in a moment…)…though most consumer we know LIKE IT when prices fall.
But when prices on things like houses, cars, stocks, bonds, etc., drop in dollar terms…and those things are being used as collateral, it means the value of the collateral drops.
That forces painful margin calls and creates a temptation for borrowers to bail on the debt.  Just think back to the sub-prime crisis which triggered the Great Recession.  It all started when debt went bad.
And speaking of debt, there's the other major reason NOT to raise interest rates…
Uncle Sam is Drowning in Debt
When interest rates rise, payments go up.  That puts downward pressure on spending, which the financial brainiacs believe is the key to economic expansion.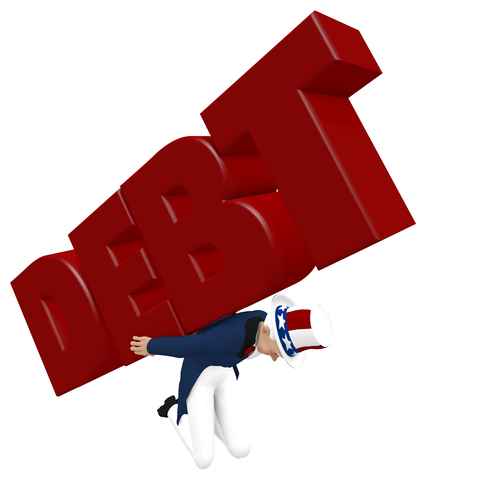 The problem today is that interest rates are SO LOW that even a 25 basis point increase is a substantial percentage increase.
Do the math.
If you have debt at 2% and rates rise by .25% that effectively increases your interest expense (and payment) by 8%.
That doesn't sound like much, but when you're Uncle Sam and you're already paying out $381 BILLION in interest each year…an 8% increase costs an additional $30 BILLION.
Now if interest rates were to rise 100 basis points, say from 2% to 3%, that's a 33% increase…or a whopping $125 BILLION increase in interest payments.
And because Uncle Sam is already running in the red, it's all debt compounded on debt.  Just like using your credit card to pay the credit cards you used to pay the credit cards you used to pay your house payment.
In financial terms, we call this a "train wreck".
Since the last great re-set in the 80's when then Fed chair Paul Volcker jacked rates up to over 20%, the government has gone aggressively into debt and lowered interest rates steadily for three decades.
But now we're at the bottom of the interest rate barrel.
So if you can't lower interest rates to leverage your payments into servicing higher loan balances (just like you do when you refinance your mortgage to a lower rate and keep the same balance …or grow it…while reducing your monthly payment)…
Then the only other options you have is to make more money.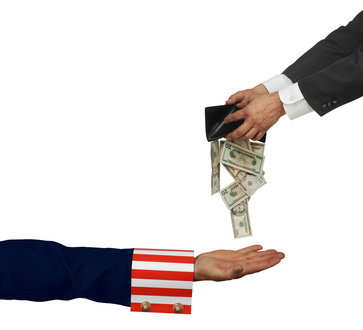 For Uncle Sam, this means raising taxes.  And there are two ways to do this.
The small government faction says lower rates to grow the private sector and take a smaller percentage of a bigger pie.
That is, lower tax rates, which they believe will leave more profits in the hands of entrepreneurs who will use it to expand their businesses (if they can find customers).
Then, when the pie is big enough, the smaller percentage of tax yields more absolute dollars to Uncle Sam.
Go red team!
The big government faction says raise taxes on the entrepreneurs and uber-rich and funnel that money through the government to the poor and middle class.
Then, when those everyday people spend all that money, it will provide customers and profits for the businesses, which will in turn result in even more tax revenue.
Go blue team!
Obviously, these two policies are polar opposites and each one enrages the proponents of the other.
So everyone beats up on each other and nothing gets done.
Go purple team!
BUT…there is another way…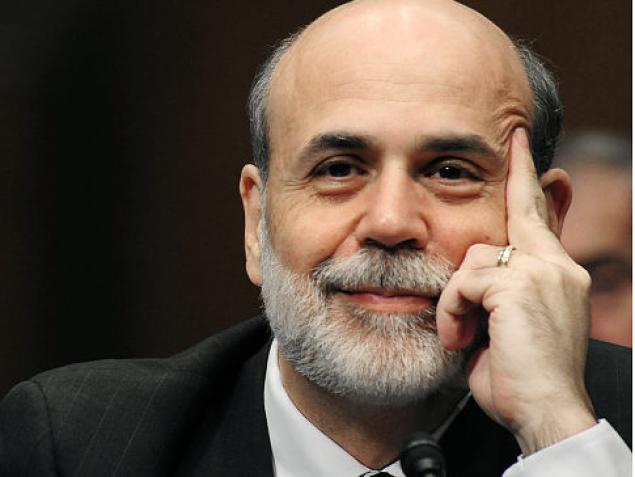 And on November 21, 2002 a guy named Ben Bernanke (who later took over for Alan Greenspan to become the chairman of the Federal Reserve) explained it in a speech before the National Economists Club in Washington DC.
Big Ben said….
"…the U.S. government has a technology called a printing press (or, today, its electronic equivalent) that allows it to produce as many U.S. dollars as it wishes at essentially no cost."
"By increasing the number of U.S. dollars in circulation, or even by credibly threatening to do so, the U.S. government can also reduce the value of a dollar in terms of goods and services, which is equivalent to raising the prices in dollars of those goods and services."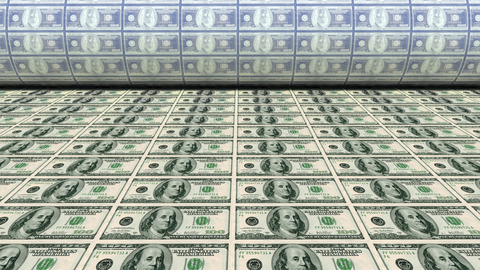 "We conclude that, under a paper-money system, a determined government can always generate higher spending and hence positive inflation."
"…sufficient injections of money will ultimately always reverse a deflation."
Our emphasis.  Always.
And just so you know we don't make this stuff up, you can read the whole thing here.
So we think the Fed will find some excuse to turn the Quantitative Easing (QE) printing presses back on.
But, you say (correctly) didn't they already do QE?  Like, 4 times?  Then why didn't prices rise?
Great observation.
Here's the short of it…and why it matters to real estate investors RIGHT NOW…
The Fed expanded its balance sheet (printed) by about 4 TRILLION DOLLARS since 2008.
Most of the money ended up in bonds (causing bond prices to rise and interest rates to fall)…or stocks (causing stock prices to rise to record levels)…and on banks' balance sheets (as reserves parked at the Fed).
Of course, when you read Big Ben's 2002 comments, he expected the banks to lend.  That's the way all the new money was supposed to get to the market.
But frightened borrowers weren't anxious to take on more debt.  They were inclined to save or pay off debt, rather than spend.
So there's not been a long line of borrowers to lend to.
On the lender side, with the politicians busy POUNDING on the banks (and rightfully so)…banks decided it was safer NOT to loan…except to only the very BEST borrowers.
But now that all the very best borrowers have taken on their fill of debt, Uncle Sam is back to making nice with the banks…hoping to get all the money pushed out into the market.
And guess which sector they're focused on?
Yep.  Real estate.  And it's happening as we head into an election year.  But that's probably just a coincidence.
Check out this headline:
"The government is trying to coax banks back to making mortgage loans to risky borrowers…"
This makes sense because we already have construction lending surging.  But builders can only borrow if they have buyers to sell to.  And most buyers can only buy if they can get financing.
So Uncle Sam can see that the bottleneck in the pipeline is at the street level…where real estate investors like you invest.
All this to say (and thanks for reading to the end) that the stock market gyrations could actually be GOOD for real estate in the mid-term.
When nervous stock investors seek safety, they'll go to bonds and push interest rates down.  Great!  Borrow all you can and lock in LOW FIXED rates.
Make SURE your properties cash flow conservatively and focus on big, affordable markets with low taxes, a friendly business environment, and a diverse local economy.
Some frightened stock investors will pile into real estate…just like they did in 2001 after the tech bubble deflated.  The Chinese already are.
So, we wouldn't be surprised to see a run UP in prices in the near term…which could be a chance to grab some equity and move it to safety…once again taking advantage of increasingly liberal lending.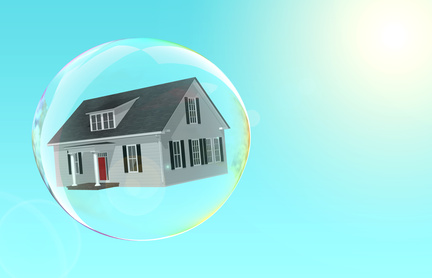 Eventually, the real estate bubble that's beginning to inflate now will "pass a little gas".  Or maybe a lot.
Sure, it will stink.  But it won't kill you if you're prepared to hold your breath and go in and do some bargain hunting.
Meanwhile, as all this unfolds, it's a good idea to continue to watch and prepare.  You can't control it.  But you can roll with it.
Good investing!
The Real Estate Guys™ radio show and podcast provides real estate investing news, education, training and resources that help real estate investors succeed.
In case you've been living under a rock the last several years, here's a news flash:  China's booming economy is having a big impact on the world, and the U.S. in particular.
And whether you like it or not, or agree or disagree with U.S. policy toward China, it doesn't really matter.  China matters.  So, we're learning to pay attention to China.
In case you aren't convinced, consider that Chinese demand for raw materials (cement, steel, lumber, oil, etc.) create more demand which drives up prices.  So if and when U.S. builders start building again, their costs will be higher.  This means the properties they build will cost more.  Which means that existing properties' values will be pulled up by rising replacement costs.
What???  How, you ask, can we talk about rising prices when everything's in the dumper?
It's easy.  As long as people do what they do, populations grow.  The need for buildings continues in spite of the economy.  And the last time we looked, people will do without a lot of things before they skip having a roof over their head.  So it's only a matter of time before building begins.  Meanwhile, we sit in a rare window of time where there are low interest rates and lots of properties selling at or below replacement costs.  Just something to think about…
And speaking of interest rates…
Did you hear what Morgan Stanley Asia's honcho Stephen Roach told CNBC?  He thinks China may decide to stop lending money to Uncle Sam.
In case you're holding your breath waiting for the super-duper council of 12 deficit reduction committee to balance the U.S. budget, even if Uncle Sam miraculously produced a surplus, he still has lots of short term debt that needs to be refinanced.  So if China doesn't re-up, then who's got the horsepower to feed the U.S. debt addiction?  Greece?  Spain?  Italy?
Time out.  Before your mind wanders off, let's talk about why real estate investors care about all this.
Real estate investors get rich doing leveraged buyouts.  Really!  Just like some corporate raider.  You find an income producing business (a rental property), then go get financing to purchase it.  Then you use the income from the business to pay off the loan.
So, if your goal is to own a lot of these properties, you will have a lot of loans (what we affectionately refer to as "good debt"), and your cash flow will be substantially affected by interest rates.  Right now, in case you've been napping, interest rates are REALLY LOW.  And if you lock them in for the long haul, it's hard to imagine you'll be regretting it down the road.
But if the Chinese stop buying U.S. debt (Treasurys), then (says Mr. Roach), the U.S. may have to pay (gasp!) higher interest rates to attract buyers.  And if U.S. Treasurys go up, you can bet real estate loans will be right behind them.  See?  Get the connection?
However, as previously posed, this presupposes there is a buyer out there with a big enough checkbook to meet Uncle Sam's needs.  If not China, then who? And if there isn't another economy strong enough out there to buy up trillions in U.S. debt, then are there buyers at any interest rate?
So here's another take:  If China goes away, in part or in whole, our guess is that Big Ben Bernanke will get out his magic checkbook and, either directly or indirectly, will pick up the slack.  In this case, Big Ben isn't concerned with interest rates (after all, his cost basis for the money is zero), so the issue isn't rising interest rates, it's an increasing money supply.  In other words: inflation.
(In case you missed it, we did a series of blogs on this topic when everyone was getting their undies in a bunch over the debt ceiling debate.  If you want to learn more about Big Ben's magic checkbook, search our site for "The Great Debt Ceiling Debate" or click here for Part 1 of the 5 part series.)
Here's the bottom line (which is why it's conveniently located at the bottom):  No one knows what China will do.  But if you understand the mechanics of the money, then you can make a plan A, B, C and D.  And there's even more letters available if you want to go farther than that.
If China goes away, and Mr. Roach is right and interest rates rise, do you want to be sitting on lots of low interest rate debt locked in for the long haul and being paid for by people who have to rent because home loans are too expensive to buy?  We do.
If China goes away, and Big Ben's magic checkbook comes into play, and inflation is fueled, do you want to own real assets (like commodities and real estate) that go up in value (over time…be patient) as replacement costs rise?  Check.
If China keeps on buying, but demands higher interest, go to plan A.
If China keeps on buying, and is content with ridiculously low interest rates, even if the Fed doesn't intervene, won't low interest rates eventually lead to inflation? (Yes, they do. The whole reason the Fed alleges it keeps interest rates low is to "stimulate" the economy).  Go to plan B.
We're not saying the current de-leveraging (the U.S. is still suffering from a major sub-prime hangover) won't suppress prices for the next few years.  But if you're a buyer, aren't low prices, low interest rates, and a growing rental population all good things for right now?
This is part 4 of a multi-part series on the "great debt ceiling debate" written as an accompaniment to our radio show broadcast and podcast, "Raising the Roof – How the Great Debt Ceiling Debate Impacts You".  You can download the episode on iTunes or find it on our Listen page.
We're excited you're here.  In case you missed the header, this is Part 4, so if you just got on the bus, be sure to go back and read parts 1-3 before jumping into this one.  For those who've been on board since the beginning, welcome back!  Now go grab an espresso and let's get into it!
How the Fed's Purchase of Treasuries Affects the Money Supply
Most people who pay attention to the economy have heard of "quantitative easing".  But in talking to lots of people and teaching this topic in seminars, we've found most people don't really understand how it works.  Since there's been a lot of QE'ing going on, and potentially more to come, it's important for all investors, real estate and otherwise, to really understand how it works.  And the topic is especially relevant in light of the current debt ceiling debate.
As you should recall from previous installments in this series, the Fed has a Magic Checkbook.  We explored how and why Big Ben is inclined to use it.  Now we're going to discuss what happens when he does.

The Sound Money Concept
Big picture economics can be intimidating and confusing.  But a global economy is simply a collection of national economies.  And a national economy is simply a collection of many citizens' economies.  So if you understand basic economic principles on a small scale, when everything blows up (figuratively speaking, at least so far), the numbers get bigger, but the principles still apply.
So, let's imagine that you show up at a Treasury auction and you decide to buy Treasury bonds.
When your write your check and hand it over to the Treasury, they deposit it into their bank account (with the Fed) and the Treasury's bank balance is increased by the amount of check.  When your check clears, your bank balance is reduced by the same amount.  What you have done is exchanged the cash in your bank for Uncle Sam's bond.  This is your basic everyday transaction.  Just like buying furniture.
Now imagine that you and Uncle Sam are the only two people in the economy.  If, between both of you, there were $100,000 divided evenly, then you would each have $50,000.  When you buy $10,000 worth of bonds from Uncle Sam, you write a check and Uncle Sam's now has $60,000 cash, while your balance is now $40,000.  You have a $10,000 asset (Uncle Sam's bond) and Uncle Sam has a $10,000 liability (the debt to you).  But when you add it all up, it balances.  This is a "sound money" system because after the transaction is closed, everything balances.  That is, the same amount of money ($100,000) is in the economy is before, it is just allocated differently between the parties as a result of the transaction.
The Funny Money Concept
Now let's look at what happens when Big Ben Bernanke buys a U.S. Treasury bond using his Magic Checkbook.  Remember, Ben doesn't have any money in his checkbook.  He doesn't need any because his checks never bounce. They're magic.
Big Ben buys $10,000 worth of bonds from Uncle Sam.  Uncle Sam's bank account goes up by $10,000 and Big Ben gets the bond.  Seems normal right?
Well, let's take a closer look.
In our two person economy (you and Uncle Sam), you each had $50,000 for a total money supply of $100,000.  But when Big Ben buys the bond, Uncle Sam gets $10,000 for a total of $60,000 and you still have your $50,000 for a total money supply of $110,000.  The money supply just grew!  The technical term for expanding the money supply in this fashion is "Quantitative Easing".  You may have heard of it.  There's a lot of it going on lately.
Take It Queasy
What is the effect of this "quantitative easing" on an economy?
Remember, you can't use money itself for anything, so it's only valuable when you can use it to purchase products.  Money (for the purists: technically, "currency", since real money is a product, which is what make it real)  isn't a product.  Money is simply a means of storing value until you can convert it to something useful (i.e., buy something).
Let's say that in our little economy, we have 1000 bottles of water, 1000 sandwiches, 1000 magazines, and 1000 more of 7 other things so there's a total of 10,000 products.  In the real world, the price of each product would reflect the effort to locate and convert the raw materials into finished goods, and then prices would fluctuate based on supply and demand.  But to keep it super simple, imagine that all the products are priced equally, so the $100,000 in our economy is divided equally among the 10,000 products.  Now each product is worth $10.  $100,000 / 10,000 = $10
But if our money supply expanded to $110,000 courtesy of Big Ben's Magic Checkbook (when he bought the $10,000 of Treasury bonds), then each product is worth $11.00 because $110,000 /  10,000 = $11.00.  That's inflation.  More dollars divided over the same productivity.
So simply stated, inflation occurs when the amount of purchasing power (money, credit) goes up faster than the supply of goods (production).  In a stagnant economy (one that isn't producing more stuff), when you add new money, prices go up.
The important thing to know is that when people with regular checkbooks (like you) buy Treasuries, the transaction balances out because the buyer's checkbook balance decreases while Uncle Sam's increases.  But when Big Ben uses his Magic Checkbook, NEW money enters the system because Uncle Sam's balance goes up, while all the regular checkbooks stay the same.  Again, this is Quantitative Easing and it's inflationary.
In the real world there are lots of moving parts, but if you just stick to the basic principles, you can clearly see what's happening.  Because it all gets blended in with real world supply and demand dynamics (and confusing econo-speak), a lot of inflation can be hidden for awhile.  But not forever.  After a while it all "trickles down" to the man on the street and first prices rise (you know, like food, gas, clothing, etc.), and then eventually in wages (that one hasn't hit yet).
Got it?
If you want to understand this "trickle down inflation" better, listen to our 2/20/11 radio episode The Coming Wave of Inflation – Profiting When the Levee Breaks, available on iTunes.
So now that you have all of this under your belt (just think how much fun you're going to have at your next cocktail party!), in our fifth and final installment, we will finally look at how all this affects the Great Debt Ceiling debate.  And, we'll unveil our bold prediction of what we think Congress will actually do about the debt ceiling.
Every day we get emails from our listeners.  Some like to tell us how awesome we are (oh, go on!), but most have questions.  We're working on some new ways to be able to be more responsive.  So keep those emails coming!
For this week's show, we decided to grab a few question out of the email in box and talk about them on the air.  Joining host Robert Helms in studio are his trusty sidekick, Russell Gray and "The Godfather of Real Estate" Bob Helms.
We kicked off the show  commenting on Ben Bernanke's pronouncement that "technically speaking, the recession is over."  Yippee! Right?!?
After having fun with that, we reached into the mail bag and pulled out a question about which U.S. markets are "best" for appreciation right now.  Our crystal ball wasn't warmed up, so we chatted on this one awhile.  It's a question that comes up all the time and though easy to ask, it's hard to answer.  So we talked about the conditions we look for to cause appreciation, how today's economic environment affect them, and some specific markets we're watching.
Another question that is salient to the times was about the availability of financing in today's market.  There are certain product segments and demographics that can't find financing, while others have abundant financing available.  Obviously, when you know where the money is flowing and why, you can position yourself in its path and do well.  Having just been at the Rich Dad Real Estate Summit with Ken McElroy, Robert Kiyosaki and several veterans of investing and finance, we had some fresh insights to share.
The next question was also all too common in today's economy.  "I have a property that is upside down with negative cash flow, what should I do?"  As Kenny Rogers sang, "You gotta know when to hold 'em, know when to fold 'em, know when to walk away, know when to run."  Lots of people are struggling with the issue of "strategic defaults" and its ramifications.  (Side note:  The Real Estate Guys wrote a free 18 page report What You MUST Know Before Attempting a Loan Workout to help people in this situation understand their options.
The discussion of  what to do with an upside down negative cash flow property had us reflecting on the previous discussion of where's the appreciation most likely.  It also lead directly into another topic:  The Price of Maintaining You Good Credit.  Good credit has never been more important, but if you have lots of negative equity and negative cash flow, how much is it really costing you to maintain it?  This is a very timely topic and we tossed around our thoughts on the subject.
Listen Now:
The Real Estate Guys™ radio show and podcast provides real estate investing news, education, training and resources that help real estate investors succeed.