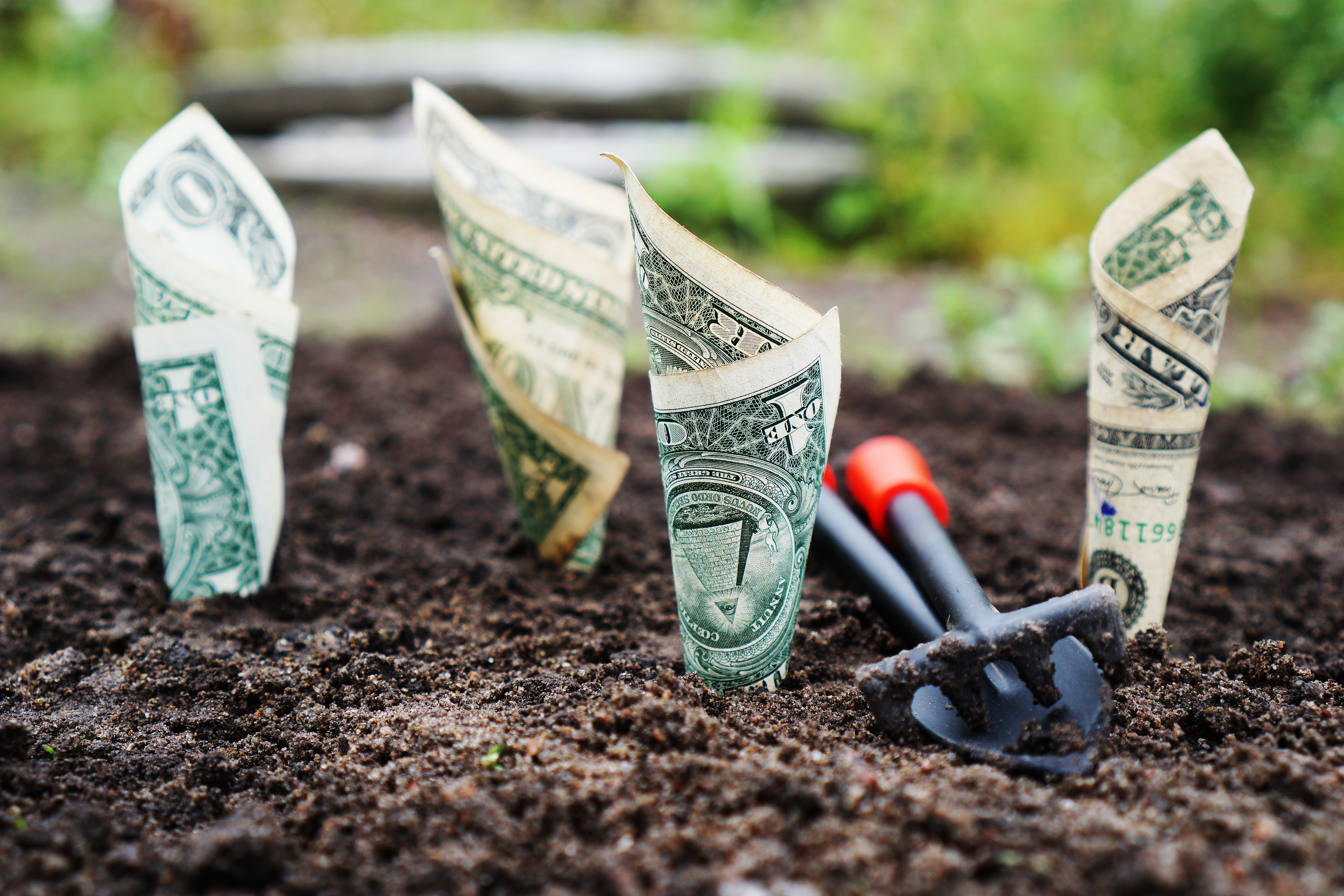 We're sitting down at the Rich Dad radio studio with our long-time friend and the Rich Dad himself … Robert Kiyosaki!
As the world's best-selling personal finance author … Robert is sharing his thoughts on the important differences between public and private investments. 
Robert calls these differences "the three kinds of money." 
We'll also revisit the enduring message of Robert's record-setting book, "Rich Dad, Poor Dad," … and talk about the dangers and opportunities facing investors today. 
In this episode of The Real Estate Guys™ show, hear from:
Your idea-rich host,

Robert Helms

His humor-rich co-host,

Russell Gray

"Rich Dad, Poor Dad" best-selling author,

Robert Kiyosaki
---
Listen
---
Subscribe
Broadcasting since 1997 with over 300 episodes on iTunes!
---
Review
When you give us a positive review on iTunes you help us continue to bring you high caliber guests and attract new listeners. It's easy and takes just a minute! (Don't know how? Follow these instructions).
Thanks!
---
Public investment vs. private investment
This week we're going to talk about the difference between public and private investments … and who better to share ideas than Robert Kiyosaki. 
Robert has been on our show more than any other guest … and for good reason! He is the best-selling personal finance author in the world. 
We're at an interesting point in the real estate business … but also in the economy. 
One of the themes that we've been talking about is the idea of private versus public and investing your money in a place that you understand … and that you're educated about. 
Robert says the first step to understanding public versus private is to understand the shadow banking system. 
"The shadow banking system is what brought down the subprime market. It wasn't real estate that brought down the market," Robert says. 
What the shadow banking system did was inject the veins of the world economy with the most toxic asset classes. Robert says that the way they get you is via public stock market. 
But the beauty of being a real estate guy, Robert says, is that you are actually an untraceable part of the shadow market … but you can also function as a private entity. 
"I realized that the reason I make so much more money is I'm private. I'm not in the stock market," Robert says. 
If you buy a house and it's a rental house, that's not a public transaction … it's a private transaction. 
With all the uncontrollable factors of the public sector … shenanigans, as Robert likes to say … becoming a private investor is a great option. But it's not without risk, and it's not without trouble. 
The pros of being public is that you can get in and out quickly. It's easy to change your course. It's not the same if you have bought an entire apartment complex. 
If you are going to be private … your number one priority is your financial education. 
Cash flow and education
The biggest place where people get stuck is that they don't understand the fundamental premise of what wealth is. 
It's cash flow. 
When you start betting on the asset price … whether it's the price of the house or the price of the stock or with negative interest rates … you're not investing for cash flow yield. 
Instead, you're investing hoping that somebody will come along and pay more for that same bond than you paid for it. It's all gambling … and they want you in their casinos. 
If you invest in things that are real and are producing fundamental profits … you have staying power. You have resilient wealth. 
Part of being a real estate investor is getting in touch with your inner investor. We call it a personal investment philosophy … figuring out what you want real estate to do for you. 
And then you get educated. 
You could look at the fact that real estate isn't liquid as a negative … but it's also a positive. 
Since the market moves slowly, you don't have to jump on a deal this minute or it's gone. 
Instead, you get educated. You study markets. You study properties. You study how the rent works … and then you can grow wealthy over time. It doesn't have to be an overnight success. 
Three types of money
Robert says that he believes there are three types of money today. 
The first is God's money … gold and silver. It will be here long after we are gone. 
Then, there's government money … flat currency … fake money. The only reason fake money exists is for paying taxes. 
The third type of money is people's money … things like Bitcoin and other cyber money. 
Keeping these three types of money in mind can help you develop your investment philosophy as you move forward. 
Robert often says that only lazy people invest their own money … which is why we are big fans of syndication. 
Syndication is a great way to get private. You can invest or create investments that aren't public investments. 
Whatever you do … whatever your personal investment philosophy … get educated, get private, and get out and make some equity happen. 
Hear more from Robert Kyosaki by listening in to our full episode!
More From The Real Estate Guys™…
The Real Estate Guys™ radio show and podcast provides real estate investing news, education, training, and resources to help real estate investors succeed.
---
Love the show?  Tell the world!  When you promote the show, you help us attract more great guests for 

your

 listening pleasure!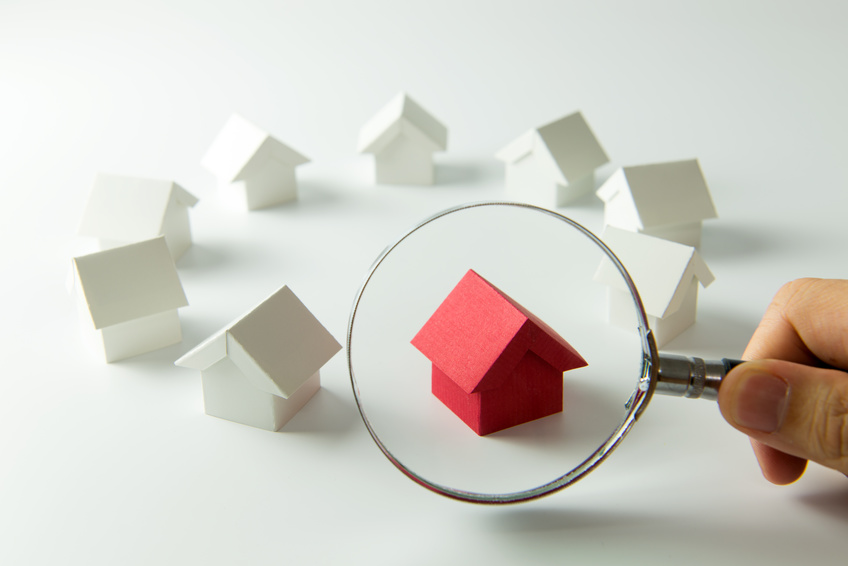 If you're wondering which way the financial winds are blowing … look to the news!
From the rollercoaster ride of the stock market, to negative interest rates on mortgages, to big moves in gold and oil … it appears the winds are changing. Something is coming. 
Savvy real estate investors are reading the signs and asking, "What should I do?"
Join us as we study the mystery that is the headlines and discuss what all these things mean for investors like YOU. 
 In this episode of The Real Estate Guys™ show, hear from:
Your headliner host,

Robert Helms

His mysterious co-host,

Russell Gray 
---
Listen
---
Subscribe
Broadcasting since 1997 with over 300 episodes on iTunes!
---
Review
When you give us a positive review on iTunes you help us continue to bring you high caliber guests and attract new listeners. It's easy and takes just a minute! (Don't know how? Follow these instructions).
Thanks
---
The dance between stocks and bonds
On today's edition of Clues in the News, we'll go beneath the headlines to find out how all the goings-on in the market impact real estate. 
They say that the time to repair the roof is when the sun is shining. 
Right now, markets are good. Real estate is strong. Rents are durable. Jobs are great. Gold is high … so we need to dig into the headlines. 
Even though we're in real estate, it's important to pay attention to other industries and markets like oil, bonds, and gold. 
When we try to understand what's going on in the world economically, it's like that old game Mouse Trap. Every action has a reaction. 
And there seems to be a dance between the stock market and the bond market. 
When people are feeling good, investors buy stocks … because they are feeling bullish that the asset value of the stock that they bought was going to go up. 
When they get fearful … they sell stocks and go for safety in bonds. 
Bonds are basically IOUs. The best bond you can get is from the U.S. government, which prints the world's reserve currency … the dollar … making it impossible for them to ever default. 
But as we saw in 2008 … it is possible for your credit to seize up. 
So, you can rearrange your affairs in order to capitalize on the opportunities that will be created by whatever is going to happen to the market in the future and mitigate the risks. 
Signals from the yield curve inversion
When you hear bonds and stocks, you may be thinking that it doesn't have much to do with real estate. 
But it does … because interest rates are the fuel that we use to drive our real estate purchases. 
You've probably heard recently that rates are headed down and the Federal Reserve is planning to cut rates another quarter of a point. 
We certainly look at that to see what the long-term prognosis is for owning real estate. Then we look at the short-term housing markets. 
But in between, there are all kinds of signals. 
One of the big signals that happened last week was a yield curve inversion. 
You don't have to necessarily understand what that is at a deep level. What you do have to understand is what it means. 
In other words, if you're driving down the road and see that oil pressure is green, you know you're good. 
If it falls below the green, you know that if the light turns red and you don't put oil in your car, your engine is going to blow. 
A yield curve is like that. It's the relationship between short-term interest rates and long-term interest rates. 
When you take on a loan, the yield curve should slope up so that the lower rates are closer to you and as time progresses they go up as they forward further in time.
When the curve inverts, it goes the other way. 
All you really need to know is that the last seven recessions were preceded by a yield curve inversion. On average, the recession came 22 months later. 
Whatever happens, there is always a flow of money to and a flow of money away. You want to make sure that you're always in the flow of where it's coming. 
Growth in gold
Meanwhile, gold prices are reinvigorated by the yield curve. 
Gold prices pick up on fears of a global recession because those two markets, the stock market, and the liquid metals market can hit the buy or sell pretty fast. 
That's in part because gold is a proxy for currency. Gold is at record highs in many currencies around the world, not just the dollar.
When countries are trying to compete in international trade, they have an advantage when their goods are cheaper. 
So, if they devalue their currency so that the purchasing power of their trading partners goes up, they can sell more goods. 
When people begin to lose faith in their currencies … they look for something that allows them to step out of a currency and still hold liquid wealth. 
Some people are using Bitcoin, but the vast majority of investors … especially institutions and sovereign governments … are using gold. 
Last year, central banks around the world purchased more physical gold than at any other time since 1970.
If you think about insider trading when it comes to currencies … there's nobody more insightful than central banks. 
The effects of oil
All economic activity is derived from energy … and in modern society, that energy is primarily oil. 
So, as the cost of oil goes up … it's actually friction in regard to economic activity. 
When you think of what happened coming out of the great recession, the economics in the United States that were producing all theat jobs leading to recovery … were ENERGY PRODUCING LOCALITIES. 
The other side of it is an economic problem … a lot of the oil that has been built upon bonds issued by oil companies are counting on higher oil prices. 
When those oil prices drop, they still have the same debt service.
There's a lot of fragility out there … and nobody knows what could be the catalyst that's going to ignite the debt bomb that creates the next debt implosion. 
But one of the things to pay attention to is all of the debt in the oil industry. 
We look at it for the cost of the input to the daily lives of our tenants. When gas is more expensive, it increases their cost of living. 
So, they're going to be more resistant to rent increases … and they will be moving out of the higher priced places into the lower ones. 
And then of course, it can also point to the health of the credit markets. 
Time to pay attention
There's a lot to be licking your chops at … so to speak … with what is happening in the world right now. 
And NOW is the time to pay attention. 
Learn more from the Clues in the News by listening in to the full episode. 
---
More From The Real Estate Guys™…
The Real Estate Guys™ radio show and podcast provides real estate investing news, education, training, and resources to help real estate investors succeed.
---
Love the show?  Tell the world!  When you promote the show, you help us attract more great guests for 

your

 listening pleasure!
It's hard to watch the financial news these days and not get the feeling the fragility in the financial system we've been concerned about … is starting to show.
We grew up in California and learned as kids how to react to an earthquake …
Get away from glass and hide under the shelter of a desk or doorway … because stuff was probably going to start falling.
Fragile things shatter in an earthquake.  They can't handle the pressure.  The key to safety is to get to the sturdiest parts of the structure until the shaking subsides.
Of course, when it's clear and bright … the windows are the most fun.  You can bask in the sunshine of hope and opportunity.
But when the foundation is shaking, it's time to find shelter … FAST.
You've probably noticed stock prices slipping.  Even the fabled FAANGs (Facebook, Amazon, Apple, Netflix, Google) are ALL now in bear markets.
So what?  After all, we're real estate investors.  What do we care about stocks?
We don't.  At least not directly.  But all these markets are like gauges on our financial dashboard … and when they start flashing red, it's wise to investigate.
This is a newsletter, not a seminar, but let's see what we can reason together in the next few minutes about what's shaking in the financial world … and where it might be headed.
The first place to look is the most important financial market there is … bonds.
Of course, real estate investors should watch the bond market for clues about the direction of interest rates.
But while interest rates are interesting … credit markets are what REALLY matter.
That's because credit markets both create and price the currency which fuels everything else. 
Credit markets are like the big reactor core in the Star Wars Debt Death Star.  They're both the fuel source and the weak spot at the same time.
To take the metaphor a conspiratorial step further … credit markets are also the source of the Emperor's power.
And as Peter Schiff persistently points out … when the original Debt Star blew up in 2008, the Emperor wasted no time in building a bigger, deadlier version.
The obvious implication is the next explosion could be a LOT bigger.
Now in a plain vanilla stock market dip, some (usually innocuous) event spooks highly-leveraged paper traders.  They sprint to the exits … and stock prices fall.
But then they calm down and the next day they're back out there snapping up bargains.  This "buy-the-dip" strategy has been the name of the game for several years.
But the longer-term downtrend suggests something is different this time.  Perhaps worries the Debt Star is running out of power?
The Bitcoin crowd has been chanting "buy the dip" also … but here too, it seems the Farce is strong … and the downtrend has more gravitational pull than past dips.
Clearly, nervous stock investors aren't piling into Bitcoin for safety.
Of course, the usual safe space for snowflake stock investors to hide is bonds.
But if gobs of money were pouring into bonds … interest rates would be falling.
While rates have certainly moderated the last few weeks from their upward trend, it's hardly a serious decline.
So … nothing happening now has us disagreeing with our recent conversation with David Stockman on the direction of rates.
And we certainly would NOT be using short-term debt on tight-cap properties hoping to re-fi to lower rates in a year or two!  If that's your plan … be careful.
Then there's oil.  You've probably heard the price has fallen.  We're guessing your tenants like it at the pump.  Businesses too.
Obviously, energy costs … just like interest and taxes … RAISE the costs of operating a business, a household, and an economy.
President Trump's a business guy.  So to no surprise he prefers ALL three lower … so more profit gets to the bottom line.
But oil … like gold … is MUCH more than just a commodity. 
Both have significant connections to the future of the U.S. dollar … and all three are powerful tools in geo-politics.
Just last year, we pointed out China's noteworthy moves with both oil and gold.
And just because things are moving slowly, doesn't mean they aren't moving.
All that to say … we've been paying close attention to this for several years … and it seems to us things are picking up speed.
We keep them on our radar … and yours … for TWO reasons …
First … major financial events often seem to show up suddenly and shock the world … but they usually had a long and obvious (in hindsight) build up.
We've learned to look further out so we have more time to re-position.  After all, the blessing and curse of real estate is it moves slowly.
So real estate investors are wise to pay attention to early warning indicators … and then rearrange portfolios to both mitigate risk and capture opportunities.
Second … when economic and financial earthquakes first tremble … it's smart to seek shelter under sturdy structures.
For that reason, we think it's likely to see MORE money moving into real estate in search of stability (and tax breaks).
But just because real estate is stable doesn't mean YOUR portfolio is.
As we learned in 2008, bad portfolio structure crumbles when hit with tremors from a Debt Star explosion.
However, when those market forces clean out weak portfolios, there are bargains galore … for those who are ready, willing, and able to take advantage.
Ironically, consumers are tapping home equity like it's 2007.  We're guessing holiday shopping will be solid.  But it won't make those borrowers wealthier.
Savvy investors are grabbing equity too … and using it both to purchase strong cash flows … and to hold in reserve.
It's always good to have some cash if market tides turn.
YOUR mission is to be among the aware and prepared … and NOT among the unaware and unprepared.  It could be a good time to increase liquidity.
Are we saying another crash is coming?  No.  But we can't say it's not.
Right now, there are tremors.
So while you're thinking about your goals for next year … including how to invest your educational time and money …
… we encourage you to make getting better educated, better connected, and better structured a top priority … so IF things turn quickly …
… YOU can sit safely inside your reinforced portfolio chomping on popcorn and watching the fireworks.
And if the fireworks turn out to be a dud … you're really no worse off for being prepared.
Until next time … good investing!
More From The Real Estate Guys™…
The Real Estate Guys™ radio show and podcast provides real estate investing news, education, training, and resources to help real estate investors succeed.
---
Love the show?  Tell the world!  When you promote the show, you help us attract more great guests for 

your

 listening pleasure!
"You can't handle the truth!" 
 – Jack Nicholson in A Few Good Men
Neither optimists or pessimists can handle the truth.Optimists refuse to acknowledge the part of reality that's negative …
… while pessimists can't see the ever-present opportunities hidden behind the problems.
While we'd rather be optimistic than pessimistic, maybe it's better to be BOTH."The test of a first-rate intelligence is the ability to hold two opposed ideas in mind at the same time and still retain the ability to function." 
 – F. Scott Fitzgerald 
Here are some thoughts about risk and opportunity from legendary real estate investor Sam Zell …
"People love focusing on the upside.  That's where the fun is.  What amazes me is how superficially they consider the downside."  
"For me, the calculation in making a deal starts with the downside.  If I can identify that, then I understand the risk I'm taking.   Can I bear the cost?  Can I survive it?" 
You can only take calculated risks if you look carefully at both the upside AND the downside.
Today, the entire global financial system is largely based on "full faith and credit" … primarily in the United States dollar.
And there's a gigantic investment industry that's built on perpetual optimism …and a belief non-stop debt-fueled growth FOREVER is actually possible.
Even worse, the entire financial system's fundamental structure literally REQUIRES perpetual growth to avoid implosion.
That's why central banks and governments are COMMITTED to debt and inflation … at almost ANY cost.
But as Simon Black points out in Future of Money and Wealth …
History is CLEAR.  Empires and world reserve currencies don't last forever.
And irredeemable paper currencies and out-of-control debt ALWAYS end badly … at least for the unaware and unprepared.
Optimists can't see this.  So they take HUGE risks they don't even know exist.
Pessimists can't act.  So they miss out on the HUGE opportunities that are the flip-side of the very problems they obsess over.
Robert Kiyosaki stresses the importance of being REALISTS …
… standing on the edge of the coin, seeing BOTH sides … and then being decisive and confident to ACT in pursuit of opportunities while being keenly aware of the risks. 
We created the Future of Money and Wealth to gather a diverse collection of speakers and panelists together … to examine the good, the bad, and the ugly …
… so YOU can have more context and information to make better investing decisions. 
Chris Martenson opens our eyes to the physical limitations of long-term perpetual exponential growth which depends on unlimited supplies of clearly LIMITED resources.
Of course, as these critical resources dwindle, they'll become very expensive as too much demand competes for too little supply.
When you see nation's fighting over scarce resources, it's a sign of the times.
But of course, there's OPPORTUNITY hidden inside of crisis.
And to seize the opportunity, you must understand it … or it just sits there like a hidden treasure under your feet.
But it's not just recognizing trends.  It's also TIMING.  And being a lot early is much better than being even just a little late.
To beat the crowd, you can't wait for the crowd to affirm you. 
To get timing right, it's important YOU know what the signs are.
What does it mean when Russia dumps Treasuries and buys gold?  What caused Bitcoin to sky-rocket in 2017?  Why are there bail-in provisions in U.S. banking laws?
Peter Schiff saw fundamental problems in the financial system back in 2006 … and screamed from the rooftops that the financial system couldn't support the then red-hot economy.
Few listened … then WHAM!  In 2008, the weakness of the financial SYSTEM was exposed … and MANY people were CRUSHED.
Peter insists the REAL crash is still yet to occur … and everything that made the financial SYSTEM weak in 2006 is MUCH WORSE today.
Yet small business and consumer OPTIMISM is at all-time highs.  The ECONOMY appears to be BOOMING … again.  And Peter's still screaming out his warnings.
The Fed is RAISING interest rates to cool things down.  But history says EVERY SINGLE TIME the Fed embarks on a rate raising campaign it ends in RECESSION.
In Future of Money and Wealth, Fannie Mae chief economist Doug Duncan reveals when he thinks the next recession is coming … and WHY.  We listen to Doug because he's got a really good track record.
The 2008 crisis exposed real estate investors to the REALITY that what happens on Wall Street, at the Fed, and in the global economy … can all rain down HARD on Main Street. 
Ignoring it doesn't make it go away.  And you'll die of old age waiting for the storm clouds to blow away.
There will ALWAYS be risk.  There will always be OPPORTUNITY. 
It's not the external circumstances which dictate what YOU get.
It's really up to YOU … and your ability, like Sam Zell, to see both opportunity and risk, so you can aggressively reach for opportunity while carefully navigating risks.
Education, perspective, information, and thoughtful consideration are all part of the formula.
That's why we created the Future of Money and Wealth video series.
Future of Money and Wealth features TWENTY videos … over fourteen hours of expert presentations and panels …
… covering the dollar, oil, gold, real estate, crypto-currencies, economics, geo-politics, the new tax law …
… PLUS specific strategies to protect and GROW wealth in the face of potentially foundation-shaking changes to the financial system.
Just ONE great idea can make or save you a fortune. 
Future of Money and Wealth might just be one of the best investments you'll ever make.
To order immediate access to Future of Money and Wealth … 
More From The Real Estate Guys™…
The Real Estate Guys™ radio show and podcast provides real estate investing news, education, training, and resources to help real estate investors succeed.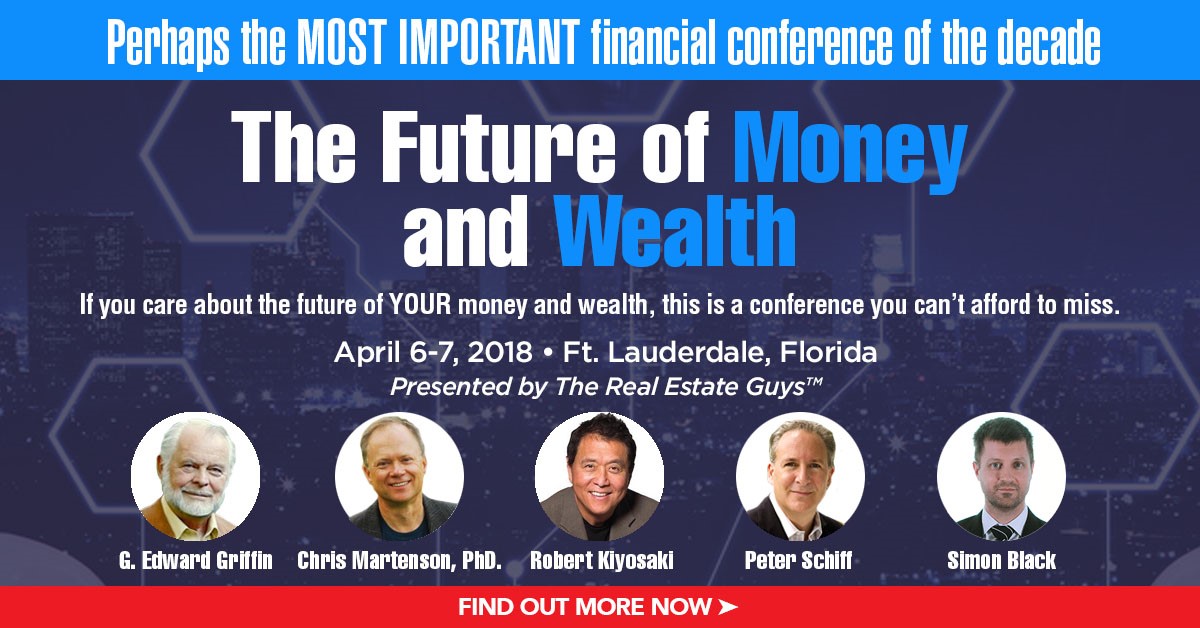 The world economic order is under-going massive change right now.  We're literally watching it unfold in the daily news.
Yet few investors really understand what's happening and why … or what they can do to both grow and protect wealth during these historic times.
"Those who can't remember the past are doomed to repeat it." – George Santanya
In two power-packed days our all-star line-up of notable experts will explain …
How the U.S. dollar is under attack and what it means to Main Street investors

What are the best and worst investments based on what's happening now … and where it's headed

How savvy investors are preparing to be on the right side of an historic wealth transfer most people don't see coming
Remember, the flip side of crisis is opportunity.  But pretending everything is fine … and not being prepared in case it's not … can be dangerous and expensive.
"Maintain unwavering faith you can and will prevail in the end, regardless of the difficulties, and at the same time, have the discipline to confront the most brutal facts of your current reality." – Jim Collins, Good to Great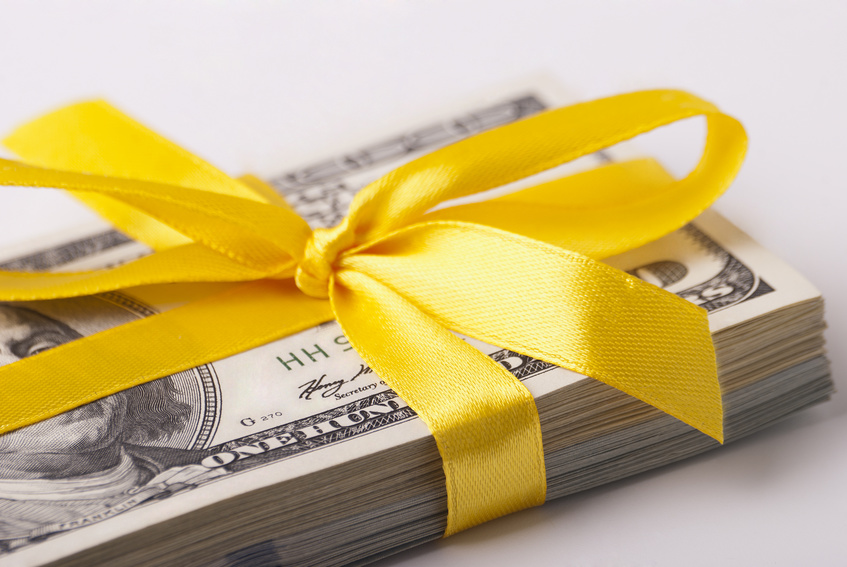 Stock Market Volatility Creates Opportunity for Real Estate Investment Syndication
We all want life on our terms.  The perfect opportunity at just the right time … where we don't have to think, work, or go out of our way to hit it big.
Be honest.  If you didn't get in (and out) of Bitcoin at the right time, aren't you just a LITTLE jealous of those who did?  We are.
But even many of those Bitcoin millionaires have taken it on their crypto-chin since the easy money train went off the rails.
The market giveth and the market taketh away.
Tom Brady said it best after the Super Bowl …
"Losing sucks.  But if you want to win, you have to play the game."
… and risk losing.  Of course, we're pretty sure Tom didn't lose too much.  And if you're playing the right game, even losers can come out okay.
That's what we love about real estate.
Sure, it's not as exciting as the roller-coaster rides of speculative exchange traded assets like cryptos, stocks, bonds, and ETFs.  But you can still make BIG money with real estate playing a very conservative game.
Right now, the market is reminding lots of paper- and digital-asset speculators that big ups often come with big downs.  So people with lots of money in those markets are realizing safer havens are pretty attractive when the tide turns.
And that's a GIFT TO YOU …
Because when you know how to make (or find) boring, reliable, stable, dependable returns … of 8-20% … with a time-tested asset like real estate … YOU are a HOT commodity.
We've been saying for years this is a GREAT time to become a real estate syndicator.  And it just keeps getting better.  There are TRILLIONS of dollars invested in paper assets through brokerage and retirement accounts … and folks who've been in those markets a while are sitting on some fat gains … BUT they're nervous … and rightfully so.
Some have already moved to cash to play it "safe" … and because they don't know what else to do.  But the dollar's been weak, and although interest rates are rising, inflation is rising faster … so the net gain on parked cash is negative.  That's a losing deal.
Enter YOUR big opportunity … syndication.
When stocks tanked in the dot-com bust, billions went into real estate for safety with yield and a hedge against inflation. 
Sure, real estate got a black eye in 2008 … even though it was a credit market problem and not a real estate problem.  But smart people realized the fundamental need for real estate didn't end with the financial crisis … and many smart investors scooped up bargain properties, just as rental demand increased because of the financial crisis.
Real estate investors have made a lot of money over the last ten years … just like stock investors.  But right now, stock investors are being reminded of the volatility of the stock market and the relative stability of real estate.
Give Nervous Stock Investor the Gift of Real Estate Syndication
Stock investors are RIPE for offers to invest in real estate.
And when you learn the secrets of successful syndication, YOU can attract many millions of dollars from frightened stock investors into the safer haven of real estate.  Best of all, syndication allows you to become wealthier helping wealthy people grow and protect their wealth.  It's an epic win-win.
Often in business and investing the best play is simply to take what the market's giving you.  Right now, it seems to us the opportunity to raise money for real estate deals just got even better.
---
More From The Real Estate Guys™…
The Real Estate Guys™ radio show and podcast provides real estate investing news, education, training, and resources to help real estate investors succeed.
If you're a newshawk like us, you've probably noticed the world is a little crazy.  Even something as mundane as money and wealth has become weird.
The most obvious case in point is the dramatic rise and retreat of Bitcoin.
In 2017, something triggered a rush of money into Bitcoin … driving it from $1000 in early January to a peak of nearly $20,000 less than a year later.
Pundits are still trying to divine what happened and why.  Of course, what's just as interesting is how the world reacted.
The People's Bank of China (PBOC), which is China's version of the U.S. Federal Reserve, has moved aggressively to crush cryptos.
Okay.  But does that matter if you're not Chinese or a Bitcoin buyer?  How does any of this relate to Main Street real estate investing?
Patience, grasshopper …
China's not the only government attacking private cryptos.  Six others have already banned it, though they admittedly aren't big players.
But India is reportedly about to join the anti-crypto club.  They're pretty big.
South Korea (home of Samsung, LG and Hyundai) is another biggie that's floating the idea of banning cryptos.
Of course, legislation isn't the only way to attack an alternative to government issued currency …
We've been listening to precious metals pundits allege that central banks … surreptitiously through their agents … use futures contracts to manipulate the price of gold and silver.
Interesting.  Let's put on our tinfoil hats and think about it  …
According to this CNBC report, Bitcoin started trading on the futures exchanges on December 18th.
This chart shows Bitcoin's price peaked at $19,180 on Sunday, December 17th.
But since then, Bitcoin's been declined sharply … all the way down to under $7000 this week.  That's a HUGE decline.  And it started December 18th …
Weird.  Probably just a coincidence.
Of course, the story of cryptos and their impact on the future of money and wealth is a MUCH bigger discussion.
But we think it's safe to say that cryptos are here to stay in some shape or form.
What's also interesting is how governments are now connecting cryptos to both gold and oil … linkages which are the heritage of U.S. dollar dominance.
Meanwhile, Russia (the world's largest producer of oil) and China (the world's largest consumer of oil) have both been accumulating TONS (literally) of gold.
Why?
According to this article in the India Times, "The Chinese central bank is trying to diversify from the US dollar on which it has become overly reliant"
(Side note: you might want to think about how reliant YOU are on the dollar … maybe China knows something …)
This article in Russia affirms the role of gold in diversifying away from the U.S. dollar.
Apparently, gold does actually have a role in global economics … even though most Americans think of it as a barbarous relic or merely a trading tool to accumulate dollars.
But major sovereign nations are using gold as a hedge against the U.S. dollar.
Smart.  Turns out 2017 was the dollar's worst performance in 14 years.
So if Bitcoin and gold each expose the dollar's weakness … it's not totally shocking the issuer of dollars, the Federal Reserve, might want to see both Bitcoin and gold prices held down.
We're not saying the Fed is behind any alleged suppression.  But we're not saying they aren't.  We don't know.
But in this surreal world where we're not quite sure of the real motivations of those in power, nothing would surprise us.
The bigger questions are … what does it all mean to Main Street investors and how can we position ourselves to both grow and protect wealth in this crazy world?
Here's some thoughts …
If the dollar is doomed to continue its 100+ year decline … then debt and real assets are your best friend.
Debt lets you pull future dollars into the present, where you can use them at today's purchasing power (stronger than the future's) to acquire things of real value.
By "real value" we mean utility …  things that provide permanent and essential service to people.  Food, housing, farmland, energy, and commodities all come to mind.
Of course, when you use debt, you have those pesky payments.
So it's REALLY nice when you can acquire real assets that produce enough cash flow to service the debt you used to buy them.  They literally pay for themselves.
Naturally, debt-financed income-producing real estate is arguably one of the best investment vehicles in a falling dollar environment.
You can buy it with relatively cheap debt and use the income to service the debt.
Over time, as the dollar falls, the dollar price of the property rises while the debt stays fixed.
Not only that, but a debt-ridden government is highly motivated to perpetuate a weakening dollar (inflation), which benefits all debtors … including YOU.
In other words, using debt aligns your investing with the government's motivations and likely actions.
Nice.  But it gets better …
Because real estate provides housing for people … who vote, work, and have pitchforks … or in the case of the USA, AR-15s …
…  governments are much more motivated to SUPPORT real estate than attack it.
They might go after cryptos (until they can issue their own).  They might go after gold again.
They might print free money for their friends in Wall Street to blow up paper asset bubbles and drive down interest rates (nice, if you're a real estate investor).
But if they attack real estate … that hits home (literally) … and it's a revolution.
That's why, as we saw in 2008, even when they screw up and real estate is collateral damage to their financial shenanigans …
… governments, central banks, Wall Street, and even corporate America all rally to prop up real estate.
From that stand point, people still hold the power.  And people live, work, and depend on real estate.
So to keep things real in a surreal world, you could do a lot worse than making real estate the anchor of your investment portfolio.
Until next time … good investing!
---
More From The Real Estate Guys™…
The Real Estate Guys™ radio show and podcast provides real estate investing news, education, training, and resources to help real estate investors succeed.
It's the time of year to get together and have a good time celebrating the holidays.  Sometimes this involves indulging in some intoxicating activities.
Those who want to enjoy themselves know their limits … and prudently rely upon a sober person to get them safely home.
Naturally, we're talking about investing.
Just take a look at just a few of the many recent intoxicating headlines …
It's important to remember … investing vehicles are supposed to get us to our financial destination SAFELY.
Crashes are DANGEROUS … which is why sobriety is advised.
Of course, in a room full of intoxicated partiers, a sober person can come off as a party-pooper … and NO ONE likes a party-pooper.
So let's see if we can serve up some investing eggnog and with a dash of optimism … and no nasty hangover or risking a life-threatening crash.
First, let's take a quick dive into the aforementioned headlines …
Housing
Home-builders are REALLY confident … presumably because they believe conditions are ripe for them to buy land, materials, and labor … turn them all into homes which they can sell at a profit.
That's because home prices are UP … unlike those dark days in the wake of the recession when existing homes were selling below replacement cost … making it nearly impossible for home builders to build profitably.
Stocks
The U.S. stock market … and most global stock markets … have been rocketing higher.
In fact, the U.S. stock market has taken out all-time highs … over SEVENTY times in 2017 … an all-time record.
All this amid rabid share buybacks by corporations flush with cheap cash from low interest rates… and now from tax breaks which appear inevitable in the new tax bill.
Of course, when corporations take stock OFF the market (reduce supply), while demand surges as bullish investors are piling in … prices rise.  Go stocks!
And speaking of rising prices …
Bitcoin
Of course, the meteoric rise of Bitcoin is THE asset price boom story of the year … perhaps of our lifetime.  It's gotten to where accidental Bitcoin multi-millionaires are even starting hedge-funds.
Are we jealous?  Maybe just a lot.  But we're not sure missing the Bitcoin boom makes us stupid … any more than Bitcoin billionaires are suddenly investing geniuses.
"Stupid is as stupid does." – Forrest Gump
Pre-2008, we knew a lot of people who thought they were real estate investing geniuses because real estate was going up fast everywhere.
They'd put $20,000 down and buy a little house, and a year later it was worth $100,000 more.  There's NOTHING wrong with that.
BUT … it's a mistake to think you're an investing genius because you bought a bubble asset at the right time.
Of course, if you're not smart enough to get out before the bubble deflates, it can take all gains … and your investing "genius" … with it.  We know.
"I may be drunk, Miss … but in the morning, I will be sober … and you will still be ugly." – Winston Churchill
Rising asset prices are FUN.  Easy equity is intoxicating.  Who doesn't like to see the spread between assets and liabilities grow?
But asset price parties can turn ugly fast if you're not careful, which brings us to the point of today's musing …
In good times and bad, always remember what REAL investing and wealth are …
… and no matter how intoxicated with bubble wealth you are, be sure you get home safely.
How?
To our way of thinking, the purpose of investing is to accumulate units of real value and the productivity of others.
Wealth is measured by how many useful items you own … like buildings, trees, crops, barrels of oil, ounces of strategic or precious metals, etc.
These are things people MUST have in order to live, work, or make things of value.
When you have more units of real value, and more people sending you a portion of their productivity, you are WEALTHY.
And when you pick items of real value which also reduce exposure to counter-party risk, your wealth is even safer.
Intoxicated investors look at their balance sheet and celebrate their net worth … perhaps even borrowing heavily to spend on consumption.
In fact, this is EXACTLY what the government and banks WANT you to do.
Sober investors look at their balance sheet as merely a tool for building their CASH FLOW statement.  Spending comes out of the productivity of the asset … not it's equity.
This is no small differentiation … because what you do with equity defines you as an investor.
The investor who buys low, sells high, skims some spending money, then pushes the stack back in and rolls the dice again, needs to keep playing the game … or the cash flow stops.
You can be a full-time investor, but you're still on the treadmill.
The investor who buys low, then uses equity gains to acquire streams of positive cash flow will eventually become free from the need to personally produce to eat.
Robert Kiyosaki calls this "out of the rat race" … and it's an enviable place to be.
The world is awash in paper (balance sheet) equity right now … in stocks, real estate, and now cryptos.  None of them are bad.  Equity is awesome!
But the market giveth equity … and the market taketh equity away.
We think it's smart to take equity off the table before Mean Mr. Market takes it first … and then use your new equity to acquire productivity … cash flow.
It's even better when you can pair equity with cheap long-term debt, so you can own MORE units of real value (properties) and income (tenants).
Of course, the right real estate is an ideal vehicle to acquire an income producing asset with cheap long term debt.
If prices decline, the income provides a basis of value and control.  And if prices take off, your bigger collection of assets will create even more equity faster.
If you haven't already, now's a good time for a portfolio sobriety check.  It doesn't mean the party's over … but it just might make it a bit safer.
Happy holiday and until next time … good investing!
---
More From The Real Estate Guys™…
The Real Estate Guys™ radio show and podcast provides real estate investing news, education, training, and resources to help real estate investors succeed.
What a wild ride 2017 has been … and 2018 is looking even MORE intriguing!
There've been SO many fascinating stories.  Trying to pick the MOST interesting is a real challenge …
… a historic and unorthodox Trump presidency
… the record-breaking ascent of the stock market
… the record-breaking U.S. and global debt
… the meteoric, hyperbolic rise of Bitcoin, and crypto-currency's move from libertarian fringe to mainstream …
And of course, there's the ongoing saga of China's drive to dethrone King Dollar; the drama in the House of Saud; and the (allegedly) strong U.S. jobs market.
All these things affect the financial eco-system our real estate investments live in … so we pay attention to them.
After all, we don't want our backs to the beach if a tsunami is coming.  We did that once and it was NOT fun.
So what's the biggest story as we end 2017 and press into the new year?
We think it could be oil.  But perhaps not for the most obvious reasons.  Here's why …
Currency is like the blood of an economy.  It circulates … transporting energy to individual cells … many of which are organized into vital functions.
We teach our syndication students the importance of designing an effective business model … a circulatory system … to be sure cash flows to all vital functions.
Failure to nourish all cells (individuals) and vital organs (critical activities conducted by groups of individuals) can result in sickness, permanent disability, or death.
This is true for individuals, for businesses, and for nations.
After World War II, the U.S. dollar was crowned the world's reserve currency.
Backed by gold, the dollar circulated the globe … transporting economic energy to individuals, businesses, and nations.
In 1971, the gold-backing was removed, and the dollar became severely ill … with a disease called "distrustitis" … commonly known as rejection.  Nations didn't want it.
So, they began aggressively trading in their dollars for gold …. bidding the price of gold up from $35 an ounce in late 1971 to nearly $700 in early 1980 …
Ironically, U.S. citizens were locked out of gold ownership until December 31, 1974 when President Gerald Ford revoked the ban imposed by President Franklin Roosevelt way back in 1933.So what does all this have to do with oil in 2017 … and why do we think it's important heading into 2018? And how does any of this tie into real estate investing?  We're getting there!
First, a little more history …
Uncle Sam discovered an un-backed dollar wasn't very popular.  And when nations dumped dollars, it created The Great Inflation of the 1970s.
Back then, the cure for the dollar's "distrustitis" was to force dollar demand through oil (the petro-dollar) and high interest rates (they reached 20% in 1980).
Cheap labor from China sucked up some inflation … while a recession slowed economic velocity to suck up even more.  But those are topics for another day.
The point is there's a long linkage between the dollar, gold, and oil … and all three have substantial influence on geo-politics … even today.
Of course, now there's a new kid in town … crypto (a.k.a. Bitcoin) … which started a ridiculous run in 2017 …
Hmmmm … that chart pattern for 2017 looks a lot like when gold took off the last two times there were outbreaks of dollar distrustitis …
Probably just a coincidence.
But it makes you wonder if crypto and oil might get together as a way for Uncle Sam's adversaries to escape the dollar … oh, wait …
Headline:  Russia may turn to cryptocurrencies in oil trade to challenge sanctions & the petrodollar
Headline:  Venezuela to Launch Oil-Backed Cryptocurrency
… which brings us to why we're closely watching oil going into 2018.
In many ways, oil is the asset of choice to back currency.  It's been the backbone of the dollar since the 1970s and the world knows it.
That's because the world runs on oil.
And unlike gold, every productive nation MUST have oil.  It isn't a philosophical commodity … it's pragmatic.
As Investor Summit at Sea™ faculty member Chris Martenson reminds us, EVERY economy needs energy to operate.
Because oil is the world's most in-demand commodity, whatever currency it trades in is sure to be in high demand.
China, the world's #1 buyer of oil, knows this.  And they're using their economic muscle to position their currency, the yuan, for a greater role in global trade …
Headline:  China will 'compel' Saudi Arabia to trade oil in yuan — and that's going to affect the US dollar
Of course, with $20 trillion in debt and a debt-to-GDP ratio over 100% … more than THREE times what it was when high interest rates were used to crush inflation …
… the U.S. economy probably couldn't handle 10% interest rates, much less 20%.
So if all the forces aligned against the petro-dollar succeed, might the U.S. experience some painful inflation?
Quite possibly.
Of course, when you own real assets … especially those which produce (like farmland or oil fields) … or channel productivity (like rental real estate) … you're hedged … you preserve wealth.
But the key to PROFITING from inflation is to short the dollar.  And that's done with debt.
When you can fix the debt and own the asset, as the asset's dollar price goes up against the fixed debt, the debt becomes smaller.
Of course, as we've discussed before, income-producing real estate is the safest way to play this game.
Now if we're Uncle Sam and worried oil might end up backing a rival currency, we need to prepare for role reversal.
When the world wants dollars, all Uncle Sam had to do is print and import.  The world gets dollars, and the U.S. gets stuff.  Nice.
But if something replaces the dollar, then Uncle Sam needs to export stuff the world wants, in exchange for whatever currency is now in demand.
Are we saying the world will stop taking U.S. dollars?  No.
But they might want a lot MORE dollars to buy the same stuff (inflation), which would weaken the U.S. economy.
Not surprisingly, the U.S. is taking steps to stimulate domestic oil production.
Headline: The GOP Tax Bill Is A Big Win For U.S. Oil And Gas
And agree with it or not, the Trump Administration is very friendly towards the oil industry.
Bringing this all back to Main Street and our daily real estate investing …
First, the relationship between oil and the U.S. dollar has the potential to impact the purchasing power of our dollars, interest rates on our mortgages, and the cost of living for our tenants.
We're very interested in ALL those things.
Next, if Uncle Sam stimulates domestic energy production with investment incentives and regulatory easing, it might lead to economic booms in energy-rich geographies.
Remember, energy was a top driver of job creation post-2008 … with Texas being the biggest winner.
That's what took us into Dallas after the recession … and keeps us interested today.
Oil, gold, the dollar, China, new faces on the Fed, tax reform, Bitcoin …
… are all converging in 2018 for potentially massive changes to the future of money and wealth.
And they'll all be very important topics of discussion on our 2018 Investor Summit at Sea™ … which just might be the MOST important Summit in our history.
Until next time … good investing!
---
More From The Real Estate Guys™…
The Real Estate Guys™ radio show and podcast provides real estate investing news, education, training, and resources to help real estate investors succeed.
Between Bitcoin, Nasdaq, and yes … even some real estate markets … there's a growing concern about bubbles blowing up on giddy investors who've been partying like it's 1999.
Of course, if you sit out to play it "safe" … you might miss out on all kinds of exciting gains. Buy into the hype … you might be left without a seat when the music stops.
So what's an investor to do?
Fortunately, these are much easier problems for a real estate investor to resolve than for those investors playing purely with paper assets.
That's because real estate is unique among investment vehicles.
First, real estate is almost impossible to commoditize.
Every property is a one-of-a-kind collection of condition, location, potential, financing structure, and seller motivation.
And unlike nearly all other investments … you can influence many of the factors which contribute to the financial performance of real estate.
On the other hand, every Bitcoin, ounce of gold, share of Apple stock, or 10-year Treasury are essentially identical anywhere in the world …
… and there's virtually nothing you can do to influence the supply, demand, or financial performance of any of them.
Of course, this doesn't necessarily make those "investments" bad.  But they are very different than real estate.
Our point is that when pundits toss real estate into the commoditized investments bubble warning basket, it's not a completely valid argument.
Real estate provides a level of safety and control not available in commoditized investments … and the key is basic analysis and underwriting.
Now don't be intimidated.  It's not that complicated.
However, income property analysis and underwriting is a different process than analyzing a stock, bond, or commodity.
As for crypto?  We're the first to admit we haven't the slightest idea how to analyze or underwrite a crypto-currency.
But back to the business of analysis and underwriting …
In simple terms, "analysis" is simply looking at the numbers and drawing some conclusions about what they mean.
"Underwriting" is fact-checking the inputs which create the numbers you're analyzing to be sure the numbers are rooted in reality.
"Technical" analysis is looking at the supply, demand, and price trends.  It's about patterns, and using the past to help predict future price action.
"Fundamental" analysis is looking at the operating income, the market, the management, and other competitive factors, to estimate prospects for future success.
Fundamental analysis is what Warren Buffet is famous for.  And because he's really good at it, he often finds companies whose stocks are cheap relative to their potential.
So a "good deal" is something selling for less than it's potential … so long as you have the funds, expertise, and control to develop the potential.
When it comes to stocks, Warren Buffet is big enough to have some direct influence on how a company develops its potential.
Unfortunately, Main Street investors can't play the stock game at Buffet's level.
The great news is real estate lets you get your Buffett on much better than just some speculating amateur playing pin-the-tail on the hot stock donkey.
So here's a simple way to approach real estate deal analysis and underwriting so you can recognize a bargain … even in a hot market.
The goal is to buy a property that isn't already at the top of its value range (a bubble).
For this discussion, we'll assume you've selected a market and neighborhood that's in good shape and stable, or trending in the right direction.
When it comes to the actual property, you're analyzing it for acquisition, improvement, and long-term production of income.
Already, the distinction between real estate and a commoditized investment should be apparent.
When you acquire a commoditized investment like Bitcoin, Apple stock, gold, or a bond, you're bidding into a very competitive environment.
Sure, there may be a little wiggle room in the price, but it's based on timing … not negotiation.
But with real estate, there's often the possibility of negotiating price, concessions, carry-back, equity participation, etc.
Often, you're only competing with a handful of other bidders, so your negotiating skills can make a big difference.
Real estate is personal and individual.  It's NOT a commodity.
So one way to mitigate the risk of buying at the top of the value range is to simply negotiate a better deal at the start.  Skill matters.
But that's just the beginning.
Most properties aren't perfect when you buy them.
Depending on the condition and potential of the property, there's often a variety of improvements a new owner can make to create additional value.
If you're smart, creative, and cost-effective, you can make micro-investments into the property and improve its macro performance.
For example, our friend Ken McElroy likes to add washers and dryers to his apartment units.  When he does, he can get a $600 investment per unit to yield an increase in rents of about $300 a year.
You can't do that with Apple stock.  Even if you buy 100,000 shares.
This is where your "cap ex" (capital expenditure, or "fix-up" budget) ties in directly to your income analysis.
So you have the acquisition costs and the cap ex as your "cost basis" going in.  It's the amount of capital you need to get a return on.
That "return" is called Net Operating Income.  It's simply revenue less expenses before debt service.
Once again, this is where real estate sets itself apart from commoditized investments.
With real estate, the line items of your revenue and expenses often contain things which you can improve with good management and creativity.
So as you analyze and underwrite the deal, make a note of each item over which you have some degree of influence or control.
When you do this, you'll see the potential and probabilities for improving the financial performance, and thereby the value … and you'll develop a solid foundation for a viable business plan for the property.
This is "duh obvious" to seasoned real estate investors.  But for newbies, it's a VERY important distinction.
Real estate isn't a good deal simply because it's real estate.  And real estate isn't dangerous simply because values have risen in the aggregate.
Real estate can't be measured in the aggregate.  Each property is unique.
That's what makes real estate fun and challenging.
But to our way of thinking, what's dangerous is buying a commoditized investment you don't understand, can't control, with no plan … hoping it will do something awesome all by itself.
It might.  But it might not.
In ANY investment, there are ALWAYS stories about people who get stupid rich by dumb luck.
But for every lucky winner, there are a hundred gamblers who get crushed trying to get lucky … with no plan.
Be smart.  Do your homework.  Make executable plans. And when you see a deal that makes sense … just do it.  And don't let bubble talk scare you.
There might be bubbles forming all around you, but you don't have to buy one.
Until next time … good investing!
---
More From The Real Estate Guys™…
The Real Estate Guys™ radio show and podcast provides real estate investing news, education, training, and resources to help real estate investors succeed.