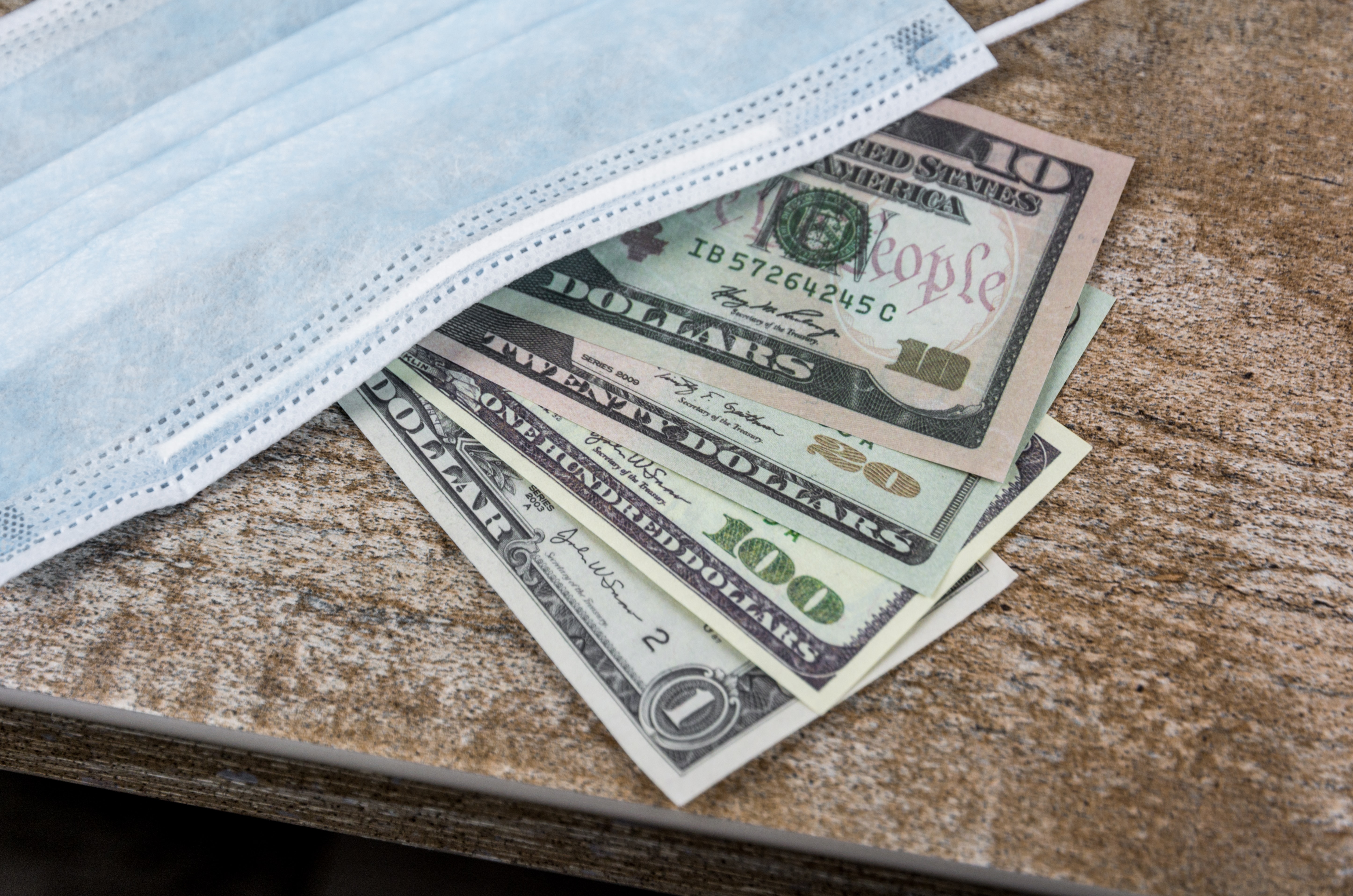 The COVID-19 pandemic means the economy has slowed down … way down in some cases. 
So, central banks led by the Fed are conjuring TRILLIONS of fresh dollars out of thin air. And Uncle Sam is making sure they get into circulation. 
The question on many investors' minds is, "WHAT IS GOING TO HAPPEN?" 
Will prices rise or fall? Can the economy grow if it's locked down? Or are we headed into depression?
And of course, one of the biggest questions of all … will the world trust a dollar being diluted by the trillions on a monthly basis?
In this episode of The Real Estate Guys™ show, hear from:
Your inflated host,

Robert Helms

His depressing co-host,

Russell Gray
PhD economist and best-selling author, Richard Duncan
---
Listen
---
Subscribe
Broadcasting since 1997 with over 300 episodes on iTunes!
---
Review
When you give us a positive review on iTunes you help us continue to bring you high caliber guests and attract new listeners. It's easy and takes just a minute! (Don't know how? Follow these instructions).
Thanks!
---
Looking at the bigger economic picture
All investments float in the economic sea. If you only look at real estate … instead of taking a step back to look at the bigger economic picture … you may run into trouble. 
The situation we find ourselves in today with COVID-19 is different than other economic situations we have faced in the past … 2008 included. 
This health crisis has manifested in a global economic lockdown. Instead of a credit crisis coming first and leading to job losses, we have job losses right out of the gate in a bigger fashion than we've ever seen in our lifetime. 
And not just in the United States … around the world. 
So, it makes a lot of sense for us to talk to someone today that looks at the world from the understanding of credit markets on a global level and how all of those things play together. 
Richard Duncan is a PhD economist and author. He was an advisor to the International Monetary Fund (IMF), and he really sees a much bigger picture than the average investor. 
Whether you agree with the opinions he shares today or not, Richard is qualified to have an opinion. 
If you concentrate hard on listening to what he has to say, processing the data, and understanding his logic, you might gain some great insights and actionable intelligence. 
If nothing else, you may learn to anticipate the potential consequences that can come when the people behind the financial curtain start pulling on their levers. 
Recession or depression?
"The thing that is going to determine whether this is just a recession or a full-fledged 1930-style depression is going to be the speed and magnitude of the government's fiscal and monetary policy response," Richard says. 
COVID-19 has put the economy into a complete freefall, but Richard says that we have been really fortunate in the U.S. because the government acted quickly. 
The government has come to through with almost $3 trillion of fiscal rescue bills with more money potentially on the way. 
Meanwhile, the Fed has radically expanded the amount of money that is created. In 2020, the Fed has created $2.75 trillion in new money. 
Basically, the government is spending money to replace all the money that's not being spent by households and businesses … they're holding the economy together. 
"If the government spends enough and the Fed continues to print enough, there's no reason that we have to collapse into a protracted, decade-long depression the way we did in the 1930s," Richard says. 
But, it's going to be absolutely crucial that the government keeps spending. 
If they do, Richard thinks that the economy will survive and come out of this crisis looking very similar to the way it looked before COVID-19. 
But if not, then the U.S. could be headed for a depression-style economic catastrophe that could extend far into the future. 
That's why it is absolutely essential, in many economists' view, that the government continue propping up the economy and holding the economy together the way that it has so far. 
But what happens when, say, $10 trillion more works its way into the economy?
Looking back at 2008, we see that the expansion of government debt and the expansion of the Fed's money printing didn't cause inflation at the consumer price level. 
It DID cause inflation at the asset price level, but that was part of the plan. They needed to push up asset prices to create a wealth effect, boost consumption, and keep the economy growing because the private sector was weak. 
So, looking ahead based on that experience, Richard says it is by no means certain that we are going to move into a period of significant inflation at the consumer price level. 
Although he adds, we may see property prices go higher and stock prices go higher as a result of the new money and the government spending. 
All of this remains true as long as globalization remains intact. 
For example, before the outbreak of the virus, tensions with China were already strained. Now things are … even more so. 
In the U.S., we have realized that we don't have the manufacturing in place to manufacture medical supplies that we need. So, a certain amount of manufacturing has been brought back during the pandemic. 
That's a good thing … but it's hard to tell to what extent that localization is going to be reversed. If globalization breaks down entirely, Richard says there is a chance that America will move back to a period of high inflation rates. 
The future of the dollar
Moving forward in terms of the dollar, Richard says that there really is no alternative to the dollar standard. 
"The reason the dollar is the global reserve currency above all else is because the U.S. has such a large trade deficit," Richard says. 
For instance, in recent years China's trade surplus with the United States has been more than $1 billion every day. 
That means that China sells its goods in the United States. It gets paid in dollars. It takes those dollars back to China … and it has a few choices. 
"It can burn them. It can bury them under the Great Wall, or it can buy dollar-denominated assets with them like treasury bonds," Richard says. 
So, as long as China wants to keep selling things to the U.S. and have that surplus, it's going to have to take those dollars and invest them either in government bonds or something riskier. 
That's not going to change. There's nothing they can do about it as long as they want to keep selling things in the United States … and their economy depends on it. 
For more on Richard's thoughts about the world economy and where things are headed … listen to the full episode!
---
More From The Real Estate Guys™…
The Real Estate Guys™ radio show and podcast provides real estate investing news, education, training, and resources to help real estate investors succeed.
---
Love the show?  Tell the world!  When you promote the show, you help us attract more great guests for 

your

 listening pleasure!
While a lockdown stops the economy and slows everything down … putting downward pressure on prices … central banks led by the Fed are conjuring TRILLIONS of fresh dollars out of thin air. And Uncle Sam is making sure they get into circulation.
Will prices rise or fall? Can an economy grow when it's locked down … or will it recede perhaps even into a dismal depression?
And how long will the world trust a dollar that's being diluted by the trillions on a monthly basis?
Tune in and find out when we talk all this and more with PhD economist and best-selling author Richard Duncan.
---
More From The Real Estate Guys™…
The Real Estate Guys™ radio show and podcast provides real estate investing news, education, training, and resources to help real estate investors succeed.
---
Love the show?  Tell the world!  When you promote the show, you help us attract more great guests for 

your

 listening pleasure!
If you've been around awhile, you know there are optimists, pessimists, and realists.
Optimists see the upside and sunshine in everything.  They're chargers and they're not afraid to take bold … even impulsive action.
Of course, optimists sometimes run full-speed into a brick wall they COULD have seen, but chose not to … because it didn't fit their worldview.
Still, if you take enough shots on goal, you're bound to score eventually … so there's something to be said for unbridled optimism.
Then there are the pessimists …
Pessimists see the dark and down-side in everything.  There's no amount of upside that can outshine the enormous list of every possible thing that might go wrong.
Pessimists are pros at predicting problems … including many that never happen … and saying "I told you so" when things do go wrong … and worse, are often quite content to sit "safely" on the sidelines doing nothing.
Of course, you can't win if you don't play. 
But when your definition of winning is "not losing" … for those who see mistakes as devastating failure rather than valuable learning opportunities … that's okay.
But perhaps there's a productive middle-ground …
Multi-billionaire real estate investor Sam Zell says his strength is his ability to see the downside in a deal … and move forward anyway.
Zell says everyone can see the upside.  This doesn't take any special skill or fortitude … except perhaps to keep believing after losing repeatedly.
But to soberly acknowledge the risks … and then find a path to proceed based on probabilities and a reasonable risk-adjusted return … THAT's Sam Zell's billionaire super-power.
Sam Zell is a realist.
We like listening to billionaires.  And we're careful to listen to people both inside and outside of real estate … especially those who manage mega-amounts of money.
These big-time money managers have the time, the smarts, the resources, and the responsibility to gather lots of data and opinions, think long and hard, and then make great decisions more often than not.
Billionaire Jeffrey Gundlach is founder and CEO of DoubleLine Capital, which is a huge investment firm. 
Gundlach's a renowned expert in bonds and has been recognized as one of the top 50 most influential people in the world by Bloomberg Markets.
Of course, real estate investors should always pay close attention to the bond markets.  The bond market is WAY bigger than the stock market … and directly impacts the cost and availability of money and mortgages.
More importantly, bond investors are arguably the most astute observers of the economy, the Fed, the dollar, and the politics affecting prosperity.
So when we saw a recent Reuters headline reporting on Jeff Gundlach's comments about the economy in a recent investor call … we thought it worth noting.
"'Nominal GDP growth over the past five years would have been negative if U.S. public debt had not increased,' said Gundlach."
" '… the GDP … is really based exclusively on debt – government debt, also corporate debt, and even now some growth in mortgage debt.' "
Wow.  We'd call that a reality check.
Think about that.  Five years of "growth" in a decade long "recovery" is really just a bunch of borrowed money fluffing things up.
That's like using your credit card to remodel your house, buy a new car, and take a fancy vacation.  Your friends and neighbors think you're prosperous.  But your income didn't really grow … just your spending.  
Of course, if you're using debt for productive investment … where investment returns exceed the cost of debt … then you could make the argument going into debt is smart.
That's like using your credit card to buy new tools, remodel a property, hire a lot of workers, and then rent the property out for a profit.
Time will tell if enough of the new debt generated will be productive enough to pay for itself and add to real GDP.  Right now, according to Gundlach, it's still net negative.
Meanwhile, we stay with our long-held belief that it's probably wise for real estate investors to focus on niches and areas which hold up well or are more attractive in weaker economies.
It doesn't take much smarts to do well in a booming economy.  A rising tide lifts all boats.  The biggest risk is getting sloppy and not being ready for a slow down.
But in any economy, even recessions, rich people tend to fare well. 
Of course, it's hard to collect residential rents from the affluent.  But resort and medical are two areas where affluent people will continue to spend … even in a stagnant economy.
For working class folks and their employers … low-tax, affordable markets with good infrastructure, nice quality of life, and a business-friendly environment will likely continue to grow at a disproportionate rate.
A realist sees both the opportunity and the risks … then finds a path forward.
And for all the pessimists, here's another reality check …
Check out this list of GDP growth indexed to notable events, including wars, depressions, recessions, and a variety of crises.
Take a look at it and ask yourself if there's any point in the history where you wouldn't wish you bought more real estate 20 years earlier.
Real estate is fundamental to human existence.  As long as there are people, there will be demand and opportunity in real estate.
So watch for clues in the news … to both find opportunity and to get reality checks from unbridled optimism … but don't let the fear-mongering put you on the sideline.
Sometimes the biggest risk is not taking one.  Be bold.  Be smart.  And stay connected to people and ideas that expand your thinking and possibilities. 
Until next time … good investing!
---
More From The Real Estate Guys™…
The Real Estate Guys™ radio show and podcast provides real estate investing news, education, training, and resources to help real estate investors succeed.
---
Love the show?  Tell the world!  When you promote the show, you help us attract more great guests for 

your

 listening pleasure!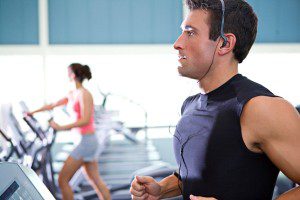 If you're one of those who take The Real Estate Guys™ to the gym, make sure you carbo load first! This one's a whopper!  Our radio audience only got an hour, but the podcast audience gets the whole enchilada.  That way whether you like American or Mexican, there's something for everyone.
A few weeks back, we went to Las Vegas for the 7th Annual Freedom Fest conference.  This was our first time and we weren't sure what to expect.  But after our previous interview with event founder, economist Mark Skousen, we thought it would be worthwhile.  It turned out even better than we thought!
After being near the epicenter of the financial earthquake which rocked the real estate portfolios of even the most experienced investors, we've put a big emphasis on studying economics.  Who cares if you're expert at fixing up properties, managing tenants or putting together syndications if property values are crashing, tenants don't have jobs, loans aren't available, and people are too scared to act?
So we started looking for people who saw it coming, put their predictions in writing and got it right for the right reasons.  Hindsight's often 20/20, but seeing the storm coming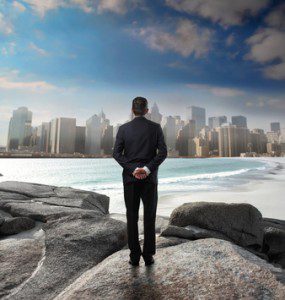 while there's still time to shutter the windows is better.  You might not be able to avoid bad economic weather, but with advance notice at least you can prepare!
We looked at the lineup of speakers at Freedom Fest and decided this would surely be an eye-opening experience. We were especially excited about Peter Schiff, author of Crash Proof 2.0 (a highly recommended read!).  Schiff called the crisis for the right reasons – and way ahead of time.  We're happy to say we got a lengthy interview with Mr. Schiff to see what he's thinking now – which is the feature of our next show.
While we're boasting about awesome interviews, we also had a chance to talk with billionaire CEO of Forbes Magazine and former Presidential candidate, Steve Forbes.  That interview is coming up in a couple of weeks, so stay tuned!  The best way to be sure you don't miss any of our exciting episodes is to subscribe to our podcast via iTunes (shameless plug). 😉
Today's episode is about talking to LOTS of people! It was like one of those speed dating sessions.  Robert sat at the microphone from early morning to late at night, and Russ rounded up a long line of interesting people to interview.
Featured in this episode of The Real Estate Guys™ Radio Show:
Your host, Robert Helms
Co-host and cat herder, Russell Gray
And a long parade of very special guests (in order of appearance):
Jeffrey Verdon, Attorney, talks about estate planning and asset protection strategies utilized by wealthy individuals; including off-shore entities and a very interesting technique for funding life insurance.
Dave Fessler, Energy & Infrastructure Expert for the Oxford Club.  Dave discusses his views on the future of energy and infrastructure and their impact on jobs and the economy.  He also comments on "the paradox of thrift" – how consumer savings is actually fueling the recession.  He tells us how long he thinks it's going to last, and where he believes America's best chance for job creation are right now.
Bob Bauman, Attorney, Former U.S. Congressman, Founder of The Sovereign Society; shares his thoughts on offshore investment, asset protection, second citizenship and the growing interest many people have in diversifying globally.
Vernon Jacobs, CPA, is an expert in international taxation.  Vern tells us what to consider when investing or employing asset protection strategies offshore.
Robert Barnes, Attorney, is part one of two back to back interviews with lawyers from a premier tax and investment fraud law firm that went 3 for 3 (that's pretty good!) in three of the top four high profile tax cases in the U.S. (you'd recognize the names).  Mr. Barnes reveals the worst thing you can do when contacted by the IRS.
Robert Bernhoft, Attorney, is part two of our tax and investment fraud attorney interviews.  Mr. Bernhoft describes what you can do to proactively avoid problems with both your investors and regulators; and shares how his firm uses specialized "non-litigation" techniques to recover misappropriated funds without going to court.
Steve Hochberg, Chief Market Analyst for Elliott Wave, works closely with Robert Prechter.  Prechter's 2002 NY Times best seller, Conquer the Crash, accurately predicted the current financial crisis.  While everyone is running scared of inflation, Steve says DEFLATION is actually the big near term threat.  He believes we are "on the precipice of the greatest stock market decline of our lifetime."
Patri Friedman, Executive Director and Chairman of the Board of The Seasteading Institute.  A city on the sea?  Really??? Before you write it off as Looney Tunes, go to their website and look at their management team.  These guys are all brilliant.  We're talking Stanford, Harvard, Yale.  Wow.  Have you heard of Pay Pal?   Yeah,the founder is on their board.  And why were they at Freedom Fest?  Take a listen!
Leon Louw, Executive Director of the Free Market Foundation, all the way from South Africa!  Why?  To raise money to advance property ownership rights for blacks in South Africa. For what it's worth, we didn't see any evidence of racism at Freedom Fest, though it was full of "tea baggers".  Obviously, Leon felt people at the event would be supportive of his cause. From our observations he was right.  But this isn't a political interview. any more than our show is political.  We just  want to understand what people are thinking and doing, and how it creates or undermines real estate opportunities.  Think about the ramifications on demand in a market where a large part of the population, formerly locked out, suddenly has access to buy property.  Very interesting stuff.
Terry Coxon, author of Unleash Your IRA, shares a powerful concept for maximizing your Individual Retirement Account.  We thought we knew all about this topic, but Terry shares a strategy we hadn't considered. Now we're hyped to read his book.  With the demise of home equity, and a growing number of people predicting a tough stock market (at best); and lending getting even tighter from financial reform, we think IRA's and rollover 401k's are one of the BEST sources of private investment capital.  That makes this a topic worth exploring!
Ron Holland, editor of two financial newsletters and 30 year financial industry veteran, has something to say on the topic of IRA's.  And it's concerning.  He shares what he thinks is the greatest threat to your retirement account.
Terry Easton, author of Refounding America and contributor to Human Events. Terry is an uber-conservative / Libertarian and has a lot to say on the topics of economics, politics and real estate.  We came to hear a lot of opinions and it just so happens that Terry has a lot of opinions.  But since they come from a long history of study and involvement, we think they're worth listening to.
All in all, Freedom Fest was a great experience and we're very likely to attend next year's event.  We met great people, got valuable insights, and had our paradigms stretched (we've been icing them since we got back).  Most of all, we see the economy and real estate from a much broader perspective.  As we continue to seek out markets, opportunities and product niches to invest in, we are convinced a bigger perspective will pay huge dividends.
Remember – our next two episodes feature our interviews with Peter Schiff and Steve Forbes!
The Real Estate Guys™ Radio Show provides ideas, perspectives and resources to help real estate investors succeed.
Would you rather be aggressively conservative or conservatively aggressive? Many investors who are still in the game through the mortgage meltdown and the Great Recession are facing this question – whether they realize it or not.
In a recent show (Old School Real Estate – Debt Free Investing) we talk about the pros and cons of the old school approach of investing for cash.   However, the discussion raised another consideration that we didn't talk about: how has the Great Recession affected your inner investor? Whether you're aware of it or not, you're probably forming new paradigms as you observe and experience the current real estate market.  We suggest that you form your new paradigms thoughtfully and purposefully, rather than simply absorbing the attitudes of whatever group of people you happen to associate with today.
So again:  would you rather be aggressively conservative or conservatively aggressive?
Some people will respond to the pain of unforeseen setbacks by elevating risk avoidance above profit generation.  If you're old enough to remember the Tom Cruise film Top Gun, Cruise's character, Pete "Maverick" Mitchell was a reckless, but very talented fighter pilot.  After Maverick's beloved flying mate "Goose" (played by Anthony Edwards) was killed during a practice session that Maverick piloted,  Maverick became hyper-conservative.  He lost all of the swag that contributed to making him a great fighter pilot.  Though he remained talented and capable, he became ineffective when it mattered most.
Later in the movie, the now timid Maverick is pressed into live combat, but actually endangers his team because he is too conservative to engage the enemy.  The safety of his own plane had become his paramount priority.  He was more interested in risk avoidance than winning the battle.  His paradigm shift had changed his priorities.
Thankfully, in the middle of the battle, he snaps out of it and re-engages.  The irony is that the formerly reckless, undisciplined Maverick doggedly follows procedure, placing his own plane in jeopardy by refusing to "leave his wingman".  But all the skills and instincts that made him great when he was reckless still remained, and he was able to outflank and outsmart the enemy.  He saves the day with his now conservative aggression.
So Maverick started out highly skilled, but arrogant and reckless.  Then he experienced a tremendous setback and withdrew into an aggressive conservativeness which neutralized his amazing skill.  When he applied the lesson of his setback to his aggression rather than to his fear of failure, he became conservatively aggressive and highly effective – perhaps even more so than before his failure.  In other words, his failure actually made him stronger when he got the right lesson from it.
If you're just starting out, try to look at the pain some of the old timers are facing (we know it's hard) and ask yourself what lessons you should apply to your ambition.
If you're among the walking wounded, look at your attitude towards investing today. Are you looking for reasons to engage – or for reasons to disengage? Have you become aggressively conservative?  If so, did you do it purposefully – or have you simply absorbed negativity from the naysayers in your life?
The great news is that you don't have to have lightening fast reflexes, eagle sharp vision or marathon runner stamina to be successful as real estate investor.  But like Maverick, you have to manage your inner fighter pilot and make sure you can effectively engage when the battles of investing call you into action.  You may be safe sitting in the hangar watching, but you won't win any medals.  This economy needs heroes right now.
But not everyone has what it takes to be an investor in the real world.  It's hard work, it can be scary at times; and if you engage early and often, there is a high probability you will get shot at – and perhaps even shot down.  But if you keep your wits about you, pack your chute, and follow procedures developed through the trials and errors of those who have come before you, you have a legitimate chance to win.
Is it worth the risk?  That's up to you.  But financial freedom, like any other kind of freedom, isn't free. It comes at a price.  If you do nothing, then not winning is a certainty.  You may be safe, but you won't be victorious.  You have to decide if you want to soar like Maverick in an iron eagle or be safe like a church mouse hiding in a hole in the wall hoping to live your life unnoticed.
You know where we'll be: right here on the radio and our website bringing you news, views, information, inspiration and resources to help the fighters succeed.  When one of our listeners succeeds, they become another contributor to a successful society.  That's good for them, it's good for us – and it's good for the church mice, too.