An essential element of real estate investing is protecting the assets you've worked so hard to acquire.
When you're just starting out, your investment business is pretty low liability. But as you acquire properties, the liabilities build up … and a legal problem with one property could cascade and affect your other assets if you don't have the proper protections in place.
In this show, we'll talk with a Rich Dad advisor on how to sort your assets into buckets so you NEVER lose everything at once.
Part one of this two-part series is for beginners and experienced investors alike. As John F. Kennedy said, "The time to repair a roof is when the sun is shining." NOW is the time to put in place protections to keep you safe if troubles arise.
In this episode of The Real Estate Guys™ show you'll hear from:
Your host, asset 

Robert Helms

His liability of a co-host, 

Russell Gray
Garrett Sutton

, best-selling author and legal advisor to Robert Kiyosaki
---
Listen

***
---
Subscribe
Broadcasting since 1997 with over 300 episodes on iTunes!
---
Review
When you give us a positive review on iTunes you help us continue to bring you high caliber guests and attract new listeners. It's easy and takes just a minute! (Don't know how? Follow these instructions).
Thanks!
---
Firewall your assets
The society we live in is very litigious … and that's not going to change any time soon. So what can investors do?
We talked to Garrett Sutton about precautions YOU can take to protect your assets as they grow.
Your best option, Garrett says, is probably an LLC, simply because they provide the best asset protection. An LLC allows you to firewall your assets so one lawsuit doesn't set off a chain reaction that leaves you asset-less.
Why is an LLC better than a corporation? Besides better asset protection, LLCs offer more tax flexibility and charging order protection.
Charging orders are legal judgments that allow creditors to access the money you make through your business. But some states offer charging order protection to LLCs.
And, Garrett says, most lawyers prefer to go through insurance so they can collect right away. So ideally investors have two firewall protections … an LLC or corporation AND insurance to back them up.
Some states, like Utah, California, and New York, don't provide great asset protection for LLCs. Creditors can blow through the LLC and force the sale of assets … not ideal.
What can you do if you live in a state that doesn't have the best rules for entities? Garrett reminds us you DON'T have to form an entity in the same state as your property or your residence.
How to set up your own LLC
While setting up an LLC may sound onerous and difficult, Garret says it's really not that hard. There are two main steps:
Set up an LLC in the state you want.

Pick a name and make sure the name is available

File your articles of organization, operating agreement, and certificates.

Transfer the title of your property into the name of your LLC. This is NOT a sale … simply a transfer.
While there are plenty of websites advertising do-it-yourself LLC help, it's much better to talk to an attorney, says Garrett.
A certified legal professional can walk you through all the steps and help you understand which business decisions are right for you.
And, an attorney will help you stay aware of formalities … the easy-to-follow rules that will keep your LLC safe from legal troubles.
Fine-tune your asset protection strategy
Garrett is a best-selling author. His books on starting your own corporation or LLC cover the strategies and techniques YOU can use to increase wealth and reduce risk.
A technique SOME people use is changing their LLC from partnership taxation to C or S corporation taxation.
That's fine, says Garrett … as long as you don't forget to amend your operating agreement.
Business decisions as simple as tax changes have many permutations we don't even think about … another reason an asset protection attorney is essential.
Other investors are looking into offshore asset protection trusts. Something some investors don't realize is that more than 10 states have created onshore trusts. But while these trusts make your money bulletproof, recent cases have demonstrated that it's only bulletproof in the state where you've set up the trust.
Although there are many tricks for upping your protection level … and your wealth … investors don't need 17 layers of LLCs.
They also don't need to spend a ridiculous amount of money to form an LLC. For example, a Wyoming LLC provides great protection levels, for only $50 a year (plus any legal fees).
And LLCs don't mean you're locked into operating decisions. You have the latitude to make changes. LLCs are flexible!
Interested in delving deeper into the legal realm of asset protection? Delve into what Garrett has to offer on his website.
And while Garrett provides affordable asset protection and legal services, that doesn't mean you shouldn't seek out your own legal help … just make sure the people you work with are serious about helping small investors stay on top of corporate formalities.
In part two of our asset protection series, we'll delve deeper into the legal world with a discussion of offshore asset protection strategies. Listen in for info on taking your profits outside of the States!
---
More From The Real Estate Guys™…
The Real Estate Guys™ radio show and podcast provides real estate investing news, education, training and resources to help real estate investors succeed.
It's funny how people will buy a fancy new car or a big new home and invest a bunch of money into a security system.  Yet so many real estate investors don't put any thought or money into creating a security system around the equity and cash flow building up in their investment properties.  And if something goes wrong, not only are the rental properties at risk, but so is the fancy new car, big new home and every other of their prized possessions!
Since this is the time of year most investors are neck deep in reviewing their finances and preparing their tax returns, we thought it would be a great time to get an update on the wonderful world of asset protection.
Sitting down at the microphones for this edifying episode of The Real Estate Guys™ radio show:
The bodyguard of broadcasting, your host Robert Helms
The body odor of broadcasting, co-host Russell Gray
A man with a large body of work on the topic of asset protection, attorney Garrett Sutton
The United States is the lawsuit capital of the world.  And even though our show is now downloaded in over 160 countries, many folks throughout the world are coming to the USA to pick up bargain real estate (and who can blame them?).  Plus, many of the essential concepts of asset protection are applicable in jurisdictions around the world.  So no matter where you're from, there's something for everyone in this episode!
The basic concept of asset protection is the utilization of entities to create legal separation between assets.  These entities can also be useful for privacy, tax and estate planning purposes.  And the bigger your collection of properties becomes, the bigger a target you become for financial predators of all types.  The sooner you get your asset protection structure built, the faster you can move when adding properties to your portfolio.
If you're unfamiliar with the basic concepts, we recommend you do some reading before you sit down with an attorney.  No point in paying out hundreds of dollars per hour for a basic education.  However, with that said, once you're ready to actually implement a plan we STRONGLY suggest you engage a competent attorney to actually help create the plan and form the entities.  There are lots of "fill in the forms" do-it-yourself websites for this type of thing, but they don't come with professional advice and errors and omissions insurance.  If an asset protection plan makes sense for you, then it makes sense to do it right.  At least that's our not so humble opinion.
We'd love to share more, but we're guessing you'd rather hear from the real expert, so listen in to our conversation with Garrett Sutton.  Then jump into The Real Estate Guys™ Recommended Reading bookstore and pick up some books on the topic, including Garrett's recently updated Start Your Own Corporation.  Before you know it, you'll be proudly pontificating on asset protection principles – and you'll be the life of the party!
Listen Now:
The Real Estate Guys™ radio show and podcast provides real estate investing news, education, training and resources that help real estate investors succeed.
The Real Estate Guys are proud to announce that Attorney Garrett Sutton will be a special guest teacher on their 8th Annual Investor Summit at Sea April 9-17, 2010.
Garrett Sutton is one one of Robert Kiyosaki's original Rich Dad Advisors and has spoken all over the world on the topic of partnership formation and asset protection for investors.  He is a best selling author and has over 25 years experience practicing law with offices in Wyoming, Nevada and California.  Garrett has been a guest on both The Real Estate Guys radio and TV shows, in addition to being featured in the Wall Street Journal and the New York Times.
Many people believe 2010 will be a great year for real estate acquisition.  If you see more opportunity than you have money, then setting up investing partnerships could be your formula for success.  But when you are investing other people's money, having a strong understanding of the legal requirements is critical.  At this year's Summit, Garrett will be teaching on what you need to to know to do investing partnerships right.
Also, in today's lawsuit prone society, it's important to have an asset protection structure in place and know how to use it properly. What's the point in earning a fortune only to lose it all in a frivolous law suit?  Garrett will explain entity structuring to maximize protection and minimize costs.
Best of all, Garrett will be on board the cruise ship with us for 8 days and 7 nights, so attendees will have plenty of opportunity to ask questions. Take advantage of this RARE OPPORTUNITY to spend time with Garrett Sutton and the rest of The Real Estate Guys Summit at Sea faculty.  Sign up today!
The end of the year is a great time to look back and grab lessons from the past so you can apply them to your plans for the new year.  It's also a great time to clean up loose ends and organize yourself for a fast start in January.  While it's exciting to build your portfolio, it also means you have more details to manage.  Being organized is no longer a luxury.  It's a necessity!  On this broadcast, The Real Estate Guys focus on some of the many often overlooked, yet very important details of keeping your real estate empire tidy.
On this broadcast, making their lists and checking them twice are:
Your Host, Robert Helms
Co-Host and Chief Financial Organizer, Russell Gray
The Godfather of Real Estate, Bob Helms
Special Guest: Rich Dad Advisor, Attorney and Author, Garrett Sutton
The show kicks off with a quick discussion of the importance of getting off the hamster wheel long enough to take time to both reflect on the past and to plan for the future.  "Busy" isn't always productive.  It's important to work smart.  A big part of working smart is having a personal advisory board to help you know what to do.  But who do you need and how do you work with them?
Joining in on the discussion is attorney Garret Sutton.  Garrett begins with a review of essential asset protection strategies for real estate investors.  Then he provides important updates on upcoming and potential changes to tax, estate and asset protection laws that affect real estate investors.
In today's challenging economy, it's important to make every dollar count.  Garrett shares critical information about changes in fees related to entity formation and maintenance.  This leads to a discussion of jurisdictions which offer the best protection and privacy for the price.  He also reveals a little known technique to minimize the costs of moving an entity from one jurisdiction to another.  Good stuff!
Garret closes out with important reminders about critical, though mundane, tasks which should be attended to in order to maximize asset protection.  The Guys go on to discuss other items which should be considered in year end planning.  The show wraps up with an overall outlook for the new year.
Listen to this Broadcast Now
Want More?  Sign Up for The Real Estate Guys Free Newsletter!
Great news!  Rich Dad Advisor and Asset Protection Attorney Garrett Sutton has joined the faculty for The Real Estate Guys 8th Annual Real Estate Investor Summit at Sea!
Garrett has been a frequent guest on both The Real Estate Guys Radio and TV Shows.  He is an expert in Asset Protection, Estate Planning and Entity Strategies for real estate investors.  He is one of the longest tenured advisors to Rich Dad Poor Dad author Robert Kiyosaki.
Now, YOU have the opportunity to spend an ENTIRE WEEK with Garrett Sutton on The Real Estate Guys 8th Annual Summit at Sea. Just imagine attending classes taught by Garrett and the other Summit Faculty while sailing the beautiful Caribbean ocean on the way to Belize, Roatan and Cozumel!  Enjoy meals, cocktails and conversation with Garret and the other teachers and students.
This is a RARE OPPORTUNITY to enjoy extensive quality time with one of the most famous experts on asset protection strategies for real estate investors and business owners.  Best of all, it's all included in the price of the Summit!
The REAL Book of Real Estate
by Robert Kiyosaki and 22 Contributing Co-Authors
He's back.
Robert Kiyosaki, author of Rich Dad Poor Dad, one of the best selling books in history, is back talking about real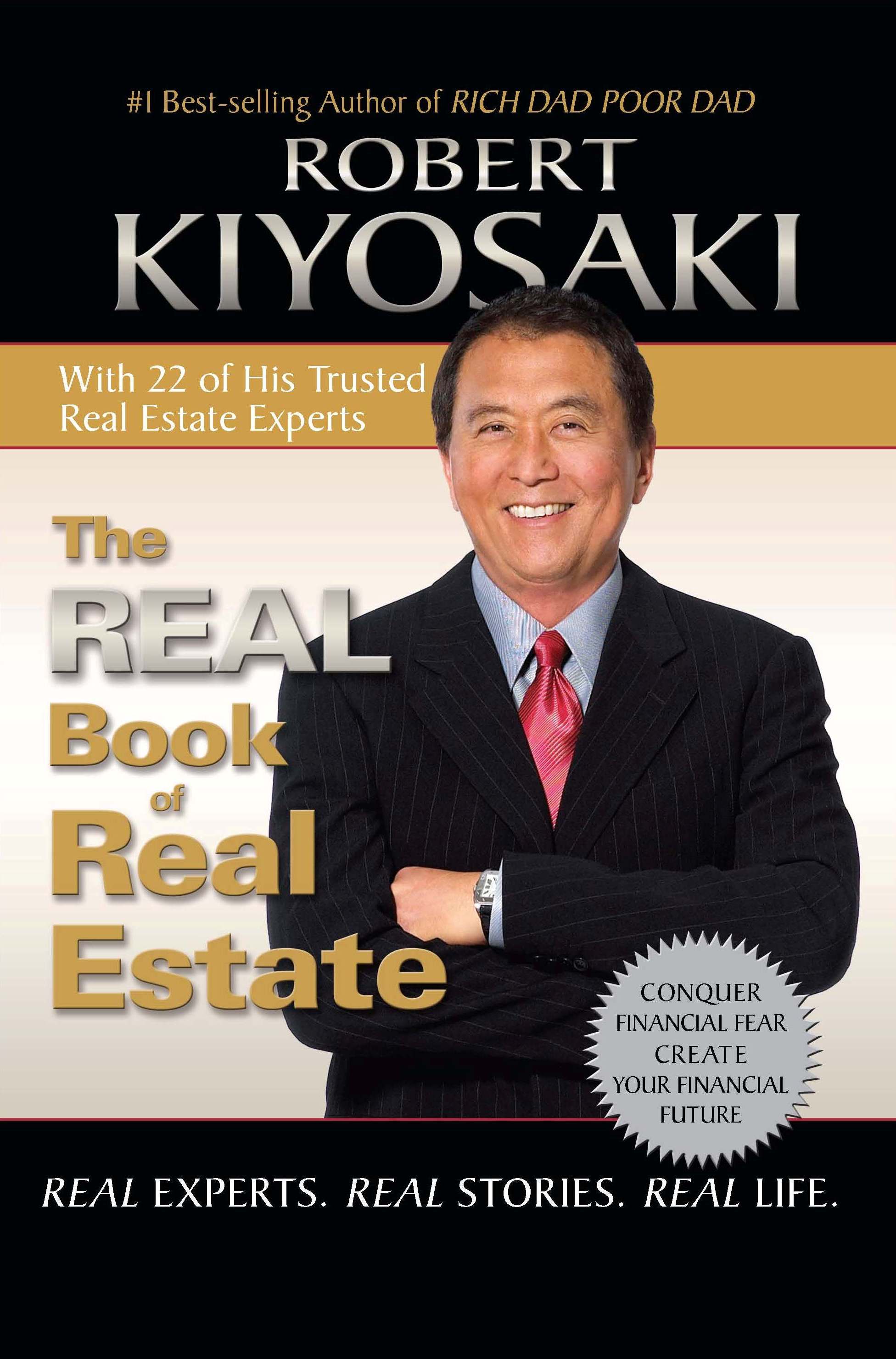 estate!  Why now?  He says the rules have changed and the numbers make sense again.
In The REAL Book of Real Estate, Kiyosaki compiles real estate investing wisdom from 22 veteran experts.  The Real Estate Guys had a chance to talk personally with Mr. K. about this book and the unusual timing of its release.  You would think that a book on real estate investing would be a hard sell in this post meltdown world.  And it is.
But the book was released now to help investors who've only known boom times.  It shares the knowledge and perspectives of veterans who've survived and thrived through previous real estate market cycles (which is lesson #1:  real estate cycles, it doesn't disappear).   If real estate isn't "over", then the question remains: where are the opportunities and how can I find or create them?  That's what this book addresses.  It might be a bad time to sell a book on real estate investing, but that might make it a great time to pick up bargain properties.  This book will teach you many of the things you need to know.
What we like best about it is that it's immensely readable.  It isn't a book about theory.  It's very real world practical.  And you can start anywhere, as each author's work is a stand alone discussion about their particular area of expertise.  It's as much a reference manual as an educational work.
We like it.   We've been around real estate for awhile and we learned a lot.  We think you will too.
Order your copy today – and be sure to visit the archives to listen to The Real Estate Guys' exclusive interviews with Robert Kiyosaki and many of his contributing co-authors.  Let us know what you think!