The real estate story behind Walt Disney World in Florida has a valuable lesson for investors today … and it's not what you think.
If you're unfamiliar, Walt Disney decided to create a new and improved East Coast version of his epic California Disneyland. But he needed land … LOTS of it.
So he went to Florida.
By then, Disney was a household name and the success of Disneyland was well known. This created a problem for Disney.
If local landowners realized Disney was behind the assemblage of land needed to build another park, it could take a lot more time and money to get the project done.
So even when the land deal hit the news in May 1965, Disney waited months to announce his plan to build Disney World.
The obvious lesson is to avoid showing deep pockets when the other party has leverage.
But that's not why we're talking about it today.
There's something else going on in the world … something we've been watching for some time … that could become one of the biggest financial stories in the last 50 years.
So while financial reporters hang dutifully on every word that proceeds out of the mouth of Jerome Powell today…
… there's another voice in the marketplace only a few nut jobs (like us) are paying attention to.
Gold. And yes, this matters to real estate investors.
But it's not what gold is doing in response to what the Fed says. It's about what gold is saying about the state of the system that the Fed is not.
Of course, there are implications for you and your investments … real estate and otherwise.
The quandary for pundits everywhere is why the Fed is considering lowering interest rates in the midst of "the greatest economy ever".
Typically, interest rates are lowered to stimulate a sluggish economy.
Sure, it's possible the economy could be far less robust than claimed.
You probably know this is now officially the longest "recovery" on record … so perhaps a preemptive boost is a good idea.
Maybe the Fed is simply yielding to President Trump's pleas to go tit for tat with those pesky currency manipulators … to help keep America's exporters competitive.
If you read the financial news, it's easy to get lost in all the conjecture surrounding the dollar, the Fed, the economy, and interest rates.
But while people are bickering about political intervention in monetary policy, and what it all means to asset values …
… central banks around the world have been quietly stocking up on gold at the fastest pace in 50 years.
So what?
Think of Wall Street and insider trading. When insiders of a corporation buy or sell … it's often because they know something others don't.
Savvy stock traders watch these moves for clues about the future of the stock.
When it comes to money … or more accurately, currency … you can't get much more "inside" than central banks.
It's reasonable to think they know something.
Most "investors" look at gold as a trading vehicle … something to buy and sell in order to create currency "profits" in the same way a flipper trades houses to generate currency profits.
But central banks can print currency … at next to no cost. They don't need to trade gold or anything else to generate currency. They can print all they want.
Think about that.
Could it be gold has another role in international finance?
Apparently, China and Russia think so. Along with Poland, Hungary and Malaysia … to name just a few. The list is long.
Another notable advocate for putting gold back in money is Judy Shelton. Shelton is President Trump's latest nomination to the Federal Reserve Board.
It's also notable that of ALL the things Fed Chair Jerome Powell could say in his limited testimony to Congress, he chose to warn them against a return to the gold standard.
Maybe it's just us, but reminds us of this admonition from the Wizard of Oz …
"Pay no attention to that man behind the curtain!"
So what does all that have to do with Disney?
Remember, Disney wanted to accumulate land without anyone realizing what he was really up to. Everyone just looked at each deal as a one-off.
Disney and his team were careful to be sure no one saw the master plan until he unveiled it.
(Of course, people playing close attention figured it out … but by the time the masses knew, the deal was done).
But think about this …
If YOU had an unlimited credit card, no ethics, and knew you were about to go bankrupt … might you use your credit to buy and stash things of real value before the card is shut off?
If the players in the casino know the house is about to go bust, there's a mad dash to cash in the soon-to-be-worthless chips.
Just remember, these are big, lumbering central banks and a worldwide financial system. "Soon" can take months … or years.
So no one knows exactly when the tipping point comes. It's slow at first … and then all at once.
We've been watching this story develop since we first wrote about it in our Real Asset Investing report in 2013.
We discuss it in more detail in the videos of our more recent Future of Money and Wealth conference.
It's clear there's SOMETHING going on …
The ultimate currency insiders are aggressively acquiring gold. Nations who had entrusted their gold to third parties are steadily repatriating. Perhaps not so trusting anymore?
Lots of things going on geo-politically have no apparent rhyme or reason, until you look past the chatter about democracy and human rights … and just follow the gold and oil.
Richard Nixon shocked the world on August 15, 1971 when he changed the entire global monetary system in a "temporary" defense of the dollar.
Gold and oil spiked as the dollar collapsed. Interest rates were eventually hiked to over 20% to save the dollar. Every individual and business on the planet was affected.
Some people lost fortunes while others made them. The difference was (and still is) awareness, preparation, and a willingness to act when others stand paralyzed.
Some people noticed the exploding debt of the 60's, the silver coming out of the coins in 1964, and the French President's public warning about misplaced faith in the U.S. dollar.
People paying attention back then positioned themselves to prosper in spite of … or more accurately, because of the turmoil.
That's why we attend and produce investor mastermind events like the New Orleans Investment Conference and the Investor Summit at Sea™.
It's where we talk with alert investors and savvy thought leaders … searching for actionable intelligence in a noisy, chaotic world.
Though largely ignored and misunderstood by many on Main Street, there's a very public and aggressive global search for alternatives to the U.S. dollar.
Whether it's gold, crypto, the yuan, or something else … if and when a viable alternative to the dollar is embraced by the rest of the world …
… Americans could well be faced with spiking interest rates (the Fed will lose control), a collapsing dollar, rising asset prices in dollar terms (inflation), falling values in real terms, and a contracting economy (recession).
Those with low fixed-rate debt, real assets (including gold), cash-flow producing investments (like rental property), are likely to be big winners.
The world didn't END when Nixon reset the system. It just changed.
So this isn't doom and gloom … it's hope and opportunity … IF you're among the aware, prepared, and prone to act.
After all, if you own solidly cash-flowing properties in affordable markets, while holding a chunk of your liquid reserves in gold (with no counter-party risk) …
… and nothing happens, how are you worse off?
But if gold is the canary in the coal mine signaling that the Wizards are up to something, it might be smart to be hedged.
Until next time … good investing!
More From The Real Estate Guys™…
The Real Estate Guys™ radio show and podcast provides real estate investing news, education, training, and resources to help real estate investors succeed.
---
Love the show?  Tell the world!  When you promote the show, you help us attract more great guests for 

your

 listening pleasure!
It's your questions and our answers.
That's right. It's time for another segment of Ask The Guys … when we hear about the real-world challenges investors like YOU face every day.
We have another great collection of questions from our loyal listeners … covering everything from infinite returns to gold, proper reserves, compressed cap rates, and cash flow.
Remember … we aren't tax advisors or legal professionals.
We give ideas and information … NOT advice.
In this episode of The Real Estate Guys™ show, hear from:
Your in-the-know host,

Robert Helms

His go-with-the-flow co-host,

Russell Gray
---
Listen
---
Subscribe
Broadcasting since 1997 with over 300 episodes on iTunes!
---
Review
When you give us a positive review on iTunes you help us continue to bring you high caliber guests and attract new listeners. It's easy and takes just a minute! (Don't know how? Follow these instructions).
Thanks!
---
The ins and outs of infinite returns
Our first question comes from Sean in Durango, Colorado, who wants to know more about the ins and outs of infinite returns.
This is a topic we are pretty passionate about … it was even the theme of this year's Investors Summit at Sea.
The idea of an infinite return is pretty simple. It means that you're investing on the house's money.
In other words, you put up some money for a deal … to buy a property or be in syndication or grow crops … and at some point the deal has paid you back … and you're still making money.
Maybe that takes a year or five years … but once you get all of your initial capital off the table, everything else that comes in is an infinite return.
Infinite returns are easy to do in real estate … but it DOES take time.
There are lots of different ways to chase an infinite return, like getting creative with financing and syndication … but the core concept remains the same.
You're earning a return on no money at risk.
Purchasing real estate with other people's money
Teresa in Claremont, California, wants to know more about using other people's money to leverage the purchase of real estate.
Does it only work with people who have lots of money for a downpayment? Are there any lenders willing to finance 100 percent of a deal for a buy and hold?
Using someone else's money doesn't mean breaking into their house in the middle of the night or stealing from their bank account.
It means showing them the opportunity.
One of the primary sources of other people's money are lenders. They're in the business of putting capital to work for their depositors, for their shareholders, and sometimes for themselves.
Lenders put up some of the money for a deal in exchange for some portion of the return or a predictable income stream, like an interest payment.
You can also leverage other people's money through syndication. If you need $1 million to do a deal, you can raise $100,000 from 10 different people.
There are lots of legal and ethical implications to a syndicated route like this … but it can be a great way to get started passively or if you're interested in being a full-time real estate practitioner.
A lot of people think they have to have some sort of money to start with to do a deal. It helps … but you don't have to.
What you do have to have is a deal that makes sense … because it's going to end up being the collateral or the investment that your equity partners come to.
No matter what, you're going to have debt … and you're going to have equity.
The key is to look at how much profit is in the deal and figure out how much of that you can give away to different people for their participation.
And when all of that is done … is there enough leftover for you?
Finding a lender who will cover 100 percent of deal through a loan is tough … and the ones that do will usually be for a primary residence.
Protect your cash flow with reserves
Gary in Scottsdale, Arizona, owns four single-family rental properties.
The question on Gary's mind is how to deal with the reality of net cash flow … one major expense can wipe out your entire annual cash flow.
It's real and it happens. It has even happened to us.
We always … always … put contingencies and reserves in our pro formas.
A pro forma is your plan for the property … what you think the income and expenses are going to be.
There are two major places where you will need reserves.
When you buy the property, you can't put 100 percent of your cash into the down payment and the property. You need to have some in reserve.
Most lenders require this. When you close escrow, they'll want to make sure that you still have money in your bank account.
We also recommend that you take some reserve capital out of every month's payment as the rent comes in.
Perform your vital functions … and then put a little bit aside. That amount depends on your projected plan for your property and what needs you anticipate.
The cause and effect of cap rates and interest rates
With cap rates compressing across the country, it has been said that investors should be careful to still maintain a good spread between the cap rate and the interest rate.
Drew in Chicago, Illinois, wants to know if there is a direct correlation between these two factors or if it's just a general rule of thumb to indicate when a market might be overpriced.
We think this is a great question.
Capitalization rate … or cap rate … is determined using net operating income.
Cap rate doesn't include anything to do with leverage or your loan … so there is zero correlation between cap rate and the interest rate.
But there CAN be cause and effect.
If interest rates are low and you can borrow money for cheap … you want to borrow more.
And if you want to go out and find a property, you're going to find a lot of competition because rates are low.
So, you'll bid up the price for the same amount of income … making the cap rate go down.
Leveraging from gold and real estate
Debra in Alpharetta, Georgia, wants some further insight into leveraging from gold and real estate combined.
Assets like gold and oil are basically proxies for the dollar.
We borrow in dollars. We lend in dollars. We invest in dollars.
When you start looking at the dollar, you see a long-term trend in loss of purchasing power … it's called inflation.
Real estate investors use inflation to get rich by borrowing money from the future and bringing it into the present when it's worth more.
So when you borrow … you have effectively shorted the dollar.
You can accelerate that process with gold.
If you look at the history of gold relative to the dollar, it basically stays the same as the purchasing power of the dollar declines.
Gold gives you the opportunity to hold some liquid wealth outside of the banking system and hedge against the falling currency.
More Ask The Guys
Listen to the full episode for more questions and answers.
Have a real estate investing question? Let us know! Your question could be featured in our next Ask The Guys episode.
---
More From The Real Estate Guys™…
The Real Estate Guys™ radio show and podcast provides real estate investing news, education, training, and resources to help real estate investors succeed.
---
Love the show?  Tell the world!  When you promote the show, you help us attract more great guests for 

your

 listening pleasure!
Old dudes like us have fond memories of beer-belly laughing out loud at the hysterical antics of Peter Sellers' Inspector Clouseau in the original Pink Panther movies.
If you've never seen them, check them out.  Two of the best are Return of the Pink Panther (1975) and Revenge of the Pink Panther (1978).
Clouseau is a bumbling idiot.  But through sheer dumb luck he always ends up succeeding … in unexpected ways as a result of unintended consequences.
The Senate's recent hearings on housing reform remind us of Clouseau.
The purported goal of the Senate shindig is to gather a group of big-brained housing industry leaders and experts to find a solution to the affordable housing "crisis". 
But … as this Forbes article opines, some perspectives aren't part of the conversation … perhaps for a reason.
Of course, you may have a differing opinion and that's fine.  We have our own opinion too.  But that's not the purpose of today's muse.
We simply watch what's happening today and consider how best to capture opportunity or avoid loss based on where things are likely headed tomorrow.
In this case, it seems Uncle Sam is looking for ways to make housing affordable.  That's a noble objective.  Go team.
There are really just three basic approaches.
One is to increase supply relative to demand.  When supply exceeds demand, prices to drop.  That's how abundance and productivity create prosperity.  
After all, lower prices make things more affordable to more people, right?
That sounds reasonable.  But it also sounds a lot like deflation.
And when bankers are in the room … the kind who make home loans secured by the dollar value of the property … they FREAK at the idea of falling prices.
So you're probably not getting sincere ideas from bankers about how to lower prices.
Then there are the builders … 
While builders LOVE the idea of building more houses, they also want to earn a profit.   Profitable building is easier when prices are higher, NOT lower.  So you can guess which direction the builders are leaning.
What about the wizards of Wall Street? 
These guys make money shuffling paper.   So they just want LOTS of paper (i.e., mortgage-backed securities) created, so they have more chips to play with in their casinos. 
And Wall Street knows falling prices frighten the lenders who make the paper possible.  So it's a safe bet Wall Street votes with the bankers for higher prices.   
Even at the Main Street level, there's not much motivation to push prices down in pursuit of truly affordable housing. 
Real estate agents (the largest trade association in North America) aren't raving fans of low prices as the preferred path to affordability … despite their rhetoric.
After all, real estate agents promote buying a home as a great "investment".  No one wants to make an "investment" that goes down.  So higher is better.
Last but not least, there's Dick and Jane Homeowner (often registered voters) … whom are keenly aware of their castle's current market value, even though they have no intent on selling.
Of course, it's fine for the prices of cell phones and big screen TVs to fall, but not home sweet home.  God forbid.
Plus, its fun for Dick and Jane to use their home equity to reset credit lines with debt consolidation loans, or to augment the falling purchasing power of their incomes.
And everyone knows home equity ATMs only work when housing prices steadily RISE. 
So yes, home BUYERS want the house affordable when THEY buy it. But after that … home OWNERS want up, up, up.  Sorry, next generation.  Figure it out.
When we asked then-candidate Donald Trump for his plan for housing , he simply said … "Jobs".  Presumably, good jobs with higher pay. 
Higher pay leads to the ability to make higher payments which leads to bigger mortgages (happy bankers, happy Wall Street) which leads to HIGHER prices.
So it's just a wild guess … but we don't think there's a chance in a very hot place that there's any serious motivation to make housing affordable.
Not if "affordable" means "less expensive".
ALL the incentives are to make housing MORE EXPENSIVE … but ACCESSIBLE.  That means more, cheaper, and easier FINANCING. 
So even IF the PTB (Powers That Be … it only sounds like Politboro) sincerely believe more and cheaper financing makes things more "affordable" …
(Hey, it worked for college tuition … oh, wait …)
… like Inspector Clouseau, they'll end up pushing housing prices up by "accident".   
That's what happens when you use debt to pull purchasing power from the future into the present.
But whatever the motives, they certainly have the tools to make it happen … 
… lower interest rates, easier lending guidelines, government (taxpayer) guarantees, tax breaks … and the Fed's all-powerful printing press.
Yes, we know all that is what first inflated and then deflated the housing bubble last time.
But smart, disciplined investors made not only survived the implosion … they made millions from the re-inflation.
So while this may not be the time to speculate on a housing price boom in the short term …
… it's arguably a great time to liquidate equity, streamline expenses, solidify leases, and prepare for the long game.
Because when Uncle Sam is working on making something "affordable", it usually means that something is showing serious signs of slowing and needs a boost. 
Of course, when you find reasonable deals in relatively affordable markets and you have a GREAT boots-on-the-ground team, it's also a great time to use cash flow real estate to stock up on cheap long-term debt.
Remember, real estate … even housing … isn't an asset class. 
Every individual neighborhood and property is unique.  So while deals might be harder to find, they're still out there.
And if the cash flow makes sense, you'll weather the storm … warmed by the notion that everyone with power to influence policy will be voting for HIGHER prices year in and year out … forever. 
Of course, they might break the financial system or crash the dollar trying to do it … so it's smart to be prepared for that too.
That's why we like gold, oil, agriculture, and paid for properties in non-leveraged markets … including, and perhaps especially, in non-domestic markets.
Real assets like food, commodities and land tend to hold relative value when currencies struggle.
Gold and silver can almost always be easily converted into any currency … and are a useful way to store liquefied equity privately outside a fragile financial system or hostile jurisdiction.
And if the dollar continues its long-term slide relative to gold, a little gold might go a long way toward retiring dollar denominated debt (like a mortgage).
That's where we think gold bugs and real estate bugs don't understand each other.  We know.  We spend a lot of time with both.
Gold is great for reducing counter-party risk and hedging against a falling currency.  But gold doesn't cash flow.
Real estate is great for using cheap long-term debt to create tax-free cash flow and long-term equity growth. But it isn't liquid and it takes a long time to retire the debt.
But putting gold and leverage cash-flowing real estate in a falling currency environment together makes each much more powerful.
It takes time to get your mind around it … but we encourage you to dedicate a little of your financial education time and budget to learning more. 
Because once you understand how gold and real estate make each other better, you'll probably be more excited about both.  We are. 
Until next time … good investing!
More From The Real Estate Guys™…
The Real Estate Guys™ radio show and podcast provides real estate investing news, education, training, and resources to help real estate investors succeed.
---
Love the show?  Tell the world!  When you promote the show, you help us attract more great guests for 

your

 listening pleasure!
We're still just a little more than a week removed from a mind-blowing 9-day mind-meld with brilliant thought leaders, niche experts, and seasoned investors and entrepreneurs …
… so we've been busy catching up on the news and looking at the world through our freshly expanded paradigms.
There are two things bouncing around our brains we think are important, but few real estate investors are paying attention to …
Gold and oil.
Sure, both these "commodities" fit well with real estate in a strategic real asset portfolio.  And if you're not sure how all that works, you can start with these past podcasts about gold and oil.
But bigger picture, both gold and oil probably drive more of geo-politics than most casual observers realize … and both are quasi-proxies for the dollar.
In other words, when you understand what's happening with gold and oil, you have insights into the future of the dollar … and some of the things governments are doing to either defend dollar dominance … or break free from it.
Of course, if you earn, invest, borrow, or denominate wealth in dollars, the future of the dollar should be of great interest to you … even if you think of the dollar as being as permanent and reliable as air (it's not).
As real estate investors, our primary interests (besides occupancy and cash flow) are demographics, migration trends, local economic strength, interest rates, taxes, and the supply and demand dynamics in our local market.
But all of that sits on the foundation of a functional financial system with two primary components … credit and currency.  Gold and oil provide insight into both.
Oil is important at both the macro and the micro level.
In the macro, it takes energy to drive economic activity.  When energy's expensive, it drives up the costs of everything and is a drag on economic activity.
At the micro level, high dollar-denominated oil prices drive up the cost of living for your dollar-denominated tenants.
But for metros where oil is big business, oil also means local jobs.  Remember, Texas and its robust energy sector were the primary driving force for U.S. job creation coming out of the 2008 recession.
Investors who realized this (like our pal Kenny McElroy) strategically invested in those markets while most people were hiding under the sheets.
So whether or not you're interested in oil as a direct investment, paying attention to the oil business can be a great way to pick markets likely to hold up well if oil prices rise.
Oil also has a potential impact on credit markets and interest rates.  Billions of dollars of debt has been created to fund shale oil production.
If oil prices drop, it both undermines the ability of regional oil economies to grow … but also for those employers to service their debt.
In the macro, if a big chunk of the debt goes rotten, credit markets could tighten.  Think about what happened in 2008 when sub-prime mortgage debt went bad.
So again, whether you're an oil investor or not, the oil industry has a direct impact on your real estate investing.
Watching oil helps you see what's coming sooner … so you have time to position yourself to capture opportunity and mitigate risk.
Of course, the good news and bad news about real estate is it moves slowly.
So while you have plenty of time to be proactive IF you're paying attention, it's really hard to act fast if you're not.  That's why we pay attention.
What about gold?
On the macro level, gold is a good gauge of how the world feels about U.S. Treasuries and the dollar.
When things get choppy in stocks, paper investors worldwide tend to flee into Treasuries for safety.  After all, Treasuries are backed up by the Fed's printing press.
Of course, what does the Fed print?  U.S. dollars.
But to quote Watto from Star Wars – The Phantom Menace … 
"Republic credits are no good here.  I need something more … real."
That is, when investors worldwide are looking for safety … and they don't trust the paper … they go into gold.
So what does that mean to real estate investors?
Remember, mortgage rates and availability derive from healthy bond markets … most notably, U.S. Treasuries.
The 2008 Great Financial Crisis had its genesis in a broken bond market … mortgage-backed-securities.  When those went bad, frightened investors worldwide piled into Treasuries … and rates fell.
But what happens if investors worldwide don't trust Treasuries?
You don't have to wonder.  China came out in 2009 and scolded Uncle Sam about the size of the deficit and all the dollar printing doing on.
Why did it bother them? Because they own TRILLIONS in U.S. bonds.  They don't want to get paid back in diluted dollars.
But Uncle Sam's debt, deficits, and printing have BALLOONED since then.
So it's no surprise that China … along with Russia and several other countries … have been diligently accumulating and repatriating gold.
They're getting out of dollars and Treasuries to do it.  And who can blame them?
Paper money has an atrocious long-term record as a store of wealth …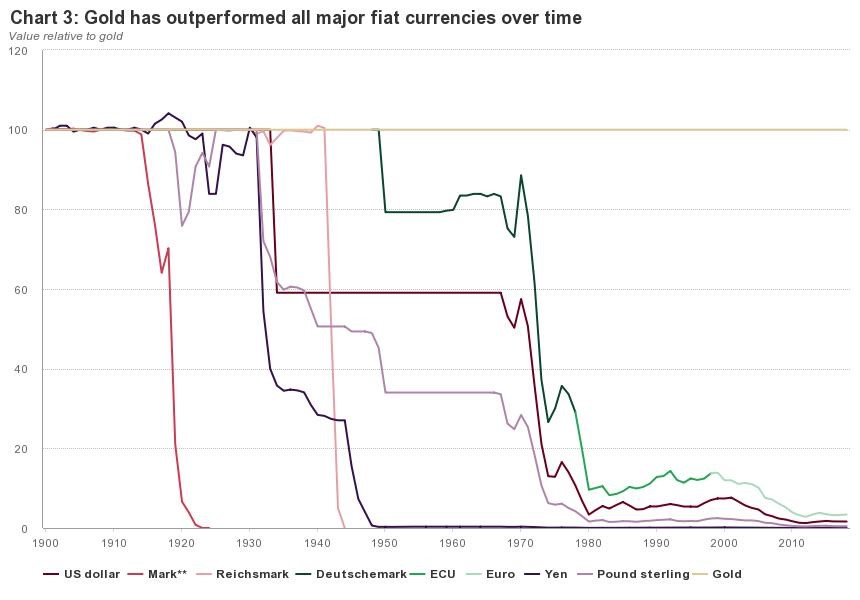 Source:  World Gold Council 
Consider this when you think about where you're storing YOUR long-term liquid wealth.
Meanwhile, there's just a little more to the developing story of gold … and the story behind the story.  It's a little complicated, but interesting and noteworthy.
After the 2008 crisis, the world's bankers got together in Basel, Switzerland to come up with voluntary rules to prevent another financial crisis.  The agreement is called the Basel Accord.
A provision in the agreement, known as Basel III (the agreement's rolled out in phases) allows financial institutions to consider gold "Tier 1" capital.  So adding gold is supposed to make banks more liquid and stable.
This is a bit of a promotion for gold.  Some observers think this means demand for gold will increase, but we're not smart enough to have an opinion on that.
But there are a couple of things we are thinking about …
Perhaps most obviously, international bankers apparently consider gold more valuable than simply a "barbarous relic" with no place in a modern monetary system.
Keep that in mind when you hear people criticize the placement of gold in a portfolio. If gold can make a bank more stable and liquid, can't it do the same for you?
To be clear, we're not fans of gold as an investment.  It's just an alternative to cash … a way to store long-term liquidity while hedging against a declining dollar and bank counter-party risk.
But the more interesting aspect of gold's now elevated role in bolstering the banking system is why it's necessary in the first place.
Is it because the banking system is still fragile and in need of support?  Is it because the world needs more leverage to expand … and so more collateral to lever?  Why not just use Treasuries?
We don't know yet.  But we'll be checking in with our big-brained gold experts to see what they think.
Meanwhile, we encourage you to think outside both the real estate and mainstream financial media boxes.  It seems like oil and gold might be trying to tell us something.
Are you listening?
Until next time … good investing!
More From The Real Estate Guys™…
The Real Estate Guys™ radio show and podcast provides real estate investing news, education, training, and resources to help real estate investors succeed.
---
Love the show?  Tell the world!  When you promote the show, you help us attract more great guests for 

your

 listening pleasure!
We're just back from yet another EPIC Investor Summit at Sea™.  If you missed it, be sure to get on the advance notice list for 2020.
It's hard to describe how transforming and powerful the Summit experience is.  So we won't.
Instead, today's focus is on the flip side of the Fed's flop on interest rates … in context of the #1 thing Robert Kiyosaki told us he's MOST concerned about.
We recently commented about the Federal Reserve's abrupt reversal on plans to raise rates and tighten the supply of money (actually, credit … but that's a whole other discussion).
The short of it is … there's more air heading into the economic jump house. 
Based on the mostly green lights flashing in Wall Street casinos since then, it looks like the paper traders agree.  Let the good times roll.
Real estate investors care because the flow of money in and out of bonds is what determines interest rates.
When money piles into bonds, it drives interest rates LOWER.
Not surprisingly, as we speak … the 10-year Treasury is yielding about 2.3% … compared to nearly 3.3% less than six months ago.
While a 1% rate change may not seem like much, it's a 43% decrease in interest expense or income (depending on whether you're borrower or lender).
So as a borrower, your interest expense is 43% lower.  Obviously, with record government debt and deficits, Uncle Sam needs to keep rates down.
But as a lender (bond investor) you're also earning 43% less.  And yet, lenders (bond buyers) are lining up to purchase.
That tells us they probably expect rates to fall further and are speculating on the bond price.
But whatever the reason, they're buying, so bonds are up and yields are down.
As you may already know, lower Treasury yields mean lower mortgage rates.  So this headline was quite predictable …
Mortgage Rates are in a Free Fall with No End in Sight – Washington Post, 3/21/19
Falling mortgage rates are bullish for real estate values because the same paycheck or net operating income will control a bigger mortgage.
This purchasing power allows buyers to bid up prices … IF they are confident in their incomes, and IF their incomes aren't being directed towards rising living expenses.
So lower interest rates don't automatically mean a boom in real estate equity.  But they help.  We'll probably have more to say about this in the future.
For now, let's take a look at the other side of falling rates …  the impact on savers and especially pension funds.
Remember, if you're investing for yield, your income just tanked 43% in only six months.  Unusually low interest rates creates problems for fund managers.
During the Summit, Robert Kiyosaki revealed he's VERY concerned about the global pension problem.
Low interest rates are only one part of the problem.  A much bigger part is the demographics and faulty model underneath the pension concept.
The net result is there's a growing disparity between pension assets and liabilities.  And it's not a good one.
Like Social Security, both public and private pensions worldwide are on a collision course with insolvency … led by the two largest economies, the United States and China.
This problem's been brewing for a long time.  But it's a political hot potato and no one has a great answer.  So the can keeps getting kicked.
But we're rapidly approaching the end of the road.  And this is what has Kiyosaki concerned.
Yet few investors are paying attention … probably because it all seems far away and unrelated to their personal portfolio.
However, the pension problem has the potential to affect everyone everywhere.
The reasons are many, but the short of it is the problem is HUGE and affects millions of people.  The pressure for politicians to do SOMETHING is equally huge.
Peter Schiff says the odds of them doing the right thing are very small.
Our big-brained pals say it probably means 2008-like mega money printing and bailouts … except even BIGGER.
So what does all this mean to Main Street real estate investors?
Keep in mind that some of the biggest pension problems are states and local municipalities.  California and Illinois come to mind.
Unlike private corporations, public pensions don't have a federal guarantee.
But even if they did, Uncle Sam's Pension Benefit Guaranty Corporation (PBGC) is in trouble too.
According to this government report, the PGBC will be broke in 2026 …
" … the risk of insolvency rises rapidly … over … 99 percent by 2026." – Page 268
Sure, the Fed can simply print all the money needed to save the PGBC … and Social Security … and more … but at the risk of ruining faith in the dollar.
As we detailed in the Future of Money and Wealth, China's been systematically moving into position to offer the world an alternative to the U.S. dollar.
Will they succeed?  No one knows, but it's yet another story we're paying close attention to.
Meanwhile, unlike Uncle Sam, states and municipalities can't just monetize their debts away with a little help from the Fed.
Of course, we'll bet if the stuff hits the fan, the Fed will "courageously" attempt to paper over it … just like they did with Fannie Mae and Freddie Mac in 2008.
But many observers contend the Fed's recent inability to "normalize" either rates or their balance sheet means they might not have the horsepower.
In other words, it may take MORE than just the full faith and credit of the United States to persuade the world the dollar is still king.
Oil and gold might be more convincing.  Perhaps this explains some of Uncle Sam's recent foreign policy moves?
Of course, that's conjecture FAR above our pay grade.
But until the pension problem becomes a full-blown crisis and federal policy makers attempt to ride in on their white horses …
… cash-strapped states and municipalities are on their own … and likely to do desperate things in their attempts to stay solvent.
Some will adopt policies designed to attract new business and tax revenue.
But we're guessing most will push the burden onto consumers, businesses, and property owners.  That seems to be the way politicians roll.
So when you're picking states and cities to make long-term investments in, pay attention to the fiscal health of the local governments.
And if your tenants are counting on private pension benefits, they may not be aware of 2014 legislation allowing a reduction of those "guaranteed" benefits.
If YOU have any direct interest in private pensions, you should read this page.
You'll discover that plan participants can vote against a reduction. But even if most who vote reject it … if not enough people vote, it can pass anyway.
For retired carpenters in Southwest Ohio, benefits drop on April 1, 2019 … along with their ability to pay you rent.
The bad news is the pension problem is a slow-motion train wreck.  It's rolling over small groups of people a little at a time … but it's building momentum.
The good news is it's slow-motion right now, so  there's time to watch, learn, and react.
But Kiyosaki says it's a big deal that's probably going to get a lot bigger. 
From a real estate investor's perspective, some markets will lose, and others will gain.
Choose carefully.
Until next time … good investing!
More From The Real Estate Guys™…
The Real Estate Guys™ radio show and podcast provides real estate investing news, education, training, and resources to help real estate investors succeed.
---
Love the show?  Tell the world!  When you promote the show, you help us attract more great guests for 

your

 listening pleasure!
Even though most of us will never become billionaires, it's sure fun trying.
But if we want to have a chance of making it BIG, it's probably smart to watch and listen to those who've actually done it.
After all, as Tony Robbins says, "Success leaves clues."
To which the Godfather of Real Estate, Bob Helms, adds … "You don't need to give natural childbirth to a good idea … you can adopt!"
So when multi-billionaire real estate investor Sam Zell has something to say, we pay attention and take notes.
In a recent appearance on Bloomberg News, Zell reveals what he's doing right now and why.  It's a short clip, and you can watch it here.
There are some great pearls of wisdom to glean … and if you've been followingThe Real Estate Guys™ for a while, some of them will sound familiar.
But that's not because we're super smart.  It's more because we're well- informed from spending quality time with lots of really smart people.
Sam Zell is buying gold … for the first time in his life.
We think that's REALLY interesting.
Of course, we've been following gold for quite some time … for a lot of reasons.
So while it's interesting that Zell is buying gold for the very first time in his long and uber-successful investing career … what's even MORE intriguing is WHY.
In the interview, Zell offers up two reasons.  One is obvious.  The other is more subtle … and leads to some even more subtle lessons.
All this from a guy who wrote a book titled Am I Being Too Subtle?
First, Zell says he's buying gold because of the supply and demand dynamic.  He overtly states he sees gold supply constrained going forward.
It's obvious from Zell's comments that it's important to understand supply and demand when investing in anything, because …
When supply is low relative to demand, there's opportunity.
Yes, we realize that's Investing 101.  But it's also a GREAT reminder that even at the billionaire level, successful investing is based on basic, timeless concepts.
However, there's MORE to be gleaned from Zell's comments about gold …
While he openly explains that he sees the supply being constrained, he onlyimplies his confidence in persistent demand for gold.
 After all, if supply drops … but demand drops too … there's no imbalance, and therefore, no opportunity.  Zell's too smart to miss that.
So Zell must see gold demand holding … or increasing.
That means the supply and demand dynamic in gold is SO compelling that billionaire Sam Zell is buying gold for the FIRST time in his EPIC career.
That's telling in and of itself.  But wait!  There's more …
In addition to constrained supply combined with persistent and growing demand going forward … Zell must think the opportunity in gold is quite good right now relative to other investment options.
Which begs the question …
What's different in TODAY's world to push the prospects for gold so high up Sam Zell's priority ladder?
After all, he's been around a LONG time … through stock market crashes, recessions, financial crises.  What's different NOW that makes gold alluring? 
That's a topic too big for this commentary … and our limited brains …
… but it will be a hot topic of discussion with gold experts Brien Lundin, Dana Samuelson and Peter Schiff aboard the upcoming Investor Summit at Sea™.
We're guessing part of the answer is wrapped up in Sam Zell's second subtle comment …
Sam Zell is buying gold as a "hedge."
Hmmmm … that's interesting.   A hedge against what?
Investopedia defines a hedge this way …
"A hedge is an investment to reduce the risk of adverse price movements in an asset. Normally, a hedge consists of taking an offsetting position in a related security."
Well, THAT'S interesting.
So Zell is using gold to "reduce the risk of adverse price movement in an asset."
And he apparently considers gold to be highly useful as "an offsetting position in a related security."
Which begs yet another question …
What asset / related security is Zell worried about … for the first time in his long and illustrious career?
Our guess is it's the U.S. dollar.  In fact, we'd bet a beer on it.
And there's one more clue we think bolsters the argument Zell is hedging the dollar …
Zell is bullish on oil.
 Wow.  What a coincidence …  our recent episode on precious metals was immediately followed with an episode on oil and gas.
Maybe Zell's been listening to The Real Estate Guys™ radio show???
Um, probably not.
More likely, we're learning a lot from all the smart folks we hang out with and listen to … and we're starting to think like billionaires.  We hope so.
So why oil?
Also coincidentally … just a week before the Sam Zell interview was published, we published our weekly newsletter and talked about … oil.
So we won't take time here to explain why we think oil could be a big story going forward.  You can read our thoughts here.
But this Zell interview affirms what we and many of our big-brained pals have been monitoring carefully for several years …
The dollar is under attack … from both internal and external forces.
So anyone who earns, invests, borrows, lends, or denominates net worth in dollars … most likely YOU … should probably take steps to become more aware and better prepared.
After all, if multi-billionaire real estate investor Sam Zell is hedging against the dollar … it's smart to pay attention and consider doing the same.
Until next time … good investing!
More From The Real Estate Guys™…
The Real Estate Guys™ radio show and podcast provides real estate investing news, education, training, and resources to help real estate investors succeed.
---
Love the show?  Tell the world!  When you promote the show, you help us attract more great guests for 

your

 listening pleasure!
A brand-new year brings with it both anticipation and apprehension.  Both are emotional responses to the unknown.
There are MANY things we could discuss in this year's opening missive …
… tariffs, trade wars, a new Congress, the Fed, interest rates, the stock market, the bond market, gold, oil, taxes, Opportunity Zones, and on and on.
Most of those things are completely OUTSIDE of your control.
So as we stand together at the threshold of the New Year, rather than dive into the weeds of the daily news or pontificate on predictions of the future …
… we think it's important to consider how to use things WITHIN our control effectively to make the MOST out of the next twelve months.
The goal is to OPTIMIZE your odds of success by focusing your best efforts on the few things you can control, and which create the most positive leverage in your endeavors.
Read that again and let it sink in.  It's something we work on all the time.
Now let's take a look at this idea from a real estate investing perspective …
Everything starts with your goals.  But not really … because before you can set a MEANINGFUL goal, it's critical to choose your values, mission, and vision.
Values, mission, vision, goals, focus, and effort are all things YOU can control.
Sadly, most people don't proactively and strategically identify their values, mission, and vision.
Instead, they bounce from thing to thing … role model to role model … idol to idol … hoping to stumble onto the secret to happiness.
That's why we put so much emphasis on taking time to create your future.
Once you have your values, mission, and vision clear, NOW you can set meaningful goals … what are often referred to in business as "key objectives."
These are activities YOU can control … things you CAN do … which are specific, measurable, and have a deadline for completion.
For example, "owning more real estate" is NOT a goal.  "Buying four properties by the end of the year" is better.
But "acquiring 100 doors by the end of the year" is even more powerful because it creates possibilities and leverage … while focusing your activity on the REAL heart of real estate investing.
Think about it …
If your goal is to "buy four properties", you might end up with four single-family homes … which is only four tenants, or "doors".
And saying "buy" puts a subconscious limitation on HOW you acquire the properties.
But focusing on "acquiring 100 doors" is VERY different because you might achieve it through only ONE property, which provides time leverage.
This goal also focuses you on what REALLY matters … acquiring TENANTS.
Remember, it's not real estate that makes you rich … it's the rent.  Even equity is a derivative of income.
And when you think in terms of "acquiring" instead of simply "buying", it opens your mind to seeing alternative acquisition possibilities … like options or syndication.
After all, you can acquire a property without paying for it. 
For example, if you syndicate 1,000 doors for a 10% share, you effectively gain 100 doors personally.
But instead of paying to own them, you get PAID to own them.  BIG difference.
So it's actually easier and faster to think bigger.  Yet most people believe just the opposite.
Of course, thinking and feeling are interconnected.  That is, how you think affects how you feel … and how you feel affects how you think.
Blair Singer says, "When emotions run high, intelligence runs low."
So if you're afraid of an uncertain future or of making a mistake, you'll tend to think about avoiding risk.
But investing is about navigating risks … not avoiding them.
Similarly, if you're hyper-enthusiastic, you may only think about the upside and fail to think about the risks  … or strategies for navigating them.
We think passion and logic go together.  The most successful investors we've seen know how to balance both effectively.
It comes down to knowing the difference between what you can and should control, and what you can't.
The future is always in motion and largely out of our control, so we can NEVER be certain.  Striving for certainty in an uncertain world is a recipe for paralysis.
On other words, it's ineffective to worry about things we can't control.
Better to stoically observe uncontrollable events, and then focus our passionate attention on things we CAN control in a way which maximizes possibilities and leverage.
We KNOW there will be LOTS of things happening in the new year.  We just don't know what they are.  However, we can sure they'll present both challenges and opportunities.
But it's not the uncontrollable events themselves which most effect our results … it's how we choose to react to them.
History tells us there will be ups and downs, and there will be winners and losers.  In the same set of circumstances, some will prosper and others will fail.
The individual challenge is figuring out how to define what winning looks like on a personal basis, and then doing what's in our control to win on our terms … in whatever environment we face.
It takes clarity, knowledge, connections, emotional control, and the discipline to focus on those few strategic things under your control that provide the most leverage.
It's simple, but not easy.   If it were, more people would do it.
Our experience and observation is that the best place to start is by putting great ideas in your mind, getting around the right people as much as possible … and narrowing your focus to the very few things that make the most impact.
So as you enter the new year … be sure the time and resources you invest in developing the real estate between your ears is commensurate with the size of your investing goals.
More From The Real Estate Guys™…
The Real Estate Guys™ radio show and podcast provides real estate investing news, education, training, and resources to help real estate investors succeed.
---
Love the show?  Tell the world!  When you promote the show, you help us attract more great guests for 

your

 listening pleasure!
Physical Precious Metals – A Guide to Getting Started
Gold, silver, platinum, and palladium … oh my!

Diversify your investment portfolio with a real asset that stands the test of time.
Physical precious metals are widely traded and competitively priced. This makes coins and bullion … from gold and silver to platinum and palladium … a great arena for beginning investors.
Dana Samuelson has worked for some of the most influential precious metals trading companies. In this exclusive guide, Dana shares knowledge gleaned from more than thirty years of experience with YOU.
Jump in and learn:
The dos and don'ts of dealing in precious metals

Which products Dana recommends and why

Why scarcer, historical coins are viable investment options

And much more!
Simply fill out the form below to get your free copy of "Physical Precious Metals – A Guide to Getting Started…"

In our latest episode, we're chasing shiny objects. Gold, silver, palladium, and platinum, to be specific.
Now, you might be wondering how precious metals investing is relevant to you as a real estate investor. But guess what? When people want somewhere to hide equity, and don't want to put money into stocks and bonds, they turn to gold.
Precious metals play an essential role in the worldwide economic sea. They act as a hedge against falling currency and a way to diversify.
So, we invited a special guest to explain how the precious metals business works … and give you the information you need to decide whether gold and silver might be a great investment for YOU.
In this episode of The Real Estate Guys™ show you'll hear from:
Your golden host, 

Robert Helms

His silvering co-host, financial strategist 

Russell Gray
Precious metals expert Dana Samuelson
---
Listen
---
Subscribe
Broadcasting since 1997 with over 300 episodes on iTunes!
---
Review
When you give us a positive review on iTunes you help us continue to bring you high caliber guests and attract new listeners. It's easy and takes just a minute! (Don't know how? Follow these instructions).
Thanks!
---
Basics of precious metals investing
We met with Dana Samuelson at the 44th annual New Orleans Investment Conference. It's our 6th year attending, but Dana's been around since 1983, when he started working in the precious metals business for Jim Blanchard.
Dana owns a national mail-order business, through which he buys and sells modern bullion coins. He is also an expert in classic U.S. and European gold coins.
We asked him to explain the goal of precious metal investments.
Gold is not necessarily an investment, Dana says. But, "We live in a world of enormous debt, so precious metals are a good insurance policy," he says.
Dana says investing 5 to 10 percent of your net worth in precious metals offers a way to keep your equity solid, even when the value of paper assets is fluctuating.
He calls gold a "safe, proven, real money investment."
There are different ways to invest … you can collect precious metals bit by bit over time, or you can pick up larger amounts during periodic price dips.
Gold and silver are slightly different investments. For one thing, gold is more portable than silver. A handful of gold equals a wheelbarrow of silver.
Another difference … people tend to put their equity in gold over silver when the stock market and the dollar aren't doing well.
The gold-silver price ratio can be used to determine the relative value of gold to silver. To find the ratio, simply divide the gold price by the silver price.
Traditionally, this ratio has been 20:1. Today, it usually hits somewhere between 60:1 and 80:1. Right now, the ratio is on the high end, about 85:1, which means silver is cheap relative to gold.
It's a good number to look at when you're trying to figure out what … and when … to buy.
Different methods for precious metals investing
Gold and silver come in many forms.
There are gold bars, which are now mainly produced by mints around the world and have to meet purity and weight integrity standards.
There are also smaller American Gold Eagles and Canadian Gold Maple Leafs, modern bullion coins that are sold by the ounce, half-ounce, quarter-ounce, and eighth-ounce.
Since these are smaller than gold bars, you don't have to report to the government when you buy them, typically.
Dana calls these bullion coins "bread and butter" products. They're reliable, widely available, competitively priced, and have long-term value and viability.
You can also buy generic 1-ounce rounds from private mints, usually silver.
Many people like to have a viable alternative to paper money, Dana says. Aside from widely available bullion coins, investors can also go the numismatic route.
U.S. coins minted before 1964 are 95% silver by weight. And gold coins minted before 1933, when the U.S. went off the gold standard, are increasingly valuable.
The coin-collecting route is great because of basic supply-demand principles … as time goes by, fewer older coins are available, so not only are these older coins made from precious metals, but they also hold an inherently higher value because they're increasingly scarce.
How to get started with precious metals
Gold has been a form of money literally since the concept of money first originated. It's a currency of last resort because it's one of the few forms of currency that doesn't need a government guarantee to back it.
Gold and silver are the most popular precious metals. We asked Dana about the other two sister precious metals, platinum and palladium.
These are much, much scarcer than gold, Dana says, but they're valuable because they're scarce … and because they're necessary. Both metals are used in catalytic converters for automobiles.
How can someone new to precious metals get started? "Find a reputable, long-term dealer," Dana says.
He offers his precious metal trading business as an example. They follow principles of transparent pricing, guarantees for sold items, and guaranteed buy-backs for anything they sell.
And perhaps consider staying away from eBay.
"I can tell a counterfeit a mile away," Dana says. eBay can be sketchy … and it's harder for amateurs to tell real from fake. To be extra safe, stick with established, hard-to-counterfeit products like bullion coins.
Investors also need to think about storage. "Gold is pretty compact. It doesn't take up a ton of space," Dana notes. Silver, on the other hand, is bulkier.
Some banks are writing coins out of safe-deposit box charters. So you have a few options for storage …
Find a bank that offers storage options for coins and bullion

Get a secure home safe

Go with a storage company … new storage options around the country are a great option for those dealing with a high volume of precious metals
Also consider that there may be reporting requirements when you move money in and out of the country, due to the Patriot Act.
"The most important thing is to think about what you're trying to do and find a dealer to help you walk through your options" for purchasing, storage, and selling the asset in the future, Dana says.
"Use common sense." After all, Dana points out, "You're your own best doctor."
A final note for those still dubious about precious metals.
We know it might not seem immediately logical to take your equity … and then just put it away in gold and let it sit. There's no cashflow, there are no tax benefits … so why do it?
A few big reasons. Putting your equity in precious metals allows you to …
Invest outside of the traditional banking system

Get away from inherent risk and keep your equity stable

Diversify your equity in terms of currency types

Parks your equity until you need it in a low-risk currency form
To learn more, check out Dana's report on investing in precious metals.
Now, go out and make some equity happen!
---
More From The Real Estate Guys™…
The Real Estate Guys™ radio show and podcast provides real estate investing news, education, training, and resources to help real estate investors succeed.
---
Love the show?  Tell the world!  When you promote the show, you help us attract more great guests for 

your

 listening pleasure!
Energy is the key input for all economic activity. And as populations and economies grow worldwide, there's an increasing demand for energy.
So listen in as we chat with an experienced oil man and discuss the nitty-gritty of investing in oil and gas for profits and tax breaks.
In this episode of The Real Estate Guys™ show, you'll hear from:
Your well-oiled host, 

Robert Helms

His slightly creaky co-host, 

Russell Gray

Oil and gas businessman,

Bob Burr
---
Listen
---
Subscribe
Broadcasting since 1997 with over 300 episodes on iTunes!
---
Review
When you give us a positive review on iTunes you help us continue to bring you high caliber guests and attract new listeners. It's easy and takes just a minute! (Don't know how? Follow these instructions).
Thanks!
---
How we got into oil and gas
We're often asked how we transitioned from real estate to other real assets.
We started studying economics after the '08 financial crisis. We were looking to see what we could have done … to better survive the crash.
We realized we needed to be more careful about structuring our portfolios so they weren't vulnerable to the ups and downs of Wall Street.
We also realized the dollar, gold, and oil were all interconnected.
And, we looked at the tax benefits, and realized the tax path leads to oil.
Our guest today is basically the Godfather of Gas and Oil. Bob Burr started out in the gas and oil industry working on rigs as a young man in Louisiana.
"It was my life's mission to find out the other end of the business," Bob says.
Well, he's made it … Bob now has several cumulative decades on the money-making side of the oil and gas industry.
And he's still at it … technological innovations and new oil discoveries have made the U.S. one of the top places in the world for oil extraction.
Bob's decades of experience have led him through ups and downs, mistakes and discoveries, and he has come out wiser on the other end. He met us on the Summit at Sea™ … and now he's here to share his knowledge with YOU.
The tax benefits of oil investing
So … why oil and gas?
"The tax shelter is just tremendous," Bob says. Oil and gas investing is the only business today where you can put in a dollar and write off 70 to 80 percent of that, whether you win, lose, or come to a draw.
There are risks inherent to investing in the industry, but the federal government makes it much more approachable by subsidizing heavy tax breaks.
"Every time you drill a well, you're gambling," Bob says. But since oil drives the economy, Uncle Sam is willing to place some bets.
Bob does a lot of due diligence before he even starts digging to make sure a potential well has a high chance to be profitable for him and his partners.
First, he explores the land and picks out a bunch of prospective sites.
Then, he sends those prospects to a third-party geological team and says, "Kill it." Really. If the geological team comes back and says no go, Bob moves on.
After the geological team gives the A-OK, Bob does yet another evaluation. His sons do a due diligence inspection to examine specific site issues.
"We'll have some bad ones regardless, but I'm doing everything to avoid that,"  Bob says.
Oil and gas exploration is a numbers game, but Bob is shaving the odds in his favor. He's eliminating 90 percent of the bad options … before the drilling starts.
Oil and gas investing is an industry that requires high responsivity to partners.
Because it is a high-risk industry, Bob makes sure he is being attentive to his investment partners' needs.
"We need to shut up and listen and let them present the facts," Bob says. If there's ever a point where he disagrees, he consults with specialists and experts first.
Bob has been in the business a long time. "I would be lying if I never did anything wrong," he says. "I had to climb the mountain and fall back down, climb the mountain and fall back down."
But now, "You can't play any tricks on me," he declares.
Who gets a cut?
How does oil and gas investing work for everyone involved?
First, there are the land owners. In usual oil and gas terms, the land owner owns the surface and minerals. The oil extractor … that's Bob … gives the owner a bonus for each acre used, plus royalties … a percentage of the total proceeds.
"You have to look at the economics," he says, in reference to the royalty rate.
If an oil person is pulling in millions of dollars, the reserve rate … what they take home to investors and their own business … will be less, perhaps closer to 50 percent. For a smaller pull, it'll probably be closer to 80 percent.
"You have to play every hand differently," Bob says. There are a lot of variables that affect each situation.
Now, what about the investors?
Becoming a partner to Bob or another oil person requires taking on a lot of risk. But regardless of the outcome, investors still get tax benefits.
Bob says he does turn-key deals on each well, and he takes on the responsibility of figuring out completion costs and risk.
If he runs into problems, he doesn't go back to his investors to ask for more money, he says … but if there is a chance to drill deeper and get much higher profits, he will sometimes give investors an opportunity to put more money in and play the game.
As for the profits? "I've never had one problem having a market for oil at a premium price," he says.
Bob recently got about $70/barrel for West Texas crude, but he says he can make money at as low as $25/barrel … so there's a lot of flexibility. Twenty-five is still a good, solid return, he says.
The oil industry is all about developing relationships … after all, we only got to know Bob through the great relationships we form each year at the Summit at Sea™.
"I'm a team with my partners, and I'm the captain of the team," Bob says. "And I want to score."
Think you want to learn more about oil and gas investing? You can start your research with Bob's custom report. And of course, you can meet Bob and other experienced investors at our annual Summit at Sea™!
---
More From The Real Estate Guys™…
The Real Estate Guys™ radio show and podcast provides real estate investing news, education, training, and resources to help real estate investors succeed.
---
Love the show?  Tell the world!  When you promote the show, you help us attract more great guests for 

your

 listening pleasure!