"Are we in a real estate bubble right now?" Trust us, we've heard this question asked a LOT lately.
In this episode of The Real Estate Guys™ show, we'll dive into that question.
We'll discuss:
The three components that converge to create market bubbles

Why real estate is a good investment class for avoiding bubble trouble

How to react in a hot market … AND

How to prepare for when prices inevitably do deflate
You'll hear from:
Your bubbling host, 

Robert Helms

His falling-a-bit-flat co-host, 

Russell Gray
---
Listen
---
Subscribe
Broadcasting since 1997 with over 300 episodes on iTunes!
---
Review
When you give us a positive review on iTunes you help us continue to bring you high caliber guests and attract new listeners. It's easy and takes just a minute! (Don't know how? Follow these instructions).
Thanks!
---
Are we in a real estate bubble?
Our primary caution to you is that all-time highs do NOT equal market bubbles.
It can be difficult to parse whether a bubble is, well, bubbling up. Here are the three different components to rising prices:
Leverage.

Financing means pulling money from the future to bring in dollars today. But the ready availability of money can end up driving prices higher, even though many loans are fashioned to make things more affordable.

Disparity between supply and demand.

When there's more demand than supply, prices go up … even if the price no longer matches the value of the commodity.

Inflation.

Inflation causes currency to literally lose its purchasing power. So it takes more currency to buy the exact same things.
When you see runaway price increases, take a minute to consider what the cause is. Is the fundamental value of the property increasing, or is rampant speculation driving prices up?
When the factors above start to change, the price of a property can increase … or decrease … significantly. So pay attention.
Don't get so caught up in a hot market you get blinded to the actual value of an investment. Buy because it makes financial sense … and not because everyone else wants to buy.
If you don't know better, it's easy to believe you shouldn't be buying anything right now.
But real estate is a very different investment than most. Every single deal is unique, which means YOU have a ton of flexibility to add value to a property.
Real estate allows you to negotiate on the front end, manage operations on the back end, and analyze any given property on its own individual merits, instead of just looking at the market or asset class as a whole.
Real estate is not a commoditized asset. That gives you the power to strike individual bargains.
Tips for buying in a hot market
The vast majority of investors invest in stocks and bonds. They're used to having zero control. As a real estate investor, there's a lot you can do to position your portfolio for success.
Avoid the bubble mentality. Don't buy because everyone else is buying.
Don't treat properties like commodities and hope something good will happen. Pick your investments individually, and make sure you have a Plan A … and a Plan B and Plan C.
Then, do a sound analysis and underwriting.
Wondering whether there's a difference? There certainly is.
Analysis means gathering the numbers and putting them together to get an estimated return.
When you get a pro forma, make sure you double-check the analysis … the math isn't always correct.
Underwriting goes one step further. A proper underwriting process pulls third-party financial statements to verify the numbers from the analysis match reality.
It's very important to underwrite all of your deals. Do this by gathering all the information you can from trustworthy parties … financial statements, rent rolls, copies of rental agreements.
You can even go a step further and verify information with tenants independently.
Next, you need to make sure your assumptions hold water. Check the property tax, the property condition, and maintenance schedule.
Evaluate the total cost of an investment, including needed rehab.
Last, look at your potential revenue. Evaluate rents to see if they match market rates, and see whether there's any opportunity to make improvements and increase revenue.
A note … you CAN'T underwrite your way out of risk. But to minimize risk, you want your eyes as wide open as possible.
How to position your existing portfolio
Underwriting is important when making a new investment, but what can you do about your existing portfolio?
Quite simply, you can go through the same process you would with a new purchase.
Use zero-sum thinking to ask yourself whether you're getting the most from your investments.
Look at the numbers … cash flow, debt and interest rates, and equity. Is there any room to improve the property?
You might think about moving some equity around. Many real estate investors think the only option for accessing equity is selling a property or doing a 1031 tax-deferred exchange … but you have a third option.
Consider a cash-out refinance, which allows you to transfer equity from a developed property to a market or property type with upside potential.
To proactively strategize about bubbles, separate your equity from your properties.
But be cautious … always do underwriting and analysis on potential purchases. You do run a risk when you thin out your equity, so make sure you hedge your bets as much as possible.
Making a risky purchase could mean being locked into a property when equity and cash flow decrease during a downturn.
So, ensure you have a plan for holding on to the properties you purchase in the event the market crashes and you go underwater.
Time heals a lot of wounds … we've seen many investors hold onto properties during a downturn only to make a killing once the market starts perking up again.
It may well be that the market you're in has bubbled to the point where selling makes sense. When considering where to put your equity, be cautious and be smart.
Roll with the highs and lows
There are quite a few things you can do to protect yourself from the downside of bubbles and benefit from the upside.
Seek out recession-resistant pricing.

You want to look at rent pricing that is just below the market median. This is the sweet spot … you'll get people coming down from the top in bad times and people coming up from the bottom in good times.

Follow the barista rule.

Some markets are more affordable than others. If your barista can afford to live in the same area they work in, that market has recession-resistant pricing that isn't artificially inflated.

Be in a position to pick up bargains when the downturn comes.

Have the wits to pull some chips off the table when the market's at the top so you can make a killing when the market deflates and there's blood in the streets. In other words, keep some liquid equity close at hand when the market starts getting hot.
Bubbles aren't bad … markets naturally rise and fall. You just have to be resourceful enough to catch the waves.
Now go out and make some equity happen!
---
More From The Real Estate Guys™…
The Real Estate Guys™ radio show and podcast provides real estate investing news, education, training and resources to help real estate investors succeed.
At the beginning of a new year, we invite you to take a look at where you've been, where you're at now, and where you're going.
Whether you've never bought a property or you have a full portfolio, NOW is the time to reflect and make sure you're on the right path with your goals and your business.
After all, "If you don't change anything, nothing changes."
In this show, we'll walk you through how to apply success strategist Brian Tracy's concept of zero-based thinking to the real estate business, starting with two important questions:
Knowing what you know now, would you make the decisions of the past year again?

Why or why not?
Perhaps you just need to do some fine-tuning … or perhaps you need a major course correction! Either way, we want to help YOU make better decisions going forward.
In this episode of The Real Estate Guys™ show you'll hear from:
Your host, team player 

Robert Helms

His doesn't-always-play-well-with-others co-host, 

Russell Gray
---
Listen
---
Subscribe
Broadcasting since 1997 with over 300 episodes on iTunes!
---
Review
When you give us a positive review on iTunes you help us continue to bring you high caliber guests and attract new listeners. It's easy and takes just a minute! (Don't know how? Follow these instructions).
Thanks!
---
Evaluate yourself … and your team
Your evaluation should start with yourself. Begin the process by applying the question, "Knowing what I know now, would I make that decision again?" to the properties in your portfolio.
Then, ask yourself why you would or would not make that decision again. You can divide your answer into three categories … the property, the people involved, and the marketplace.
Answering this question about your decisions will help you avoid making the same mistakes going forward and make more targeted decisions.
After your self-evaluation, look at your team.
Every real estate investor has a team. As an investor, you're a borrower, a buyer, a client, and a customer … and on the other side of these relationships sit your team members.
As you evaluate your team, start by asking some essential questions:
Do I have everyone I need to run my business?

Where is each person on a scale of 1 to 10? Why?

How could I change or augment this relationship to get this team member up to a 9 or 10?

Ultimately, ask yourself, can I salvage this relationship or do I need to start over?
You can't always change the people on your team, but you can change your relationship with them. So, figure out what you can do to get to where you want … or whether you need to replace a low performer entirely.
Also ask yourself, "What makes a good team member for ME?" Figure out why your high performers are 8s, 9s, and 10s, then look to them to coach other members of your team and offer referrals.
You want the people on your team to be better, smarter, harder-working, and more committed than most people out there … even if it means they're better than you.
Your TEAM has helped you get to where you are … so build them up. Serve your team members, and put them in a position to win, so YOU can win too.
And, if you're looking for more feedback on yourself, ask your team to evaluate how YOU can become a better client. This will strengthen the relationship on both ends.
Review and fine-tune your financial situation
As an investor, you should have a basic idea of where you're at and where you want to go … in other words, your personal investment philosophy.
If you haven't yet fleshed out your personal investment philosophy, we highly encourage you to take that step before digging deeper.
Got your investment philosophy written out, revised, and ready to go? Now is a GREAT time of year to take a look at your financial situation … and evaluate where you can minimize spending.
There are three major expenses that can be leveraged against your equity to free up some investable money:
Interest

Insurance

Taxes
Guess what all three have in common? They're an expense everyone pays for, but no one wants to.
You could brown-bag it every day to save money … OR you could work on minimizing the costs you really don't want to be spending money on in the first place.
Your responsibility as an investor is to manage debt, equity, and cash flow. It's key that you have a strategy to manage your money so you can accelerate equity growth.
Your first step in making a financial change is to seek out experts on your team who can help you get to where you want to go. Your second step is to ask yourself what's missing in your own portfolio of knowledge … and then seek out education and training to address gaps.
Below are tools for evaluating each of these three major areas of expense.
Interest
The basic question you want to ask when it comes to interest is, "Are there places I can change my loan so it makes more sense?"
As with any financial decision, step carefully and rely upon knowledgeable team members.
Look at the big picture to see where you might make changes. You want to manage your mortgage for maximum net worth.
Check to see whether your lender will bundle properties to free up your borrowing power. Look at your current interest rates and loan terms.
Consider refinancing, but realize that refinancing means kicking a big can down the road. So, consider the long run, and not just your monthly cash flow.
Insurance
For each insurance policy you hold, evaluate the policy itself as well as the carrier.
Make sure your policies will actually pay the risks you're exposed to.
We recommend meeting with your insurance company to evaluate the company and your policy and find ways to optimize your premium.
There's a steep learning curve here, so make sure you have a knowledgeable team member by your side or available for questions.
Taxes
No one wants to pay taxes. Ideally, we would all pay as little as legally possible.
To do so, you need to know the tax law and, most importantly, have a good tax team … your financial advisor and your accountant.
We recommend meeting with your tax advisor to reassess cost segregation, property tax mitigation, your depreciation schedules, cost acceleration, expensing business costs, and structuring your business.
Real estate is one of the best assets when it comes to tax benefits, so invest some time to educate yourself.
And be proactive … come to your CPA with ideas and questions. Ask, "How can I do this?" instead of "Is this possible?"
Assess how you spend your time
Time is also an asset … perhaps your most valuable one.
By choice, we spend less time on real estate investing now because our priorities have changed. That doesn't mean our profits have suffered, however.
Look at your calendar, relationships, health, and satisfaction level and ask yourself, "Do I own this business, or does it own me?"
To make a change, start by keeping a detailed calendar of how you spend your time.
Look at easily delegated tasks first and find ways to offload them.
Then look at the critical tasks on your list and figure out what the key performance indicators are for each task. Set up processes so you can delegate these tasks as well.
Refashion yourself … from a one-band man, to a well-oiled team.
We encourage you to find clarity about the things that absolutely require your time and effort, and the things that can be delegated and even done better by others.
The shift from self-employed to team manager requires a lot of fortitude, devotion, and skill, but it's absolutely worth it.
Ultimately, your business should be fashioned in a way that it could be a model for 1,000 more just like it … a smooth-functioning machine.
Ask yourself, "If I didn't own this business, would I buy it?" Because you are buying it with your blood, sweat, and tears on a daily basis.
Check your mission, vision, and values
You don't want to spend your whole life trying to get from Point A to Point B if Point B isn't really where you want to be.
Don't get so caught up in the doing that you forget your destination.
All your strength as a real estate investor will come from your mission, vision, and values … so make sure you sit down and really fine-tune those three core beliefs.
Interested in having us coach you through the process of finding your mission, vision, and values? Check our Create Your Future Goals Retreat and get on the advanced waiting list now.
At the beginning of a new year, take stock. Congratulate yourself for what you've achieved … and get excited about where real estate can take you. There really are no limits!
---
More From The Real Estate Guys™…
The Real Estate Guys™ radio show and podcast provides real estate investing news, education, training and resources to help real estate investors succeed.
Protecting your money in today's highly uncertain economy is surely very challenging. Remember when real estate equity and bank accounts were considered among the SAFEST places to keep your savings?  Today, real estate equity has disappeared – and for many people even getting access to whatever equity they still have is next to impossible.  Boy, do we miss those equity lines of credit with their checkbooks and debit cards!
And even though you can still write checks on your cash deposits at a bank, with record bank failures even that old saying "sure as money in the bank" seems a little outdated.  Add horribly low interest rates and, to compound the injury, taxes on your meager interest earnings, it's enough to make you wonder what this financial world is coming to.
Well, we have good news. There's a new way to look at an old product – one that is time tested and has survived its fair share of economic turmoil.  And we got such a positive response to our first foray into this topic, we decided to re-visit it with a new guest.
In the radio lifeboat for another voyage into broadcasting brilliance:
Host and head lifeguard, Robert Helms
Co-host and lifeboat inflater, Russell Gray
Seasoned sailer of stormy economic seas, the Godfather of Real Estate, Bob Helms
Special guest, "infinite banking" expert, Patrick Donohoe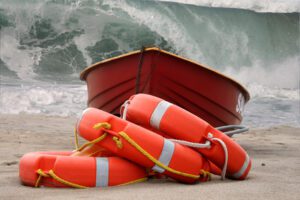 Right out of the gate we need to set the table, which is no small task with the lifeboat bobbing on the waves:  what does life insurance have to do with real estate investing?
Think about what a bank account has to do with real estate investing and you're on the right track.  But unlike a bank account, our guest explains that certain types of life insurance – thought greatly misunderstood – offer far greater flexibility than bank accounts.  And though they aren't FDIC insured, insurance companies are arguably more stable and conservatively run.  Unlike banks right now, you don't hear a lot about record number of life insurance companies failing.
We also address why so many CONSUMER financial gurus are down on cash value life insurance, yet corporations like Wells Fargo and Wal-Mart buy tons of it.  Could it be there are BUSINESS purposes that make it very useful for BUSINESS people?  We say all the time that real estate investing is a business, so it makes good sense to see how businesses are using this financial tool.
For example, how'd you like you to take a tax deduction for making a deposit in your bank account?  Hmmm….that's an interesting concept!  What about getting a loan against your equity without having to qualify?  Try doing that with a property!  And unlike property, the value isn't determined by market forces, so your equity doesn't disappear in a market downturn.
The point of this episode is that insurance can do a lot more than manage risk and pay a benefit. Our job is to expose you to some of the possibilities.  Your mission, should you choose to accept it, is to explore those possibilities, learn how to use this powerful tool, and decide when and where to use it to advance your real estate investing program.  It seems the economic storm isn't over yet, so it might be a good idea to know how to operate the lifeboat.  It's a matter of life and debt.
Listen Now: 
The Real Estate Guys™ radio show and podcast provides real estate investing news, education, training and resources that help real estate investors succeed.