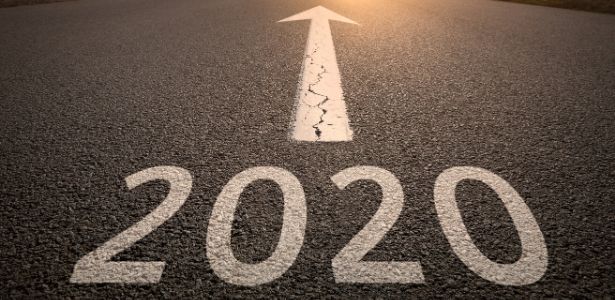 The start of a brand-new year is a great time to reflect on lessons learned and make bold plans for the future. 
It doesn't matter if you're just starting out or starting over … the possibilities are endless!
We're sharing practical tips for getting off to a great start in this new year … and new decade. 
In this episode of The Real Estate Guys™ show, hear from:
Your practical host,

Robert Helms
His practical joker co-host, Russell Gray
---
Listen
---
Subscribe
Broadcasting since 1997 with over 300 episodes on iTunes!
---
Review
When you give us a positive review on iTunes you help us continue to bring you high caliber guests and attract new listeners. It's easy and takes just a minute! (Don't know how? Follow these instructions).
Thanks!
---
Vision, Mission, and Values
For our last show of the decade, we're going to talk about how you can gear up and prosper in a brand-new year. 
When you have clarity of vision, strategy and tactics become evident. 
We all want to know how to make money in real estate … but sometimes the true vision isn't that clear. 
It's a great time in history to be thinking about clarity of vision because we're entering 2020 … and we all want to see with 2020 vision. 
So, today we are talking about how you can figure out how to go from where you are to where you want to go. It starts with getting a vision in your mind of what success looks like for you. 
Anytime we have a challenge or an uncertainty, we sit down and ask ourselves … what is the vision? What are we trying to accomplish? What is the why?
You only have so much. You only have so much energy. You only have so many resources. You only have so much focus … so you need to know what to say yes to AND what to say no to. 
If you can get a clear vision … and articulate that vision to other people … then everyone knows what they need to do without micromanaging. 
On the other hand … if you lay the ladder of success against the wrong building, you're going to get to the top, look around, and realize you are in the wrong place. 
Your vision isn't peripheral to your investing … It's fundamental. It's the foundation of everything you do. 
Vision, mission, and values are three different things … but together they can really chart your course. 
As we said before, vision is what success looks like in very clear terms. Mission isn't about what success looks like … it's the why behind what you do. 
Mission is the reason what you are doing matters. 
The best missions … in our experience … are those that are about making a difference for the better. 
This could be with your community, or for a spouse, for your children, for your friends, for your employees … if you get up every day and are motivated to support someone else and make the world better … that's a mission. 
Values are really about the methodologies … what you're willing to do and what you are not willing to do. 
A great exercise is to sit down and come up with the six top values in your life … the things that really matter to you in life. 
Stephen Covey says that highly effective people begin with the end in mind … all of these things help you do that. 
Today, we're going to give you some tools that you can use to actually get to where you want to go. 
Start, Stop, Continue
One of our favorite tools is what we call Start, Stop, Continue. 
Simply put … at the end of the year, you step back and look at the year and see everything you've done and ask, "What are the things that I should continue doing?"
This could be a particular area, market, or partner that has served you well. 
Then, you have to ask, "What are the things that I need to stop?" Maybe it's the way you spend your time or a personal or business partnership. Maybe it's a market that you need to get out of. 
After you have decided what will continue and what will stop, it's time to ask, "What should I start doing?"
These could be new habits, new beliefs, new partnerships, new markets, new product types, new activities, or new people.
This is an exercise that requires you take time, sit down, and confront the brutal facts. 
There may be things you are doing every week that aren't serving you well … and these aren't necessarily bad things. 
Sometimes you have to say no to the good in order to say yes to the great. 
If you're busy … like most successful people are … you don't have a lot of extra time. So, you have to make room in your schedule either through delegation or by removing items from your docket. 
You can't really create more time … but you can leverage time. 
Once you have determined how to bring more good energy into your life, you need to create a productive structure to get it done. 
Then, you establish clear goals, strategies, and action plans because you can allocate them into the structure. 
Zero-based Thinking 
The next tool in our arsenal is something we learned from Brian Tracy many years ago. It's called zero-based thinking. 
The question you ask yourself is, "Knowing what I know now, what would I do differently?"
Knowing what I know now would I get into this relationship? Knowing what I know now would I get into this particular deal? Knowing what I know now would I get into this marketplace?
And if the answer to any of those things is "no," now is the time to change your course. 
Maybe your accountant isn't that great … but they've been your accountant for so long you just haven't ever really considered leaving. Now may be the time. 
Sometimes what you find yourself looking at is a personal relationship. If there are people in your life that don't affect you in a positive way, it's time to cut ties. 
Zero-based thinking only works if you are willing to be brutally honest with yourself. You have to admit your mistakes. 
But if you can, you can set yourself up for your best year yet. 
For more tools for getting off to a great start … listen in to the full episode!
More From The Real Estate Guys™…
The Real Estate Guys™ radio show and podcast provides real estate investing news, education, training, and resources to help real estate investors succeed.
---
Love the show?  Tell the world!  When you promote the show, you help us attract more great guests for 

your

 listening pleasure!
With less than 7 weeks remaining in 2018, we're taking a short break from our obsessive-compulsive perusal of the financial news.
Because with an exciting New Year about to begin … full of hope, challenges, and opportunities … it's a great time to focus on some important fundamentals.
Lesson# 1:  Invest in yourself first and frequently
Think of the amount of money you put into fixing up a property in the hopes of generating a few thousand dollars of profit or cash flow.
How much MORE important are YOUR education, skills, and network over the rest of your career?
For a fraction of what you'll spend sprucing up just a single property, you can increase your sales skills, gain more strategic clarity, expand your economic education, and grow your professional network.
Any ONE of those things can pay you back 10x or more in just a few years.  Plus, investing in your education and networks sets you up for …
Lesson #2:  Focus on relationships, not transactions
Sure, we understand you need to do deals … to produce profits … so you can pay the bills and keep investing.  But transactions are really just a by-product of great relationships.
When you put the transaction over the relationship, you risk killing the goose that lays the golden eggs.
And remember, every person you know knows MANY more people you don't.
So even if the person in front of you isn't ready to do a deal today, someone they know might be.
This is where YOUR education and network come into play …
When you know things other people don't, but need to … or when you know people other people don't, but need to …
… YOU have something of great value to enhance a relationship or work through one contact to reach another.
Most people won't give you a referral if they think you want to sell their referral something.
But they'll happily connect you if they think you will HELP their referral.  That's based on trust, which is based on the relationship.
It sounds so easy … and it is.  But for some reason, most people focus on the small value of the transaction and miss the HUGE value of the relationship.
Lesson #3:  Emphasize mission and values
The old adage says, "People don't care how much you know, until they know how much you care."
It's true.  But it goes further …
People do business with people and brands they trust.  And when you focus on mission and values, and filter all you say and do through them …
… over time, you'll create a trustworthy reputation.
Of course, a good, trustworthy reputation will attract more people into your life … and that means more relationships, and ultimately, more deals.
Lesson #4:  Build a business and portfolio that works for YOU … and not vice-versa
We're old enough to remember when Michael Gerber's now classic title, The E-Myth, was the hot new business book.
But the timeless lessons are as applicable today as ever.
Too many people … employees, entrepreneurs, and investors … do the "two-step."
They set out to do whatever they can find to make money based on the belief that if they can just make enough money, THEN they can go do what they REALLY want.
The problem is when you don't love what you do, either you let off the gas and never really succeed …
… or worse, you lose yourself in service to a business, portfolio and lifestyle you don't really enjoy.
And then you just hold your breath until the day you can sell it or retire on your investments.
Better to ask yourself EARLY what's really important to you … how you want to live … what you love to do … and then build a business and/or portfolio around THAT.
It's a harder problem to solve, but you'll LOVE the answer when you find it.
Lesson #5:  Develop and maintain a clear vision
We all run around with pictures in our mind. How we see the world … how we see ourselves … what we're working to accomplish.
The challenge for many is the picture is fuzzy.
It's like driving in the fog.  You have a sense of direction … but aren't exactly sure how to get there.
You're feeling your way … scared to go too fast and miss a turn or fall into a ditch.
Yet some people are taking bold action and moving aggressively through life.
What's the difference?
Clarity.
Bold action takers can "see" exactly where they're going, what they're building, and WHY … and that vision inspires and emboldens them to move towards the goals with enthusiasm and confidence.
We say, "When you have clarity of vision, strategy and tactics become evident."
So when you're not sure what to do, focus on your vision.  Just seeing the end from the beginning is often enough to tell you what to do next.
Lesson #6:  Always see the downside
Really?  Doesn't focusing on the negative create paralysis?
Only for amateurs.  Pros are more afraid of what they DON'T see than what they do … because you can't avoid or manage risks you aren't aware of.
Billionaire real estate investor Sam Zell says everyone sees the upside.  That's what they look for and what motivates them to go for it.
But Zell says his success comes from being able to see the DOWNSIDE too …  and then making plans to mitigate it … even if it means walking away.
Pessimists ONLY see the downside and can't act.  Optimists only see the upside and hope for the best.
We're pretty sure hope is not an investment strategy. Be a realist and get good at seeing and managing risk.
Lesson #7:  Always pay attention to cash and cash flow
Profit and net worth are important.   Cash and cash flow are essential.
A business mentor of ours once taught us that cash is like oxygen, while revenue is like water, and profit is like food.
You can survive for a long time without profit … if you have revenue and cash.
You can survive for a little while without revenue … if you have cash.
But run out of cash … and you'll be dead very soon.
Pre-politician Donald Trump once told us it's always good to have cash in the downtimes. We say, "Cash Flow controls and Cash Reserves preserve."
So have some liquidity at all times. Write off the lost opportunity cost on the cash as an insurance premium.
And do NOT count on credit for liquidity. We did that once … and it didn't end well.  Lenders tend to cut off credit when you need it the most.
Bonus Lesson:  Use firewalls to avoid portfolio contagion
Let's face it.  Some investments are more risky than others.
But if you don't have firewalls, then just ONE risky investment can implode your entire portfolio.
You might have a solidly built, cash-flowing portfolio of properties, and a high net worth with good liquidity, and hedges against inflation and deflation.
But just ONE lawsuit, or personal loan guarantee on just ONE risky deal, or pulling money out of performing property or business to feed a loser …
… and EVERYTHING goes … UNLESS you use legal structures, mental discipline, and emotional control to isolate risk.
It's a bigger topic than we have time for here, but we address it in ourIntroduction to Strategic Real Asset Investing webinar.
You can get the webinar as a free bonus when you order the Future of Money and Wealth video series … which is a great primer on several risks ALL investors should be paying attention to right now.
Until next time … good investing!
More From The Real Estate Guys™…
The Real Estate Guys™ radio show and podcast provides real estate investing news, education, training, and resources to help real estate investors succeed.
---
Love the show?  Tell the world!  When you promote the show, you help us attract more great guests for 

your

 listening pleasure!
At the beginning of a new year, we invite you to take a look at where you've been, where you're at now, and where you're going.
Whether you've never bought a property or you have a full portfolio, NOW is the time to reflect and make sure you're on the right path with your goals and your business.
After all, "If you don't change anything, nothing changes."
In this show, we'll walk you through how to apply success strategist Brian Tracy's concept of zero-based thinking to the real estate business, starting with two important questions:
Knowing what you know now, would you make the decisions of the past year again?

Why or why not?
Perhaps you just need to do some fine-tuning … or perhaps you need a major course correction! Either way, we want to help YOU make better decisions going forward.
In this episode of The Real Estate Guys™ show you'll hear from:
Your host, team player 

Robert Helms

His doesn't-always-play-well-with-others co-host, 

Russell Gray
---
Listen
---
Subscribe
Broadcasting since 1997 with over 300 episodes on iTunes!
---
Review
When you give us a positive review on iTunes you help us continue to bring you high caliber guests and attract new listeners. It's easy and takes just a minute! (Don't know how? Follow these instructions).
Thanks!
---
Evaluate yourself … and your team
Your evaluation should start with yourself. Begin the process by applying the question, "Knowing what I know now, would I make that decision again?" to the properties in your portfolio.
Then, ask yourself why you would or would not make that decision again. You can divide your answer into three categories … the property, the people involved, and the marketplace.
Answering this question about your decisions will help you avoid making the same mistakes going forward and make more targeted decisions.
After your self-evaluation, look at your team.
Every real estate investor has a team. As an investor, you're a borrower, a buyer, a client, and a customer … and on the other side of these relationships sit your team members.
As you evaluate your team, start by asking some essential questions:
Do I have everyone I need to run my business?

Where is each person on a scale of 1 to 10? Why?

How could I change or augment this relationship to get this team member up to a 9 or 10?

Ultimately, ask yourself, can I salvage this relationship or do I need to start over?
You can't always change the people on your team, but you can change your relationship with them. So, figure out what you can do to get to where you want … or whether you need to replace a low performer entirely.
Also ask yourself, "What makes a good team member for ME?" Figure out why your high performers are 8s, 9s, and 10s, then look to them to coach other members of your team and offer referrals.
You want the people on your team to be better, smarter, harder-working, and more committed than most people out there … even if it means they're better than you.
Your TEAM has helped you get to where you are … so build them up. Serve your team members, and put them in a position to win, so YOU can win too.
And, if you're looking for more feedback on yourself, ask your team to evaluate how YOU can become a better client. This will strengthen the relationship on both ends.
Review and fine-tune your financial situation
As an investor, you should have a basic idea of where you're at and where you want to go … in other words, your personal investment philosophy.
If you haven't yet fleshed out your personal investment philosophy, we highly encourage you to take that step before digging deeper.
Got your investment philosophy written out, revised, and ready to go? Now is a GREAT time of year to take a look at your financial situation … and evaluate where you can minimize spending.
There are three major expenses that can be leveraged against your equity to free up some investable money:
Interest

Insurance

Taxes
Guess what all three have in common? They're an expense everyone pays for, but no one wants to.
You could brown-bag it every day to save money … OR you could work on minimizing the costs you really don't want to be spending money on in the first place.
Your responsibility as an investor is to manage debt, equity, and cash flow. It's key that you have a strategy to manage your money so you can accelerate equity growth.
Your first step in making a financial change is to seek out experts on your team who can help you get to where you want to go. Your second step is to ask yourself what's missing in your own portfolio of knowledge … and then seek out education and training to address gaps.
Below are tools for evaluating each of these three major areas of expense.
Interest
The basic question you want to ask when it comes to interest is, "Are there places I can change my loan so it makes more sense?"
As with any financial decision, step carefully and rely upon knowledgeable team members.
Look at the big picture to see where you might make changes. You want to manage your mortgage for maximum net worth.
Check to see whether your lender will bundle properties to free up your borrowing power. Look at your current interest rates and loan terms.
Consider refinancing, but realize that refinancing means kicking a big can down the road. So, consider the long run, and not just your monthly cash flow.
Insurance
For each insurance policy you hold, evaluate the policy itself as well as the carrier.
Make sure your policies will actually pay the risks you're exposed to.
We recommend meeting with your insurance company to evaluate the company and your policy and find ways to optimize your premium.
There's a steep learning curve here, so make sure you have a knowledgeable team member by your side or available for questions.
Taxes
No one wants to pay taxes. Ideally, we would all pay as little as legally possible.
To do so, you need to know the tax law and, most importantly, have a good tax team … your financial advisor and your accountant.
We recommend meeting with your tax advisor to reassess cost segregation, property tax mitigation, your depreciation schedules, cost acceleration, expensing business costs, and structuring your business.
Real estate is one of the best assets when it comes to tax benefits, so invest some time to educate yourself.
And be proactive … come to your CPA with ideas and questions. Ask, "How can I do this?" instead of "Is this possible?"
Assess how you spend your time
Time is also an asset … perhaps your most valuable one.
By choice, we spend less time on real estate investing now because our priorities have changed. That doesn't mean our profits have suffered, however.
Look at your calendar, relationships, health, and satisfaction level and ask yourself, "Do I own this business, or does it own me?"
To make a change, start by keeping a detailed calendar of how you spend your time.
Look at easily delegated tasks first and find ways to offload them.
Then look at the critical tasks on your list and figure out what the key performance indicators are for each task. Set up processes so you can delegate these tasks as well.
Refashion yourself … from a one-band man, to a well-oiled team.
We encourage you to find clarity about the things that absolutely require your time and effort, and the things that can be delegated and even done better by others.
The shift from self-employed to team manager requires a lot of fortitude, devotion, and skill, but it's absolutely worth it.
Ultimately, your business should be fashioned in a way that it could be a model for 1,000 more just like it … a smooth-functioning machine.
Ask yourself, "If I didn't own this business, would I buy it?" Because you are buying it with your blood, sweat, and tears on a daily basis.
Check your mission, vision, and values
You don't want to spend your whole life trying to get from Point A to Point B if Point B isn't really where you want to be.
Don't get so caught up in the doing that you forget your destination.
All your strength as a real estate investor will come from your mission, vision, and values … so make sure you sit down and really fine-tune those three core beliefs.
Interested in having us coach you through the process of finding your mission, vision, and values? Check our Create Your Future Goals Retreat and get on the advanced waiting list now.
At the beginning of a new year, take stock. Congratulate yourself for what you've achieved … and get excited about where real estate can take you. There really are no limits!
---
More From The Real Estate Guys™…
The Real Estate Guys™ radio show and podcast provides real estate investing news, education, training and resources to help real estate investors succeed.
"Rock star" is a term commonly used to describe HUGE success in any field of endeavor.
Maybe YOU are dreaming of being a real estate rock star some day!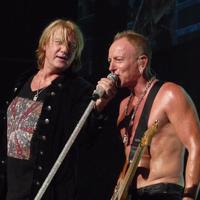 So we thought it would be fun (and instructive!) to sit down with a real life rock star…and see how someone goes from obscurity to super-stardom in their chosen field.
Of course, we didn't want some random one-hit wonder…though we're sure there'd be lots of lessons there too.
Instead we found someone who's achieved both huge and ENDURING success.
Rockin' this edition of The Real Estate Guys™ radio show:
Your rock star radio host, Robert Helms
His roadie co-host, Russell Gray
Lead guitarist for mega-band Def Leppard, Phil Collen
Now right out of the gate, you may wonder WHY we're interviewing a musician for a real estate investing program.

And if you're part of our younger demographic, you may not even know that Def Leppard is one of the greatest selling rock bands in history.
Formed in 1977, Def Leppard has sold more than 100 MILLION albums worldwide.
According to Wikipedia…
Def Leppard is one of only five rock bands with two original studio albums selling over 10 million copies in the U.S.
The band is ranked No. 31 in VH1's "100 Greatest Artists of Hard Rock"
Def Leppard is ranked No. 70 in "100 Greatest Artists of All Time".
And nearly 30 years later, they continue to pack thousands of people into concerts..  We know.  We went to one in Dallas.  It was awesome.
So that's HUGE success.  It's also ENDURING success.  And Phil Collen has been with them since 1982, so he's been a big part of Def Leppard's success.
But success is bigger than just fame and fortune.  
Just think about Elvis Presley, Marilyn Monroe, Jim Belushi, John Candy and a long list of other rich and famous entertainers…along with all kinds of lesser known corporate executives and hard working entrepreneurs.
So while you're busting your rear building your balance sheet, it's a good idea to build some balance into the process.
Success is also about physical health, long term relationships, and living with passions and purpose.
After all, without these things…how successful are you really?
Of course, when you think of the stereotypical rock star, you don't think about health and long term relationships.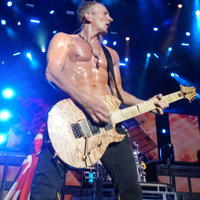 That makes Phil Collen a very rare guy.
Phil's a 57 year old, non-drinking, drug free, vegan who exercises regularly and is more fit than guys half his age…
All the while, Phil continues to rock the house while on tour with Def Leppard…AND still finds time (and energy!) to make music with not one, but TWO other bands.
So if you think YOU are busy…and struggling to stay fit, focused, motivated and effective while building your real estate empire…
We're guessing you could learn a thing to two from Phil Collen…and THAT'S why we wanted to talk to him.
We say all the time that what you think and believe affects the actions you take, which in turn produce the results (or lack thereof) in your life.
So getting a chance to grill Phil on how he thinks about life and work could reveal success principles, patterns and philosophies we can apply to our own endeavors.
You'll discover Phil is a pretty level headed guy and a solid "middle-class" work ethic.
He says in spite of his fabulous success, he hasn't succumbed to believing his own press. He just keeps working on improving himself.
He's also fiercely loyal.
In fact, Phil tells us the amazing story of how Def Leppard's drummer, Rick Allen, literally had his arm ripped off in a car accident…and how his bandmates never thought to replace him.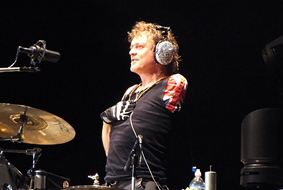 Watching a Def Leppard concert is worth it…just to see Rick Allen play world class drums…with only one arm!
Wow.  And we want to throw in the towel when a tenant trashes one of our units.
Of course, as we've mentioned, the rock and roll landscape is littered with tragic stories of substance abuse, broken relationships and excesses of all kinds.
And Phil confesses there was a time early in his career when he got caught up in some of that.
But he had the vision and humility to realize the path he was on, and made a conscious decision to choose a different path.
So Phil hasn't had a drink in over two decades. He's as fit a guy as you'll ever see…at any age.
The lessons are to know yourself and your goals, to be decisive and disciplined to be true to your mission, vision and values…and to always keep pushing yourself to improve.
Easy to say.  Harder to do.  Unless you're able to unlock your own personal, powerful, compelling why.
We learned a lot from Phil and are inspired to take our personal efforts to the next level.
We trust you'll find great lessons in this episode…which you apply to the daily pursuit of your hopes, dreams and goals…real estate and otherwise!
Listen Now:

The Real Estate Guys™ radio show and podcast provides real estate investing news, education, training and resources that help real estate investors succeed.