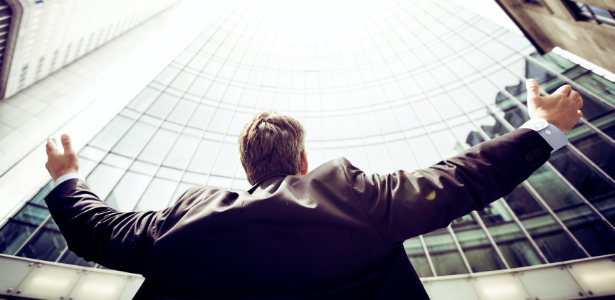 To profit in real estate you must attract the right opportunities and do the right things. 
Too many investors put all their focus on how to do deals … but they neglect the HOW of attracting people and opportunities. 
Business has proven principles for building a brand people like and trust … and for building a database full of the active and prospective sources of deals, capital, and services you need to succeed. 
Today, we're visiting with a world-class marketing genius to discuss how to build a profitable brand and network. 
In this episode of The Real Estate Guys™ show, hear from:
Your successful host,

Robert Helms

His unprincipled co-host,

Russell Gray
Marketing legend, Kyle Wilson
---
Listen
---
Subscribe
Broadcasting since 1997 with over 300 episodes on iTunes!
---
Review
When you give us a positive review on iTunes you help us continue to bring you high caliber guests and attract new listeners. It's easy and takes just a minute! (Don't know how? Follow these instructions).
Thanks!
---
Building your brand and your network
Why is it that some real estate investors are so much more successful than others? It boils down to habits of success. 
The good news is that these are learnable skills … and we've got a great guest who is going to share some awesome ideas about how YOU can connect the dots to get your message out there. 
How do you market? How do you brand? How do you build a reputation? How do you work through other people?
Where a lot of real estate investors fail is they think success is about the transaction. They think it's about the numbers. They think it's about due diligence. 
Those things are important, but in any business, none of that matters if you aren't building your brand and building your network. 
How people know you … how they think about you … how they feel about you … determines whether or not they move closer to your circle and bring you opportunities. 
Those relationships are the key to having a great business … which we know is just as true for real estate investing as it is for any other venture. 
Tactics vs. principles
Our guest today has an amazing background. He's probably the best-known guy in the personal development world that you've never heard of. 
Kyle Wilson has more than 10 number one Amazon bestseller books and has been business partners with the legendary Jim Rohn for … but before that he owned a service station in Vernon, Texas. 
"I grew up in a small town, never went to college, and eventually owned this service station, but at age 26 I moved to Dallas looking for a new opportunity," Kyle says. 
Kyle went to a seminar and ended up working for the speaker selling tickets to events. He then struck out on his own hosting events, which is how he met Jim Rohn. In 1993, they went into business together. 
The key is that Kyle was marketing before there were modern marketing tools … like the internet. 
Today, people think that marketing means they have to be online … but marketing principles have been constant for decades. 
For example, what's easier … a referral or a cold call? Obviously, a referral is better. 
Kyle says he thinks of marketing as a wheel … you're the hub, and each spoke is one of your different products or services. You want to get people on the wheel and take them around. 
It's the mentality of hunting versus farming. You can try to hunt people down for a one-time opportunity, or you can try to grow and nurture lasting relationships for many opportunities in the future. 
The first big principle is having a great product. Second is having great service. Third, is being consistent and relational over a period of time. 
"People confuse tactics with principles, and so they put all their money and effort into tactics and ignore the principle side. But if you have a great product and great service and connect with people over and over, you're going to watch your business compound," Kyle says. 
In real estate, people who churn through clients aren't really interested in taking care of people long term … but if you are watching masterful agents, they keep in touch and do so much better. 
Strategies for success
One strategy anyone can use is to create platforms where you can make connections … things like podcasts, seminars, email lists, and more. 
"I think the way you take responsibility for your own business is that once you get a customer, you want to keep them, and you want to communicate with them," Kyle says. 
Remember, it takes people time to engage. 
We have people show up at our own events who just found our podcast two weeks ago … and we have people who have been listening for eight years and just decided to take the plunge. 
You want to get those people on your platform. Get them on your list so you can talk with them and interact with them. What you communicate to them is the biggest thing in your control. 
"My ultimate goal is to get someone's contact information so I can follow up. If you lose track of people, that's throwing money away," Kyle says. 
There are certain things on your "marketing wheel" that are designed to bring people to you. 
That could be a newsletter. It could be that you send out cool articles from other people. It could be a podcast like ours, or it could be that you're doing a YouTube video once a week. 
Whatever it is, you're sharing something. 
You don't have to share with the mind to sell a specific product. Instead, simply think about creating value for these people. 
Once you have built an audience and are sharing with that audience, then you can periodically give them the opportunity to say yes to something … but you're not having to constantly sell. 
If you build an audience, then you can attract talented thought leaders. They need an audience to talk to … and they might want to do business with you. 
For more on principles that build a successful brand and database … listen to the full episode!
---
More From The Real Estate Guys™…
The Real Estate Guys™ radio show and podcast provides real estate investing news, education, training, and resources to help real estate investors succeed.
---
Love the show?  Tell the world!  When you promote the show, you help us attract more great guests for 

your

 listening pleasure!
We're live on the mic with legendary success trainer Brian Tracy. He's sharing timeless … and proven … pearls of powerful, high-performance wisdom. 
Success leaves clues and patterns behind for others to follow … which means real estate investors and entrepreneurs can apply successful thinking and behavior to achieve greatness faster. 
Tune in as we talk to a true titan of peak performance training! 
In this episode of The Real Estate Guys™ show, hear from:
Your clued-in host,

Robert Helms

His shoe-in co-host,

Russell Gray
Success trainer, Brian Tracy
---
Listen
---
Subscribe
Broadcasting since 1997 with over 300 episodes on iTunes!
---
Review
When you give us a positive review on iTunes you help us continue to bring you high caliber guests and attract new listeners. It's easy and takes just a minute! (Don't know how? Follow these instructions).
Thanks!
---
Meet Brian Tracy
What are the things that can make you successful as a real estate investor? 
It's not the map. It's not the market. It's not the metrics … It's you. 
Today we're talking about the undeniable power of self-esteem and goal setting. Part of being a real estate investor is really understanding and motivating yourself as a person. 
Brian Tracy is an icon in personal development. 
When some people think about personal development, they think about people that give motivational speeches … but really it's about pragmatic training. That's what Brian does. 
Brian teaches people how to manage their psychology … because what you think and believe affects your behavior … and your behavior affects the results you produce. 
What you set out to learn should not be how to invest in real estate or how to be successful in business. It's how to be a successful person. 
Brian has produced dozens of audio and video programs. He has also written more than 85 books … and he is sharing some of that valuable knowledge with us today. 
The secret is self-esteem
Brian always talks about the fact that there are distinctions between people who are successful and those who aren't. 
These are things that people who are looking for success … in real estate investing or in any area of life … can focus on. 
Everything in life is about self-esteem. 
Self-esteem is defined as how much you like yourself, how much you respect yourself, and how much you appreciate and value yourself. 
You become what you say to yourself. The magic words are, "I like myself." 
When you say, "I like myself," you feel happy inside. You feel good. You feel valuable and important. 
Aristotle said that all human activities are aimed at one great goal, and the goal is happiness. 
So, everything you do either raises or lowers your self-esteem … and your happiness. Nothing is neutral. 
Start with the end in mind, and ask yourself, "If my life were perfect and I was really happy, what would it look like? And how would it be different from my life today?"
What would you do more of and what would you do less of to be happier? What would you start doing that you're not doing today? 
If you want to be successful in life, associate with people who raise your self-esteem, who make you feel valuable and important. 
Simultaneously, you should do everything possible to raise their self-esteem and make them feel valuable and important. 
Listening builds trust
Another great rule of success in life, Brian says, is that listening builds trust. 
Most people don't trust anybody who tries to sell them anything … including people who are in sales for a living, 
So, every time you ask a person a question and really listen to the answer, it makes the other person feel happy. 
When someone feels happy, they trust you more. 
Each time you ask a question and carefully listen to the answer … your trust and credibility go up and the other person's fear of doing business with you goes down. 
Eventually, that fear drops to zero and that person is ready to work with you, because they trust you, and they know that you won't hurt them. 
Talking doesn't build trust. Listening builds trust. 
Therefore, the most successful people in any business … including real estate … are people who ask a lot of questions and listen carefully to the answers. 
If you feel comfortable, ask if you can take notes while the other person is talking. People feel very complimented when somebody writes down their words. 
It also gives you an opportunity to ask more questions … and when you ask questions, you get more opportunities to listen. 
Another technique Brian shares for being a powerfully persuasive person is feeding the information back to someone. 
"Say, 'So let me be really clear. What you said was this,' and that helps them know you really were listening, and it helps you always be on the same page," Brian says. 
Setting and achieving goals
Brian finds that every time someone completes a task, their self-esteem goes up. 
Every time you learn something new that you think can be valuable to you … self-esteem goes up. You start and complete a project … self-esteem goes up. 
The best thing you can do to find more success is to keep self-esteem at the center. Actively search for tasks that can raise your self-esteem or at the very least do not diminish the self-esteem of another. 
Start by setting and achieving one important goal. This creates a template in your brain of setting and achieving goals. 
Because you have a good feeling from achieving one goal, you'll want to set another … and you'll do this again and again. 
For more success-building skills from Brian Tracy … listen in to our full episode!
More From The Real Estate Guys™…
The Real Estate Guys™ radio show and podcast provides real estate investing news, education, training, and resources to help real estate investors succeed.
---
Love the show?  Tell the world!  When you promote the show, you help us attract more great guests for 

your

 listening pleasure!

Overview
YOU are at the center of your investing universe.  Everything you hope to achieve and acquire grows out of your attitude, knowledge and actions.  So becoming the best possible you is the most important thing you can invest time, money and energy into!
In this episode we take a look at how to be successful in ALL areas of life…including real estate investing!
In the best possible studio for a successful edition of The Real Estate Guys™ radio show:
Your best possible host, Robert Helms
His impossible co-host, Russell Gray
Our especially successful guest, Kyle Wilson
---
Listen
Subscribe
Broadcasting since 1997 with over 300 episodes on iTunes!
Review
Like the show? Help us reach new listeners by leaving us a quick review on iTunes. It takes just a minute of your time, and it would really help us out. Thank you so much!! (Don't know how? Follow these instructions.)
---
Lessons From Kyle Wilson
It's been said that success leaves clues.  We agree!
Over the years, we've picked up some great insights from some of the many high achievers we've had the privilege to get to know over the years.

One of those great guys is Kyle Wilson.
Kyle was business partners with the late, great Jim Rohn for 18 years in their company, Jim Rohn International.
Jim Rohn was considered America's foremost business philosophers.  One of Jim's many students is the world-renowned Tony Robbins (Unlimited Power, Personal Power, Get the Edge).
Along the way, Kyle founded Your Success Store, which distributed all kinds of personal development and success merchandise.  He eventually sold that business to the same organization which owns Success Magazine.
Success Mastery
Kyle also produced many fantastic live events.  As long time listeners know, we're HUGE believers in attending live events…for many reasons.
First, when you're THERE, you're totally immersed in the experience.
If you REALLY want a good idea to sink in, then you need to soak in it.  Being there is the BEST way to be sure you're not distracted by the thousand trivial "emergencies" which can rob you of that next big "Aha!".
Also, when you're in the same place as other people who are SERIOUS about their success…in whatever the subject matter…you're likely to make a great connection.
We always say that you're just one relationship away from a breakthrough in your business, investing or life.
Relationships are VERY important.  Going to where great people are is such a shortcut for meeting the RIGHT people.
Change Your Life
Of course, in Kyle's case, he had a front row seat.
In addition to Jim Rohn, Kyle worked closely with some legends of success including Brian Tracy, the late Zig Ziglar, Denis Waitley, Les Brown, Darren Hardy and MANY, MANY more.
When you hang around people…any people…you begin to pick up their attitudes, habits, beliefs…even their self-talk.  It's amazing.  And scary.
If you spend too much time with a mediocre, negative, low achieving crowd…guess what?  You're success is impeded.
But if you spend time with high-performance, positive, driven people…you get pulled UP.  You start to think and behave more like them.
Robert Kiyosaki's Rich Dad Advisor for real estate Ken McElroy says the first step to improving your life and your business is to hang around better people.
And think about this…
If when you're young, say 25 years old, you and your friends are all into music and funny videos.  But you decide to invest just 30 minutes a day listening to audio books, TED talks, educational podcasts, etc.
If you get just ONE good idea per day more than your friends, by the end of a year, you have 365 more good ideas in your mind than your pals.
By the time you're 35 years old (10 years later), you have 3,650 more good ideas.  By 45, you have 7,300 more.
You get the idea.  As Jim Rohn said, "The book you don't read can't help you."
Education for Effective Action™
Take it a step further…
We all have 24 hours in a day, 7 days in a week and 52 weeks in a year.  So the access to time isn't the limiting factor for most people.  It's what they DO in the time they have.
We already talked about how just getting one good idea per day in your mind can create a HUGE chasm between you and those who can't be bothered.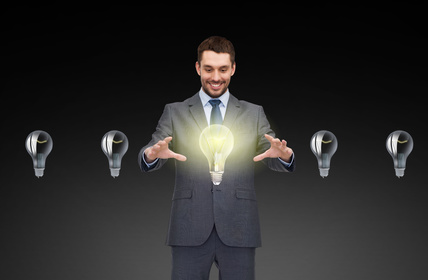 But ideas aren't really all that powerful…UNLESS they're acted on.
Most people have been exposed to great ideas, but they allow fear, insecurity, doubt or other limiting beliefs to delay or prevent taking action.
What if you were able to speed up how quickly you recover from a setback or how fast you implement a good idea…by just 10 minutes a day?
Once again, it's math.
At the end of the year, you're 3,650 minutes or 60 hours ahead.
In 10 years, you're 600 hours, or (based on a 40 hour work week) 15 weeks ahead.
We know that doesn't sound like much.  But it's MUCH bigger than that…for two reasons.
The Compound Effect
First, efforts compound.  So when you're 60 hours ahead at the end of a 2,000 hour work year, you're 3% ahead of where you would have been if you'd acted just 10 minutes slower each day.
But when you're building businesses and investment portfolios, the things you do early in life compound over decades.  It's how high-achievers accomplish so much.  Over time, their efforts compound, and after a few years, they're WAY ahead.
Darren Hardy talks about this in his best-selling book, The Compound Effect.
But there's an even MORE important concept…
Have you ever missed a bus, train or plane by just a few minutes?
The delay is far more than just the few minutes by which you missed the vehicle.  You're delayed by the amount of time it takes for the next comparable vehicle to come back around.
In real estate investing, the "vehicle" is the deal.
It may take you weeks or months of searching to find a great deal.  And when you do, you need to act quickly to secure it.  Because if you don't, someone else will.
If you miss that great deal by 10 minutes, it might be MONTHS before you find another one like it.  Now, you're WAY behind.
No wonder it's been observed that rich people are decisive.
The same is true for strategic relationships.  If you miss an opportunity to meet or connect with people who can bring your great ideas, opportunities or other strategic relationships, those people you don't meet can't help you.
Of course, in addition to learning how to take effective action faster, in order to attract great people into your life, you need to be the BEST possible you.
That's what this episode is all about.  So we hope you'll decide to listen in as chat with our good friend Kyle Wilson about what he's learned as a high achiever who hangs out with high achievers.
Then make plans to attend a LIVE event…where you can soak in some great ideas and meet up and coming superstars!
More From The Real Estate Guys™…
The Real Estate Guys™ radio show and podcast provides real estate investing news, education, training and resources that help real estate investors succeed.
"Rock star" is a term commonly used to describe HUGE success in any field of endeavor.
Maybe YOU are dreaming of being a real estate rock star some day!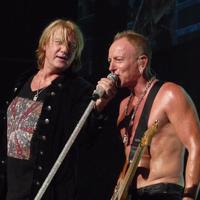 So we thought it would be fun (and instructive!) to sit down with a real life rock star…and see how someone goes from obscurity to super-stardom in their chosen field.
Of course, we didn't want some random one-hit wonder…though we're sure there'd be lots of lessons there too.
Instead we found someone who's achieved both huge and ENDURING success.
Rockin' this edition of The Real Estate Guys™ radio show:
Your rock star radio host, Robert Helms
His roadie co-host, Russell Gray
Lead guitarist for mega-band Def Leppard, Phil Collen
Now right out of the gate, you may wonder WHY we're interviewing a musician for a real estate investing program.

And if you're part of our younger demographic, you may not even know that Def Leppard is one of the greatest selling rock bands in history.
Formed in 1977, Def Leppard has sold more than 100 MILLION albums worldwide.
According to Wikipedia…
Def Leppard is one of only five rock bands with two original studio albums selling over 10 million copies in the U.S.
The band is ranked No. 31 in VH1's "100 Greatest Artists of Hard Rock"
Def Leppard is ranked No. 70 in "100 Greatest Artists of All Time".
And nearly 30 years later, they continue to pack thousands of people into concerts..  We know.  We went to one in Dallas.  It was awesome.
So that's HUGE success.  It's also ENDURING success.  And Phil Collen has been with them since 1982, so he's been a big part of Def Leppard's success.
But success is bigger than just fame and fortune.  
Just think about Elvis Presley, Marilyn Monroe, Jim Belushi, John Candy and a long list of other rich and famous entertainers…along with all kinds of lesser known corporate executives and hard working entrepreneurs.
So while you're busting your rear building your balance sheet, it's a good idea to build some balance into the process.
Success is also about physical health, long term relationships, and living with passions and purpose.
After all, without these things…how successful are you really?
Of course, when you think of the stereotypical rock star, you don't think about health and long term relationships.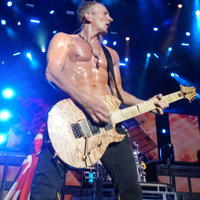 That makes Phil Collen a very rare guy.
Phil's a 57 year old, non-drinking, drug free, vegan who exercises regularly and is more fit than guys half his age…
All the while, Phil continues to rock the house while on tour with Def Leppard…AND still finds time (and energy!) to make music with not one, but TWO other bands.
So if you think YOU are busy…and struggling to stay fit, focused, motivated and effective while building your real estate empire…
We're guessing you could learn a thing to two from Phil Collen…and THAT'S why we wanted to talk to him.
We say all the time that what you think and believe affects the actions you take, which in turn produce the results (or lack thereof) in your life.
So getting a chance to grill Phil on how he thinks about life and work could reveal success principles, patterns and philosophies we can apply to our own endeavors.
You'll discover Phil is a pretty level headed guy and a solid "middle-class" work ethic.
He says in spite of his fabulous success, he hasn't succumbed to believing his own press. He just keeps working on improving himself.
He's also fiercely loyal.
In fact, Phil tells us the amazing story of how Def Leppard's drummer, Rick Allen, literally had his arm ripped off in a car accident…and how his bandmates never thought to replace him.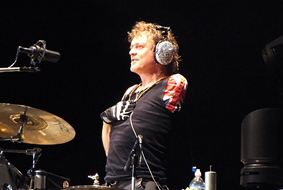 Watching a Def Leppard concert is worth it…just to see Rick Allen play world class drums…with only one arm!
Wow.  And we want to throw in the towel when a tenant trashes one of our units.
Of course, as we've mentioned, the rock and roll landscape is littered with tragic stories of substance abuse, broken relationships and excesses of all kinds.
And Phil confesses there was a time early in his career when he got caught up in some of that.
But he had the vision and humility to realize the path he was on, and made a conscious decision to choose a different path.
So Phil hasn't had a drink in over two decades. He's as fit a guy as you'll ever see…at any age.
The lessons are to know yourself and your goals, to be decisive and disciplined to be true to your mission, vision and values…and to always keep pushing yourself to improve.
Easy to say.  Harder to do.  Unless you're able to unlock your own personal, powerful, compelling why.
We learned a lot from Phil and are inspired to take our personal efforts to the next level.
We trust you'll find great lessons in this episode…which you apply to the daily pursuit of your hopes, dreams and goals…real estate and otherwise!
Listen Now:

The Real Estate Guys™ radio show and podcast provides real estate investing news, education, training and resources that help real estate investors succeed.
On Saturday, December 5th, the world lost a treasure. My friend and mentor Mr. Jim Rohn passed away after a prolonged battle with Pulmonary Fibrosis.  He was surrounded by his family and very close friends, as he often was in life.
Mr. Rohn was a successful businessman and dedicated father.  From humble beginnings as an "Idaho farm boy", he went on to share his experiences and philosophies to empower people to find more success and fulfillment in their lives.
I was first introduced to Jim Rohn's teachings in 1994, and had a chance to attend a live 2-Day seminar shortly after that. I have been a devout student ever since. Not a day goes by, nor will it, that I don't think of Mr. Rohn.  His words have inspired me since the first time I heard him speak, and his simple ways of bringing clarity to difficult topics was unparalleled.
Mr. Rohn was very much in the public eye.  For more than 45 years he spoke with audiences small and large throughout the world.  Over 6 million people heard his words at live events and many more than that through his vast audio and video library.
Personally, Mr. Rohn led a very private life.  He never bought into the "fame" that his work created.  Instead, he was a humble servant who quietly "walked his talk".  My friend and business partner Pol vahRhee and I had the opportunity to run the sound at many of Jim's larger events over the years, and we were fortunate to have a chance to spend time with Mr. Rohn "backstage".  He was a guest on the radio show multiple times.  While I often had a chance to share a few words with Jim, on three occasions I had the honor of sitting with him one on one, just the two of us.  Those are moments I will never forget.
I'm sure that news of Jim's passing has many people thinking about the ways he influenced them, and thinking about some of their favorite Jim Rohn quotes.  Here are a few of my personal favorites:
"You cannot change your destination overnight, but you can change your direction overnight."
"You don't get paid for the hour.  You get paid for the value you bring to the hour."
"The book you don't read can't help."
"The few who do are the envy of the many who only watch."
"You can change all things for the better, when you change yourself for the better."
"Always do more than you are paid to do as an investment in your future."
"We can have more than we've got because we can become more than we are."
In 2005 as Russell Gray and I completed our manuscript for our book Equity Happens – Building Lifelong Wealth
with Real Estate, I offered a draft copy to Mr. Rohn and he graciously agreed to provide an endorsement of the book.  Jim often said, "It's wonderful when your name appears in someone's testimonial", and after years of endorsing his work, I was blessed to have Mr. Rohn endorse mine.
It is because of Jim's close friend and business partner Kyle Wilson that I had the amazing opportunity to get to know Mr. Rohn, and for that I am forever grateful.  Last year, as Jim was doing his best to deal with his challenging health situation, Kyle spearheaded a project to create a video tribute to surprise Jim and share with the world the effect his work has had.  A few dozen of us were invited to come film a story or reflection for a few minutes, then take an extra couple of minutes to look into the camera and address Jim personally.  With the support of Stuart Johnson at Video Plus, Kyle oversaw the painstaking process of editing all of that material into about 3 hours which he put on DVD and sent to Jim.  You can see a short sample of that video at http://tribute.jimrohn.com/.   Needless to say, Jim was touched by the gesture and moved hearing directly how his work positively affected so many people.
When we lose someone important in our lives, we rarely get the chance to share with them just how much they mean to us.  Thanks to Kyle, a few of us got that chance.  What an amazing gift…to Jim, and to us.
Jim often spoke about the ripple effect, and that you never know how many people you can influence by sharing meaningful words.  As I browse the various forums where people are paying tribute to Mr. Rohn, I am in awe of the number of people that have had their lives improved by his teachings.  So many of these folks never saw Jim in person, but have come to know him through his recordings.  Fortunately, many of Jim's seminars are forever preserved for future generations.
I know my life will never be the same thanks to Mr. Rohn.  He was an extraordinary man with a profound ability to bring out the best in people.  Thank you, Jim; it is a gift I will continue to pay forward for the rest of my days.
Robert Helms
December 7, 2009
Let others lead small lives, but not you.
Let others argue over small things, but not you.
Let others cry over small hurts, but not you.
Let others leave their future in someone else's hands, but not you.
– Jim Rohn