In this episode of our Profitable Niches series, we're starting from the ground up. Inventory of homes is tight in many US markets, and returns are diminishing. Enter real estate development.
Our guest, Jay Hartley, saw an exciting opportunity to expand his business into the real estate development space, and he's got a wealth of knowledge to share.
In this episode of The Real Estate Guys™ show you'll hear from:
Your stately host, 

Robert Helms

His developing co-host, 

Russell Gray

Returning guest,

Jay Hartley

, real estate developer and property manager in Dallas-Fort Worth
---
Listen
---
Subscribe
Broadcasting since 1997 with over 300 episodes on iTunes!
---
Review
When you give us a positive review on iTunes you help us continue to bring you high caliber guests and attract new listeners. It's easy and takes just a minute! (Don't know how? Follow these instructions).
Thanks!
---
Beginning with the basics
One of the questions we ask in our seminars is which is more risky: buying an existing building and renovating or building from the ground up? The truth is, there isn't a right answer to that question.
From inheriting problems in an existing property to building too much or building something the market doesn't want, there's a lot to consider when deciding whether to build or buy. The key is knowing the market, the demand, and the supply.
One of the most exciting things about real estate development is the number of entry points. Throughout the lifecycle of a property, there is value being added. Taking raw land from a zoned area to a lot with utilities and a finished building are all steps in the process.
For those who find themselves in a market with a lot of demand but a squeeze on supply, real estate development can be a FANTASTIC way to add more houses into the market, whether or not you hold on to that inventory long term.
Shifting your investment mindset
Jay Hartley is known as one of the best property managers in the Dallas-Fort Worth real estate market. He began like many investors with buying and renting fixer uppers.
Eventually, inventory started getting tight, prices escalated, and returns diminished. That's when Jay took his first steps into development.
"We had to look at the marketplace and see where the opportunity would be to add inventory," Jay says. "We started looking at acquiring vacant lots that were already in subdivisions and doing what they call infill."
Infill meant building one or two homes on lots in subdivisions and then either renting or selling those homes to investors as turnkey properties.
It wasn't long before Jay's successful turnkey model got plenty of competitors and Jay took it to the next level. He utilized the economies of scale by getting into bigger developments and subdividing tracts of land. That's also when he started building his network and expanding his education.
"I had some clients in the building business," Jay says. "I took them to lunch and started picking their brains."
Jay soon learned it was a smart idea to partner with a few builders early on. But then the key to sustaining his business was to keep his contractors busy with his projects so he didn't lose them to other projects.
Real estate development doesn't necessarily mean you're the one swinging the hammer. In many ways, it's orchestrating OTHER contractors and moving parts to complete a job. That also means managing labor.
"One of the biggest issues we're dealing with right now is having labor ready and available," Jay says. "If we don't keep them busy, we lose that framer, we lose that concrete guy, we lose that roofer. We try to set them up to go to one job site to the next to keep them busy and on my job."
As the deals got larger, Jay had to deal with the growth spurt in his business. He was always known as the property management guy, but had to shift his mindset as he shifted into real estate development. One of those moves was toward selling properties rather than buying and holding.
"I'm not afraid to sell them anymore," Jay says. "I was a collector before, and it was tough for me to wrap my head around selling them."
But, with some help and guidance, he was able to work through those mental roadblocks and scale up his business!
Get rich in a niche with a network
Rolling with changing markets is what makes an investor successful long term. Even though Jay was doing really well in property management, he saw a need for more inventory in the market. So, he became one of the people to create it! That has also set him up to know about lots of different types of real estate, and it's another tool in his toolkit.
"It's not about what I've done. It's about who I've met," Jay says.
Building a network of people with all kinds of unique backgrounds is a way to tap into their experience. Jay says you can take classes and watch videos, but watching flipper shows on television doesn't mean you know how to flip a house. Partnering with people on a build job, however, is worth its weight in gold.
And that's the essence of most development. It's done through syndication and joint ventures. You can partner up with people who have the land, capital, or expertise you need, and you can put together a great deal.
Jay started out financing his own projects, but it wasn't until he started tapping into syndication that his business really took off. He attended a few of our programs on syndication and sales, and they catapulted him into success.
"I've been in real estate all my life," Jay says. "The training there, I didn't think I really needed it. It was enlightening … it gave me the tools and the ability and the confidence to talk to clients and investors and pitch!"
Jay's journey has been propelled by his ability to be ambitious and coachable. The ability to shift and adapt to new markets is how he keeps his skills sharp and his business growing.
If you'd like to learn more about real estate development and property management in the Dallas-Fort Worth market, get on the inside track with Jay. Send an email to dallasdeals (at) realestateguysradio (dot) com, and we'll connect you with Jay and his expertise!
And, we hope to see you at some upcoming events. Secrets of Successful Syndication and How to Win Funds and Influence People are packed full of information that you won't want to miss. Register now!
---
More From The Real Estate Guys™…
The Real Estate Guys™ radio show and podcast provides real estate investing news, education, training and resources to help real estate investors succeed.
Sooner or later, new construction has to happen – at least in residential markets where the population is increasing.  After all, those new people need someplace to live.
And while home builder confidence is improving, it's still a far cry from "happy days are here again".
So how can a small time real estate developer compete in a fragile economy?  We get some great ideas in this episode of The Real Estate Guys™ radio show.
In the studio to talk boutique residential real estate development:
Your well constructed host, Robert Helms
Special guest, real estate developer Beth Clifford
Real estate development is a great way to "force equity" (a term from our book Equity Happens for making money by changing the use of a piece of real estate).  But when the economy is soft, building properties "on spec" (building without a specific buyer secured) can be risky business.
Big developers look for growing economies that push populations out to undeveloped areas.  This is the famous "path of progress" everyone talks about.  But it takes a growing economy and population growth to feed the sprawl.
Usually development begins around some piece of infrastructure.  Early in a country's development, it's usually a river, ocean or some other natural resource or means of transportation.  Later, it's around existing population centers and just pushes out (downtown to the suburbs to the country, which eventually becomes the suburbs).
At some point, the development sprawl meets some natural resistance point.  It could be physical (like a mountain range or body of water), political (like a border), or the population's resistance to travel longer distances to access amenities near the center (commute times).
When this happens, the big developers have a hard time because they need big chunks of land to do their huge developments.   This opens the door for small, "boutique" developers to do "in fill" projects on smaller patches of land inside the already developed area.
So whether you're in an up or down economy, there's always opportunity for in-fill development.  But in a down economy, you need to be very careful about your project so you don't end up sitting on inventory you can't sell.  Soft local economies, especially those where existing product can be purchased for less than replacement cost, will not allow fat margins.  And carrying costs on unsold inventory can quickly erode those thin margins.
Beth says the key is to pick the right market, product type and price point.  Then manage your project carefully.  It may sound obvious, but there are some nuances Beth cautions us about.
In Beth's case, she's active in the Washington DC metro.  It's dense (not just the politicians ;-)), so there are no big developers to compete with.  No one can find a big chunk of land to dump a bunch of inventory on the market.  That's good for the little developer.
DC is also affluent.  The U.S. Government is a huge operation which pulls in lots of money from all over and dumps it into the local market.  It's a very powerful market driver.  It also attracts a lot of people to the area, so when it comes to residential real estate you have little supply, high demand and good capacity to pay.  That's our favorite recipe for equity!
So listen in as Beth shares her practical advice for creating new construction profits – even in a down economy!
Listen Now:
Want more? Sign up for The Real Estate Guys™ free newsletter
Don't miss an episode of The Real Estate Guys™ radio show! Subscribe to the free podcast
 Stay connected with The Real Estate Guys™ on Facebook!
The Real Estate Guys™ radio show and podcast provides real estate investing news, education, training and resources that help real estate investors succeed. Visit our Feedback page and tell us what you think!
Donald Trump's legendary comeback is one of the great real estate stories in recent history.  But how do you relate to anything The Donald goes through?  We found a small developer whose David vs Goliath story has less zeros and lots of lessons for small fry like us.
In the mobile recording chariot for another race around the track of radio excellence:
Your broadcast Ben Hur and host, Robert Helms
Your co-host and chief chariot puller, Russell Gray
Special guest, real estate developer and syndicator, Malcolm Davies
So you're a big shot small time developer.  You've raised money and built projects.  You're a thirty-something self-made millionaire. The Great Recession isn't even a glimmer in Ben Bernanke's eye and life is good.
Now you're 20 literally feet deep into your most ambitious project and a not-so-funny thing happens on the way to your next construction draw.  The bank who begged for your business gets cold feet and leaves you unloved and unfunded.  Ouch. And it get's worse.
Welcome to Malcolm in the Middle…of a big mess. What do you do when Goliath Regional Bank (not their real name) with their legion of lawyers are lined up against you?  You can assume the position (fetal) and quit.  Or you can gird up your stones in a sling to stay and fight.
Tune into this exciting episode of The Real Estate Guys™ Radio Show and find out what happens next in this modern day tale of Davies vs Goliath.  You'll gain valuable lessons about how tenacity, integrity and the right team can overcome even the most daunting odds.
Listen now!
Don't miss a show – subscribe to the free podcast!
Want More?  Sign up for The Real Estate Guys™ free newsletter!
The Real Estate Guys™ Radio Show podcast provides education, information, training and resources to help investors make money with their real estate investing.
The world has changed! The internet has made it smaller, the economy has become much more global, and there are unprecedented opportunities to integrate real estate investing into an international lifestyle.  But if you're living in your home town, working at a day job and dreaming of going global, where do you start?  We invited someone we know that went from Corporate America to international real estate development to come in studio and tell us not only how and why she did it, but where she sees the opportunities in today's rapidly changing economy.
In the studio for today's show:
•    Your Host and Chief Globetrotter, Robert Helms
•    Co-Host and Travel Coordinator,  Russell Gray
•    The Godfather of Real Estate,  Bob Helms
•    Special Guest: International Real Estate Developer, Beth Clifford
This is a show we were super excited to do.  For many people, real estate investing means tenants and troubles that interrupt their lifestyle rather than enhance it.  But does it have to be that way?  We catch up with our good friend Beth Clifford, who made the leap from a day job to a dream job using international real estate as the vehicle.  Of course, we have lots of questions – and Beth is nice enough to hang out for the whole show and answer them.
We start out getting the Reader's Digest on Beth's career.  While the history is interesting, what's really useful is the mental process Beth went through to decide what she really wanted to do – and how real estate fits in.
Another very interesting topic of conversation comes up when Beth gives us the "big picture".  Now that she's gone global, what macro trends does she see?  What do they mean to her and her real estate strategies?  What can we learn from her experiences to make us better investors?  We have inquiring minds!
Beth also shares strategies she is using to gain competitive advantages in new markets – and how financial strength is much less important than you might think.  Whew! That's a relief – because this Great Recession has taken the wind out of a lot of folks' sails.  Knowing how to keep going when your financials aren't as strong you'd like is a key survival skill for a real estate investor.
We discuss the importance of taking into consideration demographics, migration patterns, social and technology trends; plus your personal assets and interests when selecting which markets you will invest in.  Careful planning on the front end can yield a portfolio that is both profitable and fun!  And let's face it, if you're not having fun…well, it's no fun.
Even though Beth is doing deals which have bigger numbers, the concepts she shares apply to everyone.  Enjoy!
Don't miss a show!  Subscribe to the Free Podcast
Want More?  Sign Up for The Real Estate Guys Free Newsletter!
The REAL Book of Real Estate
by Robert Kiyosaki and 22 Contributing Co-Authors
He's back.
Robert Kiyosaki, author of Rich Dad Poor Dad, one of the best selling books in history, is back talking about real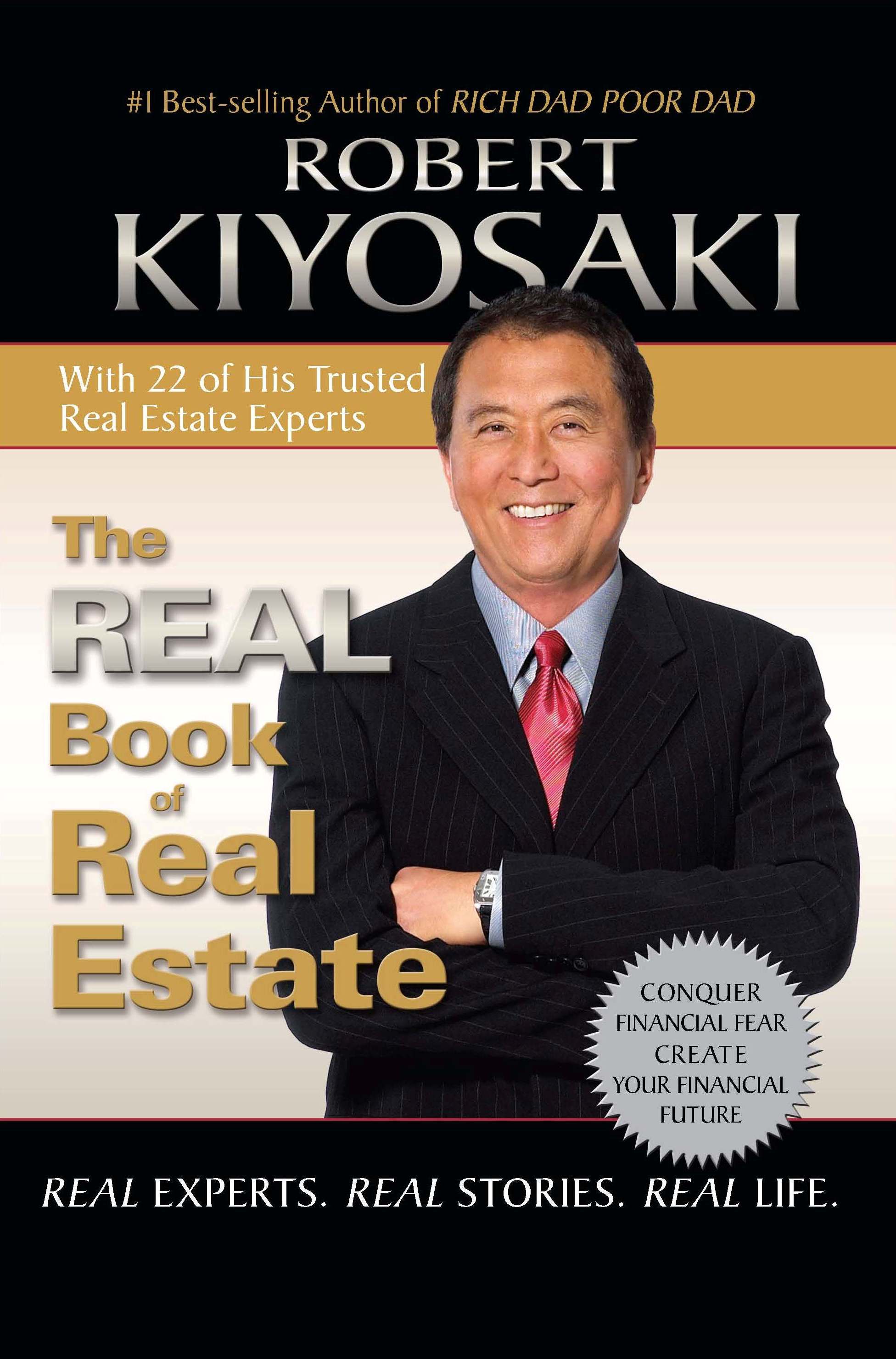 estate!  Why now?  He says the rules have changed and the numbers make sense again.
In The REAL Book of Real Estate, Kiyosaki compiles real estate investing wisdom from 22 veteran experts.  The Real Estate Guys had a chance to talk personally with Mr. K. about this book and the unusual timing of its release.  You would think that a book on real estate investing would be a hard sell in this post meltdown world.  And it is.
But the book was released now to help investors who've only known boom times.  It shares the knowledge and perspectives of veterans who've survived and thrived through previous real estate market cycles (which is lesson #1:  real estate cycles, it doesn't disappear).   If real estate isn't "over", then the question remains: where are the opportunities and how can I find or create them?  That's what this book addresses.  It might be a bad time to sell a book on real estate investing, but that might make it a great time to pick up bargain properties.  This book will teach you many of the things you need to know.
What we like best about it is that it's immensely readable.  It isn't a book about theory.  It's very real world practical.  And you can start anywhere, as each author's work is a stand alone discussion about their particular area of expertise.  It's as much a reference manual as an educational work.
We like it.   We've been around real estate for awhile and we learned a lot.  We think you will too.
Order your copy today – and be sure to visit the archives to listen to The Real Estate Guys' exclusive interviews with Robert Kiyosaki and many of his contributing co-authors.  Let us know what you think!