You've probably heard the expression …
"There's more than one way to skin a cat."
We're not sure why anyone would want to skin a cat… that sounds gross and cruel.  But the idea is there's often more than one way to get something done.
In this case, we're talking about wealth re-distribution.
We realize that's a politically charged topic, but anyone who's rich … or plans to be … should be paying close attention to the winds of change on this hot topic.
No matter which side of the political spectrum you're on, the problem everyone is staring at is the same …
There's a big and growing gap between the rich and the poor.
Meanwhile, only a small percentage of middle-class are successfully fighting their way into the realm of the rich.
Most are falling off the back of the bus into the pit of poverty.
We're not here to point fingers.  There's plenty of blame to go around.
But we think it can be credibly argued that the Fed's decade-long easy-money policy has inflated both asset prices and the cost of living.
This worked to the advantage of asset owners, but to the detriment of the paycheck-to-paycheck folks.  It's no surprise they're mad about it.
Of course, there's no point in ranting about what we think policy makers should or shouldn't do.  They don't listen to us anyway.
So we simply watch and consider how the future might unfold … then get in position to capture opportunity and mitigate risk.
You're probably aware, the USA is ramping up for yet another knock-down drag-out presidential election cycle.
In addition to stocking up on popcorn, we're thinking about which issues will frame the debates.
Based on the mid-term results … and the predominant philosophies espoused by the challengers …
… it seems a major objective is to make rich people do more for the poor … by hook or by crook.
There's the "Robin Hood" approach of taxing the rich and giving benefits to the poor … free college, healthcare, basic income, etc.
Let's call the Robin Hood approach "by crook."
Then there's the "Opportunity Zone" approach …
The Opportunity Zone idea is to provide tax incentives to the rich so they voluntarily move their money into poor areas … thereby creating jobs and commerce for the currently disenfranchised.
We'll call the Opportunity Zone approach "by hook."
There's a lot of history on the crook approach … and it doesn't have a strong track record of creating abundance.  But it's easily sold to desperate people.
Obviously, no one yet knows how the Opportunity Zone "hook" will work out … but the idea seems promising, so we're watching it closely.
And when you consider the common sense wisdom in the saying …
"The definition of insanity is doing the same thing over and over but expecting a different result."
… at least Opportunity Zones are a new approach to the problem of getting capital to where it's needed most.
That's why when we saw Yardi Matrix had released this well-written and informative white paper on Opportunity Zones, it captured our attention.
You should read it, but there are a few excerpts we think are noteworthy …
"… within Opportunity Zones, there are either in place or under construction 1.9 million multi-family units, 960 million square feet of office space and 189 million square feet of self-storage."
Clearly, Opportunity Zone pioneers are quickly moving from idea to action.  And even though it's still ramping up, the scope is impressive …
"As a percentage of total space, properties in opportunity zones that are in place or under construction represent 13.1% of total multifamily units nationwide, 13.7% of total office space and 11.4% of total self-storage space."
So Opportunity Zone development is already up to over 10% market share nationwide in not one, but THREE real estate niches.
That's impressive.
And even though many details about the Opportunity Zone program remain unclear ….
… BIG money is moving forward NOW and creating a wave of capital small investors can potentially ride to profits of their own.
This creates an unprecedented opportunity for Main Street investors.
Because while a small investor might have the means to fix up a single derelict property on his own, he can't really change the local economy all by himself.
Sure, a large group of small investors might team up to upgrade a specific neighborhood … changing the personality of the neighborhood and improving everyone's chance of seeing their value-add stick long-term.
But only BIG money can rehab entire regions … or "zones."
And when it does, it creates critical mass which can fundamentally change the economic drivers and opportunities of entire local economies …
… including jobs, and access to services and opportunities for those people who get left out of financial boom times.
After all, you can only benefit from asset inflation if you own assets.  Most lower-income folks don't.  For them, inflation just means higher living expenses and a higher hill to climb to become an asset owner.
But Opportunity Zone incentives entice rich people to move their profits from inflated financial assets into depressed real estate.
But not as flippers.
The best Opportunity Zone perks go to those who stay in their markets for at least TEN years.  That's enough time to light a permanent flame in a local economy.
And as jobs are created to do the actual work of rehabbing these regions …
(and remember, these are jobs which can't be off-shored)
… the workers will have both the incomes and opportunities to purchase affordable properties themselves.
Now the worker can get into the asset owner class.  And until they do, they have paychecks to pay YOU rent.
Of course, as the workers' labor is partnered with investors' capital to improve the Opportunity Zone, the asset owning laborers also get to ride the equity wave they've helped create.
And so do YOU … if you're in the right position.
So we encourage you to read the Yardi Matrix white paper because there's useful data and insights to help identify specific markets to explore.
Opportunity Zones may not yet be a proven model for creating access to prosperity for lower-income folks, but the potential is there.
And if YOU aren't as high up the economic food chain as you'd like to be … consider syndication as a way to get rich helping the rich get richer.
When you syndicate, YOU marry your capital and labor to the capital of your wealthy investors … and then marry all that to the BIG money driving the growth in these Opportunity Zones.
It's a win-win-win.
Until next time … good investing!
More From The Real Estate Guys™…
The Real Estate Guys™ radio show and podcast provides real estate investing news, education, training, and resources to help real estate investors succeed.
---
Love the show?  Tell the world!  When you promote the show, you help us attract more great guests for 

your

 listening pleasure!
Protecting your money in today's highly uncertain economy is surely very challenging. Remember when real estate equity and bank accounts were considered among the SAFEST places to keep your savings?  Today, real estate equity has disappeared – and for many people even getting access to whatever equity they still have is next to impossible.  Boy, do we miss those equity lines of credit with their checkbooks and debit cards!
And even though you can still write checks on your cash deposits at a bank, with record bank failures even that old saying "sure as money in the bank" seems a little outdated.  Add horribly low interest rates and, to compound the injury, taxes on your meager interest earnings, it's enough to make you wonder what this financial world is coming to.
Well, we have good news. There's a new way to look at an old product – one that is time tested and has survived its fair share of economic turmoil.  And we got such a positive response to our first foray into this topic, we decided to re-visit it with a new guest.
In the radio lifeboat for another voyage into broadcasting brilliance:
Host and head lifeguard, Robert Helms
Co-host and lifeboat inflater, Russell Gray
Seasoned sailer of stormy economic seas, the Godfather of Real Estate, Bob Helms
Special guest, "infinite banking" expert, Patrick Donohoe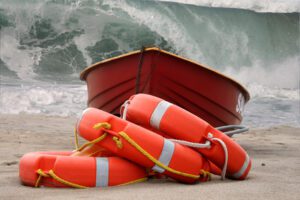 Right out of the gate we need to set the table, which is no small task with the lifeboat bobbing on the waves:  what does life insurance have to do with real estate investing?
Think about what a bank account has to do with real estate investing and you're on the right track.  But unlike a bank account, our guest explains that certain types of life insurance – thought greatly misunderstood – offer far greater flexibility than bank accounts.  And though they aren't FDIC insured, insurance companies are arguably more stable and conservatively run.  Unlike banks right now, you don't hear a lot about record number of life insurance companies failing.
We also address why so many CONSUMER financial gurus are down on cash value life insurance, yet corporations like Wells Fargo and Wal-Mart buy tons of it.  Could it be there are BUSINESS purposes that make it very useful for BUSINESS people?  We say all the time that real estate investing is a business, so it makes good sense to see how businesses are using this financial tool.
For example, how'd you like you to take a tax deduction for making a deposit in your bank account?  Hmmm….that's an interesting concept!  What about getting a loan against your equity without having to qualify?  Try doing that with a property!  And unlike property, the value isn't determined by market forces, so your equity doesn't disappear in a market downturn.
The point of this episode is that insurance can do a lot more than manage risk and pay a benefit. Our job is to expose you to some of the possibilities.  Your mission, should you choose to accept it, is to explore those possibilities, learn how to use this powerful tool, and decide when and where to use it to advance your real estate investing program.  It seems the economic storm isn't over yet, so it might be a good idea to know how to operate the lifeboat.  It's a matter of life and debt.
Listen Now: 
The Real Estate Guys™ radio show and podcast provides real estate investing news, education, training and resources that help real estate investors succeed.
Feeling undersized when going up against your lender in a loan mod negotiation? It's a big problem to wrestle with, but you're not alone!  Recent developments are tipping the scales back toward the borrower – and none to soon!  To get up to speed on the latest and greatest, we invited back to the show one of the most prolific commentators on the topic.
In the Sumo sand pit for this episode: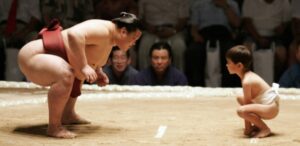 Your larger than life host, Robert Helms
Co-host and sand pit groomer, Russell Gray
The Godfather of Real Estate, Bob Helms
Special Guest, Mortgage Industry Pundit, Martin Andelman
Even though we see lots of opportunities in all the crushing problems facing today's real estate market, that isn't much consolation to people still grappling with mortgages that don't make sense.  No wonder our special report, What You MUST Know Before Attempting a Loan Workout (available in our Resource Center) has been our most requested publication for the last 18 months.  And when you consider that the number of modifications actually getting done are dwarfed by the huge number of mortgages currently in default, there's no way to take this problem lightly.  When it all shakes out, we know there's still a LOT of work to do before the balance sheets of banks and borrowers are stabilized.  It's a sizable task.
Enter Martin Andelman. Martin reminds us of Don Quixote from Man of La Mancha.  We almost went there with this blog, but the Sumo thing was way too much fun.  Still, Don Quixote was a crusader pursuing an impossible dream (the theme song from the movie), so it seemed to match.  It was hard to combine "impossible dream" with Sumo, unless there was a Speedo involved, and we didn't think that was a good fit, if you know what we mean.
Anyway, Martin's been an observer, commentator and outspoken critic of the banks and lenders who claim to care about the borrowers, but can't seem to do anything substantial to help.  Do you remember the Bible verse in James, where it basically says "talk is cheap" (our paraphrase)?   That is, what good does it do to say you care, if you don't really do anything real to help?
Please don't misunderstand.  We're not advocates for, or supporters of, bailouts for borrowers or for banks.  Philosophically, we think things would get better a whole lot faster if the government would get out of the way and let the banks and borrowers negotiate.  After all, these are contracts between private parties.  But the government has had its nose in the mortgage business for decades, so it's a threesome, like it or not.  (We're sorry.  Is our opinion showing?  We'll tuck it away.)
So we start this show with an update from Martin on the state of the government's HAMP program.  Can you feel it yet?  Is it working?  Is it getting better?  Martin gives us the scoop.  His answer surprised us.
And while the Executive Branch is trying get its HAMP fired up, what about the Legislature and the Judiciary?  Martin briefs us on a couple of interesting court cases which affect loan modifications.  Of course, we can't help but talk about California's SB94, which now "protects" consumers from all the "greedy" loan mod attorneys who selfishly want to be paid for the work they do.   Why wouldn't the attorney just do the work first and then send a bill?  It's so unreasonable to think that a client who isn't making their mortgage payment would be a bad credit risk.  We're sure all the underwater borrowers are sleeping much better now that now that most of the loan mod companies have shut their doors.  Yeah, that helped.  Unless….do you think maybe it wasn't the borrower the law was intended to help?  Hmmmm….?  Sorry.  That pesky opinion keeps popping out.   These Sumo shorts don't give you much room to hide.
But lest you think this episode is just a rant about what isn't working, the real highlight of the show comes when Martin tells us about a new "secret weapon" that's now available to borrowers.  And he says it IS working!  He says borrowers armed with this powerful new tool find themselves no longer getting squashed in their negotiations with the lender.  That's right!  The little guy is starting to win.  We like it.
Off mic, we impose upon Martin to write a special report on this topic, which he generously commits to do.  He calls it The Underwater Borrower's Secret Weapon: How to Make Modifying Your Loan Your Lender's Idea. Wow.  That's a mouthful.  But if you know Martin, it's not surprising.  You can bet he'll have a lot to say – and it will be fun to read!
The bottom line (that's a Sumo pun in case you missed it) is we got so jazzed about the whole thing, we're working on adding the company which supplies this "secret weapon" to our resource network.  Meanwhile, if you or someone you know has been wrestling with a lender that seems immovable, be sure to request Martin's report.  Maybe his secret weapon will work for you and your friends.  We want to help get the secret out, so everyone has access.  Not just because we like to root for the underdog. But because the sooner all these bad loans get re-done, the faster the world can get back to focusing on more productive things.  And that's good for everyone.
Listen Now:
The Real Estate Guys™ radio show and podcast provides real estate investing news, education, training and resources that help real estate investors succeed.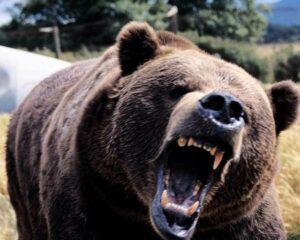 Retail real estate across the country has been mauled by the recent bear market. Many large retail centers are vacant and dilapidated, while many more are under performing.  What's next for retail?  More importantly, what's the opportunity?  To find out, The Real Estate Guys™ call on a big deal hunter who has over 30 years and billions of dollars of experience!
On safari in the studio for this broadcast:
Driving the jeep in his khaki's and bush jacket, host Robert Helms
Pushing the jeep in his leopard skin loin cloth, co-host Russell Gray
Riding shotgun and snacking on frikkadels, the Godfather of Real Estate, Bob Helms
Big deal hunter, special guest Tom Morris
When you enter the jungle of real estate investing to hunt for opportunity, you never know what challenges will cross your path.  Many obstacles and dangers can be avoided.  Others must be met head on.  Of course, when you're hunting, your objective is to locate the prey and subdue it.  In other words, there's risk involved.
Shooting fish in a barrel or hunting rabbits is one level of risk…and one level of reward.  Going after the big opportunities often entails a higher level of risk and requires a higher level of skill and experience.  That's why most investors are well-advised to start small.  It's also a really good idea to be mentored by more experienced hunters before taking on the big game.
So you can imagine how excited we were when we first met Tom Morris.  He's been hunting big time real estate opportunity for over 30 years and after billions of dollars of deals, he's telling us that now is one of the greatest times ever to be a real estate investor. Really?  Okay, we're listening!
Although he's very experienced in all types of real estate, Tom's love is retail.  We're talking BIG TIME retail – as in shopping malls and retail centers with hundreds of thousands of square feet (on the small side)!  Tom's been involved in mall projects with millions of square feet and hundreds of retail tenants in a single project.  Wow!  THAT'S big game.  Of course, if a big deal turns on you it can devour you very quickly, so you better know what you're doing!  Fortunately, Tom tells us there are many things you can do to mitigate risk.
We start quizzing Tom about the state of retail in the wake of the Great Recession. What are the problems?  What are the causes?  Where are the opportunities?  We were SHOCKED to hear how BIG the discounts are on distressed retail assets.  It's AMAZING how, with relatively little money, you can acquire assets with HUGE UPSIDE potential. (Sorry for all the caps.  We're just EXCITED!).
BUT…(and it's a big but), you better have a plan.  And you better have connections.  And you better be able to think outside the big box.  If you do, then there's BIG money to be made!
Tom shares with us some of the creative strategies he's currently employing to acquire and re-hab distressed retail properties.  Even if you don't have plans to be a mall mogul, the principles Tom employs are applicable to other types of real estate.  Besides, any time someone with 30 years and billions of dollars of experience wants to share their wisdom, we think it's a really smart idea to listen. Our attentiveness is rewarded when Tom reveals the single most important component of his success and the #1 investment of his career.
Not everyone is able to chit chat with a big time investor.  Tom doesn't do seminars, write books or sell boot camps.  He's just out in the real world doing the real thing.  That's why you have The Real Estate Guys™!  Our mission is to hunt down big brains, powerful ideas and great resources that help you succeed.  Your job is to listen, learn and take action.  Plus, we really appreciate it when you tell all your friends about The Real Estate Guys™.  Enjoy!
After a couple of weeks of avoiding foreclosure and working out bad loans, we decided to take a virtual vacation and head to Southern California.  We're told it never rains there, plus we wanted to see how the movie stars are getting along in this weak economy.  So, like the Clampett's, we loaded up the car to head to Beverly…Hills, that is…swimming pools, movie stars.
Riding in the jalopy for today's show:
•    Your host, Robert "Jed" Helms
•    Co-host and Financial Strategist, Russell "Jethro" Gray
•    The Godfather of Real Estate, a very masculine "Granny", Bob Helms
•    Special guest and more beautiful than Ellie Mae, real estate agent to the stars Sharona Alperin from Sotheby's International
Well, the first thing we know, we're not a millionaire…(sorry if you're too young to remember the theme song from the Beverly Hillbillies!)…but we know they're out there.  What we wanted to know is: what's happening in high end real estate?  Are people with money still buying big homes?  And what lessons can we learn about dealing with high profile, high net worth people – because when you don't have all the money there is, but there are great deals all around you, then you better find some financial partners fast!
To help unravel these mysteries we dialed up someone who is a bit of a star in her own right, real estate agent to the stars, Sharona Alperin.  Even if you think you've never heard of her, we're betting that you probably have – and just don't know it.  We got her to talk about her 30 plus year claim to fame…about half way through the show.  Yes, that's a tease.  You'll need to listen to find out!
Sharona talked about how she markets to and services celebrity clients.  And even though we don't sell real estate anymore, we got lots of great insights that directly applies to real estate investing – including the important role of discretion when dealing with high profile people.
Probably the greatest lesson and inspiration is that anyone is just one relationship away from completely changing their future.  Sometimes the right people will come knock on your door, but most often you need to go out and find a way to meet them.  There are opportunities all around you if you're paying attention.  When you see one, don't miss it!
Don't miss a show! Subscribe to the Free Podcast
Want More?  Sign Up for The Real Estate Guys Free Newsletter!
"Get rich in a niche" is a classic piece of advice for almost any profession. Specialists almost always make more money than generalists.  On today's show, The Real Estate Guys discuss one of the most unique niches in real estate niche: lodging and hospitality.
Joining in the conversation are:
Host Robert Helms
Co-host Russell Gray
Six decade investor "The Godfather of Real Estate", Bob Helms
Special Guest: Ed Watkins – 35 year industry veteran and Editor of Lodging Hospitality Magazine
The dialog was lively and informative as The Guys discussed:
An Overview of the Resort Market Today
New Trends in the Hospitality Industry
Boutique vs. Lifestyle Hotels
The Outlook for Condo-Hotel and Fractional Product
Opportunities for the Investor in the Resort Space
While the hotel business is flat and financing is almost non-existent, we discovered the picture is quite different in the boutique space.
We also contrasted the condo-hotel model (think City Center in Las Vegas) to the concept of "fractional" ownership.  We've heard great things about fractional structures and Ed was able to share some interesting and valuable perspectives.  There's no substitute for 35 years at the center of an industry when it comes to being aware of cycles, distinguishing between fads and sustainable trends, and having one's thumb on the pulse of a niche market.
We closed, as always, asking where the opportunities are for today's investor and Ed gave us some great ideas to think about!
Listen Now:
The Real Estate Guys™ radio show and podcast provides real estate investing news, education, training and resources that help real estate investors succeed.