No doubt you've heard Facebook's stock face-planted recently. But just in case, here's the whole gory story in just three headlines over five days …
Facebook stock hits record high ahead of earnings – MarketWatch 7/25/18
"Investors … continue to shrug off … gaffes … with privacy and security … Chief Executive Mark Zuckerberg … said … the company has not seen an impact on the company's top line."
Facebook's stock market decline is the largest one-day drop in US history
– The Verge 7/26/18
"Facebook's market capitalization lost $120 billion in 24 hours."
Facebook's stock set to enter bear-market territory after third straight decline – MarketWatch 7/30/18
"The stock has now fallen 22% from its record close … on July 25."
Of course, if you're a real estate investor this may seem like only a moderately interesting side story buried in all the news flying across your screen.
And maybe that's all it is.
Then again, maybe there are some things to be gleaned from this epic implosion … even for real estate investors.
Lesson 1: Just because everyone else is … doesn't mean YOU should
Your mom probably taught you that. But it's good investing advice too. It's never smart to be late to an equity party … or late leaving.
The so-called FAANG stocks (Facebook, Apple, Amazon, Netflix and Google) are the "must have" stocks for … just about EVERYONE.
The problem is popular assets often get bid up well past their fundamental value … as speculators jump in hoping to ride the upward trend for awhile …
… and hoping to be fast enough to get out before the trend turns.
Of course, hope isn't a very good investing strategy.
Lesson 2: Don't ignore problems just to keep hope alive
Notice the quote about investors continuing to shrug off bad news … ignoring the obviously developing problems at Facebook.
So when Zuckerberg comes out right before the bad news … even as Facebook's stock was heading to a record HIGH … and says the problems aren't affecting the top line …
… investors apparently chose to believe him, … and not heed the clues in the news that clearly showed Facebook was headed for stormy seas.
Now, investors are suing Facebook and Zuckerberg for misleading them.
But investors should also look at the big picture, and consider the motives of these who claim as is well.
Remember this classic assurance from the world's foremost banker?
"Importantly, we see no serious broader spillover to banks or thrift institutions from the problems in the subprime market."
– Federal Reserve Chairman Ben Bernanke on May 17, 2007
Just a year later the financial system all but imploded.  But the danger signs were there …
Peter Schiff and Robert Kiyosaki were warning people. Most didn't listen.
We didn't. But you can be SURE we listen today.
Lesson 3: Momentum is a condiment … not a meal
With real estate, sustainable profit is all about the income.
Sure, it's great when things get hot and people want to pay MORE for the SAME income.  But at some point, the numbers don't make sense.
You can bad fundamentals and invest primarily because "it's going up." But when momentum fades, prices snap back to fundamentals.
If you're on the wrong end of it, it's painful.
Of course, if you see it coming, you can cash out via refinance or sale, and store up some dry powder for the soon-to-be-coming sale.
Lesson 4: Trends and indexes are interesting, but the deal's what's real
We have a big, diverse audience … so we talk about big picture stuff. It's important to see the big picture.
After all, every asset you own is floating in a big sloshing economic sea.
If you're not aware of weather patterns and watching the horizon, you might not see storm clouds and rough waters forming.
But investors make money in EVERY kind of economic environment, so it's not the conditions which dictate YOUR success or failure.
It's your attention to being sure each individual deal YOU do makes sense.
That means the right market, product type, neighborhood, financing structure, and management team.
Keep the deal real … and have plans for what you'd do in a variety of economic situations …
… so when conditions change you're not caught unaware and unprepared.
"The time to repair the roof is when the sun is shining."
– John F. Kennedy
Lesson 5: Train wrecks in stocks can be tee-up for real estate
This is our favorite.
It's not that we take joy when the stock market reveals its true character … but we know it's a wake-up-and-smell-the-coffee moment for many Main Street investors.
As our friends Chris Martenson and Adam Taggart recently pointed out …
… if you take the FAANG stocks out of the stock indexes, the highly-touted stock index returns would have been NEGATIVE.
It's hard to diversify when you you're exposed to the hot stocks everyone's piled into … directly or indirectly.
So as Main Street investors come to suspect the disproportionate influence just a few arguably overbought stocks have on their TOTAL net worth and retirement dreams …
… history says people's hearts turn home to an investment type they instinctively understand and trust. Real estate.
So for those raising money from private investors to go do more and bigger real estate deals, a stock market scare can make it easier for your prospects to appreciate what you're offering them.
Lesson 6: Do the math and the math will tell you what to do
Very few paper asset investors we've ever met actually do the math.
They either buy index funds based on trends and history, and don't realize most are exposed to the same small group of hot stock everyone owns …
… or they buy stocks based on a hot tip, a gut feeling, or a recommendation from someone they think is smarter than they are.
But real estate math is SO simple to understand and explain.
And when you can quickly show a Main Street paper investor how a 15-20% annualized long-term return on investment real estate is quite realistic … with very moderate risk …
… real estate is the CLEAR winner.
Even a modest 3% per year price appreciation on 20% down payment (5:1 leverage) is 15% average annual growth rate.
Add to that another 2% or so a year in amortization … paying down the loan using the rental income … you're up to about 17% annualized equity growth.
Toss in another modest 3-5% cash-on-cash and some tax benefits and you're pushing 20% annualized total return pretty fast.
And that's just bread-and-butter buy-and-hold rental property.
There are all kinds of specialty niches and value-add plays which allow active investors to goose returns …
… or for a syndicator to put a lot of meat on the bone for their passive investors … and still take a piece for doing the work.
Lesson 7: Monitor your portfolio for weak links and over-exposure
Lots of paper investors who didn't even know they were exposed to Facebook are finding out the hard way …
… just like when we didn't realize our whole investing and business model depended on healthy credit markets.
So be aware …
When you're overly exposed to a critical factor like interest rates, credit markets, a tax law, a specific industry or employer, or even a currency or financial system …
… you run the risk that a single unexpected event can take a BIG bite out of your assets.
And while you might not be able to fix everything right away, the sooner you're aware of the risks, the sooner you can start preparing to mitigate them.
Until next time … good investing!
---
More From The Real Estate Guys™…
The Real Estate Guys™ radio show and podcast provides real estate investing news, education, training, and resources to help real estate investors succeed.
"You can't handle the truth!" 
 – Jack Nicholson in A Few Good Men
Neither optimists or pessimists can handle the truth.Optimists refuse to acknowledge the part of reality that's negative …
… while pessimists can't see the ever-present opportunities hidden behind the problems.
While we'd rather be optimistic than pessimistic, maybe it's better to be BOTH."The test of a first-rate intelligence is the ability to hold two opposed ideas in mind at the same time and still retain the ability to function." 
 – F. Scott Fitzgerald 
Here are some thoughts about risk and opportunity from legendary real estate investor Sam Zell …
"People love focusing on the upside.  That's where the fun is.  What amazes me is how superficially they consider the downside."  
"For me, the calculation in making a deal starts with the downside.  If I can identify that, then I understand the risk I'm taking.   Can I bear the cost?  Can I survive it?" 
You can only take calculated risks if you look carefully at both the upside AND the downside.
Today, the entire global financial system is largely based on "full faith and credit" … primarily in the United States dollar.
And there's a gigantic investment industry that's built on perpetual optimism …and a belief non-stop debt-fueled growth FOREVER is actually possible.
Even worse, the entire financial system's fundamental structure literally REQUIRES perpetual growth to avoid implosion.
That's why central banks and governments are COMMITTED to debt and inflation … at almost ANY cost.
But as Simon Black points out in Future of Money and Wealth …
History is CLEAR.  Empires and world reserve currencies don't last forever.
And irredeemable paper currencies and out-of-control debt ALWAYS end badly … at least for the unaware and unprepared.
Optimists can't see this.  So they take HUGE risks they don't even know exist.
Pessimists can't act.  So they miss out on the HUGE opportunities that are the flip-side of the very problems they obsess over.
Robert Kiyosaki stresses the importance of being REALISTS …
… standing on the edge of the coin, seeing BOTH sides … and then being decisive and confident to ACT in pursuit of opportunities while being keenly aware of the risks. 
We created the Future of Money and Wealth to gather a diverse collection of speakers and panelists together … to examine the good, the bad, and the ugly …
… so YOU can have more context and information to make better investing decisions. 
Chris Martenson opens our eyes to the physical limitations of long-term perpetual exponential growth which depends on unlimited supplies of clearly LIMITED resources.
Of course, as these critical resources dwindle, they'll become very expensive as too much demand competes for too little supply.
When you see nation's fighting over scarce resources, it's a sign of the times.
But of course, there's OPPORTUNITY hidden inside of crisis.
And to seize the opportunity, you must understand it … or it just sits there like a hidden treasure under your feet.
But it's not just recognizing trends.  It's also TIMING.  And being a lot early is much better than being even just a little late.
To beat the crowd, you can't wait for the crowd to affirm you. 
To get timing right, it's important YOU know what the signs are.
What does it mean when Russia dumps Treasuries and buys gold?  What caused Bitcoin to sky-rocket in 2017?  Why are there bail-in provisions in U.S. banking laws?
Peter Schiff saw fundamental problems in the financial system back in 2006 … and screamed from the rooftops that the financial system couldn't support the then red-hot economy.
Few listened … then WHAM!  In 2008, the weakness of the financial SYSTEM was exposed … and MANY people were CRUSHED.
Peter insists the REAL crash is still yet to occur … and everything that made the financial SYSTEM weak in 2006 is MUCH WORSE today.
Yet small business and consumer OPTIMISM is at all-time highs.  The ECONOMY appears to be BOOMING … again.  And Peter's still screaming out his warnings.
The Fed is RAISING interest rates to cool things down.  But history says EVERY SINGLE TIME the Fed embarks on a rate raising campaign it ends in RECESSION.
In Future of Money and Wealth, Fannie Mae chief economist Doug Duncan reveals when he thinks the next recession is coming … and WHY.  We listen to Doug because he's got a really good track record.
The 2008 crisis exposed real estate investors to the REALITY that what happens on Wall Street, at the Fed, and in the global economy … can all rain down HARD on Main Street. 
Ignoring it doesn't make it go away.  And you'll die of old age waiting for the storm clouds to blow away.
There will ALWAYS be risk.  There will always be OPPORTUNITY. 
It's not the external circumstances which dictate what YOU get.
It's really up to YOU … and your ability, like Sam Zell, to see both opportunity and risk, so you can aggressively reach for opportunity while carefully navigating risks.
Education, perspective, information, and thoughtful consideration are all part of the formula.
That's why we created the Future of Money and Wealth video series.
Future of Money and Wealth features TWENTY videos … over fourteen hours of expert presentations and panels …
… covering the dollar, oil, gold, real estate, crypto-currencies, economics, geo-politics, the new tax law …
… PLUS specific strategies to protect and GROW wealth in the face of potentially foundation-shaking changes to the financial system.
Just ONE great idea can make or save you a fortune. 
Future of Money and Wealth might just be one of the best investments you'll ever make.
To order immediate access to Future of Money and Wealth … 
More From The Real Estate Guys™…
The Real Estate Guys™ radio show and podcast provides real estate investing news, education, training, and resources to help real estate investors succeed.
We know a guy who bought a property with NO foundation.  He didn't know it because he paid cash … and with no lender forcing an inspection, he skipped it.
Oops.
He figured since the property had been in use for decades, everything was fine.  But just because a building is standing, it doesn't make it safe or sound.
Similarly, the financial system is the foundation of the economy.  Last time, we noted the U.S. economy is reportedly doing well.  Great!
But … there's a BIG difference between a strong economy and a strong financial system.
Now before you crawl up in a ball and go full fetal, remember … bad times are good times for the informed, connected, and prepared.  That's why we do what we do.
So let's dig a little deeper …
An economy is about ACTIVITY … making, selling, buying things … and saving to create pools of capital for lending to do more of all those activities.
A financial system is the INFRASTRUCTURE which supports the activity … banks, credit, stock and bond markets … even the currency itself.
People can see and feel economic activity. It's visible all around.  The news reports on it day and night.
But it's a LOT harder to see the strength or weakness of the financial system.
Most people simply go about doing their economic activity and trust (consciously or unconsciously) that smart, responsible people are maintaining the system.
Others don't really trust the folks in charge … but aren't sure how to know whether the financial system operators are doing a good job or not.
So sadly, most people are completely blind-sided when the system fails in some way.  Just think about the millions of people wiped out in 1929, 1971, 1987, 2000, and 2008.
And if you're not sure why those dates are significant, it's probably time to allocate some of your financial focus to more than just your economic activity.
We know.  It's boring.  It's hard to understand and relate to.  Just like a building's foundation … most people would rather walk the property than climb under the house.
We get it.  But stick with us … because if you're riding any part of the boom, it's wise to consider when, where, and how fast the party ends.  Because parties ALWAYS end.
This is why some of the pundits we follow … guys like Peter Schiff, Robert Kiyosaki, Chris Martenson, Simon Black … sometimes seem a little gloomy.
While mainstream media is telling you how pretty the economy is … these guys are inspecting the foundation and seeing cracks … which are perhaps not obvious to the untrained eye.
Debt
One of the biggest cracks is the obscene amounts of individual, corporate, municipal, national, and global debt.  The world's NEVER been in debt like it is right now.
The problem is debt needs to be serviced.  And when debt is growing faster than productivity (income), defaults occur.   This leads to the next huge concern …
Derivatives
When Party A borrows from Party B, Party A has a liability … and Party B has an asset.  Party A's liability is Party B's asset.
When Party B pledges their "asset" (Party A's debt) as collateral for a new loan from Party C … now TWO loans depend on the performance of Party A.  Make sense?
Of course, Party B's loan now becomes Party C's asset … and Party C can pledge it as collateral for another loan … and on and on.  Party on.
Daisy Chains
These debt parties link balance sheets of financial institutions together like a group of mountain climbers all tethered together.
The obvious problem is because of the linkage … when debts go bad, the entire system is subject to …
Counter-Party Risk
They call this "contagion" and it was the heart of the 2008 financial crisis … even as the Federal Reserve assured everyone things were "contained."
But asset prices are fragile … based on most players holding their positions and not dumping them.
However, when debt implodes, players sell whatever they have as fast as they can to raise cash to cover the bad debt.
That's what happened to stocks in 2008.  And even though people weren't dumping real estate to raise cash, real estate values fell when money stopped flowing into mortgages.
So yes … all of this matters a LOT to real estate investors. 

When credit markets collapse, it chokes lending, crashes asset prices, and stalls economic activity.
That's bad for everyone who depends on asset prices and credit markets.
(Of course, for the prepared, it's a shopping spree!)
Central Banks 
Last time the credit markets failed, central banks stepped in and printed TRILLIONS to buy up bad debt, backstop failing banks, and reflate asset prices.
Can they do it again?
Maybe.  But some say interest rates aren't yet high enough to drop far enough fast enough in a crisis to jump start the economy.
Also, central banks balance sheets are still bloated with bad assets they printed money to buy up in the last crisis.
Will the world stand by as trillions more are printed to do it again on an even grander scale?  Or would the world lose faith in …
The Dollar
As we describe in detail in Future of Money and Wealth, China and Russia have been openly leading a rebellion against dollar dominance.
And while the Chinese currency is arguably some distance from supplanting the dollar globally, it's picking up steam.
The yuan is now a MUCH more viable dollar alternative than anything else was in 2008.   This is a developing story we're following closely.  Meanwhile …
Let the Good Times Roll
Don't get us wrong.  The economy appears to be strong.  There's a lot of opportunity in the market RIGHT NOW.
If you're in the right markets and product niches, this is a fun and profitable time to be an investor.
BUT … the financial system these good times are based on hasn't really changed.  In fact, in some ways the cracks are getting larger.
So while the good times roll, remember things usually roll downhill … and sometimes right off the edge.  Best to stay aware and prepared.
Until next time … good investing!
---
More From The Real Estate Guys™…
The Real Estate Guys™ radio show and podcast provides real estate investing news, education, training, and resources to help real estate investors succeed.
This is our 16th year hosting our annual educational event … the Investor Summit at Sea™. Guests and faculty have all disembarked from a wonderful week learning about the future of money and wealth.
We didn't want our wonderful listeners to miss out entirely on the treasure trove that is the Summit … so we hosted a live recording session on board the ship!
In this episode of The Real Estate Guys™ show, we chat with some of our illustrious faculty members. Listen in to hear their reflections and insights on our week at sea.
You'll hear from:
Your adventurous host, 

Robert Helms

His seasick co-host, 

Russell Gray
Robert and Kim Kiyosaki

, the brains behind

Rich Dad, Poor Dad

G. Edward Griffin

, author of

The Creature from Jekyll Island

Securities law attorney

Mauricio Rauld
Victor Menasce

,

author of

Magnetic Capital

Glen Mather

, president of NuView IRA
---
Listen
---
Subscribe
Broadcasting since 1997 with over 300 episodes on iTunes!
---
Review
When you give us a positive review on iTunes you help us continue to bring you high caliber guests and attract new listeners. It's easy and takes just a minute! (Don't know how? Follow these instructions).
Thanks!
---
Lessons from Robert and Kim Kiyosaki
It was a pleasure to have the always inspiring Robert Kiyosaki and his wife, Kim, on board for the Summit. "It's more important than ever before to come on Summit at Sea because so much has changed," Robert says.
The duo enjoyed hearing from experts with many different points of view. "The conversations happening behind the scenes are the most important part," Robert adds.
Lucky attendees were able to hear from Robert … and female attendees joined Kim in a women-only breakout session about finding financial freedom.
We asked Robert and Kim about their opinions on educating younger people … and why it's important to have youth at the Summit.
"It's important we teach the younger generation," says Robert. "We need to teach kids to look at the world from a different point of view. Most kids haven't been trained to see a problem as an opportunity."
Kim adds, "What they teach you in school is the opposite of what it takes to be successful." According to Kim, school teaches you there's only one right answer … and you should never make a mistake.
But investors need to learn there are many right answers … and mistakes are the best way to learn. Plus, says Robert, "Student loan debt will never amortize on you."
Robert and Kim recently celebrated the 21st birthday of Rich Dad, Poor Dad. "The message remains the same," says Kim. Lessons like "your house is not an asset" and "savers are losers" still ring true, Robert says.
A red pill from G. Edward Griffin
G. Edward Griffin gives this review of the Summit: "I'm amazed at what I learned and that so many people learned so much!"
Edward walked us through the process of writing his book, The Creature from Jekyll Island. He almost gave up twice because he thought he couldn't do the content justice … but he persisted. Today the book is on its 48th printing!
What about the young people? "Young folks can buy into the idea that the banking system is stealing from them in a legalized fashion," Edward says. "We're at a huge tipping point."
Edward created the Red Pill Expo to get the word out to people that things aren't always as they seem in the world of money and banking. "You have to be aware before you can do something about the problem," he says.
The Expo aims to help people "take the red pill, break out of the matrix, and see reality."
Edward had some great words of wisdom for everybody listening … "We have within all of us the power to understand that most of the great barriers in life are not the barriers we think they are."
Three experts on the power of community
The author of Magnetic Capital, Victor Menasce, reports, "When you break bread with people, the level of connection and the environment is amazing."
Attorney Mauricio Rauld agrees. The Summit provides attendees with the opportunity to "absorb knowledge like a sponge," he says. "It's an amazing environment."
Faculty member Glen Mather believed in the power of the Summit so much he brought his first-time property buyer daughter so she could learn too.
Glen has seen the Summit work its wonders firsthand … on himself. "I can't listen to these guys without thinking, 'There is so much we have to change,'" he says.
We think getting together to learn is incredibly valuable … if we didn't, we wouldn't have created the Summit at Sea™. We offer materials like our podcast and educational reports as the start of a relationship … with the hope that listeners will take that relationship to the human level.
Gathering as a community is a powerful experience … and experiences like the Summit allow both fledgling investors and experts alike to learn new information, open their minds to ideas, and form life-long connections.
---
More From The Real Estate Guys™…
The Real Estate Guys™ radio show and podcast provides real estate investing news, education, training and resources to help real estate investors succeed.
Interest rates are a big deal for real estate investors … for many reasons.
The first and most obvious reason is because interest rates are the price of the money you borrow to invest with.  Higher rates mean higher payments and less cash flow.
Of course, even when you pay cash for your properties, your tenants probably carry consumer debt … car loans, credit card, and installment debt …
Higher rates mean higher debt payments for your tenants, so less of their monthly budget is available to pay you rent or absorb rent increases.
Also, your property values, exit options, and liquidity are all affected by interest rates.
Higher rates mean buyers have less capacity to bid up comparable properties … and fewer buyers can afford to buy your property when you're ready to sell.
For these reasons and others, most real estate investors and their mortgage advisors pay very close attention to interest rates …  especially when financing or re-financing.
But there are other very important reasons for real estate investors to care about the future of interest rates …
Interest rates are a barometer for the health of both the currency and the overall economy.
Last time we looked, most real estate investors transact and denominate wealth in currency (dollars for Americans) … and your rental properties, tenants' incomes, and overall prosperity all exist inside of the broader economy.
So the potential for big changes to either the currency or the overall economy matter to real estate investors just like they do to paper asset investors.
In fact, based on the amount of debt most real estate investors use, interest rates are arguably even MORE important to real estate investors.
We're just a couple of days away from our Future of Money and Wealth conference … with nearly 400 people coming … and right now we're thinking a lot about the dollar and interest rates.
Peter Schiff is speaking.  Peter wrote Crash Proof in 2006 and released it in 2007.  Back then, he loudly warned of an impending financial crisis whose roots would be in the mortgage market.
Sadly, back then we didn't know Peter, and we didn't read his book.  Then 2008 happened, and we were blindsided by the financial crisis.
So now we read more … a LOT more.
We make time to listen to people like Peter Schiff, Robert Kiyosaki, and Chris Martenson.  And we work hard to share them with our audiences.
A very interesting book we just finished is Exorbitant Privilege by Barry Eichengreen.  He's Professor of Political Science and Economics at Cal Berkeley.
Eichengreen published Exorbitant Privilege in 2011, which means he probably wrote it in 2010.
Keep this in mind as we share these prophetic excerpts from Chapter 7, "Dollar Crisis"…
"What if foreigners dump their holdings and abandon the currency [dollar]?  What, if anything, could U.S. policymakers do about it?"
"It would be nice were this kind of scenario planning undertaken by the Federal Reserve and CIA … it would have to start with what precipitated the crash and caused foreigners to abandon the dollar."
Note:  Eichengreen probably didn't know at the time that James Rickards, former attorney for Long Term Capital Management (the hedge fund at the center of the near financial meltdown of 1998), was participating in precisely this kind of planning, which Rickards describes in his book Currency Wars, published a year after Exorbitant Privilege.
Back to Eichengreen's prophetic 2011 commentary …
"One trigger could be political conflict between the United States and China.  The simmering dispute over trade and exchange rates could break into the open …
"… American politicians … could impose an across-the-board tariff on imports from [China]."
WOW … Eichengreen wrote that at least 7 years before this March 22, 2018 headline from CNBC:
Trump slaps China with tariffs on up to $60 billion in imports: 'This is the first of many'
Back to Eichengreen in 2011 …
"Beijing would not take this lying down."
China to US: We'll match your tariffs in 'scale' and 'intensity'
Eichengreen in 2011:
"Or the United States and China could come into conflict over policy toward rogue states like North Korea and Iran."
If you've been following the North Korea drama, you probably know this one's been back and forth.
Last summer, China seemed to side with North Korea.  Then they tried to take a neutral position.
But recently Kim Jong Un paid a secret visit to China.  Of course, no one really knows what that was about.
But based on recent trade policy it seems the U.S. isn't sucking up to China for help with North Korea.  So maybe the U.S. and China disagree on North Korea?
Now STAY WITH US … because the point of all this is … according to Eichengreen …
China's relationship with the United States and the U.S. dollar has a DIRECT impact on the future of YOUR money, interest rates, and wealth.
And if you're like most Main Streeters, you may not completely understand the connection …
… just like we didn't understand what Credit Default Swaps had to do with our real estate investing in 2008 … until everything suddenly imploded …
… despite reassurances from the wise and powerful man then behind the curtain of the Federal Reserve, Ben Bernanke.
And the point here isn't Iran, or North Korea, or tariffs, or trade wars … it's about whether China gets upset enough with the U.S. and opts for the nuclear option …
Eichengreen in 2011:
"… China [could] vent its anger and exert leverage … by … dumping [Treasuries] … would send the bond markets into a tizzy … interest rates in the United States would spike.  The dollar would crater … could cause exporters, importers, and investors to abandon the dollar permanently."
Obviously, there's a LOT more to this topic than we can cover today.
Our point for now is that way back in 2010-11, Eichengreen envisioned a scenario in which conflict with China could create a dollar crisis.
As you can see, today's headlines are living out his concerns.
When you read Eichengreen, like Jim Rickards, he talks about things reaching a tipping point … where everything happens fast.
We lived that in 2008 and it was NO FUN.  But that was only because we were on the wrong end of it.  While we got slammed, others made fortunes. They were informed and prepared.  We weren't.
So be cautious of normalcy bias and complacency when it comes to contemplating the possibility of a dollar crisis.
Better to be prepared and not have a crisis … than to have a crisis and not be prepared.
Until next time … good investing!
---
More From The Real Estate Guys™…
The Real Estate Guys™ radio show and podcast provides real estate investing news, education, training, and resources to help real estate investors succeed.
On March 26th, the Chinese launch their yuan-denominated oil contracts.
Is that a big deal? 
Some people think so.  Some say it's just another incremental step towards a gradual shift in global economic power.  Some say it means nothing.
Most people have no idea it's happening … and even if they do, have no idea if it has any impact on them.
But think about this …
If you pay attention and nothing happens, you'll probably learn some things about the eco-system you invest in.  That's not a big win, but it's not a big lose.
But what if you don't pay attention and something big happens? 
That's what happened to all the people who downplayed sub-prime mortgage problems in 2007.  
So stick with us for a few minutes and we'll share our reasons for thinking this is development worth paying attention to … 
… even if you're a nose-to-the-grindstone real estate investor who doesn't care what happens in stocks, bonds, currencies, or commodities.
In this case, we're talking about oil … and in that regard, China's kind of a big deal.  After all, China has surpassed the U.S. as the world's largest importer of oil.  
That means China is the most important customer to countries who sell oil … including Russia, Saudi Arabia, Venezuela, Iraq, and Iran.  
Hmmm … Funny how the U.S. doesn't get along with most of those folks, but that's probably just a coincidence, so put your tinfoil hat away.
The point is … China has leverage with major oil producers to pressure them to do business in yuan … and not U.S. dollars.
THAT'S why some say this latest development is important.
It starts back in August 1971 when President Richard Nixon shocked the world by defaulting on the gold-backing of the U.S. dollar.
That's right.  Up until 1971, foreign holders of U.S. dollars could turn them into Uncle Sam and take home cold, hard gold.
The problem is the U.S. printed too many dollars and foreigners (being prodded by France) got worried … and started trading dollars in for gold.
And as demand for the dollar dropped, so did its value.
So then it took more dollars to buy the same things (inflation).  Gold went from $42 to $850, oil quadrupled, and consumer prices were rising double-digits.
It wasn't as bad Venezuela today, but bad enough that Nixon prohibited private businesses from increasing prices or giving pay raises. 
Yes, that really happened in the land of the free.  It's important to remember … governments do crazy things when they're desperate.
Here's where oil comes into the picture … 
To re-create global demand for dollars after they were no longer as good as gold, Uncle Sam made a deal with Saudi Arabia. 
At the time, the U.S. was the world's No. 1 producer of oil.  Saudi Arabia was No. 2 and the de facto leader of OPEC, the Middle Eastern oil cartel founded in 1960.
In exchange for military support from the U.S., Saudi Arabia agreed to sell oil in dollars.  The other OPEC members tagged along. 
So now, if Germany, for example, wanted to buy oil from Saudi Arabia, they had to buy dollars first.  Even though the U.S. had nothing to do with the deal.
This created immediate global demand for dollars and the "petro-dollar" system was born … replacing the Bretton Woods "gold–dollar" system that Nixon defaulted on.
Many financial historians believe this was the single most important move the U.S. made to save the dollar.
Of course, other tactics were used, including jacking up interest rates and opening trade relations with China. But the petro-dollar system was (and is) a big deal and the focus of today's discussion.
Oil's not well with the dollar … 
Since the mid-70s, the petro-dollar system has been central to creating global demand for the dollar.  And the U.S. has been pretty protective of it.
But China's been systematically cutting into that action. And the yuan-denominated oil contract is the latest, and perhaps most substantial step.
Of course, we're just a couple real estate radio talk show hosts, so don't take our word for it.  Here's just a few of the MANY news reports …
China has grand ambitions to dethrone the dollar – CNBC October 24, 2017
China's launch of 'petro-yuan' in two months sounds death knell for dollar's dominance – RT, October 25, 2017
China Will Launch Yuan-Based Oil Futures Contract, Set to Shake Up Global Market – Fox Business News, December 20, 2017
China Set To Launch Yuan-Prices Oil Futures Next Month – Oilprice.com, February 9, 2018
Yes, we know many pundits and officials contend it's no big deal.  But that doesn't mean they're right.
Funny today.  But not so funny if you were on the wrong end of the joke.
It's good to have a Plan B … 
The dollar's been falling for over 100 years, so it's not the downward trend that freaks people out.  You can get rich simply by leveraging real assets with long term debt as the dollar falls.  That's real estate investing economics 101.
The bigger concern is a sudden move, like when Nixon defaulted on the gold-backing.  Or when the subprime crisis suddenly seized up the entire financial system.
That's like having a fire at your home or business.  It's best to have a plan in place BEFORE the crisis … or you're likely to panic, run in circles, and end up hurt.
We've got Robert Kiyosaki, Peter Schiff, Doug Duncan (chief economist for Fannie Mae), Chris Martenson, Brien Lundin, G. Edward Griffin, and MANY others …
We're going to talk tax reform, the dollar, oil, gold, crypto, banking, and of course, real estate.   
And most importantly … what an investor can do to prepare to avoid losses and reap big profits … and how to know what moves to make as things unfold. 
The future of money and wealth is changing … whether you're paying attention or not.   But if you read this far, now you know.  
The big question is what to do next … 
There's still time to join us in Fort Lauderdale April 6-7.  They might just be two of most important days of your year.
---
More From The Real Estate Guys™…
The Real Estate Guys™ radio show and podcast provides real estate investing news, education, training, and resources to help real estate investors succeed.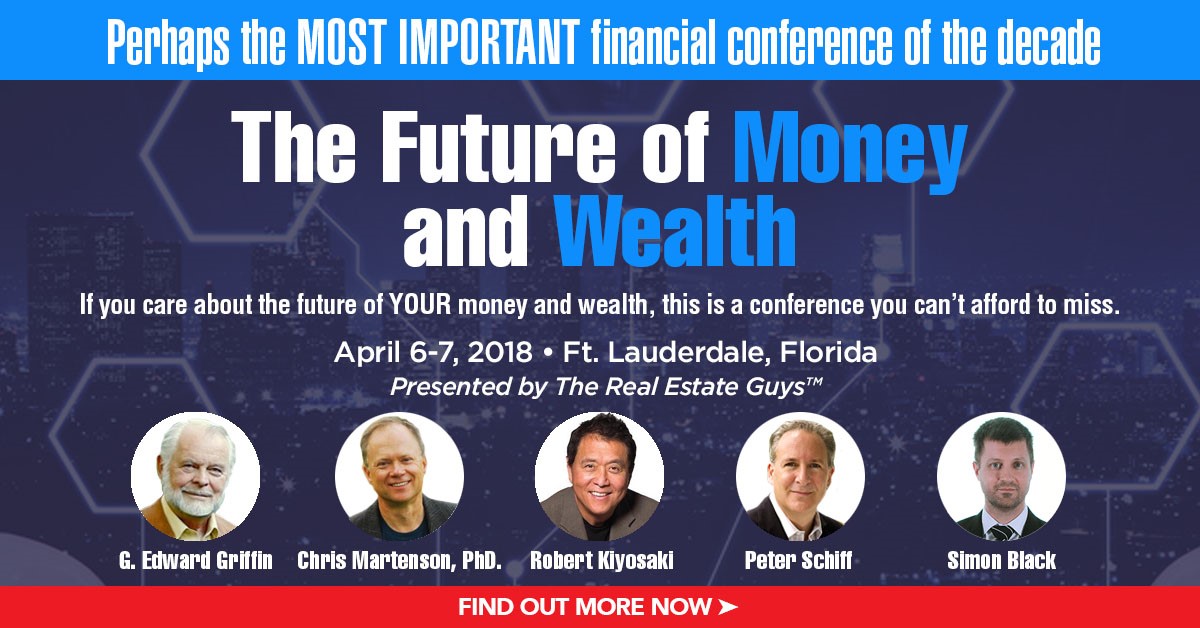 The world economic order is under-going massive change right now.  We're literally watching it unfold in the daily news.
Yet few investors really understand what's happening and why … or what they can do to both grow and protect wealth during these historic times.
"Those who can't remember the past are doomed to repeat it." – George Santanya
In two power-packed days our all-star line-up of notable experts will explain …
How the U.S. dollar is under attack and what it means to Main Street investors

What are the best and worst investments based on what's happening now … and where it's headed

How savvy investors are preparing to be on the right side of an historic wealth transfer most people don't see coming
Remember, the flip side of crisis is opportunity.  But pretending everything is fine … and not being prepared in case it's not … can be dangerous and expensive.
"Maintain unwavering faith you can and will prevail in the end, regardless of the difficulties, and at the same time, have the discipline to confront the most brutal facts of your current reality." – Jim Collins, Good to Great
In uncertain times, we all need a little wisdom to guide us to the right path.
So today, we bring you the words of the wise.
Property prices are continuing to inch upward in many markets. And the stock market is starting to tumble down. How should investors navigate the turmoil?
Listen in to hear from some of the smartest folks we know on their predictions for what the future holds … and their best tips for staying smart and focused in the midst of the storm.
In this episode of The Real Estate Guys™ show you'll hear from:
Your expert host, 

Robert Helms

His amateur co-host, 

Russell Gray
Brien Lundin

, author of the Gold Newsletter

Economist

Peter Schiff
Chris Martenson

and

Adam Taggart

,

authors of

Prosper!

Rich Dad Poor Dad

author

Robert Kiyosaki
---
Listen
---
Subscribe
Broadcasting since 1997 with over 300 episodes on iTunes!
---
Review
When you give us a positive review on iTunes you help us continue to bring you high caliber guests and attract new listeners. It's easy and takes just a minute! (Don't know how? Follow these instructions).
Thanks!
---
Brien Lundin on metals and money supply
Brien Lundin is our go-to expert on precious metals. He writes the Gold Newsletter and directs the New Orleans Investment Conference.
His predictions about the metals market have been spot on. We asked him how he keeps his thumb on the pulse. The short answer? "Experience," says Brien.
Three decades of reading, researching, and making connections have given Brien enough information to come to the conclusion that, "Metals have settled into a fairly reliable long-term pattern."
In fact, he says the future for metals is as close to inevitable as possible in the investing world.
High debt in the U.S. and other countries means their currencies will be depreciated, at least to some extent, and that means higher gold prices in the long term, says Brien.
With a predicted three or four rate hikes coming from the Fed in the next year, Brien predicts we'll continue to have a weaker dollar for several years.
Why should real estate investors be interested in metals? Alternative investments like precious metals allow you to divorce yourself from the levers the government pulls to adjust the economy, says Brien.
Confused about the options? "Roll up your sleeves," and dive in, says Brien.
Brien also had some words of advice … "Look around you to get the best investment advice."
One way to do that? Attend the New Orleans Investment Conference. The conference is packed with people looking to learn. Off-mic conversations are part of the package!
Peter Schiff on the global economy and Puerto Rico
"It's easier than people think to predict the future. The hard part is predicting the 'when,'" says Peter.
Economists have been predicting a dollar crisis for a while, and Peter thinks we are in the beginning of that crisis … "The dollar is dropping like a stone against the Chinese yuan," he says.
Why? According to Peter, it's payback for monetary policy mistakes from the Fed that led to the major economic crises of the past few decades, including the dot-com bubble and the housing bubble.
"As the dollar is falling, prices are rising," says Peter. Oil prices are up. Bond yields are rising, and that means interest rates are rising too. Peter predicts the combination of rising prices and high interest rates will be too much for the market to bear.
Crisis is coming, he says.
"What's going to kill us is the government's cure," Peter adds. After the real estate bubble collapsed, the government attempted to pump up the market by slashing interest rates … and succeeding in completely re-inflating the bubble. That bubble will make the crisis worse, he says.
Peter has started his own investment fund through Euro Pacific Capital. He aims to help investors diversify out of the U.S. dollar.
Gold stocks have moved up, says Peter. "We are really poised now for major gain."
And what about Puerto Rico? If you've been listening to the show, you'll know Peter not only invests in Puerto Rico, but lives there too.
"It's green again," says Peter. There are some problems due to service providers who have left the island. But overall, "People think it's worse than it is," he says.
In fact, Peter thinks there's more opportunity in Puerto Rico than before Hurricane Maria. Abandoned properties and foreclosures could be the perfect opportunity for investors to step in.
Chris Martenson and Adam Taggart on social capital and the Summit at Sea™
Chris Martenson and Adam Taggart, co-authors of the invaluable book Prosper!, chatted with us about some tangible steps to help YOU prosper.
Key among them is social capital.
"What are your strengths and weaknesses?" asks Adam. "Find people who have complementary skills and can fill in your weaknesses."
"No one can really have a handle on everything," Chris adds. In our rapidly changing world, he says it's wonderful when you can recognize people as kindred spirits … and learn from many points of view.
One way to get around some kindred spirits is to attend our annual Investor Summit at Sea™. In fact, all of the guests in this episode will attend the Summit.
It's more about context than content, Chris and Adam agree … and we're sure the context of the Summit will be the environment of your investor dreams.
Robert Kiyosaki on humility and getting around smart folks
Robert Kiyosaki doesn't believe in school. "The trouble with going to school is that you have to be an expert by yourself, and that keeps you small," he says.
More important than money or school smarts? "A very smart team" that operates on the basis of mutual respect and trust.
Robert recommends hanging around people who DON'T think they're the smartest people in the room. Humility is a great tool, he says.
"All coins have three sides. Most people think there's only one side … theirs," says Robert. "It's impossible for a coin to only have one side. Intelligence equals standing on the edge and looking at both sides."
Like F. Scott Fitzgerald once said, "The test of a first-rate intelligence is the ability to hold two opposed ideas in mind at the same time and still retain the ability to function."
Robert recommends getting around other investors so you can get around a variety of ideas. He recommends the Summit … and you'll be able to meet him if you come!
Plus, Robert's wife Kim Kiyosaki will hold a special ladies-only session at the Summit. Robert encourages female investors and partners of investors to attend and learn about why they don't need a man to get ahead.
Meet and mingle with smart people
No one knows where the future is headed with certainty … but there's one thing all our smart investor friends are certain about, and that's the importance of getting around the right people and assembling your team.
Want to reach out? The Investor Summit at Sea™ is the perfect first step.
Unable to attend the entire Summit? Consider joining us on land for the first two days. We're holding a brand-new event, a conference we're calling The Future of Money and Wealth.
Hoping to see you there!
---
More From The Real Estate Guys™…
The Real Estate Guys™ radio show and podcast provides real estate investing news, education, training and resources to help real estate investors succeed.
Imagine a scenario where a giant asteroid is on a collision course with Earth.  When it hits, a huge portion of the world will be destroyed.
Scientists and politicians know it's coming.  But it's years away.
Fearful of triggering panic, the information is suppressed.  Even when leaks get out, they're spun to seem insignificant.
Of course, those in the know realize real estate and businesses in the region facing obliteration will become worthless.
They also realize values in safe areas will skyrocket once people realize what's happening and flee the danger zone … bidding up anything available where it's safe.
So insiders begin quietly divesting themselves of assets in the danger zone … and begin to systematically accumulate assets in the safe zone.
They know there's time to warn people, but want to make all their moves before acknowledging to the world the gravity of the situation.
Along the way, astute observers piece together the clues.  They realize what's happening and use all means available to sound the alarm.
Some are dismissed as conspiracy theorists.  Others as doom porn profiteers.
Meanwhile, news feeds are filled with sensational, but trivial headlines … keeping the masses distracted.
So most people go about their daily business, completely unaware a disaster of epic proportions is slowly, steadily looming closer.
Most will be caught completely off-guard.  Some will reap huge profits simply through happenstance … because they accidentally own property in the safe zone.
Most in the danger zone escape with their lives, but not their fortunes.  Because their wealth and income are all based exclusively in the danger zone, they lose everything.
However, a few alert people in the suspected danger zone decide to hedge by acquiring property and expanding their businesses into other areas.
They reason that so long as the underlying investment makes good sense in its own right, even if a disaster never strikes, they really aren't worse off for diversifying.
Sure, it takes extra time and effort to learn a new area, build relationships, and make the investments … but the incremental expense is accounted for as an insurance premium.
What would YOU do? 
And what does this have to do with your investing?
Perhaps obviously, the asteroid is a metaphor for a catastrophic financial event … say, the collapse of the U.S. dollar or the global financial system.
Could it happen?  Will it?
Of course, no one knows.  But there's plenty of smart people out there who think it's already started … and is inevitable.
It may not destroy the entire world.  But it could destroy yours … depending on how well you're prepared … or not.
Robert Kiyosaki says the stock market will eventually collapse under the weight of baby-boomers hitting age 70-1/2 and beginning forced liquidations.
It hasn't happened yet, but that doesn't mean his premise is false.
It can be reasonably argued massive money printing and Central Bank interventions are propping markets way up … at least temporarily.
Chris Martenson says an economic system reliant on compounding growth and abundant energy is doomed to fail.  You can print money, but you can't print energy.
So when energy production fails to compound as quickly as debt, an economic implosion is inevitable.  There's no economic activity without energy.
Worse, Chris says, collapse will happen quickly because of the exponential nature of debt.
You can double the straw on the camel's back many times … but the final doubling ends it all very quickly.
Consider the growth of only U.S. debt (the rest of the world is just as bad) …
1992 – $4 trillion
2000 – $6 trillion
2008 – $10 trillion
2012 – $16 trillion
2017 – $20 trillion
Notice the speed at which the debt is growing.  It's compounding like a cancer.  And at some point, it consumes the host.
In 2006, Peter Schiff warned the world about the 2008 financial crisis.  People scoffed.
Peter says the next crash will be even bigger because everything wrong in 2006 is MORE wrong today.
Critics of Schiff's theory point at the stock market … and the fortunes being made … to claim all is well.
Maybe.  But Venezuela's had one of the best performing stock markets in recent history … and it's plain all is not well in Venezuela.
Not surprisingly, people are fleeing Venezuela… a reminder of how economic conditions, harsh or otherwise, stimulate migration.  Of course, that's of interest to real estate investors.
But this isn't about Venezuela.  It's about human behavior in the face of possible disaster.
Some ignore facts they don't like.  Others deny them.  Still others spin them, while most simply don't understand and can't be bothered to try.
A few will remain rational, curious, diligent, and proactive.  Common sense says those folks generally fare better.
Clues in the News …
Bloomberg recently reported China is considering slowing or even ending lending money to the United States.
Markets responded by dumping bonds, which drove up interest rates.
So yes, what China does with its balance sheet affects YOUR interest rates on your Main Street USA rental properties.
Of course, China doesn't want bond prices to fall when it's holding a bunch of them … especially if they're thinking of selling.  They just want to quietly unload.
Unsurprisingly, China decried the Bloomberg report as "fake news".
But if U.S. news is "fake", what are non U.S. news sources saying?
Here's an interesting headline from Sputnik News on January 16th …
Chinese Media Explain How Russia and China Can Escape "Dollar Domination"
You should read it, but two important components are oil and gold.
" … both Russia and China are also stepping up with exploration and acquisition of physical gold reserves, hedging against the implications of a possible collapse of the de-facto world currency."
Of course, the de-factor reserve currency they're referring to is the almighty U.S. dollar.
Hmmm … maybe China and Russia see an asteroid on the horizon.
Doom porn?  Conspiracy theory?  Or clues of a possible cataclysmic event coming to an economy near you?
We don't know.  But we took Robert Kiyosaki's warnings in 2006 too lightly and paid a BIG price.
Since then, we've gotten to know Peter Schiff, Chris Martenson, and Simon Black.
Peter keeps us sufficiently freaked out.  He makes sure we don't fall asleep at the watch.
Kiyosaki teaches us to keep an open mind, to seek out diverse perspectives, and talk with other interested and thoughtful observers.
Chris Martenson reminds us to pay attention to energy.  And he's accurately predicted the recent run-up in the price of oil.
Simon Black advocates the pragmatic wisdom of having a Plan B … not being overly dependent on one location, economy, currency, or investment.
Simon says you're no worse off to be prepared … and it could make all the difference in your future.
All of these very smart friends … and many more … will be with us for our Investor Summit at Sea™ in April.
It's unfortunate not everyone reading this can afford the time and expense to be there.
Even more unfortunate are those who can, but choose not to.  They have the most to lose … and gain.
We don't know if the "asteroid" reports are true or not.  But every investor owes it to themselves to consider the arguments and the options.
Better to be prepared and not have a crisis, than have a crisis and not be prepared.
Until next time … good investing!
---
More From The Real Estate Guys™…
The Real Estate Guys™ radio show and podcast provides real estate investing news, education, training, and resources to help real estate investors succeed.
One of today's most popular buzzwords is "disruptive".  It describes an event, idea, or invention that upends the status quo in some aspect of life or society.
"Disruptive technology" is used for everything from Amazon to Uber.
And as we've previously discussed, many of these things impact real estate and investing.
But disruption transcends technology.
Donald Trump's election and Brexit are two examples.  The world appeared to be on one course … then boom.  A new direction.
So, political norms, societal norms, government and business models …almost everything is being disrupted right before our eyes.
In fact, disruption is so commonplace, it's become the new normal.
But really, disruption is nothing new.  It goes back to pre-historic times.
The wheel was disruptive … and revolutionized the world (sorry, we had to…)
Farming was disruptive.  It changed the entire societal model … accelerating labor specialization, commerce … even banking.
The printing press was disruptive … connecting human minds past and present at greater speed, for lower cost, and with greater accuracy than ever before.
The U.S. Constitution was disruptive … protecting private property rights for the common man … the foundation on which all personal wealth is based.
That's a personal favorite. 😉
Radio, telephone, personal computing, the internet, smart phone … all disruptive … each one taking idea sharing to never-before-seen levels.
Trains, automobiles, and airplanes all disrupted the transportation norms of their time … allowing people and their possessions to circulate faster and less expensively.
Now blockchain technology … at least for now … is threatening to disrupt how freely money and wealth circulate.  And governments have noticed.  Uh oh.
Of course, history shows with every disruption, there are winners and losers.
For every railroad baron or millionaire automobile maker, there were thousands of wagon-makers and liveries put out of business.
So while disruption isn't new … the rate is unprecedented.  The world we live and invest in is evolving at a dizzying pace.
Blink and you miss huge opportunity.  Or worse, you get wiped out by a trend you didn't even see coming.
The faster the world is going … the further ahead you need to look.
 So with this mindset, here's a headline that caught our attention …
Why it makes more sense to rent than buy – Market Watch, 1/13/18
Obviously, a real estate headline.  But disruptive?  Seems pretty mundane.
After all, the rent vs. buy debate has been going on forever … usually linked to temporary circumstances favoring one side over the other at the time.
But this article references two interesting reports …
One is the ATTOM Data Solutions 2018 Rental Affordability Report.
It notes … buying a home is more affordable than renting in 54 percent of U.S. markets, but 64 percent of the population live where it's cheaper to rent.
Hmmm …
Looks like folks prefer to rent where they want to live than buy where the numbers make sense.  Apparently, buying just isn't that important to them.
Which leads to the second report, A Revision of the American Dream of Homeownership.
This one's a premium report, so the link's to the press release … but look at the title … "a REVISION of the American Dream".
The idea that something so foundational as the American Dream is being … disrupted … is something worth thinking about.
Market Watch did another article based on this report … "Renting is better than owning to build wealth – if you're disciplined to invest as well."
Some might say it's a hit-piece on real estate to entice millennials to put their savings in the stock market rather than a home.
But that would be cynical.
More interesting is the possibility there's really a disruptive trend developing in terms of the way society views home ownership.
Consider this …
We have a friend who's a very successful millennial, who can easily afford to own any kind of car … several of them … if he wanted to.
He doesn't.
Now that he's discovered ride-sharing, he sees no value in owning a car … not as a status symbol or an investment.
We're not suggesting this guy's viewpoint represents the millions of millennials out there.  But it's worth noting.
Millennials are a big, powerful demographic rolling through the seasons of life … just like the baby boomers did.
Except millennials aren't like Boomers …they live in a different world and view it through their own lens.
Career, opportunity, family, community, home ownership … roots … are very different today compared to 50 years ago.
In a world where you may change jobs a dozen or more times in a career, and you operate in a global economy, with a social network that's not local, but virtual …
… home ownership can go from being stabilizing to burdensome.
The sharing economy is changing the way people think about the value of owning things they simply want the use of.
Absent paradigms of ownership, sharing is arguably more efficient.  But for the first time in history, it's logistically possible.
No generation before has had as many options for sharing as there are today.  
And while pay-per-use seems like a no-brainer when discussing a depreciating asset like a vehicle, Market Watch isn't the first to argue a home isn't a great investment.
The pioneer in the "your home is not an asset" mindset is none other than our good friend (and boomer), Robert Kiyosaki.
Of course, Robert's an avid real estate investor, so his issue isn't real estate.  It's about respecting the difference between consuming and investing.
Investing is about profit.  But when you consume, you want value … the right mix of quality, service, and price.
Some people rent their residence because they get a better value, have less responsibility, enjoy more flexibility and variety …
… and it frees up money to invest in rental properties.  They get a better ROI.
So they own real estate … just not the home they live in.
If there's a new attitude about home ownership working its way into the marketplace, it could lead to a new experience in landlording too.
Because now you might have more affluent, well-qualified tenants competing for longer term tenancies in nicer properties in better areas.
Stable people with good jobs and incomes, who want to live and keep a nice home in a good area, but don't want the responsibility of home ownership … can be great tenants.
They can also be a way for you to collect premium properties while someone else pays for them.
It's a trend we're watching.
Until next time … good investing!
---
More From The Real Estate Guys™…
The Real Estate Guys™ radio show and podcast provides real estate investing news, education, training, and resources to help real estate investors succeed.