5 Things Every Syndicator Must Know To Stay Out of Jail 
The violation of securities laws is a serious matter, and carries with it significant consequences.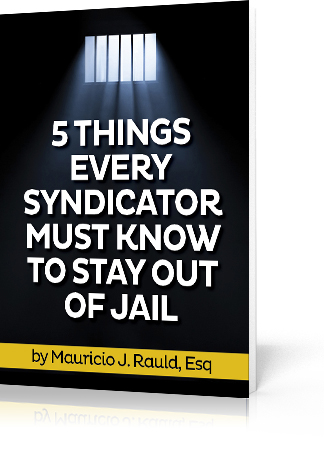 This report outlines possible gray areas and how you can navigate challenges to ensure that you are on the right side of the law. 
The information provided here will allow every syndicator, from beginner to seasoned, to know exactly what the most common issues are, from an SEC and also State regulatory compliance perspective.
This Special Report covers:
✓ Why Creatively Structuring Your Real Estate Syndication To Avoid Securities Laws Won't Work
✓ A Zero Tolerance Policy the SEC has Towards Advertising Your Syndication When Prohibited (yes, this includes Social Media)
✓ Why You Cannot Pay Unlicensed People to Raise Money For You
✓ What Constitutes a "Pre-Existing Substantive Relationship" 
✓ And more!
Discover 5 Things for staying on the right side of the law!
Simply fill out the form below to access

5 Things Every Syndicator Must Know To Stay Out of Jail …
In this episode, we'll be discussing the age-old question … what's the next step for investors who've run out of capital but want to keep growing?
Our answer? Syndication.
Syndication allows investors to move their focus away from earning and saving money toward raising money.
And if you'd rather not spend your time doing deals, syndication is a great option for putting your cash to work … while you do what you love.
But we'll be honest … syndication is a lot of work.
You need to build an investing plan, understand your market, vet your investors, and know what could go wrong … and right … with a deal.
You need to understand not only the business side of each deal, but the legal side.
That's why we invited an experienced securities attorney to chat with us about the ins and outs of syndicating.
In this episode of The Real Estate Guys™ show you'll hear from:
Your secure host, 

Robert Helms

His insecure co-host, 

Russell Gray

Securities attorney, 

Mauricio Rauld
---
Listen
---
Subscribe
Broadcasting since 1997 with over 300 episodes on iTunes!
---
Review
When you give us a positive review on iTunes you help us continue to bring you high caliber guests and attract new listeners. It's easy and takes just a minute! (Don't know how? Follow these instructions).
Thanks!
---
What is syndication? What is a security?
Mauricio Rauld is the founder and CEO of Premier Law Group. A long-time acquaintance of ours, he's worked with us to vet many syndication deals.
We've watched Mauricio evolve into an experienced securities attorney, and we trust him to answer all our syndication-related questions.
Let's start with the basics.
First, what is syndication? Any time you are pooling resources … usually money or capital … to do a deal, you're involved in syndication.
Next, when does securities law come in? If you're the one running the deal, the minute you take a check from someone, your transactions fall under the realm of the securities law.
The structure of the deal doesn't matter … you could write out a profit-share agreement or simply shake hands with your investors, and you'd STILL be dealing with a security.
We asked Mauricio what investors need to be aware of when it comes to securities law and the Securities Exchange Commission (SEC).
He said that when dealing with a security syndicators have three choices:
Register the security with the SEC.

Find an exemption so you don't have to register.

Avoid the two options above and go the illegal route.
Needless to say, we don't recommend the third option!
Most investors are able to choose the second path because the SEC offers multiple exemptions. To get your mind around the major exemptions, Mauricio recommends working with an experienced securities attorney.
An attorney will help you catch any mistakes … before you're head-deep in a deal and it's too late to fix your errors.
Like the saying goes, an ounce of prevention is worth a pound of cure.
If you're going into a syndicated deal as an investor, there are some preventive steps YOU can take as well. Mauricio names two main steps:
Do your due diligence when it comes to the deal sponsor. Check their track record and make sure they have some successful deals under their belt.

Review the sponsor's documentation and paperwork. Missing items can be a huge red flag, Mauricio says. A sponsor who doesn't give you the appropriate disclosure documents is cutting corners.
Syndicators need to draft and publish a private placement memorandum before doing a deal. This document essentially names all the ways a private investor could lose their money.
Private placement memos are specific to each individual deal. To draft one, syndicators need to work with an attorney, who will evaluate all the ways a deal could go wrong.
This documentation is critical whether you're the syndicator or the investor.
If you're the syndicator, make sure your lawyer sits down with you and gets specific details about the deal so they can list every possible risk in the memo.
If you're an investor, it's wise to review this document and the deal itself with your lawyer so you are aware of possible risks before you put your dollars in.
How should syndicated deals be structured?
There are two parts to syndicating a deal.
First you have to raise money, find the deal, and make sure you're in compliance with securities law … and then you have to figure out what you're actually doing with the money you earn.
We asked Mauricio to talk about how syndicators can structure syndicated deals.
He said that first, syndicators have to look at whether they're structuring a deal for equity or for debt. Syndicators should also look to see what their investor pool is looking for.
And syndicators should keep in mind that a deal may be structured differently while there's cashflow versus after the property is refinanced or sold.
When it comes to structuring your deal, Mauricio reminds syndicators to ALWAYS disclose, disclose, disclose. Any way you or your spouse are compensated needs to be disclosed to the SEC.
This is where a securities attorney comes in handy, says Mauricio. If you're a syndicator, a good specialized attorney will spend the time up front to understand your deal and help you structure it … while making sure you disclose the proper info.
Now on to specific deal structures.
The most basic deal structure is to split the profits between syndicator and the investor pool.
The standard split is 80-20 … 80 percent for investors and 20 percent for the syndicator. But that percentage is malleable depending on the deal itself.
Another option is a "preferred return." This means a certain percentage of the original amount invested is set aside for the investor … say, 7 percent, for example. The investor gets all the profits up to that percentage, and the syndicator gets anything beyond that.
You can also do a "waterfall." This means setting up different tiers … up to a certain amount, the profit is split 60-40, and then after that, 70-30, and so on.
Whichever deal structure you choose, there are two basic guidelines you should follow, says Mauricio:
Keep it simple.

A waterfall structure with 10 different tiers is more work for you and more complicated for investors to understand.

Keep it fair.

Evaluate the deal structure based on how much work you're putting in versus how much capital investors are contributing.
One of our favorite things about syndication is that there are basically unlimited options for the type and structure of deals you do!
Interested in building a syndication business but not sure where to start? Mauricio recommends starting by farming for potential investors so you have an investor pool to pick from when you're ready to do a deal.
He also recommends making sure your entity and asset protection structure is in place. This can be done BEFORE you find your deal.
Want more information? Click here to check out Mauricio's exclusive webinar, Practicing Safe Syndications. And consider attending our Secrets of Successful Syndication Seminar, where Mauricio is a staple speaker annually.
We wish you safe syndicating!
---
More From The Real Estate Guys™…
The Real Estate Guys™ radio show and podcast provides real estate investing news, education, training and resources to help real estate investors succeed.
Practicing Safe Syndications: 3 Critical Legal Considerations
As you approach syndication, beware of the SEC. Ensure your legal structures are in compliance or exempt from SEC regulations. Don't leave yourself vulnerable!
Learn what it takes to make sure your business avoids any fallout with the Securities and Exchange Commission (SEC) … Watch this special webinar from our longtime friend and personal attorney Mauricio Rauld.  
Walk through what his years of experience as founder and CEO of Premier Law Group have taught him are the three most important things to think about as you approach syndication.  Keep these critical legal considerations in check and you're ready to speak with your attorney and grow your business with confidence. 
So watch and learn …
Simply fill out the secure form below to access the webinar,

Practicing Safe Syndications: 3 Critical Legal Considerations, 

created by experienced securities attorney Mauricio 

Rauld

. 

 
Throughout human history, there have been pivotal moments when new frontiers have opened up huge opportunities for those rare brave souls willing to take on the challenges of pioneering new territory.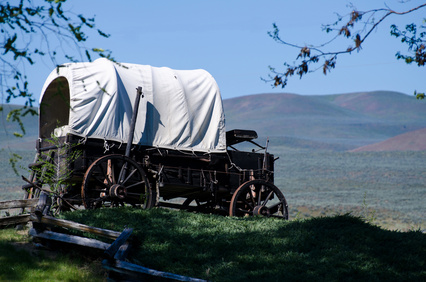 It was true when the pilgrims fled Europe to build a new life in America.   It happened again when courageous settlers answered the call to "Go West, Young Man!".
Modern business history is replete with stories of innovative entrepreneurs who entered the unknown frontier of the internet.
For real estate investors today, a new world of opportunity has opened up…and that's the topic of this episode of The Real Estate Guys™ radio show.
In the covered wagon studio pioneering the broadcast airwaves:
Driving the dialog…your brave and bold host, Robert Helms
Pulling the wagon…his old mule of a co-host, Russell Gray
Providing navigational guidance…attorney and regular contributor, Mauricio Rauld
The days of homesteading huge tracts of land, or staking claims for gold mines, or prime internet domain names is long past.
So it may seem like all the great opportunities are gone.
Wrong.
As you may recall, back in 2010 our friend and attorney Mauricio Rauld brought The JOBS Act to our attention.  In it, were provisions to ease up on the highly restrictive rules about raising money to fund private deals.
We got excited and waited eagerly for the implementing regulations to be released.
We waited…
And we waited…
And we waited some more….
No wonder this "recovery" hasn't taken hold.  But that's a rant for another day.
For a lot of people, the whole concept fell off their radar.  But not your intrepid talk show hosts.
Finally, in September 2013, the Securities and Exchange Commission (SEC) released the regs, and the legal community began to dig in so they could explain them to their eager clients.
And WHO are their eager clients?
People like us…like you…entrepreneurs of ALL kinds, including real estate investors, who've been locked out of marketing their opportunities to investors looking to put capital to work.
The prior SEC restrictions on solicitation gave a distinct advantage to Wall Street, where publicly registered companies can offer their stock to the general public.
Meanwhile, competing private offerings (like the $2 million you want to raise to buy that cash flowing apartment building), could only be presented to friends, family and others that the "sponsor" (the guy or gal raising the money) had a pre-existing relationship with.
While Wall Street still has a huge edge, the new rules permit sponsors to advertise to and accept investments from accredited investors…without the pre-existing relationship requirement.
And just like stock exchanges were created to facilitate the trading of public securities, crowdfunding platforms are being erected worldwide to facilitate the presentation of private securities to accredited investors.
Less than a year later, many of these platforms are already operating…and many more are coming.  This means more deals will see the light of day.
And for investors, more opportunities will open up.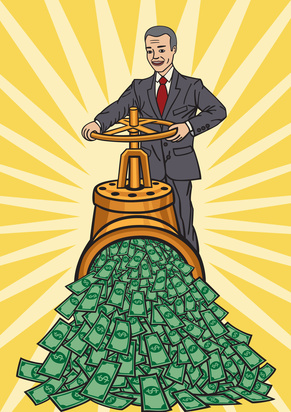 In other words, the flow of money from investor to opportunity will be opening up.   Ever since the crash, we've been saying that the economy doesn't have a liquidity problem, it has a circulation problem.
And while the government has created a lot of impediments by creating more regulations, in this case they are easing a restriction imposed after the Great Depression of the 30's….and it promises to improve the economic circulation of the economy.
Whether you decide to jump into this pool or not (as either an investor or a sponsor), the resulting flow of capital into the space will have an affect on supply, demand, capacity to pay, and inventory.  So it's something for you to pay attention to.
Of course, if you decide to participate, a brave new world of opportunities is just opening up for you!
Listen Now:
Want more? Sign up for The Real Estate Guys™ free newsletter!
Don't miss an episode of The Real Estate Guys™ radio show!  Subscribe to the free podcast!
Stay connected with The Real Estate Guys™ on Facebook!
The Real Estate Guys™ radio show and podcast provides real estate investing news, education, training and resources that help real estate investors succeed.
The idea of making big money as a real estate investment fund portfolio manager is enough to get most people all hot and bothered.  But before you go too far, we encourage you to cool down and consider practicing safe syndication.
In the broadcast clinic for this episode of The Real Estate Guys™ Radio Show:
Your guru of group deals, host Robert Helms
The doctor of details, co-host Russell Gray
Special guest and resident "wet blanket", attorney Mauricio Rauld
We've had syndication on the brain for several weeks now.  It could be that spring is coming or more likely, that many factors have come together to magnify the attraction of organizing and managing an investment fund.
But this episode isn't about all the fun and opportunity you"ll have.  Rather, we invited attorney Mauricio Rauld to talk about all the legal responsibilities that are part of setting up a syndication.  Even though these types of activities start out innocently enough, if you don't have a firm understanding of where the boundaries are, it's easy to cross them and end up afoul of regulators.  And that can just ruin the whole experience!
So tune in and discover important details about properly setting up your business entity, documenting your offering, and complying with the various restrictions on promoting to potential investors.  Because although syndicating is fun and exciting, it's important to approach the whole experience in a safe and sane manner.  That way, it's good for both you and your investors.
Listen now:
Don't miss a show – subscribe to the free podcast!
Want More?  Sign up for The Real Estate Guys™ free newsletter!
Connect with the Guys on Facebook!
The Real Estate Guys™ Radio Show podcast provides education, information, training and resources to help investors make money with their real estate investments.
Honey, they shrunk my net worth!
In case you haven't heard, the financial reform bill redefines who qualifies as an accredited investor.  So, if you like to pool your money with other people's money so you can get in on bigger deals, there are some new rules to play by.
And if you're syndicating deals now, then you REALLY need to listen up – because the new rules are effective IMMEDIATELY!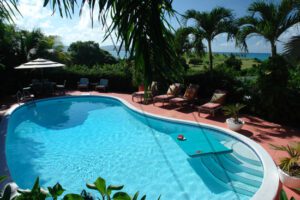 Diving into the deep end of The Real Estate Guys™ pool to discuss the ramifications for real estate investors:
Your host and lifeguard, Robert Helms
Your co-host and wading pool watcher, Russell Gray
Cannonball champion, the Godfather of Real Estate, Bob Helms
OMG!  OPM is r BFF.  TDM rulz!
Sorry.  Too much time at the teen pool.  Back to the topic at hand…
Our friend and real estate attorney Jeff Lerman sent us an important update about something buried in the 2,300 pages of the financial reform bill:  Congress decided to change the definition of "accredited investor" so that you can't count your home equity in your net worth.  Maybe it's a good time to do it since so few people have any home equity any way.
But for those of us who like to invest in private placements – and even more importantly, those who like to have people invest in our private placements – the new definition just demoted a lot of investors.  They've effectively been kicked out of the private pool and are now only allowed to swim in public securities.  You know, the ones run by the fine folks on Wall Street and "supervised" by the SEC.  We're feeling safer already.
What's really amazing is the new rules went into effect immediately. That means if you were in the middle of getting into a deal or putting one together, nothing is grandfathered.  So you could have good faith money in a deal based on capital pledges from people who were qualified to invest and poof!  Now those people are unqualified and you're scrambling to find replacement money before you lose your opportunity – or worse, your earnest money.
We're guessing the folks who decided to do this have never put a deal together.  But, perhaps just a little too much of our opinion is showing.  Sorry, we'll throw a towel around ourselves.
A big thanks for Jeff for bringing this to our attention.  It's changes like this that keep us subscribed to all of our newsletters, podcasts and blogs.  You never know (especially now) when the winds of change are going to blow across the game board and shuffle things around.  But when they do, you can count on The Real Estate Guys™ and our network of experts to let you know – and to help you adjust and adapt.  So be sure you're subscribed to everything and keep your eyes and ears open!
Listen now
Don't miss a show!  Subscribe to the free podcast!
Want more?  Sign Up for The Real Estate Guys™ free newsletter!