In uncertain times, we all need a little wisdom to guide us to the right path.
So today, we bring you the words of the wise.
Property prices are continuing to inch upward in many markets. And the stock market is starting to tumble down. How should investors navigate the turmoil?
Listen in to hear from some of the smartest folks we know on their predictions for what the future holds … and their best tips for staying smart and focused in the midst of the storm.
In this episode of The Real Estate Guys™ show you'll hear from:
Your expert host, 

Robert Helms

His amateur co-host, 

Russell Gray
Brien Lundin

, author of the Gold Newsletter

Economist

Peter Schiff
Chris Martenson

and

Adam Taggart

,

authors of

Prosper!

Rich Dad Poor Dad

author

Robert Kiyosaki
---
Listen
---
Subscribe
Broadcasting since 1997 with over 300 episodes on iTunes!
---
Review
When you give us a positive review on iTunes you help us continue to bring you high caliber guests and attract new listeners. It's easy and takes just a minute! (Don't know how? Follow these instructions).
Thanks!
---
Brien Lundin on metals and money supply
Brien Lundin is our go-to expert on precious metals. He writes the Gold Newsletter and directs the New Orleans Investment Conference.
His predictions about the metals market have been spot on. We asked him how he keeps his thumb on the pulse. The short answer? "Experience," says Brien.
Three decades of reading, researching, and making connections have given Brien enough information to come to the conclusion that, "Metals have settled into a fairly reliable long-term pattern."
In fact, he says the future for metals is as close to inevitable as possible in the investing world.
High debt in the U.S. and other countries means their currencies will be depreciated, at least to some extent, and that means higher gold prices in the long term, says Brien.
With a predicted three or four rate hikes coming from the Fed in the next year, Brien predicts we'll continue to have a weaker dollar for several years.
Why should real estate investors be interested in metals? Alternative investments like precious metals allow you to divorce yourself from the levers the government pulls to adjust the economy, says Brien.
Confused about the options? "Roll up your sleeves," and dive in, says Brien.
Brien also had some words of advice … "Look around you to get the best investment advice."
One way to do that? Attend the New Orleans Investment Conference. The conference is packed with people looking to learn. Off-mic conversations are part of the package!
Peter Schiff on the global economy and Puerto Rico
"It's easier than people think to predict the future. The hard part is predicting the 'when,'" says Peter.
Economists have been predicting a dollar crisis for a while, and Peter thinks we are in the beginning of that crisis … "The dollar is dropping like a stone against the Chinese yuan," he says.
Why? According to Peter, it's payback for monetary policy mistakes from the Fed that led to the major economic crises of the past few decades, including the dot-com bubble and the housing bubble.
"As the dollar is falling, prices are rising," says Peter. Oil prices are up. Bond yields are rising, and that means interest rates are rising too. Peter predicts the combination of rising prices and high interest rates will be too much for the market to bear.
Crisis is coming, he says.
"What's going to kill us is the government's cure," Peter adds. After the real estate bubble collapsed, the government attempted to pump up the market by slashing interest rates … and succeeding in completely re-inflating the bubble. That bubble will make the crisis worse, he says.
Peter has started his own investment fund through Euro Pacific Capital. He aims to help investors diversify out of the U.S. dollar.
Gold stocks have moved up, says Peter. "We are really poised now for major gain."
And what about Puerto Rico? If you've been listening to the show, you'll know Peter not only invests in Puerto Rico, but lives there too.
"It's green again," says Peter. There are some problems due to service providers who have left the island. But overall, "People think it's worse than it is," he says.
In fact, Peter thinks there's more opportunity in Puerto Rico than before Hurricane Maria. Abandoned properties and foreclosures could be the perfect opportunity for investors to step in.
Chris Martenson and Adam Taggart on social capital and the Summit at Sea™
Chris Martenson and Adam Taggart, co-authors of the invaluable book Prosper!, chatted with us about some tangible steps to help YOU prosper.
Key among them is social capital.
"What are your strengths and weaknesses?" asks Adam. "Find people who have complementary skills and can fill in your weaknesses."
"No one can really have a handle on everything," Chris adds. In our rapidly changing world, he says it's wonderful when you can recognize people as kindred spirits … and learn from many points of view.
One way to get around some kindred spirits is to attend our annual Investor Summit at Sea™. In fact, all of the guests in this episode will attend the Summit.
It's more about context than content, Chris and Adam agree … and we're sure the context of the Summit will be the environment of your investor dreams.
Robert Kiyosaki on humility and getting around smart folks
Robert Kiyosaki doesn't believe in school. "The trouble with going to school is that you have to be an expert by yourself, and that keeps you small," he says.
More important than money or school smarts? "A very smart team" that operates on the basis of mutual respect and trust.
Robert recommends hanging around people who DON'T think they're the smartest people in the room. Humility is a great tool, he says.
"All coins have three sides. Most people think there's only one side … theirs," says Robert. "It's impossible for a coin to only have one side. Intelligence equals standing on the edge and looking at both sides."
Like F. Scott Fitzgerald once said, "The test of a first-rate intelligence is the ability to hold two opposed ideas in mind at the same time and still retain the ability to function."
Robert recommends getting around other investors so you can get around a variety of ideas. He recommends the Summit … and you'll be able to meet him if you come!
Plus, Robert's wife Kim Kiyosaki will hold a special ladies-only session at the Summit. Robert encourages female investors and partners of investors to attend and learn about why they don't need a man to get ahead.
Meet and mingle with smart people
No one knows where the future is headed with certainty … but there's one thing all our smart investor friends are certain about, and that's the importance of getting around the right people and assembling your team.
Want to reach out? The Investor Summit at Sea™ is the perfect first step.
Unable to attend the entire Summit? Consider joining us on land for the first two days. We're holding a brand-new event, a conference we're calling The Future of Money and Wealth.
Hoping to see you there!
---
More From The Real Estate Guys™…
The Real Estate Guys™ radio show and podcast provides real estate investing news, education, training and resources to help real estate investors succeed.
In a financialized economy, it's easy to obsess over the dollar, Bitcoin, gold, forex, the Fed, interest rates, stock indexes, etc.
Financialization is when an economy emphasizes making money from money … as opposed to making money from making things.
Think of it as the difference between Wall Street and Main Street.
But there's currently a subtle shift taking place we think is noteworthy.  We call it …
Trump-style Trickle-down
It's said Donald Trump got elected by working-class people … those who aren't at the financialization party.
These are folks whose manufacturing jobs trickled overseas for the last three decades.
When you're underemployed with no savings, you can't play financialization.  Your balance sheet is missing all those paper assets being pumped full of air from cheap money.
Wall Street's trickle-down has been Main Street's "bleed out."
Does 3-D printing trump paper printing?
When we first asked then-candidate Trump about his plan for the American real estate dream, he simply answered, "Jobs."
Since then, Trump has been emphasizing manufacturing jobs.  We think the distinction is important.
Manufacturing jobs … or the lack thereof … is something multi-time Summit at Sea™ faculty member Peter Schiff has railed about for years.
Peter insists no economy can print its way to prosperity.
Peter contends a prosperous economy MUST produce things …  and not just blow up paper asset bubbles.
Simply making money from money isn't enough to keep Main Street off the welfare rolls. There's no role for them in play in a financialized economy.
Main Street needs good-paying jobs … the kind that come from production and not just consumption.
For residential real estate investors, it's more than just a philosophical discussion.
It's central to strategically selecting the right geographic markets, demographics, and product-types.
After all, real estate is about the local economy … and the flow of cash from productivity into rents.  In short, the best tenants have jobs.
Not all jobs are created equal.
While any rent is good, to really understand your real estate investing, it's a good idea to look further up the food chain … to see what's trickling down and from where.
People who pour coffee, clean clothes, mow lawns, cut hair … activities we call tertiary employment … usually do so for folks with primary or secondary employment.
So if Acme Manufacturing sub-contracts to Dan's Welding … and Reuben the welder is buying coffee from Bonnie the barista (your tenant) …
… where does YOUR rent REALLY come from?
And what's the core economic strength of the local economy … the coffee shop, the welding shop, or the manufacturing company?
What happens to the local economy if Acme moves away?  Who does Reuben weld for so he can buy coffee from Bonnie?
Sure, Acme might not be the only primary employer in the market …
… but if the reasons Acme moved also motivate others to leave … the market loses eventually its anchors and starts to bleed out.

Financialization vs Industrialization
"Trickle down" can be a polarizing term.  But it doesn't mean the same thing to everyone.
President Trump has the White House, so whether we like or agree with him or not, he's pulling the levers and we aren't.
After a year of observing, it seems like Trump's got his own version of trickle-down and is pushing it forward.
Trickle-down Reagan-style was running up the debt and military spending, which pumped lots of cash into the economy and created a boom.
Yes, tax reform was involved … which blew up real estate and the savings and loan business.  But that's a discussion for a different day.
Reaganomics "worked" because starting out, the US had a good balance sheet, lots of manufacturing capacity, and high interest rates.
Just like a household with very little debt, lots of income, and adjustable rate loans in a falling rate environment …  you can rack up a LOT of debt for a long time before it starts hurting.
Trickle-down Greenspan / Bernanke / Yellen style was financialization.  De-regulation opened the door, but cheap money from the Fed fueled it … and continues to.
Advocates of trickle-down financialization say pumping up paper assets will make uber-rich people uber-richer … on paper.
Then, the theory goes … the uber-rich will lend to Main Street, who will then spend on Main Street … and eventually the cheap money ends up with Bonnie the barista.
Sounds a little like leftovers to us, but you can decide for yourself if it's working.  We think Trump's shocking win says Main Street didn't think so.
Trickle-down industrialization appears to be Trump's game plan.
The idea is to create an environment attractive to Acme Manufacturing to start, return, and expand … on Main Street.
It's a mix of Reagan-style tax cuts and military spending, more Greenspan / Bernanke / Yellen-style cheap money pumping the stock market …
… but it's all strategically aimed at boosting domestic manufacturing.
If Trump can get his agenda implemented, only time and math will tell if it works.
Oh, and about that math …
How do YOU measure success?
Now that we've got you jazzed about… okay, moderately interested in … paying attention to the direction of domestic manufacturing …
… we're going to complicate things ever so slightly. But for good reason!
We live in a world of perverted units of measure.  It's something Steve Forbes warned us about the very first time we talked to him.
Most reports we read measure productivity in dollars.  But a fluctuating dollar can give false readings.
Think about it …
If your business produces 1,000 widgets per month at $100 each, you have a $100,000 per month business.  Good job.
If inflation (a falling dollar) causes your widgets to go "up" to $120, you're a $120,000 per month business … BUT, your production is the SAME.
Have you grown?  Not in terms of real production.
THIS is why it matters to real estate investors …
If at the $120 price, 10% of your customers can no longer afford your widgets, your production falls by 10% to only 900 widgets per month.
At $120 each, 900 widgets sold is $108,000 per month.
Hmmmm …
Measuring in dollars, your business is UP by 8% … from $100k/mo to $108k/mo.  Your look good on paper (there's a lot of that going around) …
But by production, you're DOWN by 10% …  so you need 10% less labor, supplies, space, sub-contractors, etc.
It's like reverse-trickle down, but not really.  Money isn't flowing up.  It's really more like bleeding out.  This is why some folks don't like inflation.
Here's the point … and thanks for sticking with us …
The U.S. economy looks good … measured in dollars.  But some say there's still a LOT of work to get real productivity up.
Still, the November jobs report had a ray of sunshine with a spike in manufacturing jobs …  and this article says U.S. manufacturing executives see growth in 2018.  Good.
But if those indicate this is the front-end of trickle-down industrialization that brings prosperity to Main Street, it could be a fun ride for real estate investors.
We'll keep watching … and so should you.
Until next time … good investing!
---
More From The Real Estate Guys™…
The Real Estate Guys™ radio show and podcast provides real estate investing news, education, training, and resources to help real estate investors succeed.
"Those who do not remember the past are condemned to repeat it."
   – George Santayana

This is one of our favorite quotes.  It's simple yet powerful wisdom … useful for individuals, businesses, governments … and certainly for investors!
We could take this theme in a thousand different directions, but this CNBC headline caught our attention this week …
Here's how an obscure tax change sank Puerto Rico's economy
With tax reform in today's financial headlines … and our memories of what happened to real estate after the 1986 tax reform …
… we think it's a good time to consider the impact of tax policy on the economy, jobs, and real estate.
As for Puerto Rico … it's a huge mess after Hurricane Maria.  Lots of infrastructure and real estate have been destroyed.
Of course, the financial mess in Puerto Rico was in the news long before Maria showed up.  The natural disaster just made the financial disaster a whole lot worse.
Let's dig in and look for lessons for real estate investors …
The CNBC article points out, "Even before a devastating hurricane … the government was struggling with an economy in shambles …"
And, "That fiscal mess has its roots in the repeal of a controversial corporate tax break that helped spark an exodus from the island that sent its economy into reverse."
Yikes.  Will people and businesses really move just because of some "tiny" tax law?
Yes.  Yes, they will.  It turns out taxes (and avoiding them) are kind of a big deal to people and businesses.
In this case, a tax break, "enacted in 1976, allowed U.S. manufacturing companies to avoid corporate income taxes on profits made in U.S. territories, including Puerto Rico. Manufacturers … flocked to the island."
This lead to an economic and employment boom in Puerto Rico.
Of course, when politicians see money they just can't help themselves.  The Puerto Rican politicians started spending, and borrowing to spend even more.
Meanwhile, back in the U.S., the CNBC article says …
"But by the early 1990s, the provision faced growing opposition from critics who attacked the tax break as a form of corporate welfare."
So in 1996, a ten-year phasing out of the tax break began and "plant closures and job losses followed."
Which bring us to tax policy and real estate investors …
The law had nothing to do with real estate or investors … but then again, it had EVERYTHING to do with real estate investing …
… because real estate investments are highly dependent on JOBS.
And whether you think it's fair or not, corporations make decisions about where to do business (or not) based partially on tax policy.
In this case, tax breaks attracted corporations to set up shop and were good for jobs and real estate.  The removal of those breaks had the opposite effect.
Of course, the law in question was passed and repealed at the federal level.  It wasn't under Puerto Rico's control.
But Puerto Rico got the lesson.
So in 2012, Puerto Rico passed Act 20 and 22 … effectively becoming an attractive tax haven for both businesses and individuals.
We first heard about this from Summit at Sea™ faculty member Peter Schiff … who moved his asset management company and himself to Puerto Rico to save taxes.
He's not the only one.  We have several other friends who've done the same thing.
Right now, the tax law still exists … though much of Puerto Rico doesn't.
We think there's probably a way to combine those two circumstances to create an opportunity for real estate investors.
Of course, back in the U.S., tax reform is in the air again …and corporate tax breaks are in the mix.
Will corporate tax breaks bring businesses to the U.S. and create an employment boom? If so, where?  And will the breaks be permanent or temporary?
It's too soon to tell, but it's something we'll be watching closely.
Meanwhile, there's another lesson from the Puerto Rico story …
We know a tax break brought in a tide of corporate investment, and the removal of the tax break decades later took the tide back out.
But there was a lot of opportunity in between.
Of course, to catch a wave, you need to be watching the horizon.  And when you see the wave forming, you need to paddle quickly into position.
In Puerto Rico, as in Florida, Houston, and the several Caribbean islands all decimated in varying degrees by the back to back hurricanes …
… there's going to be a big tide of capital flowing in to repair everything.
And because of the scope of the problems, the season of rebuilding could last quite a while.
Recently, we talked with our boots-on-the-ground turnkey property provider in Orlando, and he says he sees a lot of opportunity in his market right now …
Problem properties are popping up with pricing that leaves some meat on the bone for investors.
That's good news … not just for investors, but for the community at large … because investment capital is needed to help with the recovery process.
The same is true in Houston, Puerto Rico and other areas ravaged by the storms.
Of course, conditions in each market are different.  Orlando is in far better shape than Houston which is far better shape than Puerto Rico.
All that to say there are different levels of distress, bargains, risk and reward in each market.
Unfortunately for the average individual part-time investor, the gap between seeing opportunity and being able to take advantage can be too big to bridge.
For most U.S. citizens, their "investment" into these disaster zones will be a de facto donation through their taxes, as federal relief funds pour into each area.
Of course, many kind-hearted individuals will make modest personal donations, which is admirable.
But to get LARGE amounts of private capital into each area to help rebuild, it's going to take an investment opportunity.
And we think private syndicators have a role to play.
Motivated real estate entrepreneurs with skills and availability have an opportunity to start a private investment fund to aggegate private capital and make profitable investments in each of these areas.
Busy qualified investors who don't have the time or skills, but see the opportunity, can make an investment in these private funds and earn a profit while helping heal ravaged markets.
This is the kind of capitalism that makes a positive difference in the world …  people helping themselves by helping others.
Or as our good friend Gene Guarino often says, "Do well, by doing good."
Until next time … good investing!
---
 More From The Real Estate Guys™…
The Real Estate Guys™ radio show and podcast provides real estate investing news, education, training and resources to help real estate investors succeed.
Our latest show was recorded with you in mind – it's a special one, unlike anything we've ever shared before! It takes place while cruising the open seas during our 15th annual Summit at Sea™.
You get to be a fly on the wall during an organic, non-scripted conversation with three of the world's smartest experts in real estate and investing. (Lucky you!)
The way we see it, life is a buffet. And it's up to you to choose wisely about what to put on your metaphorical plate. Our guests are here to help you choose the right portions. They will be dishing out juicy tips about how to get ahead of the game … and stay ahead.
In our latest show you will hear from:
Your bold Master and Commander, Robert Helms
His co-captain, Russell Gray
Mega bestselling author and investing expert, Robert Kiyosaki
Legendary author and film producer, Edward Griffin
International entrepreneur and founder of "Sovereign Man," Simon Black
---
Listen
---
Subscribe
Broadcasting since 1997 with over 300 episodes on iTunes!
---
Review
When you give us a positive review on iTunes you help us continue to bring you high caliber guests and attract new listeners. It's easy and takes just a minute! (Don't know how? Follow these instructions).
Thanks!
---
The buffet is open
Every year at the Summit at Sea™, we witness an interesting paradox. Some of the brightest people gather onboard a beautiful cruise ship and we spend our time sharing wisdom and learning from each other.
But when we come out of our classes and go on deck, we see the other side of the coin. We see people lined up at the buffets and bars who are just waiting for things to happen to them.
"I call these people the victims," Simon Black says. "The world is changing so fast. Demographics are changing. We have to make decisions on a daily basis about how to create capital. When you have uncertain times, there is something to be said about getting together with the tribe at an event like Summit."
That's is something we can all agree on: property sharing at its finest. Intellectual property, that is.
"The truth of the matter is all the great shifts in history have been driven by 1-2% of the population," G. Edward Griffin says. "The rest were just followers."
Look who's talking
We all want to affect real change. Events like Summit at Sea™ are a catalyst for change. The power is palpable.
Ed, Simon, and Robert are three of our outstanding faculty members who use their life experiences to engage the minds of millions by creating valuable educational tools.
Ed's work is astounding. His books, such as The Creature from Jekyll Island and The Fearful Master have changed how we think about the world around us.
Simon's international entrepreneurship training teaches others how to make more money and keep that money, which ultimately increases personal freedom.
Robert is best known for his little purple book that continues to cause a financial revolution. Rich Dad, Poor Dad has been motivating people around the world to reshape their financial goals for 20 years.
History repeats itself
The best way to prepare for the future, whatever that may be, is to look to the past for answers to today's economic and geopolitical questions.
"Everything that is happening has happened before to some extent," explains Simon. "If we think about the Ottoman Empire, we see that the people existed to support the Empire rather than the other way around. I hope this isn't our future, but we have seen similar instances in our own lives."
Civilizations have come and gone. Ancient Rome. Babylon. Greece. Once thriving metropolises left in shambles because people weren't willing to read the signs.
What are the signs to look for?
"We need to watch for the corruption of money," says Robert.
As a kid, Robert would collect dimes, quarters, and half dollars because he had a suspicion money wasn't exactly as it once was. Turns out, he was right.
"In Roman times they would steal silver by filing it off coins," Robert says. "In 1964, the U.S. did a similar thing by using cheaper metals to plate the coins. And as a kid, I knew what was happening just by the looking at my money."
Like Robert, we know human beings are intuitively smart about their money. Sometimes their education just needs a little fine-tuning.
"We are smart enough to read the signs," Robert adds. "We know that when bad money comes into circulation, good money goes into hiding."
Taxation without representation
What about the new hot-button topic? Taxes.
We want people to start thinking differently about taxes and their income in general. Once people can see innovative answers to basic questions about taxes, debt, capital gain, and investing, we'll have a nation armed with the keys to success.
"Tax is one of my favorite topics," says Simon. "Many people still believe the idea of paying taxes is moral. That we are somehow morally obligated to pay. But if we look, we'll see an overwhelming level of waste and fraud."
Robert has also been thinking unconventionally about taxes for years. And his financial journey ultimately turned his investments, savings, and other capital — maybe even the coins he collected as a kid — into millions of dollars.
"My whole game is to make millions of dollars while not paying taxes — legally, of course," Robert says. "The reason the rich are getting richer is because they have no debt and they don't pay taxes."
Outsourcing our problems
Ultimately, what we want our listeners to gain from hearing these experts is they have the power to choose. With education and proactivity, they can earn millions, find true success, and make the world a better place.
Today's problems might reflect our past, but they don't have to be our future. We CAN'T sit back and let the changes just happen. We CAN'T outsource. We have to be it all — the manager, CEO, and owner of our destiny.
We have to think differently. Past generations may have faced similar issues to our current wealth gaps, stock inflation, and housing bubble, but it's our job to discover new answers.
At the end of the day, we'd say humanity is something you can always bet on …
… and take straight to the bank.
"I think all the trends point out that we are on the verge of a financial emergency," Ed explains. "But the root word of emergency is emerge … and those who plan and think will emerge from the rubble better than before."
The sweetest reward
The buffet of life is spread across the table and you get to choose your reward. So will you take the Jell-O or go for the crème brûlée? There is no better time than now to take control of your life. And there is no better way than joining us and other field experts at our next annual Summit at Sea™ event.
To learn more about upcoming registration, please visit our website for information about the advance notice list.
---
 More From The Real Estate Guys™…
The Real Estate Guys™ radio show and podcast provides real estate investing news, education, training and resources to help real estate investors succeed.
President Trump has put his tax plan on the table for the world to see.  The big question is … what does it REALLY mean?
But rather than speculate on the future possibilities, let's take a look at the last time big-time tax reform went from rhetoric to reality.
Way back in 1986, then-President Ronald Reagan signed a tax reform act that was hailed as one of the most significant pieces of legislation ever passed … and cleverly titled … The Tax Reform Act of 1986. 
Now we're not saying Trump's tax plan is anything like Reagan's.  And who knows if Trump's plan will pass, or what it will look like in its final form.
But they're both considered "sweeping" in terms of radically changing the tax system.  
And when you consider how much time and effort businesses and investors put into navigating the incredibly confusing and cryptic U.S. tax code, it's a safe bet ANY substantial changes will result in equally substantial changes in the strategy and behavior of market participants. 
Does that sound boring and wonky?
It is.  BUT … it's probably worth the effort because of something called the Law of Unintended Consequences.
In this example, prior to 1986, lots of high income earners were buying up real estate for the LOSSES.
Seems weird.  But as Robert Kiyosaki pounded into our heads on the Summit at Sea™, wealthy people have different problems than those still working to become wealthy.
Wealthy people have TAX problems.  And prior to 1986, real estate offered an attractive tax shelter which many high earners invested in.
But The Tax Reform Act of 1986 removed this valuable benefit, and in perhaps what should have been obvious fashion, those wealthy investors started to DUMP those no longer useful investments.
Of course, when you have a glut of sellers, the result is falling prices. 
Those who were proactive and got out EARLY fared far better than those who waited.  As we like to say, "Plan and Do is better than Wait and See."
But there's more to the story …
Because real estate is such a GREAT asset, lenders LOVE to loan against it.  It's true today, and it was true back then.
Now even if you're younger, you know what a bank and a credit union are.  But you may never have heard of a Savings and Loan.
An S&L felt just like a bank. 
You could use S&Ls to hold deposits, get loans, and they were backed up by the Federal Savings and Loan Insurance Corporation (FSLIC).  The FSLIC was to S&Ls what the FDIC is to banks today.
Prior to 1990, S&Ls were among the most popular places to get loans for real estate. 
But something happened which drove the FSLIC into insolvency (yes, that can happen) and sent S&Ls the way of the dodo bird.  Extinct. 
It was The Tax Reform Act of 1986.  And we're pretty sure that's NOT what Ronald Reagan had in mind when he signed it.
That's the way unintended consequences work.
We won't bore you with all the details because that's not the point of our comments.
The short of it is the S&Ls borrowed short to lend long against assets they thought had good price stability and liquidity. 
But the demand was largely driven by tax benefits and not by true underlying value. 
And when the tax code changed radically, so did the value-supporting demand of wealthy people seeking tax shelters.  No tax shelter, no demand.
In other words, the investments didn't make sense without the tax benefits.
So with a new tax plan on the table, it might be a really good time to take a deeper look at your portfolio. 
How dependent are you on the current tax benefits to make the investment make sense?
If the tax benefit goes away, could you (and would you want to) stay in the deal?  If not, is there a way to restructure it so you could?
How vulnerable are you to interest rate changes?  Right now, stable financing structures might make better sense because of an unstable economic climate.
We're not saying Trump's tax plan is good or bad.  We're not that smart. 
We only know it's radical.  And the last time radical tax reform actually happened, it had unintended consequences … which created both problems and opportunities, depending on how one was positioned and paying attention as events unfolded.
Personally, we think it's exciting.  Lots of change.  Lots of uncertainty.  Lots of opportunity to move boldly while others are hesitating.
It's why we study, why we network with smart people, why we watch the macro and micro events so carefully.
There's ALWAYS opportunity because there's always danger.  They go together … and it's your skill in navigating the changes that dictates which side YOU end up on.
Until next time … good investing!
---
More From The Real Estate Guys™…
The Real Estate Guys™ radio show and podcast provides real estate investing news, education, training and resources to help real estate investors succeed.
The world is full of alarming headlines which should concern any alert investor:
Pension Crisis Too Big for Markets to Ignore
The Federal Reserve Could Reduce Its Monstrous Balance Sheet Soon – That Should Terrify Everyone
The retail apocalypse has officially descended on America
We could have pulled up more, but you get the idea.  Scary stuff.
Of course, we're still on a high after our recent Summit at Sea™ with Robert Kiyosaki, Peter Schiff, G. Edward Griffin, Simon Black, Chris Martenson, and many other really smart people.
If you're familiar with any of these guys, you may wonder why we're still excited.  After all, these guys are notorious for decrying the many problems facing the global economy.
But their concerns are only half the story.
There's also lots of opportunities available … many of which are unique to real estate
So while it may be bad timing to buy an over-priced property hoping to flip it to the greater fool for fast cash, high-priced properties create opportunities too.
If you're the proud owner of a highly-appreciated property, you have the gift of equity.
Your equity can be repositioned from an over-priced market to a growth market through a cash-out refinance or 1031 tax-deferred exchange.
Consider this headline from the LA Times …
Leaving coastal California is a 'no-brainer' for some as housing costs rise
The article highlights a couple who are leaving Huntington Beach for Phoenix.
There's a lot of that going on right now.  People and businesses move around in order to survive and thrive.
The key is to get on the right side of the flow.
Of course, not everyone leaving high-priced areas will want or be able to buy.  And until they do, we'd love them to rent … from us!
So record-low home ownership rates might reflect weakness in the overall economy, but they actually create demand and opportunity for landlords in affordable markets.
There's ALWAYS an opportunity.
Now this isn't to say that all real estate anywhere is a good deal.  Or that maximum leverage on every property is the ideal portfolio structure.
But don't let the doom and gloom of mainstream news dissuade you from developing your real estate investing opportunities.
Real estate is not a fad.  As long as individuals are permitted to own properties, those who do will be wealthier than those who don't.
Real estate is real.  It's considered by the world's wealthy to be a safe haven asset.
So when bombs are dropping, financial markets are volatile, geopolitical tensions are high … capital seeks shelter in the dollar, Treasuries, gold and real estate.
But consider that the dollar is under attack by two very formidable forces … China and Russia. If they succeed, it could cause problems for the dollar.
Besides, the dollar is only a temporary hiding place for frightened capital.
What about U.S. Treasuries?
Debt denominated in the world's reserve currency, and backed by the world's biggest economy and military, tends to attract flight capital.  It's safer than other debt.
But the U.S. is also the world's largest debtor … with no apparent plan to stem the hemorrhaging of red ink.
And if anyone eventually creates a strong alternative to the dollar for global trade, especially in oil, then Treasuries could be in real trouble.
A weaker dollar means debt holders will want higher interest rates to compensate for the lost purchasing power.
Hopefully, that makes sense.  If not, think of it this way …
There was a time when you could buy 100 pieces of bubble gum for one dollar.  A penny a piece.
If you loaned someone a dollar, it's worth 100 pieces of gum.  But if the dollar loses purchasing power, it might only buy 50 pieces of gum … now two cents each.
If you thought that might happen, you'd need the borrower to pay you back two dollars just to be EVEN.  And you'd probably want a little more for your risk.
That extra dollar is "interest."  And when the currency is losing purchasing power, you need MORE interest to compensate.
Make sense?
The problem is if interest rates rise, bond values drop.  In the interest of time, we won't explain this now, but grab a calculator and play with numbers until you get it.
So rising interest rates mean a loss of principal for capital placed in bonds.
This makes bonds a scary place to park long-term capital for wealth preservation.
And with next to no yield, safety of principal is really the primary purpose of parking cash in bonds.  No wonder foreigners have been dumping Treasuries.
How about gold?
We like gold.  It's shiny.  There's no counter-party risk.  It's easily convertible into any currency.  It's been used as money for thousands of years.  It's survived the rise and fall of empires, currencies and cultures.
BUT … gold pays no yield.  It just sits there like a stack of cash.  And tax law can make it difficult to move in and out of.
Which brings us (finally) to real estate …
We're admittedly homers for real estate.  After all, we're The Real EstateGuys™.
Still, we think there's a LOT to like about real estate in uncertain times … like right now.
First, real estate is a tangible, physical asset.  Stock in a company that goes out of business isn't worth the paper the shares are printed on.
Real estate doesn't have counter-party risk.  If you park cash in real estate, no one else needs to do anything for the property to have value.  Your asset isn't someone else's liability … like an insurance contract, a bank deposit, or a bond.
Of course, if the tenant pays rent, the property becomes MORE valuable.
But what if the tenant doesn't pay?
With real estate, you can evict a non-paying tenant and replace them with one who does.  Try to do that with a bond.
If a bond issuer owes you money and fails to pay, you can't just replace them with someone who will.
The debt just goes bad … and you lose.
We could go on.  But you get the idea.
Real estate was valuable a thousand years ago, and it's probably going to be even more valuable a thousand years from now … especially as more people compete over less land.
So the question isn't really about real estate.  It's about how much YOU will own.
Until next time … good investing!
---
More From The Real Estate Guys™…
The Real Estate Guys™ radio show and podcast provides real estate investing news, education, training and resources to help real estate investors succeed.
We're back from what Robert Kiyosaki described as our BEST Summit at Sea™ so far.  It's hard to disagree.  And no, this isn't a pitch for the Summit.
In fact, alumni already grabbed about 40% of the available spots … before we even got off the ship!
While there's no way to describe the magic of the Summit, there are a few valuable ideas worthy of mention.
Developing social capital
New Summit faculty members Chris Martenson and Adam Taggart (The Crash Course and Peak Prosperity podcast) shared the importance of "social capital."
After a compelling presentation about the inevitable collision between exponential growth and finite resources (a fascinating topic!), Martenson and Taggart suggested your prospects for prospering will rely heavily on your network of relationships.
That's true whether a crisis strikes tomorrow or 100 years from now.
And it's not just knowing a large quantity of people … it's who those people are and how well you know them.
But even if a crisis NEVER hits, it's wise to invest in quality relationships.
Surprise faculty member, Ken McElroy often says, "If you want to change your life, change the people you hang around with."
This year, we had several young people take advantage of our Young Adult Program.  It allows a limited number of young adults ages 18-25 to get into the Summit for only $2,500.
More importantly, it gave these young people close personal access to many highly successful investors and thought leaders.
Our other surprise faculty member, Simon Black of SovereignMan.com joined Kiyosaki and McElroy for a one-hour private session with these young adults.
Simon said it was the most powerful experience in his four years of being a part of the Summit.
Going forward, we're dedicating up to 30 seats on next year's Summit to our Young Adult Program.
We believe investing in young people is one of the BEST investment we can make.  And we're thrilled our super-star faculty agrees!
But whether you're young or not-so-young, if you're interested in taking your education, business and investing to the next level, it's wise to put concerted effort into developing good relationships with great people.
Summit faculty member and legendary sales trainer Tom Hopkins (How to Master the Art of Selling) reminded us the key is being of service to others.
So it's not what you GET that matters most … it's what you GIVE.
That's easy to say, but often hard to do when our own urgent needs are clamoring for attention.
Tom says always remember, "Use money and serve people.  Don't use people and serve money."
A billion-dollar boo-boo
Consider the recent flap over United Airlines handling of an overbooked flight.
It's a case study in forgetting the MAIN thing.
Unless you've been off-planet for the last few days, you know a ticketed customer was forcibly removed … literally dragged … from a plane because the airline wanted his seat to reposition their own staff.
The details are all over the news, but the bottom line is the airline decided to "save" money by not raising the bid to buy people off the plane, or making other (presumably more expensive) arrangements to get their staff where they needed them.
In short, they served money and used people.  Oops.
Of course, the horrific decision and resulting disastrous PR resulted in a nearly BILLION dollar loss of market value.
And that's probably just the beginning of losses which will include customers, employees … plus money spent on public relations, training, and let's not forget … LEGAL.
It's shocking a mature business could be so short-sighted.
Relationships are the REAL asset
The beauty and danger of real estate is it's not traded in impersonal, highly automated exchanges.  It's a very PERSONAL business.
If you've got a good reputation and great relationships, real estate is actually pretty easy.
If your reputation is poor and your relationships are weak, you're almost always looking at leftovers.
But it's not just about deal flow … or even raising money.
Relationships provide access to ideas, perspectives, wisdom, encouragement, and inspiration.
Relationships change who you are, how you see yourself, what you reach for, and what you believe you can achieve.
We spoke on the Summit about Roger Bannister, the first human to run a mile in less than four minutes.
Until he did it, it was commonly believed it wasn't physically possible.
But once he did it, others soon followed … because he broke the mental barrier holding so many people back.
If this can be done in the world of athletics, where a certain level of physical skill is required … imagine what can be done in a less demanding arena like real estate investing.
During the course of the Summit, we heard from investors who started with next to nothing … and grew portfolios of THOUSANDS of rental units in just a few years.
Until you're around them, it SEEMS impossible.  But when you meet them and hear their stories, it opens your mind to the possibilities.  It EXPANDS your dreams and beliefs.
An epic experience
There were so many GREAT sessions including Peter Schiff on navigating the Trump economy, G. Edward Griffin on how the Fed affects everyone, Fannie Mae's chief economist Doug Duncan on the state of the U.S. economy and housing … and MANY more.
We had nearly 25 faculty members … our biggest ever!
Perhaps one of the best parts of the Summit were the eight expert panels featuring some of the biggest brains on banking, precious metals, marketing, real estate niches, the next crash, and more.
In the information age, panels are really powerful.
It's one thing to HEAR a great mind share big ideas.  But you can do that online.
It takes you to a whole new level when you watch several great minds DISCUSS big ideas. And to be a part of the conversation yourself?  Priceless!
With limited space on each year's Summit, we realize it's not possible for everyone to be there.  Hopefully someday, YOU can join us!
But in the meantime, we encourage you to seek out the smartest, most accomplished people you can … and find a way to get into high quality, win-win relationships.
They'll expand your thinking, show you possibilities you didn't know existed, open doors and make introductions to people and places you might otherwise take months or years to get to.
There's nothing we know of that can help you accelerate your success faster than smart investments in building social capital.
Until next time … good investing!
---
More From The Real Estate Guys™…
The Real Estate Guys™ radio show and podcast provides real estate investing news, education, training and resources to help real estate investors succeed.

Robert Kiyosaki was with us in 2018 for his 5th Investor Summit at Sea™
Is Robert Kiyosaki coming back in 2019???
We invited him!  Now we're just waiting for the answer … but rumor has it he wants to!
Why would the best-selling personal finance author in the history of the world spend several days on a cruise ship with a couple of radio talk show hosts and 200 of our closest friends?
(Hint:  It's not the money.  We can't afford to pay him what he's worth, so we don't)
In his own words…

The Real Estate Guys™

17th Annual Investor Summit at Sea™ has sailed!
Click on the links below for more information …
Get on the Advance Notice List for the next one!
June 11 – 20, 2020

People LOVE the Summit …

We get it…
When WE brag about the Summit, it's just a sales pitch.  Fair enough.
But after 15 straight years of taking surveys and getting RAVE reviews – and even more importantly, having a HUGE percentage of repeat registrations, we're pretty confident the Summit ROCKS!
But we'll shut up about it (for now) and let our Summiteers share their thoughts on why the Investor Summit at Sea is SO AMAZING …
Of course, Robert Kiyosaki isn't the only best-selling author and investing expert that's a MULTI-TIME Summit faculty member.  The list is long and distinguished, including Peter Schiff, Tom Hopkins, G. Edward Griffin, and Chris Martenson.
Each year, we record at least one episode of The Real Estate Guys™ radio show while we're on the ship.  Last time, we had SO many faculty members, we recorded TWO full shows with our all-star faculty's reflections on our epic adventure together.
As you'll hear, none of our faculty are hired guns.  They all LOVE the Summit and give GENEROUSLY of the time and wisdom … and that's why so many come back year after year after year.
And it's not just the faculty who LOVE the Summit and come back year after year …
Check out these comments on the surveys from our previous Summits:
"I went on this program and I highly recommend it." – Robert Kiyosaki, best selling author Rich Dad Poor Dad and multi-time Summiteer
"The Summit at Sea was the most rewarding experience I have had in years, both professionally and personally.  I cannot thank you enough …" – Dana Samuelson, President of American Gold Exchange, Summit at Sea faculty member
"I want to thank you and the team for the 2019 Summit at Sea. Amazing 9 days … I suspect I will never be the same person ever again" – Loe H., Texas, USA
"Great!  Totally satisfied and delighted.  Thanks!  We're grateful and appreciative!" – Nick F.,  Nevada, USA
"The learning didn't stop with the lectures, but continued during the breaks and dinner.  You've really created a great environment for transformation! Thank you!" – Ryan N., West Virginia, USA
"The Summit at Sea was a life changing event.  I am still in awe of the entire trip.  Next year we will be bringing friends!" – Bill P.,  South Dakota, USA
"In my 39 years as a real estate investor, this was truly the best seminar experience I have ever had.  I will be returning." – Craig H.,  Oregon, USA
"On a scale of 1-10, this experience rates a 14!" – David S.,  Panama
"Over-delivered.  A class act top to bottom.  Loved the content and interaction." – Daniel S., West Virginia, USA
"Everyone is awesome!  Great time, useful info and new friends!" – Amy F.,  Nevada, USA
"Outstanding educational and social event.  Brilliantly organized!  The spirit and atmosphere are awesome." – Carl and Paula B.,  Llantwit Major, Wales
"We really enjoyed it.  Very impressed with the organization and faculty.  Can't wait to be back next year!" – John K.,  California, USA
"You guys pulled it off again!  Thank you!" – Mike M., California, USA
"Awesome!" – Norma Y., Fort Myers, Florida, USA
"I just followed my husband and came for a vacation.  However, I ended up attending the sessions and learned so many things and met wonderful people!  Attending made me understand how important it is to be on the page with my partner. Thank you so much!" – Hiromi W., Hiroshima, Japan
"Unforgettable!  Made amazing friendships. I came not really knowing what to expect. I am leaving with a purpose to educate myself and surround myself with like minded people.' – Wanda S., Alberta, Canada
"Great people with a lot of knowledge attended the Summit. It is priceless!" – Andrey S., Illinois, USA
"VERY stimulating conversations and sessions. VERY!" – Mike M., California, USA
"Thanks for everything you do.  This event is different than anything else we attend during the year and is something we look forward to.  This Summit was part of a larger transformation for me." – Rob S., California, USA
"This was my 3rd year and as always, I learned so much. met great people and caught up with alumni friends.  All the new stuff was awesome and I will be back next year!  Always worth the time and money!" – Leslye S., California, USA
"This was one of the best investor summits I have ever attended.  The quality of the presenters and participants cannot be matched." – James S.,  Alberta, Canada
"Thank you for a terrific week. I learned a lot and plan to pass it on!" – Brent S.,  Alberta, Canada
"Thank you for creating this extraordinary experience!" – David C.,  California, USA
"Transformational! Great to meet so many from outside the U.S." – Chad M.,  Missouri, USA
"I'd pay $50,000 for this…it's too cheap!" – Robert L.,  Colorado, USA
"I met such inspiring people who I know I will be friends with for a long time." – Trinity D., Australia
"Great event. THANK YOU!!!" – Randy H., Washington, USA
"Thank you for all you did for us during the Investor Summit at Sea.  I learned very much.  We had a blast!" – Frank Q., California, USA
"Exceeded expections! Wow." – Paula B., Wales
"It was awesome!" – Gary P., Connecticut, USA
"Amazing job!  Many, many thanks for a great week!" – Sandy C., Texas, USA
"My expectations were high.  The event exceeded them!" – John Z., Oklahoma, USA

"Exceeded expectations!  The Summits are getting better and more professional." – Greg B., Papua New Guinea
"Over-achieved in many ways: great ports and field trip, access to advisors, eye-opening conversations with advisors, allowing our children to join some of the sessions was priceless." – Rob and Leslye S., California, USA
"It was a great trip. I enjoyed it all. Great networking and materials." – Lisa L.,  Arizona, USA
"Life changing!!!!  Thanks and see you next year!" – Nick A.,  California, USA
"Amazing value!" – Mike M., California, USA
"Favorite speaker was Ken McElroy – visionary information. WOW!" – Markus M.,  Michigan, USA
"Great experience. Highly recommend to others." – Dr. Brent M., Oregon, USA
"Superb experience as usual!  All was great!" – Dr. Greg O., Indianapolis, USA
"I learned something from every speaker. Wonderful family atmosphere!" – Maree B., Papua New Guinea
"Outstanding educational experience!  The opportunity to spend a week with Kenny, Robert and the rest of the team and their families is fantastic!" – Joe S., Pennsylvania, USA
"It opened up new possibilities for me. Lots of great information from everyone." – Bob G.,  California, USA
"Exceeded expectations!  My favorites sessions were on exchanging because it was life changing, and on due diligence for pure wisdom." – Christopher P., California, USA
"Most important concept I learned is that good things can happen when you get out of your comfort zone." – Sandy C., Texas, USA
"The people lost the most money were those who 'saved' the price of admission by not coming.  Outstanding job!" – Rob K., New Jersey, USA
And there's a LOT more where those came from.  But you get the idea.
And now you may be wondering …
How much does the Summit cost?
If you attend … or if you don't?
Consider the value of just ONE great idea, opportunity, or strategic relationship!
Of course, there's no guarantee you'll personally profit from your Summit experience.  But we're pretty sure none of the smart, high-powered people on the next Summit will be headed to your house anytime soon.
Put yourself in a position to find that next great idea or relationship…
The Summit is the ULTIMATE investing education and networking event.  And it ALWAYS sells out.
We've been at this for fifteen years.  No one has EVER walked away saying the Summit wasn't totally worth the time and expense.  In fact, over 75% of the people on last year's Summit re-registered… without having any idea who was coming or where we were going.
Yeah.  It's THAT awesome.
Remember … just ONE great idea or relationship can make all the time and expense totally worth it.
Our 17th Annual Investor Summit at Sea™ has sailed!
Get on the Advance Notice List for the next one!
June 11 – 20, 2020

---
---
Once a year our producers let us out of the studio to hang out on a cruise ship with an enthusiastic contingent of listeners…and some of the biggest brains in investing and economics.  And we always have a GREAT time!
Our tradition is to record a radio show in front of a live studio audience and ask many of our faculty members to share their reflections on the week.
We're always humbled and honored that so many incredibly successful people donate over a week of their very busy lives to inspire and educate our fun-loving collection of investors from all over the globe.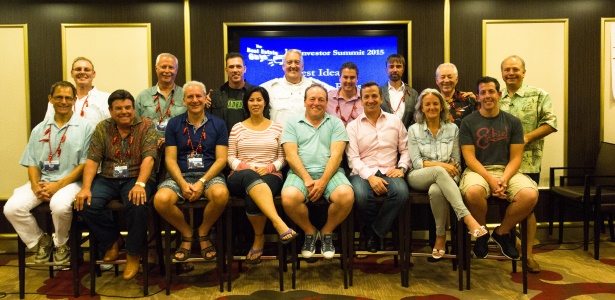 Behind the microphones from a luxurious cruise ship somewhere in the Caribbean Ocean:
Your captain of conversation, host Robert Helms
His first mate, co-host Russell Gray
The founders of Rich Dad, best-selling authors and avid investors, Robert & Kim Kiyosaki
The inspirational and legendary master of salesmanship, Tom Hopkins
World class real estate investor and best-selling author, Ken McElroy
Financial pundit, best-selling author and multi-million dollar fund manager, Peter Schiff
International real estate developer, Beth Clifford
Social entrepreneurs and Rich Dad Advisors, Josh and Lisa Lannon
International entrepreneur, David Sewell
Asset protection and estate planning attorney, Jeffrey Verdon
Financial strategist Patrick Donohoe
Oil and gas investing expert, Paul Mauceli
Private placement attorney and asset protection strategist, Mauricio Rauld
Strategic metal investing expert, Knut Andersen
The Godfather of Real Estate, Bob Helms
Whenever we have a chance to to get around uber successful investors and entrepreneurs, we notice an interesting and encouraging paradox…
First, they're not really bigger than life.
Even though they are doing amazing things…that many of us only dream about…they're just people…like everyone else.
In fact, if you didn't know they were so accomplished in their respective fields, you probably wouldn't even realize they're special.
So it isn't something inherently superior about these people that makes them successful.  In other words, if THEY can do it…you can too!
THAT'S encouraging.
Next, they tend to be curious, respectful and genuine.  They aren't at all the greedy, egotistical, deceptive manipulators TV and movies portray as the stereo-typical ruthless rich person.
That's inspiring.  You can be rich… and still be a decent human being.
So once you're no longer afraid of becoming rich…and yes, MANY people are subconsciously afraid of success…perhaps because of the negative brainwashing about what successful people are and aren't…
The next thing to do is learn and adopt the attitudes and activities which successful use to achieve above and beyond the average person.
So how do you learn to think like a multi-millionaire?
We think one of the best ways is to invest as much time as you can in listening to, talking with, watching and working with as many high achievers as you possibly can.
Everything The Real Estate Guys do is about creating those opportunities for our listeners…whether it's the broadcasts,  our recommended reading or any of the many live events we wither produce or promote.
In this episode, you get to hear how these high achieving faculty members process the Summit at Sea experience.
But listen carefully…because often the best lessons are subtly woven in to what often sound like casual off-hand comments.
Remember, the difference between where you are today and where you want to be in 10 years are the thoughts you think, people you meet and the actions you take.
But it all starts with your thoughts.  So be sure you invest some time every day putting good ideas into your mind.
To secure YOUR place on the next amazing Summit at Sea…click here now.
Listen Now: 
The Real Estate Guys™ radio show and podcast provides real estate investing news, education, training and resources that help real estate investors succeed.