We're taking a break from our relentless preparation for the upcoming Future of Money and Wealth conference to focus on one our favorite subjects …
Equity.
According to a recent report by CoreLogic, last year's increase in America's home equity wealth was the largest in four years.
In 2017, the national CoreLogic Home Price Index rose by more than six percent, the largest annual increase since 2013.
We call this "passive equity" because the market just handed it to homeowners simply for buying and holding their property over that time.
Good job.
Of course, national averages are interesting, but not useful for practical investing.  Real estate is local right down to the neighborhood and property … and no two are exactly the same.
Think of it this way …
If you have one foot in a bucket of snow at 20 degrees and another in a bucket of 170 degree steaming hot water, on average you're enjoying a nice soak in a warm bath …
… but in the real world, you're scalding one foot while you get frostbite on the other.  National averages have limited utility.
Fortunately, CoreLogic provides a nifty color-coded map which compares equity growth at the state level: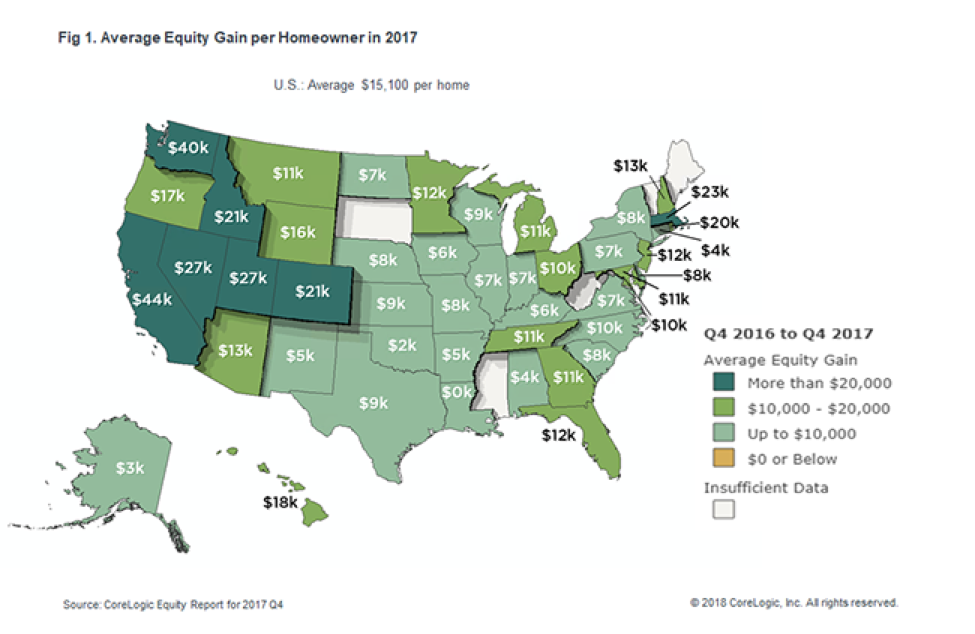 Unsurprisingly, coastal states with strong technology business … California and Washington … lead the pack for equity growth.
But we're guessing closer analysis would show equity rich markets are expensive relative to rents, so income investors can't just go to dark green and buy.
So how's an investor to use this kind of data?
Here are some ideas for your consideration …
First, you can do a deeper dive into the states with strong equity growth, and look for common factors.  Right away, we saw coastal and tech.
But that's just a start.
Look at supply and demand, nominal and real incomes, job growth, population growth, and migration patterns.
Then talk to street level people who live and work in those markets.  Find out what they're seeing right now.
Once you have your mind around what makes equity happen in one market, you can look for similar conditions in other "emerging" markets.
Then (hopefully) you can make your move and get in early … while the rent ratios still make sense … and ride a wave up.
Of course, if you're a typical busy person with a small portfolio, that's a lot of work relative to the size of the investment … especially if you plan to travel to check out markets, build teams, and inspect properties.
Plus, you might not even like doing all that, even if you had the time and a big enough portfolio to justify it.
That's why we're HUGE fans of syndication.
Syndication is where a syndicator aggregates funds from a group of investors through a private placement, and then does all the busy work of running the deal … for a fee and a piece of the action.
As long as there's enough profit in the deals to split equitably, it's a win-win.
The "passive" investors win because they gain access to opportunities they wouldn't otherwise have.  They effectively leverage the effort, expertise, and relationships of the syndicator.
The syndicator wins because the passive investors' capital facilitates economies of scale and access to bigger deals the syndicator might not have on his own.
And for both parties, two major sources of investable capital are paper assets in brokerage and retirement accounts, and equity in existing properties that can be re-positioned.
For example, real estate equity in an "appreciated" state might be accessed through a cash-out mortgage for about 5 percent interest at today's rates.
The loan proceeds can be used to acquire property in an "emerging growth" state that cash-flows at maybe 10 percent cash-on-cash.
The property-owner gets a positive spread on the equity, picks up some valuable tax-breaks, and has additional "top-line" real estate income streams which can grow over time.  Same equity, but more future opportunity.
As for stock market equity …
If history is any indicator, the recent turmoil in the paper asset markets is likely to create even more interest in real estate.
That's because speculating on asset prices, whether it's stocks or crypto-currencies, is a lot of fun when they're spiking.
But when the tide turns on speculation … and it always does … real estate's reputation as a reliable wealth builder is once again revealed and appreciated.
In fact, the CoreLogic article affirms the stability of real estate:
"… since 1970 home-equity wealth has been one-third less variable than corporate equity values …" 
And another recently released report from The National Bureau of Economic Research, The Rate of Return of Everything, 1870-2015, says …
"… returns in housing markets tend to be smoother than those in stock markets …"
"… housing has been as a good a long-run investment as equities, and possibly better."
"… equities do not outperform housing in simple risk-adjusted terms."
 "Housing provides a higher return per unit of risk …" 
"… housing returns … are more stable … housing portfolios have had comparable real returns to … equity portfolios, but with only half the volatility."
The report concludes (remember, to them, "equity" means stocks) …
"… the most surprising result of our study is that long term returns on housing and equity look remarkably similar.  Yet while returns are comparable, residential real estate is less volatile …" 
"Returns are comparable", BUT… they didn't include leverage …
"… the estimates … constitute only un-levered housing returns …"
When you add in 4:1 leverage (25 percent down), you take a 6 percent real estate equity growth rate to 24 percent!
Of course, we're probably preaching to the choir.  But think about this …
Maybe YOU already know real estate is a powerful, predictable, and demonstrably more stable wealth-building vehicle than stocks over the long haul.
But paper asset investors have been riding an easy money wave up to record-levels … and now stock markets are starting to get REALLY jittery.
What once was a fun ride is now becoming scary.  And  if you're a syndicator, this is MUSIC to your ears.
That's because paper asset investors are probably looking at their brokerage accounts and retirement plans, and are growing much more open to getting involved in real estate when it's presented properly.
And if you're a Main Street real estate investor limited by only your own funds, maybe it's time to consider leveraging your skills to get in on the syndication action.
We think syndication is arguably the best opportunity in real estate today.
We realize there are some people who think real estate might slow down because of rising interest rates. But history disagrees.
Rising rates just makes it hard for home buyers.  And when it's harder to buy, more people rent for longer, which is good for landlords.
Look what happened when the mortgage markets imploded in 2008 …
… no one could get a mortgage, millions had to rent, and even though there was a financial crisis … rents went up and up and up.
So all this stock market volatility is actually a gift to real estate investors.
Until next time … good investing!
---
More From The Real Estate Guys™…
The Real Estate Guys™ radio show and podcast provides real estate investing news, education, training, and resources to help real estate investors succeed.
It's been said the only thing certain in life is death and taxes.
Of course, properly structured and well-advised real estate investors can usually mitigate most of their taxes. 
Meanwhile, before people die, they live.  Along the way, they get older.  And as people age, their needs change …
… and because entrepreneurship is about serving needs, it's a safe bet there's some opportunity in meeting the needs of aging people.
In a recent radio show, we talked about investing in undeniable demographics … specifically, the baby boomers … who are moving into retirement and beyond.
A few days later, this headline popped up in our news feed:
More Growth Ahead in Seniors Housing – NREI August 16, 2017
"… research shows continued confidence in improving fundamentals …"
 Of course, if you've been following The Real Estate Guys™ for any time, you know senior housing in general … and residential assisted living in particular … is a niche we REALLY like.
The article affirms our belief that …
" Demographics continue to be a big driver for development."
" 'As active as the market is with the product that we have today, we are looking at the tip of the iceberg in terms of boomers hitting retirement age,' says Scott Stewart, a managing partner at Capitol Seniors Housing, a private equity-backed real estate acquisition, development and investment management firm based in Washington, D.C."
'The fast-paced growth of that population in that sector is going to make today's discussion of overbuilding obsolete, because there just aren't enough places for everybody today,' " he says."
 The article is addressing … diffusing … concerns about over-building in the niche …
" Demand mops up new supply."
"Despite the new supply coming online, respondents remain confident in improving fundamentals. A majority of respondents (78 percent) anticipate that rents will rise over the next 12 months …"
Other notable comments include …
"When asked to rate the strength of market fundamentals by region, the South/Southeast/Southwest rated the highest."
"When comparing with other property types, respondents continue to rate seniors housing as a highly attractive property type. Its scores topped that of the five major property types on a scale of one to 10."
Okay, so it's probably clear there's some real opportunity here. 
But if you're a Mom-and-Pop investor, does it make sense to jump into a niche that's attracting big players … or are you just cruising for a bruising?
No … and YES!
When you invest in housing for seniors it's critical to understand the difference between a high-density community and a residential facility …
… and not just from the investor's perspective, but from the resident's perspectve.
Let's start with the resident …
 There are some seniors … probably MOST … and their children (the decision makers in many cases) who'd rather see Mom or Dad live in a real home …
… in a tree-lined residential neighborhood, with a backyard, and neighbors … where residents don't feel like inmates in an institution.
Please understand … we're not slamming the great people or services provided in bigger facilities. 
We're just saying from a senior's perspective, having a room in a home in a regular neighborhood FEELS a lot different than living in a room at a campus for old people.
But for a BIG investor, those individual homes are a logistical problem. 
To move BIG money, you need economies of scale and the ability to buy or build a lot of inventory at one time.
It's the same problem Warren Buffet alluded to when he told CNBC …
"I'd buy up a 'couple of hundred thousand" single-family homes if I could."
The challenge, as noted in this Forbes article about Buffet's statement, is …
"… the cost and logistics of making such an investment in large enough size to move the needle for Berkshire Hathaway is prohibitive."
The point is big money can't play well at the single-family residential (SFR) level …
… even if the SFR's are being converted into highly-profitable residential assisted living facilities.
But YOU can.  And that's why we like them.  Think about it … 
The supply and demand fundamentals are solid. 
The priority for expenditure is near the top of the list for any family.  Taking care of Mom or Dad is far from a discretionary purchase …
… so as an investor, being that far up your tenant's payment priority ladder is a much safer place to be in uncertain economic times.
Plus, much of the money to pay you comes from insurance, government, and the senior's estate.  In other words, you're very likely to get paid … even in a weak jobs and weak wages economy.
Also, you don't have to compete with big money investors, even though they clearly see the opportunity and are moving into the space. 
That's because the barrier to entry for the big money isn't how MUCH money is needed … it's how LITTLE is needed.
Meanwhile, the customers would rather live in YOUR product than big money's product.  So while big money is adding to supply, they're not really in your niche.
This is a BEAUTIFUL thing.
But it gets better …
Residential assisted living homes can't be mass produced.  They need to be built or converted one at a time.  There's very little threat of a big player glutting the market.
And taking lessons learned from watching hedge funds move into the SFR space … big money was only able to acquire tens of thousands of SFRs because huge blocks of inventory were available temporarily through mass foreclosures. 
We don't think there'll be mass foreclosures in residential assisted living facilities.  They're way too profitable.
But because this kind of senior housing is in high demand and highly profitable, at some point big money will start assembling them …
… buying up groups of homes from multi-facility operators … and then buying up nearby individual facilities which can strategically integrate into existing operations.
It's called consolidation … and when it comes, big money will bid up existing operations (creating equity for those already there) …
… because they can recover the "over-payment" through operational efficiencies and financial leverage.
Between now and then, for the street level investor, the big opportunity is to be part of building the inventory by converting homes into residential assisted living facilities …
… cash-flowing along the way … then one day cashing out to big money players. 
And if those big money players never show up … just keep on cash-flowing while providing a much needed service to the community.
Until next time … good investing!
---
 More From The Real Estate Guys™…
The Real Estate Guys™ radio show and podcast provides real estate investing news, education, training and resources to help real estate investors succeed.
One of the age-old adages of real estate investing is to invest in the path of progress.  Or as hockey legend Wayne Gretzky says … skate to where the puck is going. 
It's just a lot easier when you're riding a wave of demand … especially if you can find a substantial supply and demand imbalance. 
That's why land near water is so expensive.  People want it and there's just not that much of it. 
Similarly, homes inside top school districts often command higher prices and rents for the same reason. Ditto for a local market with a lot of jobs. 
But sometimes it's not just a geographic amenity that attracts people, businesses and money. 
Consider the role of demographics … 
There are two mega-groups of people … at least in the United States … which warrant your attention.  You've probably heard of them … and likely belong to one.  
First are the baby-boomers.  The 76 million babies born in the mid-1940's to the mid-1960's continue to be a MAJOR economic force. 
Even BIGGER than the boomers are the Millennials … those born in or after the 80's and entered adulthood in the first decade of the 21st century. 
From a real estate perspective, boomers have created opportunities in over-55 housing communities, assisted living facilities, resort areas … to name a few. 
Millennials are also impacting real estate … but not because of housing demand.  At least not yet, though a recent study suggests this could be changing. 
Sure, there are other groups and sub-groups to watch, but these are the two main demographics to pay attention to. 
Of course, economics is also a very important factor … 
But stepping beyond the obvious importance of job creation, real wage growth, availability of loans, and interest rates … 
… there's another economic phenomenon occurring now which may create a unique kind of opportunity for ambitious and alert real estate investors …  
Pension funds are in big trouble … 
So much so, this article says … 
"Institutional investors, including pension funds, are stepping outside of the box, beyond core asset types of office, industrial, retail and apartments, to consider a growing menu of alternative real estate options." 
" … property types that were once viewed as 'alternative' that are now moving more into the mainstream as accepted institutional caliber assets." 
And what might those "alternative investments" be? 
"…self-storage, student housing and resorts …" 
"Hospitality, seniors housing and student housing are among the former outliers that are now big targets for institutional investors." 
"… investors are continuing to push the boundaries of 'traditional' investments to include a wide range of options, including single-family rentals, data centers, workforce housing, land, timber, golf courses and prisons …" 
And not only are pension funds moving toward "alternative real estate options" … they're planning to cut out Wall Street and invest directly. 
So where's this puck headed? 
Somewhere between mom-and-pop investors and big institutional investors are small and mid-size investment businesses. 
It's what a mom-and-pop investor might eventually become if they just keep at it long enough.  Like playing Monopoly. 
But until you're there, no pension fund is coming for your collection of 10 houses, small apartment building, frat-house, or single residential assisted living facility.  
You're too small for them. 
BUT … someone who sees the opportunity to aggregate a portfolio big enough to bring it to a pension fund might be very interested.  
Of course, if you sell, you lose all that fabulous passive income you've built up.  That's not good. 
Or maybe YOU could raise money from investors who see the opportunity, and be the small business or mid-size business a pension fund would like to buy. 
Conceptually, it's just a value-add play.  
But instead of just buying a tired house and sprucing it up to make a few thousand bucks, you're building a much bigger portfolio (with the help of your investors' money) and flipping it to a whale. 
It's the same game, but at a much higher level.  And ironically, it's a lot LESS crowded because most people don't think that big. 
When you're done, you take your profits and plow them into your own, privately owned, cash-flowing portfolio.  Best of all you don't lose whatever you already have … you ADD to it. 
Of course, the opportunity won't be here forever … but it's also not going away any time soon.  The pension crisis in America has just begun.  
And we're pretty sure if history's any indication, politicians aren't going to solve the problem.  That's up to entrepreneurs … like you. 
Until next time … good investing! 
---
 More From The Real Estate Guys™…
The Real Estate Guys™ radio show and podcast provides real estate investing news, education, training and resources to help real estate investors succeed.
The AP reports that gold hit an all time high of $1,118 per ounce today. Do you understand why?  Do you REALLY understand?  And what does gold have to do with real estate (besides that you dig gold out of the ground)?
Great questions!
Gold's rise is a prime refection of a falling dollar.  Why?  Because when the dollar "falls", it takes more dollars to buy anything that's real.  It's called inflation.  Supply and demand play a factor, so just because the dollar falls, doesn't mean that gold is going to respond immediately and proportionately.  But in general terms, a falling dollar means inflation of things that are real.  Things like gold, oil and real estate.  Typically, gold really takes off when people are nervous about the dollar.  So take that for what it's worth.
The Real Estate Guys don't claim to be experts at gold, but it's something we're very interested in.  We watch the demand for gold, oil and treasuries because they give us insight into where cash is moving.  When cash moves into real estate or mortgages, then it helps push real estate values up and equity happens.  Do you see the connection?
Russ just got back from the Rich Dad Art of a Deal conference with Robert Kiyosaki. Rich Dad Gold Advisor Mike Maloney was there and we invited him to be on The Real Estate Guys show.  We figure it he's smart enough for Mr. Kiyosaki, we're interested in talking to him.  We want to pick his brains on your behalf and find out what he thinks about the movement of cash and its effect on real estate.  Sound interesting?  Then stay tuned to The Real Estate Guys!  To make sure you don't miss an episode, subscribe to our free podcast.  And while you're at it, sign up for the newsletter – and tell a friend.  When you help us grow the audience, we are able to continue to bring you quality guests and programming.  Thanks!
Want More?  Sign Up for The Real Estate Guys Free Newsletter!