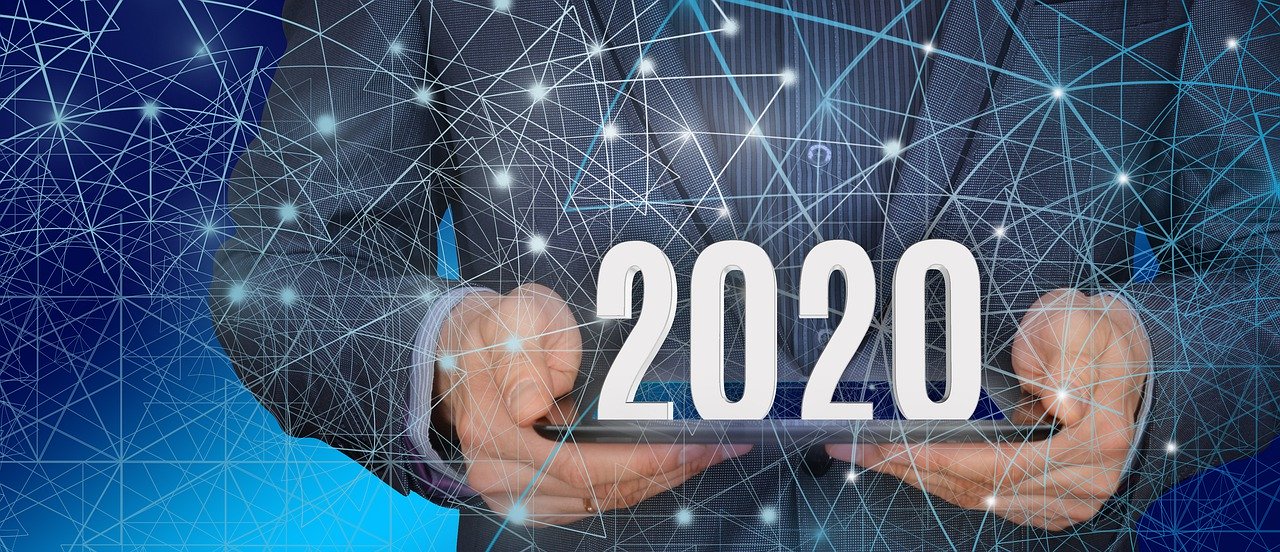 Well, hello … 2020! 
It's a new year and a new decade … and it's a TERRIFIC time to talk about the top trends in real estate investing. 
Many factors are affecting the path real estate is heading down this year … demographics, economics, technology, politics, energy, and interest rates. 
So sit back and take note … these are the top trends in real estate in 2020. 
In this episode of The Real Estate Guys™ show, hear from:
Your trending host,

Robert Helms
His trendy co-host, Russell Gray
---
Listen
---
Subscribe
Broadcasting since 1997 with over 300 episodes on iTunes!
---
Review
When you give us a positive review on iTunes you help us continue to bring you high caliber guests and attract new listeners. It's easy and takes just a minute! (Don't know how? Follow these instructions).
Thanks!
---
Trends in single family homes
Today we're going to focus on some of the top trends that experts are predicting for 2020 in real estate. 
Real estate markets are diverse and always changing. On the demand side, the way that people interact and use real estate is essentially the same … but nuances change and create opportunities for investors. 
On the supply side … we have whatever we have built at this moment and the plans that developers and builders have to put more inventory into the ground. 
When it comes to real estate, you're always looking at supply and demand and the flow of people and money. 
Let's start with Realtor.com and its housing market predictions for 2020. Remember that these predictions have to do with single family homes. 
The National Association of Realtors is calling a 4.8 percent growth in home prices and a 1.8 percent decrease in existing home sales. 
That's a modest growth in price and less sales for a variety of reasons. 
If we stopped right there, you might say that it doesn't sound like a great real estate market to be in … BUT we're not stopping there. 
To us, these predictions mean that most of the opportunities are going to come in niches .. and we'll dive into that later. 
But keeping with the big picture, nobody is predicting a huge rise in interest rates … they'll probably stay consistent. And overall, mortgage rates will remain low. 
That's good for a couple of reasons. 
Obviously, to acquire property with leverage, you'd like to see a low interest rate. And if you already have a property with higher interest rates, your properties have better profiles today. 
The National Association of Realtors (NAR) also ranks markets that they see as having a potential increase in growth … both in sales and in price. 
The number one market that they chose only has 0.3 percent growth in sales projected … but 8.1 percent projected in price growth. 
That market is Boise, Idaho. 
Other markets that made the top 10 include Tucson, Arizona; Columbia, South Carolina; Colorado Springs, Colorado; and Memphis, Tennessee. 
Along with growing markets, the NAR predicts which markets will decline in both sales prices and number of sales. 
Those markets include Chicago, Dallas, Las Vegas, Miami, and San Francisco. 
The NAR said that the offset of the decrease in demand in some areas is that there will be new housing starts. 
In fact, according to Fannie Mae's economic and strategic research group, new home starts will jump from a 1 percent increase in 2019 to nearly 10 percent in 2020. 
Niches that make sense
One trend that we have been talking about for some time is senior housing. 
The demographics are undeniable … look at how powerful the baby boomer generation is moving through all phases of their economic life … and now they're entering their senior season. 
Anything related to seniors is going to probably be pretty solid for the next couple of decades. 
You hit a season of life where you need some special assistance and accommodations. 
There are lots of places to play … from the 55 and older communities to assisted living and residential assisted living to skilled nursing and memory care facilities. 
There is demand here that will be exceeding supply … and you don't have to be a rocket scientist to recognize the signs. 
The next niche has some overlap when it comes to seniors … and that's multifamily.
Multifamily has been huge in terms of demand for many years, and that's been both good and bad … the bad part is that we've had a lot of money chasing a particular set of increasing assets. 
There has been a demand for multifamily on the tenant side and on the investor side … and on the investor side, the demand has meant a decrease in return. 
For 2020, we anticipate growth to be in the niches within multifamily .. like 55 and over apartment campuses or millennials looking for micro apartments. 
Micro apartments are small apartments that cater to younger tenants … usually fairly affordable … in city centers with unique amenities like shared workspaces. 
Another great trend … and one of our favorite niches … is resort property. 
This is a wide niche … but we tend to like the higher end as opposed to spring break on the cheap. 
It's hard to go out and buy a 400 room hotel … but there are other ways that people are investing in resort properties. 
Some will allow you to own an individual unit that operates as part of a big resort or a hotel. There's also the segment of vacation rentals in condos or single family homes. 
Not your cup of tea? Maybe take a look at agriculture instead. 
There are so many opportunities to come alongside successful operators in this space and invest offshore. 
The great thing about agriculture is that the underlying industry is probably not going anywhere … every human and animal needs to eat. 
The population is growing … and we are going to need more food. 
Take care with trends
Looking for real estate investment trends can reveal great opportunities. 
The only caveat … and this is true of any property that is use or trend specific … is that if that trend or use changes, it can be hard to repurpose. 
Anytime you are investing in a trend, you want to make sure it's a trend that has some longevity to it. 
And remember that anytime a niche gets hot … it gets CROWDED. So, the earlier you adopt it, the better. 
For on 2020 real estate trends … listen in to the full episode!
More From The Real Estate Guys™…
The Real Estate Guys™ radio show and podcast provides real estate investing news, education, training, and resources to help real estate investors succeed.
---
Love the show?  Tell the world!  When you promote the show, you help us attract more great guests for 

your

 listening pleasure!
Even if you're a die-hard cash flow investor … more intent on collecting properties than flipping them … it's still important to pay attention to market cycles.
After all, though you might not plan to "sell high", it's sure nice to "buy low".
Besides, "buy and hold" doesn't mean you're not harvesting equity when conditions are ripe … which is usually closer to a cycle top.
So, what is a "cycle"? Why do cycles happen? And what do they look like?
Maybe obviously, cycles are the ups and downs of prices or economic activity. And they always seem so obvious when charted after the fact.
Of course, cycles are hard to see when you're buried in the weeds of the here and now. That's why it's smart to listen to seasoned investors.
Economic cycles … those sometimes severe and shocking ups and downs … happen for a complex variety of reasons … but are rooted in a fundamental pattern of action and over-reaction.
Think of it like a car fishtailing on an icy road …
It starts with a sudden acceleration or braking. Then a cascade of exaggerated actions and reactions take place … with lags in between … as both driver and vehicle strive to find an equilibrium and get back in sync.
Skilled and experienced drivers keep their emotions in check …
… calmly making proven moderate adjustments to quickly regain control and get the vehicle pointed safely in the right direction.
Of course, that's just one car and one driver.
In a professional race, it's a cohort of highly skilled drivers. In your daily commute, it's a diverse collection of amateurs.
In financial markets, there's an eclectic mob of professional investors, politicians, bankers, business executives, and upper-middle-class workers …
… all subject to greed, fear, and ego.
It's amazing there aren't bigger market wrecks more often.
The tell-tale sign of a cycle top is when everyone has piled in … and the prevailing belief is the good times will never end. But then they do.
Professionals recognize this and get out of the way and wait.
There's an old investing adage attributed to some fellow named Rothschild …
"The time to buy is when there's blood in the streets."
Hmmm. Makes you wonder how much money you'd make if you could find a way to trigger such a bloodletting? But that's a discussion for another day …
For mere mortals like us, it's simply a matter of watching events unfold … and getting in position to move in when others are moving out.
Of course, you don't want to "catch a falling knife" … another investing adage which refers to buying a failing investment.
So just because everyone's selling doesn't necessarily mean you should be buying. Sometimes there's a reason an asset goes "no bid".
Cheap doesn't mean bargain. There's no guarantee that something cheap won't go to zero.
Of course, with tangible assets like real estate, the "zero" scenario is less likely.
Still … when leverage is involved, equity can most definitely go to zero … even if the property doesn't.
How do you know the difference between an opportunity and a trap?
For clues, we watch smart, seasoned investors like Sam Zell. Fortunately, Sam's come out of his shell, so he's appearing more often in media to share his immense wisdom.
So, when we saw this headline pop up, we took time to listen to what mega-billionaire real estate investor Sam Zell has to say …
Sam Zell Says He's Buying Distressed Oil Assets During the Slowdown
Bloomberg, 11/14/19
What's nice is there's a video and you can hear it straight from Sam himself.
Like most brilliant people, he says a lot in a few words. You can watch for yourself, but in short, Sam sees TEMPORARY distress in oil assets. And that's a GOOD thing.
Now we're not saying you should invest in oil, although there are some compelling reasons to consider it right now.
But oil is a sector where Sam Zell sees opportunity. However, the lessons are less about oil and more about how Sam recognizes and reacts to market conditions.
Here are some of our key takeaways from Sam Zell's comments …
Look ahead and anticipate the next boom or bust … and react NOW, not after the fact. In other words, be proactive and get in front of opportunity as it develops.
Always pay attention to the supply and demand factor.
This is a common theme any time Sam Zell talks about how he evaluates opportunity. When supply and demand get out of sync, prices can rise or fall disproportionately. This "gap" creates attractive buying or selling opportunities.
Zell obviously doesn't think demand for oil is going anywhere soon, even though there's a temporary over-supply driving prices down.
It's these "low" oil prices that are creating issues for oil producers … and creating opportunity for investors like Zell.
That's because, as we've noted before, there's a lot of debt in the oil sector which was put in place when prices were higher.
And just like a real estate investor levering up a property during peak rents … when rental rates fall, debt can go bad fast … creating an urgent demand for cash.
Cash is king in a crisis.
It seems obvious. But it's hard to sit on "idle" cash when everything's booming. Yet legendary investor Warren Buffet is sitting on over $120 billion cash right now. Maybe there's a reason.
Real assets cash flow.
Zell mentions he doesn't lend. He buys assets. And if you listen carefully, he talks about how cash strapped oil producers are selling cash flow. That's what Zell appears to be buying.
There are probably many more lessons. Sam's a fun guy to study. Unlike Buffet, Sam Zell is fundamentally a real estate guy.
And as we learned from Ken McElroy in the wake of the 2008 downturn, the energy sector … and oil in particular … is a huge and important driver of economic strength in several U.S. markets.
So for that reason alone, oil is a sector real estate investors should watch. Right now, oil is energy, and energy is fundamental to all economic activity.
Meanwhile, remember that in both up cycles and down cycles, there are ALWAYS opportunities in real estate.
That's because every regional market, neighborhood, and individual property is unique … there's often a lot of room to negotiate a profitable win-win …
…and there's much a smart investor can do to proactively add value without needing to depend on unpredictable external factors.
We think it's safe to say that demand for real estate, like oil, is probably not going away anytime soon … no matter what's going on in politics or trade.
Just be careful to use financial structures you can live within both up and down cycles.
Buying an income producing property is an investment in the underlying economy.
That's REALLY where the income originates. That's why we put so much emphasis on market analysis.
Investors who focus exclusively on deal analysis (crunching the numbers on the property) but fail to underwrite the market sometimes end up in a mess.
The context of a deal is the macro-environment … things like interest rates, taxes, energy costs … that affect everyone everywhere.
But there's also regional factors … local taxes, landlord law, supply and demand, and jobs.
Once all those things check out, you (probably through your boots-on-the ground team) go to the street level and start looking for a deal that makes sense by the numbers.
That's because a strong market will lift a marginal deal, while a weak market can suck the life out of even a "good" deal.
Market selection matters.
Of course, that's easy to say. But figuring markets out can be a bit of a challenge.
So we cheat.
While in school it's frowned upon to sneak a peak at the smart kid's homework … in the real world of real estate investing it's actually a preferred practice.
In this case, the very smart folks at Cushman Wakefield recently released a report they call Spotlight on U.S. Employment – A Tale of 35 MSAs.
As you'll see, it's about office space. But even if you're not an office investor, the report is helpful for understanding where jobs are being created … and why.
Remember, market analysis is about economic activity. And even if you're exclusively an affordable housing investor and your target tenant doesn't work in an office … remember, high-paying jobs create a ripple effect.
That's because a six-figure office worker spends a chunk of their income at local businesses … restaurants, healthcare, auto needs, entertainment, etc.
In fact, as Amazon claimed during the highly publicized hunt for their HQ2, each high-paying job creates an additional 4-5 jobs in the local market.
Our point is that tracking the office market can be a good gauge of local economic vibrancy, no matter what type of real estate you're investing in.
So let's dig into the report and see which markets look promising …
"While the U.S. economy has added jobs at a steady pace … the growth in employment has not been evenly distributed."
" … hotspots … have outperformed the national average … based on local market factors."
Isn't that that way it always goes? The world's not fair … and that's GREAT …
… because it means well-informed strategic real estate investors can dramatically improve their odds of success simply by being attentive to market selection.
The CW report looks at 35 markets over 9 years and divides them into categories … All-Stars,Over-Achievers, Middle-of-the-Road, and Late-Bloomers (like us!).
The first three are probably self-explanatory. Late-Bloomers are markets whose growth the last four years is substantially higher than the first five years.
We think there might be some real opportunity in Late-Bloomer markets because they're less likely to attract attention (and competition) from less studious investors.
It's kind of like a team with a few early season losses that gets hot at the end of the season, sneaks into the playoffs ranked low, and then shocks everyone.
We're not saying momentum is all that matters, but it happens for a reason … so it's probably worth a deeper dive.
But let's start with the five All-Stars …
New York City
San Francisco
Riverside / San Bernadino
Austin
Dallas is no surprise to us. We've been attracted to Dallas since the Great Recession.
At least in the beginning, and even to this day, DFW has it all … business friendly, low-tax, great infrastructure, geographically linked economic drivers (energy and distribution). It's awesome.
But NYC and SF? High-tax, uber-regulated, very unaffordable. What gives?
We're guessing it probably has to do with lots of the Fed's easy money flooding into the financial and tech sectors.
Of course, from an income property investing perspective, neither NYC or SF makes much sense by the numbers or the business climate.
And if someone trips over the cord at the Fed and the printing press stops, it might suck the equity out of those markets. We saw a little of that happen as rates rose and the Fed tightened.
And add to that the recent tax code pouring some SALT on the wound, wealthy folks are leaving … and in many cases, taking their businesses and spending with them.
The point is that just because a market is on the All-Star list for job creation and office space absorption doesn't make it a n0-brainer market for residential income property investing.
You still need to use your brain.
Meanwhile, we're guessing the San Bernardino / Riverside market growth is probably distribution related. There's a zillion people in Southern California … and if you want to ship stuff to them fast, you need nearby distribution.
The Inland Empire is among the most affordable and open areas in California to build these big centers. It's also not too far from the ports bringing containers of merchandise for domestic distribution.
So ff we HAD to invest in California again, the Inland Empire would probably be on the short list.
But the bigger lesson here is to pay attention to the role of distribution in driving a market's job growth. It's one of the shining stars of commercial property investing.
And when you dig deeper, you'll see distribution is something several top markets have in common … and those jobs aren't getting offshored … though they could be robotized.
Of course, technology doesn't necessarily kill jobs … but it can move them. After all, robots need to be built, installed, programmed, updated, repaired.
So that's just one more trend for a savvy investor to watch carefully.
Among the Late-Bloomers are markets we know and like are Jacksonville and Memphis. Landlord friendly, good numbers, and apparently some good local economics.
What's educational and fun (at least for real estate junkies) is to look at these "hot lists" and then analyze the markets for similarities and themes.
You'll often find clues about what makes a market attractive to employers and resilient for investors. Then you'll recognize these factors sooner in lesser known markets and able to make your move ahead of the crowd.
Just remember … while sneaking a peak at the smart kid's homework can shorten your learning curve, it's not a substitute for doing your own homework.
Until next time … good investing!
More From The Real Estate Guys™…
The Real Estate Guys™ radio show and podcast provides real estate investing news, education, training, and resources to help real estate investors succeed.
---
Love the show?  Tell the world!  When you promote the show, you help us attract more great guests for 

your

 listening pleasure!
Real estate investors tend to like low interest rates.  
After all, low rates mean lower payments for the same size mortgage … or a bigger mortgage for the same payments.  Nice.
The current Wizard of Rates is Fed chair Jerome Powell.  And he just showed up on 60 Minutes and told everyone …
"'We don't feel any hurry' to raise rates this year."
Many Fed followers consider this a bit of an about face.
And those who use the Fed's actions as a barometer of economic health and stability are asking what this more dovish stance means.
After all, isn't the motive of low rates to goose a sluggish economy?  So then what's all that healthy economy talk?
Also weird is that just over six months ago, Powell stood at a podium and defended his plan to RAISE rates.
Then two months ago he said, 'The case for raising rates has weakened …"
Last summer, he apparently couldn't see six months ahead … and now all of the sudden he's clear for a year? 
Maybe the answer is here …
Fed Chair Powell: 'The US federal government is on an unsustainable fiscal path'
– Yahoo Finance, 2/26/19
Summit faculty member Peter Schiff constantly reminds us … the economy is addicted to cheap money and Uncle Sam is addicted to spending.
Of course, addicts … and their enablers … sometimes take extreme steps to keep the party going.
So that could mean more money printing … because that's how the Fed keeps rates down.  And as any debt-ridden household knows, lower interest rates help make a giant debt load a little easier to service.
That's probably more important than anyone's letting on.
Because with record corporate, consumer, and government debt … there's a lot of cheap money junkies out there.
So … maybe the Fed's just trying to keep them all supplied?
Of course, we have no way of really knowing what data or philosophy is driving Jerome Powell's decisions.  We just watch and react.
But based on all the green lights flashing across stocks, bonds, oil, and precious metals … it looks like asset price inflation is the bet du jour.
At least for now.
But even though it's party time in the Wall Street casinos, real estate investors need to play the game differently.
We don't have the luxury of jumping in and out of positions on a moment's notice.  Besides, that's not our game.
We're not trying to buy low and sell high.  Real estate investors work to find a spread between the cost of capital and the cash flow on capital invested.
So let's switch from the macro view and get a little closer to Main Street … and glean some lessons from self-storage investors.
But before you tune out, this isn't about self-storage … it's about how real estate investors are reacting to an big influx of capital. 
Because as cheap capital floods any market (niche, geography, asset class) it affects prices and yields.   So sooner or later, investors move around searching for opportunities.
And that's what's happening in self-storage … 
Self-Storage Investors Start Looking at Smaller Markets to Capture Higher Yields
– National Real Estate Investor, 3/11/19
This headline caught our attention because of what the Fed is doing with interest rates.  And as we dug deeper, we found some notable excerpts …
"Investors are being more careful about which assets to bet on …"
" … worried about the number of new … properties …"
 "To avoid competition from new properties coming on-line … buyers have turned their attention to secondary markets …"
" … buyers in overbuilt markets are taking more time to underwrite their deals, double-checking assumptions about future leasing and rent growth."
There's more, but let's stop and process these thoughts …
First, these are lessons investors in ANY income-property niche should take note of.  So it's not just about what's happening in self-storage.
Notice the attention to supply and demand. 
We see lots of rookie real estate investors crunch the numbers of the property … but completely ignore the inventory pipeline of the market.
And of course, there's also the supply of prospective renters in a market.  That's why we also look at population and migration trends.
The article also highlights something we've been talking about for a while …
People, businesses, and investors will "overflow" from mature primary markets into emerging secondary markets in search of affordability.
The danger is getting into an emerging market ahead of a migrating problem.
Think about it …
If investors are moving into secondary markets to find better opportunities than in an over-built market … what happens when builders move in for the same reason?
Cheap money makes building easy.  Developers love it.
But Austrian economists warn of "malinvestment" … when bad investments look good primarily because money is cheap.
All long-term debt needs stable long-term cash-flow to service it.  If supply exceeds demand, and rents and cash flows fall … debt can go bad fast.
So when looking at markets, pay attention to the capacity of market to absorb more inventory without collapsing rents.
Because if you go in with optimistic underwriting (tight cash flow) and supply expands faster than demand and rents fall … you could be in trouble.
That's why self-storage investors are "taking more time to underwrite their deals".  Maybe you should too.
Hot markets can be intoxicating for investors.  It's easy to jump on a hot trend hoping to catch a nice ride …
"Despite these worries … investors keep paying higher and higher prices … relative to income.  Cap rates … are at their lowest point on record."
"They continue to trend lower even though interest rates have begun to rise …"
"There is a tremendous amount of capital chasing yield."
That's what happens when interest rates are low.
Don't get us wrong.  We're not complaining.  We like low-cut interest rates as much as the next guy.  But hot markets can be fickle. 
So the moral of this muse is to stay sober and diligent about your underwriting … and be very wary of using short term money to invest long.
Until next time … good investing!
More From The Real Estate Guys™…
The Real Estate Guys™ radio show and podcast provides real estate investing news, education, training, and resources to help real estate investors succeed.
---
Love the show?  Tell the world!  When you promote the show, you help us attract more great guests for 

your

 listening pleasure!
While most Americans are fixated on the brouhaha surrounding the government shutdown, we're thinking about something even MORE slimy …
Oil.
Long time followers know we've been watching oil for quite a while … and for a variety of reasons over and above the amazing tax breaks.
Oil and energy have a substantial impact on the economy, inflation, geo-politics … even the health of the financial system. 
We've observed that as oil prices rise and fall, the specific area of their impact shifts.   There are important clues and opportunities to be gleaned from watching these dynamics.
When oil prices rise, it's a drag on economic growth and can also be a sign of inflation.   It's no secret President Trump wants to lower cost inputs to help fuel economic growth.
The Trump formula is lower taxes, lower oil, lower interest rates, a weaker dollar, and less regulation.  Labor is the only input he wants to see rise.
You may agree or disagree, but that's what Trump wants.  Of course, there are some conflicting goals in the Trump recipe …
Specifically, low interest rates and a weaker dollar generally mean rising prices (inflation) … and oil is one of the first places it shows up.
Also, more economic activity leads to more energy consumption, which means higher demand … and rising prices.
So … the only way to keep oil prices low in an environment like this is to increase oil production to where supply overwhelms both higher demand and a weaker dollar … and pushes oil prices down anyway.
Perhaps obviously,  a domestic agenda which needs lower energy costs will affect U.S. relations with oil rich nations.
We think Trump's stance towards Saudi Arabia … in spite of denials … makes it clear low oil prices are a high priority for the White House.
It's consistent with what Trump told us when we asked him about his vision for housing and real estate.  He said, "Jobs".
Remember, oil and energy were the largest drivers of job growth in the United States coming out of the 2008 financial crisis.
Many real estate investors who recognized this trend and got involved in Texas real estate in 2009 …and  have done very well over the last 10 years.
We think that party's probably not even close to over.
One less obvious, but very important connection between oil and real estate is in the financial system … specifically, the debt markets.
As we've discussed several times over the years, LOTS of loans were made to oil companies when oil prices were over $100 per barrel.
But when interest rates rise and oil prices fall … it's the worst of both worlds for heavily indebted domestic oil producers.
MANY billions of oil-related debt has the potential to go bad … and crater the financial system just like bad mortgage debt did in 2008.
And when credit markets seize for whatever reason, liberal users of debt, such as real estate investors … are directly affected.
We don't think it will happen.
First, there's too much upward pressure on oil prices.
Second, as we're about to discuss, there's BIG motivation to stimulate domestic production … which provides a lot of cash flow to service debt.
Of course, we could be wrong … as Ben Bernanke was about the dangers of sub-prime … so real estate investors should pay attention to oil.
Using the gas pump as an indicator, you probably already know oil prices have been a little soft.
Of course, businesses and consumers (including your tenants) LOVE this because it makes everything more affordable.
U.S. car manufacturers love it because it means they can sell more gas guzzling SUVs and trucks.
But bigger picture … oil and energy are major cost inputs on virtually all products.
After all, it takes energy to manufacture and transport everything.
And many products are made from petroleum derivatives, such as plastic, roof shingles, and asphalt.
So even though energy is left out of the "core inflation" index, the effects of changes to oil pricing are still reflected in it.
And so partly due to subdued oil prices, concerns about excessive inflation have been muted … even in the midst of a red-hot economy.
Obviously, sellers of oil would prefer higher prices. 
But you can only charge what the market will bear … which is a factor of supply, demand, and capacity to pay.
It's also important to note that energy, like real estate and food, isn't a discretionary purchase.
People MUST have energy to survive and thrive.  Therefore, demand for energy is ever-present.
So when it comes to oil … the thing to watch is supply and capacity to pay.
Breaking out capacity to pay from the traditional supply and demand model is something we started doing a long time ago … because there's no effective demand without it.
Just because you want something, doesn't mean you can afford it.  Think of it like debt-to-income ratios and interest rates in real estate.
Just because someone makes an offer on a house (demand), if they can't quality for the loan (capacity to pay), there's no sale.
And when mortgage rates rise, but wages don't, the dynamic negatively impacts qualifying ratios … thereby decreasing capacity to pay and ultimately, effective demand.
That's why observers often expect rising interest rates to lead to decreased housing demand.
It's similar with oil.
When oil prices rise and wages don't, then lack of  "real" wage growth (incomes outpacing inflation) makes it hard for the market to bear price increases.
That's why the recent blowout jobs report was notable.
Not only were lots of jobs created, but wages grew at the best rate since 2008.
That means capacity to pay improved.
As you may recall, Saudi Arabia (the leader of the middle-eastern oil cartel OPEC and one of the largest oil producers in the world) INCREASED production …
… which meant MORE supply and LOWER prices (and thanks from President Trump).
But just recently, Saudi Arabia reversed course, calling for a target price of $80 per barrel … and a REDUCTION in production to make it happen.
Now before your A.D.D. kicks in … remember, this ALL has ramifications for real estate investors …
The point is there's some real pressure on oil prices to rise … and a lot of motivation by President Trump to take steps to push prices down.
We think BOTH will happen and lead to interesting opportunities for real estate investors … in spite of the pressure higher oil prices puts on your paycheck-to-paycheck tenants.
If you invest in oil for the tax breaks and oil prices go up … there's big potential for a double dip … tax breaks and profits.
Nice.  You can use both for your next down payment.
Higher oil prices reduce the risk of oil debt imploding credit markets.  Healthy credit markets are essential to vibrant real estate markets.
If oil prices rise on the international stage, we'd bet President Trump will do whatever he can to further stimulate domestic production to counteract it.
And that means more U.S. jobs and robust regional economies … with increased demand for real estate to in those areas.
All this to say, we think it's smart to pay attention to oil … as an investment, as an economic gauge, and as a treasure map to potentially hot markets.
Oil will be a big topic of discussion on our upcoming Investor Summit at Sea™.
Until next time … good investing!
More From The Real Estate Guys™…
The Real Estate Guys™ radio show and podcast provides real estate investing news, education, training, and resources to help real estate investors succeed.
---
Love the show?  Tell the world!  When you promote the show, you help us attract more great guests for 

your

 listening pleasure!
One reason we write is because very little mainstream financial commentary addresses the unique needs of real estate investors.
Most financial pundits think of real estate merely in terms of home prices, home builder stocks, and maybe real estate investment trusts (REITs).
Their preferred investment strategy is buy-low-sell-high … usually based on divining things wholly outside an investor's control.
It's more like gambling than investing.  They even call their positions "bets".
Of course, the buy-low-sell-high trading mentality encourages the churning of holdings … which generates commissions and short-term capital gain taxes.
That's nice for Wall Street firms and the government which protects them, but not so much for Main Street investors trying to build reliable retirement income.
And if you watch the financial news, you'll notice any discussion of yields and earning is generally in the context of their impact on share prices.  So back again to the buy-low-sell-high mentality.
But long-term income-property real estate investors look at the world VERY differently than the players and pundits of Wall Street.
For real estate investors, it's all about acquiring streams of cash flow …
… collecting contracts (leases) with people and businesses who work every day and send us a piece of their production.  It's a beautiful thing.
And even though we LOVE equity … we know REAL equity growth is driven by cash flow.  More cash flow equals more equity.
Of course, the purpose of equity is to acquire more cash flow.  Managed properly, they feed each other.  It's a virtuous cycle of compounding wealth.
Best of all, with real estate, many of the factors affecting cash flow are very much within the control of the investor.
With that said, we still watch mainstream financial news for clues about what's happening with the financial system, geo-politics, and macro-economics …
… and we carefully consider how those higher-level factors can directly impact Main Street investors.
So when the June new housing stats came out, here are some of the headlines that popped up in our news feed …
Weak Housing Starts Hurt Homebuilder Stocks
– Barron's, 7/18/18
Housing Permits Soften, Starts Plummet
– Mortgage News Daily, 7/18/18
Slump in London House-Building Weighs on UK Housing Starts – U.S. News & World Report, 7/25/18
There are lots more, but you get the idea.  Pretty gloomy.
But these stories are just clues in the news.  We still need to figure out why it's happening, what it means, and how it affects Main Street real estate investors.
Big picture, there are those who think housing is a leading indicator of a healthy economy.  So when housing is doing well, it drives economic growth.
We're not so sure.  It seems to us housing is a trailing indicator … a reflection of economic growth.
After all, who buys a house so they can get a job?  Buying a home is sign of economic success, not a creator of it … at least not for consumers.
So we think a weak housing market is a reflection of a weak home-buyer.
This begs the question … WHY is the home-buyer weak?
We tossed in the UK article to highlight this weak housing-start situation may not be reflective of issues at merely the local or even national level.
So even though real estate is LOCAL … certain factors affecting it are MACRO … perhaps even geo-political or systemic.
But because we're news hawks at every level … local, macro, geo-political, and systemic … we're aware of some of those potentially contributory factors.
But let's start with the basic economic principle of supply and demand. 
And remember … we always break out "capacity to pay" from "demand" because it makes us focus on factors of affordability.
Think about it …
"Demand"  alone for housing is fairly universal.  Nearly everyone wants a home … a bigger home, a better home … so demand in terms of desirability is almost a given.
But just because someone WANTS a home doesn't mean they can AFFORD one.  So much of housing demand pivots off of demand's "capacity-to-pay".
And then there's inventory … of both houses (supply side) and people (demand side).
Generally speaking, the world is increasing in population, though not always in any given geographic area.  So it's certainly possible for an area to lose population, and demand for housing along with it.  Think the fall of Detroit.
But because the slowdown in home-building appears to be occurring in diverse locations, we'll toss out the notion it's driven by a slump in the supply of people and a shrinking demand for homes.
We'll assume there's plenty of people who want housing.
Now on the housing supply side, we find another clue here …
U.S. home sales sag as prices race to record high
– Reuters, 7/23/18
" … a persistent shortage of properties on the market drove house prices to a record high."
Hmmmm … that's weird.
Low inventory explains slow sales and higher prices.   But wouldn't both of those things entice home-builders to build MORE … not less?
After all, if buyers are bidding prices UP, the opportunity to earn profits should entice builders to increase production to cash in.
Yet there's a reportedly low supply of houses, and apparently strong demand reflected by rising prices … and for some reason home-builders are slowing down.
Again, the market's natural reaction SHOULD be to increase supply … which then drives down prices … and makes housing more affordable to more people.
But that's not happening.
We think it's because it can't.  After all, a home-builder can only drop prices so far before it's no longer economical to build.
As we've discussed previously, one of the first casualties of tariffs was lumber costs.  Steel is another.  And of course, there's the labor shortage driving up costs in residential construction.
To top it all off, there's the well-publicized increases in interest and energy expenses … which add costs to almost everything.
So with nearly every component of cost on the rise, builders can only drop prices so far … then they either can't build, or they need to charge more.
But charging more means buyers must be able to pay more …
Maybe when builders are looking at their market studies, they're not seeing an increase in buyer's capacity to pay.
When mortgage rates are going up faster than paychecks … and inflation, gas prices and tariffs squeeze consumers … it drags DOWN their capacity to pay more for housing.
So after digging deeper, it seems there's some understandable logic to the slowdown in housing permits … in spite of low inventory and rising prices.
Is that bad?  It depends.
Remember .. when people can't afford to buy, they need to rent … from YOU.
When housing crashed in 2008, it was a huge BOON to investors in affordable housing.  The demand for rentals went UP.  Many real estate investors made fortunes.
So the lesson remains … the flip-side of problems are opportunities when you're aware and prepared.
Right now, in spite of reports of a booming economy and high consumer confidence, it may not translate quickly into a boom in home-buying or home-building.
That might make Wall Street worry, but for Main Street real estate investors focusing on affordable markets and product types …
… or specialized niches like residential-assisted living or resort property which cater to affluent people …
… there's still a lot of opportunity to build reliable long term wealth through real estate. 
Until next time … good investing!
---
More From The Real Estate Guys™…
The Real Estate Guys™ radio show and podcast provides real estate investing news, education, training, and resources to help real estate investors succeed.
We're taking a break from our relentless preparation for the upcoming Future of Money and Wealth conference to focus on one our favorite subjects …
Equity.
According to a recent report by CoreLogic, last year's increase in America's home equity wealth was the largest in four years.
In 2017, the national CoreLogic Home Price Index rose by more than six percent, the largest annual increase since 2013.
We call this "passive equity" because the market just handed it to homeowners simply for buying and holding their property over that time.
Good job.
Of course, national averages are interesting, but not useful for practical investing.  Real estate is local right down to the neighborhood and property … and no two are exactly the same.
Think of it this way …
If you have one foot in a bucket of snow at 20 degrees and another in a bucket of 170 degree steaming hot water, on average you're enjoying a nice soak in a warm bath …
… but in the real world, you're scalding one foot while you get frostbite on the other.  National averages have limited utility.
Fortunately, CoreLogic provides a nifty color-coded map which compares equity growth at the state level: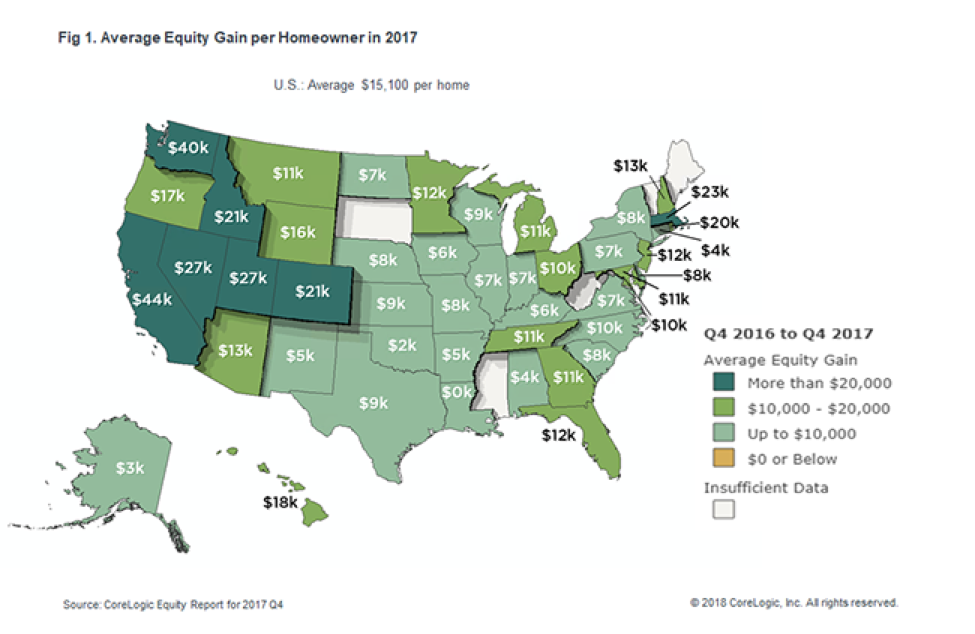 Unsurprisingly, coastal states with strong technology business … California and Washington … lead the pack for equity growth.
But we're guessing closer analysis would show equity rich markets are expensive relative to rents, so income investors can't just go to dark green and buy.
So how's an investor to use this kind of data?
Here are some ideas for your consideration …
First, you can do a deeper dive into the states with strong equity growth, and look for common factors.  Right away, we saw coastal and tech.
But that's just a start.
Look at supply and demand, nominal and real incomes, job growth, population growth, and migration patterns.
Then talk to street level people who live and work in those markets.  Find out what they're seeing right now.
Once you have your mind around what makes equity happen in one market, you can look for similar conditions in other "emerging" markets.
Then (hopefully) you can make your move and get in early … while the rent ratios still make sense … and ride a wave up.
Of course, if you're a typical busy person with a small portfolio, that's a lot of work relative to the size of the investment … especially if you plan to travel to check out markets, build teams, and inspect properties.
Plus, you might not even like doing all that, even if you had the time and a big enough portfolio to justify it.
That's why we're HUGE fans of syndication.
Syndication is where a syndicator aggregates funds from a group of investors through a private placement, and then does all the busy work of running the deal … for a fee and a piece of the action.
As long as there's enough profit in the deals to split equitably, it's a win-win.
The "passive" investors win because they gain access to opportunities they wouldn't otherwise have.  They effectively leverage the effort, expertise, and relationships of the syndicator.
The syndicator wins because the passive investors' capital facilitates economies of scale and access to bigger deals the syndicator might not have on his own.
And for both parties, two major sources of investable capital are paper assets in brokerage and retirement accounts, and equity in existing properties that can be re-positioned.
For example, real estate equity in an "appreciated" state might be accessed through a cash-out mortgage for about 5 percent interest at today's rates.
The loan proceeds can be used to acquire property in an "emerging growth" state that cash-flows at maybe 10 percent cash-on-cash.
The property-owner gets a positive spread on the equity, picks up some valuable tax-breaks, and has additional "top-line" real estate income streams which can grow over time.  Same equity, but more future opportunity.
As for stock market equity …
If history is any indicator, the recent turmoil in the paper asset markets is likely to create even more interest in real estate.
That's because speculating on asset prices, whether it's stocks or crypto-currencies, is a lot of fun when they're spiking.
But when the tide turns on speculation … and it always does … real estate's reputation as a reliable wealth builder is once again revealed and appreciated.
In fact, the CoreLogic article affirms the stability of real estate:
"… since 1970 home-equity wealth has been one-third less variable than corporate equity values …" 
And another recently released report from The National Bureau of Economic Research, The Rate of Return of Everything, 1870-2015, says …
"… returns in housing markets tend to be smoother than those in stock markets …"
"… housing has been as a good a long-run investment as equities, and possibly better."
"… equities do not outperform housing in simple risk-adjusted terms."
 "Housing provides a higher return per unit of risk …" 
"… housing returns … are more stable … housing portfolios have had comparable real returns to … equity portfolios, but with only half the volatility."
The report concludes (remember, to them, "equity" means stocks) …
"… the most surprising result of our study is that long term returns on housing and equity look remarkably similar.  Yet while returns are comparable, residential real estate is less volatile …" 
"Returns are comparable", BUT… they didn't include leverage …
"… the estimates … constitute only un-levered housing returns …"
When you add in 4:1 leverage (25 percent down), you take a 6 percent real estate equity growth rate to 24 percent!
Of course, we're probably preaching to the choir.  But think about this …
Maybe YOU already know real estate is a powerful, predictable, and demonstrably more stable wealth-building vehicle than stocks over the long haul.
But paper asset investors have been riding an easy money wave up to record-levels … and now stock markets are starting to get REALLY jittery.
What once was a fun ride is now becoming scary.  And  if you're a syndicator, this is MUSIC to your ears.
That's because paper asset investors are probably looking at their brokerage accounts and retirement plans, and are growing much more open to getting involved in real estate when it's presented properly.
And if you're a Main Street real estate investor limited by only your own funds, maybe it's time to consider leveraging your skills to get in on the syndication action.
We think syndication is arguably the best opportunity in real estate today.
We realize there are some people who think real estate might slow down because of rising interest rates. But history disagrees.
Rising rates just makes it hard for home buyers.  And when it's harder to buy, more people rent for longer, which is good for landlords.
Look what happened when the mortgage markets imploded in 2008 …
… no one could get a mortgage, millions had to rent, and even though there was a financial crisis … rents went up and up and up.
So all this stock market volatility is actually a gift to real estate investors.
Until next time … good investing!
---
More From The Real Estate Guys™…
The Real Estate Guys™ radio show and podcast provides real estate investing news, education, training, and resources to help real estate investors succeed.
It's been said the only thing certain in life is death and taxes.
Of course, properly structured and well-advised real estate investors can usually mitigate most of their taxes. 
Meanwhile, before people die, they live.  Along the way, they get older.  And as people age, their needs change …
… and because entrepreneurship is about serving needs, it's a safe bet there's some opportunity in meeting the needs of aging people.
In a recent radio show, we talked about investing in undeniable demographics … specifically, the baby boomers … who are moving into retirement and beyond.
A few days later, this headline popped up in our news feed:
More Growth Ahead in Seniors Housing – NREI August 16, 2017
"… research shows continued confidence in improving fundamentals …"
 Of course, if you've been following The Real Estate Guys™ for any time, you know senior housing in general … and residential assisted living in particular … is a niche we REALLY like.
The article affirms our belief that …
" Demographics continue to be a big driver for development."
" 'As active as the market is with the product that we have today, we are looking at the tip of the iceberg in terms of boomers hitting retirement age,' says Scott Stewart, a managing partner at Capitol Seniors Housing, a private equity-backed real estate acquisition, development and investment management firm based in Washington, D.C."
'The fast-paced growth of that population in that sector is going to make today's discussion of overbuilding obsolete, because there just aren't enough places for everybody today,' " he says."
 The article is addressing … diffusing … concerns about over-building in the niche …
" Demand mops up new supply."
"Despite the new supply coming online, respondents remain confident in improving fundamentals. A majority of respondents (78 percent) anticipate that rents will rise over the next 12 months …"
Other notable comments include …
"When asked to rate the strength of market fundamentals by region, the South/Southeast/Southwest rated the highest."
"When comparing with other property types, respondents continue to rate seniors housing as a highly attractive property type. Its scores topped that of the five major property types on a scale of one to 10."
Okay, so it's probably clear there's some real opportunity here. 
But if you're a Mom-and-Pop investor, does it make sense to jump into a niche that's attracting big players … or are you just cruising for a bruising?
No … and YES!
When you invest in housing for seniors it's critical to understand the difference between a high-density community and a residential facility …
… and not just from the investor's perspective, but from the resident's perspectve.
Let's start with the resident …
 There are some seniors … probably MOST … and their children (the decision makers in many cases) who'd rather see Mom or Dad live in a real home …
… in a tree-lined residential neighborhood, with a backyard, and neighbors … where residents don't feel like inmates in an institution.
Please understand … we're not slamming the great people or services provided in bigger facilities. 
We're just saying from a senior's perspective, having a room in a home in a regular neighborhood FEELS a lot different than living in a room at a campus for old people.
But for a BIG investor, those individual homes are a logistical problem. 
To move BIG money, you need economies of scale and the ability to buy or build a lot of inventory at one time.
It's the same problem Warren Buffet alluded to when he told CNBC …
"I'd buy up a 'couple of hundred thousand" single-family homes if I could."
The challenge, as noted in this Forbes article about Buffet's statement, is …
"… the cost and logistics of making such an investment in large enough size to move the needle for Berkshire Hathaway is prohibitive."
The point is big money can't play well at the single-family residential (SFR) level …
… even if the SFR's are being converted into highly-profitable residential assisted living facilities.
But YOU can.  And that's why we like them.  Think about it … 
The supply and demand fundamentals are solid. 
The priority for expenditure is near the top of the list for any family.  Taking care of Mom or Dad is far from a discretionary purchase …
… so as an investor, being that far up your tenant's payment priority ladder is a much safer place to be in uncertain economic times.
Plus, much of the money to pay you comes from insurance, government, and the senior's estate.  In other words, you're very likely to get paid … even in a weak jobs and weak wages economy.
Also, you don't have to compete with big money investors, even though they clearly see the opportunity and are moving into the space. 
That's because the barrier to entry for the big money isn't how MUCH money is needed … it's how LITTLE is needed.
Meanwhile, the customers would rather live in YOUR product than big money's product.  So while big money is adding to supply, they're not really in your niche.
This is a BEAUTIFUL thing.
But it gets better …
Residential assisted living homes can't be mass produced.  They need to be built or converted one at a time.  There's very little threat of a big player glutting the market.
And taking lessons learned from watching hedge funds move into the SFR space … big money was only able to acquire tens of thousands of SFRs because huge blocks of inventory were available temporarily through mass foreclosures. 
We don't think there'll be mass foreclosures in residential assisted living facilities.  They're way too profitable.
But because this kind of senior housing is in high demand and highly profitable, at some point big money will start assembling them …
… buying up groups of homes from multi-facility operators … and then buying up nearby individual facilities which can strategically integrate into existing operations.
It's called consolidation … and when it comes, big money will bid up existing operations (creating equity for those already there) …
… because they can recover the "over-payment" through operational efficiencies and financial leverage.
Between now and then, for the street level investor, the big opportunity is to be part of building the inventory by converting homes into residential assisted living facilities …
… cash-flowing along the way … then one day cashing out to big money players. 
And if those big money players never show up … just keep on cash-flowing while providing a much needed service to the community.
Until next time … good investing!
---
 More From The Real Estate Guys™…
The Real Estate Guys™ radio show and podcast provides real estate investing news, education, training and resources to help real estate investors succeed.
One of the age-old adages of real estate investing is to invest in the path of progress.  Or as hockey legend Wayne Gretzky says … skate to where the puck is going. 
It's just a lot easier when you're riding a wave of demand … especially if you can find a substantial supply and demand imbalance. 
That's why land near water is so expensive.  People want it and there's just not that much of it. 
Similarly, homes inside top school districts often command higher prices and rents for the same reason. Ditto for a local market with a lot of jobs. 
But sometimes it's not just a geographic amenity that attracts people, businesses and money. 
Consider the role of demographics … 
There are two mega-groups of people … at least in the United States … which warrant your attention.  You've probably heard of them … and likely belong to one.  
First are the baby-boomers.  The 76 million babies born in the mid-1940's to the mid-1960's continue to be a MAJOR economic force. 
Even BIGGER than the boomers are the Millennials … those born in or after the 80's and entered adulthood in the first decade of the 21st century. 
From a real estate perspective, boomers have created opportunities in over-55 housing communities, assisted living facilities, resort areas … to name a few. 
Millennials are also impacting real estate … but not because of housing demand.  At least not yet, though a recent study suggests this could be changing. 
Sure, there are other groups and sub-groups to watch, but these are the two main demographics to pay attention to. 
Of course, economics is also a very important factor … 
But stepping beyond the obvious importance of job creation, real wage growth, availability of loans, and interest rates … 
… there's another economic phenomenon occurring now which may create a unique kind of opportunity for ambitious and alert real estate investors …  
Pension funds are in big trouble … 
So much so, this article says … 
"Institutional investors, including pension funds, are stepping outside of the box, beyond core asset types of office, industrial, retail and apartments, to consider a growing menu of alternative real estate options." 
" … property types that were once viewed as 'alternative' that are now moving more into the mainstream as accepted institutional caliber assets." 
And what might those "alternative investments" be? 
"…self-storage, student housing and resorts …" 
"Hospitality, seniors housing and student housing are among the former outliers that are now big targets for institutional investors." 
"… investors are continuing to push the boundaries of 'traditional' investments to include a wide range of options, including single-family rentals, data centers, workforce housing, land, timber, golf courses and prisons …" 
And not only are pension funds moving toward "alternative real estate options" … they're planning to cut out Wall Street and invest directly. 
So where's this puck headed? 
Somewhere between mom-and-pop investors and big institutional investors are small and mid-size investment businesses. 
It's what a mom-and-pop investor might eventually become if they just keep at it long enough.  Like playing Monopoly. 
But until you're there, no pension fund is coming for your collection of 10 houses, small apartment building, frat-house, or single residential assisted living facility.  
You're too small for them. 
BUT … someone who sees the opportunity to aggregate a portfolio big enough to bring it to a pension fund might be very interested.  
Of course, if you sell, you lose all that fabulous passive income you've built up.  That's not good. 
Or maybe YOU could raise money from investors who see the opportunity, and be the small business or mid-size business a pension fund would like to buy. 
Conceptually, it's just a value-add play.  
But instead of just buying a tired house and sprucing it up to make a few thousand bucks, you're building a much bigger portfolio (with the help of your investors' money) and flipping it to a whale. 
It's the same game, but at a much higher level.  And ironically, it's a lot LESS crowded because most people don't think that big. 
When you're done, you take your profits and plow them into your own, privately owned, cash-flowing portfolio.  Best of all you don't lose whatever you already have … you ADD to it. 
Of course, the opportunity won't be here forever … but it's also not going away any time soon.  The pension crisis in America has just begun.  
And we're pretty sure if history's any indication, politicians aren't going to solve the problem.  That's up to entrepreneurs … like you. 
Until next time … good investing! 
---
 More From The Real Estate Guys™…
The Real Estate Guys™ radio show and podcast provides real estate investing news, education, training and resources to help real estate investors succeed.
The AP reports that gold hit an all time high of $1,118 per ounce today. Do you understand why?  Do you REALLY understand?  And what does gold have to do with real estate (besides that you dig gold out of the ground)?
Great questions!
Gold's rise is a prime refection of a falling dollar.  Why?  Because when the dollar "falls", it takes more dollars to buy anything that's real.  It's called inflation.  Supply and demand play a factor, so just because the dollar falls, doesn't mean that gold is going to respond immediately and proportionately.  But in general terms, a falling dollar means inflation of things that are real.  Things like gold, oil and real estate.  Typically, gold really takes off when people are nervous about the dollar.  So take that for what it's worth.
The Real Estate Guys don't claim to be experts at gold, but it's something we're very interested in.  We watch the demand for gold, oil and treasuries because they give us insight into where cash is moving.  When cash moves into real estate or mortgages, then it helps push real estate values up and equity happens.  Do you see the connection?
Russ just got back from the Rich Dad Art of a Deal conference with Robert Kiyosaki. Rich Dad Gold Advisor Mike Maloney was there and we invited him to be on The Real Estate Guys show.  We figure it he's smart enough for Mr. Kiyosaki, we're interested in talking to him.  We want to pick his brains on your behalf and find out what he thinks about the movement of cash and its effect on real estate.  Sound interesting?  Then stay tuned to The Real Estate Guys!  To make sure you don't miss an episode, subscribe to our free podcast.  And while you're at it, sign up for the newsletter – and tell a friend.  When you help us grow the audience, we are able to continue to bring you quality guests and programming.  Thanks!
Want More?  Sign Up for The Real Estate Guys Free Newsletter!